If you enjoy optimizing every nook and cranny of your race car's interior, then aftermarket steering wheels are definitely worth considering.
Stock steering wheels are practical and comfortable. They don't need replacing unless they're too large or if you're going for a dedicated race-car build. For that purpose, clamp-style or quick-release steering wheels are ideal.
A glaring concern with clamp-style wheels is that you'll have to do away with your driver's side airbag. That's the main reason why it only makes sense if it's done in a dedicated race car.
You can make do without an airbag if you have a multi-point seatbelt harness, a roll cage, and a racing seat installed.
Another challenge with bypassing the driver's side airbag is that it needs to be done properly, without disabling any other airbags in your car.
One alternative is to install an OEM-style steering wheel that gives you the look and feel you're after, without deleting any important controls and safety features.
In this article, we'll take you through all the pre-purchase essentials you need to be aware of when choosing an aftermarket steering wheel, and we'll conclude with a list of our top recommendations.
Things to Consider When Choosing a Steering Wheel
Selecting a proper steering wheel involves a bit of prep work and research. There's a lot more to it than just choosing a nice-looking steering wheel and slapping it onto your car.
For starters, you need to think about whether you want an OEM-style or a quick-release-style steering wheel. You also need to consider factors such as:
Design,
Dimensions,
Compatibility,
Offset, and more.
These considerations will have to be made depending on your:
Driving style,
Preferences,
Desired comfort level, and
Willingness to delete your airbag and install a racing harness.
For instance, if yours is a time-attack car, then a flat-bottom steering wheel with a quick-release function for ease of getting in and out will make sense.
But if you're into drifting, the same flat-bottom wheel will obstruct the steering motion as when it spins from lock to lock.
Below we've discussed some of the important factors that you should consider when choosing a racing steering wheel.
Diameter

OEM steering wheel sizes depend on the automaker's discretion. Some of them get the recipe right, others don't.
If you're over 6 ft tall and have driven a stock NA Mazda Miata, you know exactly what we're talking about. The steering wheel in that car is absurdly large and robs a fair share of legroom for taller drivers.
You're probably wondering why classic cars had thinner and larger steering wheels as opposed to the smaller, grippier wheels we see on modern cars.
That was mainly because power steering wasn't standard back then. Using larger steering wheels was a way to help drivers exert more force through increased leverage.
Technically, smaller wheels require more force to turn, but the contrast is negligible when it comes to power steering-equipped cars. However, they do feel quicker in terms of response.
With that in mind, which size or diameter you should choose will come down to personal preference. You'll find various sizes between 14″ to 17″, and grip circumference will vary between 2″ to 4″.
Clamp or quick-release style steering wheels designed for racing are typically smaller in diameter than OEM-style wheels.
Shape and Design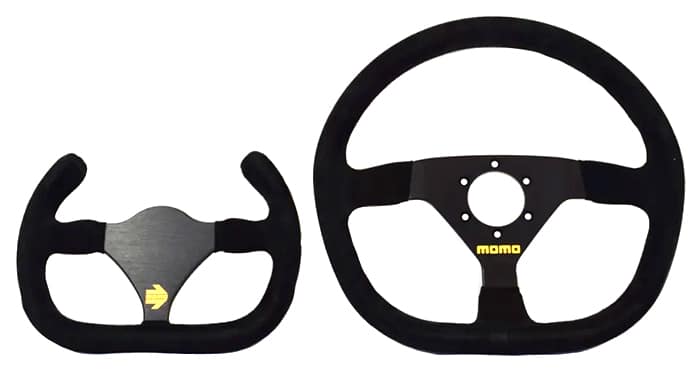 Racing steering wheels come in a plethora of different shapes and designs. The most common shape variations you'll come across include:
Flat-bottom or D-shape: Easy entry and exit, more legroom.
Round: Good grip, predictable.
Open top: Easier to read the gauge cluster.
The shape of your steering wheel will affect your driving style, and the position of the spokes will impact the position of your hands.
Other design elements like grooves, contours, pores, 12 o'clock position markers, and stitching colors should also be considered.
Material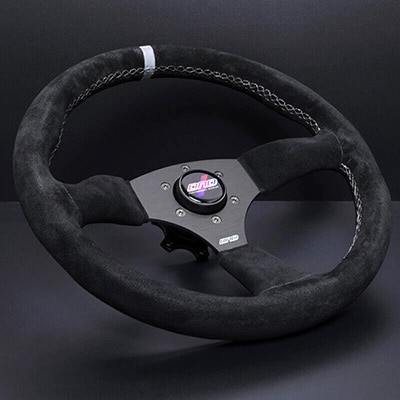 One advantage of using aftermarket steering wheels is that you can choose your favorite materials. Most OEM wheels are leather-coated.
If that's not your thing and you prefer the feel of suede or Alcantara, you have that option.
Another thing to consider is whether or not you'll be using gloves. Some of the best racing gloves are made from similar materials and provide excellent grip when paired with the right steering wheel.
Dish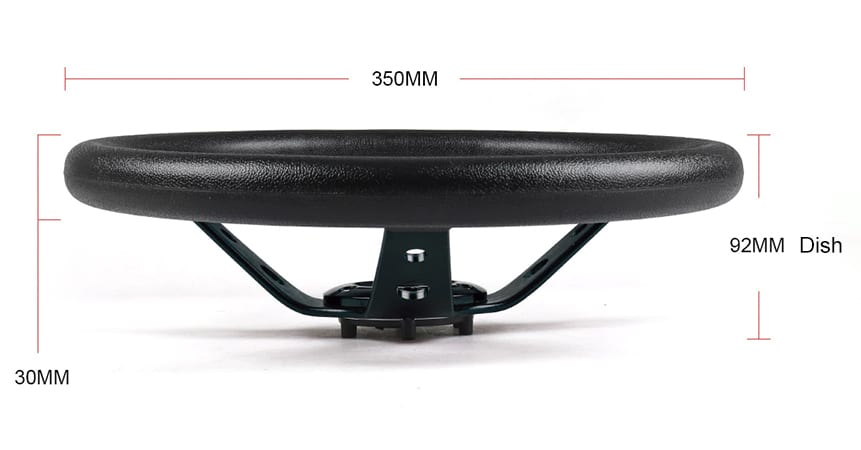 Dish or offset represents the distance between the point where you hold the steering wheel to the point where it mounts to the hub.
Deep-dish steering wheels sit closer to the driver in comparison with flat-dish steering wheels. If you have long arms, flat-dish is the right choice for you. However, it is a matter of preference.
Hub Adapters and Clamps
The first thing you'll need to install an aftermarket steering wheel is a hub adapter. These adapters are car-specific and they're sold separately. In other words, you're going to have to find one that's made exclusively for your car.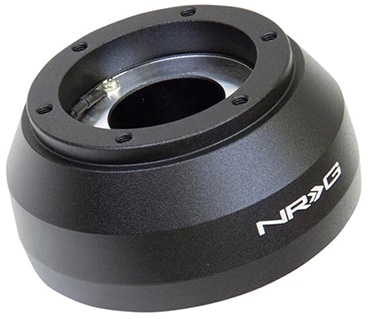 The next step is to choose a steering wheel that fits the bolt pattern on your adapter. Ideally, you should buy both parts at the same time. That's because there are different types of bolt patterns to choose from:
Momo: 6 bolts, 70 mm circle, 6 o'clock to 12 o'clock orientation
Nardi/Personal: 6 bolts, 74 mm circle, 3 o'clock to 9 o'clock orientation
Grant: 3 bolts, triangular orientation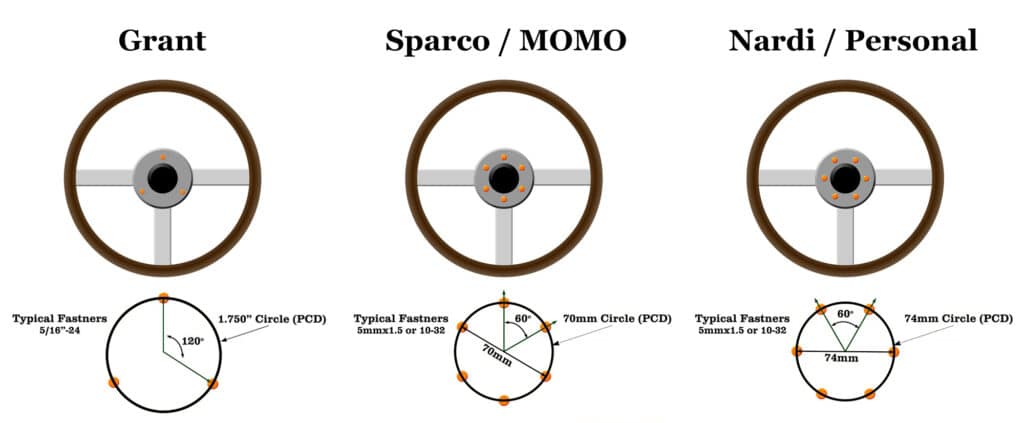 Just remember that any steering wheel that follows the Momo-style 6-bolt pattern will fit any hub adapter that follows the same pattern. Few adapters allow for cross-compatibility between the two 6-hole bolt patterns.
The Grant 3-hole pattern is less common and most commonly spotted on classic-style aftermarket steering wheels.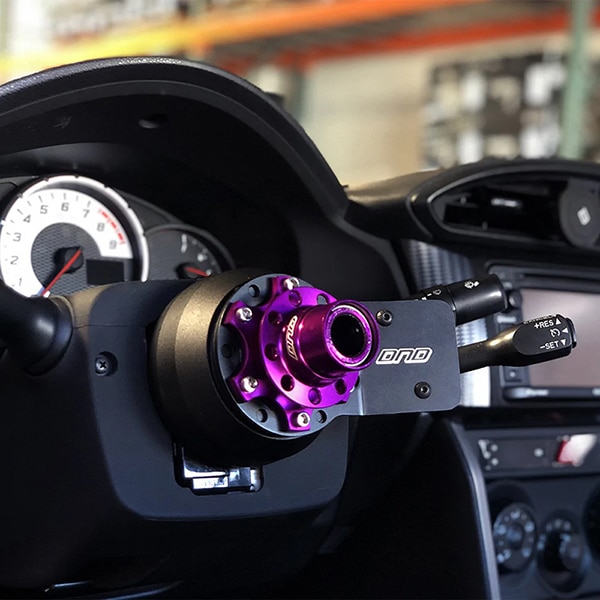 It's worth mentioning that hub adapters and quick-release clamps aren't the same. You can either use only the hub adapter or combine it with a quick-release clamp. If you're doing the latter, ensure the bolt patterns match.
Using a quick-release clamp along with the hub adapter will bring the steering wheel closer to you. So account for that when you're selecting the dish size.
Best Aftermarket Steering Wheels
With all that out of the way, let's get to the reviews you're here for. We've compiled a list of some of our most recommended racing steering wheels.
Note that these aren't OEM replacement wheels; they require the use of an adapter that fits your car.
If you wish to read about the best OEM replacement steering wheels for your car then stay tuned, because we'll have car-specific guides coming soon.
Below you'll find the best racing and drifting steering wheels that you can buy at the time of writing.
MOMO MOD. 78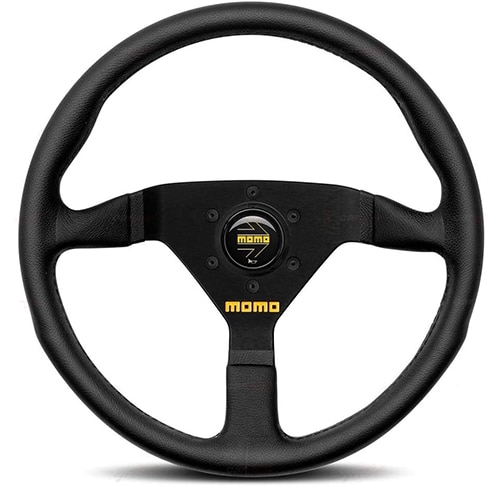 Brand: MOMO
Color: Black
Material: Suede or Leather
Diameter: 320 mm / 350 mm
Dish: 36 mm
Buy on: Amazon (350mm, leather) | Enjuku Racing (320mm, suede)
MOMO's MOD series steering wheels are a staple in the car community. Go to any car meet and you'll see several of these being sported by all kinds of cars.
The anticorodal aluminum construction with the T-shaped anodized spokes makes it abundantly clear that the build quality is reliable.
Anatomically correct gripping contours on the 10 o'clock and 2 o'clock positions allow for excellent ergonomics.
The MOD.78 is available in either leather or suede, and there are two diameter sizes to choose from:
350 mm
320 mm
You'll find a yellow MOMO logo on the base and a horn button. Pair it with a MOMO hub for the best results.
MOMO MOD. Drift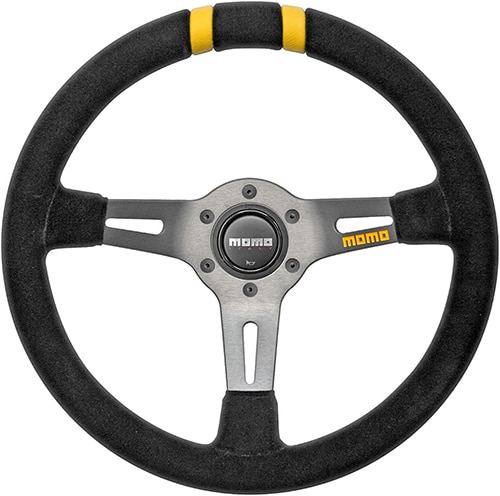 Brand: MOMO
Color: Black
Material: Suede
Diameter: 330 mm
Dish: 88 mm
Buy on: Amazon | Enjuku Racing
Another crowd favorite from MOMO — the MOD drift is designed exclusively for maximizing comfort and grip while drifting.
The 88 mm deep dish brings the steering wheel closer to you, effectively reducing the distance your hand needs to travel between gear shifts.
Constructed entirely from aluminum, the MOD drift wheel is lined with black suede for better feel and control.
This pairs very nicely with brushed anthracite spokes and the dual yellow stripes which indicate the center position.
MOMO Ultra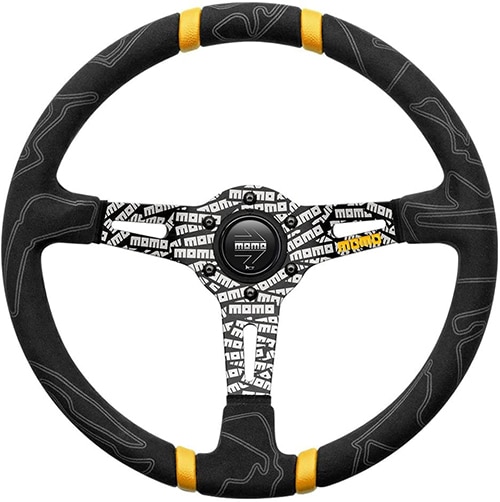 Brand: MOMO
Color: Black
Material: Alcantara
Diameter: 350 mm
Dish: 90 mm
Buy on: Amazon | Enjuku Racing
If you find minimal designs boring and love busy prints, then the MOMO Ultra steering wheel will definitely interest you.
The anodized spokes are elaborately etched with the MOMO logo in a way that resembles the Stickerbomb design.
What we love is the wrapped grip that features silhouettes of some of the most coveted race tracks in the world:
Monza
Nurburgring
Monte Carlo
Sepang, and more.
The design makes this one of the more popular JDM steering wheels in this list.
The wheel is wrapped in good old black Alcantara — can't go wrong with that. Pair it with suede gloves and you'll have an excellent grip.
In the center, you get a fairly standard horn button and there are position markers on the top and bottom.
MOMO Heritage Indy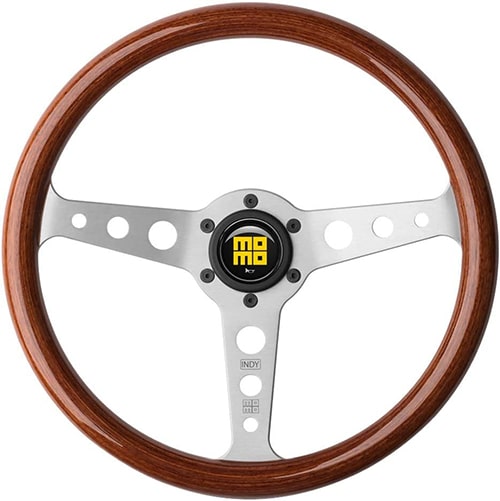 Brand: MOMO
Color: Brown
Material: Wood
Diameter: 350 mm
Dish: 37 mm
Buy on: Amazon
The MOMO Heritage Indy is a modern steering wheel that will look and feel right at home in any classic car.
It is constructed entirely from Zebrano gloss-finished mahogany wood with brushed aluminum spokes to create the ultimate retro look.
The horn button in the center features the classic stacked MOMO logo which dates back to the 60s.
You also get contours or finger grooves at the back for better grip — very reminiscent of OEM steering wheels seen on classic cars.
It's worth noting that this wooden steering wheel will require special attention when it comes to cleaning and maintenance. We recommend cleaning it with wood polish products instead of soap and water.
Natural wood steering wheels tend to crack easily due to moisture or fluctuations in temperature.
NRG ST-006BK-Y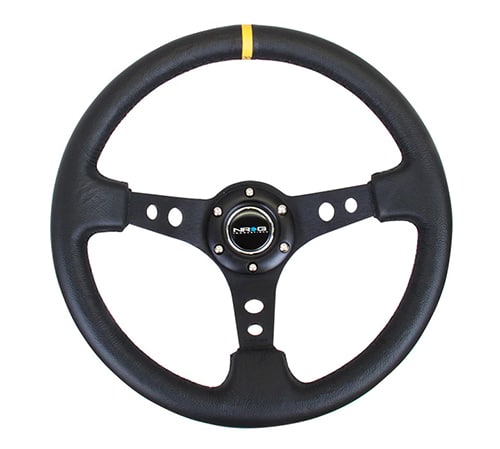 Brand: NRG Innovations
Color: Black
Material: Leather
Diameter: 350 mm
Dish: 76 mm
Buy on: Amazon
If this is your first time installing an aftermarket steering wheel and you want to start off with something cheap and easy, NRG is a good brand to consider.
They're known for making inexpensive yet good quality steering wheels, without compromising on durability or structural integrity.
The ST-006BK-Y wheel is coated in leather and is best known for its ultra-deep dish wide-ish diameter of 350 mm.
Sparco Piuma L777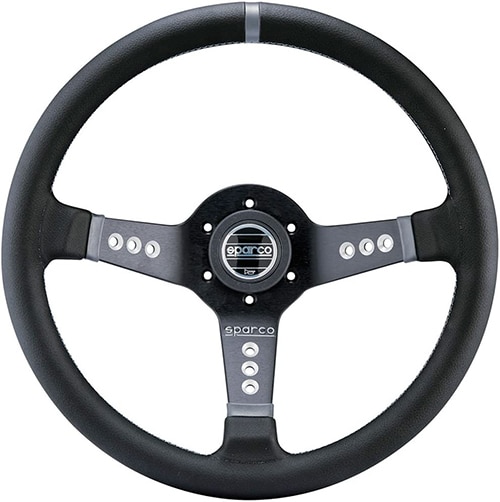 Brand: Sparco
Color: Black
Material: Suede or leather
Diameter: 350 mm
Dish: 63 mm
Buy on: Amazon (leather) | Enjuku Racing (suede)
Sparco's L777 is a premium-looking, no-frills aftermarket steering wheel designed to improve grip and comfort in race cars.
The black and silver dual-tone aesthetic looks classy and will go well with just about any car. You can buy the Piuma L777 steering wheel in both leather and suede.
It comes with a horn button in the center that requires minimal wiring, and it fits all hub adapters with the MOMO-style bolt pattern.
Sparco R 345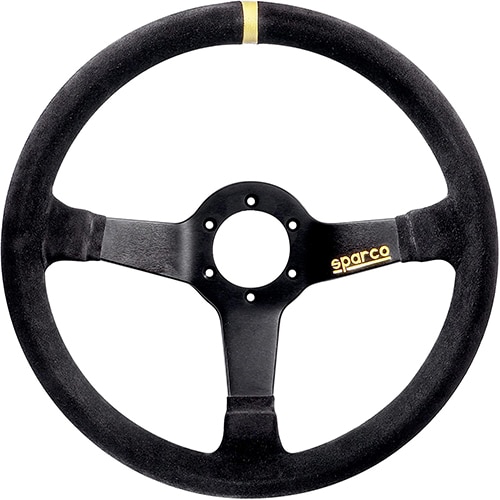 Brand: Sparco
Color: Black
Material: Suede or Leather
Diameter: 350 mm
Dish: 65 mm
Buy on: Amazon | Enjuku Racing
Sparco R 345 is another great steering wheel that is widely appreciated for its simple design. It is available in suede and leather grip options and it has a yellow center stripe to mark the top-dead-center position.
The 350 mm diameter makes it a good choice for all styles of driving and racing, especially drifting.
Its anodized T-shaped three-spoke design paired with black suede is simple but effective and aesthetically pleasing.
For the price, the R 345 is a great deal. We've seen plenty of steering wheels that offer more or less the same quality for a lot more money.
Sparco 215
Brand: Sparco
Color: Black
Material: Suede
Diameter: 350 mm
Dish: 65 mm
Buy on: Enjuku Racing
The 215 is a unique two-spoke aftermarket steering wheel from Sparco. It's constructed from aluminum and wrapped in suede for precise control.
It's a great choice for drifting and rally racing as it omits the lower spoke and offers more surface area to work with.
If you're looking for a two-spoke, full-dish steering wheel from a reputable brand, this is the one to go for.
Nardi Classic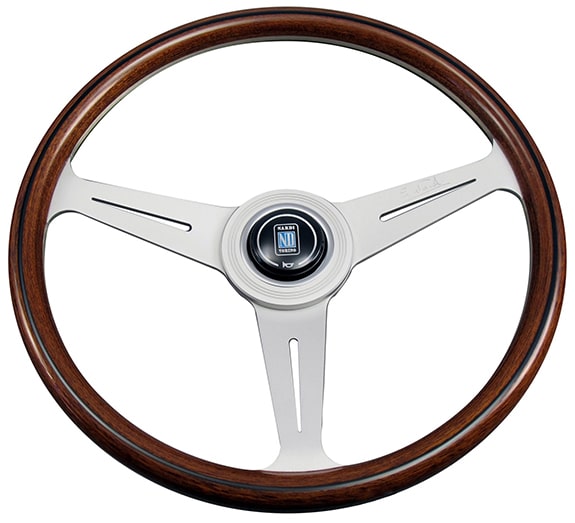 Brand: Nardi
Color: Brown
Material: Wood
Diameter: 390 mm
Dish: 30 mm
Buy on: Amazon
The Nardi Classic is the endgame steering wheel for anyone and everyone who drives a classic car or loves the vintage look.
Just like the MOMO Heritage Indy, it is constructed from Mahogany wood and features brushed, glossy spokes.
What really sets it apart from the Heritage Indy is its larger diameter and unmistakably vintage charm, with no modern design cues or out-of-place colors.
You get contours on the back of the wheel for better ergonomics and a horn button in the center. It's truly a work of art — take a look at it up close and you'll know what we're talking about.
This steering wheel will feel right at home in classic JDM cars like the Datsun 240z or just about any pre-90s car.
Nardi Deep Corn
Brand: Nardi
Color: Black
Material: Leather
Diameter: 350 mm
Dish: 80 mm
Buy on: Amazon
Nardi Deep Corn is a preferred choice among enthusiasts who prefer a deep dish steering wheel instead of a flat one. This wheel is 80 mm deep and has white anodized spokes.
The high-quality aluminum frame is wrapped neatly in black perforated leather which is accented with red stitching. It's a great choice for enthusiasts who are into drifting because of how close it sits.
Being a Nardi wheel, you know you can't go wrong with it. It's completely hand-made, just like all other steering wheels from this brand.
That also explains why these are slightly more expensive than other options on this list.
Grant 415 Challenger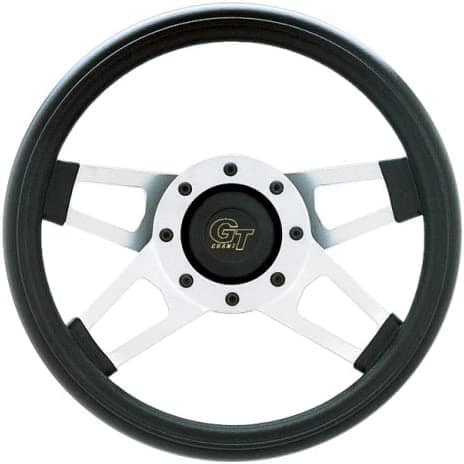 Brand: Grant
Color: Black
Material: Foam
Diameter: 350 mm
Dish: 57 mm
Buy on: Amazon
Grant is a staple name in the aftermarket community when it comes to steering wheels. That said, the 415 Challenger is surprisingly cheap for the kind of quality it offers.
The dual-plane spoke design looks unique in comparison with the standard T-shape and dual-spoke designs, but it is not to everyone's taste.
Note that the 8-bolt pattern that you see around the horn is decorative. Just like all Grant steering wheels, this one has a 3-bolt pattern. You'll have to purchase a Grant 3000 or 4000 series installation kit along with it.
One gripe some enthusiasts have with this steering wheel is that the grip is made from foam.
So if you're expecting more premium materials like Alcantara or suede, we recommend going with entry-level MOMO or Sparco wheels.
MOMO Quark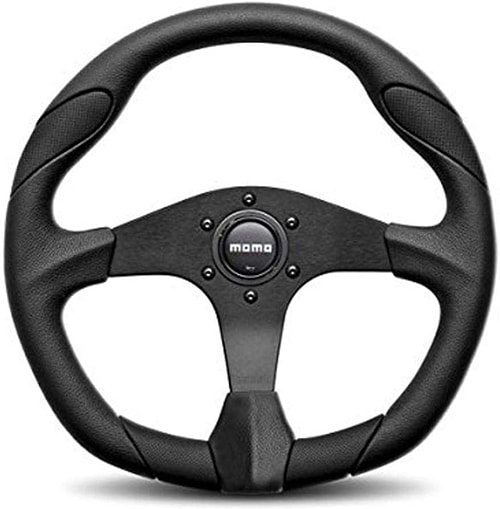 Brand: MOMO
Color: Black
Material: Urethane
Diameter: 350 mm
Dish: 37 mm
Buy on: Amazon 
The MOMO Quark steering wheel is the perfect balance between cheap and premium. It's made of black polyurethane and perforated air leather inserts. It's not exactly soft to the touch, but it doesn't feel flimsy either.
The shape is anatomically correct as the grip widens above the spokes for better comfort. Its angular shapes and organic radii easily make it one of the more unique steering wheels on this list.
Our Top Recommendations
With a huge array of aftermarket steering wheel options available to enthusiasts, running into counterfeit products is inevitable. As long as you buy from reputable sources, you'll be in the clear.
It is recommended to choose well-known brands like those listed in this article, or others that have been highly praised by others in the community.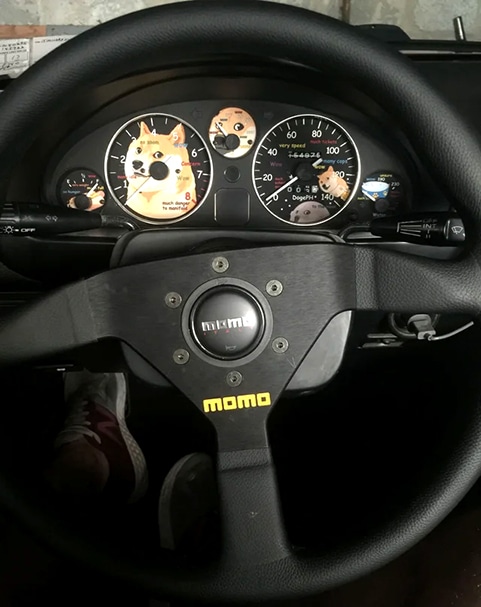 We've already covered the best aftermarket steering wheels currently available on this list. But if we had to zero in and choose 3 of our top favorites, then we'd choose the following.
Ultimate steering wheel for track use: MOMO Ultra
The MOMO Ultra steering wheel is fun, playful, and track-focused which is very obvious from the design.
Looks aside, this is a genuinely high-quality steering wheel that will definitely grow on you with time.
Best steering wheel for drifting: MOMO MOD. Drift
MOMO is pretty much the industry standard when it comes to aftermarket parts, especially steering wheels. The quality of their products is impeccable and the MOD. Drift wheel is no exception.
From the circular shape to the T-pattern three-spoke design, the MOD Drift indeed leaves a lasting impression.
The Alcantara suede grip offers an amazing feel to the touch and the wheel can slip effortlessly through your hands while free-spinning during a drift all day long.
For the budget conscious: Grant 415 Challenger
All the options we have listed so far are on the pricier side. That said, there are steering wheels that cost upwards of $1000.
But if you just want something cheap to get a feel for what aftermarket steering wheels are like, then the Grant 415 Challenger is a good place to start.
Hub adapters are readily available for most tuner cars, it looks great, and it is manufactured by a reputable brand.
Best classic steering wheel: Nardi Classic
Choosing between the MOMO Heritage Indy and the Nardi Classic is difficult. On one hand, the MOMO is significantly cheaper, but on the other, the Nardi Classic is unbelievably well made.
Our vote goes to the Nardi Classic. It's large, it's mahogany, and it has a beautiful silver centerpiece.
Which one of these aftermarket steering wheels caught your attention the most? Are there any of your favorites that you'd like for us to update the list with? Let us know by leaving a comment below!
If this article has helped you make a decision, we'd love for you to share it on Reddit, Facebook, or any of your favorite online communities. Your support means the world to us!