Not everyone uses racing gloves. But it's better to have them on when you don't need them than to be in a situation where you wish you had some hand protection.
That's not to say that you must wear drag racing gloves on your drive home every day; that's overkill. But if you frequent the track or if you're involved in any form of racing, then gloves are definitely worth considering.
In many types of motorsport, racing gloves are actually mandated by sanctioning bodies for insurance and safety purposes.
The benefits of using racing gloves don't stop at safety — they give you a tactical advantage by improving your grip and reducing hand fatigue. A lot of this depends on the size and type of gloves you choose.
In this article, we'll discuss why you should use racing gloves, how to select the right pair, and we'll conclude by reviewing some of the best options for both competitive and casual use.
Why Racing Gloves Are Important
Driving gloves were extremely essential back when cars had several solidly mounted components, no rubber bushings, no power steering, and no heating. People made sure they always have a pair stashed away in the glove box.
As cars got more comfortable and steering systems more sophisticated, the need for driving gloves was gone. Racing gloves, on the other hand, have always been the norm in the world of motorsport.
No matter what you're into, whether it's drifting, rallying, Autocross, or drag racing, you'll find that once you get used to wearing gloves, you won't want to go back.
Even if you're not competing professionally, gloves will significantly enhance your driving experience. Here are 3 main reasons why using racing gloves is a good idea.
Safety
The primary purpose of racing gloves, other than grip and comfort, is to keep your hands safe in the unfortunate event of a crash.
Your hands need protection from shards of broken glass, exposed bits of sharp metal, and fire when you're navigating your way out of a totaled car.
The safety aspect also extends to less-serious problems such as fatigue and friction burns after a long driving session. This is especially common among people who spend a lot of time in their drift cars, driving sideways.
Utility and Comfort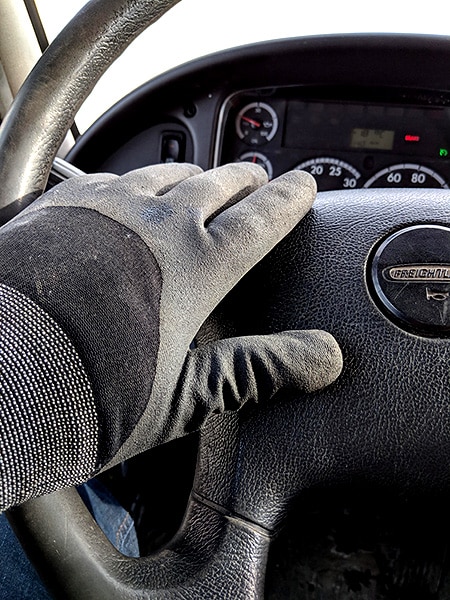 Insulation from the elements and comfort are huge advantages of wearing racing gloves. They're designed to dampen vibrations and reduce hand fatigue.
How comfortable the gloves are and how they feel will heavily depend on the fabric you choose, whether you've sized them correctly, the stitching pattern, and the thickness.
Operating tiny switches, touch-based infotainment systems, and your phone might be problematic with some glove designs. Although most options that you'll come across have this functionality.
Grip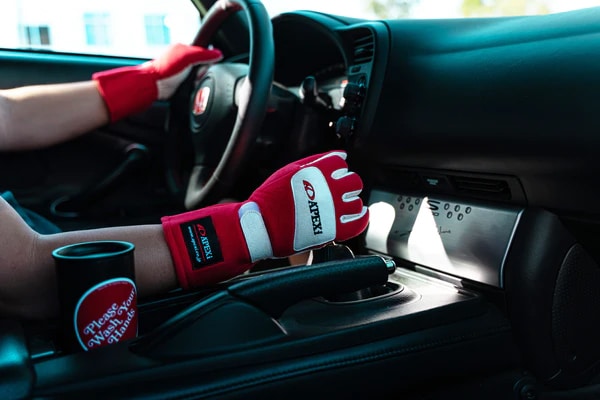 If you've ever had sweaty or dry palms while driving, you must've noticed a significant variation in the amount of grip you have over the wheel; especially if it's leather. Wearing gloves will negate that effect entirely.
On the flip side, they do slightly dampen steering feedback — the sensation of what your front wheels are doing.
You have thousands of nerve endings in your palms and fingers. Having direct contact with the steering wheel will give you better feedback, but the pros of using racing significantly outweigh the cons.
There's the option of opting for a less grippy material if you prefer to rely on the clasping force of your hands to control your steering wheel. If that's not your style, try the Alcantara wheel and glove combo for ultimate grip.
Choosing the Right Racing Gloves
Poorly fitting gloves can cause a great deal of discomfort and irritation — a distraction you don't want when you're in a situation that demands 100% of your concentration.
Finding the right pair for you requires a fair bit of experimentation, but there are some basic guidelines that you should consider. Doing so will make it easier for you to find a pair of racing gloves that you'll enjoy using for years.
Size
If your racing gloves are too tight, you run the risk of cutting off the blood circulation to your hands. Well, not entirely, but you will feel some amount of numbness. And if they're too loose, they will bunch up, which is not ideal.

The best thing you can do is measure your hands accurately and choose the right size from the get-go.
The most effective way to get an accurate fit is to measure the circumference of your palm right below your knuckles or measure the width of your palm.
It is advisable to always choose the larger size if you're in-between measurements on a sizing chart.
Fabric Thickness
Thick gloves can be great, but they do restrict some amount of hand dexterity. Thin gloves are also good, but then there's the issue of fire resistance and protection against sharp objects in case of an accident.
The safest thing you can do is go for a happy medium. You want to pick out gloves that are suitable for your use case. Thin gloves are great for karting, light-duty racing, and daily driving.
But thick gloves are ideal for drag racing, rallying, or any form of motorsport where the intensity and probability of accidents are higher.
Material Selection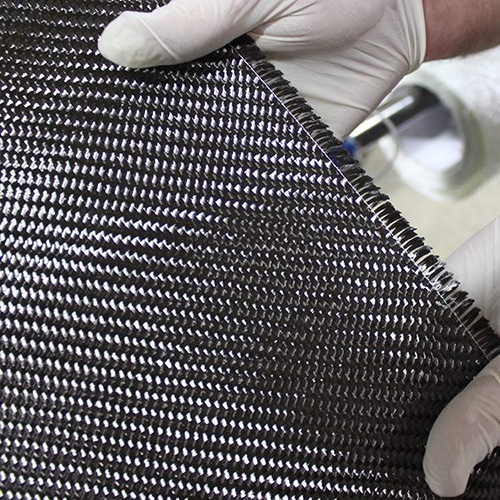 Material is the key determinant of how your gloves will resist fire, how heavy they will be, and how much control they'll give you.
The first fabric to look for is aramid fiber (aromatic polyamide); it's a strong, heat-resistant fabric used in aerospace and military applications; and for making body armor. It is one of the most common fabrics used by manufacturers of automotive safety gear.
Nomex is another commonly used material. It's a refined type of aramid fiber that is known for its excellent fire resistance. Silica fiber has excellent insulation and is soft enough to keep your hands comfortable even in harsh conditions.
You'll find that suede is the preferred material for making glove inserts and it's also used on the palm of the gloves for optimal grip.
Leather is sturdy and can resist short-duration exposure to temperatures up to 200°c in contrast to FIA-approved aramid gloves that can sustain temperatures of around 1500°c.
Design
The main reason why you should steer clear of knock-off gloves is that they're almost never designed the way they're supposed to be. Far too many corners are cut to manufacture and sell them that cheap.
What you want is an anatomically correct pair of gloves that are designed to retain their curvature. This means they're designed in a way that they won't bunch up when you're holding the steering wheel.
When you straighten your palm out, you should feel some resistance, like you're almost pulling on the fabric. Additionally, they need to have perforation holes to help with breathability, and the cuffs should extend beyond your wrist.
You get to choose between internal and external stitched options. External stitched gloves have their seams on the outside, which makes them extremely comfortable to wear.
They don't look great, but the external stitching makes quite a difference. However, internally stitched gloves are more durable.
Flame Resistance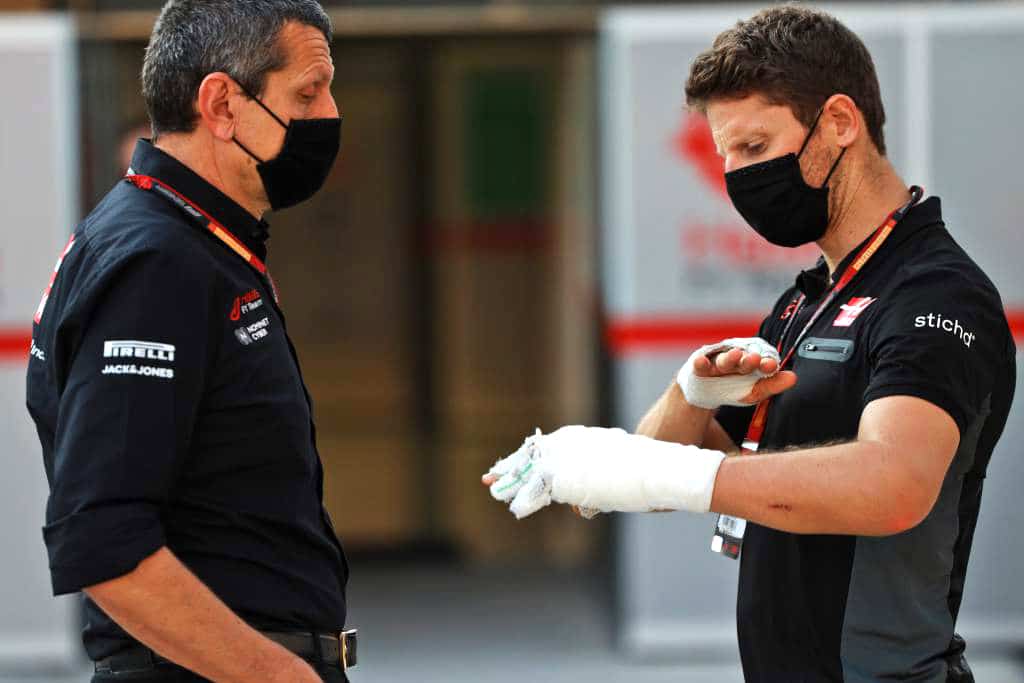 Flame resistance is one of the more critical factors you want to look for when buying any type of racing apparel, especially racing gloves.
As mentioned earlier, aramid fiber, Nomex, and silica fabric are the materials you should look for if you want the best flame resistance.
The easiest way to narrow down your options is to look for the right safety certifications, which brings us to the next section.
Safety Certification
Gloves designed for competitive use versus those designed for daily driving are extremely different. One way to gauge the quality is by looking at the safety certification.
FIA and SFI are two of the most common certifications you'll come across when buying racing gloves.
SFI stands for SEMA Federation, Inc — an automotive trade organization that deals with certifying safety gear in the United States.
SFI-certified products have a tag that reads "SFI 3.3A/5 Rated". This indicate that they have at least two layers of heat-resistant fabric, meaning they will be able to resist high temperature and prevent a 2-degree burn for up to 10 seconds.
And if the tag reads "SFI 3.3A/1 Rated" then it means that it only has one layer of heat-resistant fabric and it will be able to prevent a 2-degree burn for up to 3 seconds.
The higher the rating, the longer it would take for the heat to get to your hand to be injured. However, it's worth noting that even the best gloves in the world won't protect you if they're exposed to a fire for an extended period of time.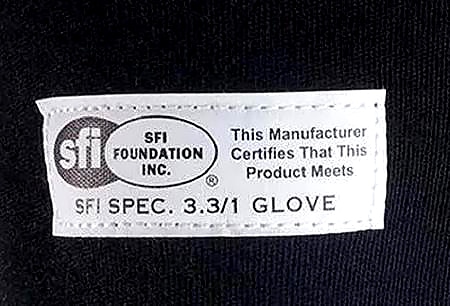 FIA is the governing body for world motorsport and it stands for Federation International de l'Automotive, which translates to the International Federation of Automobiles.
FIA safety certifications are accepted internationally, and they're a lot more stringent compared to the SFI safety standard.
The Best Racing Gloves for Competitive Use
Now that you know how to select the right pair of gloves, let's kick off the review list you're here for.
Below we've listed our favorite competitive racing gloves you can buy, along with the specifications, color options, safety certification, and all the features you need to know about.
Alpinestars Tech 1 Start V2
Manufacturer: Alpinestars
Material: Aramid fiber
Safety certification: SFI 3.3/5
Colors: Black/white, red/white, royal blue/white, yellow/white
Sizes: Small-XX large
Buy on: Amazon
Tech-1 Start V2 by Alpinestars is the perfect pair of starter gloves, especially if you're looking for your first pair. They're affordable, stylish, and come with an SFI 3.3/5 safety certification.
You get optimal flexibility, control, and grip over the steering wheel owing to the printed silicone zone on the palm.
The fingers are constructed without fourchettes and have inside seams ensuring a comfortable fit and feel.
With straight, extended cuffs and an anatomically optimized design, the Tech 1 Start V2 gloves by Alpinestars are as good as it gets in this price range. Not to mention the excellent selection of colors.
Momo Corsa R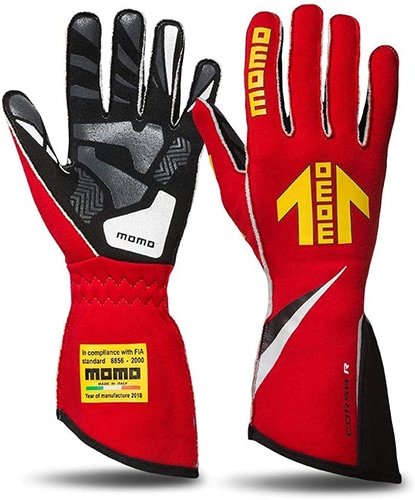 Manufacturer: Momo
Material: Aramid fiber
Safety certifications: FIA 8856-2000
Colors: Black, red, blue, white
Sizes: 8-13
Buy on: Amazon | Enjuku Racing (see table)
MOMO's newest addition to their glove line-up, the Corsa R is exceptionally well designed and provides optimal comfort in all driving conditions, whether it is for track-use, drifting, karting, or even daily driving.
The design is pre-curved, dual-layered, and anatomically correct to prevent fabric bunching for maximum control. They feature externally stitched seams and a one-piece palm construction.
Corsa R gloves are flame-retardant, FIA 8856-2000 certified; and they're available in black, white, red, and blue.
Sparco Arrow RG-7 Evo
Manufacturer: Sparco
Material: Aramid and polyester
Safety certifications: FIA 8856-2018 and SFI 3.3/5
Colors: Black, white, red
Sizes: 8-13
Buy on: Amazon
If you're looking for a pair of practical, do-it-all racing gloves that you can wear for casual as well as competitive use, look no further.
Sparco Arrow Evos have been the racing community's go-to gloves for quite a few years now. These gloves have a thinner single-layer construction to allow for a better steering feel.
The seamless, anatomically correct palm perfectly contours to the natural shape of your hand, without any discomfort or resistance.
Sparco's exclusive printed HTX palm offers exceptionally good grip and dexterity over the steering wheel, which perfectly complements the thin design.
An added plus is that you can operate touch-screen devices with these gloves on, which is a very welcome feature that adds a ton of practicality.
OMP Tecnica Evo
Manufacturer: OMP
Material: Nomex, suede, and silicone
Safety certification: FIA 8856-2000
Colors: Blue | White | Black/yellow | Black | Red | White
Sizes: X Small-X Large
The Tecnica Evo gloves from OMP are manufactured in Italy and constructed from fire-resistant Nomex fabric with external stitching for added comfort.
They're pre-curved with a suede surface and silicone printed rubber palm grip that works perfectly with all types of racing steering wheels, especially leather.
There's also a padded leather insert at the center of the palm that allows for additional cushioning to reduce hand fatigue caused by shifting too frequently, which is useful if you have a short throw shifter installed.
Sparco Tide
Manufacturer: Sparco
Material: Aramid and silicone
Safety certification: FIA 8856-2000
Colors: Orange/black, yellow/black, black, blue, red
Sizes: XX Small-X Large
The Sparco Tide gloves offer an unparalleled combination of performance and features. These are more expensive than most options on this list, but you get what you pay for.
Unique hybrid stitched fingers, Sparco-exclusive 3D HTX grip, FIA and SFI approval, anatomically correct design, and externally stitched seams are some of the most notable features of the Tide racing gloves.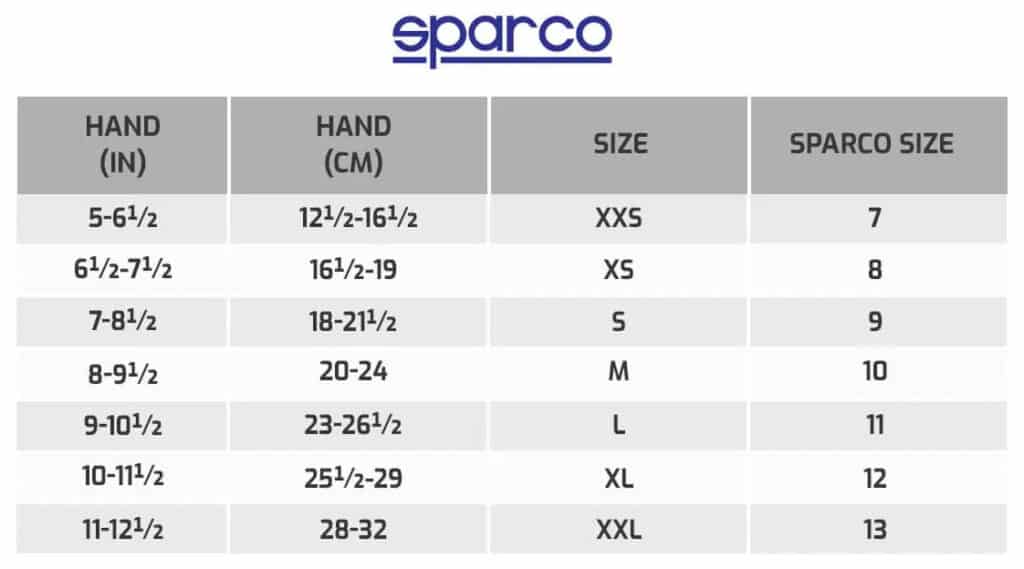 Sparco has many reliable and durable gloves in their line-up, but the Tide series is definitely one of their top-of-the-line offerings.
OMP First Evo
Manufacturer: OMP
Material: Nomex and silicon
Safety certifications: FIA 8856-2018
Color: Black, black/yellow, blue/cyan, black/grey, black/yellow, navy/cyan, red, red/white/black, red/black
Sizes: X Small to X Large
Buy on: Amazon
The minimal and lightweight OMP First Evo Gloves offer a comfortable design that delivers the same quality and performance as some of the more expensive options on this list, but at a much lower price.
Their external stitched seams, straight-cut gauntlet design, and elasticated wrists vastly improve the fit, while the printed silicon-rubber palm provides maximum grip with minimal bulk.
OMP First EVO auto race gloves are compliant with the stringent FIA 8856-2018 safety standards for maximum flame resistance.
Sparco Wind
Manufacturer: Sparco
Material: Nomex
Safety Certification: SFI 3.3/20
Colors: Black / White
Sizes: XX-Large | X-Large | Large | Medium | Small
This one is for the drag racers. Sparco's Wind gloves can be used in any drag event that requires a minimum safety certification of SFI 3.3/20.
Even though these gloves are developed exclusively for drag racing, you can always use them for other forms of racing. Just know that they're on the thicker, bulkier side due to the multi-layer Nomex construction.
OMP One Evo X
Manufacturer: OMP
Material: Aramid Fiber
Safety certification: FIA 8856-2018
Colors: Black/yellow, red, white
Sizes: XS-XL
Buy on: Amazon
A top-of-the-line offering from OMP straight from Italy — the One Evo X racing gloves feature some of the best silicone palm prints we've seen, with unrivaled sensitivity and grip.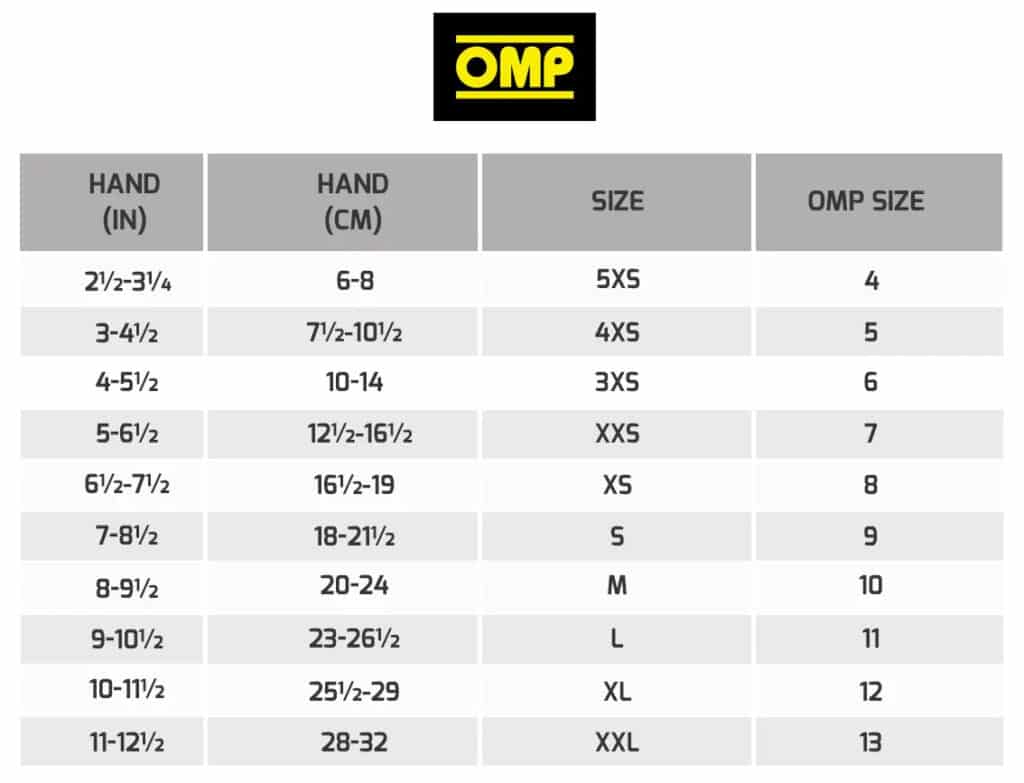 These gloves are made using an ultra-lightweight fire-retardant fabric with elasticated wrists to ensure a snug fit. The external seams make it such that you can wear these all day, every day without any discomfort.
The pre-curved shape utilizes OMP's proprietary Dry System for excellent breathability, keeping your hands dry and cool.
Budget Racing Gloves for Occasional Track Use
Racing gloves that keep you safe don't necessarily have to be very expensive. You can easily find something that works for half the price.
If you don't find yourself engaging in spirited driving or any form of motorsport too often, or if you want an inexpensive pair of gloves that are SFI certified, then the following options are perfect for you.
RaceQuip 351 Series 1
Manufacturer: RaceQuip
Material: Suede and Nomex
Safety certification: SFI 3.3/1 Rated
Colors: Black, red, blue
Buy on: Amazon | Enjuku Racing
The RaceQuip SFI-1 are entry-level, one-layer Nomex racing gloves that come with grey suede leather palms. They meet the essential SFI 3.3/1 safety certification despite the basic design and low price.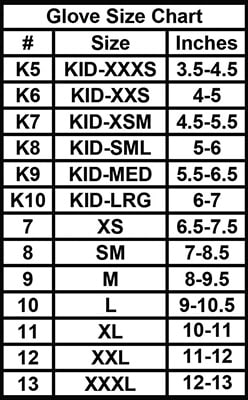 These gloves are ideal for daily driving, occasional track use, drifting, and even sim racing. You get a full standard-length gauntlet with extra padding between the thumb and index finger considering that it's a high-wear area.
If you're looking for simple and cheap racing gloves that you can wear every day, these are the right ones for you.
G-Force G-5
Manufacturer: G-Force
Material: Nomex & Leather
Safety certification: SFI 3.3/5 Rated
Colors: White
Buy on: Amazon
Just like the RaceQuip SFI-1 gloves listed above, the G-Force G5 gloves are equally inexpensive and have a no-frills design. They're SFI 3.3/5 certified, which is more than adequate for occasional track use.
They're made using high-quality Nomex and leather and have a reinforced leather palm, knuckle pad, and an adjustable Velcro wrist closure.
The G5 gloves are lined with a flame-retardant fabric that wicks moisture away from your hands while maintaining that unique RaceGrip feel.
RaceQuip 351 Series 2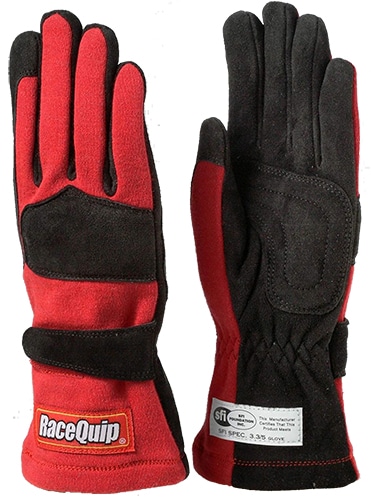 Manufacturer: RaceQuip
Material: Nomex
Safety certification: SFI 3.3/5 Rated
Colors: Red, black, blue
Buy on: Amazon
RaceQuip 351 Series 2 gloves feature a dual-layer Nomex and suede leather design that provides a soft and supple feel. The black suede leather palm is adequately grippy, works well with Alcantara wheels, and looks premium.
The knuckle pad and palm reinforcements are attached to the Nomex knitting in a way that doesn't hinder flexibility. But these aren't pre-curved or anatomically oriented.
Just like 351 Series 1 gloves, these gloves get extra leather padding between the index finger to the end of the thumb in the high-wear area for more durability.
These gloves feature a standard-length gauntlet with an adjustable velcro closure on the back to ensure a proper fit. And they have a higher safety rating than the Series 1 variant.
Cuircon Skeleton Gloves
Manufacturer: Cuircon International
Material: Nomex and Goatskin leather
Safety certification: SFI 3.3/5 Rated & FIA 8856-2000
Colors: Fluorescent orange, fluorescent green, fluorescent pink
Buy On: Amazon
Cuircon racing gloves are made with dual-layered, fire-retardant Nomex as the main shell and Goatskin suede leather for the palm.
The skeleton aesthetic isn't to everyone's taste, but we can see why some enthusiasts would choose these. They're bright, fun, and most importantly, they're SFI certified.
You also get reverse seams and a printed silicone grip on the palms which work really well in combination with the goatskin leather.
The gloves have elastic wrists for a secure and comfortable fit, and the curved shape helps to keep fabric bunching at a minimum.
BridgeMoto Signature Driving Gloves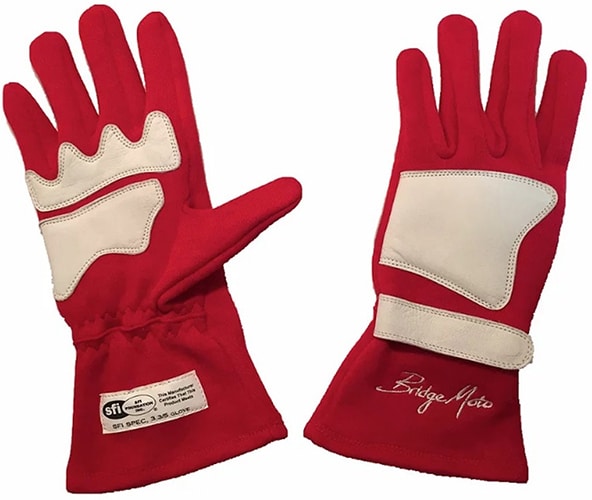 Manufacturer: BridgeMoto
Material: Dupont Nomex and cowhide leather
Safety certification: SFI 3.3/5 Rated
Colors: Red, blue, black
Buy on: Enjuku Racing
Another one of our favorite driving gloves is the Signature series by BridgeMoto. If you like the retro JDM style and want a unique-looking pair of gloves, these are the perfect option for you.
They're made from 100% genuine cowhide leather that will not only keep your hands toasty but it will also allow for excellent grip on your shifter and steering wheel while keeping hand fatigue at a minimum.
The wrists aren't elasticated, instead, you get an adjustable leather strap. Despite their bulky appearance, these gloves are actually very lightweight.
Our Top Choices
As we mentioned before, glove selection does depend a lot on the features and safety rating, but it's mostly down to personal preference. Below we've listed our top glove choices for drifting, rally, time-attack, drag racing, and occasional track use.
Drifting: Momo Corsa R
Drifting involves an extremely high amount of contact with the steering wheel and shift knob — going from lock to lock, countersteering, letting the wheel spin and glide against your hands, shifting frequently, and so on.
The last thing you need in that situation is gloves that cause blisters and abrasions. Momo's Corsa R gloves have a one-piece palm construction with external stitching that helps to prevent abrasions and keep your hands as comfortable as possible.
Time attack: OMP One Evo X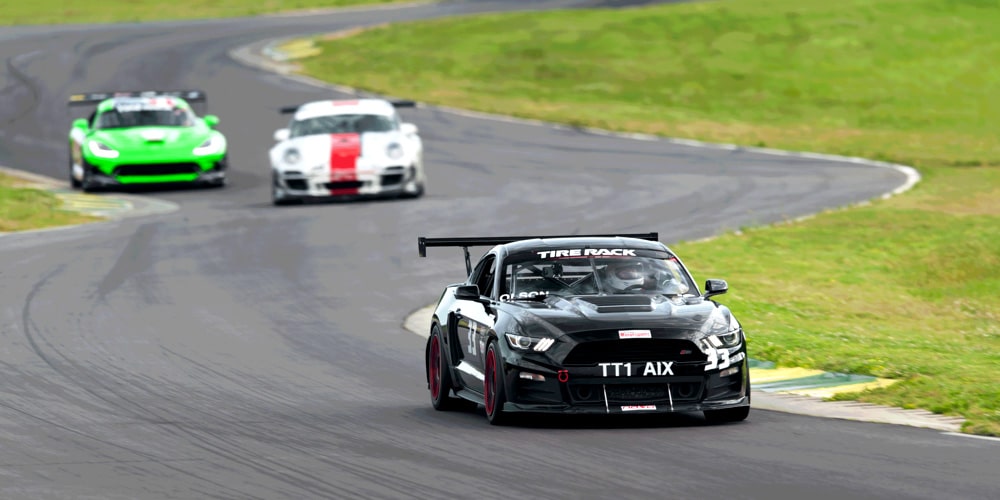 There's much to say about OMP and its high-quality products. These are arguably the most comfortable gloves on this list. Not only are they durable and reliable, but they also look really good.
Karting and occasional track use: RaceQuip 351 Series 2
If you aren't looking to spend a lot and just want something that works, we recommend starting out with RaceQuip's 351 Series 2 gloves.
Using these for a few months will give you a good frame of reference when you're switching to your next pair and you'll be able to gauge the quality of other gloves more easily.
Drag racing: Sparco Wind
The Sparco Wind gloves are designed exclusively for drag racing, which is why they are SFI 3.3/20 certified. If you spend a lot of time sending it at the drag strip, these are a must-have.
Best overall: Sparco Arrow RG-7 Evo
You can't go wrong with a pair of Arrow RG-7 Evos by Sparco. They do it all; you can operate touch screen devices, hand dexterity and flexibility is excellent, and they're a fantastic solution.
Which one of these gloves caught your attention the most? Is there a pair that should be on here but isn't? Let us know by leaving a comment below.
If you enjoyed reading this post, please feel free to share it on Reddit, Facebook, or your favorite forums. We really appreciate your support!