The Mitsubishi Evo X begs to be driven hard no matter where you take it. And with all that exceptional handling, who could say no?

However, if you've beaten the most out of your Evo X, or just had it for a while — it's probably a good idea to check up on how your clutch is doing.
In this guide, we'll walk you through the best Evo X clutch upgrades for a manual transmission, along with their many benefits.
When Should I Replace My Evo X's Clutch?
Your driving style can deeply impact the life of your clutch. Some Mitsubishi Evo X (CZ4A) owners need to replace their clutch at 10,000 miles while others go more than 65,000 miles without any slipping issues.
If you do notice that something is wrong with your clutch, it is advisable to replace it as soon as possible. Here are some tell-tale signs that your Evo X is in urgent need of a new clutch.
No Bite. All Slip. Completely Worn Out!
No surprise here but wear and tear is probably the most common reason why your Evo X will need a new clutch.
If you notice your clutch slipping or lack a clutch "bite" it's best to get a replacement before your Evo X runs into other problems. This usually occurs when you step on the gas from the lights, and engine rpm rises steadily before your Evo can match up to the speed.
Also, shifting between gears can easily become a huge pain when driving with a worn-out clutch.
If you're driving along in say, third gear at low rpm, and put your foot down, usually your engine will "pull" your drivetrain, and car up to that higher rpm.
But with a slipping clutch your engine will rev higher before your drivetrain matches that speed. If your car is acting this way, you will need a new clutch sooner rather than later.
Too Much Power
If you're running an upgraded turbo in your Evo X, along with an aggressive tune to go with it, the factory clutch probably won't be able to handle all that extra power.
The stock Evolution X clutch can clamp up to 350-380 wtq. This number is already higher than OEM parameters, but a lot of it depends on your OEM clutch's current condition and the mileage.
Best Clutch Kits for Your Mitsubishi Evo X
Driving your Evo X with a worn-out clutch isn't a fun experience at all, but you'll luckily find a handful of aftermarket clutch kits to turn things around.
Here are some of the best Evo X clutch kits that will work wonders whether you're on the street or chasing heavy track laps.
ACT Heavy Duty
Manufacturer: ACT
Part Number: ME3-HDSS + 600550
Disc Type: Metallic full face disc
Torque Capacity (ft/lbs): 510
Best for: Daily driving
ACT is a well-established brand in the world of high-performance clutch and flywheel upgrades. This particular unit is one of the most popular choices amongst many Evo X owners.
It's a great option if you're looking for something that can hold a ton of power without compromising on daily drivability.
The biggest advantage of this kit is that it feels remarkably close to the OEM clutch plate and still copes with a lot of torque. Although it feels a bit heavier, it's nothing compared to other high-performance clutch kits.
The build quality is top-notch, and you can count on this kit to deliver stellar performance after a short bed-in period.
This kit comes with a flywheel, which is why the whole upgrade can hold up to 440 pounds of wheel torque while retaining an OEM feel.
EFT Stage 3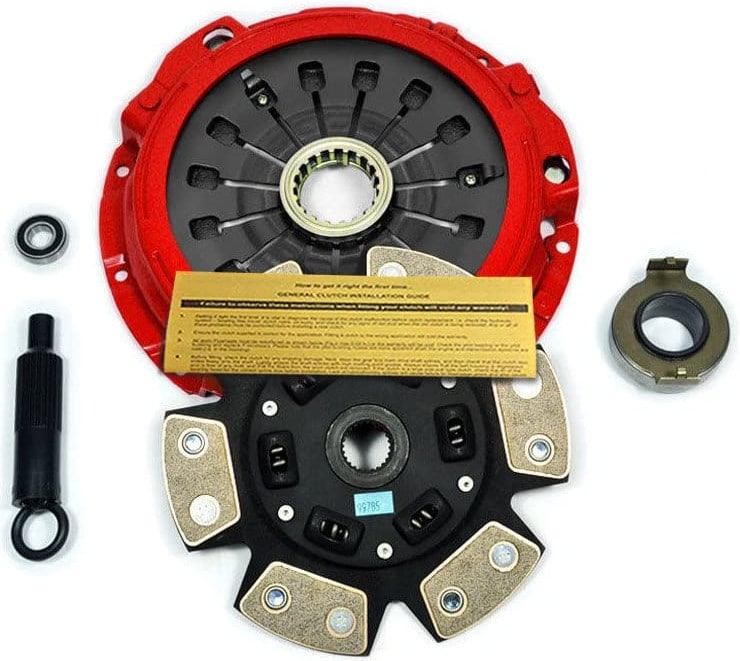 Manufacturer: Efortissimo Racing
Part Number: 5631304
Disc Type: Copper ceramic six-puck disc
Torque Capacity (ft/lbs): 485
Best for: Mountain passes, light traffic
Buy On: Amazon
The Stage 3 kit by EFT is possibly the cheapest clutch upgrade for your Evo X. You can get this sturdy kit for less than $200 and still enjoy a 410 wtq capability along with a 12-month, 12,000-mile warranty.
It comes with a 6-puck ceramic disk that has 12 high-quality friction pads to ensure the best grip possible. Its unique heavy-duty design also keeps the clutch cool which only adds to the durability of the kit.
Although it this is a well spec'd product, it will make your clutch pedal a tad stiffer than OEM, which will take some getting used to. Given the price point, however, this is a small trade-off.
EXEDY Stage 2
Manufacturer: EXEDY
Part Number: 05952A
Disc Type: Cerametallic three-puck disc
Torque Capacity (ft/lbs): 366
Best for: Mountain passes, light traffic
Buy On: Amazon
Next on our list is the Stage 2 clutch kit by EXEDY, which is a well-known brand in the world of performance clutch upgrades. Since this kit only handles a little more torque over the factory clutch, it's a perfect replacement for a stock or moderately modified Mitsubishi Evolution X.
What's great about this clutch is that its cerametallic material and spring dampers absorb a ton of strain and shock that could otherwise impact your drivetrain.
Also, the EXEDY clutch kit doesn't feel much stiffer than OEM, which it makes it the perfect Evo X clutch replacement for both daily driving and hard launches — all at a great cost.
Competition Clutch Stage 3+
Manufacturer: Competition Clutch
Part Number: 5153-2600
Disc Type: Ceramic full face disk
Torque Capacity (ft/lbs): 525
Best for: Competition use, limited traffic
Buy On: Amazon | Enjuku Racing
This Stage 3 kit by Competition Clutch packs a punch without burning a hole in your wallet. With this upgrade, you can expect your Mitsubishi to handle up to 150% more torque than stock, and enjoy the fast and precise clutch engagement.
Installing some aftermarket clutch kits on your Evo X can be time-consuming but this one is an absolute is a breeze since this kit is a direct OEM replacement.
The only downside you'll experience is a rather stiff clutch pedal. This is particularly noticeable if you're making the switch from OEM.
SPEC Stage 3+
Manufacturer: SPEC
Part Number: SM103F
Disc Type: Carbon semi-metallic full face disc
Torque Capacity (ft/lbs): 595
Best for: Street and drag
Buy On: Enjuku Racing
If you're looking for a high-performance Evo X clutch upgrade, SPEC has this Stage 3+ kit to suit your needs. It features a full face semi-metallic disc with a high torque capacity and allows for smooth gear changes.
Although it handles a good amount of torque, the clutch pedal feels light and soft, which is rare in performance kits. It engages well enough for a smooth driving experience. This is especially important if your Evo X is a daily driver.
Thanks to the carbon semi-metallic material, you'll get a long-lasting and friction-efficient product at a reasonable price.
Our Favorite Evo X Clutch Kits
While the OEM clutch certainly does its job well, there are a handful of aftermarket clutch kits that will put it to shame.
If you're still unsure about which clutch kit to choose for your Mitsubishi Evo X, take a look at our top picks…
Best Clutch Kit for Daily Driving: EXEDY Stage 2
EXEDY has steadily become a name you can rely on. Needless to say, this kit is no exception. While your car will grab harder than it will with the OEM clutch, your clutch pedal will stay as light as ever.
High-Performance Clutch Kit: ACT Heavy Duty
There's no doubt that the ACT Heavy Duty kit delivers the best performance and driveability, regardless of whether you hit the track frequently or if you just love driving around with a smoother clutch. Despite this, it can handle a ton of torque, making it one of the best options on the market.
Best Value Evolution X Clutch Kit: EFT Stage 3
EFT's Stage 3 has the ability to handle reasonably high torque numbers without sacrificing durability. If you are on a budget, this is the go-to option, just be aware your clutch pedal will be noticeably stiffer than it was from the factory.
Did you spot your favorite Evo X clutch on our list? Did we miss something out? Tell us in the comments below! Don't forget to check out our guide to the best clutch alignment tool sets too.