Gauge pods are an excellent way of keeping an eye on your engine's vitals –– something that the OEM gauge cluster on your Mitsubishi Evo X definitely lacks.
From monitoring boost, oil pressure, air-to-fuel ratio (AFR), and more, gauge pods are not only incredibly functional but also add to the visual appeal of your car.
This guide features the best Evo X gauges pods available today along with in-depth reviews of each item.
Mitsubishi Evolution X Gauge Pod Options
Before we jump to the reviews you should know that there are three main Evo X gauge mounting solutions available.
Each of these options do the same thing, but they fit in a different location on your vehicle and have different benefits.
Everyone has a different preference when it comes to which is best from the driver's seat. I personally like my gauges mounted on the pillar, as they are easy to see but don't obstruct my view. Others feel differently of course!
Pillar Gauge Pod
This is probably the most popular option among most CZ4A owners. If you're a car movie lover, you've noticed that modified cars usually have their gauges mounted on the pillar.
The main advantages of the pillar gauges pod are their appearance, ease of installation, price, and versatility.
Dashboard Gauge Pod
The pillar gauge pod is easy to attach, but the dash gauge pod is even easier, only requiring some double-sided tape.
However, if you decide to remove the pod, you'll have the tape residue left on your dashboard, and it's hard to get rid of it most of the time.
Steering Wheel Gauge Pod
This option is less popular, and the main reason for this is that it hinders the viewing of the instrument cluster. Nonetheless, it looks kind of cool when you look at the cluster and hit full boost.
This said, there's not a lot of options to choose from if you're looking for a wheel-mounted gauge pod that's specifically designed for your Evo X.
A-Pillar Mounted Gauge Pods
The A-Pillar gauge pod is the most popular option for Evo X owners.
They're easy to install and it doesn't really cost too much to get a quality gauge pod. Below are our top recommendations that you can find today.
Rexpeed A-Pillar Pod
Manufacturer: Rexpeed
Part Number: R131
Gauge Diameter (mm): 52-60
Fitment: Pillar
Warranty: Limited manufacturer
Buy On: Amazon
If you're looking for a single slot, pillar gauge pod for your Evo X, then this is one of the best you can get. It comes with a nice carbon fiber finish that adds to the already sporty interior.
The pod features a 52mm hole but can be adjusted to fit 60mm gauges if necessary — sandpaper or a Dremel will do the job. This carbon fiber gauge pod is a genuinely good piece of kit — it's durable and doesn't rattle around.
Another great thing about this pod is that it comes with a strong, durable 3M adhesive for ease of installation and long-lasting adhesion. However, the installation is actually pretty straightforward. The only thing that takes time is positioning the pod correctly with the pillar.
Rexpeed Double Pod
Manufacturer: Rexpeed
Part Number: R158
Gauge Diameter (mm): 52-60
Fitment: Pillar
Warranty: Limited manufacturer
Buy On: Amazon
This dual gauge pod from Rexpeed is an excellent combination of durability and utility. Rexpeed never compromises on quality, and more importantly, this particular unit comes at a very reasonable price.
It is made of high-quality ABS plastic that ensures longevity. Also, it was specifically designed to match the original color of the pillar, which makes it a great choice if you want to retain the OEM aesthetic.
You'll be able to install two 52mm to 60mm gauges with this pod. Just like the previous pod from Rexpeed, you can make easy adjustments with rotary tools if needed.
Keep in mind that this unit doesn't come with adhesive tape, so you'll have to use your own 2-way tape to install it.
GlowShift Triple Pillar
Manufacturer: GlowShift Gauges
Part Number: GS-384G
Gauge Diameter (mm): 52
Fitment: Pillar
Warranty: One-year limited
Buy On: Amazon
If you need to install three gauges for whatever reason, then GlowShift has a great option for you.
It's made of high-quality ABS plastic to withstand fading or warping. If you're looking for OEM-style interior mods, then you might be slightly disappointed as this gauge pod won't exactly match your Evo's interior.
The good news is that it's easy to paint, so many Evo X owners paint these units before installing them.
The complete kit includes all the necessary hardware and installation instructions for easy fitting. Although, some edges may still require minor trims if you want the perfect fit.
Overall, it's a great gauge pod for your Evo X if you're looking to add more than just one gauge. Also, it's one of the cheapest options you can get, so it's hard for others to compete.
Evo X Dashboard Gauge Pods
If you don't like the gauges sticking to the pillar, there are a lot of dashboard gauge pods that you can install and monitor in a comfortable line of sight.
Since dashboard gauge pods are easier to install than pillar pods — and cheaper too, it makes sense to take a look at these. It all comes down to preference.
GlowShift Triple Dashboard
Manufacturer: GlowShift Gauges
Part Number: GS-UD3_Lip_52mm
Gauge Diameter (mm): 52
Fitment: Dashboard
Warranty: One-year limited
Buy On: Amazon
This one is a universal dashboard pod that fits almost every vehicle. The fact that it's really cheap can be a good thing — it's cheap to test out. If you love the location, great, if you don't, you can always spring for something better.
Dashboard pods are prone to high temperatures, which means they crack, fade and warp more often. However, thanks to the high-quality ABS plastic, this unit withstands the elements pretty well.
It features three 52mm slots for gauges but the downside is that you can't trim them to install larger gauges. While most performance gauges are 52mm, this isn't usually a problem, but if you already have some larger gauges, it's something to be aware of.
Installation is a breeze — simply attach the pod to your dashboard with double-sided tape, which is included in the kit. Easy.
CP-E Dash Mount Triple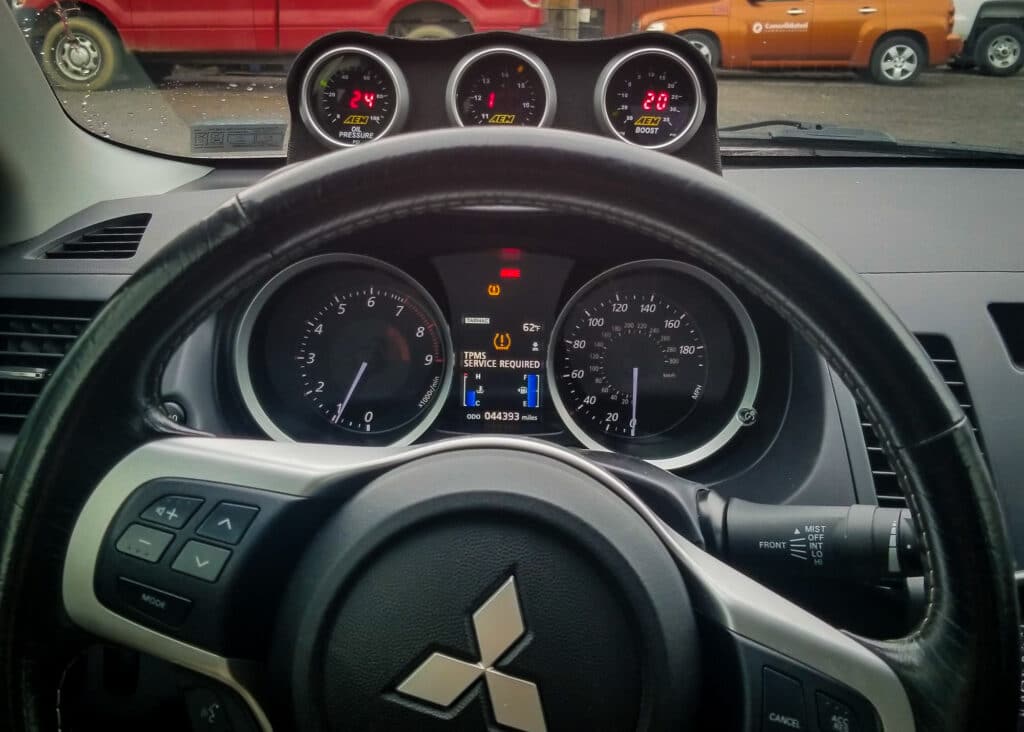 Manufacturer: Custom Performance Engineering
Part Number: MTGP00001B
Gauge Diameter (mm): 52-60
Fitment: Dashboard
Warranty: Lifetime limited
If you don't like universal parts on your Evo X and want something bespoke, you can try this premium dashboard gauge pod that's specifically designed to fit your Mitsubishi. It installs right above your instrument cluster and aligns perfectly with the CZ4A panel, which looks really streamlined.
The main advantage of this product is how it looks. There aren't many products available that offer such a great and clean fitment.
It also has the special advantage of being molded by plastic injection. This means that plastic is very durable and can withstand extreme temperatures.
Another great thing about it is that you can house three 52mm to 60mm gauges with minimal modifications.
The only thing that might put you off is the price. You can get five different pods at this price, but they won't fit as well as this premium unit will.
ATI ezPod
Manufacturer: Auto Tech Interiors
Part Number: ATI-CZ4-EZPOD-60
Gauge Diameter (mm): 60
Fitment: Dashboard
Warranty: Standard manufacturer
Buy On: Amazon
When you're looking for a 60mm dashboard gauge pod, ezPod is a great product to start with. It features three gauge slots and is installed directly above the central dashboard.
It was designed to blend perfectly with the original dashboard and make it look like an original device. So it looks pretty good, and the fact that it's mounted in the center doesn't block your view.
Installation is hassle-free, but the kit doesn't include double-sided tape, so make sure to buy some before getting them fitted.
Although the price is close to CP-E's premium pod, the quality isn't the same. If you live in a very hot climate this may be a good one to skip as it doesn't withstand the heat as well as some others will.
Agency Power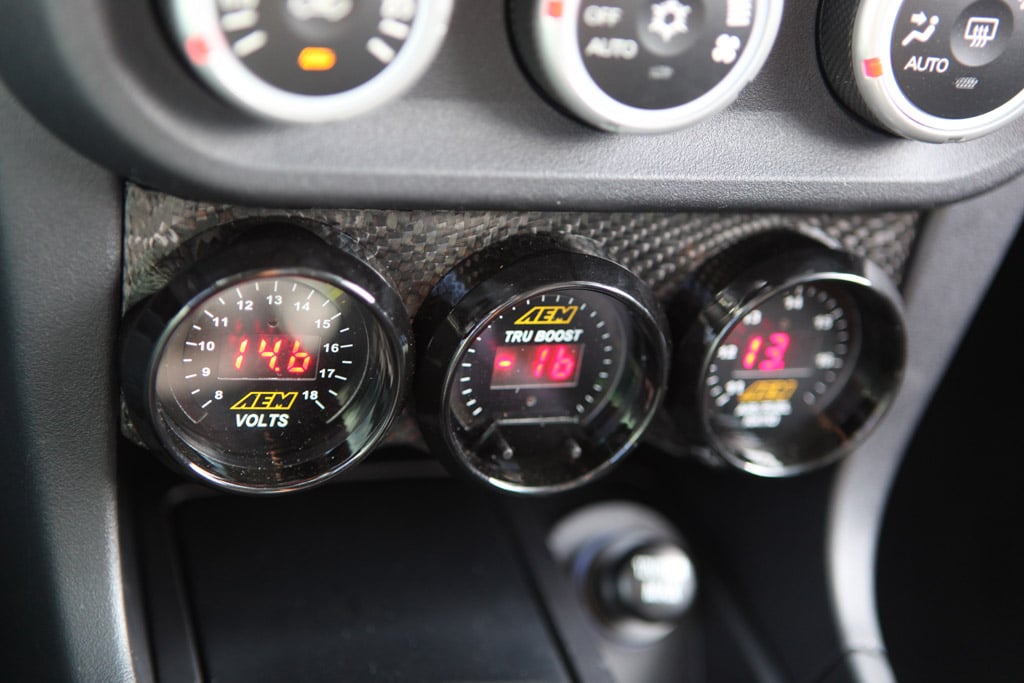 Manufacturer: Agency Power
Part Number: AP-CZ4A-190
Gauge Diameter (mm): 60
Fitment: Under-dash
Warranty: Lifetime limited
Buy On: Amazon
Agency Power has a versatile gauge pod that fits under the climate control area of your Mitsubishi Evo X.
If you want to keep your interior looking as OEM as possible, this is a great option.
It comes in a carbon fiber finish and looks great. If you have already have some carbon fiber parts in your interior, this gauge pod will match them perfectly.
You can house two 60mm gauges in this pod. If you want to use a 52mm gauge, you're going to have to find an adapter.
It comes with double-sided tape and screws. Both installation options work great for installation, but obviously, tape is easier and less permanent. Screws ensure mounting is very solid though.
Steering Wheel Gauge Pod
Using a steering wheel gauge makes sense because it's a convenient position to check, while others prefer a more unique look for pillar mount gauges pod.
Some people feel it obstructs the view of your speedometer and tachometers, but it's really going to come down to your seating position and the steering wheel that is in your Evo X.
Rexpeed
Manufacturer: Rexpeed
Part Number: R149
Gauge Diameter (mm): 52-60
Fitment: Steering wheel
Warranty: Standard manufacturer
Buy On: Amazon
A possible downside of installing a gauge on your steering wheel is that it will obstruct your instrument cluster. If you're used to constantly eyeballing your tachometer, this might be a problem.
However, Rexpeed did a great job at manufacturing their pod to fit most gauges while taking as little space as possible.
If this doesn't put you off, this is a great steering wheel gauge pod for your Evo X if you want to have a little extra information right in front of you.
Best Gauge Pods for Your Evo X: Our Top Picks
Having a better overview of your Mitsubishi's 4B11T engine health is a sensible thing to do. You've already invested in buying a strong and reliable car, Evo X specific mods, and proper insurance coverage. Monitoring your engine's vitals is an important way to be sure you're protecting your car from unnecessary damage.
It's also a nice improvement in your interior. Whether you're looking for a more unique interior or to monitor your engine on track days, we've got our top picks below.
A-Pillar Mounted Gauge Pod: Rexpeed
Rexpeed has the best dual-gauge pillar mounted pod from this list. High-quality ABS plastic, versatility when installing gauges, and the factory look is what you get with this upgrade.
OEM Style Dashboard Gauge Pod: Agency Power
If you want to make use of the space under your climate controls, Agency Power's unit is the perfect gauge pod you can get. Made from carbon fiber, it's easy to fit, and looks very clean when installed, not to mention stealth.
Have you tried any of these gauge pods? Which mounting position do you like the most? Let us know in the comments below!