The Evo X handles ridiculously well in its stock form, but it does have some body roll which isn't suitable for pushing it to the limit. Don't get us wrong though, this car is no boat.
In fact, the stock handling of the Evo X took us by surprise the first time we drove it. Very few cars are that well-behaved around corners on OEM suspension. So imagine what it can do with a great set of soft compound racing tires and high-quality coilovers or lowering springs.
Because the Evo X sits on the heavier side, having the option to effectively manage its 3,700 pounds of mass is always a blessing for any enthusiast. Especially if it's robbing your cornering thrills.
In this guide, we'll list and review some of the best coilovers for the Mitsubishi Evo X and discuss everything you need to know before selecting a set for yourself.
Coilover Selection 101
Judging by how many Evo X coilovers are available on the market, it's important that you narrow down your choices by factoring in the variables.
Obviously, price is a concern, as are quality and reliability. Other factors include the material used, spring rates, adjustability, weight savings, and so on.
But, in the interest of keeping things simple, let's not get too carried away. After all, you're probably not hitting the track seven days a week. (If you are, don't worry, we've got you covered as well).
Before we get into the meat of the matter, let's familiarize ourselves with a few terms commonly thrown around when discussing suspension. These help us better understand which ones to pick and what setup to run.
We touch on the different spring types and spring rates better suited for the Evo X. Also, we'll quickly go over the importance of preload and ride height while busting some of the myths surrounding them.
Spring Rate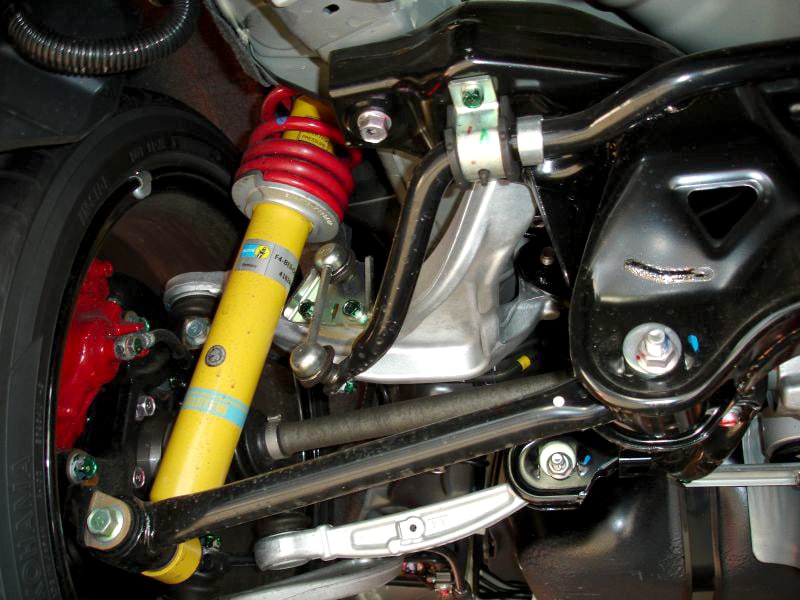 Spring rate is the amount of weight required to compress the spring by one inch. Usually, spring rates are denoted simply as the weight in imperial units, but in metric units, they are followed by the letter "k" after the specified weight.
For instance, 10k means 10 kilograms needed for 1mm of compression. The equivalent spring rate in imperial units is 560, which stands for 560 pounds of force for 1 inch of compression.
If you're wondering about the conversion, it's simple. Multiply the metric measurement with 56 to calculate the imperial value, i.e, 10 kg/mm * 56 = 560 lb/in.
Generally, the softer the spring rate, the more comfortable the ride becomes. For an Evo X, a good starting point is 8k at the front and 10k at the rear for daily driving. For track use, 10k front and 12k rear is the most preferred.
But, what if you want the best of both worlds? That's where spring types come in.
Spring Type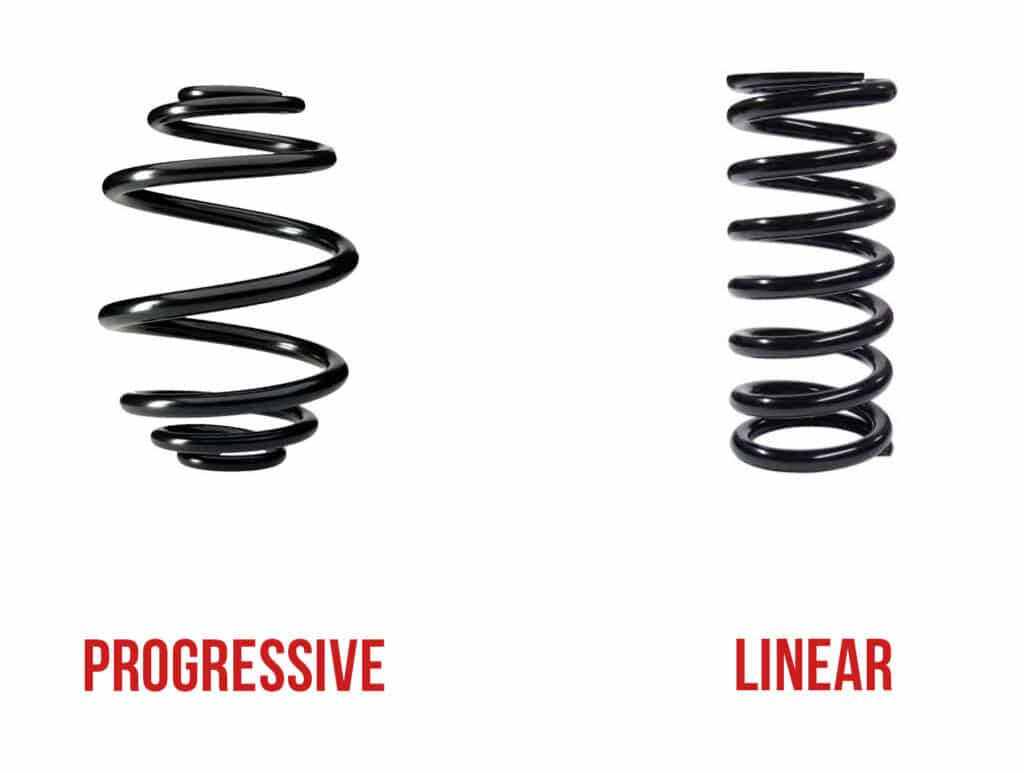 Spring type refers to having either a fixed or a variable spring rate. Based on this, springs are classified into two types –– linear and progressive.
As the name suggests, a linear or straight spring offers a consistent spring rate throughout its length. On the other hand, progressive springs have spring rates that change as they get compressed.
Generally, linear springs are preferred for track use because of their predictable nature. But, road cars are better with progressive springs as they strike a near-perfect balance between comfort and stiffness.
There is an easy way to tell them apart. With progressive springs, the amount of space between each coil differs as compared to the evenly distributed space on linear springs.
Preload and Ride Height
In simple terms, preload refers to the pressure under which the spring is compressed. When adjusting preload, you are simply adding or removing pressure from the spring to either compress or decompress it.
This allows you to adjust the spring and damper by correcting the range of operation within the suspension's travel.
If there isn't enough preload dialed, the suspension will sag more than it should, increasing the risk of frequent bottom-outs. That said, having too much preload isn't advised either. It results in a harsher ride as the suspension won't be able to iron out the smaller bumps.
Ride height is simply the distance between the bottom of your car and the road. Other people refer to it as ground clearance.
Adjustable coilovers give you the option of altering ride height. However, many believe that adjusting preload changes the spring rate and affects the ride height.
This couldn't be further from the truth. Unless the spring is progressive, adding preload will not affect the spring rate.
Construction Type — Monotube or Twin-Tube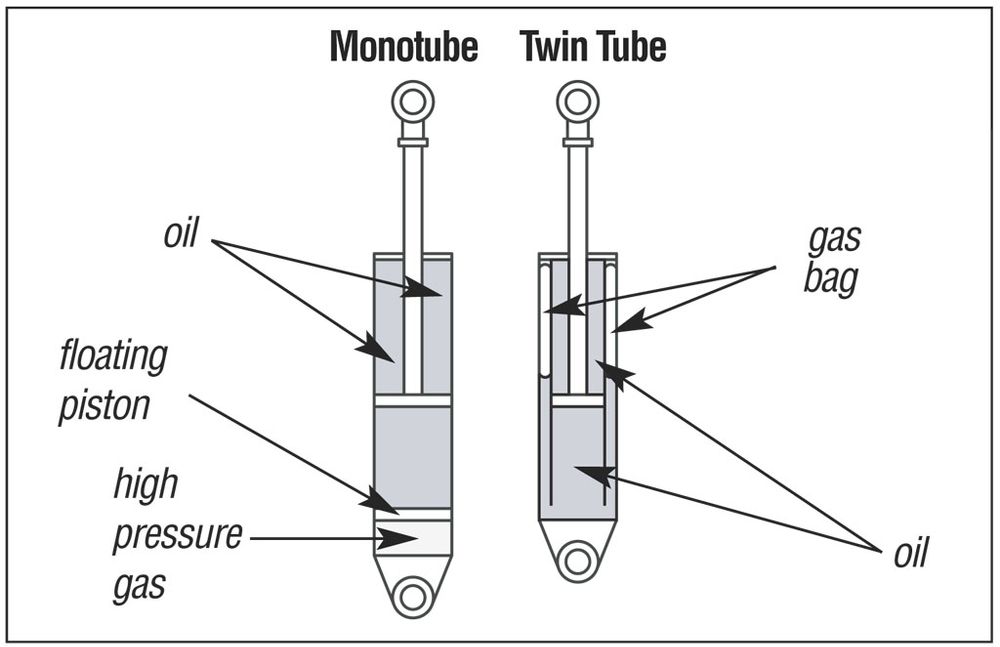 Yet another deciding factor is damper construction. The most commonly used damper types are Monotube and Twin-tube.
Monotube dampers have all their components housed within one tube. An outer shell does the job of a cylinder and houses a free piston that separates the oil and gas inside.
Twin-tube shocks are multi-valved and have two chambers –– inner and outer. One houses the oil while the other holds the gas.
Generally, monotubes offer better damping quality and ride comfort as they exert pressure equally unlike twin tubes and their multi-chambered setup. Monotubes also react because they have wider pistons. They're more durable thanks to their relatively simple design.
The only disadvantage is that monotubes cost a lot more to manufacture. So, if you are on a budget and don't intend on doing many track days, then we'd recommend twin-tube shocks. Though they pale in comparison, they are actually enough for most use cases.
Best Value Coilovers for Evo X
As mentioned, not everyone is looking to improve lap times. Some prefer to prioritize aesthetics over milliseconds.
For those looking at moderate performance improvements under a budget, here are the best bang-for-buck coilovers available for the Evo X.
BC Racing BR Series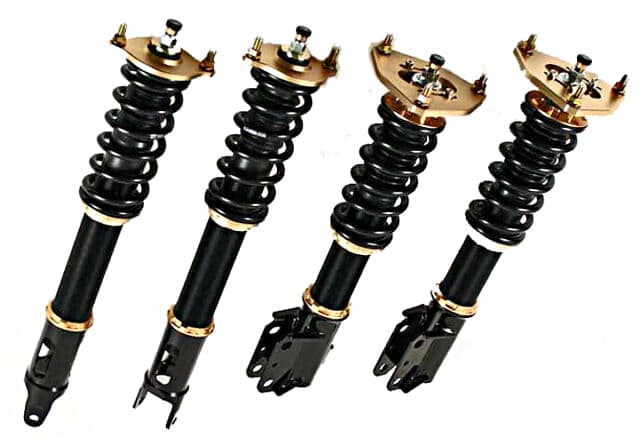 Manufacturer: BC Racing
Part Number: B-20-BR
Damping Adjustment: 30 Levels
Construction Type: Monotube
Spring Type: Linear
Warranty: 1 Year
Buy On: Enjuku Racing
The BC Racing BR series is one of the more affordable and extremely popular coilovers available for the Evo X. Considering its monotube design and 30 levels of adjustment, there is no other system that offers this level of flexibility at such a competitive price.
You get 8k/6k as standard, however, custom spring rates can be ordered as well. BC Racing has developed a user-friendly design by the adjustment knobs easily accessible.
The upper perch adjusts the preload and rebound settings, while the lower one adjusts the ride height.
Bottom line –– you can't go wrong with BC Racing BR Series coilovers. These are a massive hit amongst enthusiasts from all over the car community for good reason.
Fortune Auto 500 Series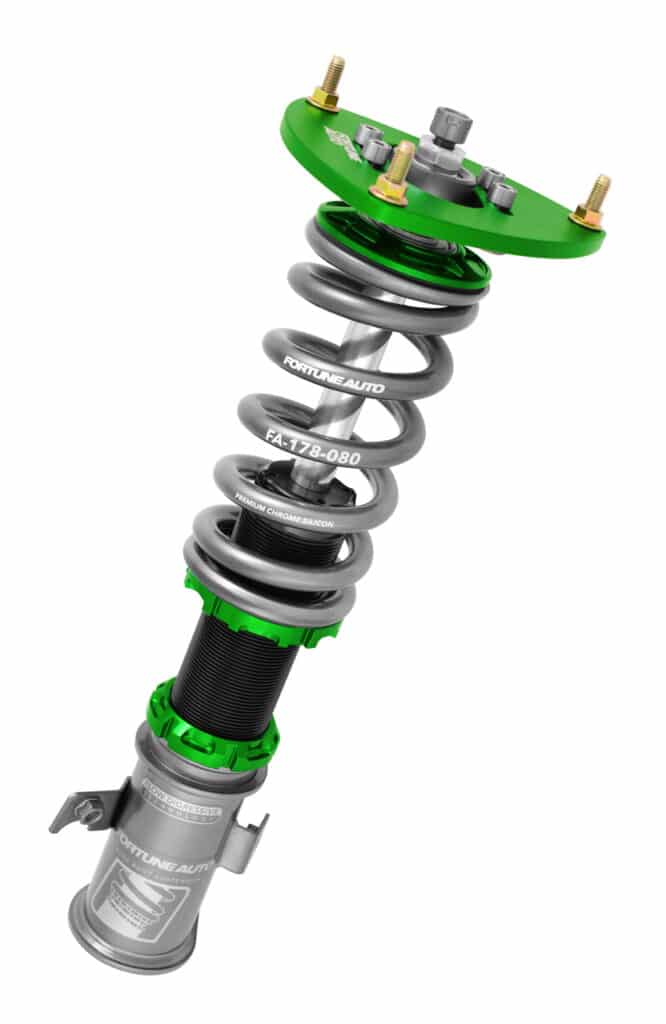 Manufacturer: Fortune Auto
Part Number: FA500-EVOX
Damping Adjustment: 24 Levels
Construction Type: Monotube
Spring Type: Linear
Warranty: 5 Years
Buy On: Enjuku Racing
Another favorite amongst the community — the Fortune Auto 500 (or FA 500) is slightly superior in design and performance compared to most other coilovers in this list.
Because of its breadth of abilities, the FA 500 is arguably the best all-around coilover system for the Evo X. You can choose between two sets of spring rates; 8k/8k as standard or 9k/10k for a sportier ride.
Fortune Auto also offers Swift springs for an additional premium. They are more durable and offer a slightly cushier ride than the standard springs.
Also, Fortune Auto Coilovers are assembled to order. So, expect a 3-4 week wait before delivery.
HKS Hipermax MAX IV GT 20Spec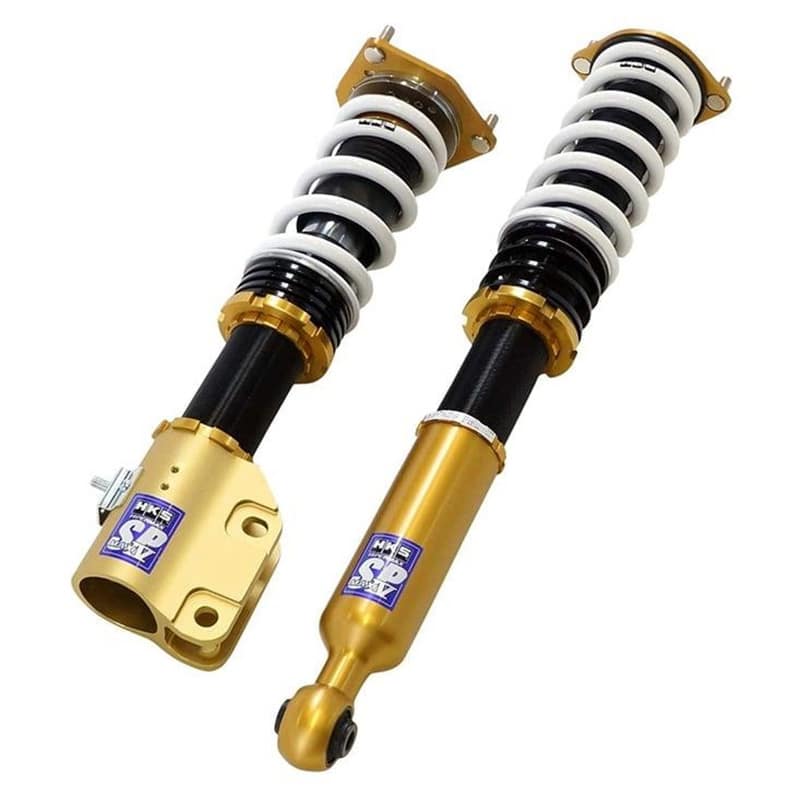 Manufacturer: HKS
Part Number: 80230-AM001A
Damping Adjustment: 30 Levels
Construction Type: Monotube
Spring Type: Linear
Warranty: 1 Year
Buy On: Enjuku Racing
HKS is one of the most reputed names in the aftermarket suspension industry. The GT 20 Spec offers more benefits than its predecessor, the GT series. As standard, the GT 20 Spec comes with 10k/7k spring rates front and rear. However, you can opt to have an even softer setting at 8k/5k.
The HKS GT 20 Spec coilovers feature an inverted monotube design which vastly improves the rigidity and feedback. Equipping your Evo X with these HKS coilovers will noticeably improve both high and low-speed stability.
Fortune Auto 501 Series
Manufacturer: Fortune Auto
Part Number: FA-510 CFD-EVOX
Damping Adjustment: 24 Levels
Construction Type: Monotube
Spring Type: Linear
Warranty: 5 Years
Buy On: Enjuku Racing
Yet another Fortune Auto product and this one is even better but more expensive.
As standard, these coilovers use 8k front and rear. Even though the springs are linear, Fortune Auto's Concave Flow Digressive technology (CFD) offers the convenience of tuning your suspension without re-valving the dampers.
Considering that Fortune Auto has quite the street rep when it comes to building high-quality coilover systems, we're certain that your Evo X will benefit from a set of FA 501s.
Best Performance Coilovers for Evo X
If you're serious about setting up your car with the best hardware, these high-performance coilovers are what your car needs.
The list is populated with some of the best names in the aftermarket business. For those willing to shell out extra, these are some of the industry-leading coilovers available for the Mitsubishi Evo X.
Apexi N1 Evolution
Manufacturer: Apexi
Part Number: 264CM023
Damping Adjustment: 25 Levels
Construction Type: Monotube
Spring Type: Linear
Warranty: 1 Year
Buy On: Amazon | Enjuku Racing
Apexi has done a lot of testing to set up their latest flagship suspension system. With a standard spring rate of 10k/7k front and rear, the N1 Evolution coilovers are right at the top when it comes to quality suspension hardware.
One of the unique aspects of N1 is that it's custom-built. Whether it be for Street, Drift, or Circuit use, Apexi compiles data collected from hundreds of customers and keeps refining their product range based on the findings.
This data includes everything from wheel and tire specs, driving style; engine and chassis specifications, and a lot more.
Make sure you customize the system according to your exact needs. If done right, your Evo X should benefit from noticeable stability and handling improvements.
Ohlins Road & Track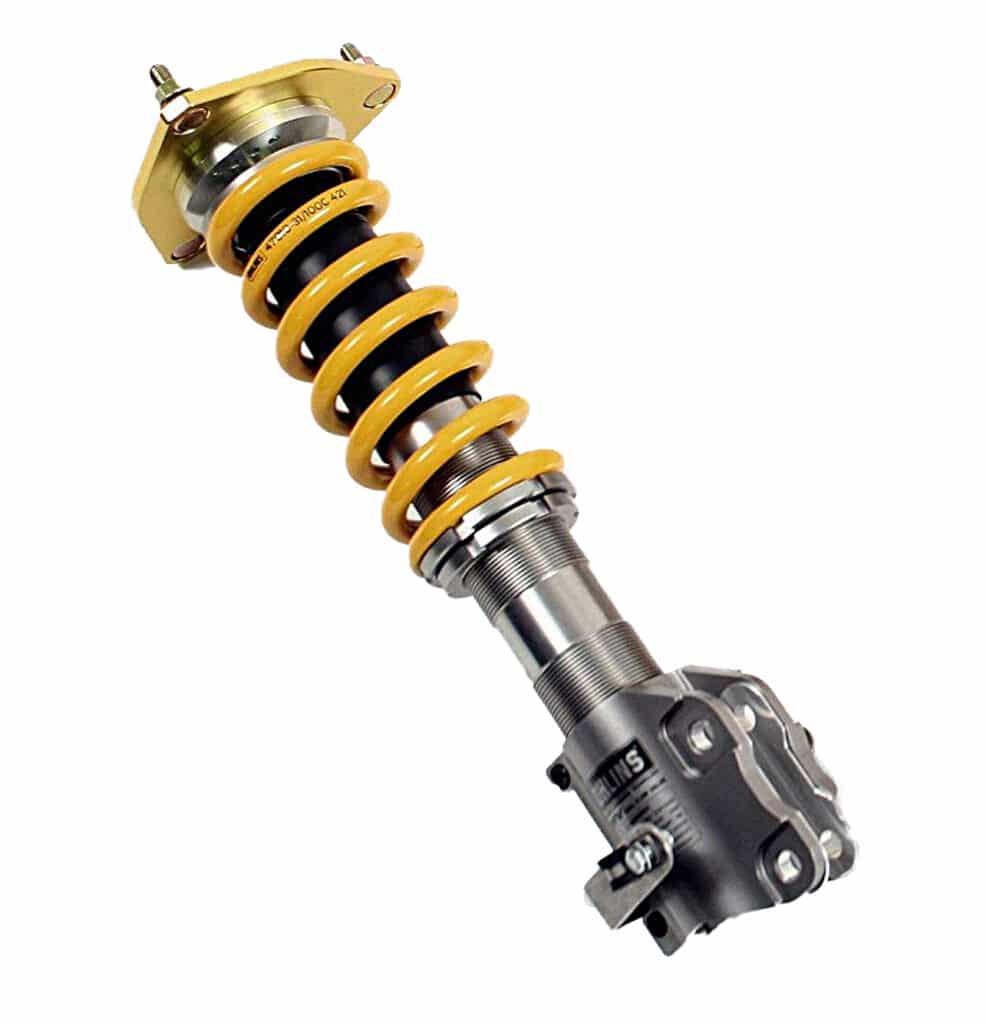 Manufacturer: Ohlins
Part Number: MIS Mi10S1
Construction Type: Monotube
Spring Type: Linear
Warranty: 2 Years
Buy On: Amazon
With over 30 years in the industry, Ohlins has become the gold standard for high-performance suspension hardware. If you're willing to cough up the extra dough, make no mistake, the Ohlins Road & Track is the ultimate coilover setup for your Evo X.
As standard, you get 10k front and 8k rear; however, the Road & Track can be re-valved, rebuilt, and equipped with different spring rates, depending on your requirements.
The available DFV (Dual Flow Valve) technology allows you to quickly change the stiffness of the shock absorber. With 20 individual settings to adjust preload from comfort to track, the system is more than capable of adapting to your motoring needs.
KW Variant 3
Manufacturer: KW
Part Number: 35265017
Construction Type: Monotube
Spring Type: Linear
Warranty: Limited Lifetime Warranty
Buy On: Amazon
If Ohlins is a 10, then the KW V3 is an 11 — very much considered to be the benchmark, the KW V3 is the best set of coilovers for the Evo X, Period. That is if money's no object.
Spring rates on offer are 8k front and 9k rear. But, the V3 gets multiple settings for preload and rebound. The preload can be adjusted separately with 12 clicks, while rebound adjustments extend to 16 clicks.
Also, the front comes with helper springs to keep the main springs seated. Together, they offer a more dynamic damper arrangement for precise handling characteristics.
Overall, what we can say in confidence is no one who bought KWs was left disappointed. Having these on your Evo X will not only offer peace of mind but will enhance the fun factor even more.
EVO X Coilovers — Your Best Options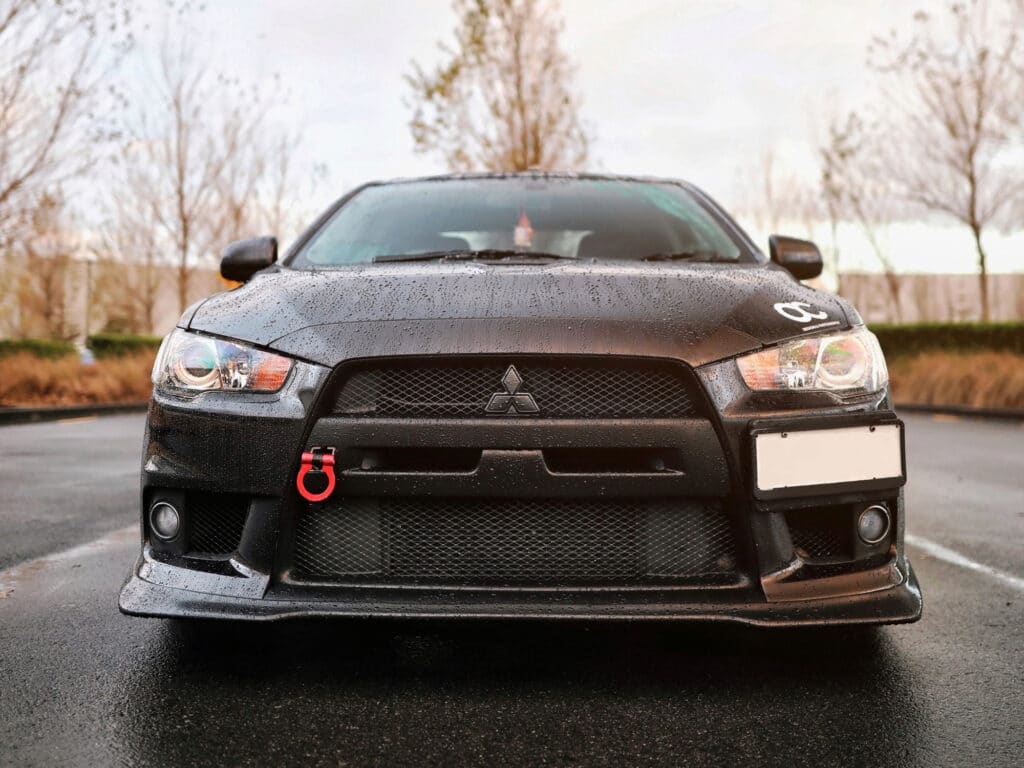 If you have an Evo X modifications checklist, chances are that coilovers are among the top 5 upgrades that you will install first, other than an exhaust system, aftermarket intake, and maybe even a turbo kit.
But with so many compelling Evo X coilovers for sale, we see how it can be confusing to choose the right one for your car. To make things easier, we've listed our top 3 choices below.
Best Value for Money: BC Racing BR Series
The BR series is a tried and true platform that always delivers top-tier quality. Even though it's an entry-level kit, we see many streetcars, as well as track cars, sprung on BC Racing (BR) coilovers.
There are cheaper options on the market though. These are manufactured by brands like Megan, D2, and Ksport. But for just under $100 more, you get much better value for money with the BR series.
For Track Use: KW Variant 3
If your Evo X spends more time on the track than it does on the street, definitely consider the KW Variant 3 coilovers. They're track-ready right out of the box.
For Street Use: Fortune Auto 500
Fortune Auto coilovers always strike the perfect balance between street use and track use. These are perfect for maximum street use and the occasional track day.
Which ones would you pick for your Evo X? Let us know in the comments below!