If you're looking for ways to add more to your Evo X's driving experience, a short shifter will definitely put a grin on your face.
What's even cooler — installing a short shifter is an easy DIY job that you can do in your garage or driveway, without spending a fortune on labor.
Before you dive in and pick one up for your Evo X, it pays to consider how a short shifter will transform your driving experience.
In this guide, we take a look at some of the top options for your Evo X and help you find the best short throw shifter out there.
Do I Need a Short Shifter?
Your Mitsubishi Evo X comes with a nice and sporty shifter already, but if you're looking for a more spirited driving experience or simply enjoy pushing your Evo to its limits you may be pleasantly surprised with what short throw shifters have to offer.
Some short shifters can reduce shifts by up to 70%, which is a big deal. Of course, it requires an experienced driver to do the job, but even a 20% shorter throw between gears will make a noticeable difference.
Short throw shifters bring with them a handful of performance benefits and it doesn't hurt that they can look cool too.
But that doesn't mean short shifters don't have their negatives too. Let's take a closer look at what they bring to the table.
Better Driving Experience
Even though the Evo X is extremely agile right out of the factory, installing a short-throw shifter will make shifts quicker again, tightening up your driving experience even more.
You'll end up spending less time between gear shifts and an overall snappier driving experience. For car enthusiasts who appreciate manual transmissions but want to keep up with those driving with sequential transmissions, it certainly takes things to the next level.
Faster Straight-Line Performance
Another great advantage of installing a short shifter is the slightly better performance at the strip.
It's no secret that dual-clutch transmissions are built for fast gear shifting, reducing the time between gear changes. Short shifters do the same, just that they are designed for manual cars.
Heavier Gear Shifts
A negative however, the first thing you'll notice after upgrading to a short shifter is the extra effort that goes in to shifting gears.
It's not that a big of a difference compared to stock, but it may make "relaxed driving" a thing of the past.
Getting Lost in Your Manual Transmission
Knowing which gear you're in can also be confusing. If you're a new driver and aren't used to the different gear positions, when the throw distance is cut by a third it can throw you off too.
As the throws are shorter, it's a lot easier to accidentally shift from 2nd to 5th instead of 3rd. It's not a huge deal, but may take a week or two of driving to get used to.
The Best Mitsubishi Evo X Short Shifters
There are a few brands that offer short shifters for Evo X, but all of them have different specifications.
This list of the best Evo X short shifters pays close attention to their durability and throw reduction time to see which ones are worth spending your time on.
WORKS Motorsport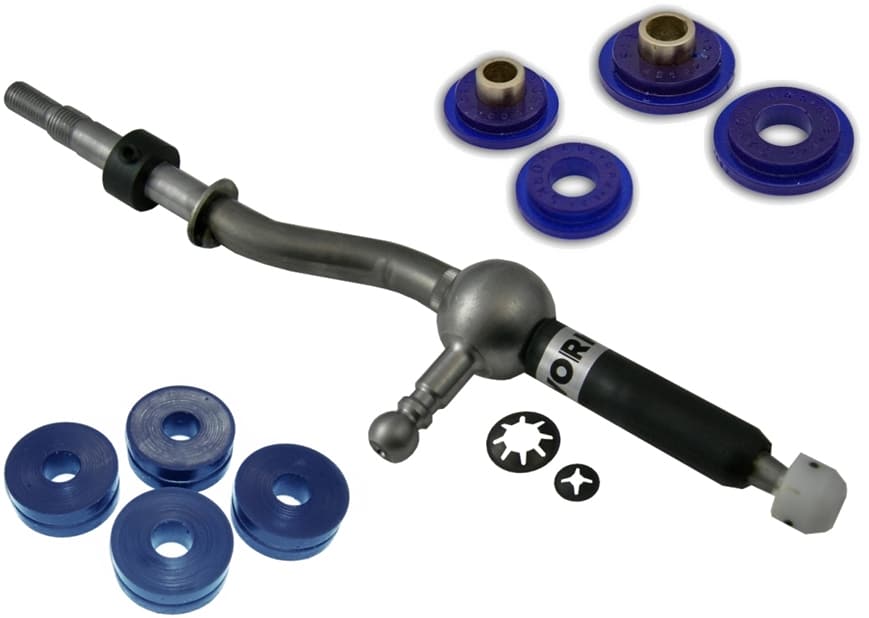 Manufacturer: WORKS Motorsport
Construction: T-304 stainless steel with urethane bushings
Shift Throw Reduction: 25%
Shift Height Reduction (In.): 0.23
Buy On: Amazon
Possibly the most popular short shifter, this WORKS kit gets raving reviews from almost everyone who has this installed on their Evo X.

You'll instantly notice the difference in shifting when compared to the OEM shifter. The design helps your hand move in a more natural way and uses the same OEM fitment for the left-hand drive Evo.
Installation itself is simple as it comes with the required hardware and clear instructions to do it without any adjustments or cutting.
Don't be surprised if you notice a harder gear shift on your first drive after the install. This is completely normal since it has a stiff urethane bushing for longevity, and this removes a lot of play from your shifter.
TWM Performance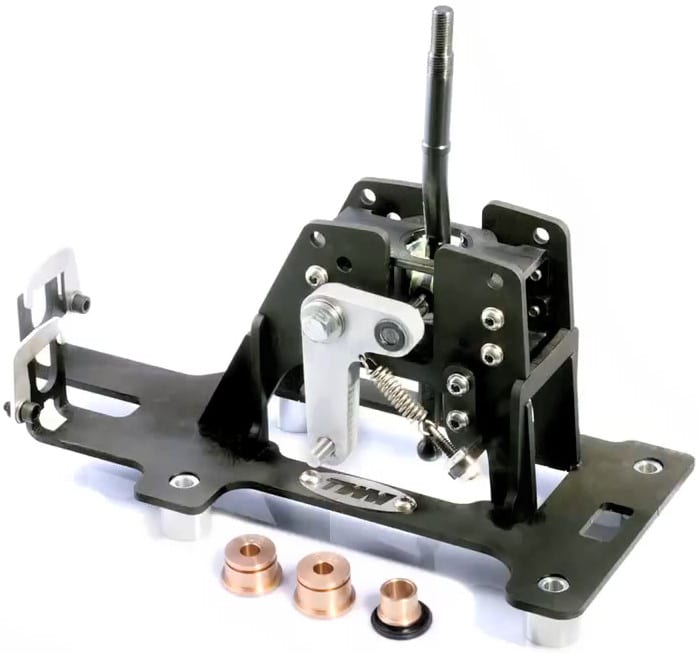 Manufacturer: TWM Performance
Construction: High-strength coated steel
Shift Throw Reduction: 30%
Shift Height Reduction (In.): 0.25 – 1
Our list would be incomplete without the mention of the TWM kit. This is a burly short-throw shifter system that that completely transforms your the way your Evo X will shift.
Robust and well-made, this kit gives you 30% shorter shifts and keeps you away from linkage issues. Apart from the short shifter itself, this kit includes:
Cable bushings
A gun metal M1 Abrams shift knob
A transmission arm and base bushings
It's important to know that TWM seem look to have gone out of business, so you'll probably have to buy one of these second hand.
Torque Solution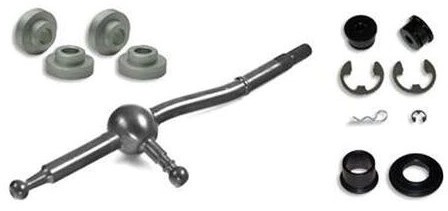 Manufacturer: Torque Solution
Construction: T-304 stainless steel
Shift Throw Reduction: 32%
Shift Height Reduction (In.): 1.25
Buy On: Amazon | Enjuku Racing
Another favorite short shifter kit among Mitsubishi Evo X owners, this variant by Torque Solution is tough to beat thanks to its reasonable price and the fact that it reduces gear throws more than almost all of the other alternatives. 
Made from a sturdy T-304 stainless steel, this shifter is CNC shaped and corrosion resistant. Simple installation won't take longer than 30 minutes either.
Torque Solution claims that their gate selector pivot bushing will reduce or remove the shifter play that you might experience on a stock gear selector, but that's not always the case.
You may experience a little shifter play after installing this kit but it's a small price to pay when you consider the improved shifting experience it offers.
WK Motorsport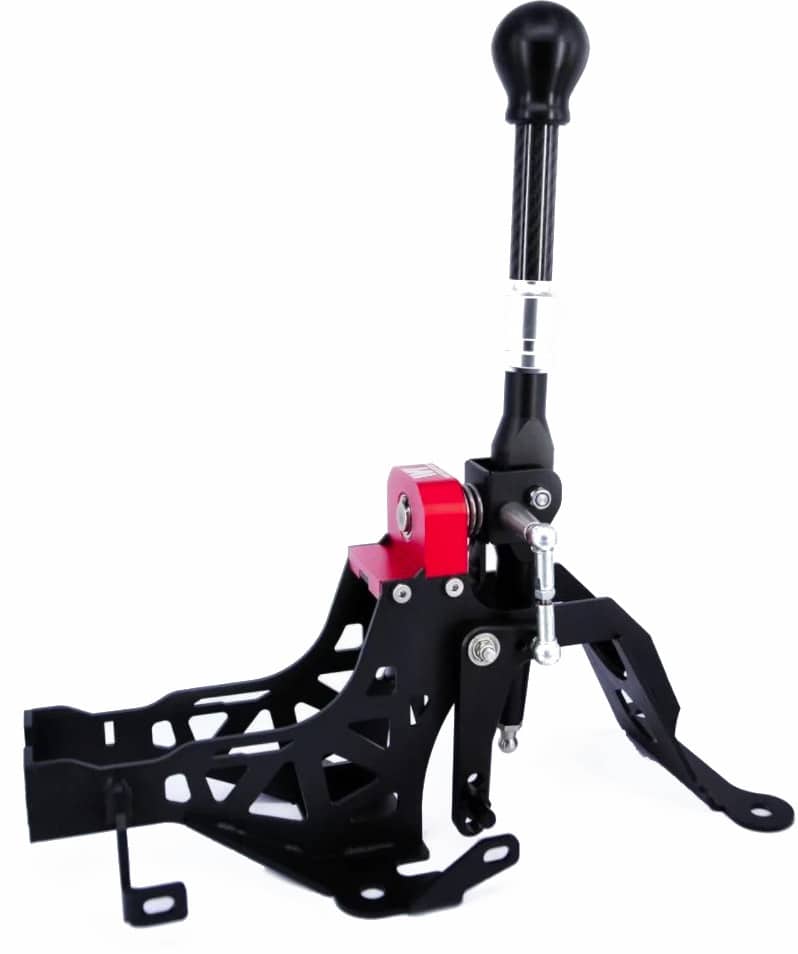 Manufacturer: WK Motorsport
Construction: Coated steel
Shift Throw Reduction: Up to 45%
Shift Height Reduction (In.): 0
WK Motorsport offers a high-end short-throw shifter for your Evo X that instantly makes your interior look great. It's one of those short shifters that actually increases the shifter height while maintaining throw reduction.
When upgrading to this short shifter, shifts become crisp and short. By locating the gear knob closer to the steering wheel, it definitely makes your shifting faster.
After the first couple of rides, you might experience trouble finding the third gear or downshifting from third to second. The shifter can feel stiff, and the shift knob is almost at the same height as your hands holding the steering wheel.
For some Evo X drivers, the high position of the shift knob can be a deal-breaker, whereas others find it convenient. Just like all upgrades, it comes down to your driving style and preference.
What Is the Best Evo 10 Short Shifter?
While there are a number of short shifters available to suit the Mitsubishi Evo X, some get the job done better (and smoother) than others.
After reviewing the top short shifters for Evo X owners, two of them really stood out by their throw reduction, ease of installation, and price.
For the most precise shifts: WORKS Motorsport
The urethane bushings and 25% reduction in shift throw guarantees tight and precise gear changes every time.
For the shortest throws: Torque Solution
If you want the shortest possible throw without relocating your gear knob to steering wheel height, this kit from Torque Solution is the way to go. With a 32% reduction in shift throws, it's as good as it gets.
If you want absolute precision from your Evo, it's really worth pairing your short shifter with some stiffer transmission and motor mounts too.
Didn't see your favorite Evo X short shifter on our list? Let us know if we missed something in the comments below!