Engine mounts are a key part of your car. They connect your engine to your car's chassis. Once they wear out, you'll notice some unpleasant vibrations going through the whole car.
This only gets more noticeable and worse as your engine mounts reach the end of their life. Luckily, you'll find a number of aftermarket replacements to restore the comfort and drivability of your Evo X should your current mounts wear out.
In this guide, we'll list some of the best Evo X motor mounts available in the market — from high-performance options to those for daily driving.
How Do I Know if I Need New Engine Mounts for My Evo X?
The first sign of a bad engine mount is a "clunking" or banging sound. This is similar to what you've probably heard from "coilover clunk", only it's from within the engine bay.
It often comes along with increased vibrations, and especially a rattle in your cabin. This is because as the motor mounts wear out — your engine components start to move more.
When there's excessive movement in the engine bay, these unwanted vibrations transmit to other parts of your Evo X's body. Things get worse if you've upgraded the turbo on your Evo X since this can contribute to higher vibration levels — something a well-functioning motor mount should be able to handle.
In rare cases, when motor mounts are in very bad shape, you might even feel excessive play through your gear shifter. Installing a short shifter might help with this, but if you're finding it difficult to make smooth shifts, and you experience a jerking or shudder moment when releasing your Evo X's clutch pedal, something more major is a factor.
If you've recently installed a short shifter on your Evo X and are still notice these annoying vibrations, it's time to look at your engine mounts next.
The Best Motor Mount Upgrades for Your Evo X
When looking for a replacement engine mount, there are two options. You can either choose only inserts or buy a full-blown kit that includes everything from inserts to housing brackets.
Both work fine, it's just that the kits are clearly more expensive, and replacing all four mounts is not always necessary. The full kits are only really necessary if your OEM units are cracked, or if your modified Evo X is an absolute monster.
Here's a list of the top motor mounts for your Evo X, that will make the biggest difference over OEM.
AMS Performance
Manufacturer: AMS Performance
Part Number: AMS.04.03.0005-1
Material: Hard polyurethane
Durometer Rating: 70A
Fitment: Front
Warranty: 1-year
AMS always offers great performance upgrades for your Mitsubishi Evo X and their mounts are just as awesome as you'd expect. If your main goal is to have more precise shifts and reduced motor and transmission movement, then AMS is the way to go.
It has a medium durometer rating of 70A. This means you'll have more vibration in your cabin over the OEM mounts but they are not as aggressive as others on our list.
With these features, the AMS mounts are a perfect combination of performance and daily driving comfort. You'll instantly notice a better shifting experience and improved throttle response while retaining an almost factory-like vibration level.
Torque Solution
Manufacturer: Torque Solution
Part Number: TS-EX-003, TS-EX-1234
Material: T6 billet aluminum and polyurethane
Durometer Rating: 75A
Fitment: Front only or full kit
Warranty: Limited lifetime warranty
Buy On: Front | Full kit
Torque Solution offers both single mounts and a 4 piece kit for your Evo X. If you're mostly daily driving, simply replacing the front mount should do the job.
On the other hand, if you're into drag racing or heavy track days you can opt-in for a full replacement. These mounts are tested to hold 510 hp builds, which will suit most Evo X enthusiasts.
Another great thing about these mounts from Torque Solution is that it features 75A durometer bushings, which doesn't trigger a lot of the rattle when installed.
BLOX Racing
Manufacturer: BLOX Racing
Part Number: BXSS-30200-BK
Material: Billet steel with aluminum insert
Durometer Rating: 90A
Fitment: Front
Warranty: 15-months
Buy On: Amazon
This engine mount from BLOX Racing is a little pricey (almost double than the others on our list), but it makes up with its solid build paired with optimal stiffness — great for serious track use.
With a durometer rating of 90A, this mount is considered very stiff and it takes some getting used to.
Daily driving will be an unpleasant experience as you'll feel every vibration and movement that your engine makes.
On the other hand, it's a great choice for competition racing and serious track enthusiasts. You can even expect better throttle response and crisper shifts. Overall, this motor mount seamlessly delivers great performance under heavy loads and hard cornering.
Innovative Mounts (Full Kit)
Manufacturer: Innovative Mounts
Part Number: 70750-75A
Material: Steel with polyurethane bushings
Durometer Rating: 75A, 85A, 95A
Fitment: Full kit
Warranty: Lifetime warranty
Buy On: Amazon
Innovative Mounts features a premium motor mount kit for your Evo X. It comes in three different durometer ratings to suit the majority of Evo X owners.
It's a great choice for street, track, and competition racing. Although going for even the mildest kit, you'll still experience some cabin rattling and increased vibration. Yet, you'll be surprised by the way your Evo X shifts and feels compared to stock.
This kit is by no means cheap but it offers lots of flexibility and solid build quality. Installation is a breeze as it comes with all the necessary hardware.
Ultimate Racing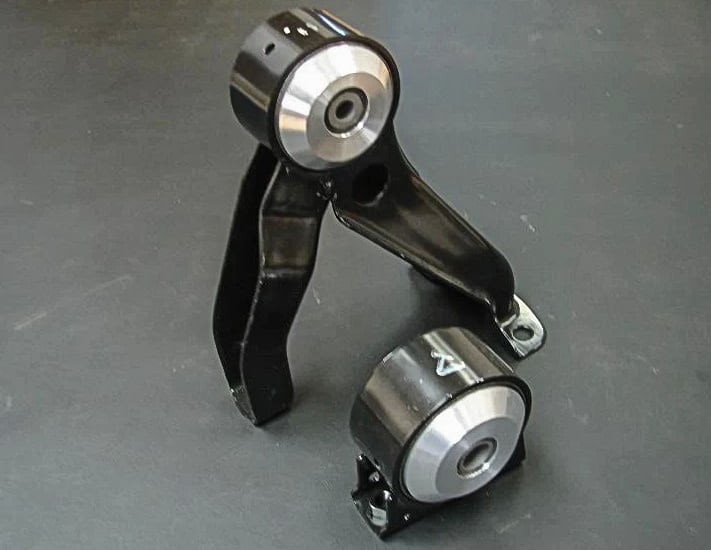 Manufacturer: Ultimate Racing
Part Number: ULT 20058
Material: 6061 aluminum
Durometer Rating: N/A
Fitment: Front and rear
Warranty: 5-year limited
Crafted by Ultimate Racing, this versatile kit stands out from others because of its flexibility. You can easily install it for track days and then remove it when you switch to daily driving.
Another thing to keep in mind about this kit is that it doesn't need a press or a big vice while installing new bushings. None of the other contenders offer anything like this.
It's certainly a good choice for weekend warriors who want all the performance on the weekend, but still want to drive to work on Monday.
More importantly, it comes with a precise, CNC machined finish to make installation easy, and all these features fall under the budget-friendly range.
Tomioka Racing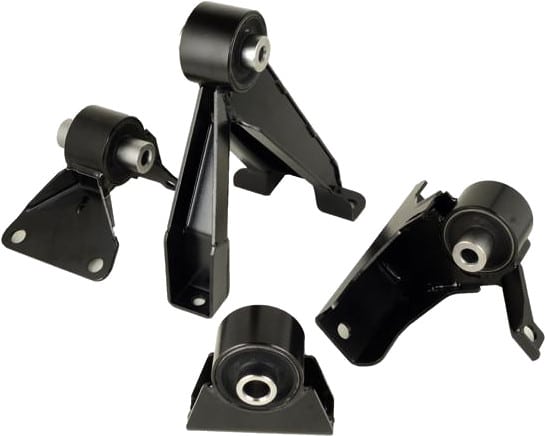 Manufacturer: Tomioka Racing
Part Number: TR-CM1000
Material: Heavy-duty steel with dense rubber insert
Durometer Rating: 76A
Fitment: Full kit
Warranty: 1-year limited
Buy On: Amazon
Tomioka Racing has a full replacement kit for your Evo X which cuts the engine and transmission movement to a bare minimum. It's made of lightweight and heavy-duty steel, which allows a 7% weight reduction and improved durability.
These mounts are unlike the other options on our list since they use a dense rubber insert which makes them less prone to increased vibration.
Overall, it provides an excellent improvement in shifting and looks almost the same as OEM.
Our Favorite Evo X  Engine Mounts
Whether you're looking for a simple replacement or a full-blown set to support your extensive list of Evo X upgrades, finding the right motor mount is crucial.
The key benefits of an upgrade like this are precise gear shifts under hard acceleration and minimal movement under hard loads. Overall responsiveness of your Evo X will improve too, but remember, you have to expect some extra feedback through your car.

Luckily, there are a number of high-quality units to get the job done. Below are some of our favorites.
Best Evo X Motor Mount: Torque Solution
Considering its flexibility to reduce engine and transmission movement while retaining OEM comfort, this motor mount kit from Torque Solution is hands-down the best on the market.
Best Evo X Motor Mount Set: Tomioka Racing
If you're looking for a full replacement set that delivers great performance at a reasonable price, then look no further. Tomioka Racing is your choice.
Have you tried any of these motor mounts on your Evo X? What was your experience with them? Tell us in the comments below!