Headers are the first thing your exhaust gas touches when it leaves the engine. Their main purpose is to collect and release exhaust gases as quickly as possible.
The reason why aftermarket headers are popular is that they're significantly lighter and wider than the stock ones. This means they also generate more power and make your G35 sound better.
Most G35 owners get performance headers as their last upgrade; like icing on a cake. It's the best way to complete your naturally aspirated G35 build.
In this guide, we'll throw some light on the different types of exhaust headers you can buy, and also recommend the best options for your Infiniti G35.
Why Headers?
Stock exhaust manifolds are made of cast iron. They're bulky, ugly and restrictive. However, there's a reason why they're designed that way.
Cast iron is great at managing heat, it's strong and lasts a lifetime. When it comes to performance though, they just don't cut it.
The best aftermarket headers for G35s are made of stainless steel which is a lot thinner, lighter and better looking than cast iron.
The thin profile of stainless steel headers allows for a wider opening. The wider they are, the quicker your engine's exhaust gases will be released. However, there's a limit to how wide you can and should go.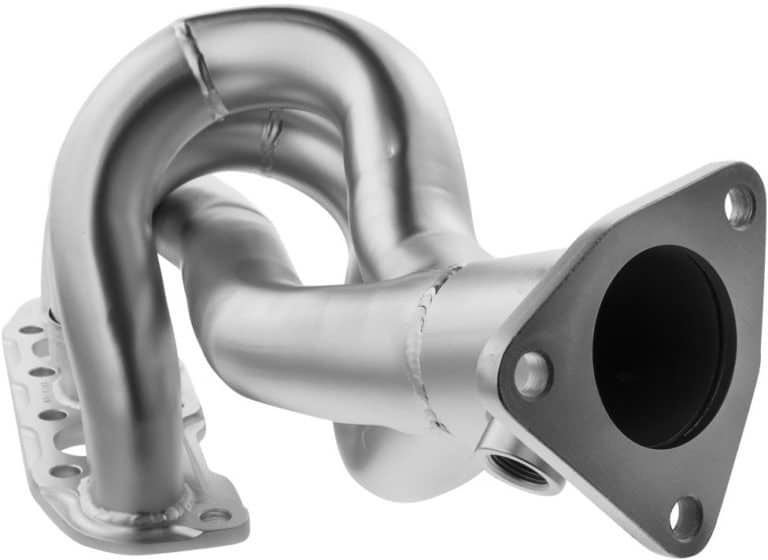 The main reasons why you'd want to mod your G35 with headers include:
Better sound
More power
Weight saving
A nicer looking engine bay
The stock exhaust manifold only focuses on collecting exhaust gases while performance headers give each cylinder its own exhaust tube. This enables a better exhaust flow and reduces scavenging.
If exhaust note/sound is very important to you, getting the best aftermarket headers for your G35 is a no brainer.
Unlike most exhaust upgrades that just amplify your engine noise, aftermarket headers can actually change the dynamic of your G35's sound. They become the source of that upgraded exhaust note.
That amazing sound that you get from performance headers is a side-effect or byproduct of its functionality. And that's how it should be. Pair it with a quality G35-specific exhaust system and you're all set to turn heads.
Types of Aftermarket Exhaust Headers
When shopping for headers, you'll come across 3 types;
 short,
 mid-length, and
 long tube.
Each of these have their own performance characteristics and affect the power delivery differently. We'll run you through the specifics below…
Short Tube Headers
Short tube headers, commonly referred to as "shortys" are the shortest of all header options. They're a lot cheaper than mid-length or long tube headers.
Good low-end torque is one of the biggest reasons why most G35 owners select short tube headers.
The additional low-end torque comes handy in stop and go situations. This makes short tube headers a great option if you daily drive your Infiniti G35.
Shortys tend to growl a lot louder as compared to mid-length or long tube headers. A major advantage with short tube headers is that the installation is much easier compared to that of mid or full-length headers.
Let's look at some of the best G35 short tube headers on the market….
DC Sports T409 Ceramic Headers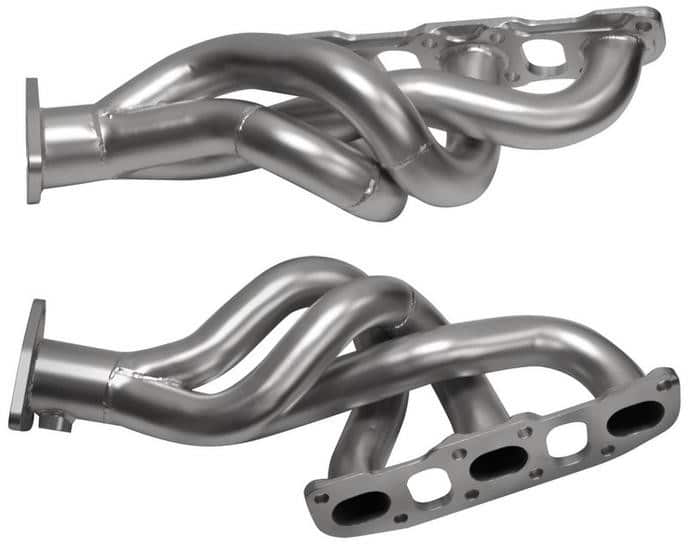 Manufacturer: DC Sports
Part Number: NHC4201
Construction: Ceramic Coated T409 Stainless Steel
Suits: Coupe | Sedan (except 07/08)
Engine Compatibility: VQ35DE
Style: Short
Buy On: Amazon
DC Sports specializes in making intake and exhaust components. They know exactly what a high-performance car needs for it to breathe properly.
Performance headers are among their strongest offerings. The T409 ceramic unit is among the most popular and affordable Infiniti G35 coupe headers on the market.
T409 refers to the grade of stainless steel used to make these headers. Some of the best aftermarket headers for G35s are made using this material.
DC Sports went all out with the build quality on these headers. They've used a ceramic coating which is applied by hand to make sure it spreads evenly. The unit is then cured and fine blasted to make sure the finish looks amazing and that it never rusts.
The flanges align and bolt-on perfectly. Its 3 into 1 pipe design helps bump up the performance even if your G35's VQ35DE is bone stock.
The sound isn't very different from stock. You'll hear a deep rumble below 3000 RPM and the pitch will stay more or less the same. Of course, this changes if  you pair it with high-flow cats, a G35 y-pipe or even G35 test pipes.
Tomei Expreme V2
Manufacturer: Tomei
Part Number: TB6010-NS04A
Construction: SUS 304 Stainless Steel
Suits: Coupe | Sedan
Engine Compatibility: VQ35DE | VQ35HR
Style: Short
Buy On: Amazon | Enjuku Racing
When it comes to aftermarket performance parts, Tomei needs no introduction. They make some of the highest quality parts which are used in a wide array of motorsports.
The Expreme V2 is a comprehensive package that includes everything you could possibly need. It comes with a thermal bandage, heat shield, all the necessary gaskets, o-rings, bolt paste, and even decals.
It's one of the most expensive short tube G35 headers you can buy. Considering the quality, performance gain and the whole package, we're convinced that it's worth it.
The dry, raspy exhaust note you get after installing the Tomei Expreme is definitely one of the best we've heard on the Infiniti G35.
Megan Racing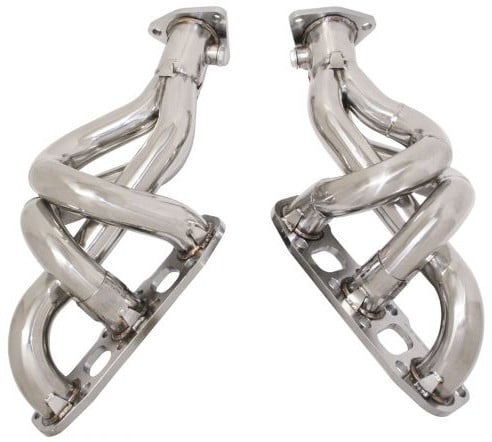 Manufacturer: Megan Racing
Part Number: MR-SSH-N3Z-1
Construction: T-304 Stainless Steel
Suits: Coupe | Sedan (Except 07-08)
Engine Compatibility: VQ35DE
Style: Short
What impressed us about the Megan Racing headers is that they've used T-304 Stainless Steel on a low-priced unit. Even the flanges are made using the same material.
Usually, headers that cost this much are made of zinc coated mild steel which tends to crack. However, some G35 owners who purchased these headers have reported installation issues.
These aren't the most well-reviewed Infiniti G35 headers out there but if you're on a tight budget, they're still better than an unbranded eBay kit.
Another interesting thing about these headers is that they have a slightly wider outer diameter compared to the others listed here. This is both good and bad. Good because it gives you better exhaust flow, but bad because it makes installation more difficult.
If the rest of your exhaust system is straight enough and well fitted, these headers will work just fine.
AFE Twisted Steel
Manufacturer: Advanced Flow Engineering
Part Number: 48-36103
Construction: T-304 Stainless Steel
Suits: Coupe | Sedan (Except 07-08)
Engine Compatibility: VQ35DE
Style: Short
The AFE Twisted Steel headers feature some of the cleanest mandrel-bent tubing we've seen.
Mandrel bending is a technique that involves a solid steel rod being inserted into the tubing as it's bent. This gives the pipe an even bend without losing out on strength or shape.
The tube lengths are very well thought out and are designed for the best possible airflow. The manufacturer claims a gain of 9+ hp which is possible if you have other G35 exhaust mods in place.
Do note that these headers are not compatible with the VQ35HR engine.
Crawford
Manufacturer: Crawford
Part Number: N/A
Construction: Powder-Coated Stainless Steel
Suits: Coupe | Sedan (Except 07-08)
Engine Compatibility: VQ35DE
Style: Short
Ask any well-informed G35 owner about the best headers for this car and Crawford will probably be the first name to come up. This is because no other G35 header setup provides a larger power gain than this one.
It would be unfair to classify these as "shortys". They sit somewhere between short and mid-length when it comes to tube style.
The crew at Crawford took over a year to fully develop these. Needless to say, they've done a great job. Achieving "true equal" tubing in a short setup, fitting that into a cramped engine compartment while still leaving enough clearance is not easy.
While you do get real gains when paired with the right upgrades. The biggest downside is the installation.
These headers are known to be a pain to install. Doing it yourself is out of the question unless you're a mechanic and have help on hand.
Issues like these aren't uncommon when you buy non-mass produced products. What you do get is a handcrafted product that works, and support from the people who built it.
Borla Stainless Steel Headers
Manufacturer: Borla
Part Number: 17221
Construction: Austenitic Stainless Steel
Suits: Coupe | Sedan (Except 07-08)
Engine Compatibility: VQ35DE
Style: Short
Buy On: Amazon
Borla is known for making one of the best exhaust systems for the Infiniti G35. Their headers, however, aren't as popular with G35 owners. Though they are on the pricey side, they're among the better units on the market.
When it comes to reliability and compatibility, these G35 headers are right where they need to be. The installation is simple and straightforward.
They're constructed using high quality austenitic stainless steel. This grade of steel is known for having the highest corrosion resistance properties.
Borla offers a million-mile warranty on these headers which is, by far, the best we've come across.
You probably won't need the warranty anyway because these headers are manufactured using computer-controlled CNC machining. This drastically reduces manufacturing defects and ensures that every unit is built the same.
Nismo R-Tune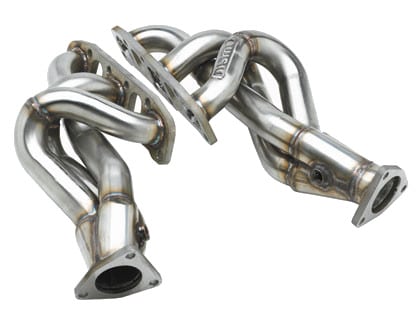 Manufacturer: Nismo
Part Number: 14002-RNZ35
Construction: T-304 Stainless Steel
Suits: Coupe | Sedan (Except 07-08)
Engine Compatibility: VQ35DE
Style: Short
Nismo R-Tune headers are very close to the ones by Crawford when it comes to power gain. They're arguably the second-best G35 headers in terms of performance; if you can still find them.
Ever since they were discontinued, they've become increasingly rare. If you're lucky, you'll find a used set and a new one if you're even luckier.
You can expect most of its additional power to come in between 3800 to 6200 RPM. This is a great place in the rev-range for the power to kick in.
It features a heavy-duty ⅜ flange which bolts on perfectly. Installation is challenging, but not as bad as some of the others.
Long Tube Headers
This is where things start getting racey and expensive. The popularity of long tube roots back to the hot-rod era when such modifications were very common.
Exotic exhaust note and a massive power gain is what you can expect from long tube headers. They're designed for the best possible exhaust flow and improved scavenging.
Most custom exhaust setups usually lose tone and become noisy as you approach the redline. But these full-length headers will retain the tone, letting you know exactly when to shift.
With full-length headers, you'll have most of the additional power coming in at the top-end.
In addition to this, they usually do away with your catalytic converters, so they're like a combination of shorty headers and test pipes. That's why they're typically seen in high-performance scenarios like race events and track days.
Just like every aftermarket part, long tube headers have disadvantages; installation being number one on the list.
Getting these things fitted properly can be a pain, and will most certainly require experienced professionals to do it for you; unless you have the necessary skills.
Here are some of the best G35 long tube headers on the market.
ISR Performance HGC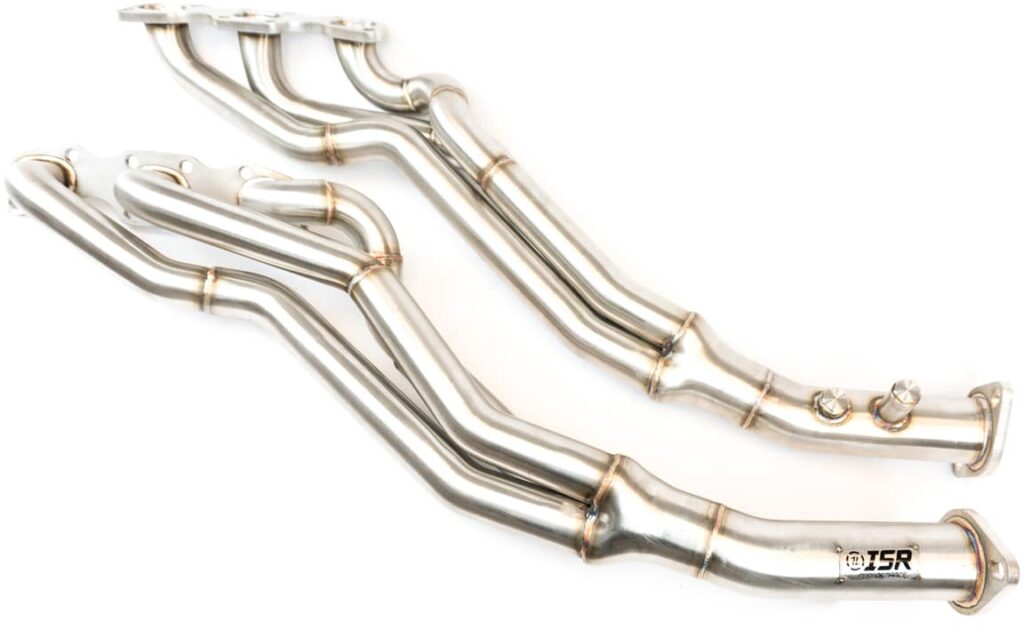 Manufacturer: ISR Performance
Part Number: IS-SSHD-VQ35
Construction: Stainless Steel
Suits: Coupe | Sedan (Except 07-08)
Engine Compatibility: VQ35DE
Style: Long
Buy On: Enjuku Racing
Long tube headers are supposed to be really difficult to install. Surprisingly, that's not the case with ISR Performance's HGC headers.
Some long tube headers aren't the best at retaining mid-range power and concentrate all the additional torque in the high RPM range. But from the ISR headers, you can expect decent power in the mid-range and high-end.
The best part about ISR headers is the "HGC" feature which stands for "high ground clearance". The design places the collector in a way that it doesn't sit very low and gives you enough ground clearance.
Not having enough ground clearance is a common struggle with long tubes. So if you want to slam your G35 and still get long headers, this is your best option.
PPE Engineering Race Headers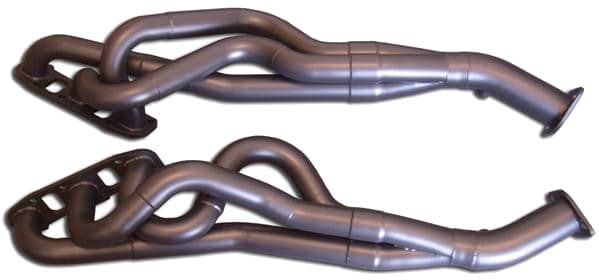 Manufacturer: PPE Engineering
Part Number: 835000
Construction: Jet-Hot Ceramic Coated Stainless Steel
Suits: Coupe | Sedan (Except 07-08)
Engine Compatibility: VQ35DE
Style: Long
Buy On: Enjuku Racing
PPE Race Headers utilize something called "jet hot" ceramic which is extremely useful for reducing the overall temperature in your engine bay.
This helps protect the other components placed around your exhaust manifold. If you're aiming to get the most amount of power on a naturally aspirated setup, chances are that you have a cold air intake installed.
In this case, the lowered temperature will really come in handy. It will prevent your G35's cold air intake from drawing hot air.
The build quality of these headers is exceptional. 16 gauge mandrel-bent tubing with flat-sanded flanges ensures a precise fit. To top all this, PPE Engineering also provides a 1-year warranty.
The Best G35 Headers
Budget G35 Headers: DC Sports
Getting headers installed by professional mechanics is expensive. Considering that, if you're on a tight budget but don't want to lose out on quality, these are the headers we recommend.
With this unit, DC Sports has proven that you don't have to spend loads to get a pair of headers that work.
Best All-Round G35 Headers: Tomei Expreme V2
If you simply want a mix of great build quality, reliability, power, and sound, the Tomei Expreme V2 should be your top choice.
You cannot go wrong with Tomei.
High-Performance Infiniti G35 Headers: PPE Engineering
This one's for the HP chasers. If every single unit of power matters to you, these are the ones to go for.
With an ECU remap, a y-pipe and a cat-back exhaust, 20HP gains are in your future.
What's your opinion about performance headers? Which are number 1 on your list? Let us know in the comments below!