Exhaust; the last stroke of every four-stroke engine. It's usually the first thing that Infiniti G35 enthusiasts like yourself start tinkering around with.
And why wouldn't you? Modifying exhausts is cheap, makes your car sound nice and gives you a decent power gain. Not to mention the improved airflow.
However, modifying your exhaust system the right way requires some research and a few pointers in the right direction. That's what you'll find in this article.
Aftermarket y-pipes are a must-have for your Infiniti G35. In this guide, we'll explain what y-pipes do and which ones to get for your Infiniti G35.
G35 Y-Pipe Gains: Do They Help?
Y-pipes are a part of your exhaust system that connects your manifold or aftermarket headers to the rest of the exhaust assembly.
While upgrading to G35 headers is a great way to let your car breathe, the same can definitely be said for the stock G35 y-pipe, which is known to be restrictive. They're made to comply with various emission standards and sound level regulations.
This restrictive design hinders the car's true potential. If you have other performance mods in place, getting a good set of y-pipes pipes and high flow cats is the best thing you can do.
If your engine makes more power than it should, it must be able to let the exhaust gases out as efficiently as possible.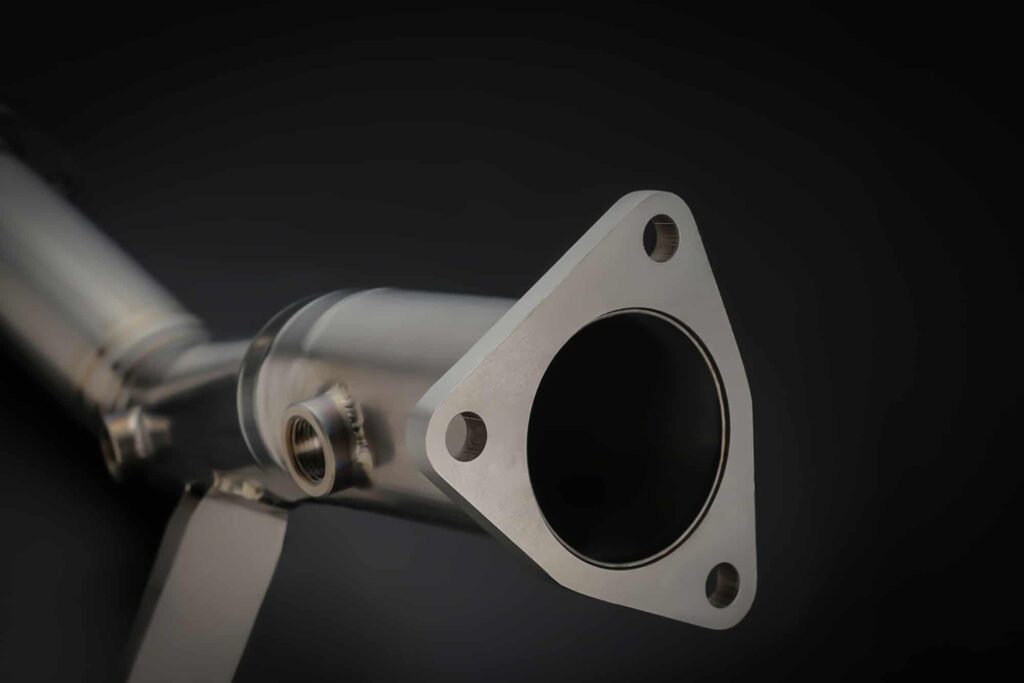 We cannot stress enough on the importance of pairing aftermarket y-pipes with high flow cats and test pipes. With the G35 stock exhaust system, most of the restriction is in the catalytic converter.
Combine this with the right y-pipe and you'll have a sweet-sounding exhaust along with a powerband that the stock setup just cannot match. For even more power, consider improving your intake with a plenum spacer and cold air intake too.
Exhaust Scavenging
To understand how y-pipes work, we need to understand what exhaust scavenging is all about.
The main purpose of having an exhaust system is to completely rid the engine of any remaining exhaust gases after each stroke. If this does not happen, the following combustion cycle won't be as effective.
As your motor expels these gases into the exhaust system, they exit the cylinder head in pulses. Each stream of exhaust gas leaves with enough force to create some amount of vacuum right behind it.
This scavenging vacuum is what helps pull the next pulse of exhaust gas behind it, making your exhaust system more effective. Sort of like drafting. So it goes without saying that scavenging is good.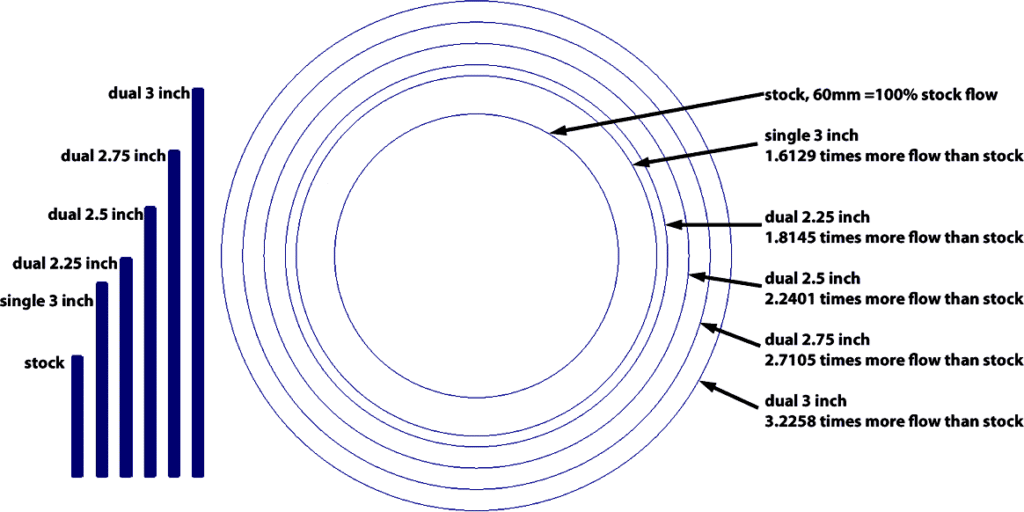 One major factor that affects scavenging performance is the diameter of your exhaust pipes. This is where aftermarket y-pipes come in. They're designed to equalize your motor's exhaust pulses so that the system is able to evacuate each cylinder as completely as possible.
Scavenging is often confused with backpressure. It is important to know that they're two different things and that backpressure is bad for your VQ engine.
How Do Y-Pipes Sound?
Technical advantage aside, one of the biggest reasons why enthusiasts get y-pipes is to improve the exhaust note.
Your stock exhaust system is designed to be as quiet as possible. It tries to achieve a balance between performance and acceptable noise levels. The more you modify it, the louder it's going to get.
A good thing about y-pipes and exhaust parts, in general, is that they all make your G35 sound slightly different. That way, you can choose what you like best.
The Best G35 Y-Pipes
V6 engines respond well to upgraded y-pipes – your VQ35 is no exception here, and there are many options to choose from. These options vary a lot in terms of price and quality.
Size-wise, all of these y-pipes have a 2.5" inlet and 3" outlet. This size is most recommended for your Infiniti G35.
Here's a list that'll help you select the right unit based on your needs and budget.
Megan Racing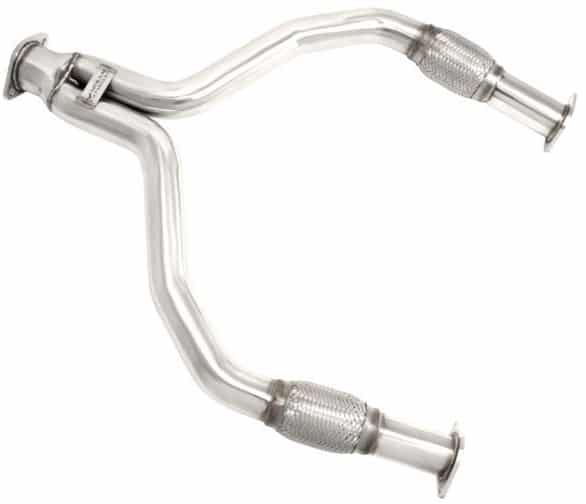 Manufacturer: Megan Racing
Construction: T-304 Stainless Steel
Weight: 17lb
Suits: Coupe | Sedan
This is the best y-pipe for G35 coupe and sedan owners who want affordability and quality in the same package. It's extremely well built, constructed with high-grade stainless steel and comes at a surprisingly low price.
It features mandrel-bent flex pipes that are designed to reduce internal noise resonance. This is done without any loss in performance. It comes with CNC machined flanges that will ensure a snug fit and zero rattling.
The installation is as simple as it gets. You can easily complete the task in your driveway in less than two hours.
At idle the sound is very similar to stock but once you give your car some revs, you'll hear a deep, raspy rumble.
ISR Performance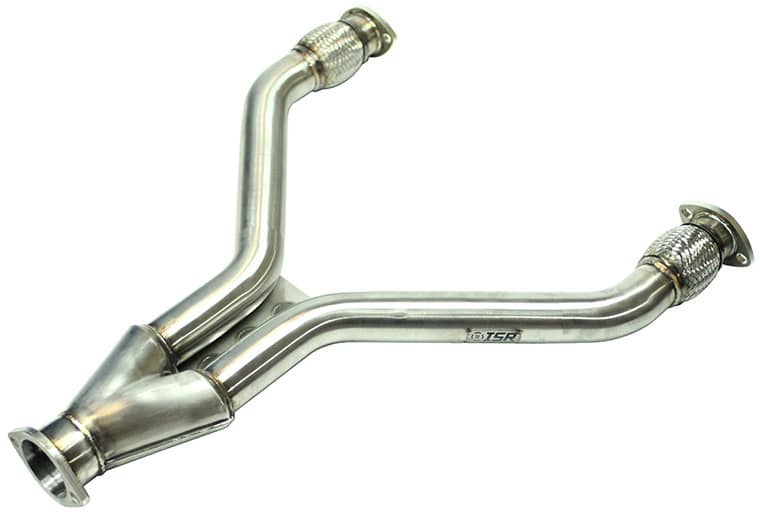 Manufacturer: ISR Performance
Construction: Stainless Steel
Weight: 19lb
Suits: Coupe | Sedan
Buy On: Enjuku Racing
Smooth welds, near-perfect pipe bends, and a killer exhaust note is what you'll get with the ISR Performance y-pipe.
Ground clearance will never be a problem with this setup as it was designed to be as functional as possible, no matter what your driving style is.
Even though you don't save a lot of weight with this y-pipe setup, the difference in performance is quite evident. Once installed, the torque on your G35 will feel a lot beefier in the low and mid-range RPMs.
Manzo Stainless Steel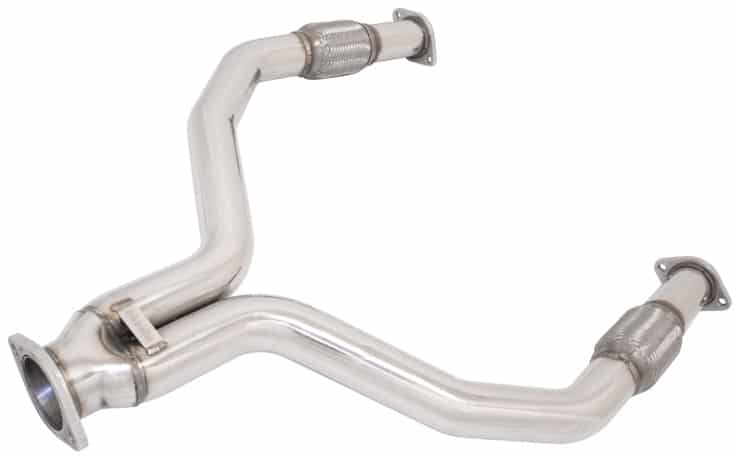 Manufacturer: Manzo
Construction: Stainless Steel
Weight: 16lb
Suits: Coupe | Sedan
The y-pipe assembly by Manzo is decent considering what you pay. In this price range (cheap!), most enthusiasts prefer the Megan Racing setup because of it's better build quality.
Though it's a great design, some of these Manzo setups are known to have defects that may cause the flex pipe to leak. Though it's a rarity, we recommend inspecting your unit thoroughly before installing it, instead of finding out after you've spent the time to get it on your car.
Speaking of installation, it's quite straight forward and bolts on easily. Pair it with the right set of test pipes and your G35 will growl the way you really want it to.
Tomei Expreme
Manufacturer: Tomei
Construction: Titanium
Weight: 5.7lb
Suits: Coupe
Buy On: Enjuku Racing
Tomei is a huge name when it comes to aftermarket performance parts. They've been in the business for over 50 years and their products are used in nearly every form of motorsport.
The Tomei y-pipe setup is special, and it's not cheap. It weighs only half as much as the others (a massive weight saving over stock) and produces an exhaust note that'll have your stereo switched off for good. That's more than enough reason to shell out the premium.
This full-titanium y-pipe assembly is the perfect addition to your race-inspired G35. Unlike the others, it is not a 1 piece unit, meaning it can flex in competition use (and as a result, will last a very long time)
Apart from the additional horsepower, you'll also experience lower vibration levels and exhaust drone.
This is hands-down, one of the best Infiniti G35 y-pipes you can find.
AAM Competition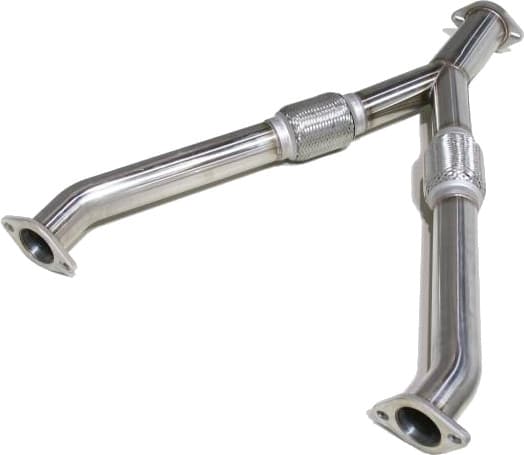 Manufacturer: AAM Competition
Construction: T-304 Stainless Steel
Weight: 12lb
Suits: Coupe | Sedan
Buy On: Enjuku Racing
The y-pipe assembly by AAM Competition is constructed using 16-gauge (size) T-304 Stainless Steel. This grade of steel is known for its extremely high resistance to corrosion and breakage.
It's designed to effectively reduce backpressure and it does this very well. Use it correctly, and you'll observe an 8hp increase along with a noticeably louder exhaust.
This y-pipe setup is slightly lighter than stock and takes about an hour to install.
Bosal
Manufacturer: Bosal
Construction: Stainless Steel
Weight: 11lb
Suits: Coupe | Sedan
When it comes to buying cheap y-pipes for your G35, this one by Bosal and the one by Manzo are two great options.
The Bosal y-pipe is a better choice among the two though. This is mainly because we've yet to come across G35 owners who had any trouble with it. It seems pretty reliable considering how cheap it is.
It's one pound lighter than the stock system and is constructed using stainless steel, just like the other y-pipes in this guide.
Worth noting: this unit works well for G35x drivers who often have trouble finding exhaust components.
The Best Y-Pipe for G35s: Your Top Options
Y-pipes work best when combined with other G35 exhaust mods. However, getting the right y-pipe is crucial for your build.
We've covered almost every major y-pipe option out there, in this guide. If we had to pick one for performance and one for practicality, here's what we'd choose.
High-Performance G35 Y-Pipe: Tomei Expreme
This Tomei y-pipe really impressed us, and many other G35 owners around the world. It's the only titanium y-pipe on this list – and who wouldn't love titanium exhaust parts? If you're not on a tight budget, this is your best option!
Affordable G35 Y-Pipe: Megan Racing
If you want to save money for other parts but still get a solid y-pipe setup for your G, look no further. You cannot go wrong with the value you'll get from a Megan Racing unit.
What do you have planned  for your exhaust system? Is there a y-pipe that you think should have been on this list?
Let us know in the comments below!