As car enthusiasts, we want only the best for our vehicles. This includes a good, thorough pressure wash. Although, we have justifiable paranoia about relying on local car washes for the job. This is due to all the different chemicals they use and whether or not their equipment is safe for our cars, especially when lowered or modified.
Ever heard horror stories of peoples' lowered cars getting badly scraped in an automatic car wash? Or worse — the brushing equipment used at these facilities having rocks or debris stuck in them, scrubbing away all over your precious paint job?
To avoid that hassle, you can take matters into your own hands. But washing the car in the driveway can be tedious if all you have is a garden hose, a bucket, and a sponge.
Regular hoses just don't cut it; even when outfitted with high-pressure nozzles. These do not match the equipment used by detailing shops. The solution to this is your very own, personal automotive pressure washer.
In this guide, we'll list some of the best pressure washers you can buy for your car, along with everything you need to consider before making the purchase.
Pressure Washers: Important Features to Consider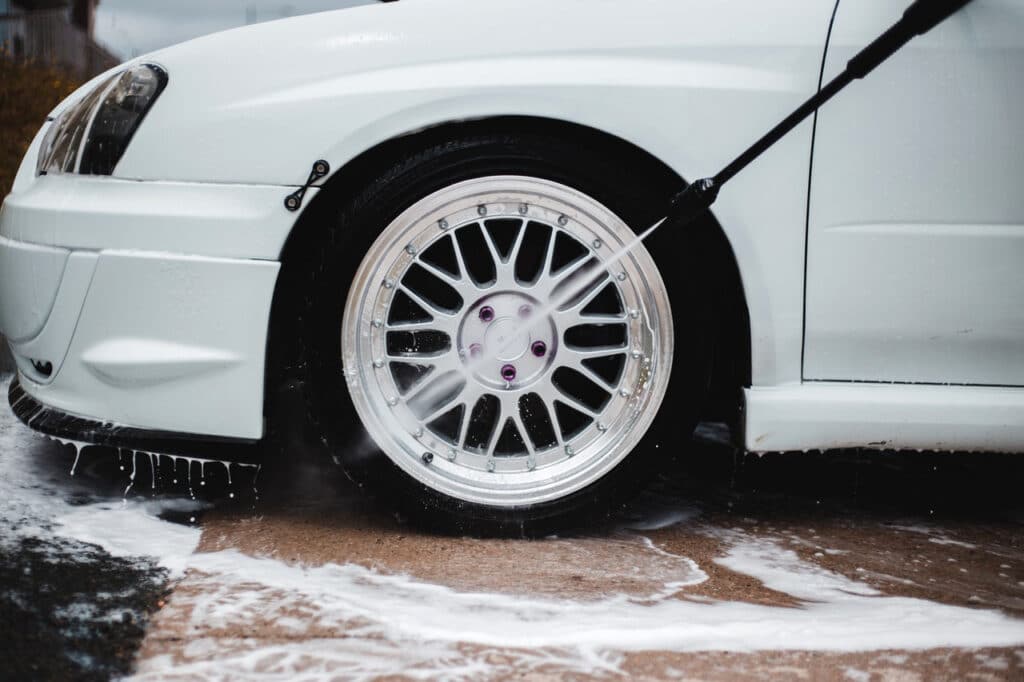 When choosing the best pressure washer for cleaning and detailing your car, there are several features to keep in mind that will influence which one you ultimately purchase.
Let's go over these features so you understand their importance and relevance.
PSI Level
PSI stands for pounds per square inch. It's a unit that measures the amount of pressure with which water is sprayed. Generally, it is not recommended to go beyond 2000 PSI to ensure that you don't damage the paint. The nozzle type and its distance from the vehicle while spraying should also be considered when selecting the PSI level.
Luckily, pressure washers tend to have a high enough PSI rating and often exceed what is needed for vehicle detailing to accomplish more arduous tasks like pressure washing your pavement to get rid of strains left by oil and engine degreaser.
So when choosing a pressure washer, keep in mind whether you want it solely for your car or if you plan on using it for other tasks as well, as the PSI limits might matter more.
Nozzle Type
Pressure washers come with either multiple nozzles or a singular adjustable nozzle. The idea is to let you change the flow of water measured in degrees.
For example, a 0° nozzle will spray the harshest and concentrated stream of water, while a 40° nozzle is much more gentle and creates a wide stream.
For your car, you want to use either a 25°, 40°, or even 65° nozzle when pressure washing. This ensures you have adequate force to knock off dirt and debris while also being safe enough to avoid damaging the finish.
Attachments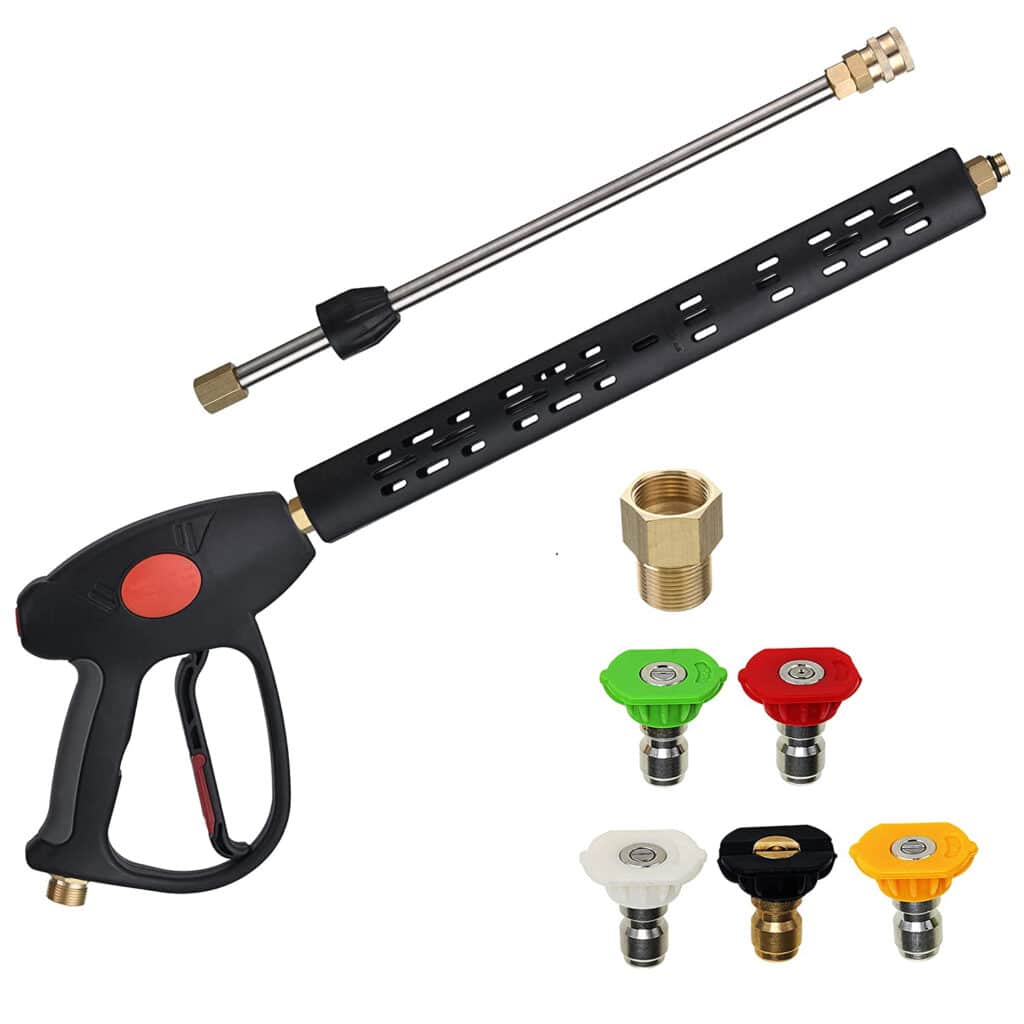 Some pressure washers come with attachments in addition to the basic ones like a hose, nozzle, and power cord. However, many attachments can be bought separately and include paraphernalia like brushes and hose extensions.
Of course, attachments like brushes, multi-function nozzles, pivot couplers, and rotary surface cleaners are not mandatory, and using or purchasing them is totally up to you.
Hose and Cord Length
Hose and power cord length are extremely important specifications to consider. Most hoses that come equipped with the best electric pressure washers are around 20-25 feet in length, allowing you to stand far enough from your car to safely spray it.
If the pressure washer has a power cord, consider its length in relation to where you will be washing your car. How many feet do you need to reach a power source? Moreover, if you think you would need 100 feet to the nearest power source, perhaps it would be better to go with a cordless option.
Gallons of Water Used Per Minute
The gallons of water used per minute, hereafter referred to as GPM, is an indicator of how fast the pressure washer works. If a pressure washer has a GPM of 3 and another has a GPM of 1, the first one will be able to work three times the speed of the second one, all else being equal.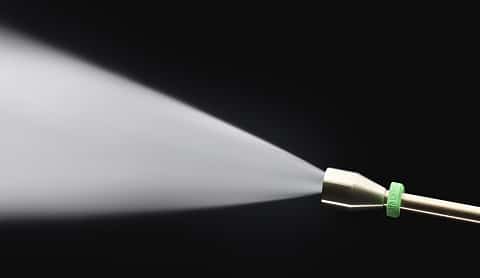 Of course, all else is often not equal. The PSI also matters, and it is possible that a higher-powered unit could outperform another despite it having a lower GPM.
This means that in selecting the right pressure washer for you, consider the PSI and GPM in conjunction, as well as how much speed is important to you (cleaning your car on a Saturday is not as time-sensitive as running your own detailing business, for instance).
Types of Automotive Pressure Washers
There are two primary types of pressure washers: gas and electric. Further broken down, electric models are either corded or cordless.
Gas models are usually more expensive than electric models, as well as heavier/not as portable. However, they are generally high-quality, so if you don't have to lug them all over the place often, they are worth considering.
Pnuematic pressure washers also exist, but they're typically used in industrial applications. You'll require an air compressor to power one of those.
Gas Charged
Gas-charged pressure washers run on gasoline and have an onboard engine. Given it has an engine, it also requires oil, which is an added maintenance step.
Despite it having more maintenance overall than an electric pressure washer, gas-charged models are typically fairly powerful and can accomplish auto detailing as well as many other projects outside automotive.
Electric
Electric pressure washers are corded and require a power source to run. On average they are lighter than gas models but still powerful enough to wash your car.
In fact, the bigger concern with many pressure washers, whether they are electric or not, is ensuring you do not overdo it when washing your car with too high a PSI.
Cordless
Cordless electric pressure washers are among the lightest you can get. This makes them an excellent choice for those who do not have outdoor storage, so the tool can easily be hauled in and out as needed.
Of course, these benefits do come with the drawback of less power, but they are often still sufficient to accomplish the car wash to even the enthusiast's satisfaction.
The Best Car Pressure Washers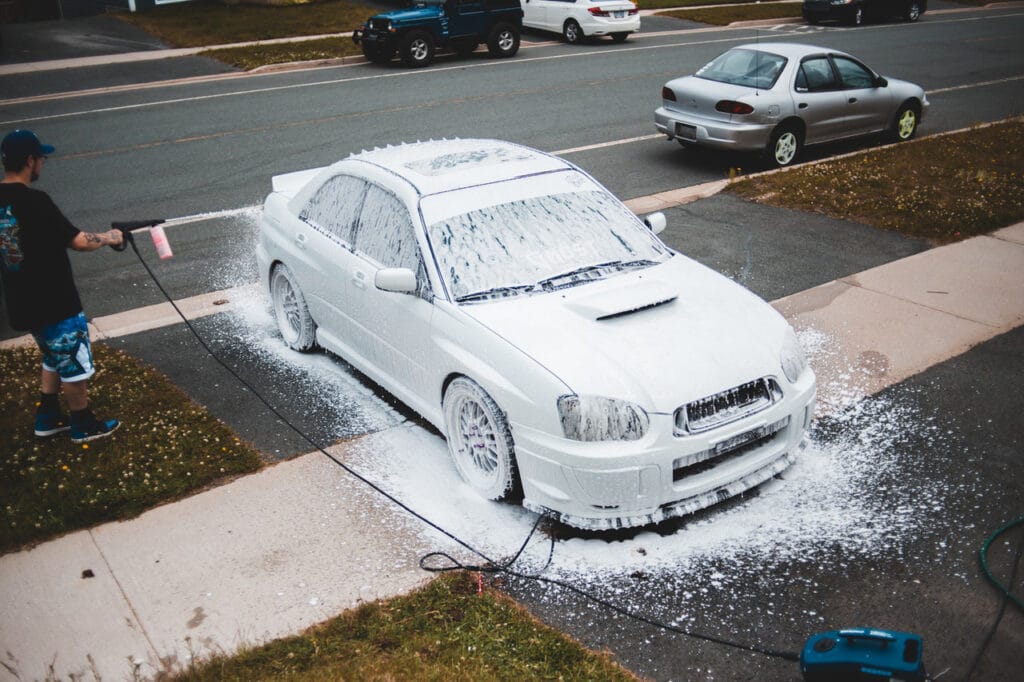 Now that you know pretty much everything there is to know about choosing the right pressure washer for your needs, let's get into the list you're here for.
Below we've listed some popular electric and gas-charged pressure washers for car detailing.
Sun Joe SPX3000
Manufacturer: Snow Joe LLC
Item Weight: 27.6 lbs
PSI Rating: 2030
GPM Rating: 1.76
Cord Length: 35 ft
Hose Length: 20 ft
Motor Type: Electric
Warranty: 2 year
Buy On: Amazon
Coming in at just under 30lbs, the SPX3000 is a good choice for an electric pressure washer. Like many of the other options on this list, it has the standard length 20 ft hose with a 35 ft power cord.
It comes with multiple nozzle attachments: 0°, 25°, and 40° tips, as well as a soap tip. The 25° and 40° tips, and the soap tip, are the ones you will use for washing your car.
This pressure washer also comes with two separate 0.9-liter detergent containers (a little over 30 oz each) that you can easily swap between. A 34-inch extension is included to help get into hard-to-reach spots.
The SPX3000 is equipped with a system that ensures the pump shuts off when the trigger is not being pulled to save both power and preserve the motor.
Worx WG630.2
Manufacturer: Positec
Item Weight: 5.52 lbs
PSI Rating: 350
GPM Rating: 0.92
Cord Length: Cordless
Hose Length: 19 ft
Motor Type: Cordless Electric
Warranty: 3 year
Buy On: Amazon
The Worx is a lightweight, cordless electric pressure washer. While it only has a maximum PSI of 350, it weighs less than 6 lbs and is designed in a way that you can carry the entire pressure washer around easily.
It has an adjustable nozzle for 0°, 15°, 25°, and 40°, along with a shower function. The soap container is 13.5 oz (0.4 liters).
One of the unique features of the Worx pressure washer is that it does not need to hook up to a tap to use. You can draw water from a pool or even a bucket!
This makes it even more portable as you aren't limited by a hose connection, and you can even use it if you live in a building that doesn't have outside hose hookups.
Stanley SHP1600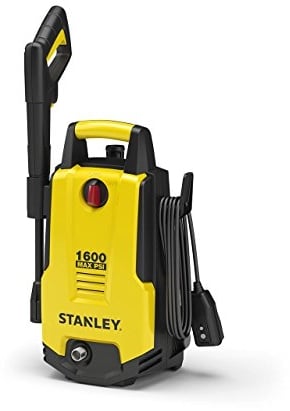 Manufacturer: Stanley
Item Weight: 15 lbs
PSI Rating: 1600
GPM Rating: 1.3
Cord Length: 35 ft
Hose Length: 20 ft
Motor Type: Electric
Warranty: 2 year
Buy On: Amazon
Like the above-mentioned Sun Joe SPX3000, the SHP1600 from Stanley comes with an extension wand as well as a Total Stop System to protect the motor and save power.
The SHP1600 has a detergent capacity of 0.4 liters, or 14 oz, along with its own turbo nozzle that is adjustable so you can select the spray pattern that works best for your application.
Generac 7899 GPW
Manufacturer: Generac
Item Weight: 57 lbs
PSI Rating: 2900
GPM Rating: 2.4
Cord Length: Cordless
Hose Length: 25 ft
Motor Type: Gas
Warranty: 3 year
Buy On: Amazon
The heaviest on our list at 57 lbs, the Generac gas pressure washer is meant for heavy-duty work with a max PSI of 2900 and GPM of 2.4.
It can be used for cars, but do not attempt to wash the car at maximum PSI, as this is dangerous to the paint. Luckily, this pressure washer makes it easy with four settings, including one designed for cars!
It has 4 nozzles, one for soap and the other being 0°, 25°, and 40°. A large detergent tank is also included at 1.9 liters (around 64 oz).
Of course, being gas-powered, it will need to be supplied with gas as well as oil for its motor, but with these added maintenance items comes a high-quality product that is capable of performing hard work.
This pressure washer might be good for someone with a garage who can store it in the same place for use, given its weight and overall bulkiness.
Karcher K1700
Manufacturer: Karcher
Item Weight: 20.7 lbs
PSI Rating: 1700
GPM Rating: 1.2
Cord Length: Not listed
Hose Length: 20 ft
Motor Type: Electric
Warranty: 3 year
Buy On: Amazon
Karcher is a particularly popular brand for pressure washers, and the K1700 is designed with convenience and ease of use in mind.
It features a place to wind the power cord up and out of the way, a footswitch to quickly turn it on and off, a spot to store a bucket, and a large detergent container of 1.9 liters (64 oz; the same size as the gas-powered Generac's detergent reservoir).
The K1700 also comes with 3 nozzles: soap, turbo, and 15° all-purpose. At only a little over 20 lbs, this is a lightweight pressure washer with high-capacity and good PSI for car washing applications at 1700.
Greenworks GPW1502
Manufacturer: Greenworks
Item Weight: 15.72 lbs
PSI Rating: 1500
GPM Rating: 1.2
Cord Length: 35 ft
Hose Length: 20 ft
Motor Type: Electric
Warranty: 3 year
Buy On: Amazon
Despite how lightweight and compact it is, the Greenworks GPW1502 delivers good power with standard equipment we have seen on larger pressure washers of a more traditional design.
It comes with an adjustable nozzle for 25° and 40° sprays, as well as a soap applicator, although the capacity for soap is not listed.
This pressure washer might be ideal if you're low on storage space; it's small enough to be tucked away in a household corner or closet when not in use.
Briggs & Stratton S2000
Manufacturer: Briggs & Stratton Power Products
Item Weight: 40 lbs
PSI Rating: 2000
GPM Rating: 1.2
Cord Length: 35 ft
Hose Length: 25 ft
Motor Type: Electric
Warranty: 1 year
Buy On: Amazon
We know what you're thinking, but don't buy it simply because it has S2000 in the name! Let's go over the reasons this is a good pressure washer.
Although it is electric, the Briggs & Stratton power washer is the 2nd heaviest on our list at 40 lbs. With this added weight, however, you get a steel frame construction designed for durability. Not only that, but it is foldable, which is great for saving space when not in use.
It comes with 4 nozzles, spanning from 15° to turbo. Additionally, it has a brushless motor, designed to run quieter than other pressure washers while lasting for years and years.
Sun Joe SPX3000-XT1 XTREAM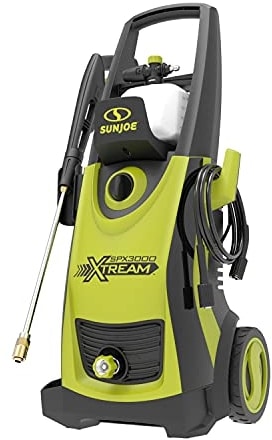 Manufacturer: Snow Joe LLC
Item Weight: 28.4 lbs
PSI Rating: 2200
GPM Rating: 1.65
Cord Length: 35 ft
Hose Length: 20 ft
Motor Type: Electric
Warranty: 2 year
Buy On: Amazon
Another Sun Joe pressure washer, the SPX3000-XT1 XTREAM, shares many features with the SPX3000 discussed above. It comes with the same 4 nozzles and is similar in weight and power (weighing only slightly more with 200 more PSI).
The main difference is that rather than a detergent container like the other Sun Joe, this one has a foam cannon. Essentially this adds air to the soap and creates a foam that you can then spray onto your car.
Whether or not a foam cannon is better than a detergent container is up for debate; both work well, and some prefer one over the other.
Ryobi
Manufacturer: Ryobi
Item Weight: 16 lbs
PSI Rating: 1800
GPM Rating: 1.2
Cord Length: 35 ft
Hose Length: 20 ft
Motor Type: Electric
Warranty: 3 year
Buy On: Amazon
Like the Greenworks, the pressure washer from Ryobi is also lightweight and more compact than the other pressure washers on this list while maintaining good power and features.
It comes with a soap and turbo nozzle, along with a 15° nozzle. Unfortunately, no information is provided about the capacity of the detergent container, but it is safe to assume it will be less than other products on our list given it is much smaller in size.
Stanley SHP 2150
Manufacturer: Stanley
Item Weight: 25.57 lbs
PSI Rating: 2150
GPM Rating: 1.4
Cord Length: 35 ft
Hose Length: 25 ft
Motor Type: Electric
Warranty: 2 year
Buy On: Amazon
This second product from Stanley is heavier and more powerful than the aforementioned SHP1600, featuring a foam cannon (0.8 liters or 28 oz), and four nozzles (0°, 15°, 25°, and 65°).
Despite being heavier than the SHP1600, this pressure washer is still relatively light at a little over 25 lbs, so the portability is not lost on this heavier model.
Active VE52
Manufacturer: Active Products Inc.
Item Weight: 26 lbs
PSI Rating: 1800
GPM Rating: 2
Cord Length: 35 ft
Hose Length: 20 ft
Motor Type: Electric
Warranty: 2 year
Buy On: Amazon
The third very compact design on our list, albeit heavier than the other two by more than 10 lbs is the Active VE52.
This pressure washer comes with 0°, 15°, and 40° nozzles constructed from metal, as well as a 0.6 liter (about 20 oz) foam cannon container.
Part of the reason this product is heavier than the other compact models is due to this use of metal; the handle is also made from metal to create a comfortable handling experience.
Another unique aspect of this pressure washer is that it uses a patented 5 piston pump. Other pumps typically feature 3 pistons, and the Active VE52, with its own 5 piston is more durable and has a longer overall lifespan.
Wholesun High Pressure Washer
Manufacturer: Wholesun
Item Weight: 18.56 lbs
PSI Rating: 3000
GPM Rating: 2.4
Cord Length: 33 ft
Hose Length: 20 ft
Motor Type: Electric
Warranty: 2 year
Buy On: Amazon
Like a few of the other pressure washers, this one from Wholesun comes with the Total Stop System. It is also fairly lightweight despite having the traditional pressure washer design.
It features a quick reel system to keep the hose in place with ease, 5 nozzles (one for soap and the others being 0°, 15°, 25°, and 40°), a foam cannon that can hold 0.3 liters (9 oz), and metal connections throughout for durability and leak prevention.
Our Top Three Pressure Washers For Cars
While we think all of the products on this list would be a good choice, we have selected three to highlight as our top overall.
Of course, the perfect pressure washer for you might be another on this list, and we don't think you can go wrong choosing any if it's the right fit for you.
Top Choice Overall: Sun Joe SPX3000
Our overall top pick goes to the Sun Joe SPX3000. It has an excellent combination of features that make it ideal for automotive applications.
It is fairly lightweight, under 30 lbs, the maximum PSI barely exceeds the max recommended for automotive purposes (2030 PSI), comes with the 25° and 40° nozzles you want for cars, has not one but two detergent containers that are fairly large (0.9 liters each), as well as the Total Stop System.
Best for Apartments/Small Spaces: Worx WG630.2
The Worx WG630.2 is our pick if you need your pressure washer to fit in an apartment/small garage. It is small, lightweight, easily stored, and perhaps most important, does not require a hose hookup.
Many enthusiasts who live in apartments (or condominiums) are forced to use their local car wash because they have no access to hose hookups, and this provides a rare workaround.
It might be the lowest powered on our list, but it is still much more powerful than a garden hose stream and allows you to wash your car yourself.
For Heavy Duty Use: Generac 7899 GPW
The best heavy-duty pressure washer on our list is the Generac 7899 GPW. It has high power output, both in terms of PSI and GPM. Moreover, gas pressure washers are known for having good longevity, so they can be expected to last a long time even when used frequently.
The max output of the Generac is not needed for automotive applications, but it has a "car" mode for appropriate pressures. This is a good choice for someone with a garage or workshop who can store it in one spot and not have to worry about moving it around just to use it.
This is also a good choice for those who want to buy a pressure washer for their car but also be able to use it for tougher projects that require higher power outputs.
Are you also iffy about taking your car to a local car wash just like us? Let us know by leaving a comment below!