Air compressors are incredibly useful and versatile equipment. Whether you're a DIYer, a contractor, or an automotive technician; a good air compressor is going to be an excellent addition to your arsenal of tools.
Everything from sanding down your car and giving it a new coat of paint, or inflating your tires and degreasing your engine can be done with the help of an air compressor and pneumatic tools.
The challenge is that the market is flooded with hundreds of options to choose from. Finding the right one for your needs can be tricky, but that's why we're here.
In this helpful guide, you'll find everything you need to know before purchasing a good shop air compressor, along with some of our top-rated options. Let's dive right in!
Choosing the Right Air Compressor
When shopping for air compressors, the first thing you need to do is, to be honest with yourself about what you're going to use them for.
Do you intend on using it only occasionally for small jobs like inflating tires or pressure washing? Then go for a small, portable pancake-type compressor.
But if you want to use air tools like double action sanders and grinders for prolonged hours, then you should buy the biggest and most powerful compressor you can afford.
These tools consume a ton of air — the more air they consume, the more power you're going to need, and the more input voltage you'll need as a result.
Another thing to consider is the availability of power outlets in your garage. Your usual 120v outlet won't cut it. To power a compressor, you'll require a 230v or 240v outlet.
Sound level is an important factor to think about. Some of the larger compressors can get as loud as 100 decibels. That's as loud as a straight-piped Civic at 3am. You're going to have to find a way to muffle the noise or choose a silent compressor.
Portability is a big one. If you want the option of being able to use your compressor anywhere other than your garage, that will influence your purchase decision. Lastly, you need to ensure you purchase the right fittings and the right hose.
Don't forget to take a close look at the technical specifications before purchasing a compressor. Here are some specifications you should pay close attention to.
Horsepower Rating (hp)
The horsepower rating is crucial as it dictates the performance and capacity of the compressor. Cheap air compressors are typically equipped with low-power 1 hp motors while the pricier, compact ones can go as high as 3 hp.
Industrial-grade compressors used for painting and other heavy-duty applications make up to 5 hp. Horsepower rating is relative to the CFM and max PSI levels. It is an accurate indicator of efficiency and performance.
Air Pressure Capacity (PSI)
PSI stands for "Pounds per square inch" and it refers to the force of air coming out of the compressor. A higher PSI rating is always recommended. It allows for the usage of a wider range of tools.
PSIG is another value linked to PSI. It is the measurement of the pressure difference between the tank and atmosphere. If painting and sanding are your main priorities, then going for the higher end of this spectrum (100 – 175 PSI) is the right choice for you.
Smaller tools like an air-wrench can get work done for longer with a 90 PSI-rated compressor. It is safe to stay on or above the 90 PSI mark to extract the most potential out of an air compressor.
Cubic Feet Per Minute (CFM) Capacity
CFM capacity is the amount of air that surges out of the hose attached to the tank holding compressed air. For example, an air compressor rated for 20 CFM means it can supply 20 cubic feet of air per minute.
Heavy-duty tools typically require a higher CFM-rated air compressor. If it's light work like inflating tires and other in-home work, then compressors with 2 CFM are more than enough for the job. But if you are a full-time mechanic then opt for those with over 5 CFM ratings.
The CFM, PSI, and horsepower ratings are all interlinked. Higher the CFM rating, the wider the list of compatible tools.
Tank Size and Weight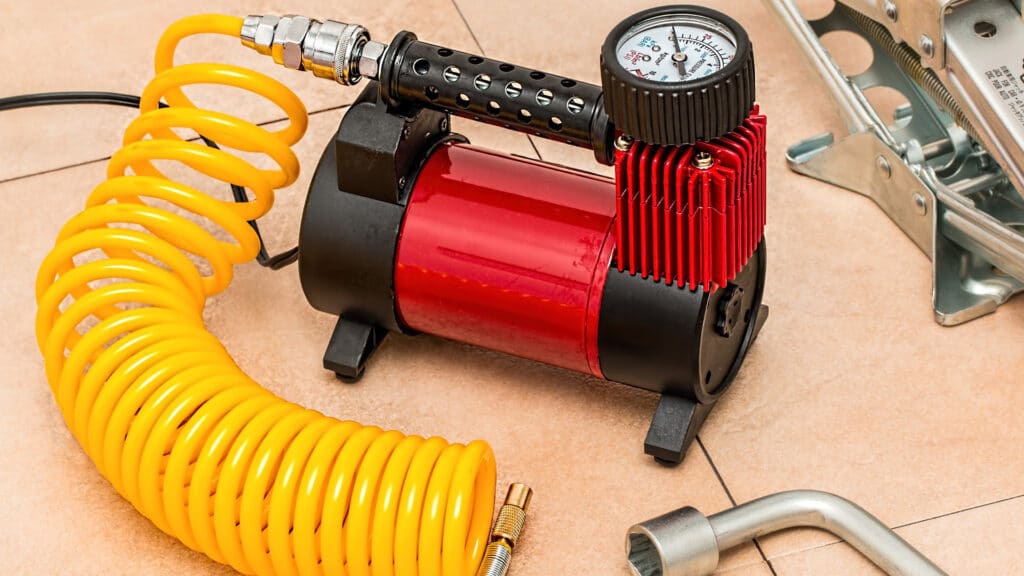 Lighter applications need a small tank which lowers the weight as well. The smallest tanks come in "pancake" or "hotdog" shapes and are easy to carry.
The lightest ones weigh in at just 31 pounds. These are used for tire inflation and other in-house applications. Heavy-duty options pack up to 80 gallons of air and have up to 5,000 hours of service life between refills.
If portability is a prime need, then go for the smaller sized ones but you will have to sacrifice work hours. And if you are planning to be static and work from a garage, then go for heavy-duty ones that hold at least 10 gallons of compressed air.
This said, if you are using one for inflating tire pressures, don't trust the gauge on the unit. Often they aren't as accurate as you'd like. A quality racing tire pressure gauge is affordable and extremely accurate. This should be your source of truth.
Oil-Free Or Lubricated
Oil-free tanks have limited potential, but they're known for low maintenance costs and low noise. Lubricated air compressor tanks have long-standing working potential with optimum efficiency.
Almost all heavy-duty air-compressors with over 1,000 hours of service are oil-based. This provides longer durations with consistent durability. Oil-free ones are prone to overheating and cannot be used for long.
Noise Level
Air compressors make a lot of noise. Generally, modern air compressors have decibel ratings in the range of 40-90 dB. Sound levels below or on 70 dB are considered safe and so, the lower the better.
There is no going around the heavy-duty large-capacity ones. These can creep closer to the 100 dB mark, and you will need ear-muffs when working with these. With these installed, it's wise to have some sort of soundproofing in your garage.
The Best Shop Air Compressors You Can Buy
Air compressors are your one-stop solution to powering a wide range of home and workshop tools. Stick around as we'll review some of the best shop air compressors for the money.
To make things easier, we've segregated based on 4 important factors — affordability, quietness, quality, and portability.
Affordable Air Compressors
Cheap doesn't always mean poor quality. We've handpicked the best, affordable air compressors on the market.
All of these come with a 1-year warranty and a minimum PSI rating of 120. The performance levels are ample for an average home garage, and occasional mechanical work.
Senco PC1010 1-Gallon
Storage Capacity: 1 gallon
Horsepower Rating: 0.5 hp
Max PSI: 125
Weight: 20 pounds
Max CFM: 1.4 @ 90 PSI
Warranty: 1 year
Buy On: Amazon
This is a no-nonsense air compressor with limited functionality and good build quality. The reason why we say "limited" is because of its 1-gallon capacity.
The 0.5 HP engine can churn out a max PSI of 125 and being a lubeless pump it is easy to maintain. The Senco 1-gallon compressor is ideal for you if you only intend on doing light work.
California Air Tools CAT-4610AC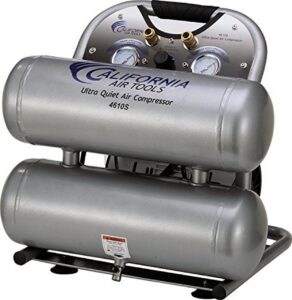 Storage Capacity: 9.2 gallons (2*4.6-gallon tanks)
Horsepower Rating: 1 hp
Max PSI: 120
Weight: 45.5 pounds
Max CFM: 3.190 @ 40 PSI
Warranty: 1 year
Buy On: Amazon
This is a uniquely-designed air compressor with dual tanks for a more compact construction. A 1 HP motor and a CFM rating of over 3 units make it a versatile workhorse. The twin tanks help to store more air than other compressors of the same size.
At max 60 dB, it is impressively silent and provides enough runtime to change the lug nuts on all 4 of your car's wheels and a bit more. The only downside here is its limited working capability.
Craftsman CMXECXA0232043 20-Gallon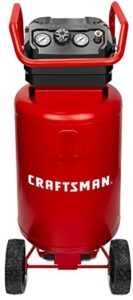 Storage Capacity: 20 gallons
Horsepower Rating: 1.8 hp
Max PSI: 175
Weight: 89.8 pounds
Max CFM: 5 @ 90 PSI
Warranty: 1 year
Buy On: Amazon
The Craftsman compressor is the highest-capacity "affordable" option as it stores the most volume of air in this lot (20-gallons) and comes with 8-inch wheels that make moving it around easy.
And with 5 CFM, the Craftsman 20-Gallon Vertical Air Compressor can run a wider range of tools. One downside is the noise level — you will have to deal with the sound levels, as it gets quite loud for the size.
Quietest Air Compressors
This collection of compressors is for those who prioritize peace over everything else. Especially if you live in a neighborhood that frowns upon noise-related disturbances.
These compressors generally have a lower hp rating and make 60 dB or lower. Performance is generally average; it's a trade-off.
Ford Silent Series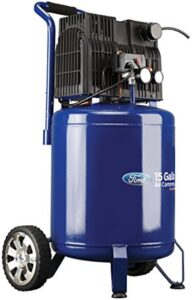 Storage Capacity: 15 gallons
Horsepower Rating: 2 hp
Max PSI: 125
Weight: 88 pounds
Max CFM: 2.9 @ 90 PSI
Warranty: 2 years
Buy On: Amazon
Yes, Ford makes air compressors, and they're delightfully quiet. This one with a max 59 dB rating runs butter-smooth. The construction is sturdy and extremely reliable. Ford also provides additional accessories like two pressure gauges and a coupler.
Portability is at a maximum thanks to the vertical cylindrical construction on castor wheels. The 15-gallon tank is large enough for home garage needs but a max CFM of 2.9 limits usage of a wider set of tools.
Given how quiet this unit is, and it's large size, it's debatable the best garage air compressor for car tires and other odd jobs. Of course, remember to use a tire pressure gauge as well, as straight out the compressor you may not get an accurate reading.
California Air Tools 8010 8-Gallon
Storage Capacity: 8 gallons
Horsepower Rating: 1 hp
Max PSI: 120
Weight: 48 pounds
Max CFM: 2.2 @ 90 PSI
Warranty: 1 year
Buy On: Amazon
Another popular silent air compressor, the California Air Tools 8-Gallon air compressor features a dual-piston pump that provides a total runtime of over 3,000 hours. An added bonus is that oil-free pumps are really easy to maintain.
The construction is extremely sturdy — you can choose between either stainless steel or aluminum. It is super-silent with 60 dB of maximum loudness. While it sure is quiet, the puny 1 hp motor doesn't offer much flexibility in terms of what you can power with it.
Makita MAC210Q Electric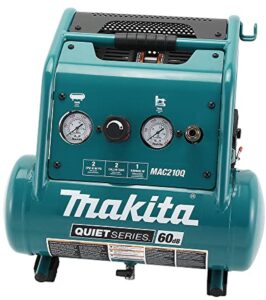 Storage Capacity: 2 gallons
Horsepower Rating: 1 hp
Max PSI: 135
Weight: 44 pounds
Max CFM: 2 @ 90 PSI
Warranty: 1 year
Buy On: Amazon
This is an impressively compact air compressor, but the compact size comes at a price — the storage capacity is just 2 gallons. The 1 HP motor won't power heavy-duty air tools. However, the lack of power is made up for with a longer runtime.
Considering the overall value add, the Makita air compressor is expensive for what it offers. But then again, it's purpose-built. It does one thing and one thing only — operate quietly.
High-Performance Compressors
These are the absolute best air compressors your money can buy. They're designed with maximum performance in mind. So if you want portability or quiet operation, these aren't your ideal choice.
These air compressors need a dedicated space and a 230V power source, but they allow you to use almost all types of power-hungry pneumatic tools.
Ingersoll Rand Two-Stage
Storage Capacity: 60 gallons
Horsepower Rating: 5 hp
Max PSI: 175
Weight: 430 pounds
Max CFM: 14.3 @ 90 PSI
Warranty: 1 year
Buy On: Amazon
The Ingersoll two-stage compressor utilizes synthetic lubricant because of which it can provide 2,000 hours of use between services. 60 gallons, 5HP, and 175 PSI means that you can perform most tasks with great ease.
And with a max CFM of 14.3, you can run a sea of heavy-duty tools off of it. With 15,000 hours of usage time, this is a certified workhorse. But it comes with limitations as it needs a dedicated 230V power supply.
Quincy QT-54 60 Gallon
Storage Capacity: 60 gallons
Horsepower Rating: 5 hp
Max PSI: 175
Weight: 475 pounds
Max CFM:15.4 @ 90 PSI
Warranty: 1 year
Buy On: Amazon
Another heavy-duty air compressor. At 15.4 CFM, this one pushes out more power than the Ingersoll Rand air compressor at 15.4.
It comes with built-in thermal overload protection to monitor long work hours. On the flip side though, it is quite heavy at 475 pounds and is plagued with inconsistent customer service.
The reciprocating compressor with an oil-lubricated pump is rated for 30,000 hours of use. It can power a much wider list of pneumatic tools. That being said, make sure you have a 230V supply.
DeWalt DXCMV5048055 Two-Stage
Storage Capacity: 80 gallons
Horsepower Rating: 5.2 hp
Max PSI: 175
Weight: 470 pounds
Max CFM: 17.9 @ 175 PSI
Warranty: 2 years
Buy On: Amazon
The DeWalt two-stage industrial air compressor has the largest storage tank in this lot at 80 gallons. It features a patented pump design which makes it run cooler than the competition.
With a max CFM of 17.9, this air compressor has set the bar even higher. For consistent long-time performance, it comes with improved compressor cooling technology.
The powerful 5.2 hp motor coupled with the huge 80-gallon tank makes it extremely useful.
Portable Air Compressors
Not everyone wants a big bulky air compressor that can do it all. For smaller, less-demanding tasks, portable air compressors work exceptionally well.
These are extremely lightweight, compact, and provide commendable performance as well. Here are some of the best small air compressors you can buy.
WEN 2289 10-Gallon Vertical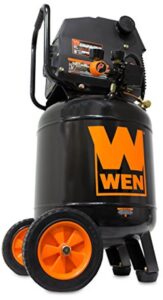 Storage Capacity: 10 gallons
Horsepower Rating: 1.5 hp
Max PSI: 150
Weight: 71.5 pounds
Max CFM: 4 @ 90 PSI
Warranty: 2 years
Buy On: Amazon
Apart from the aesthetic black-orange color scheme, the WEN 10-Gallon Vertical Air Compressor is oil-free, making maintenance an easy job.
Portability is the prime focus here with never-flat 7-inch wheels, a large handle, and two sturdy legs. It also comes with an easy-to-reach quick drain valve, a quick coupler, and 3 pressure gauges.
BOSTITCH Pancake
Storage Capacity: 6 gallons
Horsepower Rating: 0.8 hp
Max PSI: 150
Weight: 31 pounds
Max CFM: 3.7 @ 40 PSI
Warranty: 1 year
Buy On: Amazon
The pancake-style construction makes the Bostitch compressor super easy to store and carry around. The clever design allows it to hold 6 gallons of compressed air at 150 PSI. It weighs just 31 pounds and has a high-efficiency motor.
But a Max CFM of 3.7 limits the variety of tools that can be coupled to it. Being extremely compact comes with the downside of having a poor hp rating and limited garage use-case scenario.
Campbell Hausfeld 8 Gallon
Storage Capacity: 8 gallons
Horsepower Rating: 1 hp
Max PSI: 125
Weight: 67.72 pounds
Max CFM: 2.4 @ 90 PSI
Warranty: 1 year
Buy On: Amazon
This air compressor is quite sizable considering that it is marketed for portability. The 8-gallon tank is large enough to be used for spray painting. Longevity is its strong suit because of the low CFM at which it pumps out air.
It restricts the variety of tools that can be coupled. But can work 4 times that of most compressors in this range. It is quite silent at 68 dB and being oil-free is a boon to maintenance.
This is a simple, no-nonsense portable air compressor that works slower but for much longer. Ironically its size steals from the portability factor and the maximum PSI is on the lower side.
The 4 Best Air Compressors for Your Home Shop
And that concludes our list of the best air compressors for affordability, quietness, performance, and portability. Below we've narrowed this list down to the 4 best options within these categories.
Best Affordable: California Air Tools CAT-4610AC
With more than 3 CFM and a 120 PSI rating, this 1 hp motor-equipped air compressor ticks the right boxes for affordable garage goals.
Best Quietest: Ford Silent Series
Ford's Silent Series air compressor is rated at 125 PSI and has an impressive 15-gallon storage capacity. The reliability is unquestionable with this one.
Best Premium: DEWALT Two-Stage
With a massive 80-gallon storage capacity and sturdy construction, this compressor is a workhorse. Its 5.2 hp rating and near-perfect working efficiency give it enough grunt to operate for long hours and deliver an output of 175 PSI.
Best Portable: BOSTITCH Pancake Air Compressor
The hp rating and storage capacity are puny at 0.8 hp and 6 gallons respectively. But the fact that it weighs just 31 pounds and can be stored anywhere, makes us want to overlook its performance-related limitations.
What do you intend on doing with your air compressor? Do you think battery-powered tools are better than air tools? Let us know by leaving a comment below!