For track enthusiasts, nothing beats leaving their competition behind to cough on their exhaust fumes. If that's you, then you know the importance of having precise tire pressure.
The right tire pressure can mean the difference between winning or losing. Having a gauge that displays the precise measurement down to the very psi is vital.
In this guide, we explore some of the very best brands to help uncover the best tire pressure gauge for racing –– so that you have an upper-hand over your competition.
Why is a Tire Pressure Gauge Important for Racing?
Choosing just about any tire pressure gauge may work for your daily driver –– but on the track, it's a whole different story.
A tire pressure gauge allows you to adjust your tire's temperature quickly, which has a big impact on your car's performance and handling.
A good pressure gauge will help you have a solid baseline to work with. So if your tire heats up during the race, you'll know exactly if you need to raise or lower the tire pressure.
Different Kinds of Racing Tire Pressure Gauges
When it comes to racing, you'll find two types of tire pressure gauges get the job done well: digital and analog.
Both have their own set of perks, so it really depends on what you're looking to get out of it and how much you're prepared to spend.
Digital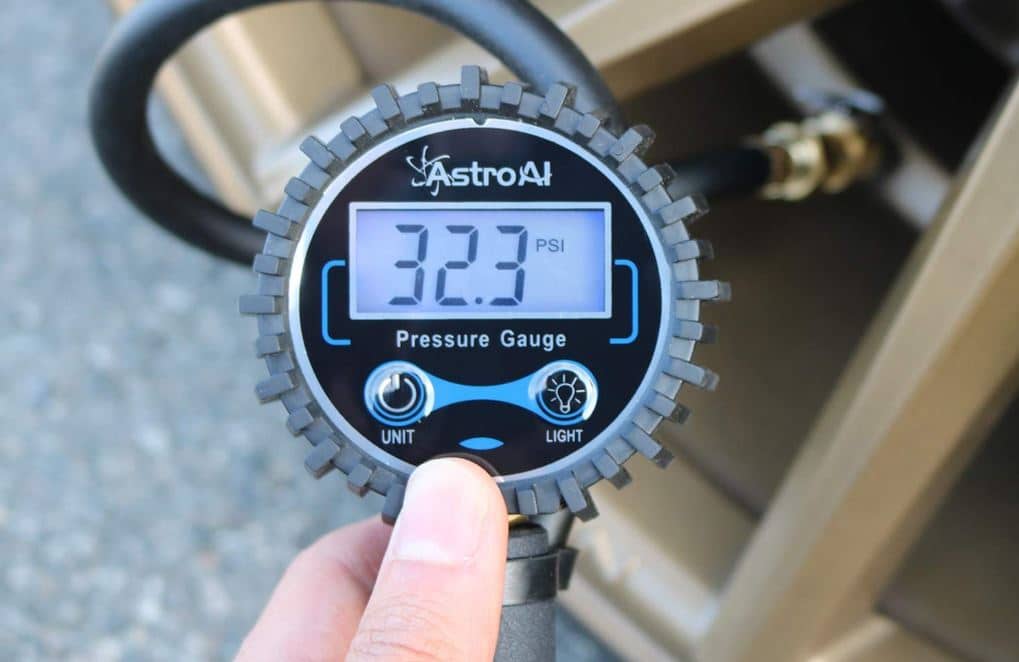 Digital gauges are easy to read because they have an electronic LED display. That's perfect if you're racing at night or facing low-light conditions. They're ideal for fine-tuning your tires and comparing different pressure readings.
They can also read wide ranges of pressure at high degrees of accuracy which is crucial on the track when your tires have heated up. Digital gauges tend to be resistant to dirt and dust damage too.
While you will need batteries for your digital gauge, you'll save money on the purchase because they're usually cheaper than their analog counterparts.
Another perk of digital gauges is that their size and design make them easy to handle. Storing them in your glove box or a similar-sized compartment is hassle-free.
Analog
Analog gauges, on the other hand, are sturdier and longer-lasting than digital ones. They're also slightly more expensive but don't require any batteries.
An analog gauge resembles a clock face that has a needle to indicate the pressure. They usually include an extension hose, dual-scale dial, bleeder valve, and a shock-resistant dial cover.
Moreover, analog gauges are either liquid-filled or dry. A liquid-filled pressure gauge has a casing filled with fluid, which helps to dampen the effect of pressure spikes and pulsation. Dry-pressure gauges tend to get damaged from vibration, which results in inconsistent performance.
A downside to analog gauges is that they're heavier and require more space for storage than digital ones.
Best Tire Pressure Gauges for Racing
When buying tire pressure gauges for track use, there's simply no room for error. Luckily, you'll find a number of well-known brands dishing out some of the best gauges out there.
To make your search easier, we've listed some of our favorite gauges –– both digital and analog, so you can easily compare them to see which one best suits your needs.
Joes Racing Analog
Manufacturer: Joes Racing
Part Number: 32307
Weight: 4.8-ounces
PSI: 0-60
Type: Analog
Buy on: Amazon
If you need to read a relatively low reading such as 37 psi, the Joes Racing analog gauge will work like a charm. Gauges that have a psi scale of 0-100 or 0-200 are usually more difficult to read at low psi.
This is a 2-½" dial face tire pressure gauge that comes with a 17" ultra-flexible hose and a chrome angle chuck situated on the swivel fitting.
It has a glow-in-the-dark face and comes with an internal gauge damper. The swivel fitting will help you to seal the chuck to your tire valve. And you can change the thread on an angle and ball chuck quickly if you're in a tight spot.
The only guarantee that comes with this product is that it's free from defects before shipment.
Longacre Analog
Manufacturer: Longacre
Part Number: 50417
Weight: 10.4-ounces
PSI: 0-60
Type: Analog
Buy on: Amazon
Longacre made this 2" dial face out of rubber. It's also got a thick rubber protective cover that's shock-resistant. The gauge itself is easy to use even at night, because of its glow-in-the-dark face and easy-to-read numbers.
Like others on this list, it comes with an angle and ball chuck so that you can access the tire from any angle. Aside from this, it's also a built-in tire pressure deflator, which allows you to lower the pressure in an overinflated tire.
The Longacre gauge comes with a highly flexible 14" hose. However, you can't connect this gauge to a workshop air compressor to fill your tires with air as it only provides a measurement.
Astro AI Digital
Manufacturer: Astro AI
Part Number: ATG150
Weight: 7.2-ounces
PSI: 0-150
Type: Digital
Buy on: Amazon
Astro AI has a 3-pack racing digital tire pressure gauge that contains four settings: psi, bar, kpa, and kg/cm2. It's got a backlit LCD display and a lighted nozzle that help you see better in the dark.
Its nozzle forms a seal with the valve stem, which enables you to get an accurate reading. Once you turn the gauge on, you can select the range and then turn it off to save power. This gauge uses four lithium metal batteries, which are included with every purchase.
The Astro AI gauge fits perfectly into a glove compartment, and it's easy to hold because of the non-slip texture and ergonomic design.
Another perk to this gauge is that it comes with a 1-year warranty.
JACO ElitePro Analog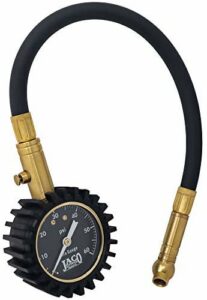 Manufacturer: JACO
Part Number: JSP-014
Weight: 5.6-ounces
PSI: 0-100
Type: Analog
Buy on: Amazon
While you won't need to rely on batteries for this pressure gauge, you can rely on it to provide an accurate reading. After all, it has been calibrated within ANSI standards.
The durable shock-resistant protective guard covers the solid brass body, and the 2" glow dial face locks the tire pressure measurement until you press the reset button on the brass neck.
This pressure gauge also comes with a built-in air bleeder valve that lets you effortlessly reduce tire pressure. And you'll have easy access to the tire from any angle thanks to the 360-degrees swivel chuck.
In addition to this, it's got a 10" strong, flexible hose that's durable enough to last you a while. If it doesn't, you can always bank on the fact that this pressure gauge comes with a lifetime warranty.
Intercomp Liquid Filled Analog
Manufacturer: Intercomp
Part Number: 360067
Weight: 14.4-ounces
PSI: 0-60
Type: Analog
Buy on: Amazon
Another strong contender is this liquid-filled analog gauge from Intercomp which comes with a 17" hose. It's got a thumb-operated bleeder and swivel nozzle that lets you control the air pressure easily.
Although this pressure gauge is slightly more expensive than others on our list, it provides extremely accurate measurements which alone makes it an incredible buy.
If that wasn't enough, you'll appreciate the protective outer cover that comes with this gauge since is very durable. It provides great visibility and has major and minor marks.
JACO ElitePro Digital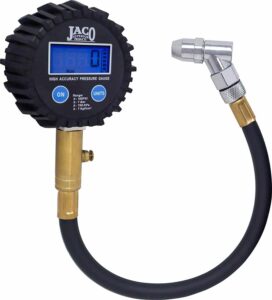 Manufacturer: JACO
Part Number: JSP-032
Weight: 10.4-ounces
PSI: 0-200
Type: Digital
Buy on: Amazon
If you liked the ElitePro that we listed but wanted a digital version, this 200 psi pressure gauge is for you. The digital version is slightly more expensive, but it's been calibrated to ANSI 2A standards, with a precise readout resolution of 0.10 psi.
Just like the analog gauge, the digital version has a shock-resistant protective guard to shield the solid brass and steel parts. Along with this, it comes with a 10" fully-rotational, leak-proof HybridFlex air hose. You'll get easy access from any angle thanks to its 360 swivel angled air chuck.
The 2.5" LCD display screen comes with a battery life indicator and locks in the reading until you press the on-button to reset to zero. The display will shut off automatically after 150 seconds of inactivity.
EPAuto Digital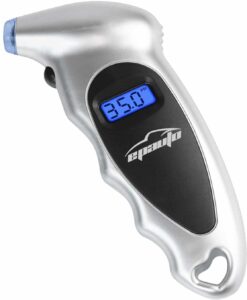 Manufacturer: EPAuto
Part Number: AT-009-03
Weight: 2.08-ounces
PSI: 0-150
Type: Digital
Buy on: Amazon
The EP Auto gauge requires a lithium metal battery, which is included with the purchase. This device is the cheapest air pressure gauge on our list. Much like the Astro AI, it comes with four pressure ranges along with a backlit digital display and a lighted nozzle.
Using this device is simple since all you need to do is switch it on and select the range. Left untouched for 30 seconds, it will automatically switch off.
The display locks in the reading after you've removed it from the valve stem. It's a portable gauge that will easily fit in your glove compartment.
AutoMeter Digital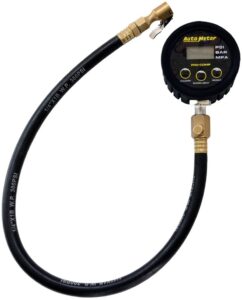 Manufacturer: AutoMeter
Part Number: 2163
Weight: Not available
PSI: 0-50
Type: Digital
Buy on: Enjuku Racing
Racers who want the absolute best should look at the AutoMeter 50 psi digital tire pressure gauge. It's by far the most expensive gauge on our list, but it provides the most accurate measurement.
It's specifically designed for track use and features three ranges: psi, mpa, and bar. You'll find this pressure gauge to be durable, and it comes in a sturdy case.
There's a 12-month warranty with this gauge, and Enjuku allows you to pay it off in monthly installments.
Foval Digital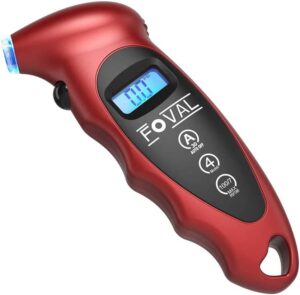 Manufacturer: Foval
Part Number: TPG-01
Weight: 8.8-ounces
PSI: 0-150
Type: Digital
Buy on: Amazon
Foval's 4-pack digital gauge comes with four ranges and a lighted nozzle that not only seals the valve stem on Schrader valves but also helps you see better in the dark.
The LED display switches off after 30 seconds of inactivity. Because of the ergonomic design on this gauge, handling it is easy and comfortable. It doesn't have a bleeder feature, but it does include batteries.
Using this pressure gauge is as simple as switching it on and selecting the range. You can expect an accurate reading in 0.1 increments.
SafeLife Digital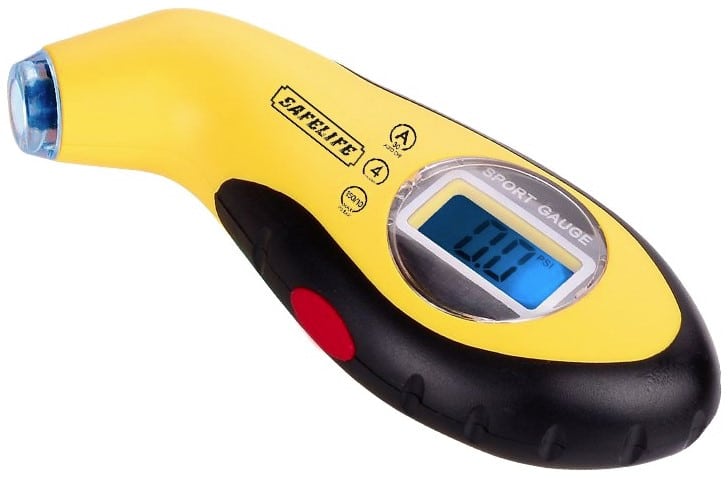 Manufacturer: SafeLife
Part Number: SF02
Weight: 2.11-ounces
PSI: 0-150
Type: Digital
Buy on: Amazon
SafeLife produced a similar pressure gauge to EP Auto and Astro AI. It's got a night-vision LCD screen that turns off automatically after 30 seconds of inactivity.
The gauge features four pressure units: psi, bar, kpa, and kg/cm2. It'll give you the precise tire pressure to one percent.
This gauge is easy to hold given its non-slip texture and plastic shell. Another thing to keep in mind is that unlike others, this gauge requires 3 Lithium coin cell batteries. Replacing the battery isn't the most convenient because you have to unscrew the cover.
It does however make up in its durable build and portability –– making it easy to fit in your pocket.
Our Favorite Racing Tire Pressure Gauges
We may have listed some of the best tire pressure gauges for racing, but a few of them truly stand out for their incredible features.
After looking at all of the features of every gauge, we've listed our top picks below.
Best Overall: Longacre Analog
Whether you're drag racing, or just trying to beat your lap times, you can expect accurate measurements every time with the Longacre tire pressure gauge. Its angle and ball chuck allow you to connect to the valve from any angle.
Best Value for Money: JACO ElitePro Analog
The JACO ElitePro is an all-in-one gauge that provides accurate measurement and durability at an affordable price. Moreover, it's also got an air bleeder and a 360-degree swivel chuck so that you can easily access the valve.
Most User-Friendly: Astro AI Digital
Apart from offering four settings, the Astro AI easily fits into a glove compartment and has a lighted nozzle to help you with measurement in dark conditions. The device automatically shuts off after inactivity and comes with a 1-year warranty.
We've picked out our favorites, but we'd love to know which tire pressure gauge is the best one in your books? Drop a comment and tell us if you've purchased any of them or plan to.