Infiniti's G37 line-up was the perfect successor to the ever-popular G35 platform. Despite tipping the scales at around 4000 lbs, it feels nimble and can turn into a track missile with the right modifications.
The best way to start is by installing a lighter set of rims. Other than adding to the overall aesthetic, aftermarket rims will significantly improve the handling characteristics of your G37 so long as they're lighter than your OEM wheels.
For the best results, we recommend the following handling mods for your Infiniti G37 along with aftermarket rims:
Stick around to know more about how to choose the best rims for your G37 coupe or sedan — we'll discuss OEM and aftermarket sizing, fitment style, and we'll conclude with a list of our top recommendations for daily driving and track use.
Let's dive in.
G37 OEM Wheel Specs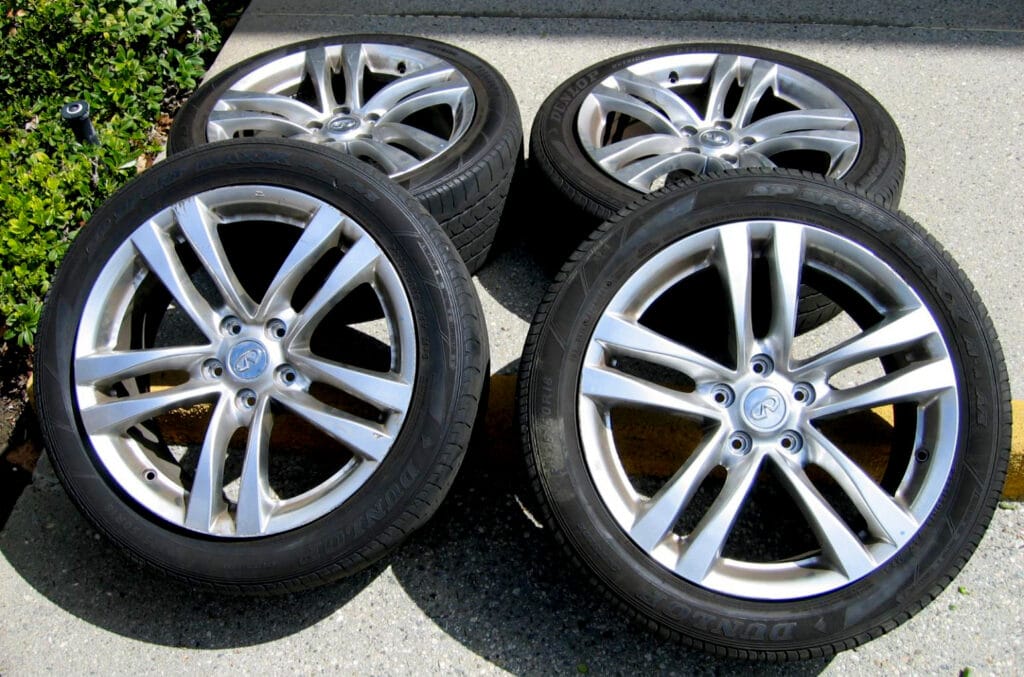 Before you zero in on a set of rims for your G37, it's important to know the OEM wheel sizes. This will give you some insight into how different your fitment will be as compared to how it was intended to be from the factory.
Here's a quick glance at the G37's OEM wheel specs.
| | Coupe (G37 Sport) | Sedan (G37 Sport + G37x sport) | Sedan (Non-Sport) |
| --- | --- | --- | --- |
| Front | 19″x8.5″+43 (26.5 lbs.) | 18″x7.5″+45 (24 lbs.) | 18″x7.5″+43 / 17″x7.5″+45 |
| Rear | 19″x9″+45 (27.5 lbs.) | 18″x8.5″+50 (25 lbs.) | 18″x7.5″+43 / 17″x7.5″+45 |
Choosing the Right Rims for Your G37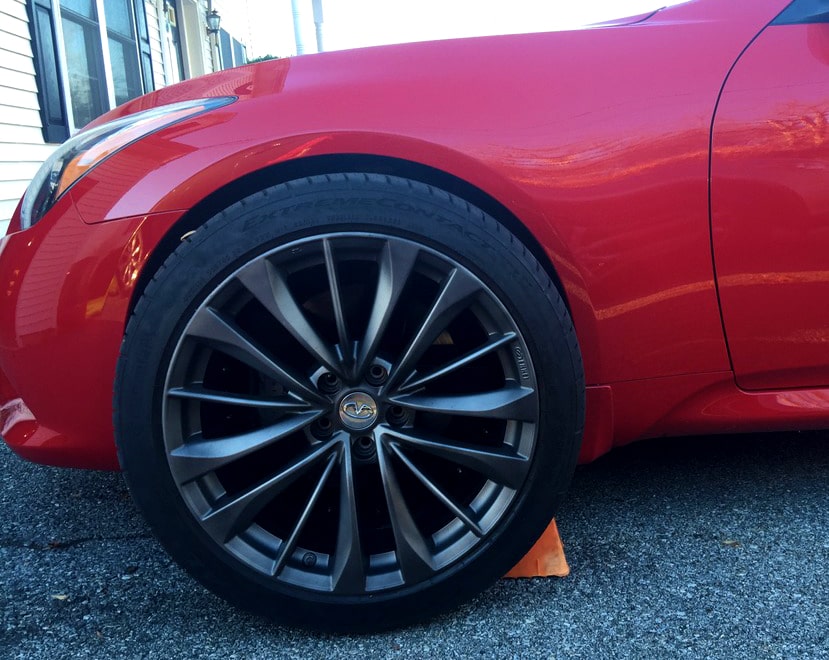 Even though the G37 is a more mature vehicle as compared to the G35, it still has tons of aftermarket support and wheel selection options are near endless.
The only thing you need to be careful about when buying wheels is making sure that you order the right size, offset, and bolt pattern. Knowing how to measure rim size is very important, to make sure you buy the right wheels.
Here's an example of how wheel sizes are denoted: 17″x9″+20
In this example, 17 refers to the wheel diameter, 9 refers to the width, and +20 is the wheel offset, measured in millimeters.
Below we'll explore which wheel sizes fit the Infiniti G37 and which ones don't.
Diameter and Width
The diameter and width of your rims make up for a large proportion of how they're going to look, feel, and what kind of tires they'll be compatible with.
Albeit marginal, there's a variations in tire sizes on the exact same car can make it feel completely different. Some of it is subjective, however. Which size you should go for comes down to personal preference.
Do you prioritize comfort and driveability over performance? How often do you hit the track? Or do you want the best of both worlds? An informed decision needs to be made here.
Answering these questions will help you choose the most appropriate wheel diameter and width for your needs.
From the aesthetics standpoint, enthusiasts with a trained eye can typically guess the wheel diameter just by looking at the rims. Some people like the look of 20" rims and some despise it. 18" rims are the perfect sweet spot.
The Infiniti G37 feels at home when the wheel diameter and width are kept in between the following size range:
Diameter: 18" to 20"
Width: 8" to 12"
Another thing to consider is if you want to run a staggered setup or a squared setup.
Wheel Offset
The offset determines how far in or out your wheels will sit when bolted onto your car.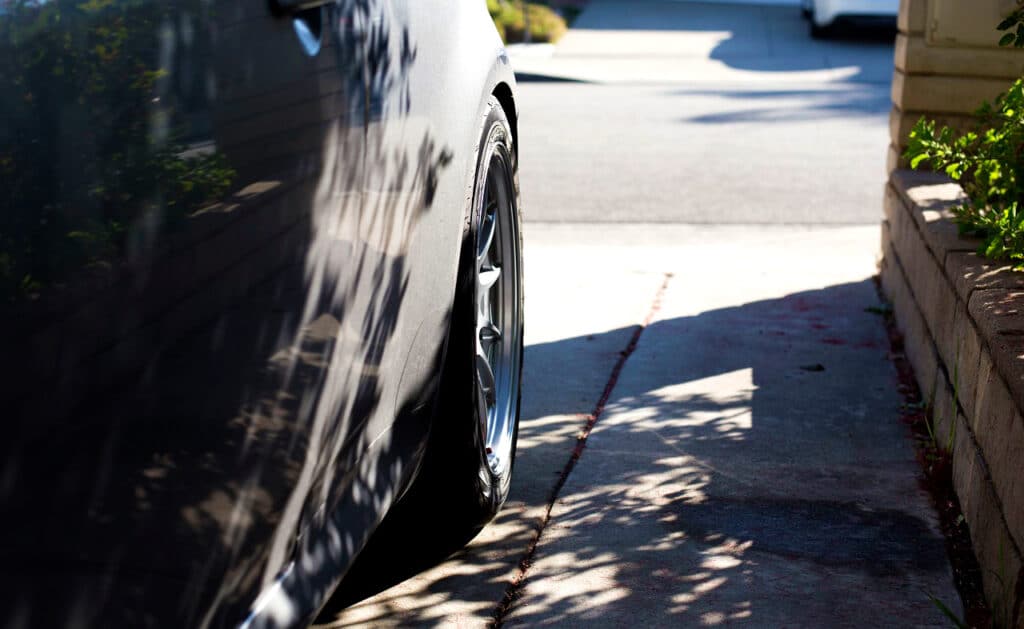 It is the distance between the centerline of the wheel and the surface where it mounts to your axle.
Know that you cannot change your wheel offset, so choose wisely. The only way to correct this is by installing wheel spacers.
Check out our guide on wheel offset for more clarity on the subject. It is important to select the right offset in order to know exactly how far in or out your wheels will sit. This is important because:
You might want to avoid clearance issues when fitting wider tires. The best way to fit wider tires without any rubbing is by running less aggressive offsets to tuck your wheels in. If you don't, it's likely that you'll need to do some fender rolling and dial in some negative camber to get them to fit correctly.
Using different offsets allows you to significantly change the way your car drives. For example, using low or negative offset wheels will increase the track of your car. This could be a good thing so long as you take corrective measures against the unintended changes in your suspension geometry that will inevitably occur.
To ensure proper fitment, we recommend staying within the size range of anywhere between +12 mm to +45 mm.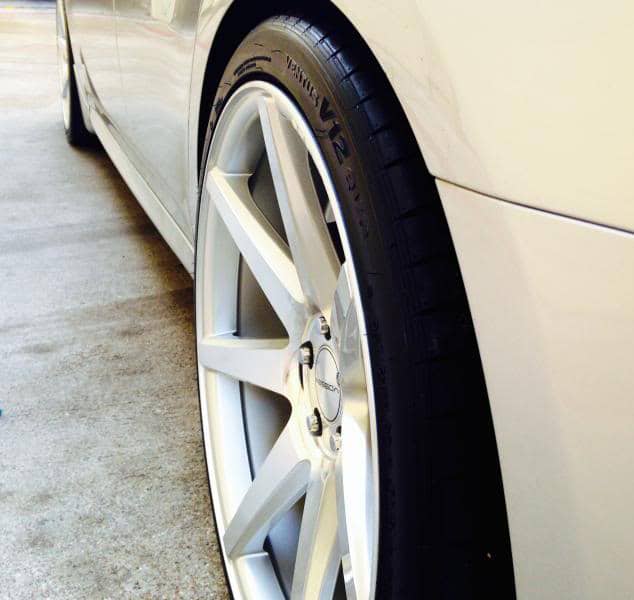 +20 to +30 is ideal for daily driving, especially if you don't want to roll your fenders or avoid any fabrication/cutting work.
Bolt Pattern
You could easily get away with choosing the wrong rim width, diameter, or offset, but if you choose the wrong bolt pattern, then the wheels just won't fit.
The bolt pattern or pitch circle diameter (PCD) for the Infiniti G37 is 5×114.3.
This particular bolt pattern is very common with JDM cars from the early 2000s and options are plentiful.
Brake Clearance
This is an important consideration to make. If you drive a G37S that came with 4 pot brake calipers installed from the factory, some aftermarket wheel sizes won't work for you.
Rims that have an offset of more than +40 might not clear four-pot calipers and big brake kits. The spoke profile is the key here, and you can always cheat by using spacers.
Best Aftermarket Rims for Your Infiniti G37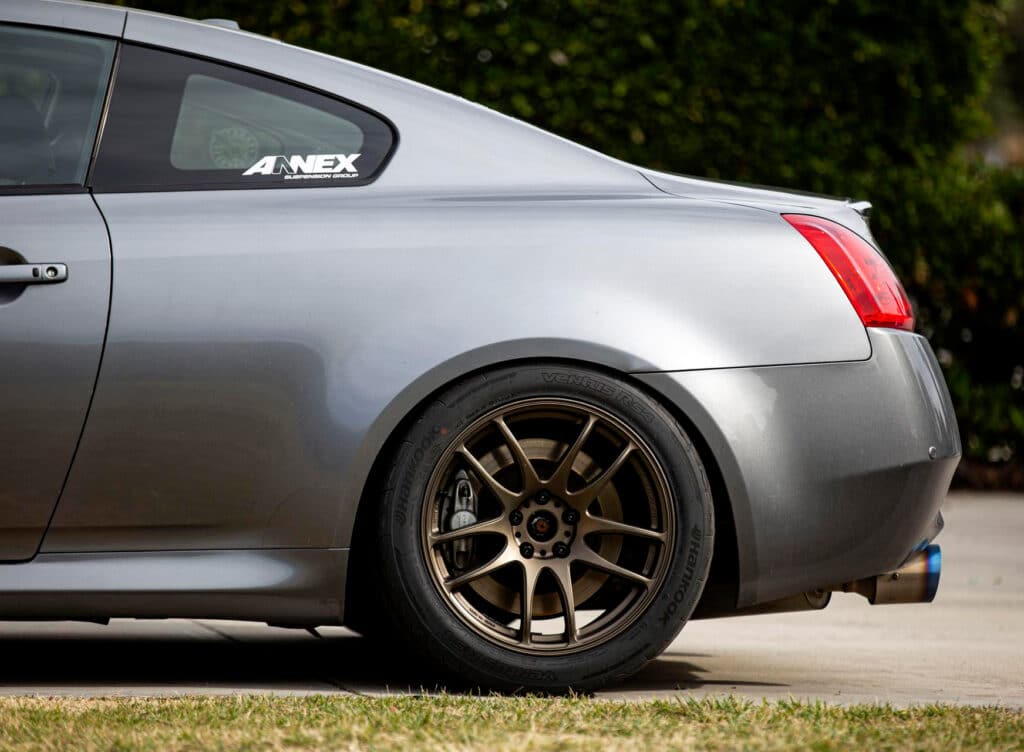 Now that you know how to select the right rims for your Infiniti G37, let's take a close look at some of our best recommendations.
Below we've listed some of the best G37 coupe and sedan rims on the market, along with short spec lists to make your selection easier.
G37 Wheels for Daily Driving
Not all rims are designed for the same purposes. Cast wheels are better suited for daily driving because they're on the heavier side, while flow-formed and forged wheels are a better fit for track use because they're lighter and stronger.
Here are some of our top wheel recommendations for daily driving and occasional track use.
König Freeform

Manufacturer: König
Rim Diameter (In.): 18", 19"
Build: 1-Piece, Flow-Formed
Finish: Radium Bronze, Matte Silver
Warranty: 1 Year
Buy On: Enjuku Racing
Konig's Freeform wheel features an extremely clean 10-spoke design and is manufactured using the flow-forming technique. This is a bit overkill for a daily driver but hey, nice rims never hurt anybody.
One thing we really love about the Freeform wheels is the brake clearance. The spoke profile allows you to easily use four-pot calipers and offers exceptional brake cooling.
Aodhan DS02
Manufacturer: Aodhan
Rim Diameter (In.): 18″, 19″
Build: 1-Piece Cast Alloy
Finish: Bronze, Black, Silver
Warranty: 1 Year
Buy On: Amazon | Enjuku Racing
The DS02 by Aodhan is quite popular among Infiniti G35 and G37 owners. It's affordable, effortlessly stylish, and can easily handle spirited driving.
It sports a design that never really gets old — split 5-spoke with a deep dish. That's something which not a lot of rims provide in this price range.
Enkei Lusso
Manufacturer: Enkei
Rim Diameter (In.): 18", 20"
Build: 1-Piece Cast Alloy
Finish: Black, Silver
Warranty: Lifetime
Buy On: Amazon
Enkei Lusso is an inexpensive, stylish, 1-piece cast alloy wheel that's ideal for daily driving. The only size options are 18" and 20", so if you want these in 19", you're out of luck.
These wheels are commonly seen on German sedans but they feel right at home on the Infiniti G37 considering its VIP-Esque design language. Get yours in black.
Work VSXX
Manufacturer: Work
Rim Diameter (In.): 19″, 20"
Build: 3-Piece Reverse Step (19″SR / 20″SR), 3-Piece Full Reverse (18″ / 19″)
Finish: Burning Silver, Gold (customization options available)
Warranty: 3 years
Buy On: Enjuku Racing
Wheels that are designed for the street aren't always cheap. The VSXX rims by Work prove exactly that. These are a real hit in the stance community, and they're absolutely perfect for show cars.
These rims are available on special order from Japan and take about 10 weeks to build and receive in the U.S. Talk about exclusivity!
So if you want an iconic 3-piece wheel for the ultimate VIP look, these are for you. The classic deep-dish mesh design is a perfect fit for the Infiniti G37 coupe and sedan.
Best G37 Wheels for Track Use
If you're a regular at the track (or want to be), then you need rims that are designed to take a lot of abuse.
Here are some of our top recommendations for G37 rims that are ideal for frequent track days and competitive use.
Volk CE28N
Manufacturer: RAYS Engineering
Rim Diameter (In.): 18"
Build: 1-Piece Forged
Finish: Bronze, Gunmetal, Formula Silver, Hyper Gold, Mercury Silver, Titanium Silver
Warranty: 1 Year
Buy On: Enjuku Racing
There's a reason why the CE28N wheels by Volk are so popular among track guys. It's a 1-piece forged wheel that weighs anywhere between 9 lbs to 16 lbs depending on the size you choose. That alone will provide a serious reduction in rotational mass.
The 10-spoke design paired with exposed lugs looks stunning – quite the balance of aesthetics of performance. And don't forget, these are manufactured by the same company that pioneered forged wheels.
Volk TE37RT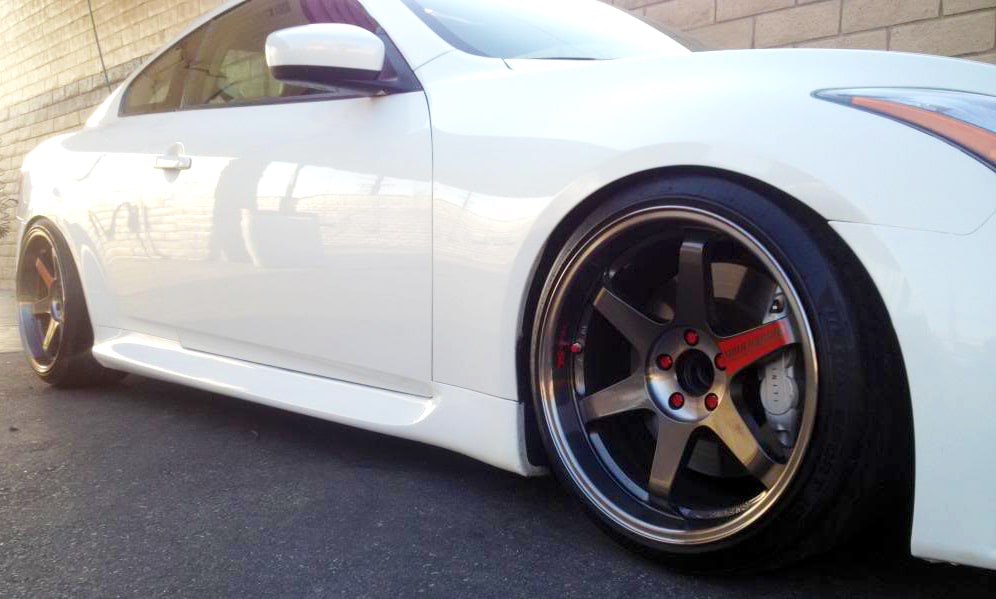 Manufacturer: RAYS Engineering
Rim Diameter (In.): 18″, 19″
Build: 1-Piece Forged
Finish: Blue, Red, Black
Warranty: 1 Year
Buy On: Enjuku Racing
Another one from the pioneers of forged wheels. These aren't the standard-issue TE37s – notice the "RT", it stands for what Volk calls "rigid tune". The core focus when designing these wheels was on reducing weight; allowing for wider rim options, and eliminating clearance issues with big brake kits.
This results in faster acceleration, quicker turn-in, better handling, and shorter braking distances. It's no wonder that Volk racing incorporates technologies derived from Super GT, LeMans, and Formula One.
Enkei RPF1
Manufacturer: Enkei
Rim Diameter (In.): 18"
Build: Rotary Forged Monoblock
Finish: Black, Silver, Gold
Warranty: Lifetime
Buy On: Amazon | Enjuku Racing
RPF1s are a staple in the world of racing. They get their iconic status because Enkei designed these in conjunction with the McLaren Honda Formula One Team, using something called MAT technology.
This has to do with aligning the grain structure of the metal in a way that increases the overall strength and stiffness of the wheel while keeping weight at a minimum.
You just cannot go wrong with these, unless you aren't a fan of the dual-six spoke design.
Enkei EKM3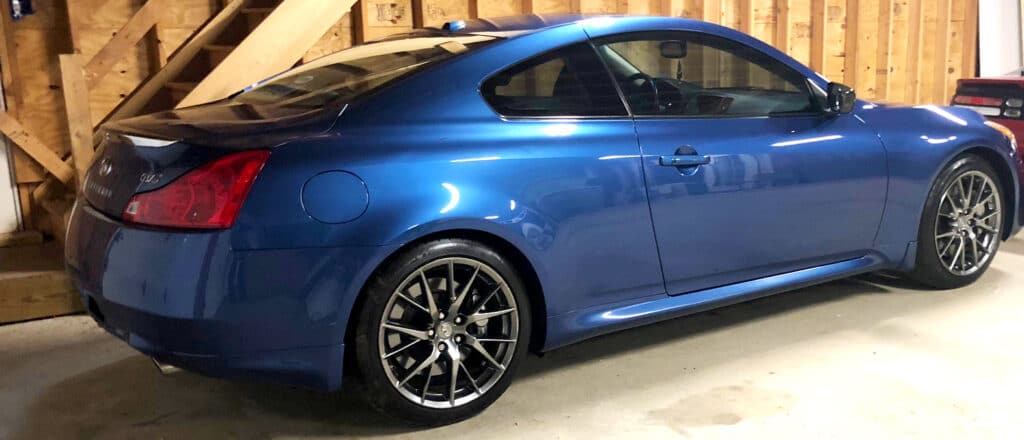 Manufacturer: Enkei
Rim Diameter (In.): 18"
Build: Rotary Forged Monoblock
Finish: Hyper Silver, Gunmetal
Warranty: Lifetime
Buy On: Amazon
Another fantastic set of wheels by Enkei. The EKM3s are engineered to pass rigorous testing – specifically Enkei's own Spec-E test standard which makes JWL standards look ancient.
This involves high drop points in the impact test, 20% more cycles for the rotary bending and dynamic radial fatigue tests in comparison with the JWL standards.
We can confidently recommend these for track use, despite the suspiciously low price tag.
Our Favorite G37 Wheels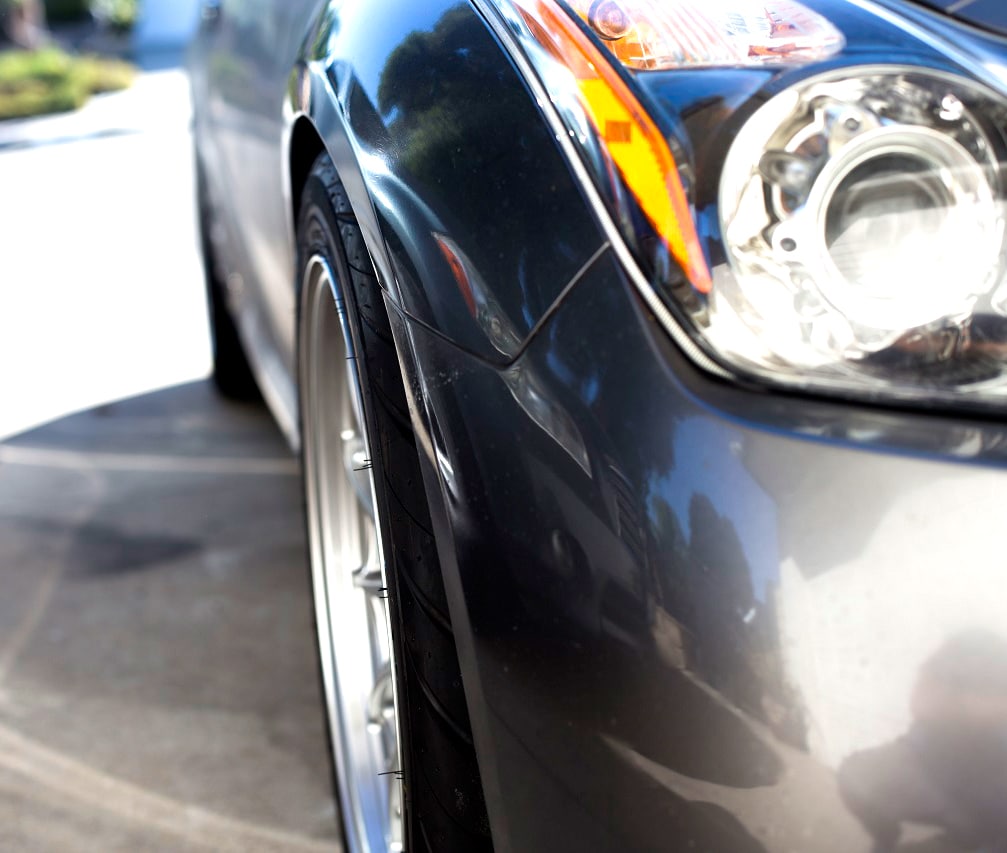 That concludes our list of the best rims for G37 coupes and sedans.
One good thing about aftermarket wheels is that they're easily replaceable. If you don't like what you've purchased, you can always sell it off, reinstall your OEM wheels, and continue looking for something that fits your requirements.
However, the chances of that happening are extremely slim if you select one of our recommended G37 wheels.
If we had to choose two of the best rims from this list, one for daily driving and one for track use, here's what we'd pick.
For Track-Use: Volk TE37RT
If you want the absolute best in track performance, look no further than the Volk TE37RT. These are ideal for competitive use and the price is more than justified.
For Daily Driving: Aodhan DS02
If all you want is a good-looking pair of wheels that can take the occasional beating on backroads and canyons, the DS02s by Aodhan are the ones to get.
The market is flooded with options when it comes to buying wheels for your Infiniti G37 coupe and sedan. This guide will turn into a book if we list them all, so we've only included our top favorites.
As a G37 owner, which rims would you have liked to see on this list? Let us know in the comments below!