The Infiniti G37 is one of the most underrated cars out there. It has a sleek design paired with high-performance specs that you can easily customize to get even more power. The best part is that you get all this performance and style without breaking the bank.
To top it off, there are hardly any Infiniti G37 reliability concerns, making this an excellent choice for tons of drivers out there. If you're still on the fence, keep reading.
This comprehensive guide will break down everything you need to know about these versatile vehicles straight from their many trim packages to common problems that may crop up on older G37s.
History of the Infiniti G37
Before you get into the driver's seat of an Infiniti G37, it helps to know a thing or two about where they came from.
While Infiniti first hit the American market in 1990, it took a while before they released anything remotely resembling the G37. In fact, while Infiniti released their fourth generation of vehicles in 2007, it took them another year to release the G37 coupe.
In 2009 Infiniti released the G37 sedan as the replacement to the G35. While the exterior looked similar, it was only when you popped open the hood that it told a different story.
Infiniti was looking for a more powerful sedan than their ever-reliable G35, but they didn't want it to feel like a racecar. That's why driving the G35 and the G37 feel like entirely different experiences.
The difference between the two lies in the name itself. The G35 got its name from the 3.5L engine that you could find under the hood. While it was an impressive engine, it simply is no match for the 3.7L engine in the G37.
What's even crazier — while the G37 might have a more powerful engine, the smoother transmission, and more suitable gear ratios give you a vehicle that rides smoother and feels less powerful than the G35. Infiniti wanted it this way so they could market the G37 to a wider market base.
However, Infiniti only made the G37 until 2013, which is when they rebranded sedans as the Q40. Meanwhile, Infiniti rebranded the convertible and coupes as the Q60. The Q40 remained in production until 2015, after which Infiniti axed the entire G production line.
Characteristics & Features of the Infiniti G37
The Infiniti G37 comes in three different styles:
convertible,
coupe, and
sedan.
They all feature the same 3.7L V6 Nissan engine that churns out between 320 and 330 horsepower depending on the body style you choose. You also get a decent fuel economy.
The Infiniti G37's mpg are 18 for city driving and 25 on the highway, which combines for an average of 20 miles per gallon.
The body style itself is sleek and elegant for a sportier look than your typical luxury car. While it's not a small vehicle, it's not large either, and it settles nicely into the mid-sized vehicle category.
Let's not forget that it is a luxury car, so it has premium features. However, considering that those features were cutting edge in 2013, most of them are commonplace or obsolete now.
For instance, the upgraded trim packages offered a multi-disc CD player, and some packages include backup cameras.
However, you can get an upgraded performance package and dual climate control if you find the right G37!
Infiniti G37 Models & Trim Packages
The Infiniti G37 comes in three different body styles and four different trim packages to choose from.
However, only the base package allows you to get the coupe, sedan, or convertible. Every other trim package cuts at least one of the body styles.
Outside of the obvious visual differences in body styles, the only real difference between the various G37 models is an extra seat in the sedan and a minor difference in horsepower. The coupe gives you 330 hp, the sedan 328, and the convertible 325. This is regardless of the trim you choose.
Of course, if it's more power that you crave, you could always amp things up by turbocharging your Infiniti G37 — there are a number of noteworthy upgrades available.
While all G37 models come standard with rear-wheel drive, Infiniti did release the G37x which is their all-wheel-drive option.
We'll break down everything you need to know about each trim package below, including what body styles are available. Keep in mind that we're highlighting what's unique to each trim package — so only the features you can't find as optional upgrades.
Base Trim
The Base trim G37 is just what it sounds like — a vehicle without all the fancy features. However, that doesn't mean people couldn't purchase additional options on the Base trim.
They still offered the premium package and the sport package to both the Base trim and the Journey trim — so it's more important to check out the features instead of the trim package.
In fact, there were only a few features that Infiniti barred from base model G37s. While we'll highlight those options in the next package, realize that all three body styles are available in the Base trim.
Journey Trim
The Journey is a trim option available for both the sedan and coupe body styles. From there, the only guaranteed differences are:
auto on/off headlights
8-way powered passenger seats
dual-zone climate control
rear air conditioning vents
a 6-disc CD autochanger with MP3 playback.
They're not life changing options, which is why it's far more critical to check which optional features Infiniti added to the vehicle.
S Trim
The S Sport trim comes with one significant difference over the base or Journey trim packages, which is the transmission.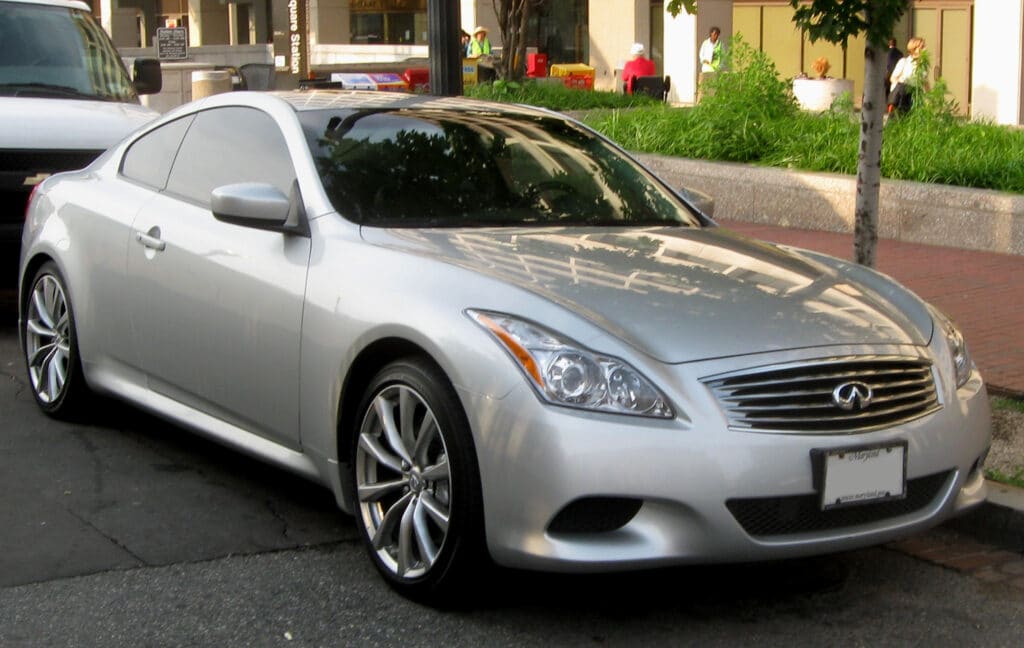 While both the base and Journey come with a seven-speed automatic transmission, the S Sport package comes with a six-speed manual.
Sport Trim
Just like the S Sport package, the Sport trim offers a six-speed manual transmission in place of the seven-speed automatic transmission.
While the S Sport is only available in the sedan body style, you can easily get the regular Sport trim as both a coupe or convertible.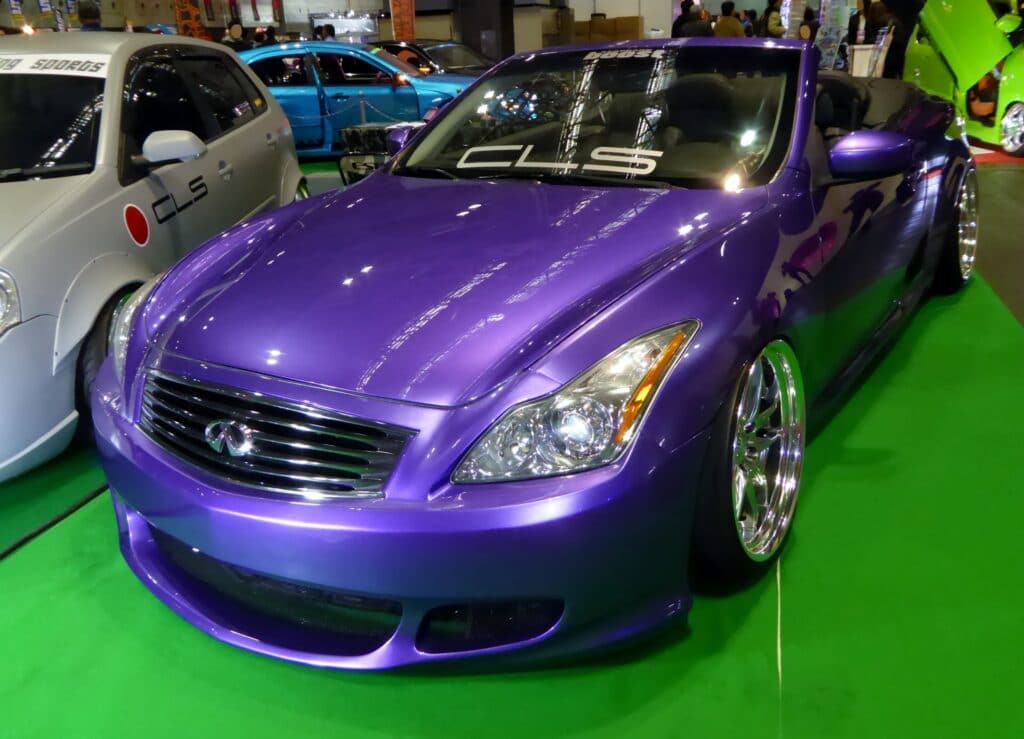 From there, both the S Sport Trim and the Sport trim offer upgraded suspension systems and upgraded brakes, but these features are available on lower trims with the sports package.
However, things are a little different with the Sports package for the G37x AWD sedans. Not only are they missing the larger opposed piston brakes, but you also won't find the aggressive steering rack, viscous limited slip differential, or sport-tuned suspension on this trim.
Which Is the Best Infiniti G37 Model?
While there are tons of great G37s out there, picking the right model can go a long way. What might be right for one person might not be for another.
To make your decision easier, it's important to identify where you'll be driving your G37 and for what purpose. We've highlighted some of the most common factors below and listed our recommendations.
Performance
If you're looking for a performance-based G37, opt for the Sport trim — or at the very least the Sport package. It might sound like an obvious statement, but the Sport models offer all kinds of upgraded components to help you get a little more out of your G37.
If you're a purist, you'll need the Sport trim for its manual transmission. Otherwise, you'll be stuck with an automatic transmission.
There are tons of aftermarket parts available for the G37, meaning it's a popular tuner car. You don't have to spend a lot to make these very quick.
Reliability
It's tough to single out a single package that is more reliable than the rest. That's because they all use the same engine, and many of the differences are cosmetic.
However, if we had to pick a single model and name it as the Infiniti G37 with the best long-term reliability, we'd pick the G37 Journey.
People simply didn't purchase the Journey as often to take them to the track and tear them apart, so it's more likely that your Journey will still be in good shape when you buy it.
Apart from this, it really doesn't matter what model you purchase — they're all reliable.
Affordability
If you're looking for the most affordable G37, it's a pretty straightforward choice. Go with the Base trim. One of the easiest ways to drop the vehicle's price is to get fewer options, and more base trims have fewer options.
Still, if you get a Base trim G37 with the sport package, it will cost more than the Journey trim with no extra options.
Infiniti G37 Coupe Buyer's Guide
If you're looking for a comprehensive Infiniti G37 review, look no further. We'll break down everything you need to know to help you decide if the G37 is what you're looking for.
From how much you can expect to spend to how often they'll be in the shop, we've got it all covered.
How Much Are Infiniti G37s Worth?
The truth of the matter is that the Infiniti G37 is an expensive vehicle. While they're dropping in price as they age, you can still expect to spend anywhere from $9,000 to $14,000 on most G37s.
There are a ton of factors that can go into this price. From the vehicle's condition to the current mileage, it's possible to find a G37 for under $5,000. But if you find one with low mileage in pristine condition, you can easily spend over $20,000.
From there, the more features it has, the higher the cost. These are all things that you can expect, no matter what kind of vehicle you're looking for.
Common Problems With the Infiniti G37
While the G37 line is a highly reliable vehicle, older models will have a few problems which are common as the cars begin to age.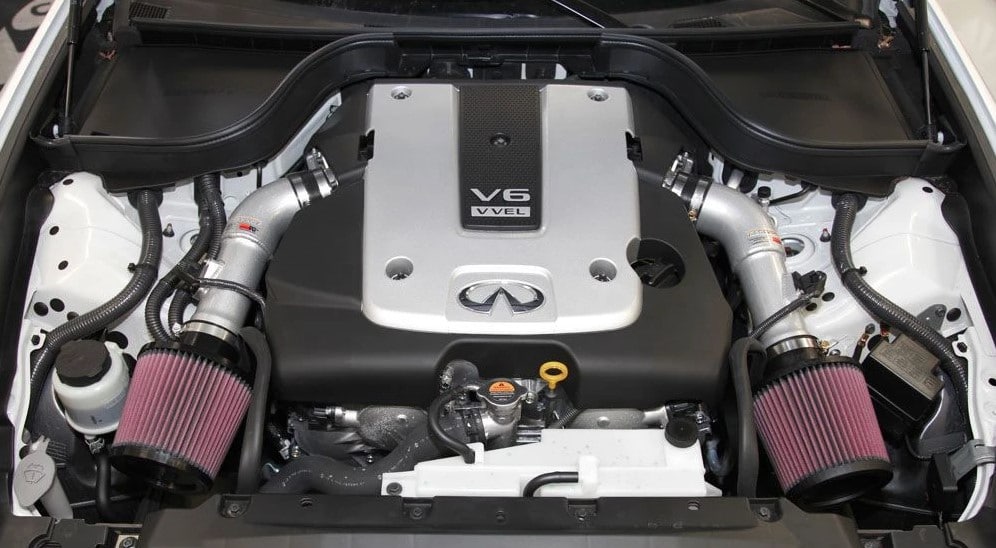 Below we've highlighted the three most common G37 problems and what you can expect if they happen to your vehicle.
Harsh Downshifts From the Automatic Transmission
This is one of the most common problems seen on G37s, and there are typically two reasons it shows up. First, if the transmission is wearing out as the vehicle ages. If it's a high mileage G37, this is probably the problem.
However, there is another reason. It could be that the transmission control module (TCM) needs an update. It's not something that you may be thinking of, but it's a common reason for many of the automatic transmissions' harsh shifting issues.
A "Tapping Sound" From the Drivers Side of the Engine
The Infiniti G37 was the first vehicle to introduce Infiniti's variable valve and lift actuator technology. While this has a ton of performance benefits, the trade-off is that it sometimes starts to act up.
The good news is that if your G37 starts to have this problem, they have a powertrain control module (PCM) update that can fix it.
The Brake Lights Stay On
This is a common problem with a variety of different vehicles. This problem crops up when the sensor on the parking brake pedal or switch starts to stick. On the G37, it's a pedal, and you can either replace the sensor or upgrade it to a better assembly that won't stick in the future.
In the end, the choice is up to you, but you'll probably save money in the long run if you just get the new assembly.
How Much Does it Cost to Repair an Infiniti G37?
While the overall Infiniti G37 reliability rating is fantastic, if you do have to take your G37 into the shop, the cost of the repairs is similar to most other cars. In the end, Infiniti relies on parts from Nissan, a brand that is known for realistic after-sales servicing expenses.
Alternator replacements typically cost close to $600, while new ball joints run about $500. Meanwhile, more expensive parts like fuel injectors can cost you close to $1,900 on a G37.
While it's an expensive car upfront, it's not the most expensive car in the world to repair, especially considering how reliable they typically are.
The Infiniti G37: Is It Worth It?
If you're looking for a premium driving experience without breaking the bank, the Infiniti G37 is a great choice. The Infiniti G37 reliability ratings are off the charts, leaving you with a sporty car that you can easily customize.
So, if you're looking for a sporty car that you smoke others off the line with, but ONE that doesn't compromise on reliability or affordability, the Infiniti G37 is exactly what you've been looking for.
Do keep in mind that insuring a G37 can be expensive for some people, depending on your age and driving history.
Even if you keep everything stock, you get a 330 horsepower car that smokes most vehicles on the street. It's fun to drive, stays out of the shop, and is a great car to play with or take to work everyday!
Did you like what you read, or do you have questions about the Infiniti G37? Drop a comment below or check out our modification guide to get the most out of your new G37!