Horsepower is addictive; you can never have enough. If you find that your Infiniti G37 leaves a lot to be desired, forced induction is the best way to go.
Turbo builds can get a bit pricey but truth be told, they're absolutely worth it. Bolt-on mods for naturally aspirated cars like the Infiniti G37 just don't cut it. No other performance upgrades make as big a difference as turbos do.
The most important part is getting the build done correctly.
In this article, we'll show you how — along with a list of some of the best G37 turbo kits on the market.
Forced Induction and Your VQ37VHR Engine
The G37's VQ37VHR engine is a significant step up from the previous VQ35HR seen in Infiniti's G35. It's bigger, makes more power and more torque.
Mechanically, the VQ37VHR is far more complicated than its previous version. Despite that, it still is as reliable as a hammer.
Unsurprisingly, it's one of the most turbo-friendly naturally aspirated engines out there. It's good for up to 500whp on stock internals. Cap the power at 450whp and the motor will stay reliable for many years to come.
If you want to push beyond 500whp, you'll have to start making some internal engine modifications. Rods and pistons are the ideal places to start as these two are the weakest link in this engine.
Internal modifications aside, there are some supporting G37 upgrades you'll have to make regardless of your planned power output. These include:
Upgraded fuel system (pump, injectors, rails and pressure regulators)
When going turbo, you won't have to worry about a transmission swap. The G37 comes equipped with the JK41A transmission which is one of the most reliable units in Infiniti's lineup.
One challenge you will face is choosing between single or twin G37 turbo kits.
Infiniti G37 Twin Turbo Kits
Compared with a supercharger, turbocharged engines don't output instant power. This is because turbos rely on your engine's exhaust gases to make power.
These gases are used to spool up a turbine, and only when there's enough pressure, the air is released into the engine. This inevitably causes turbo lag.
Twin turbos are known to minimize lag as they use two small turbines as opposed to single turbos which use one large turbine.
Twin turbos come alive in the mid-range and fade out towards the redline. This powerband style is most suitable for autocross, time attack, drifting and even daily driving.
Compared to single turbos, twin turbos are slightly more expensive but twice as fun. Here are the best G37 twin-turbo kits you can buy.
AAM Competition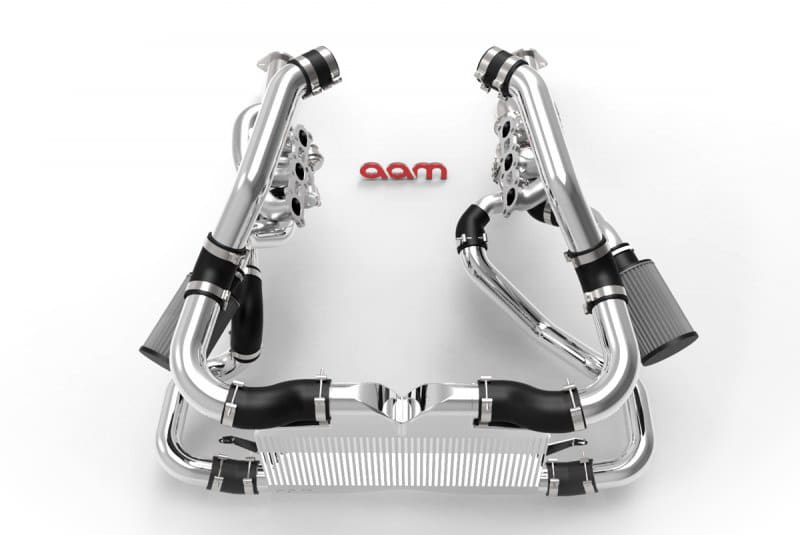 Manufacturer: AAM Competition
Configuration: Twin
Application: Coupe | Sedan (2009-2011)
Installation: Easy
Turbine: BorgWarner EFR
The AAM twin turbo kit has already proven its worth on the Nissan 370z (which uses the same engine as the G37) where it yielded a gain of 200whp and 140wtq more than stock.
The company has now adapted the setup to fit your Infiniti G37. You can expect similar results on your G37 when paired with the right supporting upgrades and a conservative tune.
We love how well packaged this G37 turbo kit is. It comes with everything you could possibly need to install it. This even includes engine management and a Walbro 225 fuel pump.
The AAM setup has the least amount of lag compared to other G37 turbo kits on the market.  This has a lot to do with the turbines it uses.
It utilizes two BorgWarner EFR series turbos that are rated at up to 500hp each. These turbos have recently shot up in popularity in the aftermarket scene. They're right up there with the likes of Garret.
One of their best features is the Gamma Ti turbine wheels. These turbines are often used in aerospace applications thanks to their low weight and inertia.
The turbine wheels are combined with a ceramic ball bearing cartridge so they can spin smoother. This reduces the spool time by 1500 RPM.
Less spool time = less lag.
The only downside, however, is that the torque output is slightly lower than what we'd like to see on a setup like this.
GTM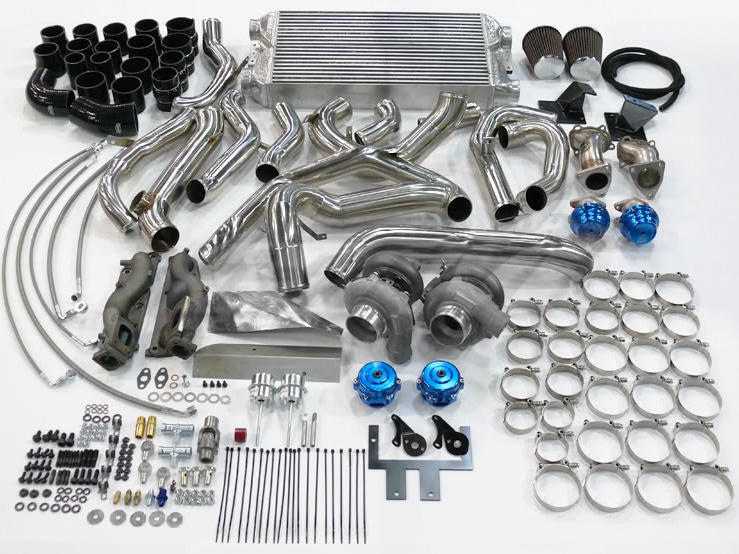 Manufacturer: GT Motorsports
Configuration: Twin
Application: Coupe | Sedan
Installation: Moderately Easy
Turbine: Garret GT28RS
If you think the words "reliable" and "turbo" don't belong in the same sentence, think again. The crew at GTM has been pushing boundaries as far as G37 turbo kits are concerned.
Every G37 owner who has this turbo kit loves it and swears by the after-sales support offered by GTM. It was designed exclusively for the Infiniti G37.
You can use it for daily driving, tracking, racing, you name it. It's probably the toughest G37 turbo kit on the market.
The turbines used in this kit are solid; you cannot go wrong with Garret. Depending on your tune, you can easily get around 430whp with a conservative 6psi of boost.
The kit is well packaged and even includes separate, labeled bags for small parts, nuts and bolts, making installation easy when compared with some other kits.
Fast Intentions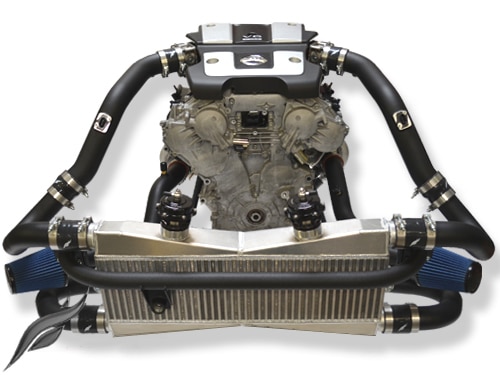 Manufacturer: Fast Intentions
Configuration: Twin
Application: Coupe
Installation: Easy
Turbine: Garrett GTX2860RS
Fast Intentions is a household name in the world of aftermarket performance parts. Their goal with this G37 twin turbo kit was to phase out the flaws (if any) that the other kits had. That, along with increasing overall customizability.
This kit primarily comes with Garret GTX2860RS turbos, though it can also be purchased with a range of Xonarotor billet wheel turbos as well.
Its turbine is housed in a TiAL cast-stainless steel body which helps with weight reduction. Most of the cooling components are computer designed, in house.
You get a bunch of options to choose from when it comes to tune, exhaust connection, fuel pump and injectors. The tubing can also be selected in different finishes like powder coat, polished and so on.
No other manufacturer offers this level of customizability. If you're not sure what to get, they'll even help you build the kit according to your needs.
Greddy
Manufacturer: Greddy
Configuration: Twin
Application: Coupe
Installation: Needs fabrication
Turbine: Greddy TD06SH-20G
Buy On: Greddy
Greddy needs no introduction. Over the years they've rolled out some of the best aftermarket parts we've seen and tested.
Their twin turbo kit was originally developed for the Nissan 370z, which shares the same engine as your Infiniti G37.
Since the intercooler pipes are routed differently, it needs some minor fabrication in order to fit the G37 correctly.
If you drive an automatic, you'll need to relocate a few things due to the transmission coolant lines being in the way. There are some sellers who specifically work on such adaptations. Forged Performance is among them.
This kit is slightly more expensive than most other turbos on the market. If you're picky about brand names and prefer mass-produced parts, this kit is ideal for you. Even though most enthusiasts will pick GTM over this one.
Speed Force Racing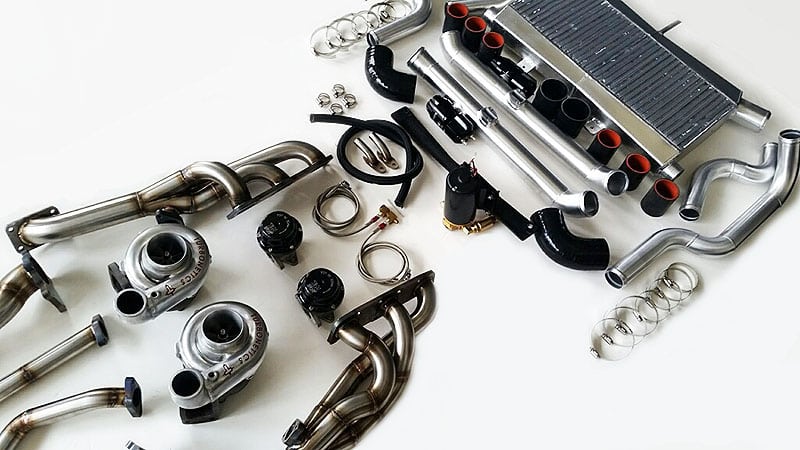 Manufacturer: Speed Force Racing
Configuration: Twin
Application: Coupe
Installation: Moderately easy
Turbine: T3/T4 Turbonetics 60-1 hi-fi
The most striking aspect of the SFR turbo kit is its price. It is significantly less expensive than every other kit on this list. The pricing comes into single turbo territory.
That said, you'd assume that there's a quality drop but surprisingly that's not the case. It's almost as good as the GTM and AAM kits.
Some G37 owners have gone all out and set this kit up to deliver insane numbers like 1000whp! But that's an extreme case. Your G37 would have to be heavily modified to reach that number with this kit while still staying reliable.
To gain power over 500hp, your G37 would need fuel injectors beyond what is already supplied with the kit.
However, if you're looking at numbers around 450whp, you can easily achieve that with what's supplied in this kit.
SFR claims that automatic G37s will run 450-500whp and manuals will run 550-600 whp with 10psi of boost. This obviously depends on what modifications your Infiniti G37 already has, but it's fairly accurate.
Single Turbo Kits for Your G37
Single turbos make a tonne of power, but you gotta wait for it. This can be either good or bad depending on the way you look at it.
If you'd rather be outside the "boost zone" while puttering around the city, in stop and go traffic, then the lag is actually useful.
With single turbos, the boost kicks in hard towards the top-end. This makes it ideal for drag racing and track-driving in general.
Single turbo kits are becoming increasingly uncommon for the VQ37VHR engine. This isn't because they're not suited for this engine; it's because more G37 owners are inclined towards twin turbo setups.
Manufacturers usually concentrate their efforts on what people want. Financially, it's the smart thing to do.
However, there are some manufacturers who still make G37 single turbo kits. Here are the most well-known names.
Soho Motorsports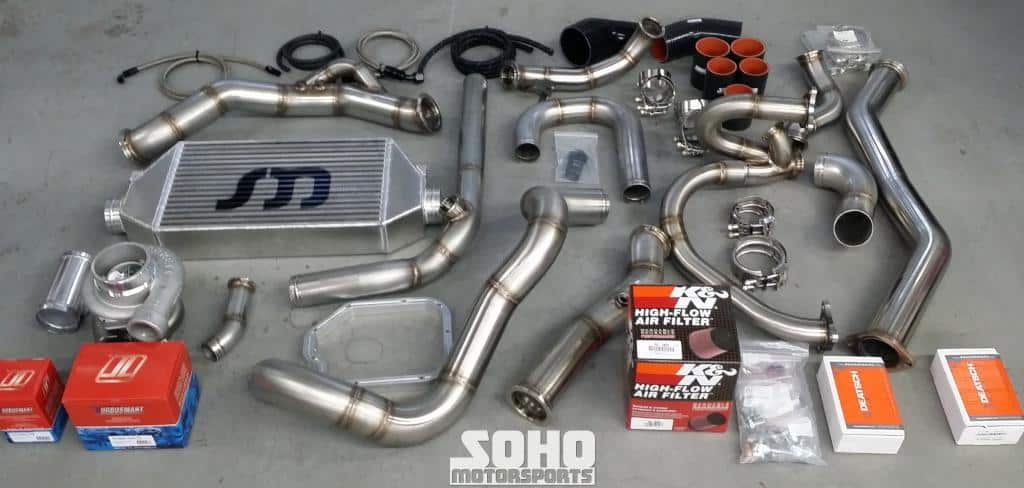 Manufacturer: Soho Motorsports
Configuration: Single, top-mounted
Application: Coupe
Installation: Easy
Turbine: Garrett GTX3582R Reverse Rotation
Soho Motorsports turbos are among the reasons why VQ owners still consider getting single turbo kits. You can buy this kit as Stage One or Stage Two which varies in terms of performance output — depending on how heavily your G37 is modified.
All the piping on this top-mounted G37 turbo kit is made from T304 stainless steel. Doing this ensures that the pipes don't absorb heat too easily.
The Garrett turbine used in this kit utilizes "reverse rotation" which is a space-saving technique often used in single turbos. This feature allows for the rerouting of the cold and hot side piping in a way that the limited space is used more efficiently.
This makes your engine bay look and feel less cramped. This is a useful feature considering its top-mounted configuration.
This, along with the ability to retain the stock exhaust manifold are among the most striking features of this G37 single turbo kit.
More features include the new up and downpipe design that's more suited to a single turbo configuration. A larger intake filter coupled with 2.75" piping allows for the air to gush into the throttle body with more force.
According to the tests done by Soho Motorsports, the stage two kit makes 500rwhp and 420 ft-lbs at 8.5psi of boost in fourth gear. At 12.5 psi, it made 570rwhp and 498 ft-lbs.
S&R Performance
Manufacturer: S&R Performance
Configuration: Single
Application: Coupe
Installation: Easy
Turbine: Precision 62mm
The people at S&R performance believe in simplicity and that adding more and more components to a turbo kit increases its chances of failure.
This G37 single turbo kit by S&R performance is very well-reviewed but are difficult to find for sale.
If you're lucky enough to get your hands on one though, you're in for a treat. This single turbo can turn your G37 into a daily drivable supercar killer. A lot of people run this kit on their daily driver G37, even during the summer when temperatures are higher.
Some G37 owners have managed to squeeze over 600whp out of this kit on a stock block! We don't recommend this unless you and your trusted tuner knows what's up.
The 62mm precision turbine is placed nice and high so it eliminates the need for a pump to return the oil. Instead, it lets gravity do what it does best.
The installation is very straightforward and doesn't require the engine to be dismounted. The turbo is serviceable as it has only two clamps holding it place. This further simplifies the build and the turbo can be removed in less than 30 minutes.
G37 Turbo Kit: Your Best Option
Choosing between a single or twin turbo is a difficult decision to make. We recommend that you weigh up all your options, consider your driving style and figure out a goal. Doing this will help you select a turbo style, and then you can narrow down your options.
In general, though, twin turbo kits are our pick. This is mainly because both kits are very closely priced and there's more value in getting a twin turbo kit overall.
Twin turbos make power a lot quicker and the delivery is very linear as compared to single turbo kits. They also look a lot more OEM.
Which is the best G37 twin turbo kit you ask?
Nothing beats the reliability of the AAM kit. It just works! With so many G37s powered with this turbo kit being used as daily drivers, with no complaints, we're convinced that this is the best G37 turbo kit you can buy.
Would you rather go single turbo or twin? What's your performance goal? Leave us a comment below!
And if you're not convinced that turbocharging is right way to go, make sure to read our article on Infiniti G37 superchargers.