If you drive a G37 and find yourself humming exhaust noises all day ー regardless of how much it annoys your girlfriend, parents or even pets, this article will interest you.
The right exhaust note can make you feel a lot more involved while driving. It can get you grinning from ear to ear, making you want to drive hard and flat out.
Infiniti's G series is known for its iconic VQ growl. Most enthusiasts absolutely love it, while some don't. Since you drive a G37, you're probably among those who do.
The G37 sounds and performs a lot better than its predecessor; thanks to the dual throttle bodied VQ37VHR engine. You can amplify this with an aftermarket exhaust system.
This guide will help you choose the best G37 exhaust along with a short explanation of the different types available.
Types of Exhaust Systems
Variety and personalization is the biggest advantage with aftermarket parts. When it comes to exhausts, you can choose a type based on your budget and desired outcome.
Axle-back exhausts are cheaper, header back exhausts are performance-oriented and cat-backs sit somewhere between the two.
If your G37 is boosted or has other upgrades, we strongly recommend that you get an aftermarket exhaust system. The main reason for this is reduction of backpressure.
Almost all G37 exhaust systems listed in this guide are cat-backs.
Cat-Back
Cat-back exhausts, as the name suggests, replace everything beyond the catalytic converter. This includes the muffler, tailpipe and y-pipe.
The biggest advantages of cat-back exhaust systems are:
Aggressive exhaust note
Freer exhaust gas flow
More power
Retains stock catalytic converter.
To get the most out of your G37 cat-back exhaust system, pair it with a high flow catalytic converter and aftermarket headers.
Cat-back exhausts strike a nice balance between affordability and performance. That's why they're the most popular exhaust design on the market.
Axle-Back
Axle-back exhausts are the simplest of the three types mentioned here. They only replace the components from the rear axle to the exhaust tip.
Axle-back systems are the easiest to install and are relatively cheap. If you want an exhaust system just for sound and aesthetic purposes, we recommend getting this style.
It can easily be reversed and doesn't require a lot of time to fit. You can easily install it in your driveway with a little help.
Some enthusiasts prefer axle-back exhausts because it lets them choose their own headers, catalytic converter, and y-pipes.
If you're picky about pipe diameters and want to tailor an exhaust system precisely to your liking, this is something you can look into.
Header-Back, or Full Exhaust Systems
These exhaust systems replace everything that connects the exhaust headers to the tailpipes. They're also called "full-exhausts".
Doing this allows you to enlarge the overall diameter of your exhaust system; something that is difficult to do with cat-back or axle-back exhaust systems.
Header-back exhaust systems tend to be more expensive and difficult to install compared to the other two types. The performance gains are second to none though.
A G37 full exhaust setup is ideal for the race track.
The Best Value G37 Exhaust Systems
Exhaust systems aren't as cheap as some bolt-on upgrades that we often come across. This is mostly because they're complex to manufacture and the R&D costs a lot of money too.
Just like every other category of aftermarket parts, you'll see a wide price range with exhaust systems. They go all the way from three-digit numbers to high fours.
The good thing, however, is that they're all quite popular and well-reviewed. Here's a list of the best Infiniti G37 exhausts if you are on a budget.
Invidia Gemini
Manufacturer: Invidia
Part Number: HS07IG7GID
Design: Cat-back
Construction: Stainless steel + titanium tip
Tip Size: 110mm
Piping Diameter: 60mm
Sound: Smooth and Deep
Suits: Coupe
Buy On: Amazon
The Invidia Gemini is among the most affordable G37 exhausts out there. This doesn't mean that they skimped out on quality; these exhausts are precision built and look fantastic.
From a cosmetic standpoint, the Invidia system just nails it. It comes with burnt titanium exhaust tips that look very aftermarket and the stainless steel pipes add to this.
The difference in performance is more apparent while driving than on the dyno. Dyno results probably won't show a huge difference but again, this depends on many other variables.
G37 owners who have this exhaust reported that shifting gears has become smoother and the engine is very rev-happy.
Regarding sound; it's not as loud as you'd expect from an aftermarket exhaust. Instead, it's deep and refined. It's not too audible on idle but once you get on the throttle, it becomes obvious that the exhaust isn't stock.
Manzo Stainless Steel V2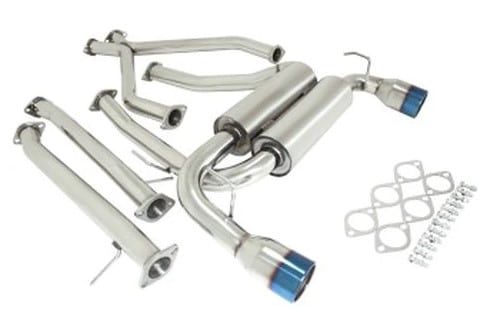 Manufacturer: Manzo
Part Number: TP-CBS-IG074DV2
Design: Cat-back
Construction: Stainless steel
Tip Size: 101mm
Piping Diameter: 57mm
Sound: Raspy, loud
Suits: Sedan
Buy On: Amazon | Enjuku Racing
The most striking aspect of this aftermarket exhaust system is its price. This is the cheapest G37 exhaust in this list and probably even on the market.
We usually tend to associate quality with price, and it's almost always accurate. In this case, however, it depends.
We've seen many affordable and good quality products being made by Manzo over the years. This cat-back exhaust is one of them.
It's important to know that cheap, mass-produced products don't receive the best quality control. Some G37 owners used this exhaust system without any problems while some, unfortunately, didn't have a great experience.
The one issue with cheaper systems like this is that they don't tend to fit as easily. Sometimes getting them mounted requires a bit of force.
With a little effort though, the Manzo kit can turn out to be a perfectly good exhaust system at a fraction of the price of most other kits. Once mounted, you'd never know that it was a cheap system.
If you want to choose among the best G37 exhausts though, we recommend sticking to something like Invidia or Tomei.
Tomei Expreme Titanium
Manufacturer: Tomei
Part Number: TB6090-NS02A
Design: Y-Pipe Back, single exit
Construction: Titanium
Tip Size: 110mm
Piping Diameter: 80mm
Sound: Dry, aggressive
Suits: Coupe
Would you rather have two medium-sized exhausts or one really large pipe? If the latter is your answer, you've got to check out what Tomei has in store for your G37 Coupe.
The Expreme Ti exhaust has already impressed several 370z owners and luckily, it also fits the G37 coupe. All it takes to fit is a 12" extension pipe for the muffler and you're set.
This full titanium unit looks amazing. It's shiny, has burnt tips and a large diameter. It sounds even better than it looks. It's loud, dry and aggressive. Be ready with your "officer, I swear it's stock!" card.
The only minor problem with this exhaust is that you'll have to do something about the second bumper cut-out. If it doesn't bother you, just leave it on. But if you're all about clean looks, you might want to look into getting a new rear bumper/diffuser.
Tanabe Medalion Touring
Manufacturer: Tanabe
Part Number: T70132A
Design: Axle-back
Construction: 304 Stainless steel
Tip Size: 115mm
Piping Diameter:
Sound: Deep, burly
Suits: Coupe | Sedan
Buy On: Amazon
The Tanabe Medalion is the only G37 axle-back exhaust on this list. Exhausts like these are super-simple to install and maintain.
You probably won't see any noticeable power gain with this exhaust system — unless it's paired with high flow cats and performance headers. Most G37 owners get this unit only for the sound.
The sound on a stock G37 doesn't do justice to how well it performs. If you want to improve your exhaust note but don't want anything overkill, this kit is ideal.
Some G37 owners call this unit "the gentleman's exhaust". It only slightly enhances the stock sound without making it crazy-loud. Which is exactly what many G37 owners are looking for.
High-Performance G37 Exhausts
When it comes to exhausts, flow is king. We want to get the exhaust gases out as fast as we possibly can. And the best way to do this is with aftermarket exhaust systems that are geared towards performance.
Whether an exhaust upgrade alone adds any power or not, is a hotly debated topic. We recommend getting a proper tune and supporting upgrades to make the most out of your new exhaust system.
After all, with all modifications, it's the collection of upgrades that matters. Take a look at some of the best Infiniti G37 exhausts if performance is your focus.
AFE Takeda
Manufacturer: AFE
Part Number: 49-36103
Design: Cat-back
Construction: Stainless steel
Tip Size: 120mm
Piping Diameter: 63mm
Sound: Deep, Aggressive
Suits: Coupe
Buy On: Amazon
The AFE Takeda cat-back is among the most popular exhaust systems, for many cars; especially those with VQ engines.
AFE is known to manufacture quality parts that fit exactly the way they should. This exhaust, for instance, uses factory hanger locations and requires no fabrication at all. It's a direct fit that doesn't get any easier.
Many Infiniti G37 owners swear by this exhaust when it comes to sound and power gain. They say that it's the best sounding G37 exhaust on the market. Even when cruising in high gear, at low speeds, you won't hear it drone.
It features 304 stainless steel polished tips which look fantastic. This exhaust is engineered and manufactured in California.
If you're on the lookout for the best G37 exhaust, be sure to add this one on your list.
ARK GRiP
Manufacturer: ARK Performance
Part Number: SM1103-0107G
Design: Cat-back
Construction: Stainless steel
Tip Size: 114.3mm
Piping Diameter: 63.5mm
Sound: Deep, smooth, quiet
Suits: Sedan
Buy On: Enjuku Racing
If you're turning your G37 sedan into a high-powered sleeper, chances are that it may be a little tricky to find performance upgrades that do what they're supposed to, without being obvious.
If you're struggling to find a good exhaust for your sleeper G37, this is the one. Look no further. The main reason for this is the sound. To our surprise, it's as quiet if not quieter than stock.
But that's not a bad thing! The tone is classy and deep. It mellows out the aggressive VQ sound and gives you something that you can listen to for hours, without getting sick of it.
It looks and feels expensive. The performance gains are noticeable. You might lose out on some low-end torque and gain in the high end but that highly depends on your tune.
Other than that, this is arguably the best exhaust for G37 sedans.
Stillen Dual Wall Tipped
Manufacturer: Stillen
Part Number: 504402
Design: Cat-back
Construction: 304 Stainless steel
Tip Size: 114mm
Piping Diameter: 57mm
Sound: Mild at idle, aggressive under throttle
Suits: Coupe | Sedan
Buy On: Amazon | Enjuku Racing
Stillen's long-standing devotion to creating quality performance parts — especially for VQ powered cars has opened up many options for us enthusiasts.
They make some of the best intake and exhaust components on the market. Their cat-back exhaust is among the most popular units you'll come across.
This exhaust has been extensively engineered to deliver considerable gains when tuned correctly.
What we really like about buying from Stillen is their limited lifetime warranty. Having an assurance like that is always nice, especially for something like a turbo kit.
HKS Dual Hi-Power
Manufacturer: HKS
Part Number: 32009-BN003
Design: Cat-back
Construction: Stainless steel with titanium tips
Tip Size: 120mm
Piping Diameter: 60
Sound: Throaty, dry
Suits: Coupe
Buy On: Amazon
The packaging and build quality of HKS's Hi-Power exhaust screams premium. It comes in a big box, nicely polished with perfectly beaded welds. It is slightly more expensive than most other exhaust systems but it's well worth the surplus.
At idle, you'll hardly notice that it's there. Around 3000 RPM, you'll hear a deep, calm rumble especially with the windows down — this is great for daily driving. However, beyond 5000 RPM, the sound becomes absolutely insane.
Unlike most other exhausts on the market, the HKS doesn't really bring out the typical VQ sound. Instead, it has its own unique tone.
When it comes to performance, you'll experience a significant improvement in throttle response and high-end torque. That said, it is possibly the best exhaust for G37 coupes.
Fast Intentions
Manufacturer: Fast Intentions
Part Number: FI-357S-CB-SST
Design: Cat-back
Construction: Stainless steel
Tip Size: 101mm
Piping Diameter: 57.15mm
Sound: Aggressive
Suits: Sedan
Fast Intentions has become a household name in the tuner scene over the years and their reputation speaks volumes.
They make a long list of aftermarket parts for Infiniti cars. G37 cat-back exhausts are among their most popular offerings. The main reason for this is that they're not mass-produced. Instead, they're hand-built in California.
This direct-fit exhaust system comes with 2.25" mandrel-bent stainless steel pipes and resonated exhaust tips. This helps to keep things quiet during low RPM situations. You can also opt for slightly larger 2.5" tubing which is beneficial if you drive a boosted G37.
The x-pipe on this exhaust system is designed to increase low-end torque and to maximize power throughout the rev range.
If you're specifically looking for G37 AWD exhausts, we recommend this one as it fits every variant of the G37 sedan. Whether you drive the automatic, manual, RWD or AWD, you'll find a unit that fits.
Motordyne Shockwave E370
Manufacturer: Motordyne Engineering
Part Number: MD-010
Design: Cat-Back
Construction: 304 Stainless steel
Tip Size: 114.3mm
Piping Diameter: 63.5mm
Sound: Throaty, loud
Suits: Coupe
Buy On: Amazon
This exhaust is for those who like it loud. If you don't mind some drone and want to make your G37 scream like an F1 car, your search ends here.
True dual X-pipe configuration (TDX), 2.5" primary tubes and dual 3" exhaust tubing is what you get along with this exhaust system. It's optimized for a great overall power curve.
You can even opt for rolled or slash-cut exhaust tips with either stainless steel or burnt titanium finish.
Shockwave by Motordyne Engineering is right up there with the likes of HKS and Fast Intentions in terms of build quality. For some reason though, it's not as popular.
Meisterschaft
Manufacturer: Meisterschaft
Part Number: NA
Design: Cat-back
Construction: Stainless steel / titanium (optional)
Tip Size: 102mm / 120mm / 130mm
Piping Diameter: 60mm
Sound: High pitch
Suits: Coupe
Meisterschaft makes some of the best G37 exhaust systems on the market. They're extremely well constructed with precision welds and bends.
If you're into fine-tuning and customizing your exhaust setup, no other brand offers as many options as this one does.
You can choose between stainless steel or titanium pipes, different tip styles sizes and coatings too.
To top this, there are a bunch of add-ons you can buy along with this exhaust. These include straight cat-back mid-pipes, y-pipe collectors, y-pipe plus mid-pipe combos and a lot more.
G37 enthusiasts have mixed opinions about the way this exhaust system sounds though. At low RPM it's nearly silent. But with the slightest throttle input, it gets loud. Almost too loud. However, this is subjective and It always comes down to preferences.
The Best Infiniti G37 Aftermarket Exhaust: Our Verdict
So there you have it — plenty of options to choose from, and they're all worth every dollar. However, if you want a straight answer, here's what we choose.
The Nicest Sounding G37 Exhaust: HKS Dual Hi-Power
There are a lot of great-sounding exhausts on this list. But the HKS pricks up our ears like no other. The whole package is very appealing; sound, performance, and price included.
Our Top Budget Pick: Invidia Gemini
Your Infiniti will be an absolute blast to drive with this exhaust on. And the best part is, you get to save a few hundred bucks which you can set aside for other G37 modifications!
What's more important to you; sound or performance? Let us know in the comment section below!