A catalytic converter can be a power-draining part of your G35's exhaust system, not to mention heavy. Removing it in favocatr of test pipes will bring life back to your car with more power, torque and better fuel economy.
Of course, test pipes typically increase your exhaust's volume, rasp and drone.
This is definitely not a Infiniti G35 modification for everyone. But if you're taking your car to the track or have no regard for the law (hey, we're not here to judge), this is probably one of the best value modifications you can make to your G.
A muffler shop can help you install an aftermarket test pipe if you need the help, but most of these units bolt on so easily you can do it at home.
If you're going to remove your G35's catalytic converters, you'll want to replace them with test pipes that help your car the most. This guide is here to set you up with the best G35 test pipes.
Down Pipe vs Test Pipe vs Straight Pipe
There's some confusion between different countries and manufacturers around what these different terms mean.
In turbocharged cars, a "down pipe" is usually the name given to a pipe that comes straight off of the turbo. In standard form though, your Infiniti G35 isn't turbocharged, but many manufacturers still use the term "down pipe".
"Straight pipes" are what they sound like – a straight through pipe without any sort of resonator or anything tricky about them. They're simple, and exactly what test pipes used to be.
So, for the purposes of this guide, you can consider them to all mean the same thing.
Infiniti G35 Test Pipe Construction
A test pipe is a straight-through pipe which replaces your catalytic converter.
You don't need to spend a ton of money unless you're looking for something resonated. Or a nice, polished finish.
Each test pipe is specified by its inlet diameter (in inches), its outlet diameter (also in inches), its construction type (typically steel), and the welding.
Some of these test pipes also come with limited manufacturer warranties. Do know though, outside of the welds cracking, there's not a lot to go wrong, so we don't put too much weight in the warranty.
Resonated vs. Non-Resonated Test Pipes
Resonated test pipes are simply built to get rid of rasp, thus reducing volume/loudness. With resonated test pipes, you will get more of a deep tone.
Non-resonated test pipes tend to hiss and be raspier. They are much louder.
Trade-Offs of Adding G35 Test Pipes
When you add test pipes to your G35, you want to get as little rasp as possible. It's recommended to get an X-pipe if you want to steer clear of the drone and rasp that comes with replacing your G35 catalytic converter with test pipes.
The right test pipes for your G35 should cut down on rasp as well as exhaust fumes.
People tend to forget that when installing test pipes, you also have to watch out for the smell.
If the piping inlet and outlet diameters don't match your G35 as well as they could, the test pipes could rattle and drone and could emit unpleasant odors.
Cheap G35 test pipes are often just as good as the more expensive test pipes. Usually the difference in price is all about precision – how nicely they match up to the rest of your exhaust system, and how good the welds are.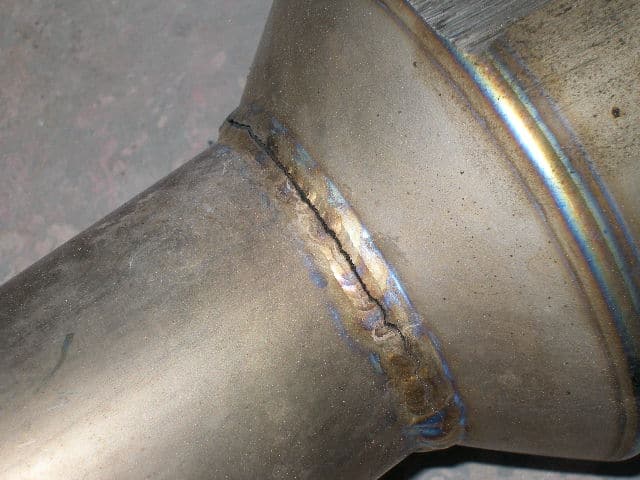 Bad welds = cracking. Not something you want to see.
Cheap test pipes are usually cheap because they aren't as nice of a fit, but if you're happy to use some muscle and man handle them into place you can often get a perfectly good piece of pipe for a fraction of the price.
Best Test Pipe For G35 Coupes and Sedans
Most major aftermarket manufacturers make test pipes for G35 coupes and sedans. Not all of them are created equal, of course, and price isn't always the telling figure.
It's important to understand how the inlet/outlet diameters match up with your car, so you don't accidentally get the wrong component. It's also important to know how the pipe is welded and what it's built from, so you know you're not getting something flimsy that you'll regret.
Generally we like test pipes that are around 2.25″ in diameter. 2.5″ is the most we'd ever consider on a street driven car to avoid unnecessary drone.
Anything larger than that and your car should be a turbocharged or supercharged beast!
Inexpensive G35 Test Pipes
The test pipes below all ring in for less than three figures. Even though they're inexpensive, don't write them off.
There are some great quality units available in this price range.
These Infiniti G35 test pipes are sorted by price, from lowest to highest. They will give you some of the best bang for your buck in terms of performance increases with minimal drone and smell.
Manzo Test Pipes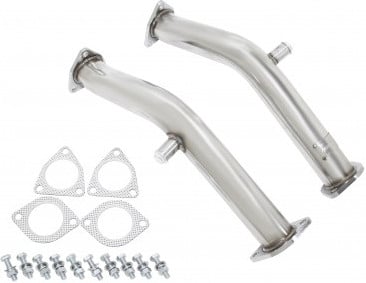 Manufacturer: Manzo
Inlet (In.): 2.5"
Outlet (In.): 2.5"
Compatibility: 2003-2006 sedans, 2003-2007 coupes (VQ35DE engines)
Material: Stainless Steel
Manzo brings these reasonably priced test pipes to the market – the most inexpensive on this list.
You should feel a difference as far as performance goes, but be warned, these aren't resonated at all.
Infiniti G35's that haven't aged gracefully might blow a bit more smoke with these test pipes at high RPM. At idle, however, they are fine.
The supplied bolts on these can be poor quality. Depending on how much of a perfectionist you are, it's worth sourcing some of your own.
Gent5 Flex Test Pipes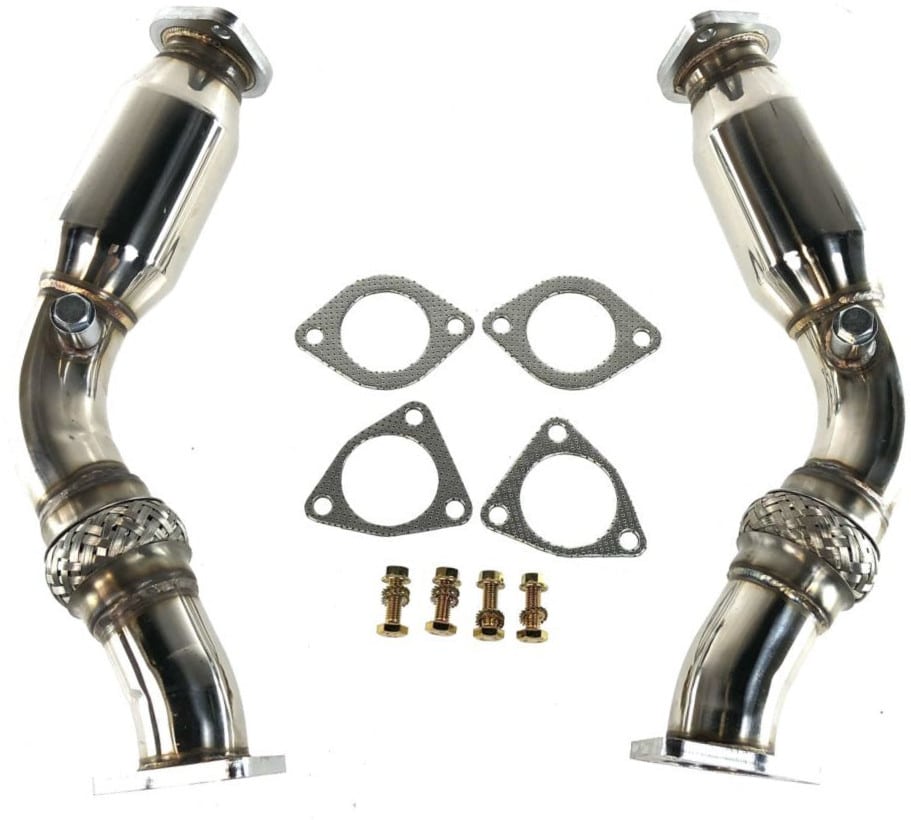 Manufacturer: Gent5
Inlet (In.): 2.5"
Outlet (In.): 2.5"
Compatibility:2003-2006 sedans, 2003-2007 coupes (VQ35DE engines)
Material: Stainless Steel
Gent5's test pipes are flex pipes, which means they offer flex pipe sectioning to prevent cracking under heavy engine torque. They're also a lot easier to install.
These pipes come with a one-year limited manufacturer warranty on material and workmanship, though the flex sectioning should hopefully mean you never have to use it.
Gent5's test pipes are made for competition use and should help reduce hiss and rasp and give you a smooth rumble.
For the price, it's hard to beat the value of these test pipes.
Auto Dynasty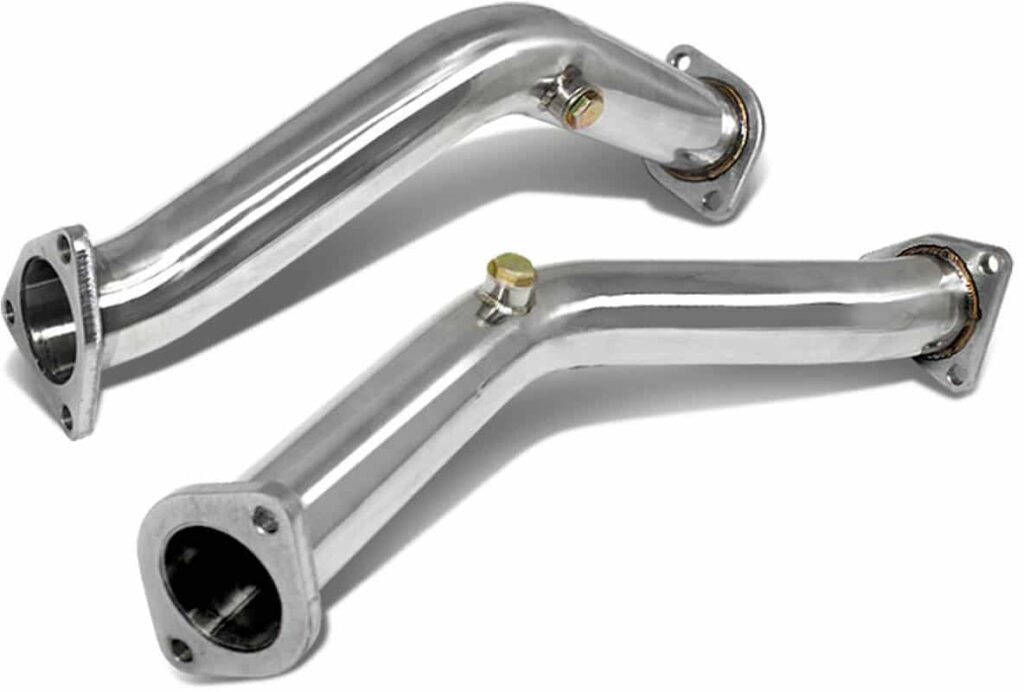 Manufacturer: Auto Dynasty
Inlet (In.): 2.5"
Outlet (In.): 2.5"
Compatibility: All Years (VQ35DE and VQ35HR engines)
Material: T-304 Stainless Steel
Auto Dynasty's "turbo" downpipes, offer one of the cheapest ways to improve exhaust flow for your G35.
Why they call these things "turbo downpipes", we have no idea. It's as if they are trying to confuse you into buying a competitors' products.
They work on a non-turbo Infiniti G35 and will bolt onto your otherwise stock exhaust system (if that is what you want to do).
These downpipes are way lighter than the stock cats, and can increase power output by up to 15 horsepower. This makes them comparable to much more expensive test pipes, but for a fraction of the cost.
There have been reports that the gaskets provided blow out easily, sometimes within 3,000 miles but we've never seen this in person.
Do know that installation is easier if you bring your own, longer bolts too.
These are non-resonated pipes, so you might hear some rasp with them, but it isn't a "ricey" rasp. That being said, you will hear a slight drone from 4,000 RPM to redline, though there shouldn't be any rasp, hiss, or drone below 3,000 RPM.
Megan Racing Downpipe
Manufacturer: Megan Racing
Inlet (In.): 2.5"
Outlet (In.): 2.5"
Compatibility:2003-2006 sedans, 2003-2007 coupes (VQ35DE engines)
Material: T-304 Stainless Steel
Megan Racing's straight pipes are considered some of the best G35 test pipes on the market. They are built with strong welds to prevent cracking. Be aware that they sit very low though.
Some G35 owners will make a brace over the Y-pipe to make this system sit higher.
These are not extremely loud units. They appear resonated when looking at them, but they actually aren't. Their sound is similar to the standard grumble, just a little louder without any nasty rasp.
These straight pipes offer great flow, helping to maximize engine performance, increase exhaust tone a little, and give you a noticeable power gain.
AAM Competition DE Test Pipes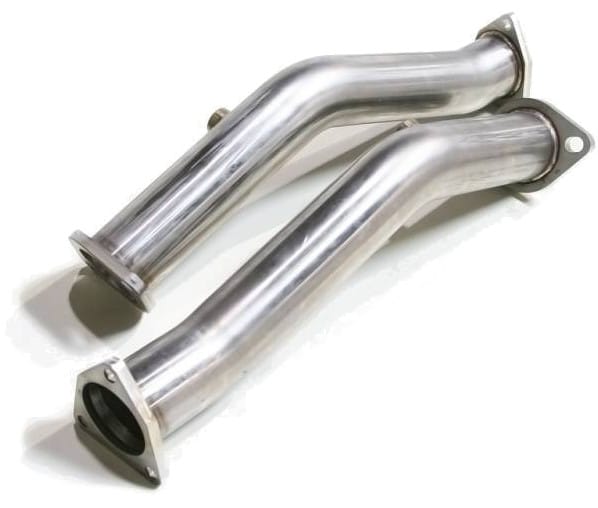 Manufacturer: AAM Competition
Inlet (In.): 2.5"
Outlet (In.): 2.5"
Compatibility: 2003-2004 Coupes and Sedans
Material: T304 Stainless Steel
Check Prices: Enjuku Racing
These mid-price test pipes from AAM Competition are hard to beat when you consider features, price, and performance gains.
They have been dyno-tested to add 8-10 HP on a stock G35 coupe or sedan, which is more than most test pipes can say. They're also very lightweight, helping you shave 11 lbs from the OEM cats.
Be aware that they're only compatible with 2003 and 2004 G35 coupes and sedans, however.
High-Performance G35 Test Pipes
Listed below are the more expensive, high performance-oriented test pipes available for G35 coupes and sedans. These straight pipes range wildly in price, and are listed from lowest to highest
They are what we consider to be the best test pipes for G35 coupes and sedans that you can currently buy.
These test pipes are have nice clean welds and built from higher quality materials. It's clear that some workmanship has been involved.
They're built to last and increase your performance, while cutting down on rasp and noise.
Invidia Test Pipe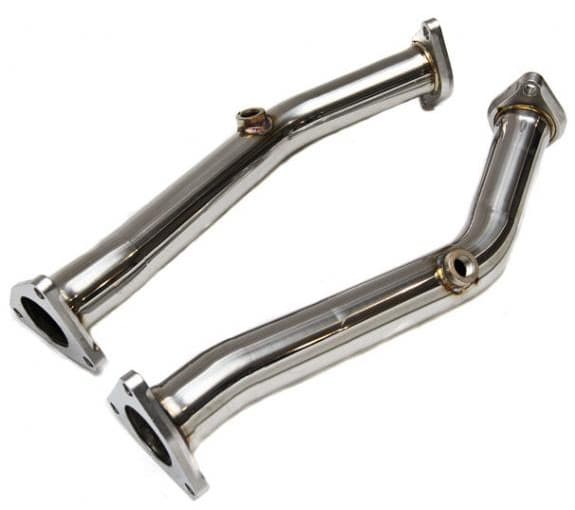 Manufacturer: Invidia
Inlet (In.): 1.97"
Outlet (In.): 1.97"
Compatibility: 2003-2006 sedans, 2003-2007 coupes (VQ35DE engines)
Material: Polished Stainless Steel
These Invidia test pipes are at the bottom end of the high-budget pipes, but you wouldn't know it with their beautiful finish.
But they aren't just built for looks. Built with sturdy support brackets, they really reduce exhaust movement, meaning you won't hear any creaking or rattles.
These are smaller test pipes (50mm, or 1.97″), but you can also get bigger, 60mm (2.36″) test pipes with CEL fix and brackets, for a little extra.
Invidia's pipes will give your Infiniti G35's exhaust system a better overall flow, improving throttle response, power, and gas mileage.
Berk Technology Test Pipe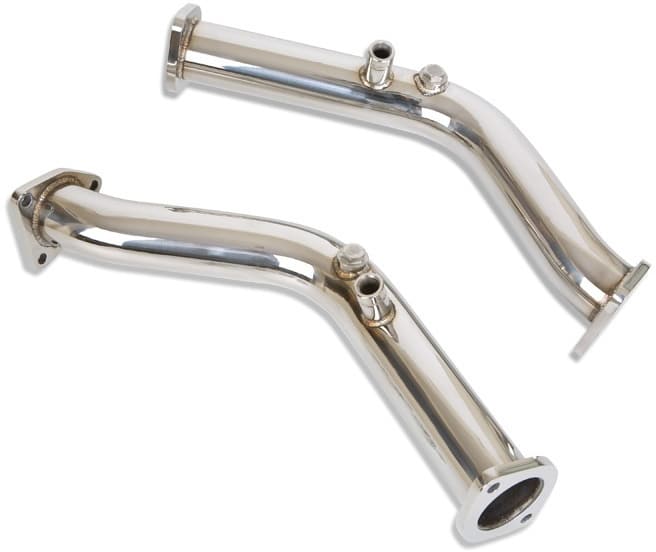 Manufacturer: Berk Technology
Inlet (In.): 2.36"
Outlet (In.): 2.36"
Compatibility: 2003-2006 sedans, 2003-2007 coupes (VQ35DE engines)
Material: 304SS Stainless Steel
Check Prices: Enjuku Racing
Berk Technology's downpipes come with a built-in O2 CEL fix, which works about 95% of the time. Another cool feature of the Berk pipes are the O2 tapped hole on each pipe, which allows you to easily bolt on O2 sensors.
These are straight pipes and are not fitted with a resonator, so you can expect a raspier note than you would hear with the standard catalytic converters.
These are some of the best G35 test pipes at a mid-level price, and are well known to most G35 drivers and tuners.
Tomei Expreme-Ti
Manufacturer: Tomei
Inlet (In.): 2.36″
Outlet (In.): 2.76″
Compatibility: All Years (VQ35DE and VQ35HR engines)
Material: Full Titanium
Tomei's titanium straight pipes are some of the best G35 test pipes in terms of durability and reliability (because of their material construction), and their high price reflects that.
They also happen to be a complete work of art. The welds on the bends of the Expreme-Ti test pipes are incredible.
The fact that they fit both VQ engines also makes them highly compatible.
The titanium build of these pipes drastically reduces overall weight, which is meant to complement power gains.
A single Tomei Titanium Straight Pipe only weighs 3.09 lbs. Compare that to a single OEM catalytic converter that weighs 26.9 lbs!
When you remove an OEM catalytic converter you'll realise just how much of a weight saving you're making with these units.
Motordyne ART Test Pipes
Manufacturer: Motordyne
Inlet (In.): 2.25"
Outlet (In.): 2.5″
Compatibility: All Years (VQ35DE and VQ35HR engines)
Material: SUS304 Polished Stainless Steel
Motordyne's beautifully welded ART, "Advanced Resonance Tuning" pipes will boost your horsepower and torque by between 5 HP at low RPM (2,500-3,500), and 10 HP at high RPM (6,000-7,000). They're proven to add 23 ft/lb of torque to your G35.
They almost completely eliminate all rasp, even at high RPM. These are considered some of the best test pipes by others too.
There's no disputes from us, these are incredible units.
But at some stage we have to ask, how much is too much to spend on what essentially a piece of pipe that allows for your G35's catalytic converter removal?
Best Test Pipes for G35 Coupes and Sedans
Test pipes are just one of many modifications to make to your G35, but they are an important one to consider.
Of course, an alternative to consider is a set of long tube headers as they are almost a combination of shorter G35 exhaust headers and test pipes in one.
When deciding which aftermarket test pipe you want, and what will be best for your Infiniti G35 or Nissan V35, you need to ask yourself what you're looking for; the best performance, the best value, or the best price? Luckily, we have all three categories covered below.
Best G35 Test Pipes for Performance: Motordyne ART Test Pipes
If money were no issue, everyone would be using the Motordyne ART test pipes with their G35 coupe or sedan. they aren't cheap, but are arguably the the best aftermarket test pipes you can put on a G35.
Cheap G35 Test Pipes: Auto Dynasty Turbo Downpipe
If you're trying to get an inexpensive test pipe that will still do the job it's supposed to do, go with Auto Dynasty's test pipes. They have one of the highest satisfaction records, they'll give you a nice sound and performance increase, and won't break the bank.
Our Fav G35 Test Pipes: Megan Racing Downpipe
In terms of bang-for-your-buck, while offering a ton of performance, Megan Racing's units area good combination. Loads of G35's are rolling around with these test pipes for a reason. These may well be the top test pipe for G35s on the market.
Did we miss something? Let us know! Leave a comment below.