Facing tighter emissions at the dawn of the new millennium, Nissan pulled the plug on its ever-popular VH range of V8 engines in favor of the VK series.
You'd think the new VK V8s would follow in the footsteps of the old VH line-up, but Nissan decided to base the new engines on their tried and true VQ V6 platform.
Even though the VK45DE didn't garner as much attention as the famous, all-alloy, oversquare 4.5 L V8, the VH45DE, it's still a cracker of a motor that made its way into some of Nissan's most successful cars.
In this guide, we'll discuss the specs, reliability info, and some of the common problems you can expect from the VK45DE engine.
VK45DE Specs
Manufacturer: Nissan
Production years: 2001-2010
Engine code: VK45DE
Configuration: V8
Displacement: 4.5 L
Fuel system: Multi-Point Fuel Injection
Cylinder block material: Aluminum
Compression ratio: 10.5:1
Cylinder bore: 93.0 mm
Piston stroke: 82.7 mm
Power: 276 hp at 6,000 rpm | 315 hp at 6,400 rpm | 333 hp at 6,400 rpm
Torque: 324.0 lb·ft at 4,000 rpm | 332.6 lb·ft at 3,600 rpm | 340 lb·ft at 4,000 rpm
Firing order: 1-8-7-3-6-5-4-2
Recommended oil weight: 5W-30, 10W-30, 10-W40
Engine oil capacity: 5.6 L
Oil change interval: 3,750 miles
Interestingly, the VK45DE engine uses the same bore dimensions as the VH45DE. Breathing duties are carried out through DOHC and multi-valve heads.
It has a variable induction system, variable inlet cam timing, forged steel rods, aluminum lifters, titanium valves, electronic throttle control; and lightweight, molybdenum-coated pistons.
It's a 90° naturally aspirated V8 featuring an aluminum block, a fully balanced five-bearing crankshaft, and 4 valves per cylinder.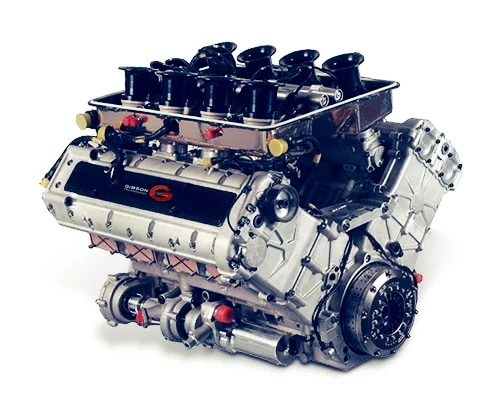 The cylinder head is constructed of aluminum alloy which boosts its cooling efficiency. In addition, it features an electronic throttle body and a variable-length intake manifold.
Here's what the engine code stands for:
VK: Engine Family
45: 4.5 Liter Displacement
D: DOHC (Dual Overhead Camshafts)
E: Multi-Point Fuel Injection
It's worth mentioning the VK45DD engine, which is basically the same as the VK45DE but with the addition of a direct injection fuel system.
The VK45 was no slouch. Nissan used a flat-plane crankshaft version of this engine for Super GT races with their GT-R instead of the iconic VR38DETT. It was also used in their Super GT 350z car in 2007, replacing the previous VQ30DETT used in that car.
In race spec, the VK45DE produced 493 hp and 376 lb-ft. It's no wonder that people are able to build these things to make upwards of 700 hp.
Common Issues With the VK45DE Engine
As good as the VK45DE engine is, it does come with a few niggles. Especially when it gets old, but that's true for almost every engine out there.
It can do 200,000 miles when taken care of without any significantly expensive repairs. But the emphasis is on "when taken care of". Let's take a look at some of the common problems that plague the Nissan VK45DE engine.
Catalytic Converter Failure
The first issue that comes to mind with this engine is the failure of front catalytic converters — a problem more prevalent in regions that get a bad supply of fuel.
Bad fuel = catalytic converter deterioration.
This problem leads to loss of power and rough idling which can be attributed to the ceramic dust from the cat con flowing back into the engine and bruising the cylinder walls.
We wouldn't call this a design flaw, however. Classifying it as a maintenance problem is more accurate.
If you don't have access to good-quality fuel, consider using octane boosters. Though some will choose a catalytic converter delete kit, we recommend installing high-flow units and getting your ECU remapped.
Misfiring
Many VK45DE owners report intermittent misfiring and loss of engine power. This problem is usually caused by less-serious issues such as faulty spark plugs, deformed valve covers, and oil-soaked spark plug wells.
Some more symptoms of this problem include:
Frequent stalling
Inconsistent idle
Loss of power
High fuel consumption
Weak Timing Chain
Failure of timing chain tensioners is a common problem with this engine. We've heard of many instances of the timing chain being too fragile and not working properly.
However, most of these issues are caused due to poor maintenance. However, if you experience this issue before the 100,000-mile mark even when you've taken adequate care, it is cause for concern. At this point, it's best to just replace the timing chain.
Concluding Thoughts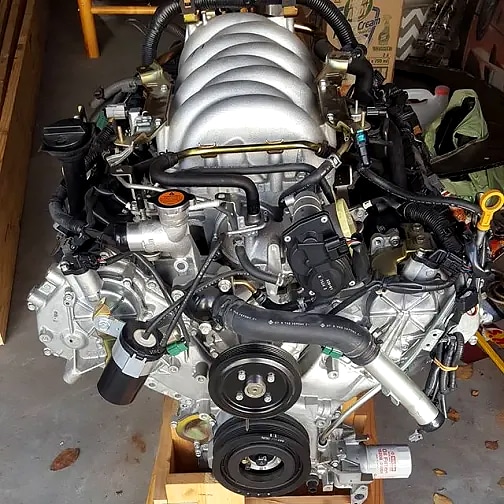 If you're on the lookout for a solid, reliable, workhorse V8 engine to swap into your car, then the VK45DE makes for an excellent choice.
Despite the minor problems we listed above, it should be known that Nissan's VK engines are extremely reliable, especially in comparison to V8 made by other manufacturers.