The VH45DE engine is undeniably one of the best V8 engines to roll out of the land of the rising sun. Even though this engine came out back in 1989, it's widely used in cars even today.
So, what makes this JDM engine so famous?
Read on as we discuss the history, specs, upgrades, and swap information for the VH45DE — an engine way ahead of its time.
History of Nissan's VH45DE Engine
Nissan produced the VH45DE as part of the VH series and named it so because:
45 is for the 4.5-liter displacement,
D represents DOHC (Dual Overhead Camshafts), and
E is for multi-point fuel injection.
The engine's forged steel crankshaft, long core bearing girdle, six-bolt original bearing caps with studs — amongst other components made it light and efficient.
Pair that with its easy accessibility to conversion parts, and the VH45DE has become extremely popular amongst drifters and drag racers.
Nissan released Variable Valve Timing (N-VCT) in 1987 to get more performance out of their VG series engines. When the VH series engine was released, a Gentleman's Agreement prevented them from marketing the engine's true power. The agreement prevented any manufacturer from producing an engine that pumped out more than 276 whp.
The only way for Nissan to sidestep this agreement was by switching off the VTC function during the examination. It prevented the engine from spurting out more than 278 whp, but they switched it back on later so that it could produce 310 whp.
Nissan VH45DE lovers were bummed in 1997 when the manufacturer had to stop production in the U.S. due to the country's emission regulations. Luckily, they continued production in Japan until 2002.
VH45DE Engine Specs
Engine Code: VH45DE
Layout: Four-stroke, V8
Displacement: 4.5 L, 4,494 cm3 (274.24 cu in)
Fuel System: Multi-point fuel injection
Cylinder Bore: 3.66 inches
Piston Stroke: 3.26 inches
Compression Ratio: 10.2:1
Power: 278 hp (207 kW) at 6,000 rpm
Torque: 396 Nm at 4,000 rpm
Firing Order: 1-8-7-3-6-5-4-2
When the VH45DE came to the market, it was one of the few reliable engines that had a dual overhead camshaft.
By using aluminum alloy, engineers were able to craft the cylinder head and block such that it was not only lightweight but also capable of handling high temperatures better than other V8 engines.
While the engine is known for its reliability, its plastic timing chain guide has a tendency to break around the 120,000-mile mark.
If anything else is likely to cause you trouble, it's probably the knock or MAF sensors. Make sure to use a reliable mass air flow sensor cleaner to troubleshoot the issue before sourcing a replacement unit though.
Nissan reproduced the engine with metal-backed chain guides from 1994 onwards to prevent issues with the plastic timing chain guide.
Cars That Used the VH45DE
They used the VH45DE in the Infiniti Q45 to give it a performance boost and accentuate the sports car's luxury. The engine remained in the Q45 until 1996 when it continued to pump out 278 whp.
Nissan also used this engine in the President limousine, launched in 1990. It produced the same power as the Infiniti Q45 and had an extended wheelbase so everyone inside had loads of room and plenty of comfort.
Other Cars With a VH Series Engine
Though not all using a VH45DE, the cars below came with a VH series engine:
1990-1996 Infiniti Q45
1990-2002 Nissan President
1997-2001 Infiniti Q45 (VH41DE)
1992-1996 Nissan Leopard (VH41DE)
1991-2001 Nissan Cima (VH41DE)
There's a lot of part interchangeability between the VH45DE and the VH41DE, so it's good to be aware of these cars.
Upgrades & Aftermarket Friendliness
The VH45DE is one of the few V8 engines known for its tuning abilities on stock internals.
Its piston had a flat-top design with recesses for the valves which made it forced-induction friendly. It enables bolt-on supercharger applications with immediate power boosts.
Thanks to the uprated injectors, increased compression ratio, intake, headers, and upgraded valve springs, Nissan's VH45DE is capable of reaching 500 to 600 hp.
Top VH45DE performance engines can even spurt out 1,000 hp at 9,000 rpm. These engines really can take a beating.
Where To Start
If you're thinking of upgrading this VH engine, you can start by purchasing an aftermarket ECU. From there you can use 4-1 headers, a cold air intake, and a 3-inch exhaust system.
Usually in this part of the process, most people will consider an EGR delete kit, as the EGR valve does seem to be a hindrance with more than OEM power.
After you've installed everything, don't be surprised if you can boost your engine output to 330 hp.
You'll be able to get even more power out of it by upgrading the OEM camshafts and ECU. If you get a performance intake manifold with a big throttle body and high compression pistons, your car should pump out more than 400 hp.
Choose an aftermarket ECU because the factory ECU does not have a locked flashing option. If you get an aftermarket ECU with knock protection and it's well tuned, it's sure to outperform the factory tune.
Remember that you'll need to increase the fuel delivery to compensate for the additional airflow. Also, you should get a better exhaust if the current one is causing a restriction in the flow of gases.
Just know that engine timing and fuelling also affect your brake horsepower gains. It's not necessary for the exhaust and intake duration to match. If you extend the intake or exhaust duration, it can adjust the brake horsepower band.
Forced Induction
Finding a VH45DE turbo kit these days can be challenging. Increasing the VH45DE's performance using a turbo is either going to cost you in money or time as you will probably need some custom work.
Your other option is to get a VH45DE supercharger kit.
When choosing a supercharger kit, be mindful of the VH45DE's rotation when choosing your supercharger. Some versions may not work on certain cars.
Nissan VH45DE Swap Info
It's easy to fit the VH45DE into a 180SX, 200SX, 240SX, or Silvia once you have the right kit for the job. If welding isn't your thing, it's best to seek out a proven swap kit, which contains steel motor mount, brackets and steel transmission cross members.
While most kits will lower the engine, they shouldn't compromise the oil pan one bit. You'll want to be sure they're designed to move your engine back so that the shifter can be in the stock location when you use a shifter bracket kit.
Because the VH motor has a ton of torque, you probably shouldn't use flexy rubber mounts. Instead, opt for solid mounts that work well with a VH alternator relocation kit.
Keep in mind that during installation, you'll have to attend to various car parts like the brake booster, ABS brake system, exhaust, and your front sway bar. You'll also need a power-steering pulley and an alternator relocation bracket.
For a Nissan 240SX engine swap, get your hands on the Pro Series Wiring Harness, which lets you bypass any wiring issues that would otherwise give you a rough time.
It comes as a one-piece unit with integrated transmission and injector harnesses so that you don't have any issues during installation.
Nissan's VH45DE Engine: Is It Worth The Hype?
The VH45DE engine has stood the test of time given its popularity for more than three decades. Many drivers in Europe, Japan, and America have used it as a swap option other Nissans thanks to how well it is engineered.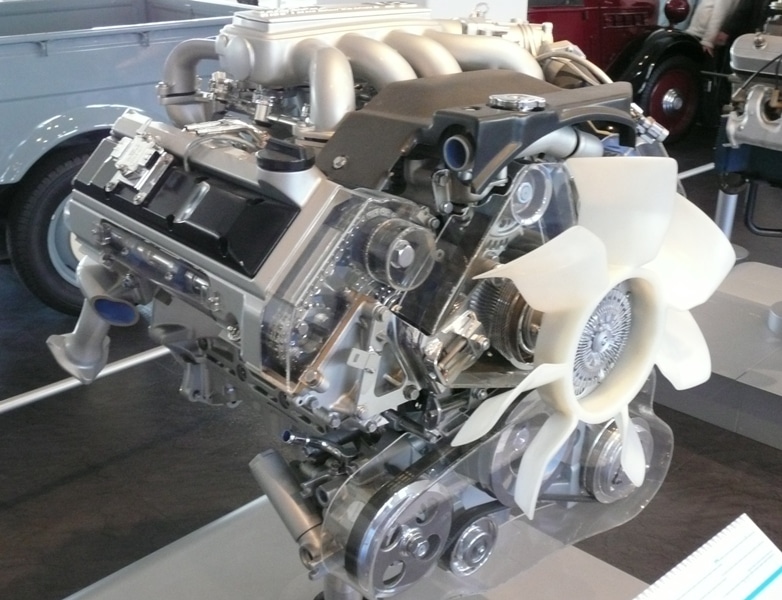 The power that the VH45DE delivers and its ease of swapping makes it highly desirable for anyone modifying a Nissan. The VH45DE's weight and ability to handle high temperatures only add to its appeal.
You won't find the same aftermarket support for the VH45DE that you might for other engines, so you'll need to be more resourceful than if you are modifying something like an SR20DET or the epic RB26DETT. But given the insane power this engine can handle — it's worth the effort.
The VH45DE engine has a reputation for being reliable, but be careful of the ones that have a plastic timing chain guide. If you can, choose one with a metal-backed chain guide. Use high-quality engine oil and look after it if you want this engine to produce good power and last a lifetime.
What are your thoughts on the Nissan VH45DE? Are you planning to upgrade to this V8 engine anytime soon? Let us know in the comments below.