You love cars — the way they sound, the way they look, and the way it feels when you're driving. And now you're looking to get your very own set of wheels for the first time!
We get the excitement. You want to find something that you're going to enjoy driving, upgrading, drifting, off-roading, or whatever it is you want to do with it.
It might not be the car of your dreams, but remember, it is your first car, not your last, and there are plenty of great options to choose from.
In this article, we've cherry-picked and reviewed some of the best first cars that you can buy as an enthusiast.
Good First Cars for Car Guys
Commuters and econoboxes have their place in the car world. They're practical, make for excellent daily drivers, and provide great gas mileage.
But if you're someone who looks forward to the first drive of the day more than the first cup of coffee, economy cars just won't cut it for you.
Perfectly-timed gear shifts, rev-matching, choosing the perfect line, and all that good stuff is best enjoyed in performance cars like those we've listed below.
MK5 Volkswagen Golf GTI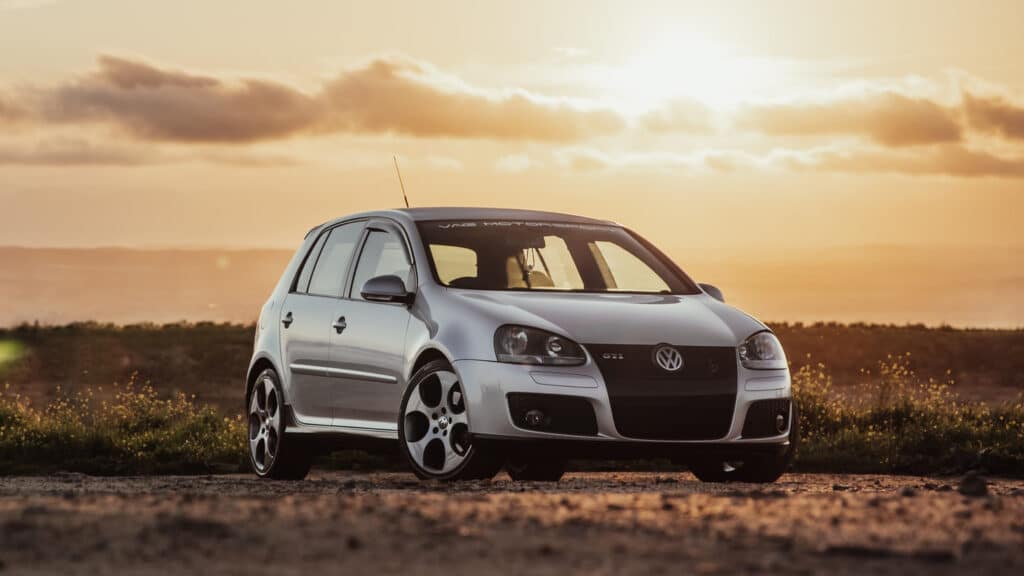 Average Price: $8,000 to $19,000
Engine: 2.0L EA113
Power Output: 197 hp at 5,100 to 6,000 rpm
Drivetrain: FWD
Torque: 207 lb-ft at 2,200 to 5,200 rpm
Curb Weight: 3,565 lbs
A fun and affordable family car turned tuner icon, the VW Golf GTI is the ultimate daily driver hot hatch. Specifically the MK5 — it's arguably the most complete GTI of them all barring the relatively underdeveloped DSG variant.
Previous generations of the GTI are as iconic and collectible as they get, but they feel dated and lack modern-day safety features. Many will agree that the MK5 is a monumental improvement over the MK4.
The MK5 has a thriving aftermarket community swarming with people who've modified these cars in every way imaginable.
It's not a fast car by any means, but it's quick enough to impress most first-time car owners. In terms of fuel economy, expect anywhere between 27 to 31 miles per gallon.
Ensure to get the cam belt, water pump, and tensioners inspected by a VW specialist as these components are likely to fail. Another common problem with these cars is faulty diverter valve rubber seals.
These can disintegrate and cause a boost leak. A telltale sign is if you hear a whistling noise when you give it some gas and notice that the power is not quite there.
Don't forget to upgrade the exhaust system, install a set of coilovers, and a 2-step rev limiter.
9th Gen Honda Civic Si Coupe
Average Price: $12,000 to $20,000
Engine: 2.4L K24Z7
Power Output: 205 hp at 7,000 rpm
Drivetrain: FWD
Torque: 170 lb-ft at 4,400 rpm
Curb Weight: 2,877 lbs
The Civic Si is the weapon of choice for countless car guys across the globe. Many remained loyal to the platform and others deviated from it only to realize they were missing something vital.
Admittedly, the 9th gen Si feels like a watered-down version of its higher-revving predecessor owing to a new engine. Unlike the previous K20Z3 powerplant which redlined at 8000 rpm, the K24Z7 has a lower rev limit at 7000 rpm.
That said, it has increased displacement through a longer piston stroke, and despite that, it retains the 11.0.1 compression ratio from the K20Z3. There's a lot more torque; 170 lb-ft at 4400rpm in contrast to the K20's 139 lb-ft at 6200 rpm.
For first-time drivers, the 9th gen Si is more forgiving as it has a softer suspension compared to the 8th gen Si. If you prefer the razor-sharp handling of the latter but want a 9th gen, coilovers or lowering springs are always an option.
As for the transmission, the only option is a 6-speed manual gearbox which is great. Honda sweetened the pot with a helical limited-slip differential.
The Civic Si is a car that grows with your experience, making it an outstanding choice for beginners and experienced car enthusiasts alike.
2017 Ford Fiesta ST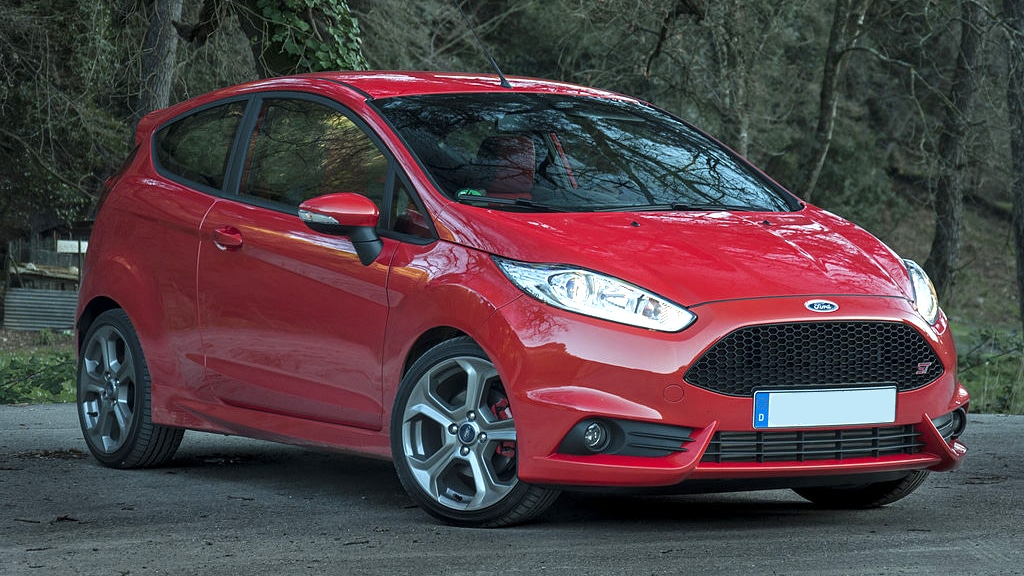 Average Price: $11,000 to $17,000
Engine: 1.6L GTDI Ecoboost
Power Output: 197 hp at 6,000 rpm
Drivetrain: FWD
Torque: 202 lb-ft at 4,200 rpm
Curb Weight: 2,720 lbs
The Fiesta ST is the ultimate used hot-hatch bargain at the time of writing. Especially when you consider that it recently got discontinued, along with many other cars in Ford's line-up.
Ever since it was first launched in 2014, it didn't get any major upgrades and felt pretty much the same in real-world driving conditions.
Ford did update the cylinder head design to prevent hotspots from lack of cooling — a common issue that reportedly led to engine fires. The cylinder head was known to crack from the heat and leak oil over the engine which would then ignite.
A recall was issued to fix this problem. If you find a good used example, be sure to check if the Fiesta ST was a part of the recall.
We recommend the 2017 model year because it came with a few extra modern features, stiffer motor mounts, and was generally more reliable.
Compared to the original Fiesta which made 120 hp, the Fiesta ST makes 197 hp owing to its turbocharged 1.6L engine.
Acura RSX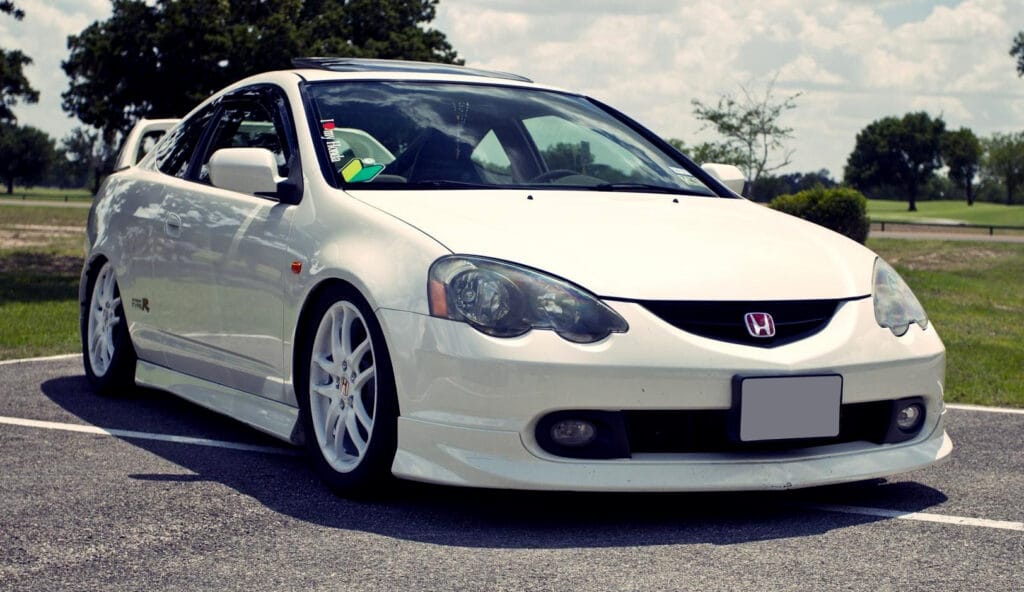 Average Price: $3,000 to $6,000
Engine: 2.0L K20A3
Power Output: 160 hp at 6,500 rpm
Drivetrain: FWD
Torque: 141 lb-ft at 4,000 rpm
Curb Weight: 2,778 lbs
If you're looking for something that's as fun and reliable as a Civic, but don't want a Civic, take a hard look at the Acura RSX.
It's powered by the tried and true Honda K20 engine, revs to the moon without flinching, feels like a larger CRX, and is easy to daily drive.
The RSX was only sold as a 2-door coupe, which is a good thing. These cars are quite reliable, but some of them are prone to have grinding issues with the gearbox.
Other than that it's a pretty solid platform. Aftermarket parts are widely available, but there's nothing wrong with leaving your RSX stock.
These can be a bit tricky to find considering how they were only made between 2002 and 2006.
The 16 valve, 2.0L 4-cylinder DOHC K20 engine makes 141 lb-ft at 4000 rpm and 160 hp at 6500 rpm. Expect 24 mpg in the city and 31 mpg on the highway depending on how you drive.
Subaru Impreza 2.5RS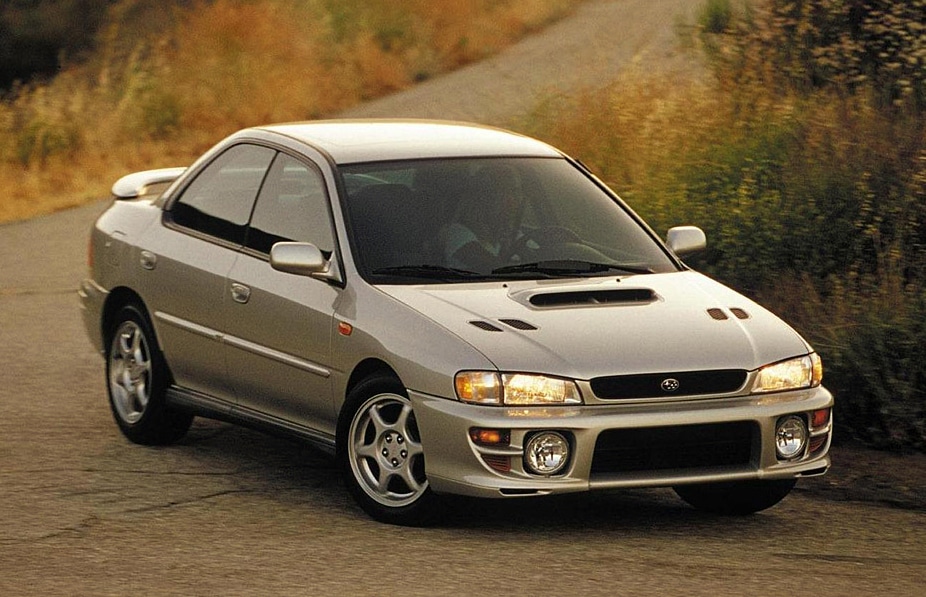 Average Price: $19,000 to $27,000
Engine 2.5L EJ25-H4
Power Output: 165 hp at 5,600 rpm
Drivetrain: AWD
Torque: 166 lb-ft at 4,000 rpm
Curb Weight: 1,971 lbs
GC-chassis Imprezas have that unmistakable Subaru silhouette, with its oversized fog lamps and hood scoop. These cars ooze rally heritage not just on paper, but even in the real world.
Whether you're driving in snow, rain, muck, or gravel, you can count on the Impreza 2.5RS to get you home safely, thanks to its symmetrical all-wheel-drive system.
The GC Impreza 2.5RS is based on the 22B which was designed in honor of Subaru's rally championship wins. Unfortunately, it's naturally aspirated, but it is adequately powerful at 165 hp.
It's an old machine — hop inside and Subaru's priorities with this car become abundantly clear. The interior is as basic as it gets. We're talking about hard plastics and cloth seats. But all that will seem trivial once you actually drive it.
It's an excellent first car for any car enthusiast, and it's one that we can easily recommend with confidence.
Nissan 350z
Average Price: $6,000 to $15,000
Engine: 3.5L VQ35DE / VQ35HR
Power Output: 300 hp at 6,500 rpm
Drivetrain: RWD
Torque: 371 Nm at 4,800 rpm
Curb Weight: 3,602 lbs
The Nissan 350z is a no-brainer. We've endlessly raved on about the versatility of Z cars. They make for the best drift cars, daily drivers, tuner cars, and even dragsters.
The VQ35DE and VQ35HR engines are overengineered and extremely reliable. Do some digging and you'll come across thousands of 350zs for sale. 370zs are great too, but they're slightly more expensive. Check out our 350z vs 370z guide for more information.
Even though most used 350zs will probably be trashed by the previous owner, the odds of finding a mint example aren't low.
Modifying the 350z is quite easy thanks to the abundance of resources on the subject. Upgrades like installing a 350z plenum spacer, coilovers, and aftermarket exhaust systems are simple enough to be done in your driveway.
Find a 350z manufactured between 2005 and 2008 to avoid the CD001 and CD008 transmissions as they had issues. You want the CD009 assembly.
Nissan updated the engine to their VQ35HR variant in 2006. The latter is a much better motor overall, so if you want the best 350z you can possibly find, look for a stock, low-mileage 2008 variant.
Fiat 500 Abarth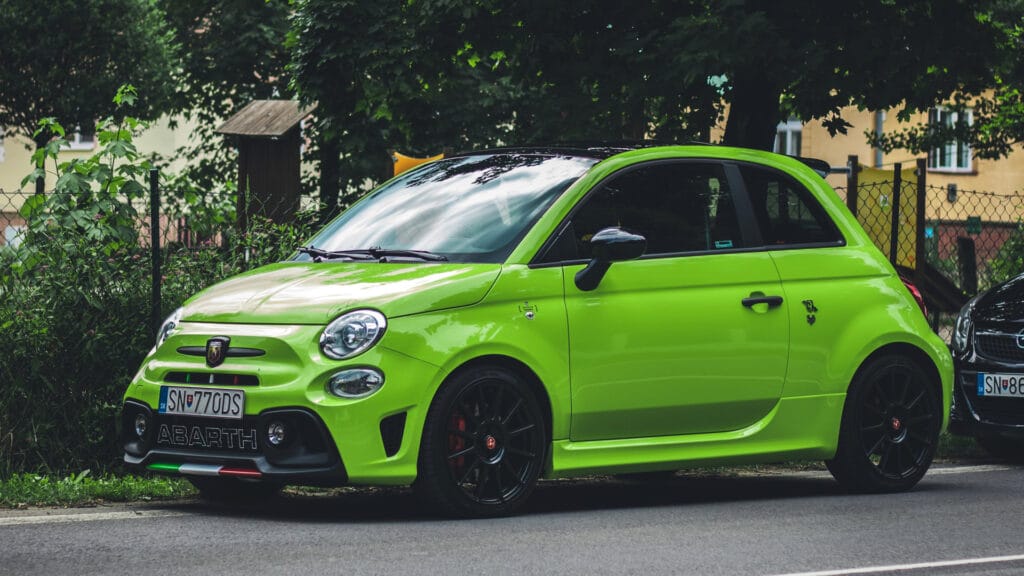 Average Price: $9,000 to $27,000
Engine Capacity: 1.4L Fire TurboJet I4
Power Output: 160 hp at 5,500 rpm
Drivetrain: FWD
Torque: 170 lb-ft at 2,500 rpm
Curb Weight: 2,512 lbs
On the outside, the Fiat 500 Abarth is an amusingly small and cute car. But when you put your foot down on the pedal is when you'll realize that it's a proper sleeper car.
Tipping the scales at just 2512 lbs, the power-to-weight ratio on these cars is no joke. 11.46 lbs is all it has to push for each unit of available horsepower.
There's a decent selection of aftermarket parts for the 500 Abarth, and they tend to be a little more affordable compared to parts for comparable cars like the Mini.
And because of its smaller size, any performance mods that you install will compound and make a much bigger impact.
Mazda Miata (NA/NB) MX-5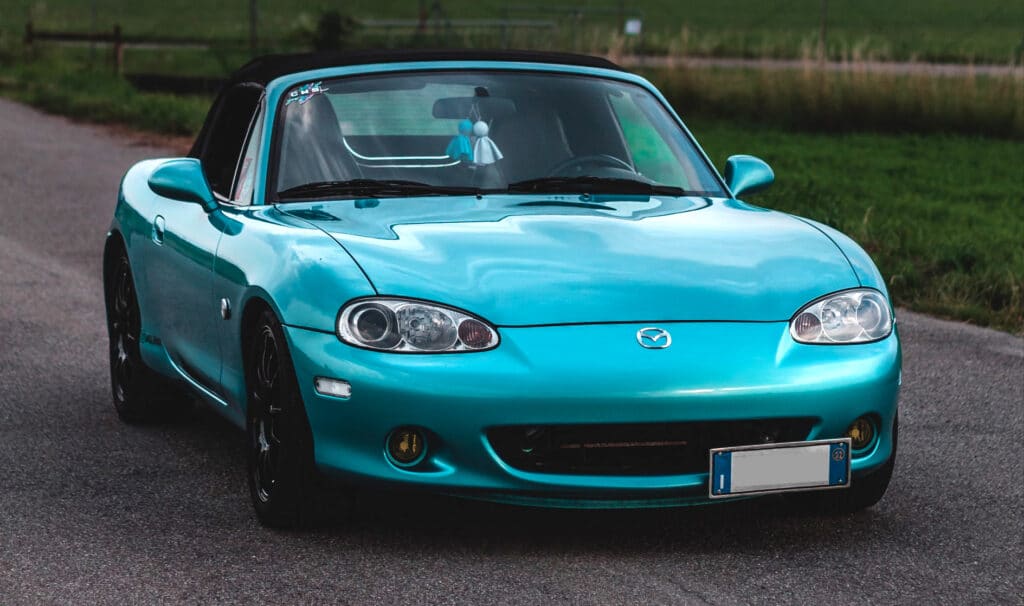 Average Price: $4,000 to $10,000
Engine Capacity: 1.8L BP-Z3 / BP-W4
Power Output: 146 hp at 6,500 rpm
Drivetrain: RWD
Torque: 124 lb ft at 4,500 rpm
Curb Weight: 2,348 lbs
You've heard it before; Miata is always the answer. It doesn't matter whether you're a teen, an adult, or an enthusiast, this is the ultimate driver's car for you.
Even though it's revered as a weekend car and often given the designation of a toy, it can be utilitarian enough for daily use.
These cars were once cheap, but they're increasing in value at a staggering rate. Gone are the days when you could find one for under $5,000.
We recommend looking for a mint-condition NB Miata from the 2000 model year. NBs aren't too far away from the NA in terms of driving dynamics, and they're still cheap.
You can look into NC Miatas as well, but those cars are a lot more expensive and lack the mechanical honesty and analogue feel of the previous iterations.
You can find a plethora of aftermarket parts for these cars. Modifying a Mazda Miata can be a good idea or a bad one depending on what you intend to do with it.
The possibilities are endless. You'll find everything from aftermarket Miata coilovers, clutches, brake pads, seats, roll bars, exhaust systems, and a lot more.
Good First Cars for Teens
Looking for something safe, practical, and cool enough for your teen to actually be excited about?
Below we've listed 3 cars that fall right into this category. Each of them has modern-day safety features and they make for fantastic daily driver cars.
Gen 4 Mazda3 (BP)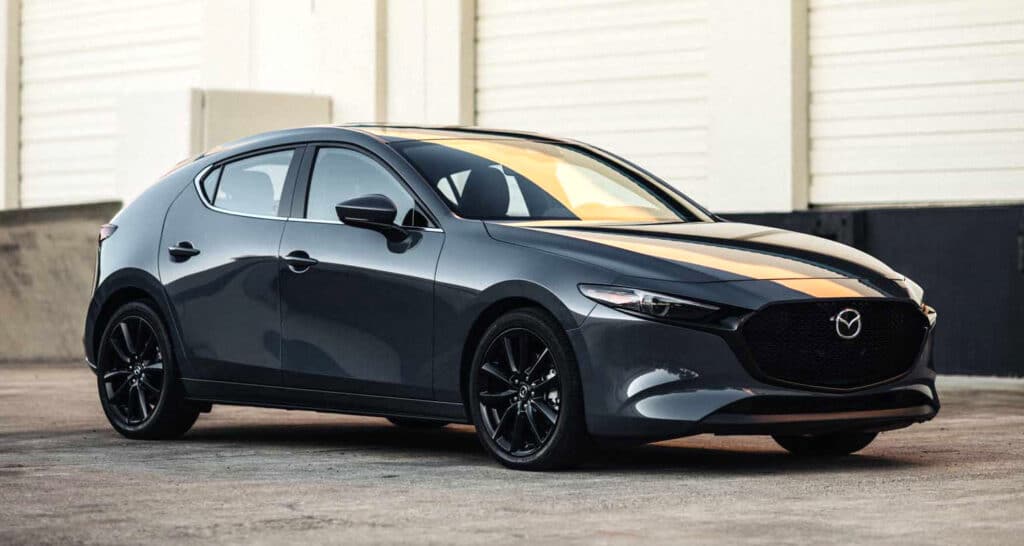 Average Price:$1,000 to $21,000
Engine Capacity: 2.5L Skyactiv-G PY-VPS
Power Output: 186 hp at 5,700 rpm
Drivetrain: FWD
Torque: 186 lb-ft at 3,250 rpm
Curb Weight: 3,100 lbs
The BP Mazda3 is a modern-day family hatch that looks like something straight out of the future. Designed under the leadership of Yasutake Tsuchida, the new 3 is 25 mm longer than before and features a stunning, no-bodylines design.
With a 7000 rpm redline, the 2.5L naturally aspirated 2.5L 4-cylinder Skyactiv-G engine makes 186 hp and 186 lb-ft owing to its high compression design.
Compared to the previous generation, it has the exact same drivetrain and is just a bit more powerful.
Sadly, there's no manual transmission for all-wheel-drive Mazda3s. You can buy this car with a manual transmission but that option is reserved for FWD variants only.
Another notable change is the switch from multilink independent suspension to torsion beam suspension. Despite the latter being less advanced, the ride quality feels plush and good enough to keep complaints at bay.
The NVH levels have been significantly improved and Mazda's latest G Vectoring Control+ torque vectoring system works astonishingly well.
The BP variant is the first ever Mazda3 in North America that's available with AWD. Get yours in Polymetal grey, the look will definitely grow on you.
We prefer the look of the hatchback. Surprisingly the hatch and sedan do not share any body panels whatsoever.
ZN6 Toyota 86
Average Price: $20,000 to $25,000
Engine Capacity: 2.0L BOXER 4U-GSE
Power Output: 197 hp at 7,000 rpm
Drivetrain: RWD
Torque: 151 lb ft at 6,400 rpm
Curb Weight: 2,824 lbs
The Toyota 86 is a lot like the Miata, in the sense that it's not too powerful, but what makes it special is the way it goes around corners.
It's the best first car for car guys who are just getting started on their automotive journey and wish to begin with something sporty and unintimidating.
The near 50:50 weight distribution and RWD combination make it an absolute hoot to drive. Modification potential is immense, but remember that any modifications will impact your Toyota 86 insurance cost.
Ever since the 2nd gen ZN8 was launched, first gen ZN8 Toyota 86s have flooded the classifieds. They've held their value surprisingly well, but they're still a bargain considering the value you're getting for your money.
If you dislike the stock handling, you can always buy a set of coilovers for your Toyota 86.
Gen 3 Subaru Forester 2.5XT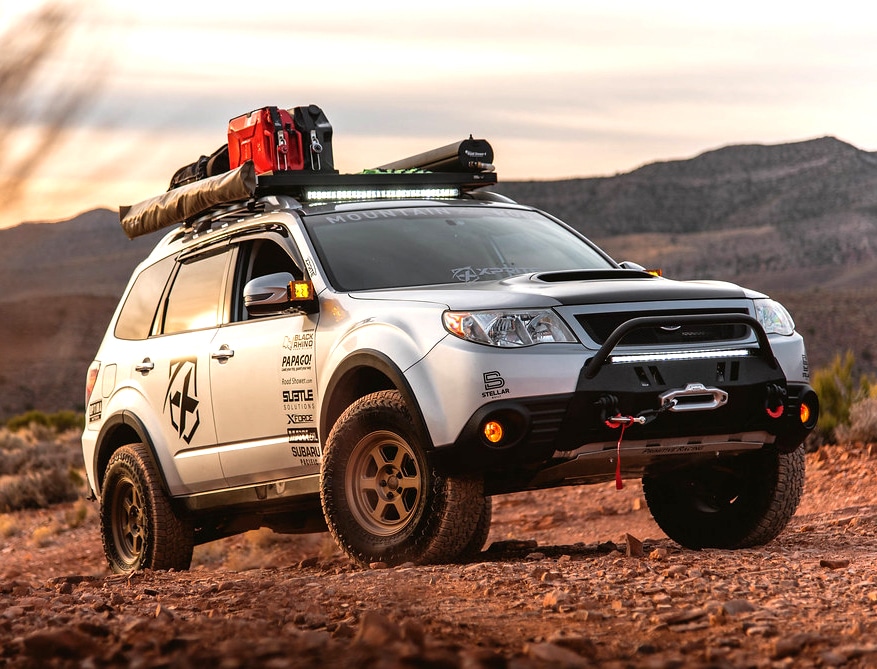 Average Price: $29,000 to $37,000
Engine Capacity: 2.5L EJ255
Power Output: 224 hp at 5,200 rpm
Drivetrain: AWD
Torque: 226 lb-ft at 2,800 rpm
Curb Weight: 2,400 lbs
The Subaru Forester XT is arguably an imposter in the world of SUVs. From the looks of it, it resembles a crossover or wagon. But in reality, it's a proper SUV and is capable of some serious off-road driving.
If you're looking for a family car that even your teen can drive, this is a great option. It's packed to the brim with modern safety features and offers excellent visibility, and stability.
For a car this size, it's surprising to see a 2.5L 4-cylinder engine, but don't let the size deceive you. The Forester XT offers ample power to pass other vehicles on the freeway when you need to.
What's more is that it has power on all 4 wheels, making it easy to navigate snowy, mucky, and wet terrain which adds to its safety.
The Best First Sports Cars to Own
There's something about a sports car that really gets your heart racing. Whether it's classic American muscle or something else entirely, sports cars are a different breed.
So, if you're looking for something that drives fast and has tons of upgrade options, we'll highlight some of the best choices below.
Gen 6 Ford Mustang V6 (S550)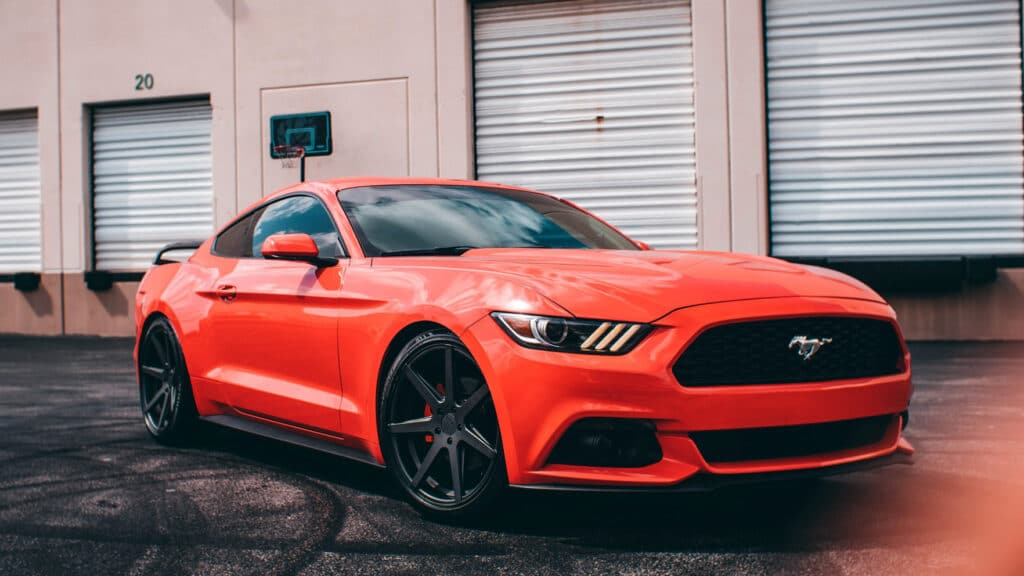 Average Price: $24,000 to $37,000
Engine Capacity: 3.7L Cyclone V6
Power Output: 300 hp at 6,500 rpm
Drivetrain: RWD
Torque: 280 lb-ft at 4,000 rpm
Curb Weight: 3,520 lbs
If you see the Mustang for what it is, by looking past or even embracing the stereotype, you'll notice that it's actually a great first sports car to own and drive. Is it the best? Probably not, but there's no denying that it deserves a spot on this list.
But what really earns Mustang a spot on this list is that there's a trim level for several different budgets, all the way from the EcoBoost Fastback to the Shelby GT500.
Many will disagree with our choice, but we like the gen 6 (S550) V6 Mustang the best. Owing to its discontinuation in 2017, many of these have flocked into the used market, and they're an excellent bargain.
The 3.7L V6 is abundantly powerful, you still get the Mustang charm, and most importantly, you get usable power.
So if you want a Mustang as your first sports car but don't want to commit to either the underpowered EcoBoost or the overpowered V8, the V6 is a happy medium.
There's a decent chance you'll outgrow your Mustang at some point, and that's when you can start modifying it.
2016+ Chevy Camaro 1LT/2LT V6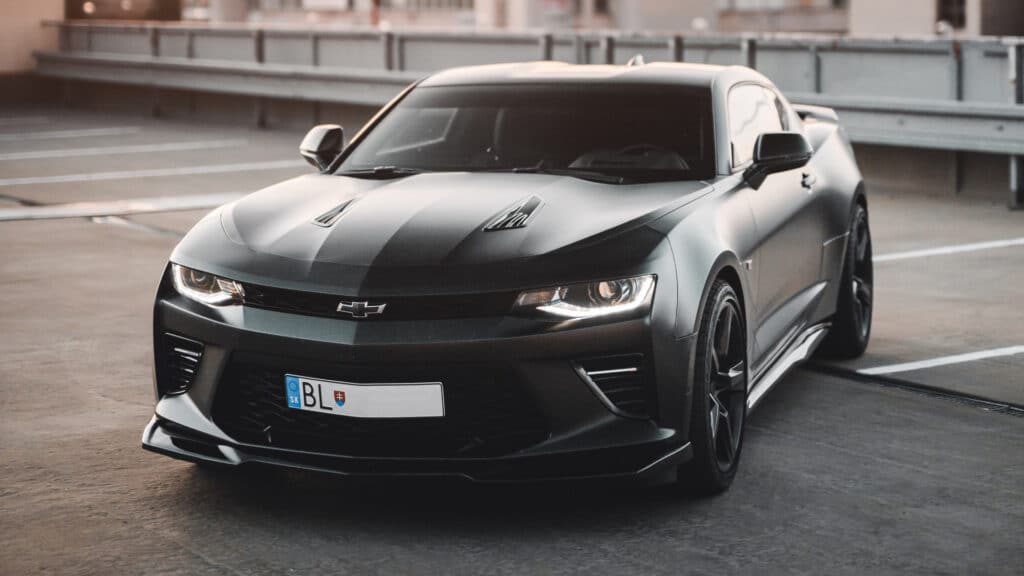 Average Price: $21,000 to $37,000
Engine Capacity: 3.6L LGX V6
Power Output: 335 hp at 6,800 rpm
Drivetrain: RWD
Torque: 284 lb-ft at 5,300 rpm
Curb Weight: 3,500 lbs
Another one of our favorite pony cars is the Chevrolet Camaro 1LT paired with the optional 3.6L LGX V6 engine. You can also opt for the 2LT and 3LT trim levels with the same engine if you want a few extra bells and whistles.
The 2LT isn't a significant upgrade over the 1LT; the only extras you get are:
Heated/ventilated front seats, and
Dual-zone automatic climate control.
The 3LT has a bunch of extra features such as:
Heated and auto-dimming mirrors
8″ touchscreen infotainment system
9 speaker Bose audio system
Rear camera mirror
Customizable ambient lighting
Driver's seat memory settings
Heated steering wheel
Wireless charging pad, and more.
However, at that price bracket, you might as well just opt for the 1SS with a V8 engine. We recommend the 3.7L V6 for the same reason why we recommend the V6 Mustang — it's adequately fast enough to feel like a proper sports car.
The only downside is that the V6 engine can only be paired with a 10-speed automatic transmission.
C5 Z06 Corvette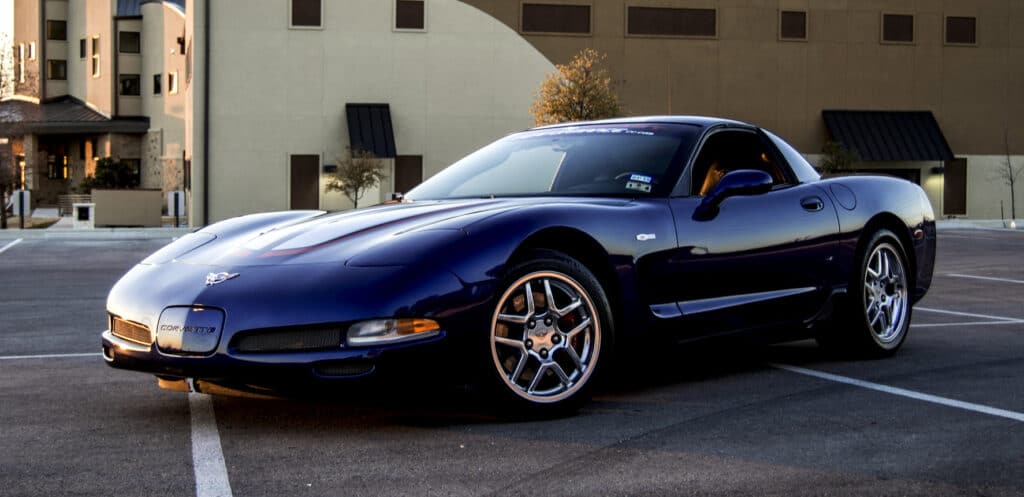 Average Price: $25,000 to $28,000
Engine Capacity: 5.7L LS1 V8
Power Output: 405 hp at 6,000 rpm
Drivetrain: RWD
Torque: 399 lb-ft at 6,000 rpm
Curb Weight: 3,117 lbs
The C5 Z06 Corvette is the ultimate sports car bargain. It will blow away pretty much any other sub $30k car in terms of straight-line performance.
With a big and beefy 5.7L V8 under the hood and a curb weight of just 3117 lbs, you can imagine just how much fun it is to drive.
Despite being an 18-year-old car, it has held up quite well. There are many low-mileage examples that you can snag up, and if you intend to do so, act fast because the prices are going up each day.
These cars are surprisingly easy and unintimidating to drive, making them ideal for first-time sports car owners.
Concluding Thoughts
Buying your first car is an exciting time for anyone, but it's even more exciting when you're a car enthusiast. With any of the cars we highlighted here you're sure to have a blast.
Prefer to pick something a bit older? Check out our guide to the best classic daily drivers, most of which are under $15k.
Do you have any questions about any of the cars on our list or feel like we missed a great choice? Let us know what you think in the comments below!
If you've enjoyed reading this post, consider sharing it with your friends on Reddit, Facebook, or your favorite car forums.