The stock FRS exhaust doesn't sound bad at all, but it is on the quieter side which many enthusiasts dislike. If you're like us and you want to make your Scion sound great, you need a good aftermarket exhaust.
In terms of what you can expect from this upgrade; it will free up some power and make your exhaust louder. How much extra power you get will depend entirely on what other mods you pair the exhaust with.
Upgrading your stock exhaust system is easy but there are several things you need to consider before you go ahead with the modification.
In this article, we've outlined everything that you need to know before installing an aftermarket exhaust system, and we've reviewed some of the best options for your Scion FRS.
Things to Consider Before Upgrading Your Exhaust
Something that is often misunderstood in the car community is how much additional power you can gain from simple bolt-ons like cold air intakes and cat-back exhausts.
Catback exhausts have little to no impact on naturally aspirated FA20 performance. Expect no more than 2 to 5 whp from just the exhaust.
The most prominent bottleneck in the stock FRS exhaust system is the exhaust manifold and primary cat. That's where the most amount of power can be made.
Pairing your catback exhaust with aftermarket headers is the way to go if you want naturally aspirated power.
We recommend equal-length headers for a traditional 4-cylinder sound and unequal-length headers for the classic Subaru rumble.
However, if you have an FRS supercharger and aftermarket headers installed, then introducing a catback exhaust into that equation will have a much bigger impact.
As long as you don't alter the primary catalytic converter and keep the stock exhaust manifold intact, you won't see the check engine light or error codes like P0420.
This code indicates catalytic converter failure, and it will cause your cruise control to stop working.
Changing any component other than the stock manifold won't trigger the CEL; it's only the primary cat-con in the exhaust manifold that gets monitored by the ECU.
If you intend on deleting your catalytic converters by installing either a catless header or front pipe then consider choosing a quiet catback or axle back exhaust system to keep the drone under control. High-flow front pipes and resonators are also an option.
The Best Exhausts for Scion FRS
Which aftermarket exhaust you should choose for your FRS depends on how loud you want your car to be.
Aesthetics is another consideration you can make — whether you prefer the look of single exit, dual, or quad exhaust mufflers, and what other modifications you intend on installing in the future, like forced induction.
Below we've listed and reviewed some of the best FRS exhausts that you can buy at the time of writing.
Tomei Expreme Ti Type 60S
Manufacturer: Tomei
Part Number: TB6090-SB03A
Piping Diameter: 80 mm
Tip Size: 115 mm
Layout: Single exit
Construction: Titanium
Buy On: Enjuku Racing | Amazon
Tomei exhausts are best known for being aggressively loud and lightweight, which explains why they're a common sight on race tracks.
There's nothing subtle about the Expreme Ti Type 60S. It does growl but at the same time, it's not raspy or annoying. DIY installation is a breeze and all you need is basic tools.
If having a lightweight, single exit exhaust is important to you and you don't care about how loud your car is, this is the right choice for you.
Tomei's packaging is meticulous. In the box you'll get:
Connecting pipe
Tailpipe
4 springs
Antisieze
Sound reducer
Tomei badge
Stickers
The reason why this exhaust weighs only 14 lbs compared to the 38 lbs OEM exhaust is that it's constructed entirely from titanium. This sets it apart from other exhausts on this list that feature stainless steel construction and titanium tips.
Toyota TRD Catback Exhaust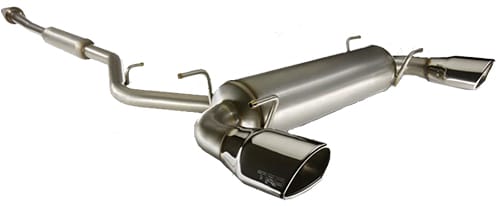 Manufacturer: Toyota
Part Number: PTR03-18131
Piping Diameter: 60 mm
Layout: Dual exit
Construction: Stainless steel
Buy On: Amazon
If you like the OEM plus style of modding, then you must definitely consider the TRD catback exhaust. It's designed by Toyota, and the one listed here is developed exclusively for the Scion FRS.
This dual-exit exhaust really shines if the rest of your intake and exhaust system is completely stock.
But if you have any other exhaust mods like aftermarket headers, midpipe, or resonators, then you will definitely experience drone between 1500 rpm and 3000 rpm with the TRD exhaust.
With everything else stock, expect a deep exhaust note with lots of bass. Definitely a lot deeper and nicer sounding than the stock exhaust.
The TRD catback also has unique exhaust tips, resembling an upside-down capital "D", making it stand out in contrast to rounded tips.
Invidia N1
Manufacturer: Invidia
Part Number: HS12SSTGTP
Piping Diameter: 60 mm
Tip Size: 101 mm
Layout: Dual exit
Construction: Stainless steel
Buy On: Enjuku Racing | Amazon
The N1 from Invidia is a dual-exit stainless steel catback exhaust that you can use with or without the silencers that are provided with it. These deaden the noise quite a bit, which some FRS owners prefer because of how loud the N1 can get.
This exhaust sounds deep and has a rumbling aggressive tone. It beautifully emphasizes the typical boxer sound and doesn't drone much unless the engine is under heavy load.
It's not nearly as quiet as the Invidia Q300, but it is quieter than most other exhausts on this list, especially the Tomei Expreme Ti 60S. Pair it with unequal-length headers and it will sound absolutely awesome.
HKS Hi-Power Spec-L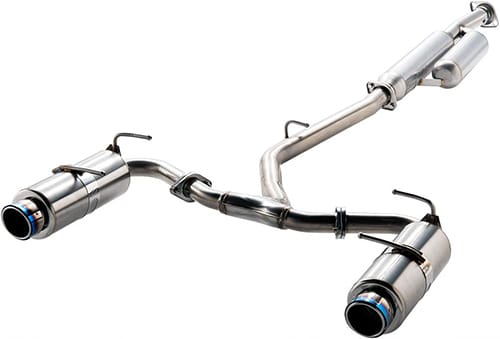 Manufacturer: HKS
Part Number: HKS 32016-BT001
Piping Diameter: 60 mm
Tip Size: 95 mm
Layout: Dual exit
Construction: Stainless steel and titanium
Buy On: Amazon
HKS's Hi-Power exhaust system is constructed using high-quality stainless steel and comes with dual titanium tips. It has a deep, refined tone that is louder than stock, but not nearly as loud as the Tomei Expreme.
It does drone quite a bit when the engine is under load; when you're driving uphill with the air conditioner on, for instance. This is most noticeable between 2000 rpm and 4000 rpm.
One thing we like about this exhaust is that it provides a slight bump in top-end performance, which is useful when you're at the track.
Borla S-Type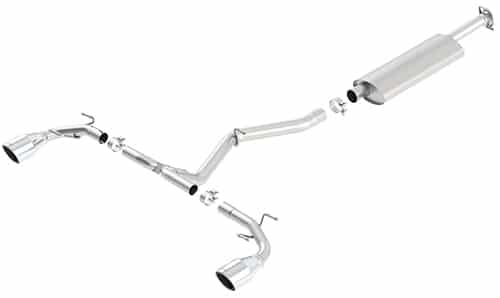 Manufacturer: Borla
Part Number: bor140496
Piping Diameter: 63 mm
Tip Size: 108 mm
Layout: Dual exit
Construction: Stainless steel
Buy On: Enjuku Racing | Amazon
The Borla S-Type is a fully stainless steel exhaust and might initially strike you as plain. It doesn't have burnt tips or anything flashy to make it stand out.
However, it provides an excellent deep tone and can give you some crackles and pops on downshifts. This is a great setup for anyone looking for a quality exhaust that does not automatically stand out as an aftermarket exhaust.
Perrin Brushed Catback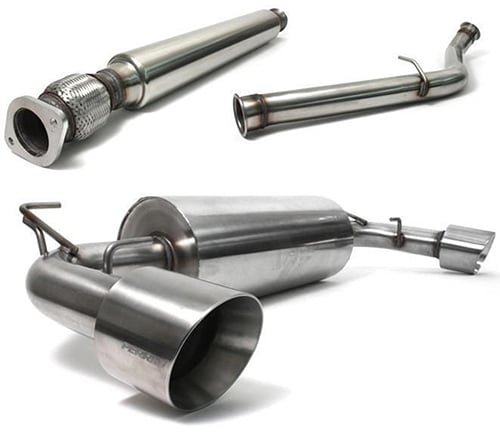 Manufacturer: Perrin
Part Number: PSP-EXT-367BR
Piping Diameter: 61.8 mm
Tip Size: 101 mm
Layout: Dual exit
Construction: Stainless steel
Buy On: Amazon
The Perrin catback exhaust is constructed from high-quality 304 brushed stainless steel. It features v-band piping connections for extra durability, along with 4″ slash tips.
Despite being one of the quieter exhausts on this list, it sounds deep and refined. It comes with a resonator, a 2.5″ diameter center-pipe, a mid-pipe, and is 5.1 lbs lighter than the stock exhaust.
Greddy Revolution RS
Manufacturer: Greddy
Part Number: gre10118409
Piping Diameter: 76 mm
Tip Size: 115 mm
Layout: Single exit
Construction: Stainless steel
Buy On: Enjuku Racing | Amazon
Greddy's Revo RS exhaust is a budget-friendly single exit catback exhaust that's almost as loud as the Tomei 60s. It exits from the driver's side if that's something that matters to you.
Because of how large the tailpipe is, consider installing a headshield around your bumper cutouts to prevent them from melting.
Being a low-priced exhaust, quality control issues aren't uncommon. Expect to run into minor fitment problems, but it's nothing a few spare bolts can't fix.
Magnaflow 15157
Manufacturer: Magnaflow
Part Number: MF-15157
Piping Diameter: 63 mm
Tip Size: 101 mm
Layout: Dual exit
Construction: Stainless steel
Buy On: Amazon
The Magnaflow 15157 is a sleek stainless steel dual-exit exhaust for the Scion FRS. It's a great choice if you want a loud, bass-heavy exhaust note without any rasp.
It sounds deep and drone-free for the most part. You will notice some drone around 2000 rpm but that's typical of any aftermarket exhaust.
Positioning the exhaust to line up perfectly with the bumper cutouts is a common problem with the 15157 series exhausts. You will have to tweak the hangers a bit to get the fitment right.
Corsa Performance
Manufacturer: Corsa Performance
Part Number: 14864x
Piping Diameter: 63.5 mm
Tip Size: 114.3 mm
Layout: Dual exit
Construction: Stainless steel
Buy On: Enjuku Racing | Amazon
The Corsa Performance catback is a dual exit exhaust with anti-drone technology. It does sound gimmicky, but it works like a charm. That's why it's one of the least droney exhausts you can buy for your FRS.
Despite that, it's plenty loud and it's safe to say that it's one of the best-sounding exhausts for this platform. We recommend pairing it with a catted header or simply keeping the rest of your exhaust system stock.
Invidia Q300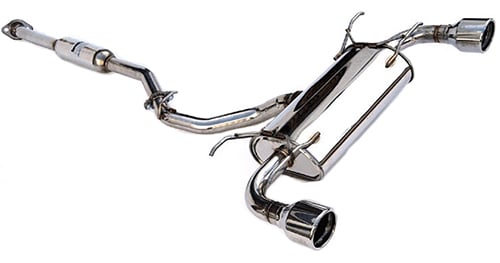 Manufacturer: Invidia
Part Number: INV-HS12SSTG3T
Piping Diameter: 60 mm
Tip Size: 110 mm
Layout: Dual exit
Construction: Stainless steel and titanium
Buy On: Amazon
The quietest FRS exhaust on this list (and probably the quietest of all) the Q300 is known to be even softer than the Invidia N1. But that's assuming that you don't add any more aftermarket exhaust parts.
A unique aspect of the Q300's design is that it features a flat-bottomed muffler. This is done to aid aerodynamic performance.
Our Top Picks
As we've iterated before, the right exhaust for you is the one that suits your personal tastes and modification plans for your FRS.
For example, even though you might want the lightest exhaust system for weight reduction, you might not want something like the Tomei Expreme 60s because you prefer the look of dual exhaust tips.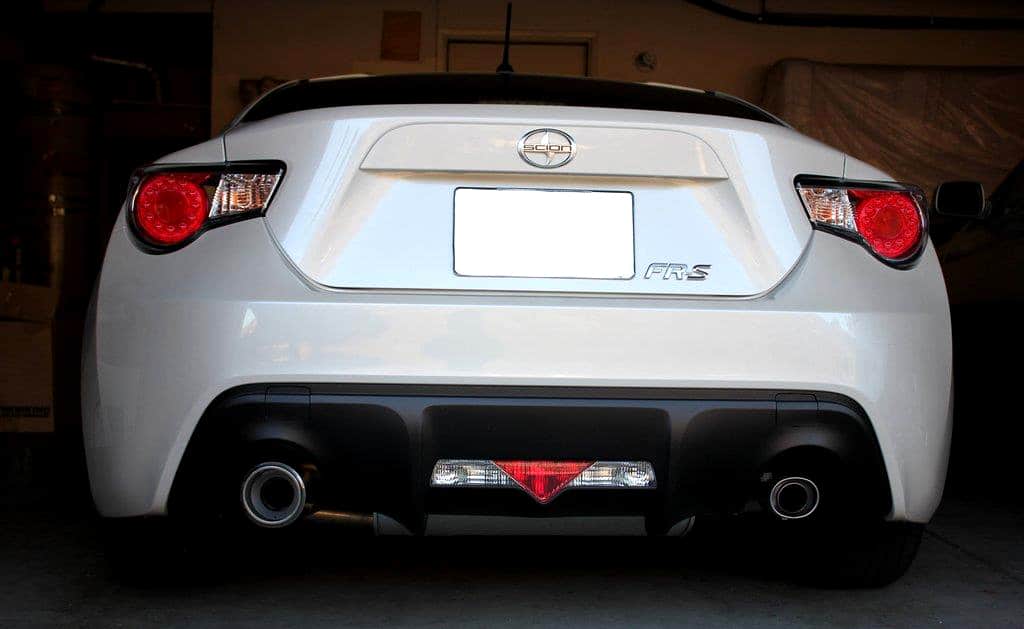 Or maybe you simply want something cheap that'll get the job done. Here are some of our top recommendations for common-use cases.
Single exit exhaust: Tomei Expreme Ti Type 60s
For FRS owners who specifically want a single exit style exhaust, we recommend the Tomei Expreme Ti Type 60S.
It is fully titanium and extremely lightweight. If you're after the loud and aggressive tone, this exhaust is definitely for you.
The 60s looks great and weighs 20 lbs less than your stock exhaust, making it a great choice for those looking to maximize weight reduction.
Best sounding FRS exhaust: HKS Hi-Power Spec L
Exhaust loudness is quite subjective. What's "quiet" for you might be "obnoxiously loud" for someone else.
With that being said, for those who want a great-sounding exhaust system, our top recommendation is the HKS Hi-Power Spec-L.
It's a lot louder than stock, although not nearly as loud as some others on our list, so you get the volume without going overboard. You also get the titanium burnt tips for a nice look on your FRS.
Quietest exhaust: Invidia Q300
For FRS owners who don't want a super-loud exhaust, we recommend the Invidia Q300. Despite being quieter than every other option on our list, it sounds really good. You will get a deeper tone, no rasp, and minimal drone.
Know any more FRS exhausts that you'd like for us to include on this list? Let us know by leaving a comment below!
If this article has helped you choose the right catback exhaust for your FRS, please share it with your friends on Reddit, Facebook, or any of your favorite online communities. We appreciate your support!