There is a certain allure to classic cars. They're a lot more mechanical than modern vehicles, and they provide an unmistakably analog driving feel that everyone loves.
Many classic cars are steeped in history, some are even regarded as legendary, capturing the hearts of young and old drivers alike.
One of the biggest concerns when deciding whether to purchase a classic car is reliability. Can you drive it without being left on the side of the road all the time?
In this article, we've compiled a list of the best classic cars and trucks you can drive daily.
The Best Classic Daily Drivers
We'll start with the overall best classic cars, regardless of price point — everything from iconic JDM cars heroes to rugged American muscle, there's something for everyone!
Further into the article, we'll take a look at some of the most sought-after classic trucks and other classic cars under 15k.
MKIV Toyota Supra
Years: 1993-1998
Domestic market: JDM
Engine: Twin turbo 3.0L 2JZ-GTE I6
Power output: 320 hp
Torque specs: 325 lb-ft
Drivetrain: RWD
Power to weight ratio: 0.092 hp/lb
Curb weight: 3,494 lbs
The MKIV Supra is one of the most admired and desired Japanese sports cars of all time, but whether or not it qualifies as a classic car is debatable. Many believe it is a future classic.
The stock twin turbo 2JZ engine puts out 320 hp, but there is also a huge aftermarket and tuning community that has shown this car can handle much more power.
So if you're after a car you can modify to crazy numbers like 1,000 hp, this might be the one for you.
Or you can run the stock engine with a very respectable power output, not to mention it'll be much more reliable this way. To each their own!
One of the coolest aspects of the Supra is its interior. The controls sweep out and around the driver, resembling the inside of a fighter jet. It's definitely one of the most striking cockpits.
Datsun 240z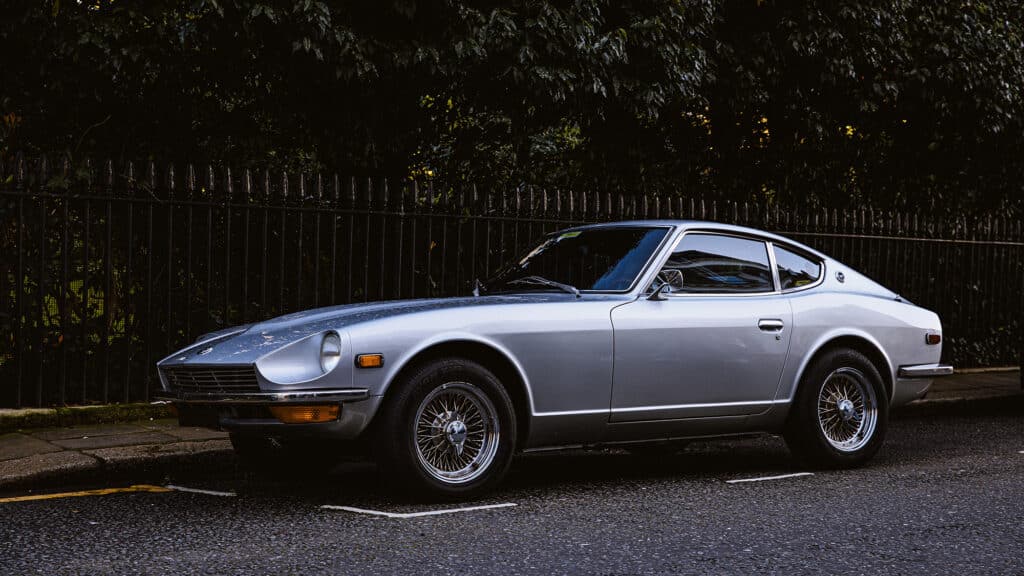 Years: 1970-1973
Domestic market: JDM
Engine: Naturally aspirated 2.4L L24 I6
Power output: 151 hp
Torque specs: 146 lb-ft
Drivetrain: RWD
Power to weight ratio: 0.063 hp/lb
Curb weight: 2,302 lbs
The original Z car is the Datsun 240z. This was Datsun's attempt to create a fun-to-drive car that wasn't out of reach for the everyday consumer. Needless to say, they succeeded.
The 240z was a lightweight, RWD, inline 6 analog car that looked great while also being affordable. Today, they continue to appreciate in value, which is a testament to how much of a true driver's car the 240z is.
A 7.8 second 0-60 time also made it appealing, as many sports cars at the time were curiously slower than family sedans.
C4 Corvette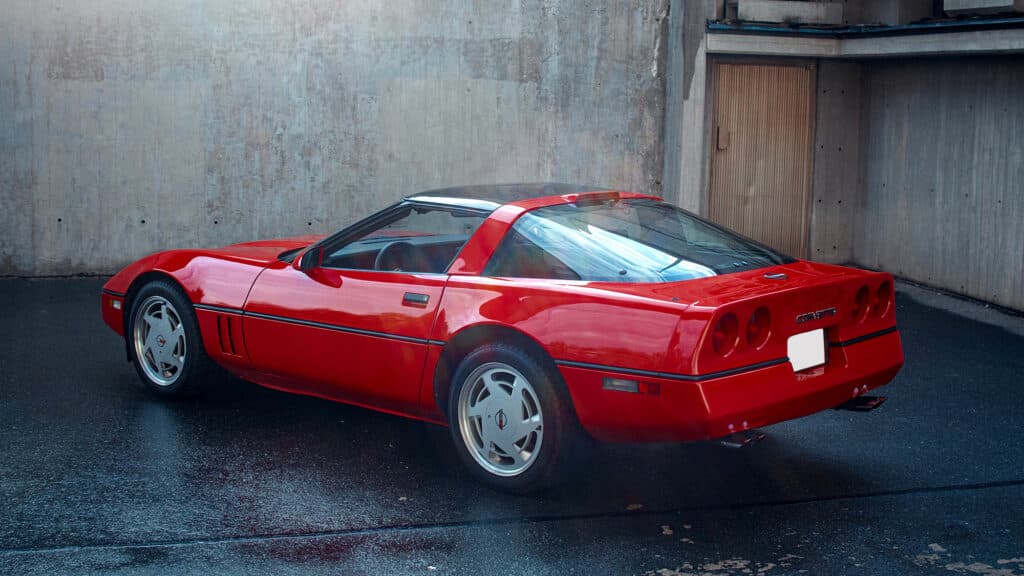 Years: 1992-1996
Domestic market: USDM
Engine: Naturally aspirated 5.8L LT1 350CL V8
Power output: 375 hp
Torque specs: 370 lb-ft
Drivetrain: RWD
Power to weight ratio: 0.116 hp/lb
Curb weight: 3,219 lbs
The C4, or 4th generation, Corvette is nothing short of a quintessential example of high-powered American V8s.
It's naturally aspirated and huge, with a 5.8L engine under the hood. The Corvette embodies the phrase "there's no replacement for displacement".
The Corvette has long, sloping body lines and can be enjoyed as a coupe, targa top, or convertible.
Whether windows down or top down, the Corvette is the perfect companion for cruising down your local strip on warm summer evenings.
Nissan 300ZX TT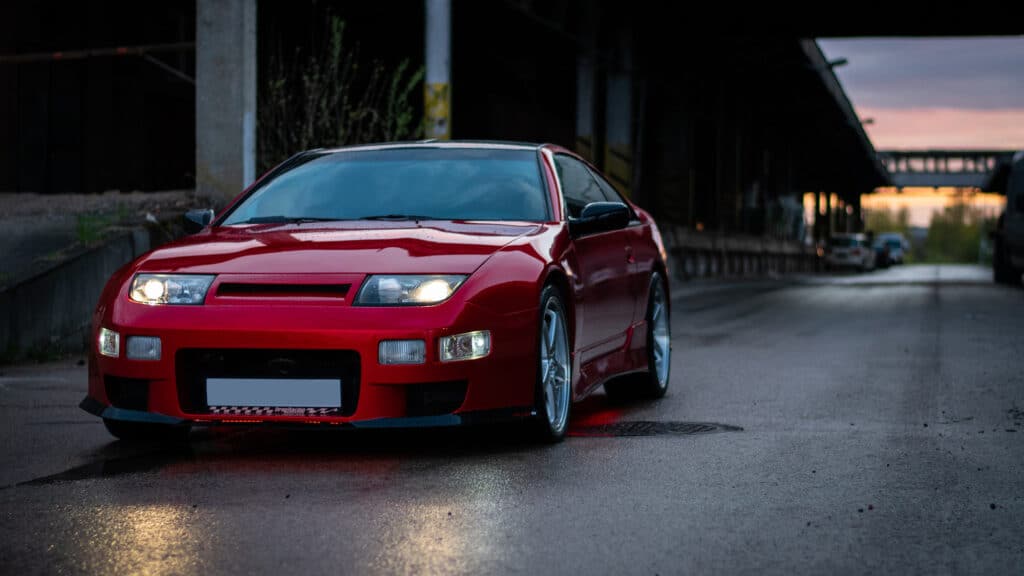 Years: 1990-1996
Domestic market: JDM
Engine: Twin turbo 3.0L VG30DETT V6
Power output: 300 hp
Torque specs: 276 lb-ft
Drivetrain: RWD
Power to weight ratio: 0.084 hp/lb
Curb weight: 3,571 lbs
While they also made a naturally aspirated version, the twin turbo 300ZX is the one that has enthusiasts longing. It's the 4th generation of the Z-car, with a timeless design that still looks modern today.
Although this car has not appreciated as much as the MKIV Supra has, the TT 300ZX was a Supra rival in the 90s. It is also the last Z-car to come turbocharged from the factory, at least until the 2023 Z comes out.
The interior is very simple but driver-focused. The car is meant to be driven, and it's clear that Nissan spent their time creating a powerful car with excellent handling.
Acura NSX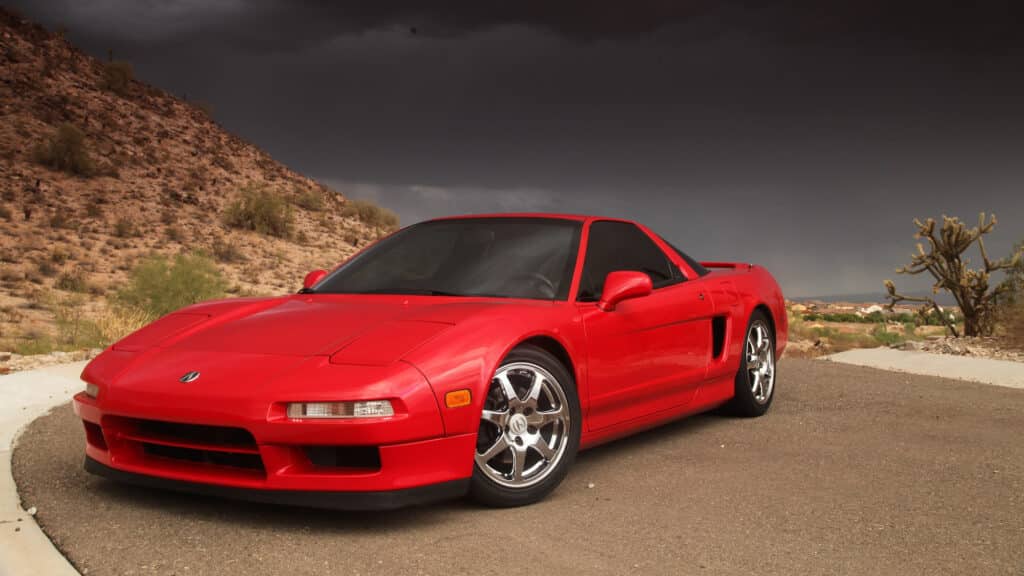 Years: 1990-1996
Domestic market: JDM
Engine: Naturally aspirated 3.0L C30A V6
Power output: 270 hp
Torque specs: 252 lb-ft
Drivetrain: RWD
Power to weight ratio: 0.09 hp/lb
Curb weight: 3,010 lbs
Have you ever wanted a car that was designed to be as close to an F-1 car as possible? Get a first generation Acura NSX!
Seriously, this isn't a joke. Honda painstakingly collected data on existing sports cars, plotted them on a graph, and used this to try to figure out how to make a street car that exceeded the performance of a typical sports car and was closer to an F-1.
And they did it! They created a car that balanced comfort and performance in a way that had journalists claiming it would change the future of sports cars.
It's powerful, fairly light, and fun to drive without sacrificing all the creature comforts you often have to forgo for high performance.
Porsche 911
Years: 1990-1994
Domestic market: EDM
Engine: Naturally aspirated 3.6L M64/01 flat 6
Power output: 247 hp
Torque specs: 228 lb-ft
Drivetrain: RWD
Power to weight ratio: 0.083 hp/lb
Curb weight: 2,976 lbs
Owning a Porsche is seen as a status symbol for both enthusiasts and non-enthusiasts alike. But as a car lover, you're after the performance, not the prestige the Porsche badge brings.
Try the early 1990s 911. It is, arguably, the best looking 911 out there. There's driving a RWD sports car, then there's driving a rear-engine, RWD flat-six Porsche. It's simply another dimension of driving.
So why not get one and daily drive it? While leaving it in a garage is likely to leave the value unaltered and only increasing, it's meant to be driven!
BMW M3 E30
Years: 1987-1991
Domestic market: EDM
Engine: Naturally aspirated 2.3L S14 I4
Power output: 200 hp
Torque specs: 177 lb-ft
Drivetrain: RWD
Power to weight ratio: 0.078 hp/lb
Curb weight: 2,568 lbs
The BMW M3 E30 is highly regarded as one the best BMWs ever, and their appreciation curve definitely shows that.
It's got that classic 80s square body with round headlights, and although it isn't a classic inline-6 BMW, the 4-cylinder engine produces a decent 200 hp. The car weighs less than 2,600 lbs, too, making it one of the best drift cars you can buy.
Even if you have zero interest in getting the car sideways, you'll find the M3 a great place to be for an engaging daily driving experience.
Classic Pickup Trucks
Classic trucks have an undeniable charm, and they're becoming harder to find each day. That's especially true if you want one in good shape, without having to spend countless hours restoring it.
If you are on the look out for one of these, then definitely consider the following options.
Ford Bronco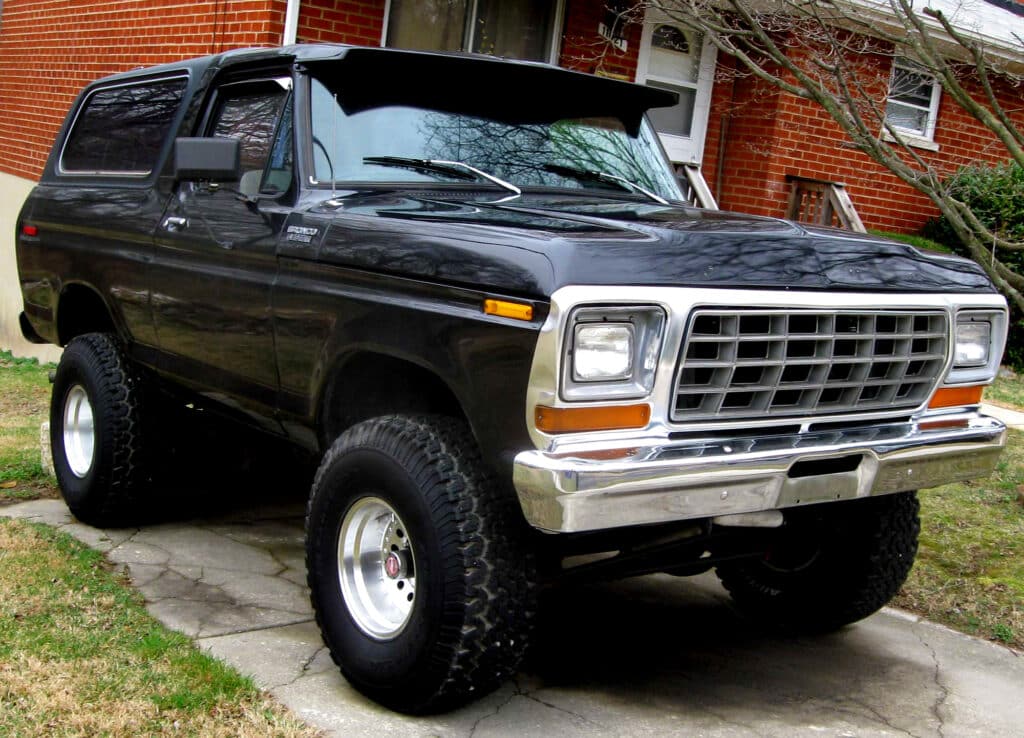 Years: 1978-1979
Domestic market: USDM
Engine: Naturally aspirated 5.8L 351M V8 (or 6.6L 400 V8)
Power output: 158 hp
Torque specs: 262 lb-ft (277 in 6.6L)
Drivetrain: 4WD
Power to weight ratio: 0.034 or 0.033 hp/lb
Curb weight: 4,663–4,718 lbs
The Ford Bronco is a truck with a long history, and one of the most loved generations was produced between 1978 and 1979.
The exterior will look the same regardless, but you can choose between a 5.8 or 6.6L V8, with the latter having a little more torque but also more weight.
The truck performed well off or on-road, and came with a variety of options for both comfort and off-roading capabilities.
So it's possible to find one with specs that best suit your lifestyle, whether you're an avid mountain climber or just want a cool old truck to commute to work in. 
GMC Syclone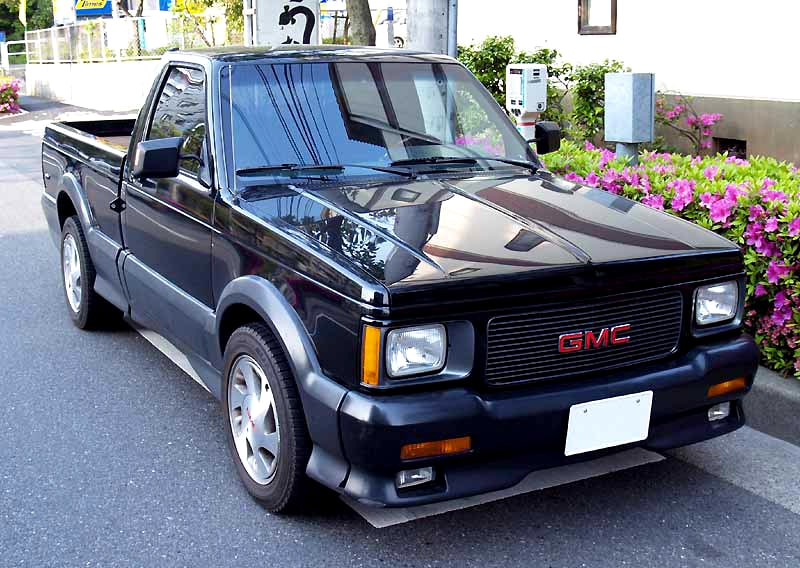 Years: 1991-1992
Domestic market: USDM
Engine: Turbocharged 4.3L LB4 V6
Power output: 280 hp
Torque specs: 350 lb-ft
Drivetrain: AWD
Power to weight ratio: 0.078 hp/lb
Curb weight: 3,600 lbs
If you love sports cars, but want a truck, then the GMC Syclone is the one for you. It hit 0-60 in only 4.3 seconds, which was insane for a truck!
The major downside to this is that it featured a lower ride height and was not intended to be used for off-roading or any major hauling activities. In other words, this is more of a sport truck than a utility vehicle.
Sadly, GM only made around 3,000 of these; so they can be difficult to come by, but it's guaranteed to put a smile on your face if you get the chance to put the pedal down and hear the turbo V6 roar.
Toyota Land Cruiser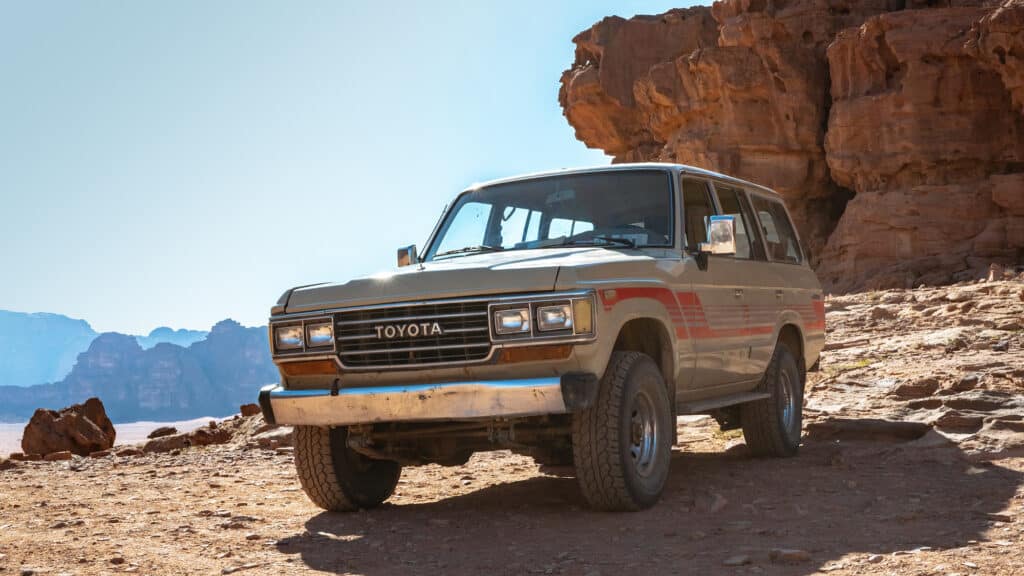 Years: 1992-1997
Domestic market: JDM
Engine: Naturally aspirated 4.5L FZJ80 I6
Power output: 212 hp
Torque specs: 275 lb-ft
Drivetrain: 4WD
Power to weight ratio: 0.045 hp/lb
Curb weight: 4,760 lbs
The Toyota Land Cruiser has been around for a long time, and one of the preferred iterations for daily driving is the 80 series from 1992 to 1997. The engine is known for being highly reliable, lasting hundreds of thousands of miles.
The Land Cruiser combines off-road ruggedness with comfort and class, making it a blend of off-road trucks and luxury SUVs, in a way.
These vehicles have long been considered collector's models, and you'll find it capable on rough terrain as well as being a comfortable driver on the highway.
Nissan Hardbody
Years: 1990-1995
Domestic market: JDM
Engine: Naturally Aspirated 3.0L VG30E V6 
Power output: 154 hp
Torque specs: 180 ft-lb
Drivetrain: 4WD
Power to weight ratio: 0.041 hp/lb
Curb weight: 3,765 lbs
The Nissan Hardbody has an iconic, square appearance and was a very popular mini-truck in the 1990s.
The truck was not only a loved consumer's vehicle, but also proved itself in SCCA and off-road motorsport events. So this is a truck with some racing heritage, too.
The average price hovers slightly below $10k, too, so it's fairly affordable. Given its capabilities, you can drive it as a daily truck or even use it for more extreme off-roading or performance purposes!
Daily Driver Classic Cars Under 15k
Buying cheap classic cars is always a gamble. We've seen instances of misdiagnosed gems going real cheap, and we've also seen people spending tens of thousands of dollars on a lemon.
With that in mind, take the "under 15k" idea with a pinch of salt, because how much you'll end up paying depends on several variables. Below you'll find some of the few classic cars that you can buy in this price range at the time of writing.
Mazda MX-5 NA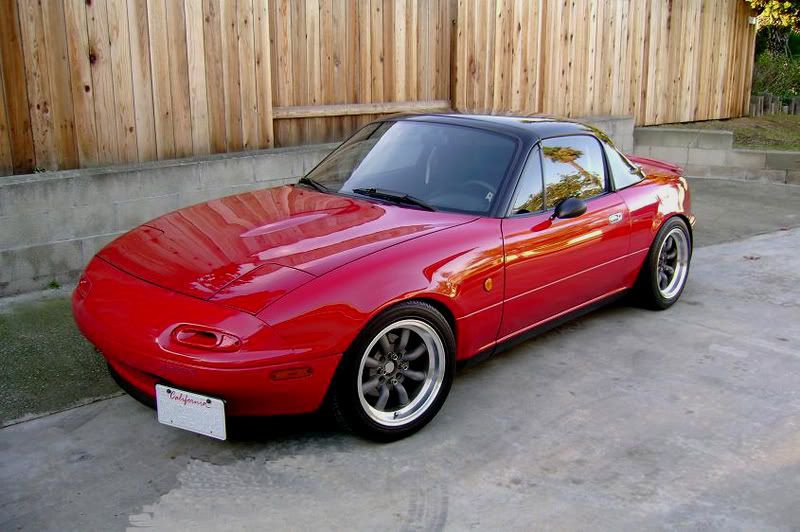 Years: 1994-1997
Domestic market: JDM
Engine: Naturally aspirated 1.8L BGZE(RS) I4
Power output: 128 hp
Torque specs: 110 lb-ft
Drivetrain: RWD
Power to weight ratio: 0.055 hp/lb
Curb weight: 2,330lb
Some enthusiasts swear that a Miata is always the answer. The NA is the original Miata, and opting for one made between 1994 and 1997 gets you a slightly more powerful 1.8L engine.
Of course, it still isn't fast, but it's not the slowest car in the world either. It's not supposed to be — Miatas are about lightweight, dynamic, and fun driving. If top-down cruising on backroads is what you're after, the Miata might be the one for you.
Also, modifying Miatas is extremely fun and easy thanks to the vast aftermarket community.
BMW E36 325i
Years: 1993-1995
Domestic market: EDM
Engine: Naturally aspirated 2.5L M50B25TU I6
Power output: 189 hp
Torque specs: 184 lb-ft
Drivetrain: RWD
Power to weight ratio: 0.064 hp/lb
Curb weight: 2,932 lbs
The sound of a BMW I6 never gets old. If the aforementioned M3 is out of your budget, check out the E36 325i. You still get that sweet I6 along with respectable power in an RWD chassis that weighs under 3,000 lbs!
E36s are highly regarded by enthusiasts for their driving experience, engine, and reliability.
This car provides a sporty daily driver that also has some luxury in the interior, providing an upscale feel in comparison to a lot of other sports cars on the market. Not to mention it has a backseat.
Nissan 300ZX Z31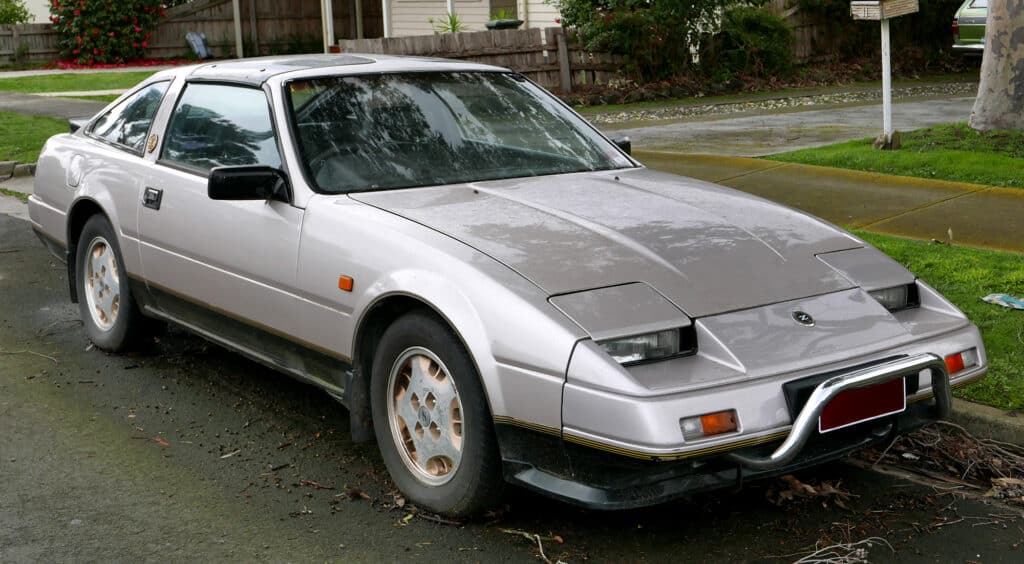 Years: 1984-1989
Domestic market: JDM
Engine: Turbocharged 3.0L VG30ET V6
Power output: 200 hp
Torque specs: 227 lb-ft
Drivetrain: RWD
Power to weight ratio: 0.064 hp/lb
Curb weight: 3,139 lbs
Classic Datsun/Nissan Z cars are appreciating, and appreciating fast. The first iteration of the 300ZX, the Z31, is no different. The average price creeps just above $15,000, though, so there are deals out there at or under that 15k mark.
The 300ZX comes with a turbocharged V6, T-tops and some technology that was considered ahead of its time in the 1980s. Higher trims come with a digital dash, which is very rare for that time period.
Imagine being behind the wheel with the soft green glow of a futuristic dash in front of you, and a turbo ready to spool up, a time capsule for sure!
Volkswagen Golf GTi Mk2
Years: 1986-1989
Domestic market: EDM
Engine: Naturally aspirated 1.8L PL I4
Power output: 137 hp
Torque specs: 116 ft-lb
Drivetrain: FWD
Power to weight ratio: 0.068 hp/lb
Curb weight: 2,028 lbs
The Volkswagen GTI remains a popular new car today with a long history and respected heritage, and you can own what is widely regarded as the best classic GTI for under 15k!
The Mk2 is super lightweight at a mere 2,028 lbs, making its 137 hp output all the more impactful. The driving experience is engaging and lively.
The great thing about Mk2s is that parts are easy to source, making this a good choice for a daily driver that will need regular maintenance.
Toyota MR2 W10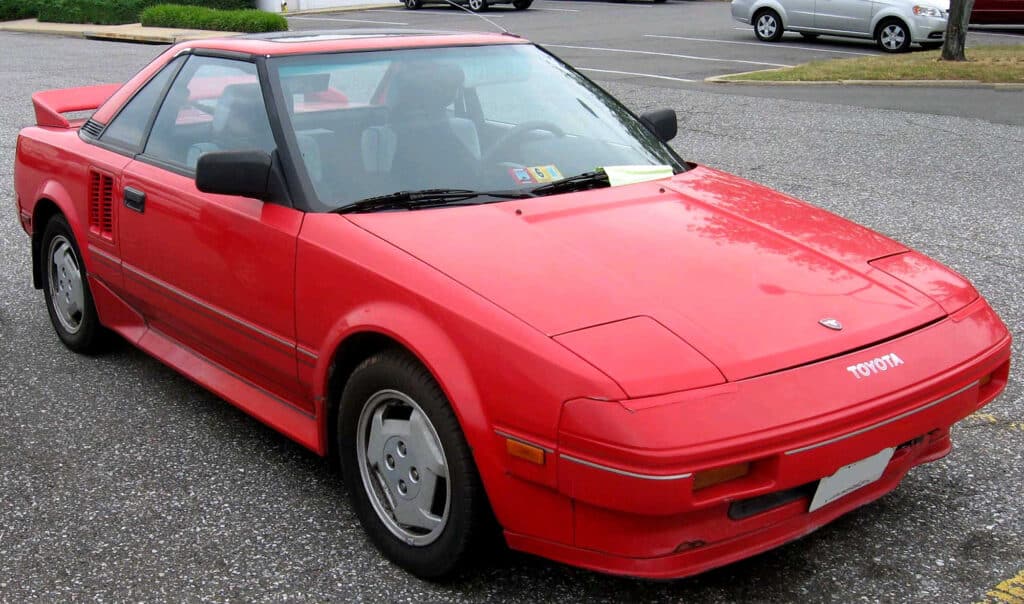 Years: 1985-1989
Domestic market: JDM
Engine: Naturally aspirated 1.6L 4A-GE I4
Power output: 112 hp
Torque specs: 104 lb-ft
Drivetrain: RWD
Power to weight ratio: 0.048 hp/lb
Curb weight: 2,350 lbs
The Toyota MR2 holds the title for being the first mass-produced Japanese mid-engine car.
Mid-engine cars are prized for their superb handling, and are often only found on much more expensive vehicles, making the MR2 a truly special car.
The MR2 has iconic 1980s styling, with a very angled and boxy body design. It's a great choice for an excellent handling sports car that can carve backroads like no other.
Beware, however, of some oversteering. This can be mitigated by driving well and not pushing the car too far, but is something to remember when piloting this mid-engine rocket.
Porsche 944
Years: 1982-1990
Domestic market: EDM
Engine: Naturally aspirated 2.5L M44/40 I4 (2.7L)
Power output: 143 hp (163)
Torque specs: 137 lb-ft
Drivetrain: RWD
Power to weight ratio: 0.055 or 0.056 hp/lb
Curb weight: 2,601 lbs (2932)
Believe it or not, there's still a Porsche you can get for under 15k! It comes in the form of the 944. Between 1982 and 1990, you get a choice of a 2.5 or 2.7L engine, producing either 143 or 163 hp.
The 944 had several engine variations, which is why we've included these two here. The car will look identical on the outside, however.
Although true of all vehicles, be extra careful of buying a 944 without detailed maintenance records. They can be reliable, but if you buy one that's been poorly treated or neglected, you can expect a world of repairs in your future .
With a 2+2 layout and a relatively roomy cabin, you also get something that's suited for daily driving while still being a RWD sports car.
Honda CRX
Years: 1988-1991
Domestic market: JDM
Engine: Naturally aspirated 1.6L D16A6 I4
Power output: 105 hp
Torque specs: 98 lb-ft
Drivetrain: FWD
Power to weight ratio: 0.052 hp/lb
Curb weight: 2,017 lbs
While you can't get the SI trim for under 15k anymore, the base CRX is still available and a lot of fun.
The FWD hatch produces only 105 hp, but also weighs a mere 2,017 lbs, making this a car you can flick around corners with ease.
Not only is this car fun to drive, but it's a great daily option with rising gas prices, averaging 44 combined city/highway mpg! Plus, there's a 1 million mile CRX out there, and it's using the original engine, so these cars are meant to last.
Our Verdict
All of these cars are great choices; clean examples of any will make for an excellent classic daily driver. It heavily depends on your needs — 2 seater or 4 seater? Off-roading? How much cargo? However, let's go over our top picks from each category.
Best daily driver classic car: MKIV Toyota Supra
Supra — classic Toyota reliability in a car that has become legendary. You get the twin turbo 2JZ engine, which is great out of the box but also able to stand up well to heavy modifications.
So whether you want to drive the Supra as engineered or want to build a 700 hp one, you can.
The interior is driver-centric and the fighter jet style center console doesn't get old, making it ideal for enhancing your daily commute.
If you aren't worried about reliability and daily drivability, then also consider the MKIII Supra. The Supra was one of many cars with a 1JZ, and honestly, it's awesome. Want to know more about the motor? Check out our 1JZ vs 2JZ engine guide.
Our favorite classic truck: GMC Syclone
Although the GMC Syclone is our overall favorite for its performance, we have to go with the Nissan Hardbody for the best daily driver option.
The reasoning for this is that the Hardbody is much easier to find than the Syclone, and has the traditional capabilities of a truck to go off-road.
Their V6 engines are reliable and produce a decent amount of power, and you can run them stock with no issues or modify them to suit your tastes. For example, building an off-road beast or a clean truck for the streets.
Best classic car under 15k: NA Miata
Maybe Miata really is always the answer! You just can't go wrong with this car. It's fun to drive, easy to work on, reliable, and parts are readily available.
The Miata is a blast to drive, and although it might take you a bit longer to hit highway speeds, you will have a lot of fun rowing through the gears to get there.
Not only does the Miata make for an excellent classic car to drive daily, but it has a huge enthusiast community as well as aftermarket resources. If you want to modify it, the parts are out there, and probably aren't even that expensive!
What's your favorite classic car of all time? Let us know by leaving a comment below! If you enjoyed reading this post, share it with your friends on Facebook, Reddit, or your favorite car forums!