Subaru's EJ25 was part of the company's transition from the old and aging EA series engines.
Available in naturally aspirated and turbocharged form, the EJ25 can be seen in a variety of cars ranging from the Legacy and Forester to the Impreza and the ever-popular WRX STI.
All EJ engines share a similar construction and they all have 16 valves. The EJ series started with the EJ15; a single overhead cam (SOHC) that made around 90 hp, and then the EJ16, yet another SOHC engine.
Later it was followed by the EJ20: a 120-hp SOHC motor, and the EJ22: a 135-hp engine with similar valvetrain architecture.
The EJ25 was developed with learnings from the EJ20 and EJ22. The 2.5 l unit came in several states of tune, with each engine offering better performance and efficiency.
These inline-four engines were later given various updates to improve fuel economy and stay in line with the emissions regulations.
In this article, we'll be diving deep and discussing all things EJ25. More specifically the specs, various iterations, and reliability.
Subaru EJ25: Engine Specs
Engine code: EJ25D, EJ251,EJ252, EJ253, EJ254, EJ255, EJ257
Layout: Boxer 4 cylinder SOHC/DOHC 16V
Displacement: 2.5 liter (2,457 cc)
Fuel system: Electronic Fuel Injection/Sequential Multi-point FI
Cylinder bore: 99.5 mm (3.92 in)
Piston stroke: 79 mm (3.11 in)
Compression ratio: 9.5:1 – 10:1 (naturally aspirated), 8.0:1 – 9.5:1 (turbo)
Power: 155 hp to 341 hp
Torque: 140 lb-ft to 330 lb-ft
Firing order: 1-3-2-4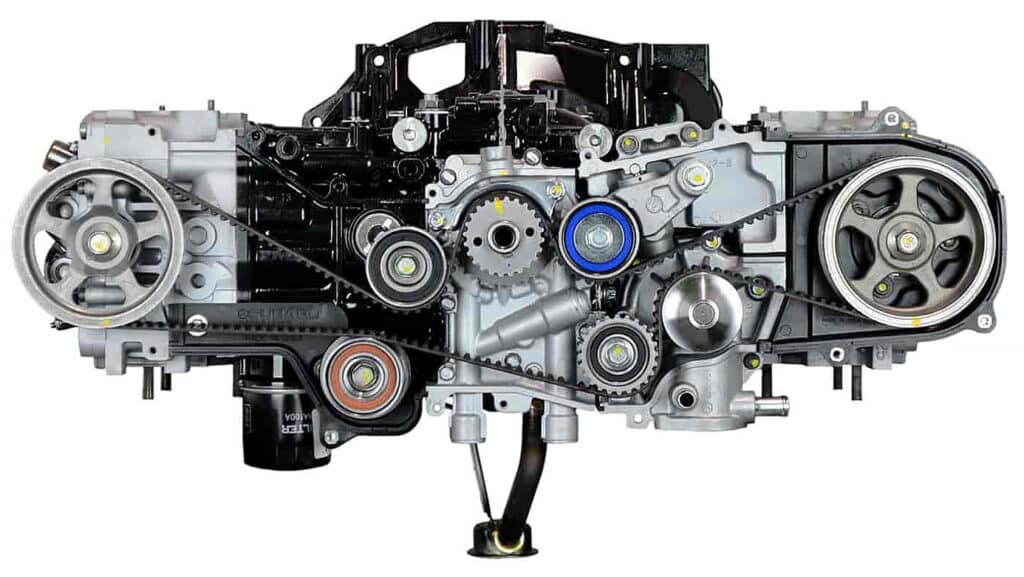 Belonging to the EJ family of engines, the EJ25 shares most of its layout and internals with other popular engines like the EJ20 and EJ22T.
The EJ25 started its life around 1996 as an open deck engine that made 155 hp and 140 lb-ft of torque.
The four-cylinder boxer engine came with all-aluminum everything, from the cylinder block to the heads.
You get a 2,457cc engine, four valves per cylinder with 99.5 mm bore and 79 mm stroke. As for the weight, the EJ25 phase 1 reportedly weighs just under 300 pounds.
Every EJ25 up to 2004 was an open deck engine, with semi-closed versions being introduced later on. EJ25 engine blocks have cast-iron sleeves, SOHC/DOHC aluminum heads, and belt-driven camshafts.
However, it's worth pointing out that multiple versions of the EJ25 are available in both naturally aspirated and turbocharged configurations, just like their 2.5l H4 engine.
Early naturally aspirated engines ran a 9.5:1 compression, while turbocharged EJ25s ran 8.0:1, eventually pushing those numbers to 10:1 and 9.5:1, respectively.
EJ25D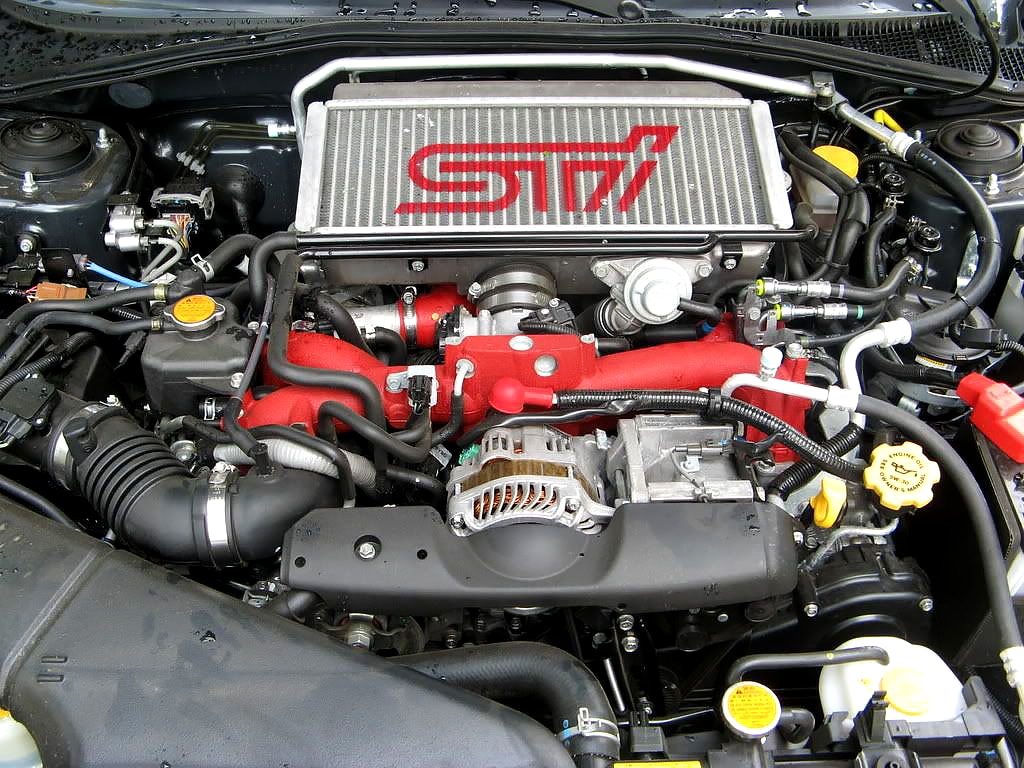 The EJ25 series started with the 25D, commonly found in DOHC configuration. Two versions of the engine were made available: one that ran on 91-octane and another compatible with 87-octane fuel.
The former made use of hydraulic lifters and produced around 155 hp and 140 lb-ft of torque. It was introduced in 1996 and was designed to run on 91-octane fuel but was only available with an automatic transmission.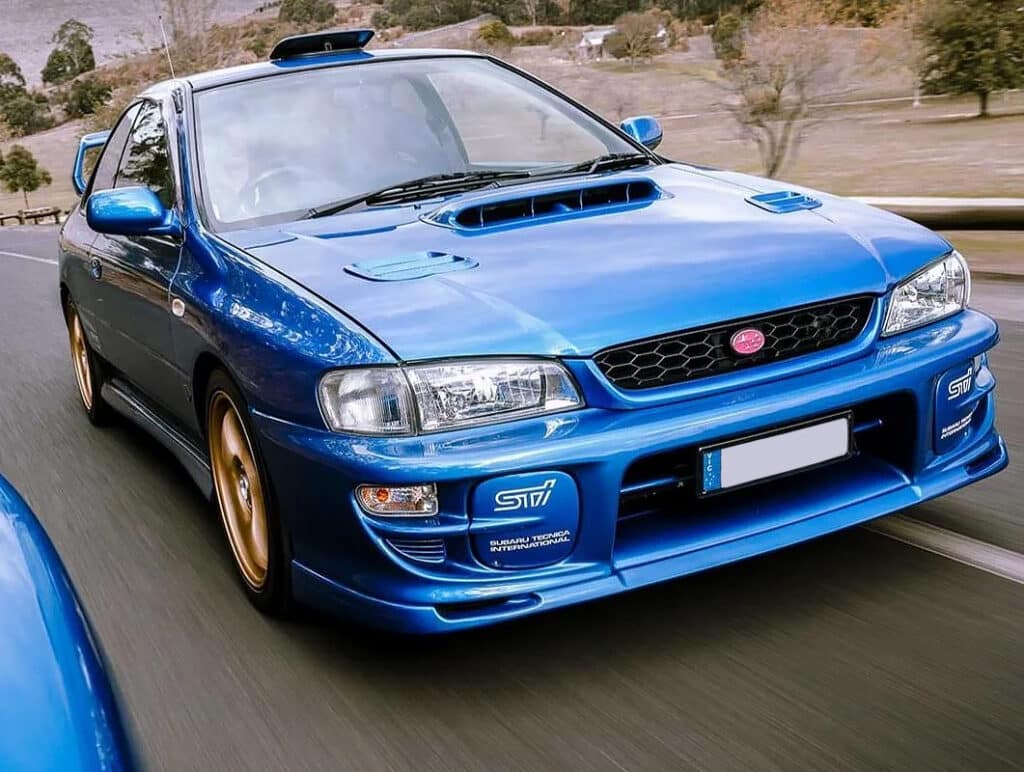 However, a year later, Subaru introduced a revised and more powerful version that used heads with shimmed bucket lifters. The engine churns out 165 hp and 162 lb-ft of torque and can run on 87-octane fuel.
This engine (including its prior variation) was used in:
1998 Forester
Impreza 2.5 RS
Legacy: Outback (wagon), SUS (sedan '98-'99), LSi ('96-'97), and GT
A few key highlights of the 25D are worth mentioning. The EJ25D uses smaller rod journals due to the phase 1 EJ25's offset crankshaft design, compared to the EJ22, which uses a rod journal.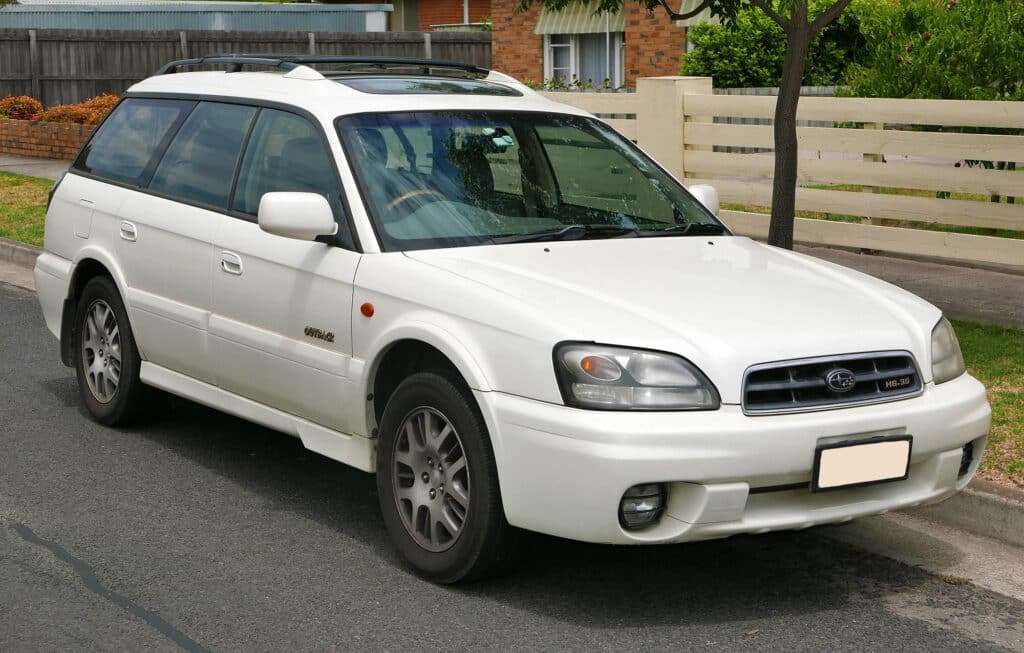 Also, because the 25D's DOHC architecture was fairly complex, it meant accessing the spark plugs became more difficult.
So, Subaru decided to install platinum spark plugs and offered an extended spark plug service life in contrast to the SOHC versions. An oddball here was the 1999 EJ25D with unique hybrid components.
For one year only, this unique EJ25 had phase 2 case halves with an 8-bolt bell housing (as opposed to the 4-bolt bell housing used until 1998) and a phase 2 crankshaft with rod journals.
However, the engine retains the same pistons as the 1997-1998 variant to maintain the same compression ratio. It's fairly rare, and you'll only find this engine in the 1999 Subaru Outback.
EJ251/EJ252/EJ253/EJ254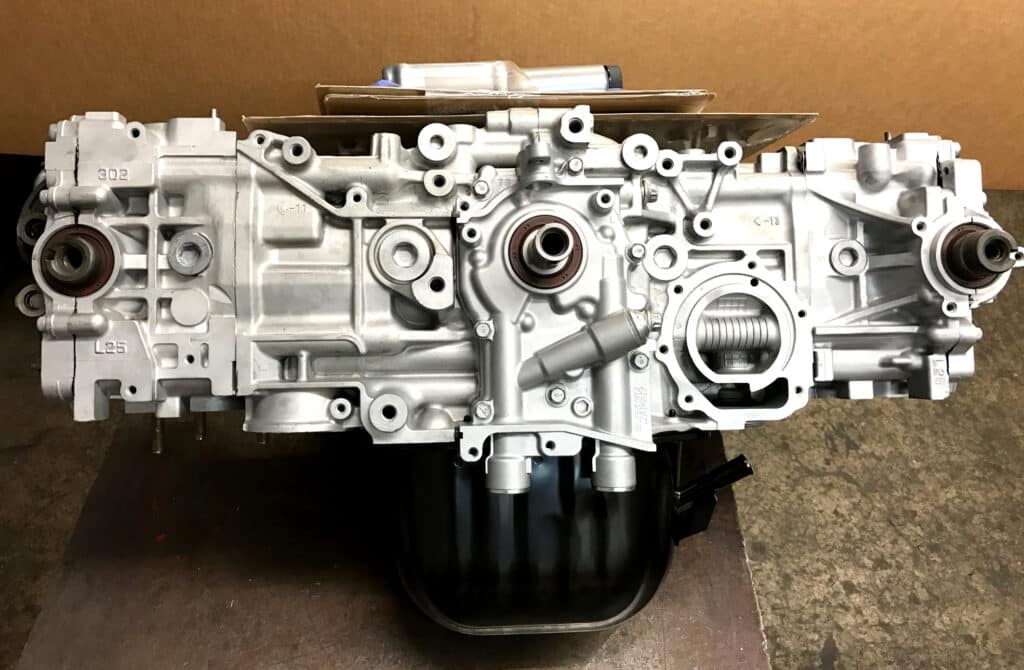 The EJ251 powered a lot of cars and was the first of the SOHC engines to be used by Subaru in the American market. It ran a 10:1 compression ratio and puts out 165 hp and 167 lb-ft of torque.
You'll find the EJ251 being used in the:
Impreza 2.5RS, 2.5TS, 2.5OBS (2000-03 model years),
2000-04 Legacy,
2000-04 Outback (2000-01 with 4-speed EAT),
2003-05 Baja, and
the 2000-04 Forester.
However, it wasn't smooth sailing for the EJ251. Quite a few reliability concerns popped along, ranging from head gasket failures to fluid leaks, prompting Subaru to replace the engine with a new version in many of its models.
The EJ252 was another version used alongside the EJ251. However, it had a short run and was only used in Legacy Outback for the 2000 and 2001 model years.
It was an alternate version of the EJ251 designed to meet California Emissions Standards.
Subaru officially claims 80 percent of engine components were redesigned. The engine features a lighter cylinder head and block, achieved by "eliminating excessive reinforcement."
Also, thinner and lighter cylinder liners were introduced, along with drive-by-wire throttle.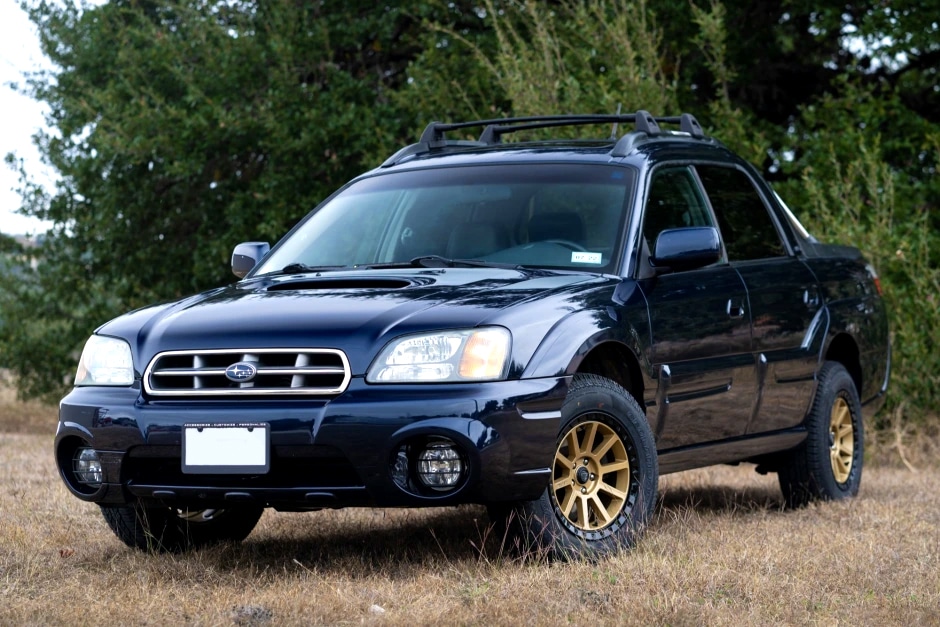 Unofficial claims suggest the EJ251 shares the same block, cams, heads, pistons, and connecting rods with the EJ252.
Most owners can't seem to spot any tangible differences between the two other than the reported power difference (156 hp v/s 162 hp). However, the EJ252 does feature a unique intake manifold and throttle body design.
Found in the Legacy and Outback between 2005 and 2012, the EJ253 was largely similar to the EJ251.
Phase 1 versions produced 162 hp and featured a mass airflow sensor (MAF) in contrast to the 251's manifold absolute pressure sensor (MAP).
Phase 2 engines from 2006 made 175 hp and 169 lb-ft of torque, courtesy of Subarus' AVLS (Active Valve Lift System) technology.
Engines from 2007 onwards, especially the ones featured in PZEV models, made slightly less power — 2 hp and 2 lb-ft less than the Phase 2 engine.
The EJ254 was mostly a JDM motor and featured Subaru's variable valve timing (AVCS). The US domestic market did not receive this version of the EJ25 series, which incorporated a DOHC design.
Despite having variable valve timing, the motor only made 165 hp, on par with the non-AVCS-equipped EJ251 lineup.
EJ255
The EJ255 is one of the more lively versions of the EJ series. You can find this engine (including its variations) in multiple models like the:
Impreza WRX (2006–2014),
Forester XT (2004–2013),
Legacy GT (2005–2012),
Outback XT (2005-2009),
Baja Turbo (2004 – 2006), and
the 2006 SAAB 9-2X.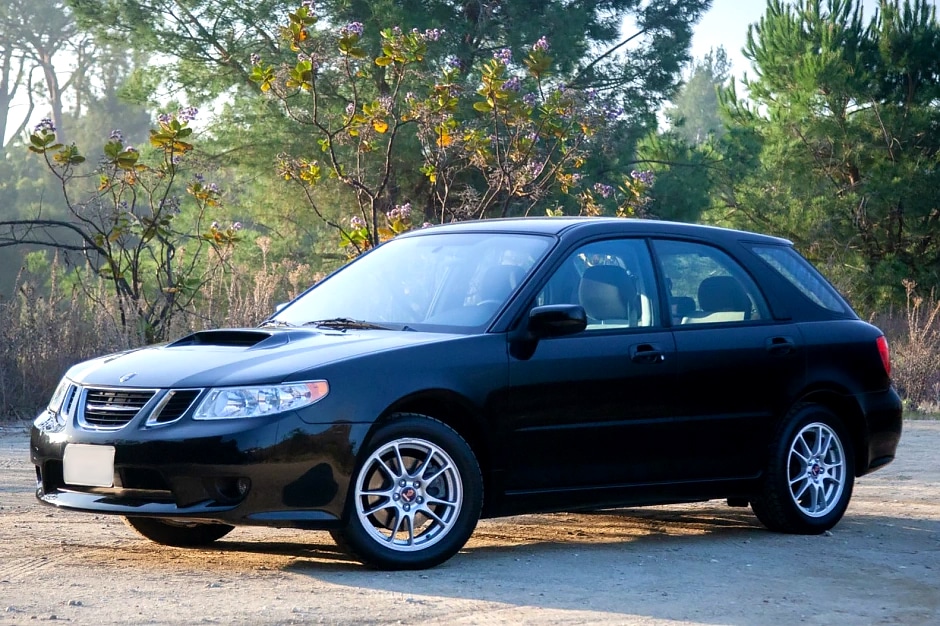 The 2.5 l turbocharged four-banger features DOHC with sodium-filled valves and comes in multiple versions.
Version 1 produces 207 hp and is used in the 2005 and 2006 Legacy as well as the 2004 and 2005 Forester.
The EJ255 shares a lot of mechanical components with the EJ257 (which is discussed below).
Version 2, on the other hand, uses a slightly different AB630 short block and AB820 heads. Versus the early EJ257, there's nothing much differentiating the two, other than the pistons and compression ratio.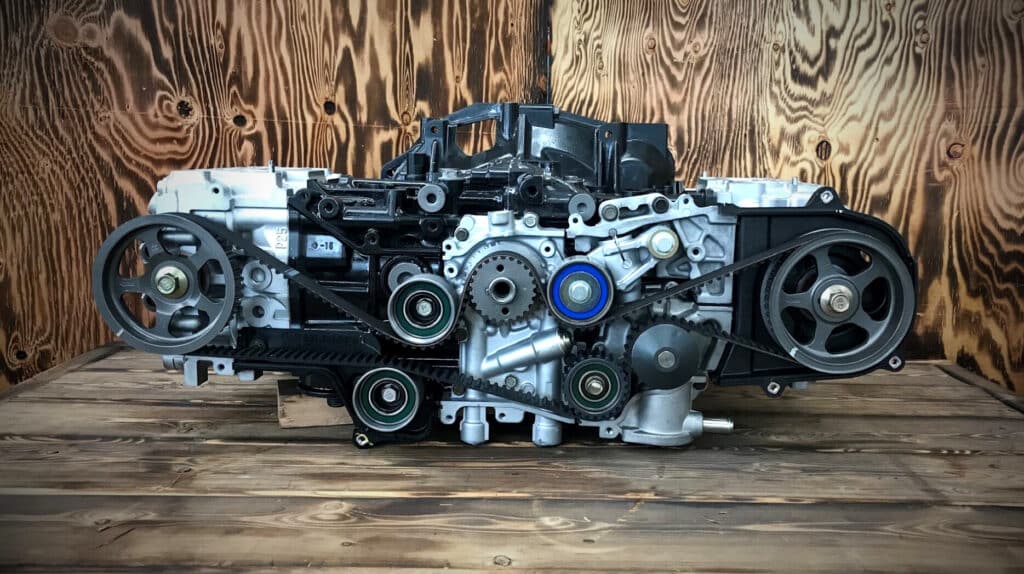 The EJ257 runs 8.2:1, while the EJ255 runs 8.4:1. You'll find the EJ255 Version 2 in 2006 and up Forester, 2006-2008 WRX, and the 2007-2009 Legacy.
As for Version 3, Subaru has given it a lot of upgrades versus prior iterations. For one, the engine now features dual AVCS (Subaru-speak for variable valve timing) on the intake and exhaust sides.
This translates to variable valve operation on both the intake and exhaust cams, resulting in more power and efficiency.
Version 3 produces around 261 hp and runs a higher 9.5:1 compression. The engine uses E25 heads with a scavenge pump running off the passenger intake camshaft.
Although most EJ255s in the US saw their run last until the end of 2013, Subaru still sells the engine in other parts of the world.
European Imprezas and Legacys and Outbacks for the South African and Australian markets can be seen with the EJ255 under the hood.
EJ257
Perhaps the most popular EJ25 engine of all, the EJ257 can be considered the flagship version in the lineup. You'll find the EJ257 in various states of tune across a range of Legacy/Outback, Forester, and STI models.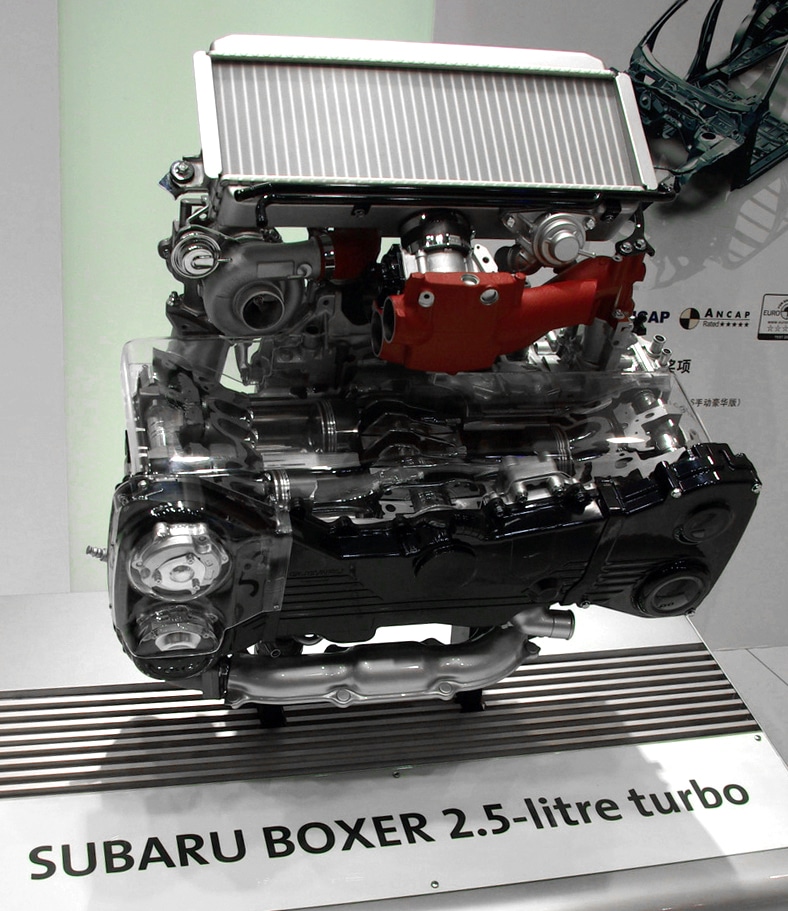 Early iterations of the 257 were very similar in construction to the EJ255. Engines built between 2004 and 2007 share a lot of components with the ones you see inside the 2005-2006 Legacy GT and the 2004-2005 Forester XT.
Things in common include the engine block, heads, and valvetrain.
Impreza WRX STI models between 2004 and 2007 featured the 300 hp version of the EJ257, while STI models between 2008 and 2018 see the output jump to 305 hp.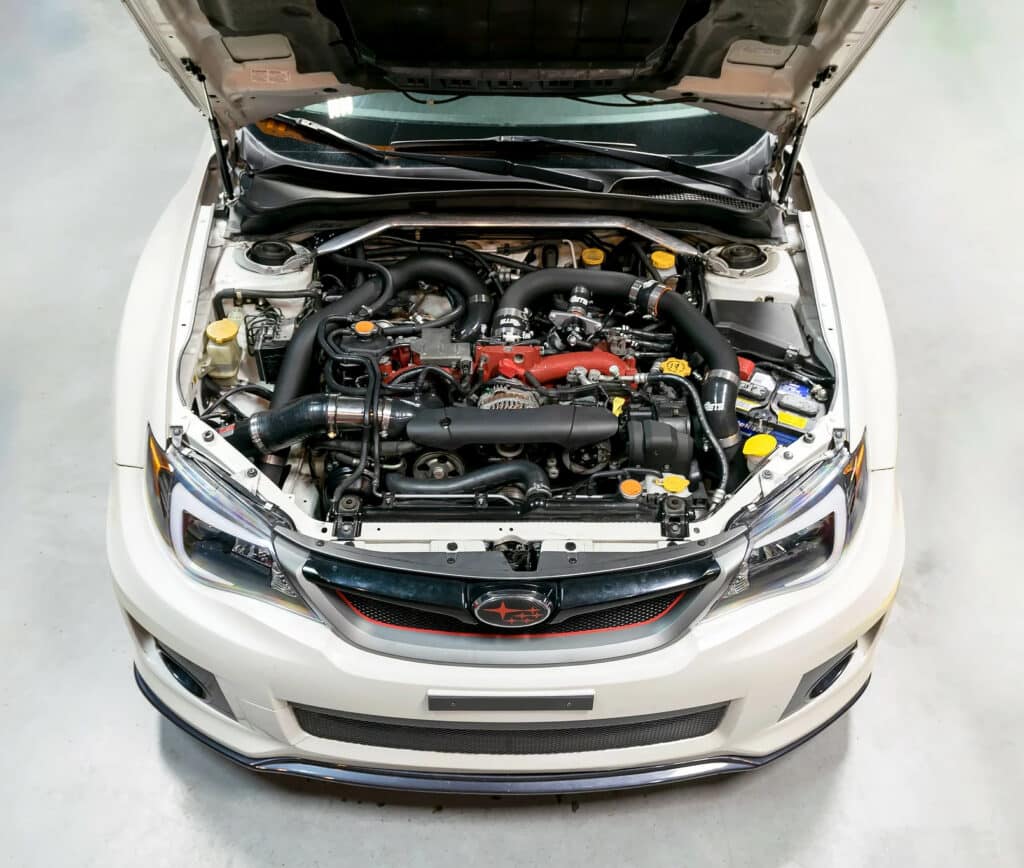 WRX STI sold between 2019 and 2021 get a bit more oomph, with power now at 310 hp.
However, it's the STI S209 that comes across as the most powerful factory-tuned EJ257 to date, with 341 hp and 330 lb-ft of torque.
However, later years used a revised block, pistons, connecting rods, crankshaft, and heads for improved performance and durability.
Most noticeable among these changes were the newly-improved dual-AVCS, W25 cylinder heads, and a revised cylinder block design.
Another difference from the EJ255 was the 257 having an increased redline of 6700 rpm.
Modern variants of the EJ257 (2019 and up) feature a reworked piston design for additional strength and improvements to the engine valvetrain.
Also, a new ECU was introduced with revised engine mapping that improved response and widened the torque curve (exclusive for the STI S209).
Subaru EJ25 Engine: How Reliable Is It?
When compared to some of its adversaries, Subaru is a bit behind when it comes to reliability. However, that's not necessarily the case with all Subarus.
There are examples of old Legacys and Outbacks hitting 200k miles without any serious issues. But that doesn't mean all Legacys and Outbacks are super reliable.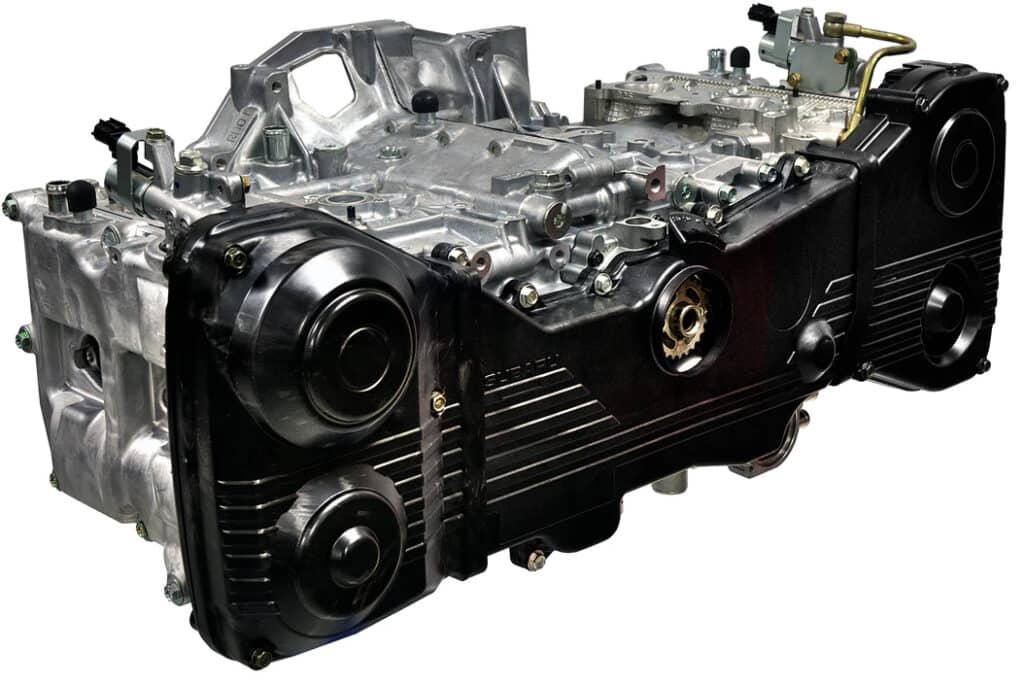 It boils down to a few basic things like routine maintenance, conservative driving, and sensible engine modifications.
It's worth noting that mileage (in the context of old cars) isn't that accurate of a metric when it comes to reliability.
The reason is that a high mileage car that's been cared for could be far more reliable than a beat-up car that's done 80k. It goes to show that if you take care of something, it will last.
Okay, so what about the EJ25's reliability? There are forum members with 300,000 miles on their EJ25s and others reporting well over 100,000 with zero problems.
However, you can't overlook what people say about Subaru's EJ25 motor. Certain issues range from oil leaks to knocking sounds.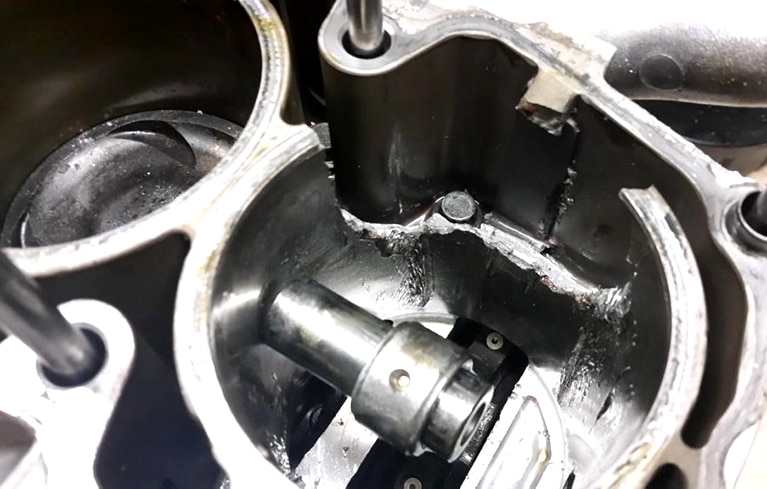 One of the engine's biggest drawbacks is the cast piston which tends to crack and fail, and so can the rod bearing. Although the EJ25 is, by no means a bad motor, it's not something we'd call super reliable either.
Sure, it's a peppy motor with insane tuning potential, however, some of the things like fuel cutting issues from Subaru's stock tune and other inherent design flaws are red flags when it comes to engine reliability.
On the flip side, owners claim that most EJ failures are attributed to people using poor quality oil, not checking/changing oil, and poor modifications.
The number one cause, however, is improper tuning or not tuning at all after installing performing mods.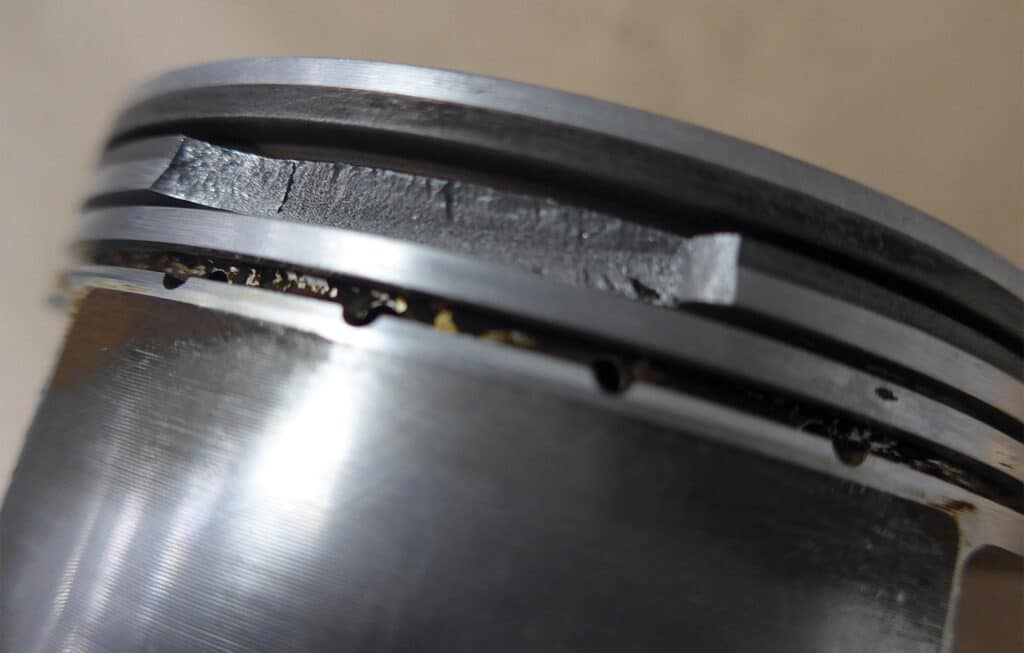 If you own a Subaru with an EJ25, some of the best things to do for longevity include following the guidelines for break-ins and carrying out proper maintenance.
Also, if you're modding, only install high-quality parts, and don't install anything other than a cat-back exhaust without tuning!
Our Thoughts on the EJ25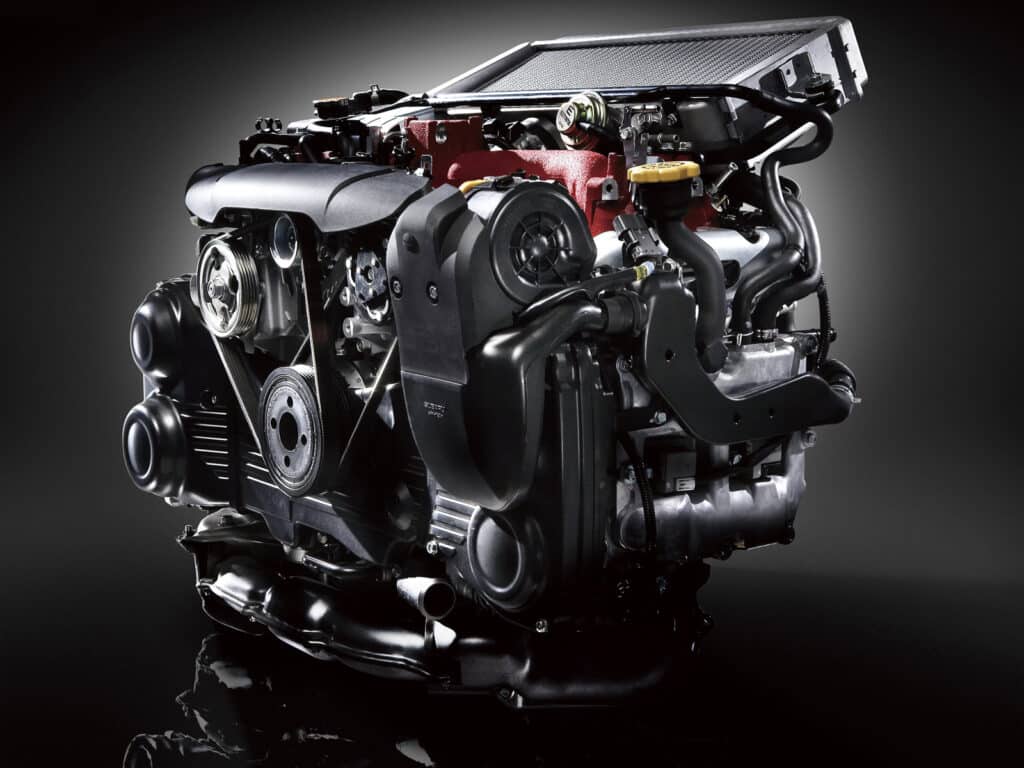 As you can tell, the EJ25 has been in service for quite some time. Although multiple versions are available, the fundamental design is the same, apart from a few exceptions like the EJ255 and EJ257.
Since the engine is known to be fairly responsive and an absolute hoot when driving spiritedly, many fall in love or find a reason to own a Subaru.
Come to think of it, it's an exotic engine. You won't find a mainstream budget carmaker using a boxer engine. The only other modern car to feature a boxer layout is the Porsche 911.
Plus, you get a unique exhaust rumble like that of an H4 engine. If you can find a relatively good example that's been looked after, you'll be good to go.
Do you own an EJ25-equipped Subaru? Was it a reliable experience? Have you encountered any of these problems? Let us know by leaving a comment down below.