Your Toyota 86 handles impeccably right out of the gate, but there is always room for improvement. It is sprung on the softer side, which is great if you prioritize comfort, but it's not the best thing when pushing your 86 at its limit.
If you want to stiffen up your ZN6 chassis when going through corners, look into installing a good set of coilovers.
Lowering springs and air suspension also have their place in the world of handling upgrades, but neither of them will do as great a job as coilovers.
With that said, let's get into the meat of the matter.
In this guide, we'll cover some basic concepts that you need to be aware of when selecting a set of coilovers for your Toyota 86, also known as the GT86 in many regions. We'll conclude with a list of our top recommendations, along with reviews.
Coilover Selection — Things To Know
Before you go ahead and put your money down, it's important to familiarize yourself with concepts such as coilover preload adjustment, spring rates, and spring types.
Knowing this stuff will help you to understand how coilovers work and make an informed decision about which to choose depending on your driving needs. Don't worry, we'll keep it brief.
Firstly, preload is defined as the pressure that's exerted on a spring when it is compressed. If preload is not enough, the suspension will sag.
That said, having too much preload isn't advised either. The key is to find the right balance, or you will unintentionally alter your suspension geometry.
Spring rate refers to the amount of weight required to compress the spring. It's commonly denoted simply as the weight in imperial units, whereas in metric, it's followed by the letter "k" after the specified weight.
For example, a 10k spring rate means 10 kilograms needed for 1mm of compression. Generally, the lower the spring rate, the more comfortable the ride becomes. For more clarity on the subject, check out our spring rate conversion guide.
On the other hand, spring-type refers to having either a fixed or a variable spring rate. Of which, there are two:
Springs that offer a consistent spring rate throughout their length are called linear springs; progressive springs have spring rates that change as they get compressed.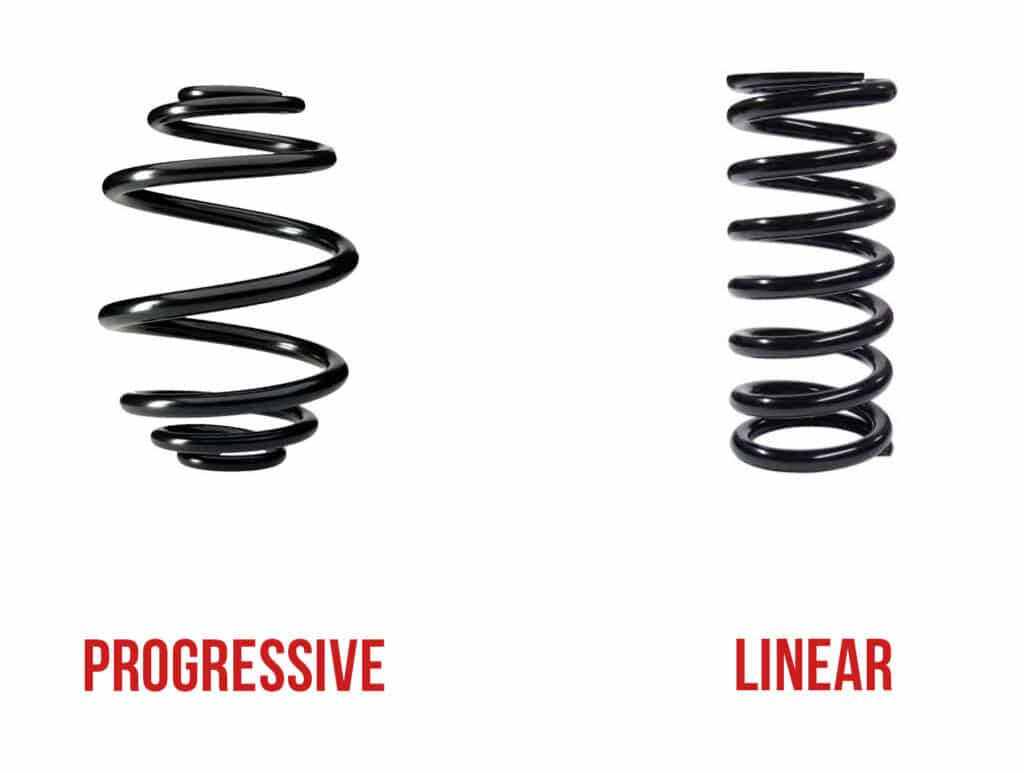 Progressive springs are better suited to daily drivers, while linear springs and their predictable nature best serve track cars and aggressive tuner cars.
Lastly, construction type is also something that's important when discussing suspension.
The most commonly used damper setups are monotube and twin-tube. Generally, monotubes offer better damping quality and ride comfort as they exert pressure equally versus twin tubes and their multi-chambered setup. However, monotubes can be quite expensive.
Toyota 86: Best Coilover Options
This guide is populated with some of the best, most widely-accepted names in the aftermarket business.
If you're serious about setting up your car with the best suspension hardware, these coilovers are what your Toyota 86 needs.
We've reviewed TEIN coilovers, one of the most affordable options in the list, along with the mid-range BC Racing system. From there, we step it up to the industry-leading KW V3 and Bilstein options.
Here are the best GT86 coilovers on the market.
BC Racing BR Series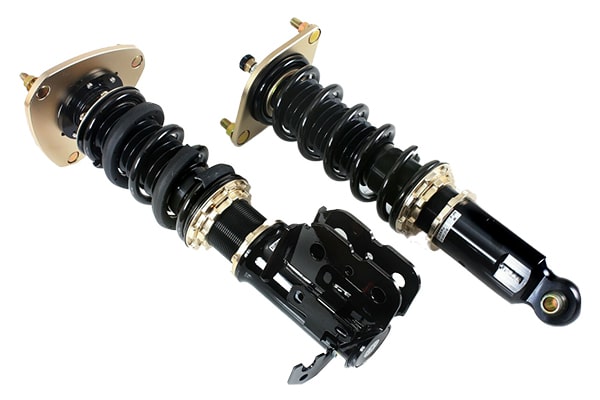 Manufacturer: BC Racing
Part Number: BC-F-20-BR
Damping Adjustment: 30 Levels
Construction Type: Monotube
Spring Type: Linear
Warranty: 1 Year
Buy On: Enjuku Racing
The BC Racing BR series is one of the more affordable and extremely popular coilovers available for the Toyota 86.
Its monotube design, 30 levels of adjustment, and competitive pricing make it quite a compelling buy. You get 8k/8k spring rates as standard; however, custom spring rates can be ordered as well.
The team at BC Racing has developed a user-friendly design by placing the adjustment knobs in easily accessible positions. The upper perch adjusts the preload and rebound settings, while the lower one deals with the ride height.
Most Toyota 86 owners prefer setting them to mid-level damping. However, we suggest you experiment with the available settings to find which suits your driving conditions.
TEIN Flex Z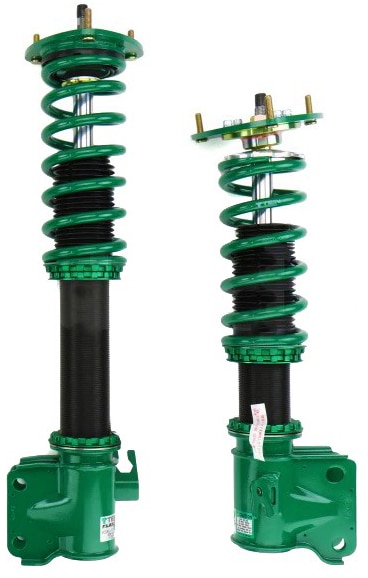 Manufacturer: TEIN
Part Number: VSQ54-CUSS4-1
Damping Adjustment: 16 Levels
Construction Type: Twin Tube
Spring Type: Linear
Warranty: 1 Year
Buy On: Enjuku Racing
TEIN famously offers the best bargain when it comes to aftermarket coilovers for Toyota's 86. The Japanese brand is known for its meticulous R&D, delivering both performance and quality.
With 16 levels of damping adjustments, it's not as flexible as the BC Racing system. However, for the money you're paying, the Flex Z is a proper all-rounder.
These coilovers are primarily road-oriented, but their twin-tube configuration might put you off. That said, many Toyota 86 owners attest that the ride quality is great right out of the box.
The stock 6k/6k spring rates can be further tweaked with custom preload and ride height.
With the Flex Z coilovers, you could introduce your 86 to a challenging track and not be disappointed with its performance. However, it all depends on how aggressive the setup is.
HKS Hipermax MAX IV SP
Manufacturer: HKS
Part Number: 80250-AT001
Damping Adjustment: 30 Levels
Construction Type: Monotube
Spring Type: Linear
Warranty: 1 Year
Buy On: Enjuku Racing
HKS is one of the most reputed names in the aftermarket business. As standard, the Hipermax IV SP comes with 8k/8k spring rates front and rear.
Primarily built for road use, the Hipermax IV coilovers offer 30 levels of damping adjustment to suit your driving needs.
The Hipermax IV features a monotube design, which vastly improves the rigidity and feedback. This also ensures that a good compromise between street and track performance is achieved.
Equipping your Toyota 86 with HKS Hipermax IV SP coilovers will noticeably improve both high and low-speed stability.
Fortune Auto 500 Series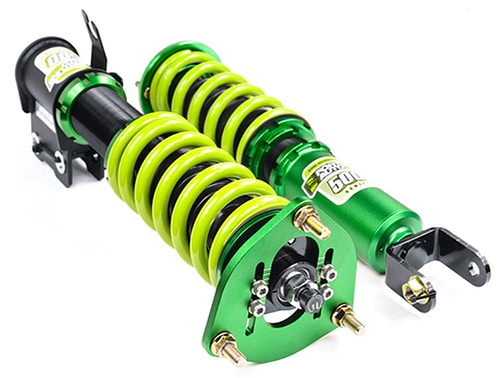 Manufacturer: Fortune Auto
Part Number: FA500-BR
Damping Adjustment: 24 Levels
Construction Type: Monotube
Spring Type: Linear
Warranty: 5 Years
Buy On: Enjuku Racing
Another favorite amongst the community, Fortune Auto's 500 coilovers (also known as FA 500), is slightly superior in design and performance compared to the competition.
You can choose between a variety of spring rates with custom configurations. Fortune Auto also offers Swift springs for an additional premium.
They are more durable and offer a slightly comfier ride than the standard springs. Additionally, different color options are also made available.
Because of its breadth of abilities, the FA 500 is easily the best all-round coilover system for the 86. It offers the best of daily driving and occasional track use in one affordable package.
One thing to keep in mind is that the Fortune Auto Coilovers are assembled to order. So expect a 3-4 week wait before delivery.
Bilstein B16 PSS10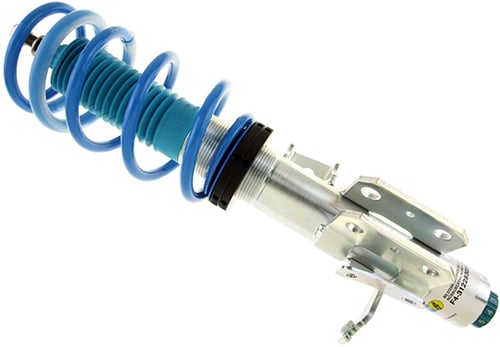 Manufacturer: Bilstein
Part Number: 48-228299
Damping Adjustment: 10 Levels
Construction Type: Monotube
Spring Type: Progressive
Warranty: Lifetime
Buy On: Amazon
Bilstein is yet another important player in the suspension game. Their B16 coilover kit is specially designed to suit the Toyota 86. This means there won't be any trial and error necessary when it comes to finding the perfect compression and preload settings.
However, if you find there is room for improvement, by all means, go right ahead and tweak it to your heart's content.
The B16 system gives you complete control with its 10 different levels of damping adjustment. Also, its monotube design with progressive springs offers an excellent balance between street and track use.
KW Variant 3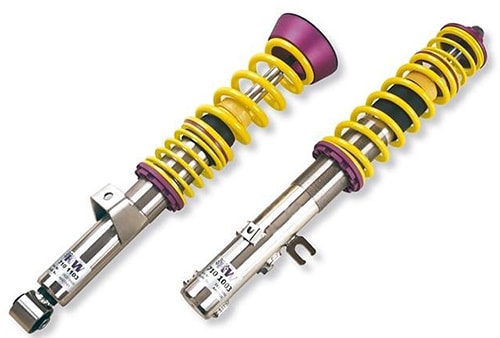 Manufacturer: KW
Part Number: 35258004
Construction Type: Monotube
Spring Type: Linear
Warranty: Lifetime
Buy On: Amazon | Enjuku Racing
Very much considered to be the benchmark, the KW V3 is the best set of coilovers for the Toyota 86, period.
Spring rates on offer are 8k/9k, but the V3 gets multiple settings for preload and rebound. The preload can be adjusted separately with 12 clicks, while rebound can be adjusted up to 16 clicks.
Also, the front comes with helper springs. Together with the main springs, they offer a more dynamic damper arrangement for precise handling characteristics.
Overall, this KW coilover kit is on the expensive side. However, if you can cough up the dough, you're guaranteed top-shelf quality and ultimate performance.
Toyota 86 Coilovers: Our Favorites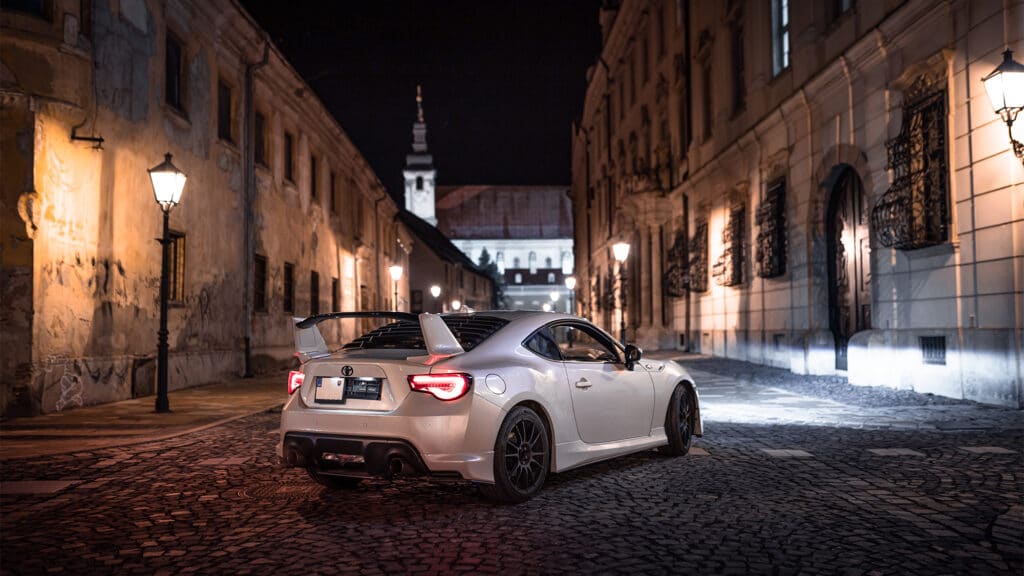 The most common concern with installing aftermarket parts is quality and reliability. But when it comes to suspension systems, things get more complicated than that.
There are factors like cost, performance, driveability, driving style, and so much more that need to be taken into account. With that in mind, here's our pick of the bunch.
Most Affordable: TEIN Flex Z
The TEIN Flex Z is the best option if you're on a tight budget. It offers a variety of damper arrangements to suit your driving needs.
The twin-tube setup might not be everyone's liking. However, for the asking price, there's quite literally no other coilover system that could match the TEIN Flex Z.
Best Overall: Fortune Auto 500
Fortune Auto has quite a following in the aftermarket community. Thanks to its robust build at a relatively affordable price, it certainly is the best coilover option for most Toyota 86 owners.
The FA500 strikes a good balance between daily driving and occasional track use without much of a price premium.
What are your thoughts on this list? Would you rather install coilovers or lowering springs? Let us know by leaving a comment below!