An aftermarket exhaust can significantly transform the sound and appearance of your IS300. It's a popular mod for a reason, and it's typically among the first things to get upgraded.
However, the emphasis here is on appearance and sound. If you're expecting serious gains simply from installing an aftermarket catback exhaust, you're going to be disappointed.
That's why we recommend choosing an aftermarket exhaust system for your IS300 purely on the basis of how it looks, sounds, and costs.
Not to mention any other related mods that you might install somewhere along the line, like forced induction or headers.
These upgrades will impact your selection because you're going to want to keep the piping diameter as consistent as possible across your entire exhaust system.
To help you make the right choice, we've listed and reviewed some of the best catback and axle back exhaust systems that you can buy for your XE10 or XE30 IS300 in this guide.
IS300 Exhaust Upgrade: FAQs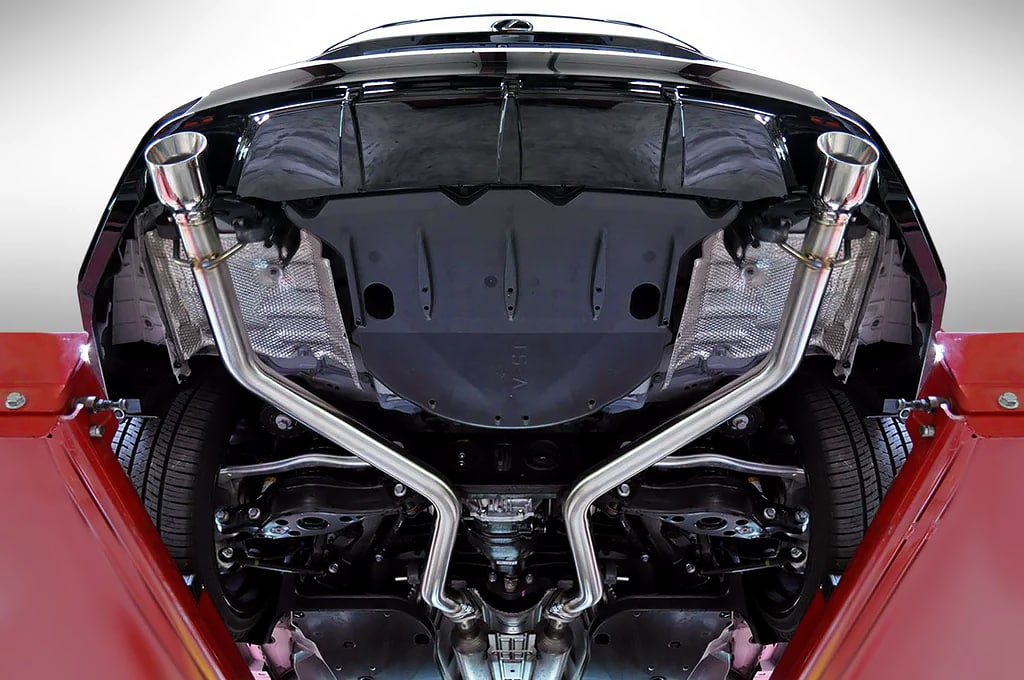 Before we get into the review list, let's address some of the more common questions that IS300 owners ask when they're about to upgrade their exhaust.
This way you'll know exactly what will change after the installation and what to expect from this upgrade.
How Much Additional Power Should I Expect?
Truth be told, there's very little to be gained from installing an aftermarket axle back or catback exhaust. The only real-world difference you'll observe is that you'll have a much nicer and deeper exhaust note.
Exhaust upgrades really shine when they're paired with other supporting modifications. Especially when it comes to the 2JZ-GE engine — getting naturally aspirated power out of this iconic straight-6 engine has always been a challenge.
What Supporting Upgrades Should I Install?
As obvious as it is, forced induction (turbochargers and superchargers) is an unfailing way to add more power.
But if you want to stay naturally aspirated and still see some gains, then start by looking for a good set of IS300 headers. Pair those with a catback exhaust and test pipes with un-resonated b-pipes if you want to go all out.

Besides that, an aftermarket intake with wider throttle bodies will help compound the overall effect. Getting a tune is customary after all these upgrades.
Should I Get a Tune?
If you're only installing a catback or axle back exhaust, then you can do without a tune. However, if you're going past that and installing other supporting upgrades as mentioned above, then it's best that you get one.
Remember, it's a timesaver if you get your car tuned only after you've installed a large proportion of the supporting mods you have in mind, instead of getting one every time you replace something.
Best IS300 Catback Exhausts
Now that you know a little more about what to look for and how to go about upgrading your exhaust system, let's take a look at the best exhausts you can buy for your IS300.
Below we've listed both catback and axle back exhausts. Catbacks come with the replacement b-pipe or resonator pipe, the muffler, and even the y-pipe in most cases.
A'PEXi N1 Evolution-X
Manufacturer: A'PEXi
Part number: 164-KT209
Piping diameter: 60 mm
Tailpipe size: 115 mm
Construction: Stainless steel
Fits: 2015+ Lexus IS300 AWD (2GR-FSE 3.5 L V6)
Buy on: Enjuku Racing
If you're looking to upgrade the entire exhaust on your IS300, then the A'PEXi N1 is a tough choice to beat. It's a little more expensive, but that's because you're getting pretty much the entire exhaust system, not just the rear or mid-sections.
This doesn't include the headers, of course.
While it's a bit more of an investment, it's what you want if you're looking for the best IS300 exhaust.
Not only does it give your IS300 an unmistakable sound that you'll love, but you'll also get noticeable performance gains with the right supporting mods installed.
Additionally, by upgrading the entire exhaust system instead of just the tail end, there's a bit of weight that can be dropped. The stock exhaust on a 2015+ Lexus IS300 weighs 61.4 lbs, and this system only weighs 52.12 lbs.
A'PEXi WS2
Manufacturer: A'PEXi
Part number: 116-KT05
Piping diameter: 60 mm
Tailpipe size: 105 mm
Construction: Stainless steel
Fits: 2001 – 2005 IS300
Buy on: Amazon | Enjuku Racing
For XE10 IS300 owners who don't want a super-loud aftermarket exhaust and instead prefer a nicer, deeper version of the stock sound, then A'PEXi's WS2 exhaust is definitely worth considering.
Its deeper sound can be attributed to its oval, dual-wall rolled design. The World Sport 2 catback is constructed using titanium particle coated SUS304 steel.
It's tig-welded for maximum durability, and the overall build quality is phenomenal. We definitely recommend this exhaust.
Spec-D Tuning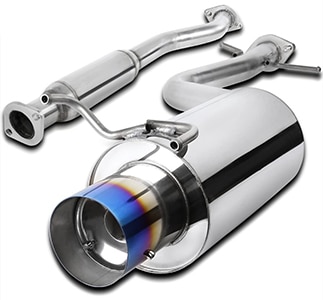 Manufacturer: Spec-D Tuning
Part number: MFCAT2-IS30001T-SD
Piping diameter: 63.5 mm
Tailpipe size: 101.6 mm
Construction: Stainless steel
Fits: 2001 – 2005 IS300
Buy on: Amazon
If you're unsure whether or not you'll commit to using your catback exhaust long-term and want something inexpensive, then Spec-D Tuning has just what you need.
Quality control isn't perfect with this exhaust, so expect to run into minor fitment issues — nothing you can't easily fix. But once it's fitted, it performs just as any other exhaust would.
It comes with all the necessary gaskets, bolts, and hangers. It's constructed using T-304 stainless steel and is mandrel-bent just like other, more expensive exhausts on this list.
The manufacturer claims a gain of 15 hp, which should be taken with a grain of salt. Gaining 15 hp from a single exhaust is only possible with several other mods already installed.
Revel Medallion Touring-S
Manufacturer: Revel (Tanabe)
Part number: RVLT70038R
Piping diameter: 60 mm
Tailpipe size: 115 mm
Construction: Stainless steel
Fits: 2001 – 2005 
Buy on: Enjuku Racing
The name "Medallion Touring" instantly brings Tanabe to mind — the well-known aftermarket performance parts manufacturer. It's worth mentioning that they are now called Revel.
Their Medallion Touring-S exhaust system is constructed from SUS304 stainless steel and boasts a 1.5 mm wall thickness for additional strength and lower resonance.
The mandrel bent piping helps to retain the same piping diameter at the bends for optimal flow characteristics.
What we love the most about this exhaust, besides the premium quality, is the sound. It's clean, deep, and extremely refined.
It also features ADVANTEX packing material in the resonator and muffler for sound suppression, paired with a straight-through design for minimal restriction.
Our Favorite IS300 Axle Back Exhausts
In contrast to catback exhausts, axle back exhausts do not ship with the y-pipe and b-pipe. When you order one of these, expect to receive only the muffler section. These are geared towards sound only.
Even with other supporting mods installed, these exhausts won't yield nearly as much power as catbacks are capable of. For more information, check out our catback vs axle back exhaust guide.
Below you'll find some of the best axle back exhausts you can buy for your IS300.
HKS Carbon-TI

Manufacturer: HKS
Part number: HKS3207-EX002
Piping diameter: 60 mm
Tailpipe size: 115 mm
Construction: Stainless steel & titanium with a carbon warp
Fits: 2001 – 2005 Lexus IS300
Buy on: Amazon | Enjuku Racing
HKS is really where it's at when it comes to finding the best axle back exhausts for your IS300. Their Carbon-TI is among the most popular options and when you take a closer look at everything that it offers, it's not hard to see why that is the case.
It produces an outstanding sound that's louder than stock but not overwhelming. The stainless-steel chrome finish paired with burnt blue tips looks quite nice, but it might not be to everyone's taste.
While all these things are a big part of why the HKS Carbon-TI IS300 is so popular, what really makes it a bestseller is the price. You get all these outstanding perks without breaking the bank.
HKS Hi-Power
Manufacturer: HKS
Part number: HKS3203-EX020
Piping diameter: 60 mm
Tailpipe size: 115 mm
Construction: Stainless steel
Fits: 2001 – 2005 Lexus IS300
Buy on: Amazon | Enjuku Racing
The Hi-Power exhaust by HKS takes inspiration from endurance and GT race cars in Japan. Its straight design with minimal bends helps to improve exhaust backpressure and scavenging characteristics.
It's one of the most affordable exhaust upgrades on our list, allowing you to focus on other upgrades to get even more out of your IS300. We love the angled design and the sound, even though it's slightly on the louder side.
Be careful when driving over tall bumps with this exhaust installed as it might scrape, especially if you don't have much ground clearance due to a low ride height.
HKS Dragger II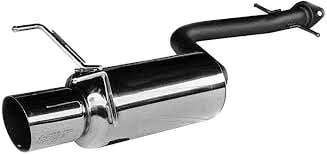 Manufacturer: HKS
Part number: HKS3302-EX077
Piping diameter: 60 mm
Tailpipe size: 115 mm
Construction: Stainless steel
Fits: 2001 – 2005 Lexus IS300
Buy on: Enjuku Racing
HKS's Dragger II comes highly recommended by Gen 1 IS300 owners as the ultimate, inexpensive solution for a great-sounding and great-looking exhaust.
Unlike the Hi-power exhaust mentioned above, this one mounts higher, reducing the possibility of scraping it when driving over tall bumps.
The sound is deep and full of bass, which really accentuates the already low sound signature of the 2JZ-GE inline-6.
Yonaka Motorsports
Manufacturer: Yonaka Motorsports
Part number: YMAB-IS300
Piping diameter: 63.5 mm
Tailpipe size: 107 mm
Construction: Stainless steel
Fits: 2001 – 2005 IS300
Buy on: Amazon
Yonaka Motorsports makes what is arguably the cheapest IS300 axle back exhaust, and for the price, it's a steal. It's made in Japan, has a fairly large tailpipe, looks good, and does an excellent job at eliminating mid-range rasp.
For those looking for an inexpensive muffler replacement, this is the one to go for. It ships with everything you'll need to install it (except the tools) and installation is pretty straightforward.
Mechanically inclined enthusiasts can expect to complete the installation in just under an hour, but that depends on many other factors.
Our Top Picks
With so many outstanding aftermarket exhausts out there for the IS300, it's difficult to narrow the selection down to just one.
For most IS300 owners, the selection will come down to the look and sound of the exhaust; and the amount they're willing to spend. But regardless, we have our favorites and we've highlighted them below.
Best catback: Revel Medallion Touring-S
It's hard to beat the Revel Medallion Touring-S in terms of overall quality, craftsmanship, and sound. This exhaust perfectly combines aesthetics with performance. If you don't mind paying more and want the best, this is the one to buy.
Best axle back: HKS Dragger II
You can't really go wrong with the Dragger II if all you want to do is make your exhaust louder by installing a simple, lightweight replacement muffler.
It's inexpensive and well built. That's pretty much what you need if performance isn't your number 1 priority.
Although, if you wish to modify your IS300 further and maybe even take the forced induction route, it's advisable that you choose a catback exhaust instead.
Do be aware that sedan exhausts won't fit the IS300 SportCross wagon. For those you'll want a specific SportCross system, or a custom exhaust.
Which of these would you choose, and why? Let us know by leaving a comment below!