The Lexus IS300 has been a JDM icon since its release, and at the time of writing, remains a great project car.
It features the legendary 2JZ engine, albeit a naturally aspirated version of it and not the twin-turbocharged variant found in the Toyota Supra. However, it lends itself easily to upgrades.
When deciding to modify your car, it can be difficult to know where to start and which parts you should buy, especially when it comes to the IS300.
This guide goes over the aftermarket upgrades you can install on your IS300, everything from handling and power to cosmetics.
Handling Upgrades for Your IS300
How you should go about dialing in the handling characteristics of your IS300 depends on your goals for the car. The torquey RWD powertrain makes it the platform of choice for drifting, but it's not uncommon to see these cars at autocross events.
Many owners daily drive their IS300s and it's also popular with the stance community. Regardless of your driving style, the aftermarket support is massive. Here are some of the basic handling mods that you can get started with.
Tires
Tires are an underrated upgrade to any car and while they might not be the most exciting on the surface, they can transform the way your IS300 drives.
Tires are the sole contact your vehicle has with the road, and upgrading this to suit your needs is an instant improvement when it comes to traction and ride quality. Some of the best brands include Michelin, Yokohama, Continental, and Pirelli.
For optimal performance, most choose either a summer or all-season tire, and these are just a few of the best ones out there:
Summer tires:
All season tires:
Wheels
When choosing wheels, you want to consider fitment carefully. This will depend on your current suspension setup, whether or not you want to roll your fenders, etc.
Remember to consider the use case. For instance, track-focused rims will have to be more durable than those designed for street use. The IS300 has a 5×114.3 mm bolt pattern, so be sure to purchase wheels with this pattern only.
Some of the best wheels for the IS300 include:
Suspension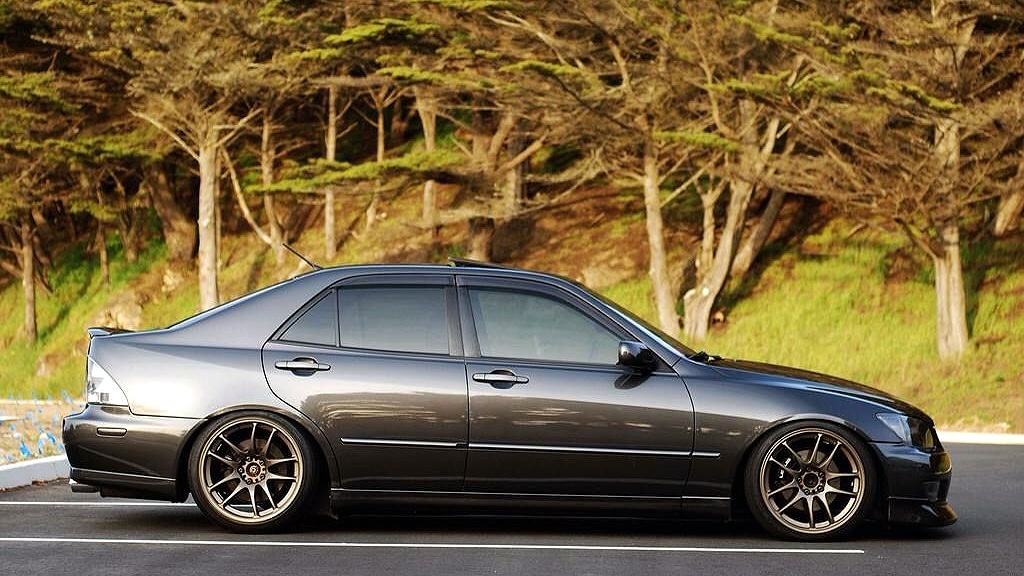 Upgrading your suspension can involve a number of components, but the first mod is normally coilovers or lowering springs, and sway bars, depending on the desired result.
Lowering your IS300 will lower its center of gravity, improving overall handling as a result. Sway bars can aid in fine-tuning the firmness of your suspension.
Additionally, if your IS300 is exclusively a daily driver, then we recommend installing new lower control arm bushings, a rear camber arm, aftermarket ball joints, and upgraded end-links if you take the sway bar route.
Coilovers
Installing coilovers on your IS300 is arguably the most essential handling upgrade that you can spend money on.
Coilovers not only allow you to lower your IS300, but they also let you adjust the ride height, camber, caster, and even damping in some cases. Some of the best options include:
Lowering Springs
Lowering springs are a more affordable option when compared to coilovers, but they lack adjustability. Once installed, the springs will set your ride height and that's pretty much it.
Not all lowering springs are made to work with the OEM dampers of your IS300 though. If you're on the lookout for the best build quality possible, we recommend considering Swift springs.
Sway Bars
Sway bars allow you to alter the understeer and/or oversteer characteristics of your IS300. Depending on your needs, you can install a sway bar at the front or rear, or you can get a complete set.
Some of the best IS300 sway bars come are manufactured by the following brands:
Brakes
What good is more horsepower if you can't control your modified Lexus IS300? It's not uncommon for people to turn a blind eye towards upgrading their brakes when adding power.
Upgrading to higher quality rotors and brake pads is very much recommended, and if you want the best of the best, then you need a big brake kit.
Rotors and Pads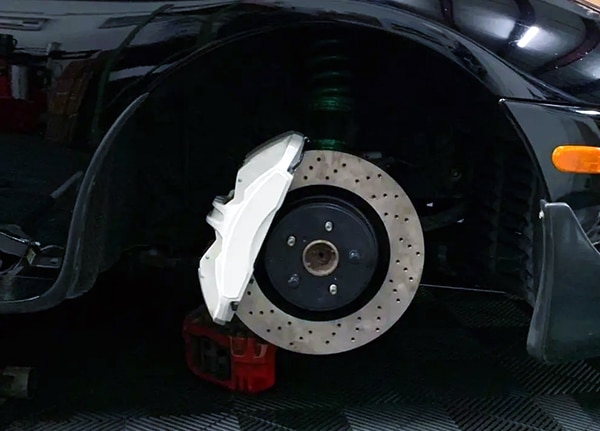 You can choose OEM style rotors, or drilled and slotted rotors which help with heat dissipation.
There are many IS300 brake pads to choose from; the goal is to pick ones that best suit your driving habits. If you're solely driving on the streets, you probably don't need a track-focused set of pads.
Big Brake Kit
If you plan on substantially upgrading the power of your IS300, or if you're tracking it, you might want to consider installing a big brake kit.
An advantage with big brake kits is that you won't have to source rotors and calipers separately. That said, you need to ensure that your rims clear the larger caliper, especially if you're still using your stock rims.
There are some big brake kits that will clear your stock rims, but most of them won't. Some of the best brands to choose from include Brembo, K-Sport, and StopTech.
IS300 Performance Mods
If you want more power out of your IS300, you have two main choices:
Keep it naturally aspirated
Add forced induction.
Installing a turbo or supercharger will net you more power than just swapping out your intake and exhaust, but will be much more costly and impact reliability more. Regardless of which route you plan to take, we've got you covered.
Intake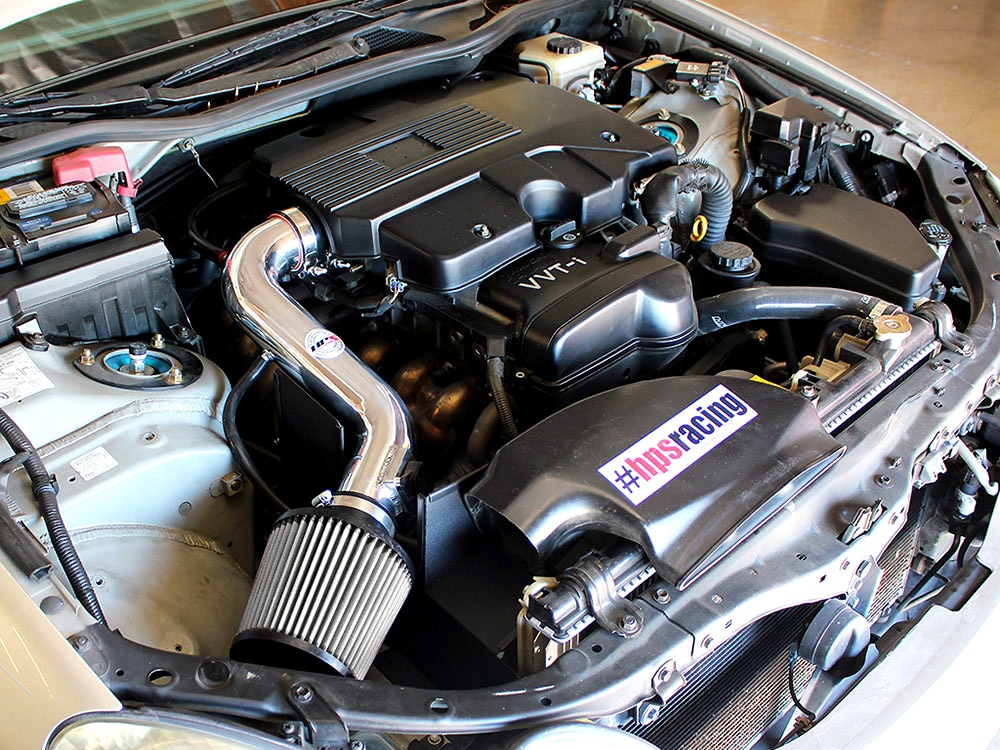 If you want to modify your intake, we recommend either drop-in filters or a cold air intake system. Short ram intakes are also an option, but they run hot and can easily degrade your performance.
Drop-in filters will go into your stock airbox and are quick to install, while cold air intakes will provide marginally higher performance gains but you have to swap out the stock intake.
Check out our short ram vs cold air intake guide to learn about what makes the two so similar and different at the same time.
Cold Air Intake
The purpose of cold air intake is to reposition the intake filter away from the heat of the engine bay so that it can access colder and denser air
You can expect up to a 5 hp increase, which might not sound like much, but it does make a difference when paired with other mods. Of course, this will also depend on the car's condition overall and your environment.
Some of the best cold air intake manufacturers include:
Drop-In Filters
You can also improve airflow by swapping out your stock air filter for an aftermarket option.
While pricier than OEM replacement filters, they are higher-quality, allowing better air flow, and often washable so you can re-use them over and over. Some of the top choices include:
Exhaust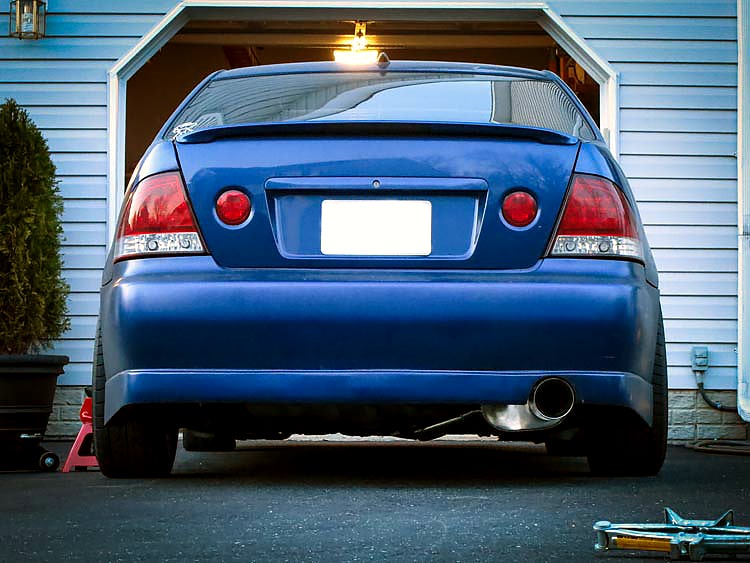 Improving the exhaust flow of your IS300 equals better performance. Common upgrades include catbacks, catalytic converter deletes, and aftermarket headers.
It's worth mentioning that even though a catalytic converter delete will increase power, it is an illegal modification, which is why many choose to fit high-flow cats instead.
If you do decide to swap out your stock catalytic converters, be sure to replace them with test pipes or straight pipes that match your exhaust's diameter.
Catback Exhaust
The stock exhaust note of the 2JZ-powered IS300 is both refined and adequately aggressive, but installing a catback just takes it to another level.
Catback exhausts will give you a small bump in power while changing the exhaust note, and you won't even have to get rid of your cat-con to install one.
Some of the best IS300 exhausts include:
Axle Back Exhaust
Another option is the axle back exhaust, which is a simpler modification and a great option for those primarily interested in changing their exhaust note rather than gaining power. Two great choices for an axle back are:
Axle back exhausts are also significantly cheaper than catback exhausts. If you want to compare the two types and know about them in detail, check out our catback vs axleback exhaust guide.
Headers
Installing aftermarket headers is the best way to get naturally aspirated power out of your IS300. That said, high-quality Gen 1 XE10 IS300 headers aren't easy to come by.
You can always get them custom made, but that's going to be expensive. Here are some entry level options to consider:
Forced Induction
With the 2JZ, the IS300 takes well to turbocharging. You can supercharge it too, but supercharger kits for the Gen 1 IS300s are very difficult to find.
One thing to remember is that while both the Supra and IS300 use different versions of 2JZ, some of the components in the IS300's engine are weaker than those found in the Supra, most notabily the connecting rods and pistons.
So while it is common to see Supras running 1000 hp and owners bragging about stock internals, this isn't a good idea to try on the IS300.
You can still build a high-powered IS300, but you will want to seriously consider upgrading engine internals before you try pushing 500+ hp out of it.
Upgrading your transmission is always a good idea when it comes to forced induction. If you decide to do that, consider manual swapping your IS300 if yours is an automatic.
Turbochargers
Remember that when installing a turbo, never cut corners. Use high-quality, reputable kits only. An off-brand turbo might save a lot of money up front, but it likely won't last or even perform to the level a turbo should.
Also, many kits come with an intercooler, but if yours does not, you should definitely consider installing one. We recommend the following turbo kits manufactured by the following companies:
IS300 Tuning
Throwing a bunch of mods at your IS300 without tuning it is asking for problems and decreased performance. Anytime you start to substantially upgrade a car, you want to tune it.
You can go to a professional shop and have it tuned, or buy a tuning module and do it yourself, although the market is limited in terms of modules for the early iteration of the IS300.
Cooling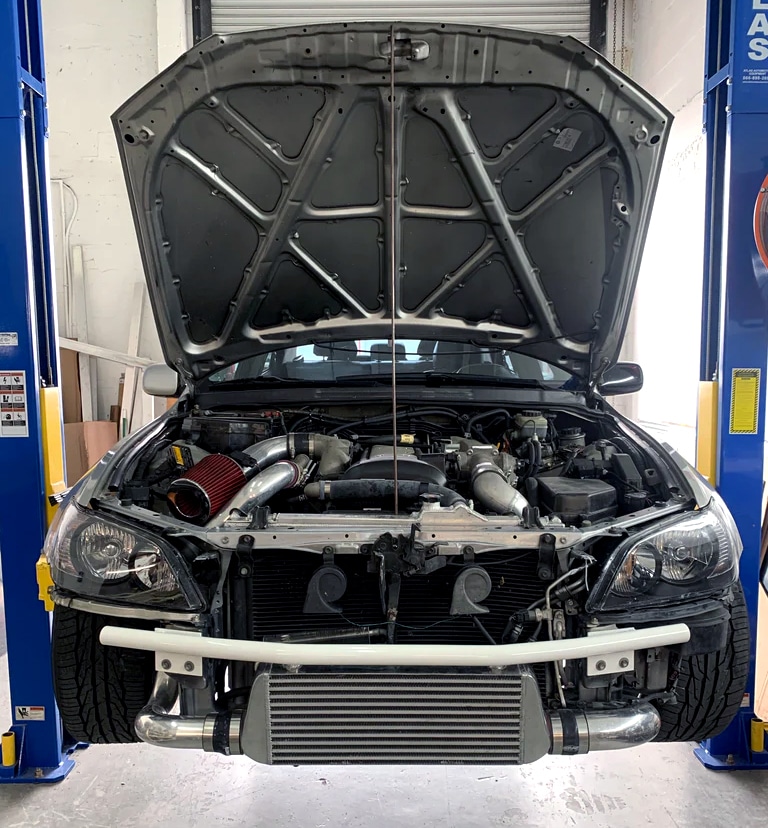 More power means generating more heat, so you want to ensure you keep your IS300 cool.
These mods can be helpful when tracking your car even if you haven't added any power beyond stock. That's because running down an Autocross track can push your car to run hotter than it normally does.
Radiator and Oil Cooler
An aftermarket radiator can increase cooling capabilities beyond stock, and the top choices include:
When you add more power, and your engine runs hotter, you can benefit from installing an oil cooler. We recommend the universal-fit Mishimoto oil cooler for the IS300.
Interior and Exterior IS300 Mods
Most interior and exterior upgrades are purely cosmetic, but some of them do offer plenty of functionality.
There is no right approach to cosmetic mods because what looks good and what doesn't is completely subjective. However, you still want to install well-made parts that will perform well and last a long time.
You can swap out various interior and exterior parts to give your IS300 a truly one of a kind look and feel.
Interior Mods
No interior mod is necessary, unless you are competing in motorsports and you are required to have certain seats and/or a roll cage.
In that case, be sure to check the regulations and adhere to them. Otherwise, you are able to swap things out as you see fit.
Shift Knob
Choosing a shift knob is about finding the right size, shape, and weight that suits you. The thread size for the manual IS300 is M12 X 1.25 mm.
Another factor worth considering is the material of the knob. Stainless steel and aluminum knobs are quite sensitive to changes in temperature. They can get uncomfortably hot if your car is parked in direct sunlight for too long.
You won't face this issue with delrin, carbon fiber, wood, and leather shift knobs because of the insulating properties of those materials.
Good shift knobs include: 
Seats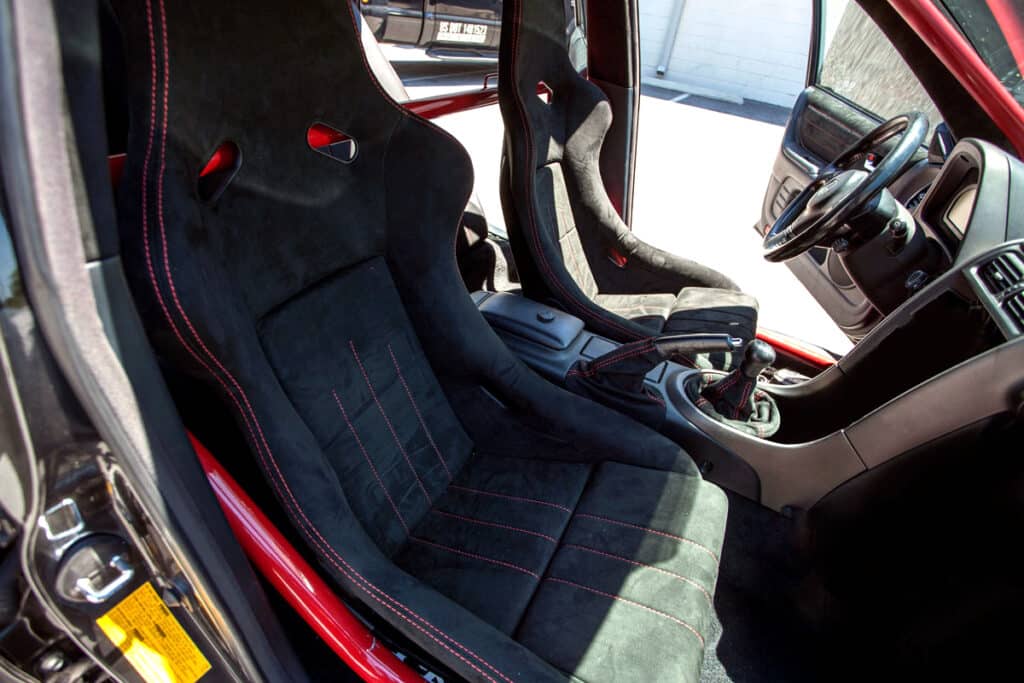 Seats are a great way to customize your interior. To narrow down your choices, consider whether you want a seat for comfort and style or strict performance.
If you plan to compete in your IS300, you will need a seat that conforms to FIA regulations. Some good seats include:
Exterior Mods
Choosing exterior mods has a lot to do with aesthetics, you want your IS300 to look good and reflect your style.
With this in mind, you can choose from a variety of exterior mods that suit your tastes. However, be aware that certain kits can hinder aerodynamic performance.
For street purposes this is not nearly as big of a deal as for track cars, which are often pushed to the limits and exterior pieces that hinder performance are more likely to be noticed.
Body Kits
With body kits, you often have the option of installing a full kit or purchasing parts of the kit. You might want a front bumper without also buying the side skirts and rear bumper, for example.
Some excellent IS300 body kits include:
The Best IS300 Mods: What to Upgrade First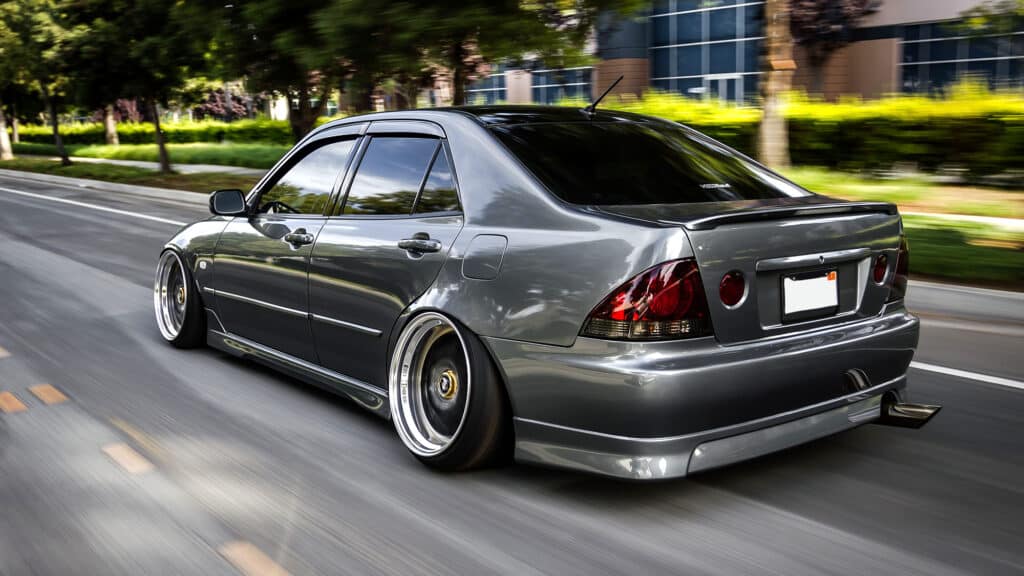 The most responsible thing to do is to start with handling upgrades first, in the following order:
Wheels and tires
Sway bars
Suspension (coilovers or lowering springs)
Adjustable control arms
We recommend that you upgrade all of the above at the same time to avoid compatibility issues. Don't forget to get your wheels aligned right after and consider installing a roll center correction kit if required.
There's nothing wrong with starting off by installing bolt-on performance upgrades before you improve the handling of your IS300 — they won't add a ton of power anyway.
But if you're taking the forced induction route, definitely upgrade your handling and braking first. Cosmetic mods get last priority for obvious reasons.
Do you have any questions about modifying your IS300 and giving it that JDM style? Leave them in the comments section below.
If you've enjoyed reading this article, consider sharing it on Reddit or Facebook. Your support means a lot to us!