The Toyota Tacoma is a practical, do-it-all midsize truck that has been around for decades. It is no wonder why there are a plethora of aftermarket parts you can buy for it. Out of everything that's available, roof racks are undoubtedly the most commonly installed upgrades.
Whether for work or play, installing a roof rack will definitely prove to be among the most useful accessories you can install.
Not only will it help to transport more cargo, but many racks also come with several brackets for attaching auxiliary parts such as light bars, making them a practical and aesthetically pleasing solution.
In this guide, we'll discuss how to choose the best roof rack for your Tacoma, and we'll conclude with a list of our top recommendations. Let's get started, shall we?
What to Consider When Choosing a Roof Rack for Your Tacoma
There are a bunch of factors you need to consider before deciding on a roof rack. Most of the options out there are designed for the 2nd and 3rd generation Toyota Tacoma; you'll come across very few that are designed for the 1st generation.
Apart from that, you also need to consider the carrying capacity of the roof rack and your exact use case for it. Let's dive into these in more detail.
Model Year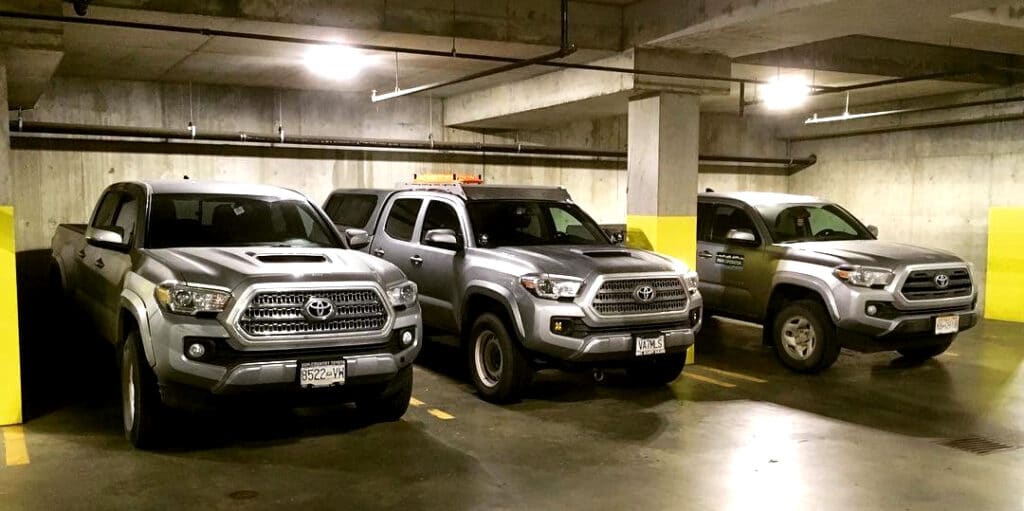 Generation 1: 1995 – 2004
Generation 2: 2005 – 2015
Generation 3: 2016 – Present
Note that the 2nd generation models include regular, access, and double cab options, but the 3rd (current) generation Tacoma offers access and double cab only.
You will want to keep this in mind, especially if you have the 2nd generation Tacoma, because many of the roof racks are designed specifically for double cabs, and you will need to avoid those if you have a regular cab truck.
In fact, the options are heavily skewed toward roof racks for Tacoma double cab. The only reliable way of getting a good fit for a roof rack on a regular cab Tacoma from 1995-2004 is through custom fabrication work on the cab and rack. If you're a DIY guy, you'll need a home welder kit.
Weight and Carrying Capacity
Weight matters both in terms of the weight of the roof rack itself, as well as how much weight it can hold — referred to as its carrying capacity.
You want a well-made roof rack constructed with durable materials that can withstand the elements, preventing corrosion as much as possible. But you also want to avoid something exceedingly heavy.
Ideally, roof racks should be moderately heavy and have a relatively low profile to offer the extra carrying capacity you need. All this, without negatively impacting the aerodynamics of your Tacoma for when you aren't hauling anything.
You also want to consider how much weight you intend to load on your roof rack. One safety detail to always remember is that you should never overload anything.
For example, if your truck is rated to only carry 300 lbs, and you have a roof rack rated to support 400 lbs, it's still a bad idea to exceed 300 lbs. You might want to check your Tacoma's insurance policy for situations like these.
The factory weight limit for the cab portion of the Toyota Tacoma is approximately 100 lbs, so weight limits above that for aftermarket roof racks really just speak to their toughness and are not a suggestion to, for example, try to load 500 lbs onto the cab.
The greater weight limits are still useful in the sense that if you regularly load 80 lbs and your roof rack is rated for 300 lbs, you are not even close to pushing the boundary for that rack, putting less strain and general wear on it than you would if it was rated at 85 lbs.
Use Case
How you intend on using your roof rack will dictate which one you should get. For instance, if you plan on loading up a couple of lightweight road bikes, you don't need the same rack as someone who is going to load a canoe, which will most likely weigh up to a couple of dozen pounds more than the bikes.
Of course, there is nothing wrong with choosing a roof rack that is well over-qualified for the task, as you can rest assured that there's enough headroom and you won't be anywhere near its threshold.
You want to think about the size and shape of the things you will commonly haul, as well. For example, particularly large items might benefit from having not only a rugged roof rack but one that also has movable bars to help accommodate the object.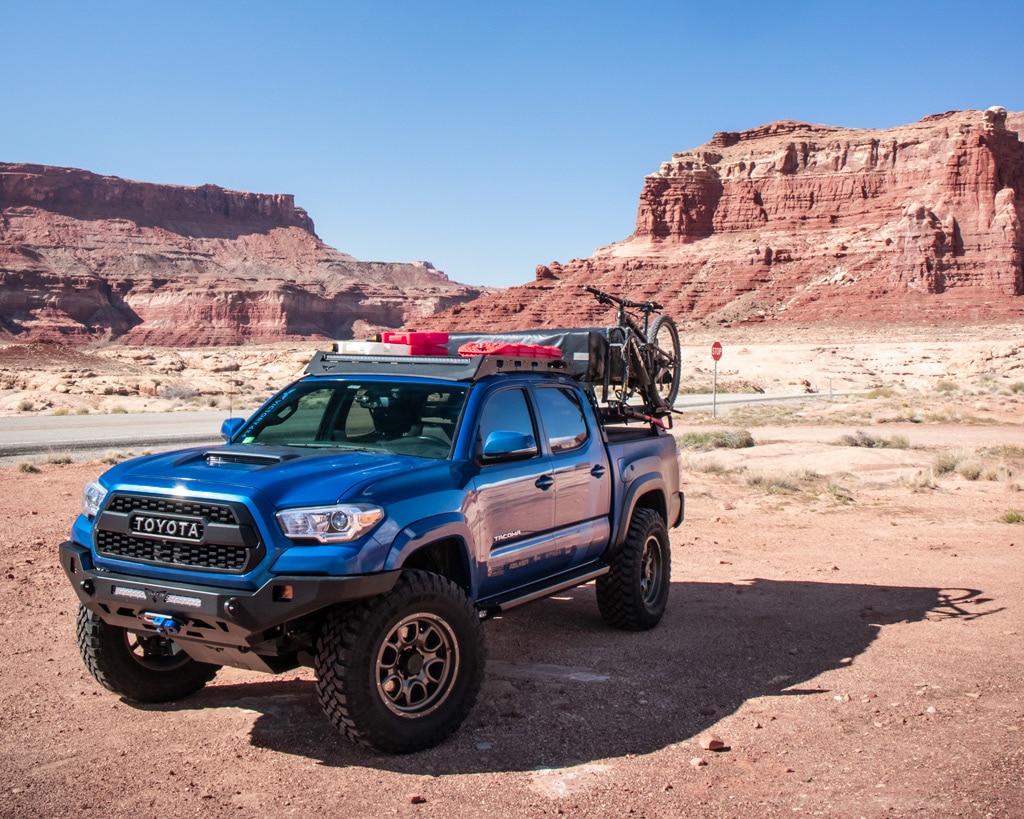 Also, consider any additional features you would like or think you might like to have in the future even if you do not plan on purchasing them with the roof rack. Lightbars or a multi-light setup for instance. The overall look of the roof rack is something considered often. You want something that marries form and function.
Best Roof Racks Your Toyota Tacoma
Let's kick off our list of the best Tacoma roof racks on the market right now. Most of these are designed for 2nd and 3rd gen Tacomas. We've pointed out which ones are compatible with double or access cabs so you know exactly what to get.
Note: Roof racks compatible with 2005-2021, or 2005-2020 Tacomas will also work with the 2022 Tacoma as the dimensions are the same.
Hooke Road Rack with LED Lights
Manufacturer: Hooke Road
Weight: 64.9 lbs
Material: Alloy Steel
Fits Model Years: 2005-2022 double cab
Carrying Capacity: 330 lbs
Buy on: Amazon
The Hooke Road roof rack will work on any double cab Tacoma manufactured between 2005 and 2022. It is made of alloy steel and features a textured black powder-coated finish. It is also coated to ensure up to 5 years of protection from corrosion under normal usage conditions.
This roof rack also comes with 4 LED lights in the front, which are compact and designed to stand out without being obtrusive.
It is fairly heavy at nearly 65 lbs, being the heaviest roof rack on our list. However, it is a stout rack and despite its weight, manages to keep a low profile on the cab.
Being a member of SEMA, Hooke Road is a company known for its automotive expertise. So you can be confident they know a thing or two about making quality aftermarket parts.
Ants Part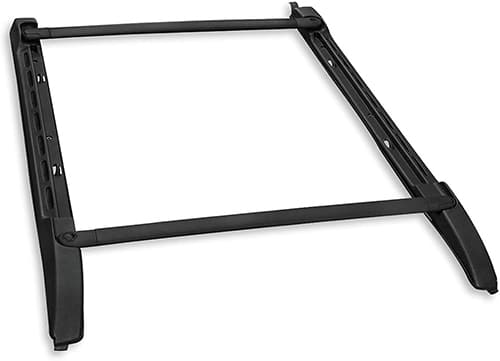 Manufacturer: Ants Part
Weight: 17.51 lbs
Material: Aluminum Alloy
Fits Model Years: 2005-2022 double cab
Carrying Capacity: 150 lbs
Buy on: Amazon
The Ants Part roof rack for 2005-2022 double cab Tacomas is constructed using aluminum and ABS plastic; the crossbars are aluminum, while the rails are plastic. This makes it very lightweight at under 18 lbs. It is also powder-coated, making it look good and providing resistance to corrosion and rusting issues.
This is an OEM-style roof rack assembly, which means it's a great choice for those who prefer the original Toyota Tacoma aesthetic.
Note that the manufacturer claimed 150 lbs carrying capacity is under the condition that you distribute the weight evenly. Of course, it is a good idea generally to not overload one side of the cab over the other regardless of which roof rack you are using.
Rola 59799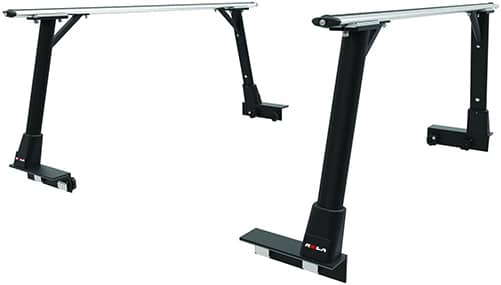 Manufacturer: Rola
Weight: 43.7 lbs
Material: Aluminum and Stainless Steel
Fits Model Years: 2005-2015 with deck rail systems, 2016-2022 5 and 6ft beds 
Carrying Capacity: 800 lbs
Buy on: Amazon
The Rola 59799 is a slight deviation from roof racks in the strictest sense. Technically, these are bed rails and they'll work if you have the 2nd generation Tacoma with a deck rail system or a 3rd generation Tacoma with either the 5 or 6ft truck bed.
These have a high carrying capacity of 800 lbs, and you will be limited by your Tacoma's carrying capacity at the bed, not the cab, so you will naturally be able to carry more weight with these.
They are constructed from anodized aluminum in a silver finish for the crossbars, while the uprights are black powder-coated steel.
Haitzu Cross Bars
Manufacturer: Haitzu
Weight: 15 lbs
Material: Aluminum Alloy
Fits Model Years: 2005-2020 double cab
Carrying Capacity: 80 lbs
Buy on: Amazon
The Haitzu roof rack is lightweight and an overall light-duty rack, supporting up to 80 lbs and weighing only 15 lbs. It is constructed from ABS plastic and aluminum alloy.
The rack has a fairly low profile and a minimalist design. Its low weight is a great feature for anyone who does not plan on hauling heavier items and wants to ensure they avoid adding unnecessary weight to the Tacoma's cab.
AutoxRun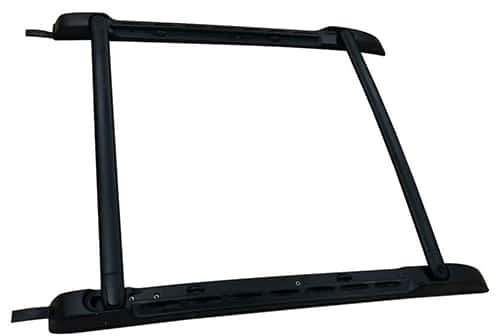 Manufacturer: AutoxRun
Weight: 11 lbs
Material: Aluminum Alloy
Fits Model Years: 2007-2021 double cab
Carrying Capacity: 150 lbs
Buy on: Amazon
The lightest roof rack on our list is manufactured by AutoxRun. It is made of plastic and aluminum; able to support a decent amount of weight as it is rated for 150 lbs. Additionally, the roof rack is powder coated in a black finish, which not only gives it a sleek look but also helps prevent corrosion.
This is a good choice for the Tacoma driver who wants to install a roof rack without sacrificing ride quality when driving without load. At just 11 lbs and with a low design, this roof rack is certainly not going to have a noticeable impact on driving dynamics, along with offering little to no increase in wind resistance.
INeedUp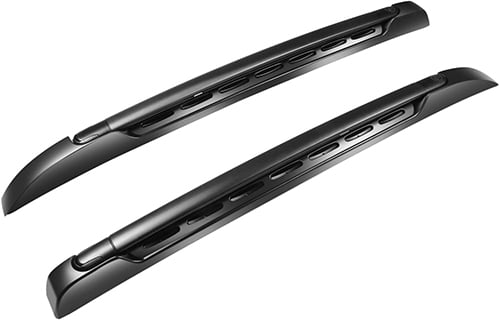 Manufacturer: INeedUp
Weight: 16.87 lbs
Material: Aluminum Alloy
Fits Model Years: 2005-2021 double cab
Carrying Capacity: 150 lbs
Buy on: Amazon
Similar to the AutoxRun, INeedUp offers a powder-coated black aluminum and plastic roof rack that is lightweight while being able to support up to 150 lbs.
This roof rack is a great choice for Tacoma owners worried about negatively impacting the aerodynamics and overall performance of the truck with the roof rack installed, especially for the times when they are not hauling items.
Yeeoy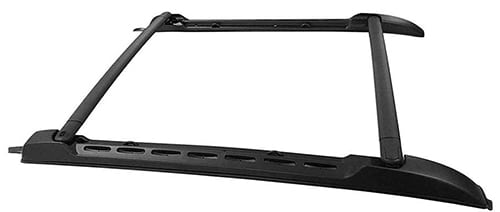 Manufacturer: Yeeoy
Weight: 17.21 lbs
Material: Aluminum Alloy
Fits Model Years: 2007-2021 double cab
Carrying Capacity: 100 lbs
Buy on: Amazon
The Yeeoy roof rack has a very similar design to the INeedUp and AutoxRun roof racks, and despite being able to hold less total weight, it is still a good option. Especially if you do not need the extra capacity and prefer the minimal appearance of this type of roof rack.
It is perfectly compatible with additional accessories such as cargo basket carriers, snowboard carriers, bike racks, luggage boxes, kayak mounts, and a lot more.
Prinsu Cab Rack
Manufacturer: Prinsu
Weight: 50 lbs
Material: 5052 Aluminum Alloy
Fits Model Years: 1995-2022
Carrying Capacity: Depends on the number of crossbars used
Prinsu is one of two manufacturers on our list that makes roof racks for all generations of the Tacoma. They have multiple American-made roof racks available, each weighing around 50 lbs. They offer a modular design, allowing you to configure the crossbars the way you want.
The roof racks are made of aluminum and are powder-coated black for a satin finish. Considering that the amount of gear you can carry depends on how you install the roof rack, it is recommended by Prinsu not to overload the rack beyond the Tacoma's cab limit.
There are multiple models to choose from, offering roof racks for double cabs and access cabs and even a special option for Tacomas that have the desert air intake system installed.
SnailFly Black
Manufacturer: SnailAuto
Weight: Not listed
Material: Aluminum Alloy
Fits Model Years: 2005-2020 double cab
Carrying Capacity: 165 lbs
Buy on: Amazon
The SnailFly roof rack is made from aluminum and treated for anti-corrosion/anti-rust to ensure durability and longevity even after being exposed to the elements.
It is a fairly low-profile roof rack rated to hold up to 165 lbs. These double-style crossbars are designed for light use. Even though they have a good-enough carrying capacity, they do tend to wear out faster when used in extreme conditions.
ECCPP
Manufacturer: ECCPP
Weight: 16.83 lbs
Material: Aluminum Alloy
Fits Model Years: 2005-2021 double cab
Carrying Capacity: 165 lbs
Buy on: Amazon
At under 17 lbs, the ECCPP rack is another good choice for those looking for something durable and rugged while still being lightweight.
It has a high carrying capacity despite its low weight, which is always a plus when trying to find something that will do the job well without harming the performance of the vehicle.
RhinoRack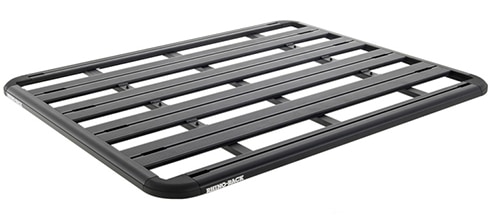 Manufacturer: RhinoRack
Weight: Variable
Material: Aluminum Alloy
Fits Model Years: 1995-2022
Carrying Capacity: Variable
RhinoRack roof racks are the second option on our list offering products for all generations of the Tacoma. They make racks for Tacoma access cabs and standard cabs for the 2nd and 3rd generation models, along with 1st generation offerings for double cabs.
Their styling and material selection is pretty standard across all their roof rack offerings for the Tacoma. Expect a high-quality black finish with locking mechanisms and swivel features for the crossbars.
A unique feature of RhinoRacks is that the bars can slide up and down on the roof rack, allowing for some degree of flexibility and the ability to load larger or awkwardly shaped items.
UpTop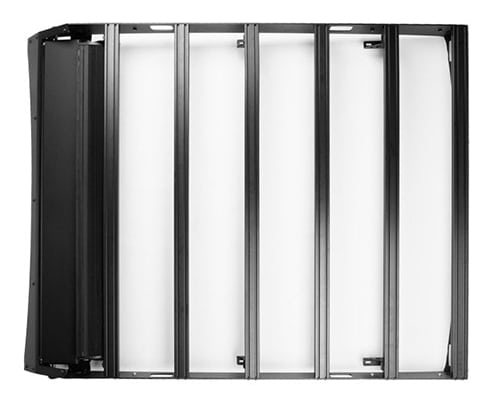 Manufacturer: UpTop
Weight: 50 lbs
Material: Aluminum and Steel
Fits Model Years: 2005-2022
Carrying Capacity: 125 lbs
UpTop makes roof racks for both access and double cabs for the Tacoma. Unlike the other manufacturers offering solid black finishes, you have the option of multiple colors for your roof rack, adding some customizability to your build.
While there are multiple racks to choose from, expect the general weight to be around 50 lbs and the rack to be made of aluminum with steel mounting feet.
The manufacturer takes pride in making roof racks that are much larger than what the competing brands make — with more bars for greater hauling functionality. This is a premium choice that allows for not only great cargo transport but a high level of modding ability.
Gobi
Manufacturer: Gobi
Weight: 50 lbs
Material: Aluminium Alloy
Fits Model Years: 2005-2022 double cab
Carrying Capacity: 800 lbs
Gobi is another manufacturer that offers multiple options for 2nd and 3rd generation Tacomas. The fitment is ideal for crew cabs, or "double cabs" — as Toyota likes to put it.
They have roof racks designed to accommodate Tacomas with and without sunroofs, so the rack itself does not impact your ability to use the sunroof if you have one.
You can select among a variety of models, some set up for light bars and others for multi-light installations, for example.
The Gobi roof racks are fully welded, which means that there are no nuts and bolts holding various components together. This means no creaking; only silent operation atop the cab. It has a powder-coated black finish and is treated to prevent rusting/corrosion.
U-Box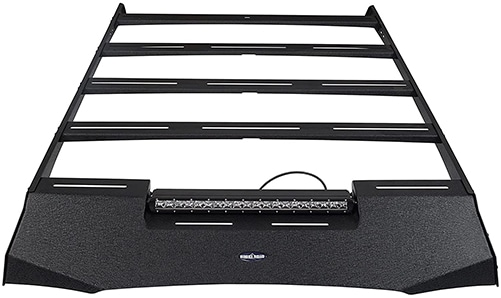 Manufacturer: U-Box
Weight: 55 lbs
Material: Alloy Steel
Fits Model Years: 2005-2022 double cab
Carrying Capacity: 330 lbs
Buy on: Amazon
The U-Box roof rack is constructed from alloy steel and features a black powder-coated and textured finish that is also treated to prevent corrosion.
While it is heavier than many of the other racks on our list, it comes with a powerful light bar, making it an ideal choice for those who want both extra storage capabilities along with lighting. The light is rated at 100 watts and is very bright at 9,000 lumens.
AlOffRoad
Manufacturer: AlOffRoad
Weight: 50 lbs
Material: Aluminium Alloy
Fits Model Years: 2005-2022 double cab
Carrying Capacity: 650 lbs
AlOffRoad offers a roof rack for 2nd and 3rd-generation Tacomas with options. You can choose between their onyx or OG design styles, which include either black logos with black steel hardware or unfinished logos with silver steel hardware. You also have the choice between 4 light bar cutout options in case lighting modifications are in your plans.
Additionally, AlOffRoad also offers custom colors for your roof rack on order. The racks are made of aluminum and designed to resist corrosion as well as ensure minimal wind resistance.
The carrying capacity is rated up to 650 lbs for a static load, but remember not to exceed the limits of the cab's carrying capacity as recommended by Toyota for your particular Tacoma.
Yakima MegaWarrior

Manufacturer: Yakima
Weight: 35 lbs
Material: Alloy Steel
Fits Model Years: 2005-2022 double cab
Carrying Capacity: 140 lbs
Buy on: Amazon
Unlike the other roof racks in this list, the MegaWarrior isn't designed exclusively for the Toyota Tacoma, but you can get it to fit by using an extension and Yakima's SKS locking bracket.
This beefy rack is ideal if you have a Tacoma camper shell, but note that you will notice a bit of a hum and a slight drop in fuel efficiency, about 2 mpg considering its profile.
It's 52″ long, 48″ wide, and 6.5″ high, comes with a custom wind fairing, and a limited lifetime warranty.
Best Tacoma Roof Racks: Our Top Choices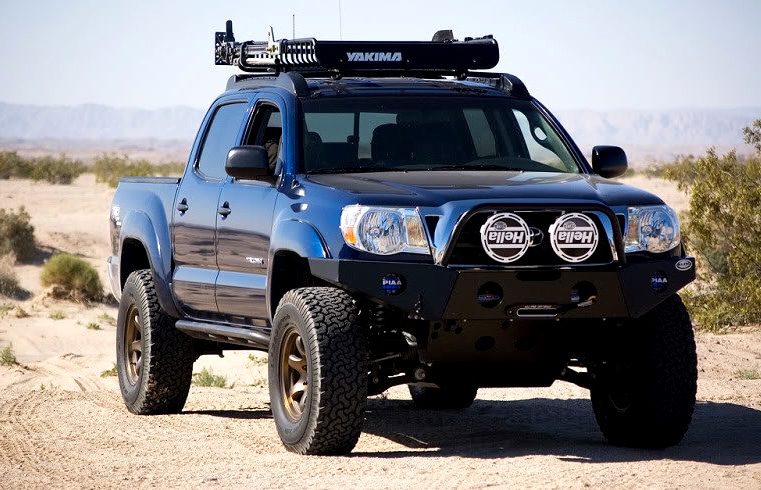 This list shows you just how many roof rack choices you have for your Toyota Tacoma, from lightweight, minimal roof racks all the way up to premium racks with sleek styling and customization options.
With that said, let's get into what our top choices are for aftermarket roof racks for the Toyota Tacoma.
For 1st gen Tacomas: Prinsu
If we had to recommend just one product on this list, we would recommend the Prinsu roof racks. They offer 4 options for your 1st generation Toyota Tacoma, all of which are high quality and ensured to be durable. They are designed for modular set-ups, meaning you get to decide how many bars you want to install and how to use them.
Additionally, they are designed to resist corrosion and feature a sleek-looking black finish that will add a rugged yet upscale look to your Tacoma.
Best choice for 2nd and 3rd gen Tacomas: Ants Part
The same roof racks that are compatible with the 2nd generation double cab will also work on the 3rd gen double cabs. For an overall, general-purpose pick, we recommend the Ants Part roof rack.
It weighs under 20 lbs, is low profile, doesn't negatively impact the overall performance, and it can hold up to 150 lbs, which is more than the Tacoma cab is rated to handle, so it is more than enough.
Ideal for combining light bars: U-Box
If included lighting is a priority, we recommend the U-Box roof rack. Not only is it heavy-duty and well constructed, but features a powerful light bar that can shine at 9,000 lumens. Note that this is only compatible with double cab 2nd or 3rd generation Tacomas.
Best premium roof rack for Tacomas: UpTop Roof Racks
If you are looking for the best in quality, performance, and looks, we recommend going with UpTop. These are well-crafted aluminum roof racks that offer several color options so you can get the exact look you want while ensuring you get something that will last a long time and perform very well.
In addition, UpTop roof racks are able to be outfitted with things like lighting equipment, so if you ever decide to hook up a light bar or multi-light setup it is doable.
For many of us auto enthusiasts, just having the ability to upgrade and/or add on to products over time is enough of an incentive to choose, as we test out different things to find what works best.
Making other mods to your car? Check our out Tacoma tire size guide, which includes specs for each generation, as well as Tacomas with lift kits.
What do you plan on loading up your roof rack with? Let us know by leaving a comment below!