Buying a welder for home use is an incredibly worthwhile investment for automotive enthusiasts — not just for those of us who insist on buying rusty classic cars from 30+ years ago!
Having a welder kit in your garage means you can repair rusted panels and even cracked car parts, like exhaust headers and manifolds which are notorious for cracking. Fabrication also becomes an option for truly custom work.
The most value you'll derive from having one of these in your arsenal of automotive tools is that you'll spend less money on repairs. You'll also get to experience the simple pleasures of DIY.
In this article, we've discussed everything you need to know before purchasing a welder for home use, and we've concluded with a list of our top recommendations.
Let's get down to it, shall we?
Things to Consider Before Purchasing a Welder
To help figure out which is the best home welder for you, it's important to think about where you will use it and how you'll power it (voltage is important to consider here as some welders operate using voltages that exceed the limits of household power outlets), how often you will use it, and other items you'll need before starting your first welding project.
Do not forget about safety! Welding is dangerous and requires the use of PPE gear. Some welders do come with helmets, but there are several items you need to weld safely in addition to a helmet.
Welding gloves
Welding jacket
Welding pants
Ear protection (plugs, muffs, headphones, etc.)
Respirator (especially important if indoors; if you're welding outdoors, you can use something like a dust mask instead)
Be sure to purchase clothing and helmets designed exclusively for welding. Regular clothing just won't cut it, in fact, it might increase the chance of sustaining serious injury. Do not attempt to use your welder prior to making sure you and those around you are wearing the proper safety gear.
Welder Kit: Important Features
We are going to focus on the best MIG welders for home use as they are excellent for automotive applications; although there are multi-purpose machines that can do other forms of welding in addition to MIG which will be included as well.
Important features include the overall weight of the machine, welding thickness (how thick of a material can be welded); voltage, and electrical current the machine operates at (generally need up to 140 amps to weld 0.25in steel, for example), and duty cycle. This last bit requires a bit of explanation to understand its importance.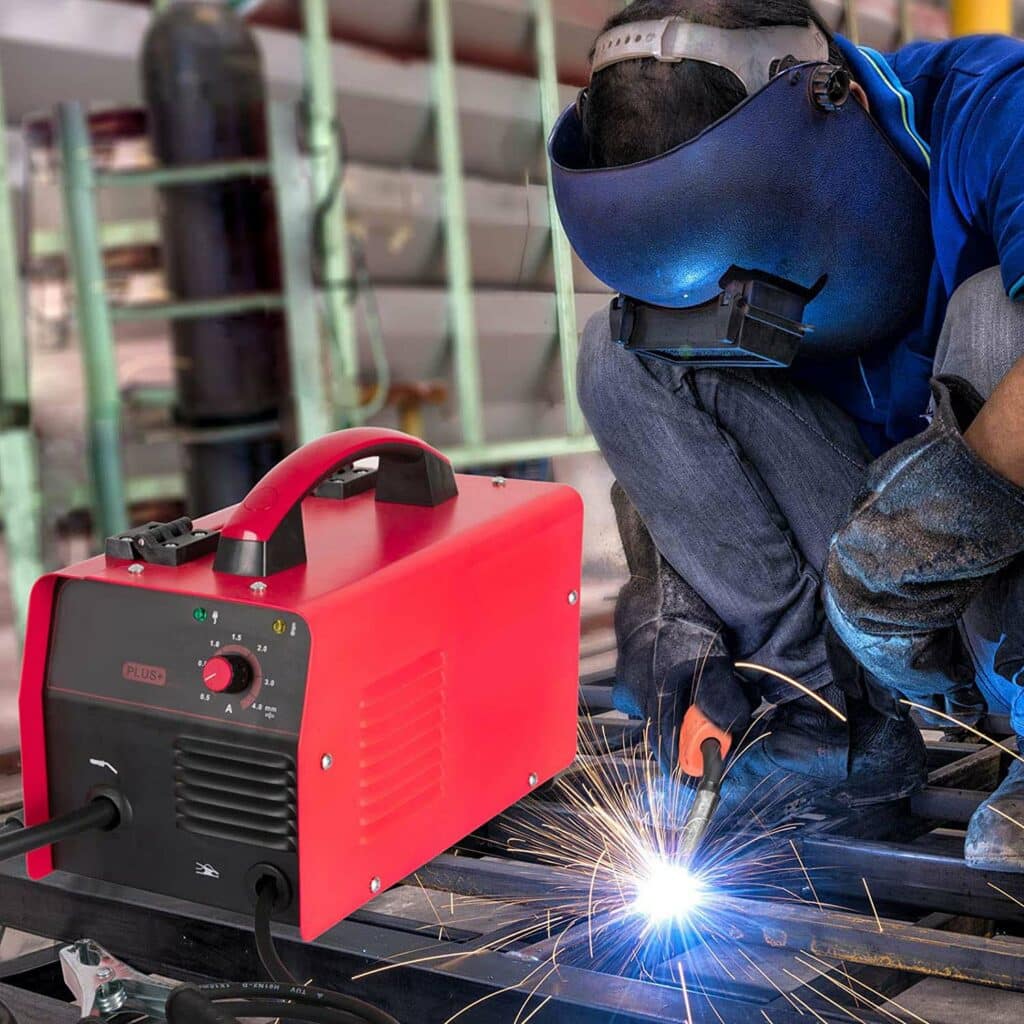 A duty cycle is a way of describing the performance of a welder. For example, 100A/40% would mean running at 100 amps over 10 minutes — the welder sustains a total of 100 amps for 4 minutes. This helps determine the overall output of the welder.
Best Welders for Home Use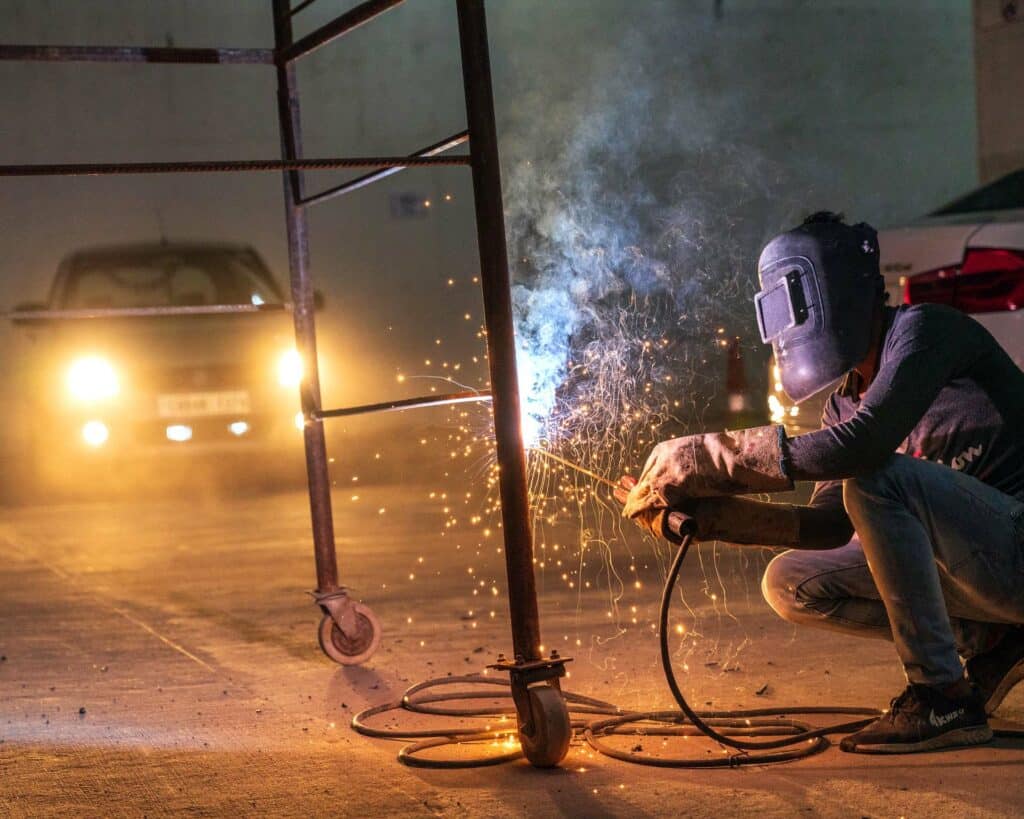 Choosing the best DIY welder for you depends on what you plan on doing with it and the resources you have available to you.
To help you narrow down your options, we've listed a wide range of high-quality MIG welding kits below.
Hobart Handler 140
Manufacturer: Hobart
Item Weight: 57 lbs
Weld Thickness: 0.25"
Voltage: 115v 
Amperage range: 25 – 140
Rated Output: 90A/20%
Buy on: Amazon
This welder from Hobart is relatively heavy compared to the other welders on our list but is composed of quality materials, like the cast aluminum drive system.
At 115 volts, it is a perfect fit for standard household electrical outlets. It can be used for welding steel (stainless or not) and aluminum, with a 5-way selector switch to ensure a consistent welding arc during operation.
Lincoln Electric Handy Core
Manufacturer: Lincoln Electric
Item Weight: 45 lbs
Weld Thickness: 0.125"
Voltage: 115v
Amperage range: 35 A to 88 A
Rated Output: 70A/20%
Buy on: Amazon
The Lincoln Electric welder is a good choice for those interested in light-duty projects. It has a relatively low max electrical range of 88 amps, and maximum weld thickness for steel at 0.125".
Although it is a less powerful welder, it is compact and weighs under 50 lbs, making it a great choice to serve as a light-duty, portable product.
Forney Easy Weld
Manufacturer: Forney Industries
Item Weight: 19 lbs
Weld Thickness: 0.25"
Voltage: 120v
Amperage range: Up to 140 A
Rated Output: 90A/30%
Buy on: Amazon
The Forney Easy Weld is one of the lightest on our list at only 19 lbs, yet is still constructed of a metal casing for durability.
Despite how lightweight it is, this welder can successfully weld up to 0.25" steel, just like its heavier counterparts.
It features a technically infinite voltage/wire-speed selector, helping you get the precise settings you need for the project at hand.
An important note from Forney is to avoid using .035" wire with this welder as it will reduce the duty cycle of the product.
GoPlus Mig 130
Manufacturer: GoPlus
Item Weight: 35 lbs
Weld Thickness: 0.25"
Voltage: 110v
Amperage range: 50 A to120 A
Rated Output: 105A/10%
Buy on: Amazon
The GoPlus welder is another compact, portable machine. It can weld up to 0.25" steel and iron and features four voltage settings. There's also the added benefit of it having a wire-feed with ten different speed settings.
The welder is constructed from steel and has air vents on both sides to help ensure optimal heat dissipation.
A unique aspect of the GoPlus welder is that it has a hidden storage compartment on top so you can store small tools/needed items.
Weldpro 200
Manufacturer: Weldpro
Item Weight: 30.4 lbs
Weld Thickness: 0.197"
Voltage: 110v/220v
Amperage range: 40 A to 200 A
Rated Output: 200A/30%
Buy on: Amazon
The Weldpro 200 is the first on our list to have multiple welding functionalities and voltages. Safety note — be sure your power outlet can handle 220 volts prior to plugging it in!
In addition to MIG, this one can also perform TIG and stick welding, making this a good choice for those who need multiple forms of welding.
There are multiple electrical current ranges as well, depending on the voltage being used, with the highest MIG amps being 200 at 220v. It can weld at an impressive thickness of 0.197".
Lotos MIG140
Manufacturer: Lotos Technology
Item Weight: 54 lbs
Weld Thickness: 0.188"
Voltage: 110v
Amperage range: Up to 140 A
Rated Output: 90A/20%
Buy on: Amazon
The Lotus MIG140 can weld up to 0.188 steel and runs at the normal 110 volts, albeit not being as portable as some other models at 54 lbs.
This welder features two digital displays for wire speed and voltage for ease of use and easy reading.
There is also a thermal overload protection system in place to help prevent overheating and therefore damage to the welder.
Suncoo MIG130
Manufacturer: Suncoo
Item Weight: 30.4 lbs
Weld Thickness: Not listed
Voltage: 110v
Amperage range: 50 A to 120 A
Rated Output: 105A/15%
Buy on: Amazon
While the exact weld thickness is not specified for the Suncoo 130, it nonetheless boasts some impressive features for a small home use welder.
This welder is gasless, unlike other machines that require it to function at all. It can operate up to 120 amps, so it is likely that it can weld at least 0.125" steel, and possibly more, as 140 amps are often the gold standard for 0.25" steel welding.
Like the GoPlus welder, this model also has heat vents on both sides. There are four options for voltage and an adjustable knob for wire speed.
Hobart Handler 210MVP
Manufacturer: Hobart
Weld Thickness: 0.375"
Voltage: 115v/230v
Amperage range: Up to 210 A
Rated Output: 90A/20%, 150A/30%
Buy on: Amazon
The 2nd Hobart on our list, the 500553 features dual voltages, with the 230 volts being able to weld up to 0.375"! It features seven voltage settings and the same high-quality aluminum drive system as the previous Hobart welder.
This is a heavier duty performer that might be good for those who intend on working not only on automotive projects but also for other, more tedious applications.
Tooliom 135A
Manufacturer: Tooliom
Item Weight: 17.36 lbs
Weld Thickness: 0.125"
Voltage: 110v
Amperage range: Up to 135 A
Rated Output: 135A/60%
Buy on: Amazon
The Tooliom is the lightest welder on our list at only 17.36 lbs. With this portability, however, comes the tradeoff of a max weld thickness of 0.125in. This makes this model another good choice for light-duty operations.
It features a safety mechanism to prevent overheating as well as a digital display for the output voltage.
Vivohome MIG 170
Manufacturer: Vivohome
Item Weight: 34.6 lbs
Weld Thickness: Not listed
Voltage: 110v
Amperage range: 80 A to 150 A
Rated Output: Not listed
Buy on: Amazon
Although a bit heavier than some of the other portable options at just under 35 lbs, the Vivohome MIG 170 has a carrying handle for easy transport.
It has four voltage options and ten for wire speed. This welder is made of steel and is also powder-coated to prevent rusting over time. The weld thickness is likely close to 0.25" given that the max electrical current is 150 A.
SunGold MIG-140
Manufacturer: SunGoldPower
Item Weight: 22.8 lbs
Weld Thickness: Not listed
Voltage: 110v/220v
Amperage range: 50 A to 140 A
Rated Output: 140A/60%
Buy on: Amazon
This welder from SunGoldPower can run at either 110 or 220 volts, as well as operate with or without gas.
With a max current of 140, the weld thickness is likely close to 0.25in when working with steel applications.
It is very lightweight, as well, making this another good choice for a portable welder. With a duty cycle of 140A/60% and the ability to run at 220 volts, this is a more powerful welder than the other portable options on this list. Keep this in mind if efficiency in operation is of concern.
YesWelder MIG-250 PRO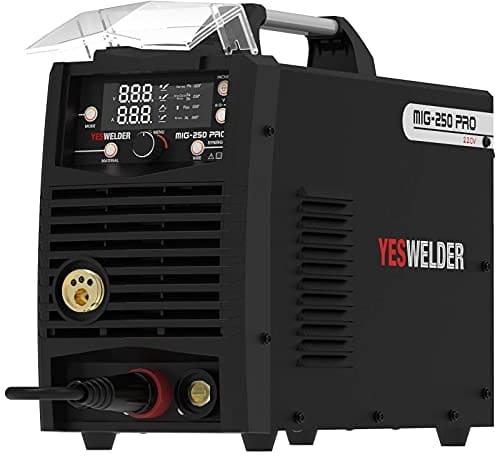 Manufacturer: YesWelder
Item Weight: 21.72 lbs
Weld Thickness: 0.203"
Voltage: 220v
Amperage range: 30 A to 250 A
Rated Output: 225A/60%
Buy on: Amazon
The YesWelder can be used as a TIG and stick welder with an electrode. It can also be used with or without gas for MIG welding. It has a high range of up to 250 amps and can weld up to .203in thick materials.
It is important to note this welder only comes at 220 volts, so it is important to ensure your home outlets can handle that prior to purchasing.
Vivohome 130
Manufacturer: Vivohome
Item Weight: 34.6 lbs
Weld Thickness: Not listed
Voltage: 110v
Amperage range: 50 A to 120 A
Rated Output: 105A/15%
Buy on: Amazon
The second Vivohome welder on our list comes in at the same weight as the other, but with a lower current range overall up to 120 amps (compared to 150 amps). Overall, it has very similar features in terms of its operation.
One benefit to choosing the Vivohome 130 over the 170 is that it comes with a welding helmet, which is a nice addition when purchasing the welder, giving you one less item to have to shop for.
Miller Electric Millermatic 211
Manufacturer: Miller Electric
Item Weight: 38 lbs
Weld Thickness: 0.375"
Voltage: 120v/240v
Amperage range: 3 A to 230 A
Rated Output: 150A/40%
Buy on: Amazon
The Millermatic 211 dual-voltage welder, with both a 120 and 240-volt power supply. With these higher demands from the 240 volts comes high capabilities such as a max weld thickness of 0.375".
It has five auto-set options for wire and gas combinations, making it easy to set up and use. It also has a carrying handle so you can easily move it, although it is slightly heavier at 38 lbs.
Unique to this model is a fan system that operates on-demand, which reduces the overall noise of the machine, as well as the number of pollutants being circulated through the system and into the surrounding area.
Everlast Power Equipment
Manufacturer: Everlast Power Equipment
Item Weight: 79.8 lbs
Weld Thickness: 0.75"
Voltage: 110v/240v
Amperage range: Up to 250 A
Rated Output: 250A/35%
Buy on: Amazon
At nearly 80 lbs, the Everlast welder is not nearly as easily portable as some other options on this list, but it makes up for that by having a high current up to 250 as well as a dual-voltage power supply system to run either 110 or 240 volts depending on your needs.
It's also a very versatile unit, performing as a TIG welder while also being capable of stick welding.
This is the most premium option on our list, able to weld up to 0.75" aluminum with the MIG function. It also features nine onboard memory profiles so you can save the settings you use most often for quick setup.
Our Recommendations for Welding Kits
This should give you a good idea as to what makes a good MIG welder. While each one on this list would be a good choice, what is best for you depends on your particular situation (power access and materials you will be working with, for instance).
With that in mind, here are our top three picks for the best small welders for home use.
Best all-round welder: Hobart 500559
For the automotive enthusiast looking to weld with cars, our top pick is the Hobart 500559. It has the necessary features to weld most, if not all, automotive applications you will likely encounter at a good price.
It also has standard power requirements, meaning you do not need to do anything special for general household use.
While it is a bit heavier than other options on this list, it is not out of the question to move the welder if need be.
Most portable welder: Forney Easy Weld
When portability is of prime importance, we recommend the Forney Easy Weld. It weighs a mere 19 lbs but does not sacrifice the performance you need for automotive tasks, able to weld up to 0.25" steel at a max of 140 amps.
Additionally, the welder is made of metal, making it a durable choice for hauling around to different places often.
Best multifunction welder: Millermatic 211
Although MIG welding is sufficient for most if not all the automotive welding projects you are likely to take on, you might also want to use stick and/or TIG welding for both auto and non-auto projects. If this is the case, we recommend the Millermatic 211.
This is a premium welder that supports stick, TIG, and MIG applications. It has a wide amp range to suit different needs based on the task at hand and can run using either the standard 110-volt power supply or the higher and heavier duty 240 volts. This is essentially the all-in-one option for a multitude of light and demanding projects.
What do you think about this list? Is there a welder that you would've liked to see on here? Let us know by leaving a comment below!