The workflow of a professional mechanic—or home mechanic—involves a ton of footwork, leaning, bending, flexing, and standing in during long days. Even though most of this takes place in a limited space, it is a labor-intensive task.
Not to mention the safety risks such as oil leaks, exposure to high temperature, working with rusted metal, and heavy-duty equipment. In conditions like these, using PPE such as toe protection is paramount.
Other than tool sets, protective footwear is one of the highest priority items among mechanics for this reason.
Not only do they protect your foot from heavy objects, but they also provide comfort and support. This is important to prevent knee and ankle problems when you're older.
So if you're looking to improve your operational efficiency and stay comfortable while preventing excessive pressure on your feet, this guide is for you. Read on to learn about choosing the right work boots and to know our top recommendations.
Why Hiking Boots Don't Cut It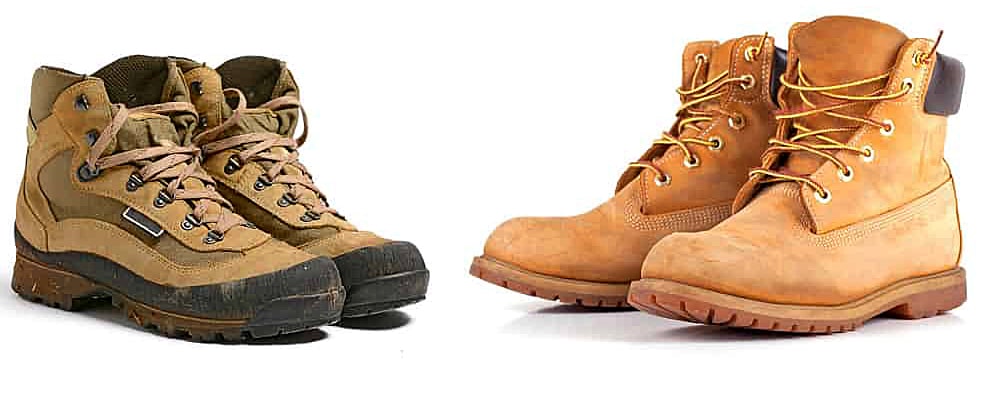 Unlike hiking boots, work boots for mechanics are purpose-designed for the increased hazards of a workshop. Sure, hiking trails come with their own set of hazards, but nobody wants to lug around a steel-toe-equipped pair of heavy work boots for miles.
Boots designed for hiking are designed to endure long distances. They're lighter, more comfortable, and more flexible compared to work boots. With work boots, the main priority is to safeguard your foot against impact from heavy objects, among other factors.
On that note, let's discuss some of the most important factors you should consider when purchasing automotive work boots.
Choosing the Best Mechanic Boots
Footwear selection is very preference-based, but it mostly depends on how your feet are shaped and what your unique requirements are. There are tons of different sizes and customization options that you can look into.
The shape of your arch, for instance, will determine what kind of insole you need. The weather in your region will determine which material you should choose.
Do you absolutely need safety toe work boots with metatarsal protection? Or do you prioritize comfort?
Let's discuss some of these factors in more detail.
Toe Protection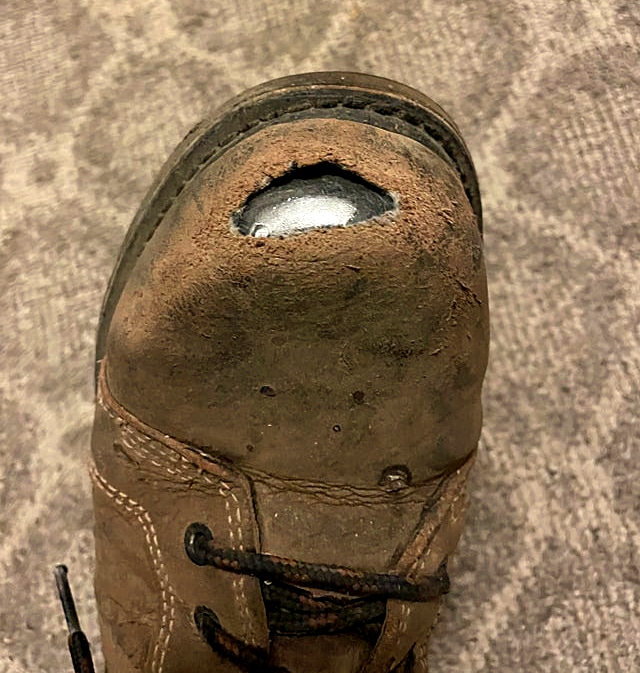 Toe protection is the first and foremost reason to consider wearing work boots. There are 3 materials commonly used for toe-protection — steel, aluminum, and composite.
Steel toe work boots are the heaviest and are hard to move around with, but they provide the most amount of protection. Aluminum equivalents are lighter than steel but offer a similar amount of protection.
Composite safety caps are the lightest and most expensive because they strike the perfect balance between weight and strength. Another plus point is that they are a poor conductor of heat — ideal for winter use.
Electrical Hazard Protection
Having to deal with electrical equipment, wires, and batteries calls for the use of work boots with a good electrical hazard (EH) rating. EH-rated shoes provide an adequate amount of protection against static-buildup and can potentially save your life.
They're a secondary source of protection in instances where you might accidentally come in contact with live electrical circuits.
The steel and/or composite caps help to reduce the intensity of electrical shocks. Note that steel toe caps are usually coated with non-conductive materials.
Weight and Durability
Weight is a factor that should be considered more seriously while choosing work boots. An ultra-rugged construction will surely add protection, but it will also make the boots heavy and unsuitable for long-duration use.
You do not want to be wearing heavy shoes for long periods of time as it is counterproductive and will stress your feet out instead of providing comfort.
And in case of durability, invest in materials that can take a lot of abuse like leather and composites. While the latter can be expensive, it is a tried and tested option that you can't go wrong with.
Oil Resistance
Oil and grease are known to easily break down materials such as rubber and leather. Mechanic work shoes that are oil-resistant are typically more durable in these conditions.
This is because oil won't degrade the outsoles and the shoes will last for much longer than those that aren't resistant to oil.
Note that oil and slip resistance are two different things.
Slip Resistance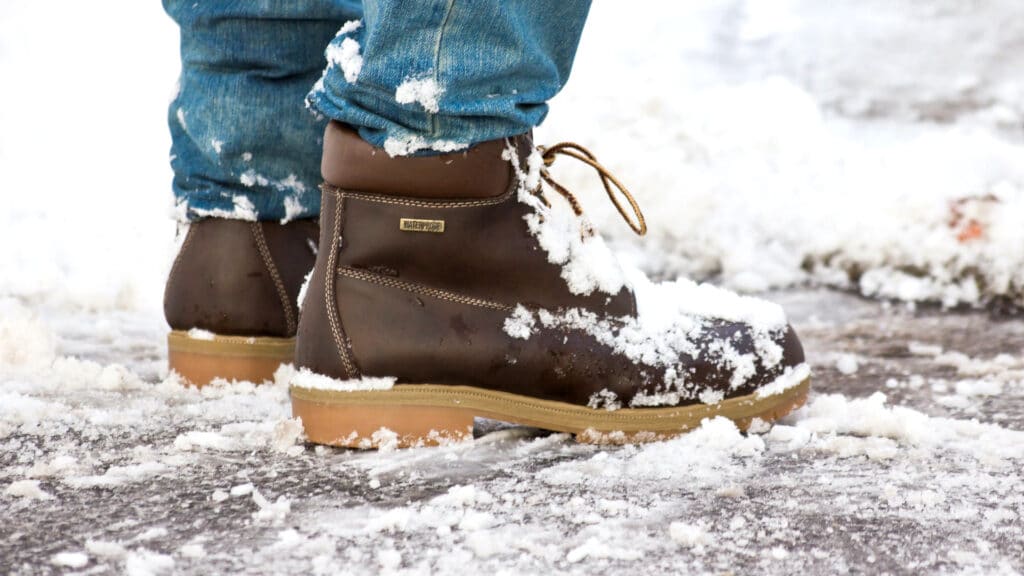 This has to do with the traction that your shoes provide. Manufacturers perform multiple tests to ensure that the coefficient of friction between the outsole and slippery materials such as oil is kept as high as possible.
Slip-resistant shoes work flawlessly in hazardous conditions by providing you with a generous amount of grip — something every mechanic needs.
Tip: To thoroughly clean slippery surfaces, use an engine degreaser for the best results.
Protective Standards
There are 6 stages of protection standards outlined for safety boots: SB, S1, S1P, S2, S3, and S5. Those that are classified as SB fulfill the following basic requirements:
A toe cap that withstands a pressure of 147.5 lb ft
Oil resistant sole
Synthetic, full-grain, or leather upholstery.
S1P protection footwear includes an antistatic sole with slip-resistant properties. They're ideal for professional mechanics who work in warehouses.
S1P also includes mandatory protection like anti-perforation foil that helps protect against sharp objects like nails.
S2 Safety shoes are slightly different as they have a water-resistant upper which makes them impermeable to liquids even when immersed for over 60 minutes. They also have anti-static and antishock characteristics, a non-slip sole, and are very resistant to oil.
The S3 standard is the most stringent with requirements for all-around protection. It combines the properties of the S2 standard with the anti-perforation midsole typically seen on S2 footwear.
Other safety standards include CSA and ISA in Canada, ISA in Europe, and ASTM or ANSI in the US.
This guide focuses on foot protection standards in the US: ASTM F2413(M/F) I/75 C75. Other parameters include electric shock protection, puncture protection, conductive protection, and static protection.
Outsole, Midsole, and Insole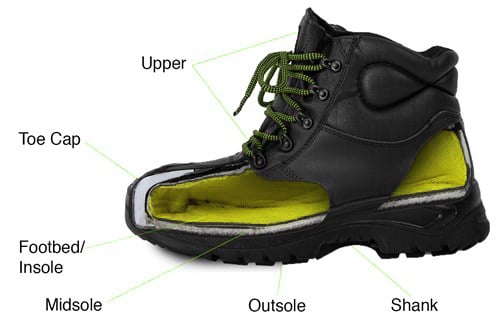 When choosing the right work boots for your needs, it's important to consider the sole material correctly. The sole comprises 3 parts with varying degrees of softness — the outsole, midsole, and insole.
Insoles can typically be swapped out for something that's better suited for your foot arch profile. You can purchase special orthopedic soles should you need them.
The outsole is the hardest outer-layer one that is directly exposed to the ground. It should be slip-resistant and flexible enough to stress your feet.
The midsole is more focused on comfort. Long hours of use can quickly become tiring if the midsoles are not properly made.
Material Selection
The material you select comes down to your use case. If you're a home mechanic and need a pair of work boots that you'll only use occasionally, those made using nylon mesh will provide adequate protection.
But if you require something heavy-duty, designed to take a ton of abuse, then you need to consider the leather options.
Best Work Boots for Mechanics
Now that you know what to consider when purchasing mechanic work shoes, sorting through the following list will get much easier.
Below we've listed some of the absolute best work boots for mechanics that you can buy right now. Remember, you can always return the shoes if you find them uncomfortable, so long as they're in the return window.
Skechers Burgin-Tarlac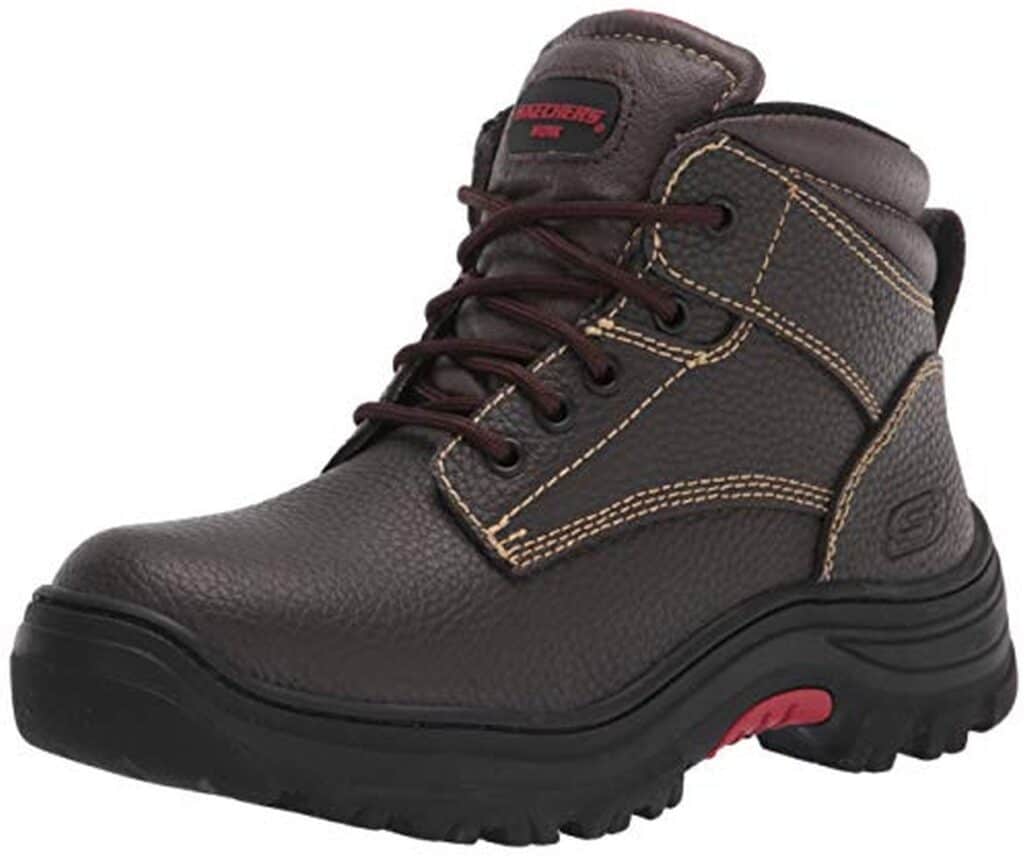 Toe Protection: Steel
Sole Material: Rubber
Weight: 2.06 lbs
Buy On: Amazon
Even though Skechers specializes in athletic footwear, they do a pretty good job at making affordable work boots for auto mechanics. If you're light on the budget, these are the ones to go for.
These steel toe work boots have a generous rubber sole and memory foam insole. The wider size range (from 7 to 14) along with wide-fit options add to its overall value.
They're also rated for electrical hazard protection. The only downside is that they're not waterproof and are known to wear out quickly. Expect 1 year with rough use.
CAT Second Shift
Toe Protection: Steel
Sole Material: Synthetic
Weight: 2.4 lbs
Buy On: Amazon
Caterpillar is a well-known name in the heavy-duty PPE business. Their Second Shift work boots are built to withstand the toughest work conditions.
They're made of full-grain leather with chunkier overlays over the heel and side, and a slip-resistant outsole. For maximum protection, they're equipped with steel toe caps.
For comfort, the Second Shift boots have a removable insole and padded ankle collar for prolonged use.
KEEN Utility Atlanta Cool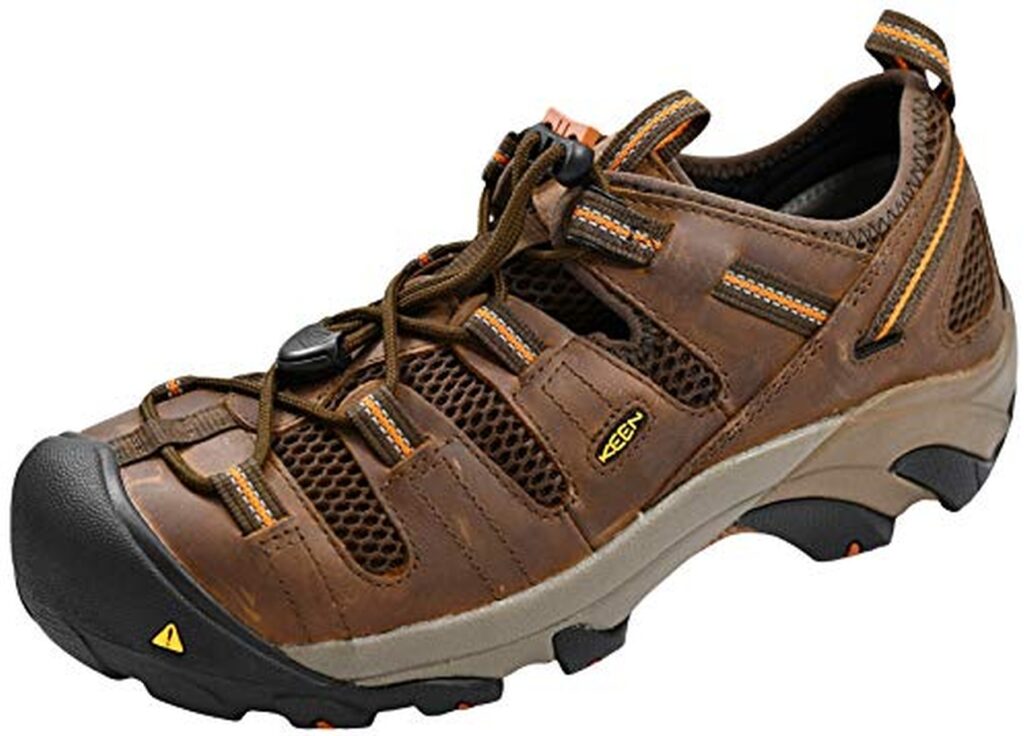 Toe Protection: Steel
Sole Material: Rubber
Weight: 2.85 lbs
Buy On: Amazon
These Atlanta Cools are the only low-top work boot on this list. Really, most people will consider these an automotive work shoe.
These are waterproof and made using a leather-mesh combo. The durability on these is top-notch and they come with asymmetrical steel toes. If your feet overheat while working in the summer, these are definitely worth a look.
A cool feature that stuck out to us is the Torsional stability shank which helps to maintain balance and avoid slippage. Downsides include a lack of proper arch support and pulley shoelaces.
Wolverine Hudson
Toe Protection: Steel
Sole Material: Rubber
Weight: 2 lbs
Buy On: Amazon
The grey-black Wolverine Hudson shoes are made of Nubuck suede leather and mesh inserts. They come equipped with steel toe caps and electrical hazard ratings.
The overall construction allows for easy breathability. Note that the shoes aren't waterproof, but they're water-resistant. Durability is top-notch and it's especially resistant to slips and abrasion.
Flexible midsoles, cushioned footbeds, and soft insoles make the Hudson boots ultra-comfortable for prolonged use. The nylon shank comforts the arch and makes the overall package even nicer.
Timberland PRO Flume
Toe Protection: Steel
Sole Material: Rubber
Weight: 3.2 lbs
Buy On: Amazon
Timberland PRO's Flume range of shoes strike the perfect balance between ruggedness and comfort. The combination of a soft insole and a steel toe is what makes that happen.
The outsole is made of thermoplastic polyurethane and is slip-resistant. Cushion levels are impressive and add to its shock-absorbent nature. Because of all the added padding, it weighs marginally higher than most other options in this list. They are extremely abrasion resistant however.
It has a wider size range from 7 – 15. On the flip side, sizing is a bit inconsistent, and the ankle area might not be a good fit for some people.
Rockrooster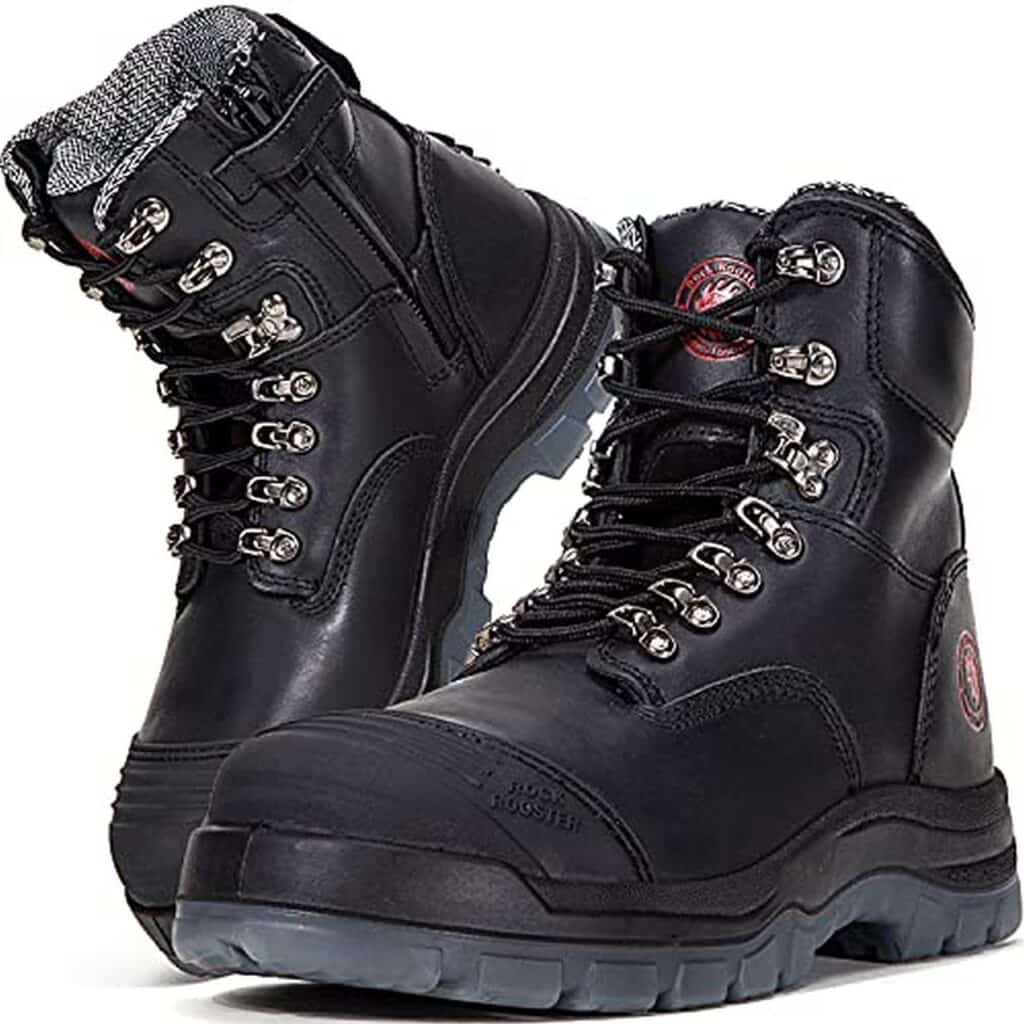 Toe Protection: Steel
Sole Material: Thermoplastic Polyurethane
Weight: 5.8 lbs
Buy On: Amazon
These are among the heaviest work boots on the market. The ROCKROOSTER work boots are high-rise boots that come with a side zipper. These come with slip-resistant outsoles which also have a Kevlar soft plate.
You won't have to worry about sharp objects. These boots are ASTM-complaint and come with a leather-reinforced toe. They are very abrasion resistant and will last a long time, even with tough daily use.
Comfort is the priority here with clever CoolMax technology that diverts moisture away from the skin. This keeps the feet dry and reduces fatigue during long work hours.
Thorogood American Heritage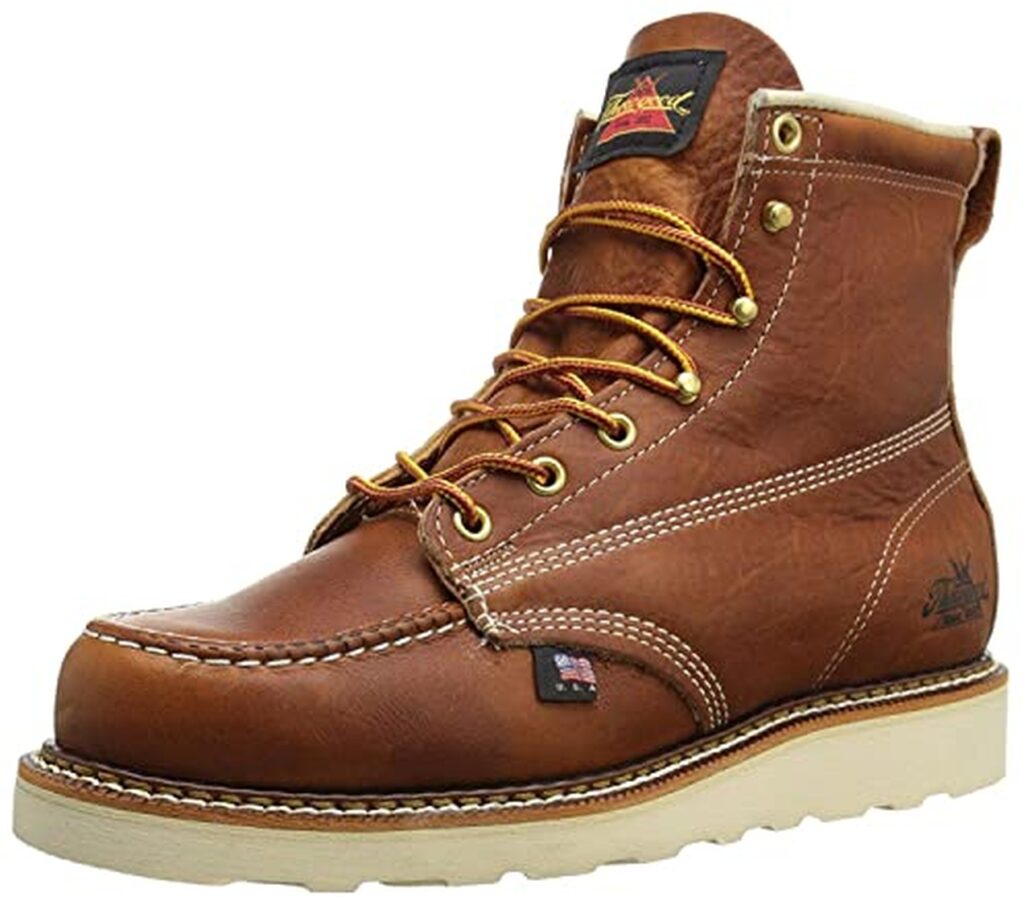 Toe Protection: Leather
Sole Material: Single-Density Polyurethane
Weight: 5 lbs
Buy On: Amazon
These boots have arguably the thickest soles compared to other options on this list. They come with patented Goodyear welt construction (yes, the tire manufacturer), and are designed to be a workhorse.
The sole is made of single-density polyurethane which adds durability without bumping up the weight. The insole is shock-absorbent and extremely comfortable.
The outsole is slip-resistant and comes with Electrical Hazard (EH) rating. Despite being all-leather, this set is breathable as well. With 5 vibrant colors to choose from and a wide size range, these boots definitely score some style points.
On the downside though, they don't have dedicated toe protection.
Timberland PRO Boondock
Toe Protection: Composite
Sole Material: Synthetic
Weight: 4.5 lbs
Buy On: Amazon
The Timberland PRO Boondocks are some of the most rugged work boots out there. These boots comply with ANSI heat and electrical resistance standards.
They are highly abrasion resistant and come with composite toe protection.
The clever 6-inch arch protection provides more than adequate support. The boots are waterproof and can be easily maintained and cleaned. The only downside is the absence of an insole in the box. You need to buy one separately.
Timberland PRO Direct Attach 6-inch
Toe Protection: Steel
Sole Material: Rubber
Weight: 4.7 lbs
Buy On: Amazon
These boots come with steel toe protection which is ANSI 75 rated. The grommets are metal-reinforced and the midsole comes with nylon shock diffusion to dissipate impact force.
Even the platform and heel consist of diffusing plates. The outsole is oil and slip-resistant. Comfort levels are high with mesh linings to keep your feet dry.
They come with a removable polyurethane insole that can be replaced. Timberland also includes antimicrobials to cancel out the odor.
KEEN Utility Pittsburgh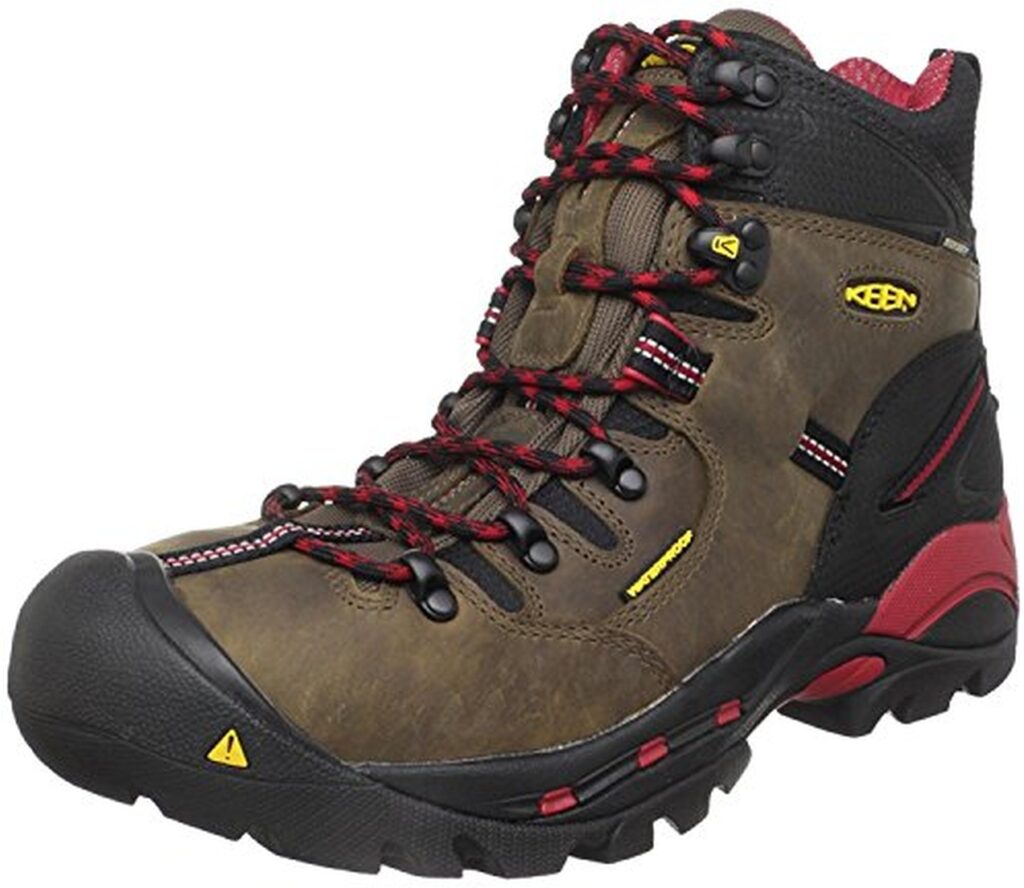 Toe Protection: Steel
Sole Material: Rubber
Weight: 4 lbs
Buy On: Amazon
KEEN is known for prioritizing comfort. Their Pittsburg boots are made from nubuck leather and are constructed using a water-resistant, breathable material.
The interior is roomy and you also get excellent heel and arch support. Combine that with an EVA memory foam midsole and you have work boots that are near-perfect.
These come with ASTM-certified steel toes and rubber toe guards. The rubber outsole is slip- and oil-resistant. While the sole is grippy, soft rubber wears off quickly and is not as durable as some other options on this list.
Danner Crafter
Toe Protection: Leather (No additional protection)
Sole Material: Rubber
Weight: 4 lbs
Buy On: Amazon
These boots are known for their high-density rubber midsole. This sole gives a higher degree of electrical resistance. The outsole is slip- and oil-resistant and comes in a clever lug pattern for better traction.
The insole is cushioned for a comfy all-day work routine minus the fatigue. The body is made of oiled leather for extra rigidity. The downsides here are the absence of dedicated toe protection and soft outsole material that wears out quickly.
Wolverine Overpass
Toe Material: Composite
Sole Material: Rubber
Weight: 4 lbs
Buy On: Amazon
These waterproof work boots are made of leather and breathable textile. These come in a single color and look interesting with orange accents.
The build is both durable and flexible, thanks to fabric layers. It comes with a breathable membrane that keeps sweat and heat at bay. These boots are ASTM-certified and come with light-weight composite safety toe protection.
The rubber sole provides resistance against oil spills, abrasion, and corrosive chemicals. These boots are highly comfortable with a removable Ortholite cushioned footbed.
Our Top Choices: Best of the Best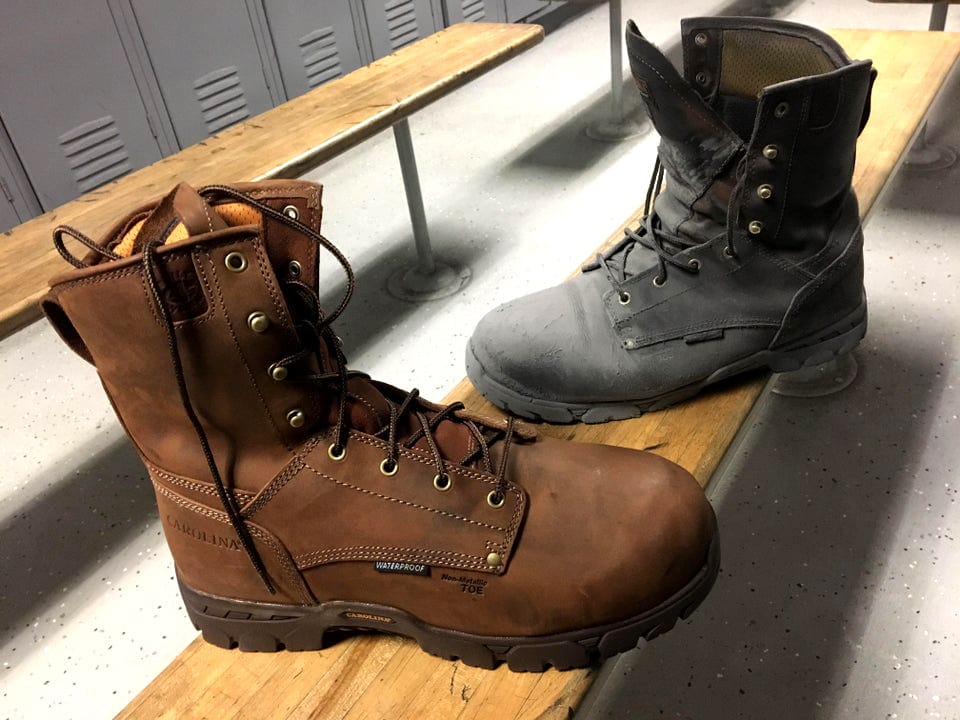 When it comes to buying shoes, it's always a hit or miss. The chances of finding the perfect boots in your first attempt are slim.
But because work boots tend to wear out quickly, you get to try multiple options over a course of time and then zero in on the perfect pair for your needs.
Even though every single pair of work boots mentioned in this guide is of top-level quality, we have our favorites. To help make your decision easier, below we've listed two of our top recommendations from this list.
Best Value-For-Money Work Boot: CAT Men's Second Shift Work Boot
With steel toes and a rugged synthetic outsole, this work boot is designed to take all the abuse.
At 2.4 lbs, these are very lightweight. With adjustable insoles, you get some flexibility when it comes to comfort as well. The full-grain leather constructing gives it a premium appeal as well.
Best Premium Work Boot: Timberland PRO Men's Boondock Work Boot
These heavy-duty work boots offer the absolute best in safety, comfort, and protection. They come with composite safety toe protection and clever 6-inch arch protection.
They comply with all international safety standards and are highly durable. These boots look like they can handle whatever you throw at them because they can.
And that concludes our list of the best work boots for mechanics. Have you tried any of the boots mentioned above? What was your experience? Let us know in the comments below!