Scion's FRS is the textbook definition of a driver's car — it begs to be revved; doesn't cost much to own and maintain, and is easily one of the best handling cars to ever roll out of Japan.
But even then, the stock suspension settings leave a lot on the table because they're dialed for daily driving. If you want to gain control of your suspension settings, then installing aftermarket coilovers is the best thing you can do.
With coilovers, you can adjust preload, damping, and ride height with just a few clicks. This allows you to fine-tune your suspension in a way that suits your driving style.
Choosing the right coilovers comes down to what you intend on doing with your FRS. Some drivers prefer shaving a few tenths off their lap times, while others are more concerned about how their car looks, i.e., stance.
Also, price is a concern, as are quality and reliability. Other factors include the material used, spring rates, adjustability, weight savings, and so on. So, before you take out your credit card, make sure to do your research.
This guide is a good place to start with that. Read on as we'll discuss and review some of the best FRS coilovers.
Coilover Selection: The Basics
Even though coilovers come across as simple springs wound around dampers, they're actually incredibly complex machinery.
It's important to understand how coilovers work, the different types available on the market, and just how much adjustability they provide.
Knowing about concepts such as preload and damping adjustment; ride height adjustment, spring rates, spring types, camber, and suspension geometry is also important. This will help you see the bigger picture and understand what type of coilovers best suit your needs.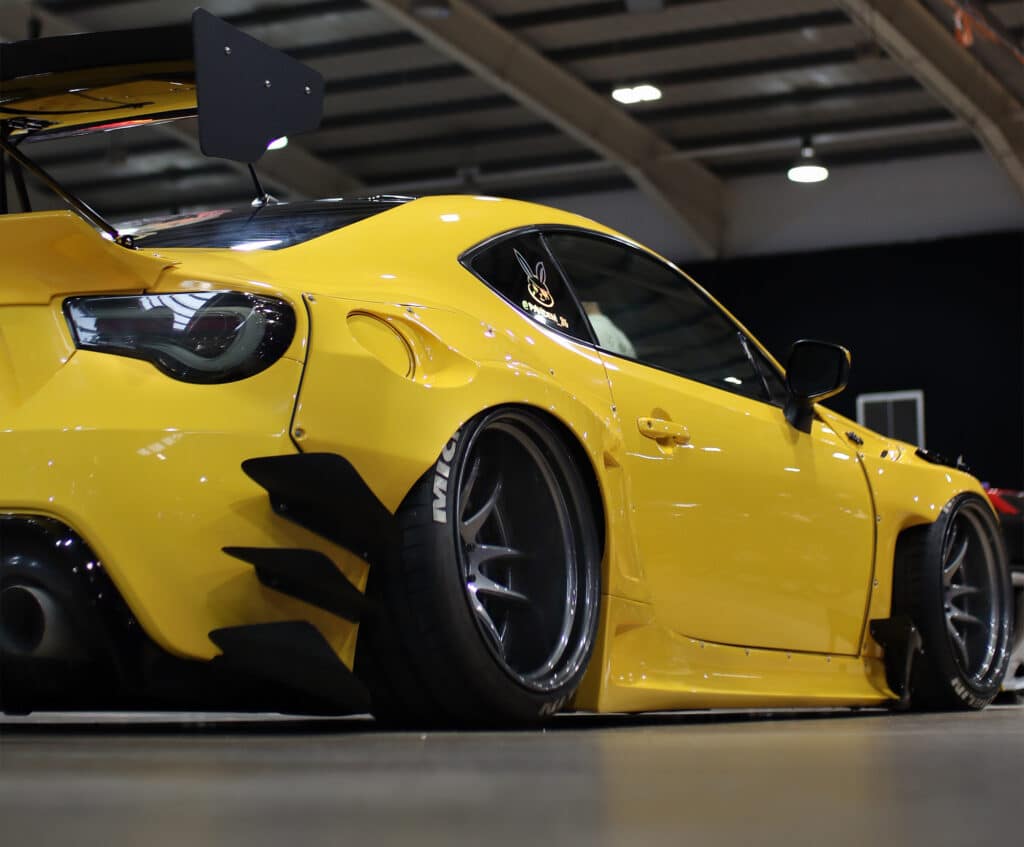 That way you can make an informed decision. Blindly purchasing expensive aftermarket car parts doesn't always end well.
Let's start with preload. It is defined as the pressure that's applied to a spring before the load of your car compresses it. How you adjust your coilover preload settings won't really affect the handling of your car unless it's either too much or too little.
Too much preload will eat into your precious suspension travel and your coilovers will bottom out frequently. Too little preload will put your springs at risk as they won't be seated properly, and can move around or get damaged.
Spring type refers to having either a fixed or a variable spring rate. Of which, there are two: linear and progressive. Springs that offer a consistent spring rate throughout their length are called linear springs. Whereas progressive springs have spring rates that change as they get compressed.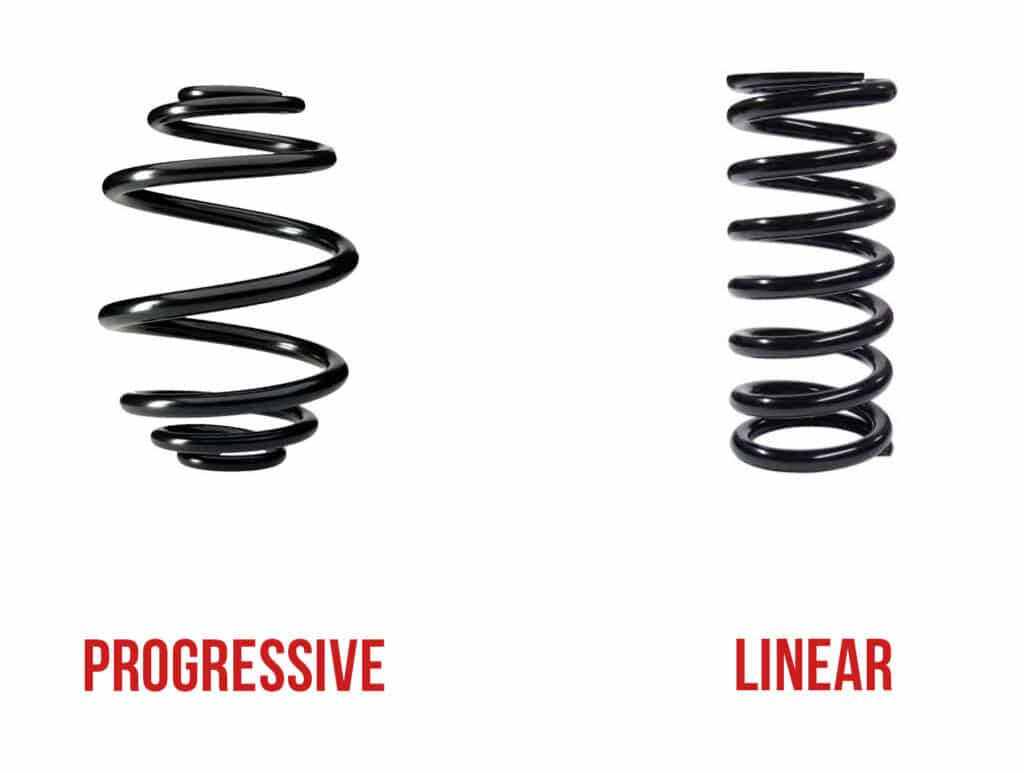 Progressive springs are better suited for daily drivers, while linear springs best serve track cars due to their predictable nature.
Spring rate is the amount of weight required to compress the spring by either one inch or one millimeter. It's denoted simply as the weight in imperial units, whereas in metric, it's followed by the letter "k" after the specified weight.
For example, an 8k spring rate means 8 kilograms are needed for 1mm of compression. Generally, the lower the spring rate, the more comfortable the ride becomes.
With all that out of the way, let's get into the list you're here for.
Best Coilovers for Your Scion FRS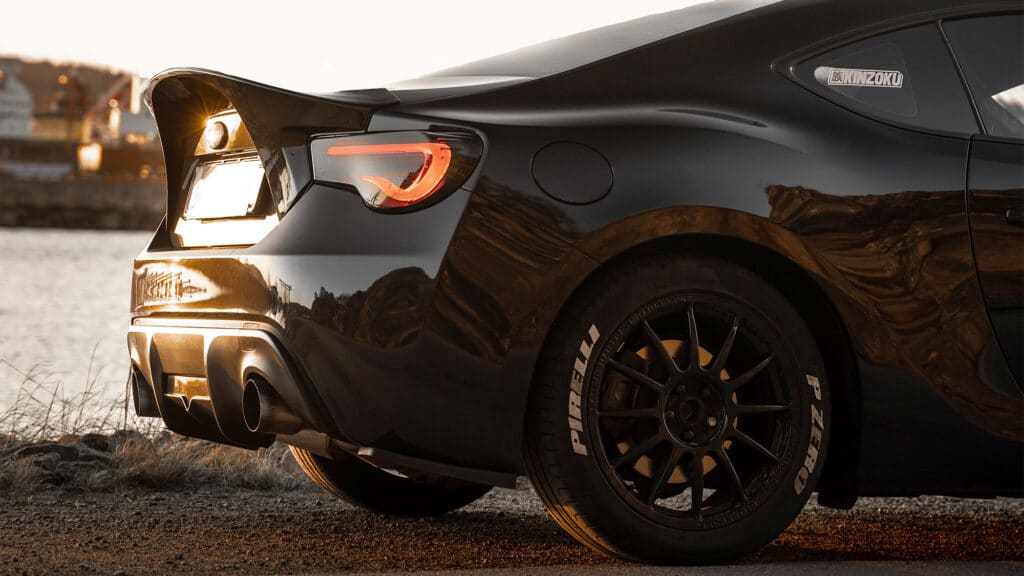 If this is your first time purchasing a set of coilovers, be sure to talk to other FRS owners and find out what their setup is. Take to forums, ask questions, and pick your mechanic's brain if you have to.
This is important because you need to be aware of the unintended changes in suspension geometry that occur whenever change your suspension angles.
To help you narrow down your options, we've listed our top recommended FRS coilovers below.
TEIN Flex Z
Manufacturer: TEIN
Part Number: VSQ54-CUSS4-1
Damping Adjustment: 16 Levels
Construction Type: Twin Tube
Spring Type: Linear
Suited For: Daily Driving
Warranty: 1 Year
Buy On: Enjuku Racing
What makes the Flex Z so popular in the world of aftermarket coilovers is that it's truly the jack of all trades. It can do a little bit of everything, at a fraction of the cost of what you'd typically pay for a good pair of coilovers.
With 16 levels of damping, it's not as flexible as some of the other options. However, given its relatively affordable price tag, the Flex Z is a bargain.
Though the system is built for street use, many FRS owners find its duality very impressive. You can introduce the FRS to a few challenging corners and not be disappointed with the Flex Z's performance.
Tein coilovers for the FRS are known for offering a good balance between performance and longevity. Available with stock 6k/6k spring rates, the Flex Z can be further modified with custom preload and ride height.
HKS Hipermax MAX IV SP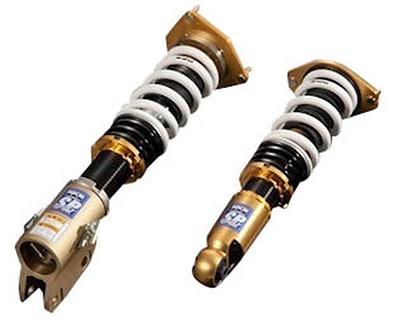 Manufacturer: HKS
Part Number: 80250-AT001
Damping Adjustment: 30 Levels
Construction Type: Monotube
Spring Type: Linear
Suited For: Street and Track
Warranty: 1 Year
Buy On: Enjuku Racing
HKS Hipermax IV features a single-piston monotube design for better rigidity and response. It's also extremely durable thanks to the corrosion-resistant PNE coating.
The set comes with standard 8k spring rates front and rear. Built for both street and track use, the HKS system offers 30 levels of damping on top of preload and ride height adjustments.
Developed at the Fuji Speedway, the HKS Hipermax IV SP will help your FRS improve both its high and low-speed stability. The extensive testing also helped deliver a good compromise between street and track performance.
BC Racing BR Series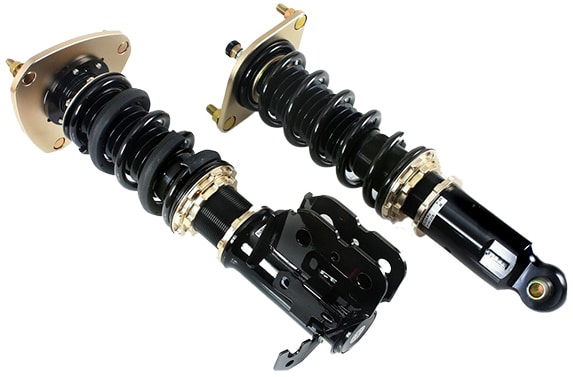 Manufacturer: BC Racing
Part Number: BC-F-20-BR
Damping Adjustment: 30 Levels
Construction Type: Monotube
Spring Type: Linear
Suited For: Daily Driving
Warranty: 1 Year
Buy On: Enjuku Racing
The ever-popular BC Racing coilovers for the FRS offer 30 levels of damping and a single-piston design, all at a competitive price point.
The BR Series is intuitively designed. Thanks to its easy accessibility, adjustments can be made without specialized tools. The upper perch changes the preload, while the lower lock nut alters the ride height settings.
Spring rates are 8k front and back as standard. However, custom spring rates can be ordered as well. We suggest you look around the available options to find the optimum setup for your driving style.
RS-R Sports-i
Manufacturer: RSR
Part Number: XSPIT068M
Damping Adjustment: 36 Levels
Construction Type: Monotube
Spring Type: Linear
Suited For: Daily Driving
Warranty: 1 Year
One of the highlight features of the RS-R system is its 36 levels of damping adjustment, making it the most versatile of the lot. As standard, spring rates are 8k front and rear.
RSR's Sports-i system is suited for both street and track use. The coilover is hand-assembled with laser-cut upper mounts and hand-welded lower brackets, ensuring top quality.
Another key feature is its Urethane Bushing Technology. Instead of a conventional bearing, urethane bushings are used to reduce excessive vibrations that usually occur during daily driving. Also, the RSR Sports-i gets camber adjustments to further fine-tune your handling needs.
ISC N1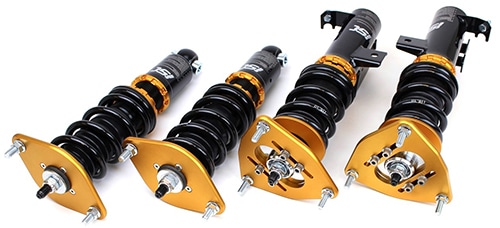 Manufacturer: ISC
Part Number: ISC-S018-S
Damping Adjustment: 32 Levels
Construction Type: Monotube
Spring Type: Linear
Suited For: Street and Track
Warranty: 5 Years
Buy On: Enjuku Racing
ISC is quite a famous aftermarket brand in Asia and Australia. They've won many titles in drift racing and road course events, establishing themselves as a worthy player in the aftermarket business. The N1 coilover unit gets 32 levels of damping adjustment, making it quite versatile.
According to ISC, the N1 works equally well in both street and track applications. Also, the coilover is quite durable thanks to its monotube design, aluminum brackets, and high-quality steel springs. ISC offers a standard preset of either Street Sport or Track with predefined spring rates. However, custom springs rates are also available.
Fortune Auto 500 Series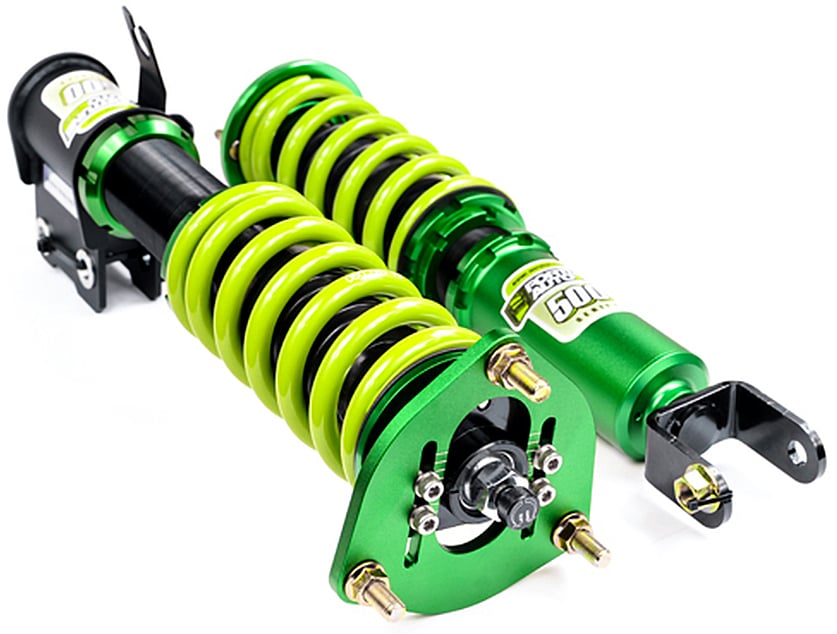 Manufacturer: Fortune Auto
Part Number: FA500-BRZ
Damping Adjustment: 24 Levels
Construction Type: Monotube
Spring Type: Linear
Suited For: Track Use
Warranty: 5 Years
Buy On: Enjuku Racing
The Fortune Auto 500 is the go-to brand if you're short on budget but don't want to compromise on performance. You can choose between a host of spring rates with custom configurations front and rear. Fortune Auto also offers Swift springs to help further smoothen the ride for an additional premium.
The FA 500 is easily the best all-round coilover system for your FRS. One thing to keep in mind is that all Fortune Auto Coilovers are assembled to order. So, expect a slight delay.
Bilstein B16 PSS10
Manufacturer: Bilstein
Part Number: 48-228299
Damping Adjustment: 10 Levels
Construction Type: Monotube
Spring Type: Progressive
Suited For: Street and Track
Warranty: Lifetime
Buy On: Amazon
Bilstein is yet another important player in the suspension business. The B16 coilovers get progressive springs and a monotube design, offering an excellent balance between street and track use.
The kit is specially designed to suit the FRS, so compression and spring rates needn't be fiddled with as they're near-perfect from the factory.
However, if you find that isn't quite up to the mark, by all means, go right ahead and tweak it. Bilstein gives you complete control with its 10 different levels of damping.
KW Variant 3
Manufacturer: KW
Part Number: 35258004
Construction Type: Monotube
Spring Type: Linear
Suited For: Track Use
Warranty: Lifetime
Buy On: Amazon | Enjuku Racing
KW's Variant 3 is the best set of coilovers for your FRS, period. Standard spring rates are 8k/9k, but the V3 gets multiple settings for preload and rebound.
Very much considered to be the benchmark, the V3's preload settings can be adjusted separately with 12 clicks, while rebound adjustments extend to 16 clicks.
The system also comes with helper springs. Together with the main springs, they offer a more dynamic damper arrangement for better handling characteristics.
Overall, the KW V3 is on the expensive side. But, if money is no object, you're guaranteed top-shelf quality and the best performance of them all.
ST Coilovers 
Manufacturer: Suspension Techniques
Part Number: STS-13258004
Construction Type: Twin tube
Spring Type: Linear
Suited For: Track Use
Warranty: 5 Year
If you find the KW V3 set is too expensive, the ST coilovers for FRS should be worth looking at as an alternative because they're both made by the same company. Although you miss out on some of the V3's adjustability, the craftsmanship is still available at a fraction of the cost.
Note that the system is not as purpose-built as the V3. Many owners have labeled the ST set as KW Variant 1, and we wouldn't doubt it either.
Important characteristics such as safety, quality, and performance are all taken into consideration with each ST coilover design. Additionally, each ST suspension coilover is constructed of zinc-plated threaded strut housings and utilizes a compression bump stop with an integrated dust boot for additional ride comfort and long-term durability.
The downside is that you don't get much in terms of flexibility. Ride height adjustment is the only available setting. Your FRS can be lowered 20-50mm front and rear with the ST coilovers.
Scion FRS Coilovers: Our Favorites
Choosing aftermarket parts is easier said than done. There are several variables worth considering, especially when it comes to suspension.
We narrowed down our choices based on price, quality, and usage. Here's our pick of the bunch.
Most Affordable: TEIN Flex Z
The TEIN Flex Z is the best option if you're on a tight budget. It offers a variety of damper settings to suit your driving needs.
Admittedly, the twin-tube setup might not be everyone's liking. But for the asking price, there's quite literally no other coilover system that can match the TEIN Flex Z in terms of value for money.
Best Daily Driving: Fortune Auto 500
Thanks to its robust build at a relatively affordable price, it certainly is the best coilover option for the FRS. Fortune Auto has quite a following in the aftermarket community. Especially, thanks to their available choice of custom spring rates.
The FA500 strikes a good balance between daily driving and occasional track use without much of a price premium.
Best for Sport Use: KW Variant 3
If you spend more time on the track than the street, get the KW V3. Not only is the system super robust, but the extra kit on offer makes it worth the premium.
The V3's additional preload and rebound settings along with the helper springs give it an upper hand. In short, the KW V3 is an exciting piece of hardware to squeeze the most out of your Scion FRS.
Feel free to share your thoughts on which one you'd choose! Let us know in the comments below.