There's no questioning the popularity of the Toyota Tacoma; everyone seems to have one, and it's becoming rare to see one that is completely stock.
This popularity means that there are plenty of aftermarket parts out there for enthusiasts wanting to take their car off the beaten path.
Tacoma roof racks and camper shells are a common addition, and there is no shortage of options.
There are so many different things you can do with a camper shell; it is much more than just a topper for your Tacoma bed.
If you need a rugged cover for storing things, or if you want to create a small room for camping, camper shells are the best solution. You can get creative and add lighting plus many other fixtures to truly make it your own.
Camper shells are a fairly significant investment, so you want to be confident when choosing the best camper for your Toyota Tacoma.
In this guide, we'll go over some of the things you should be thinking about before you purchase one, as well as share my personal opinions on the options I most prefer.
How to Choose the Right Tacoma Camper Shell
The right camper shell for your truck really depends on what you plan on using it for.
Do you just want something to cover up the gear you are carrying? Well, you'll probably want something more simple than someone who plans on using the shell for camping during long-term overlanding trips.
Regardless, you will want to choose from among the top brands in the industry. It can be overwhelming trying to pick a camper shell given how many choices there are, but there are some features to highlight that will help narrow your search.
Shell Design
There are multiple types of camper shells, and the main way to distinguish between them is by their height.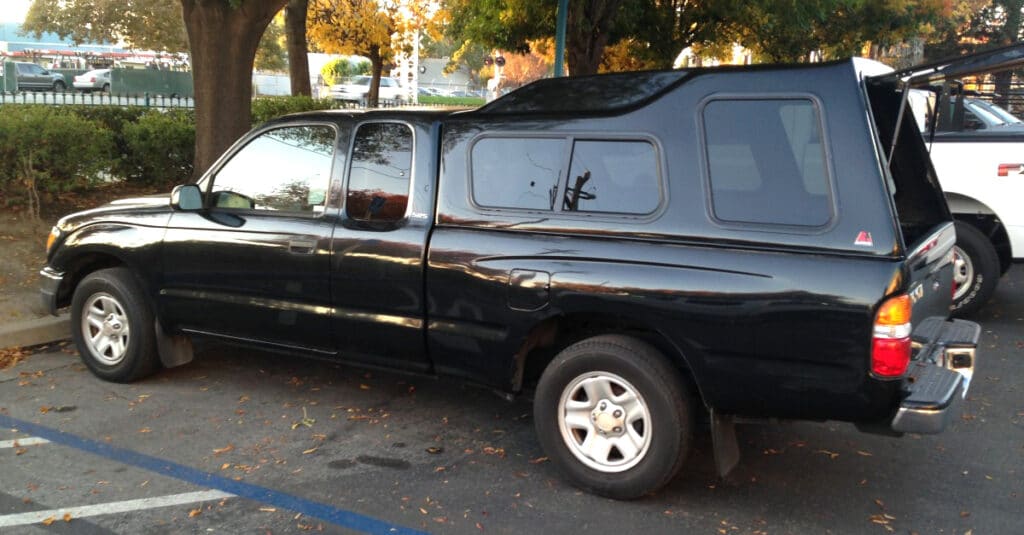 If the top of the shell is equal to the top of the Tacoma's cab, it is considered "cab-high". When the shell's height exceeds the height of the cab, it is often called a "mid-rise" or "high-rise".
Some shells function as pop-ups, as well, which can open up when desired, providing a tent/shelter.
The cab-high models are great for those who plan to use the camper shell for storage and transport of various items, while those who plan on using it for camping would benefit from the added height of a shell that exceeds the top of the cab itself.
Keep in mind however, that a high-rise shell, combined with larger Tacoma tire sizes and a lift or leveling kit, may cause trouble when parking in your house or apartment's garage.
Construction
Most camper shells, if they are hard-top, are built from aluminum or fiberglass. Both are good materials for camper shells and you will find them to be durable even when taking your Tacoma off-road.
Both are also suitably lightweight, which is important on long uphill climbs, unless you happen to be planning to swap one of Toyota's 2UZFE 4.7L V8 engines into your Tacoma!
Soft-top camper shells are also available; they're made from fabrics. Of course, the soft-top won't be nearly as tough as a hard-top, but it can be a good fit for those who need a secure cover.
Note that the soft materials aren't exactly flimsy when used on high-quality shells. These are usually treated to handle the elements and stand up to the regular abuse of off-road driving conditions.
Purpose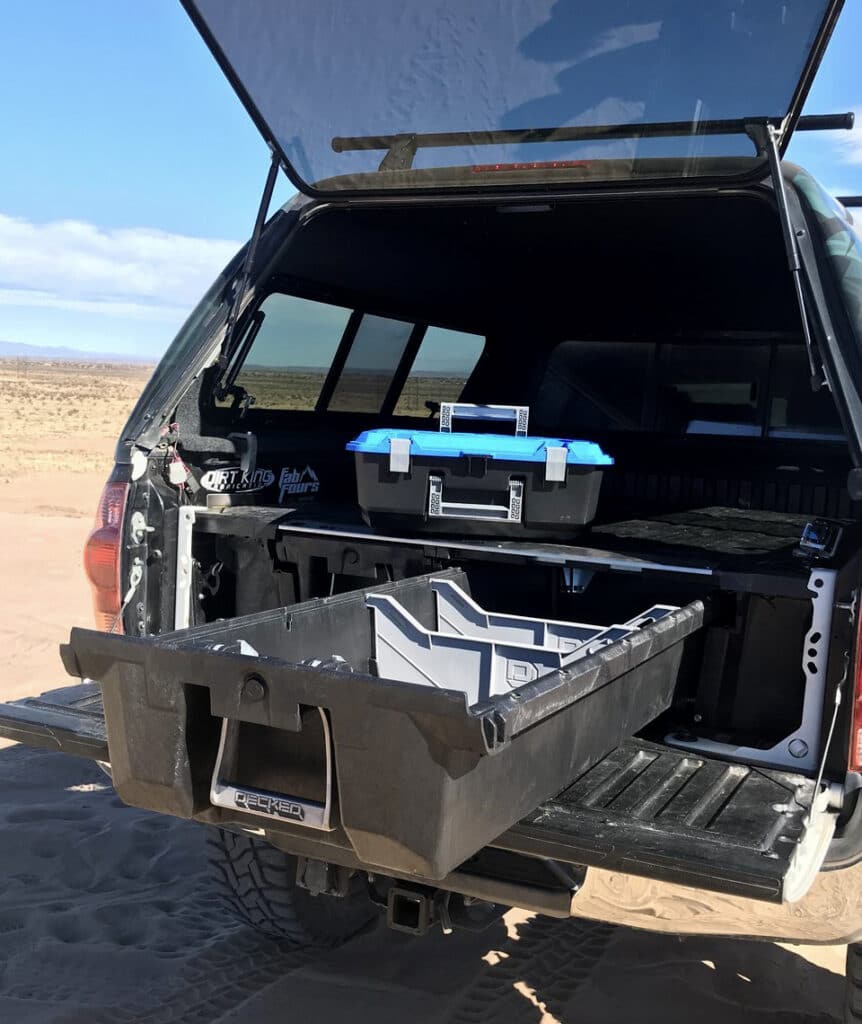 Figure out what you plan to do with the camper prior to purchase, as this will determine the type of shell that is best for you. 
If you plan on camping in it, you might want to consider upgraded interior lighting kits and even mattresses for added comfort. You can also opt for a camper with a pop-up tent.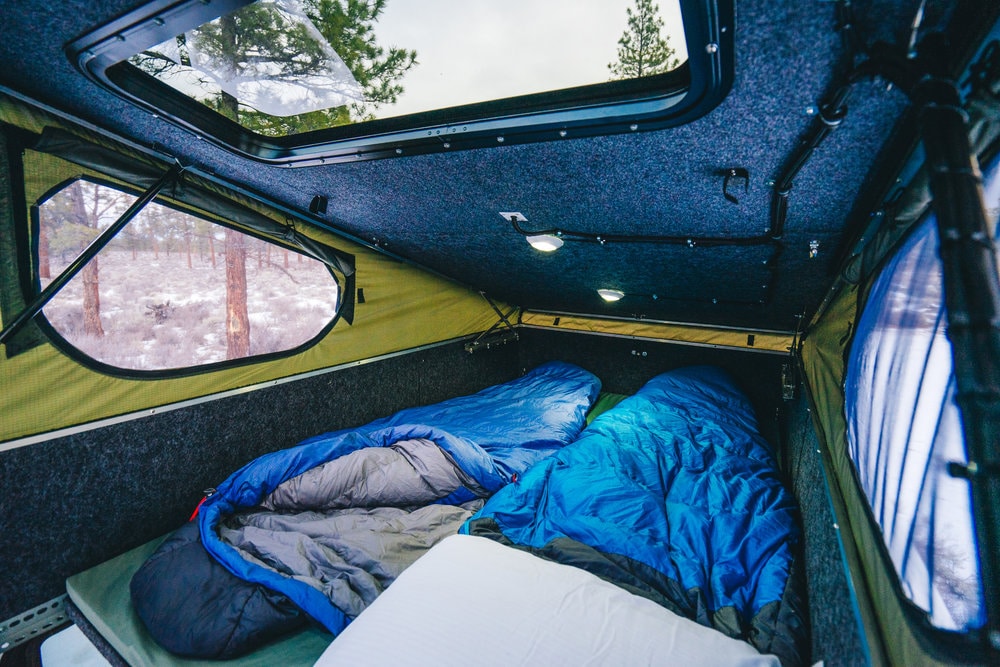 If hauling expensive stuff around is the primary reason you want a camper shell, you should look for rugged shells with durable and tough locking mechanisms.
Tinted windows are a plus as it will be more difficult for passersby to see what is inside.
Also, as an enthusiast, you would benefit from looking at other people's camper shells to get an idea of how they look on a Tacoma.
While function is certainly key if you also want to make your truck look good, be sure the color and fitment match the style you are going for.
Compatibility
Lastly, be sure to double-check that the camper shell will work with the model year and trim of your Tacoma. The bed size needs to be a fit for the shell, otherwise, it simply will not fit.
The manufacturers do include a statement of which models a product will fit or even an entire compatibility list by make, model, year, and trim.
Best Camper Shells for Your Toyota Tacoma
To make this selection easier for you, we've picked only the best camper shells on the market manufactured by reputed brands.
The list includes a variety of models to suit the different styles and preferences of Tacoma drivers. Let's dive right in.
Leer 100XR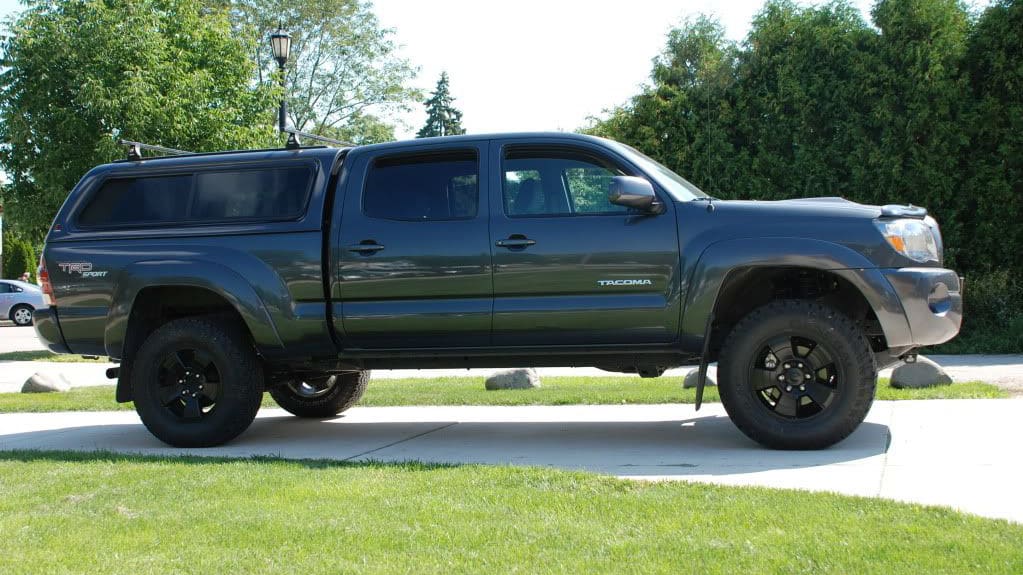 Manufacturer: Leer
Shell Design: Cab-high
Compatibility: Varies
Construction: Fiberglass
Warranty: Limited lifetime
Leer is one of the most well-known brands for camper shells, with many options for the Tacoma. The 100XR is a cab-high model made of fiberglass.
The side windows, as well as the back door, have tinted glass for extra privacy (plus it just looks cool). The side windows slide open and have screens as well, so you can open them to grab a gear or to ventilate if you happen to be spending time in the camper shell.
The roof is insulated and the shell comes with a 3rd brake light as well as an interior dome light. The camper shell can be painted to match your Tacoma's OEM paint, too.
The 100XR can be purchased with five different option kits that include various add-ons, such as a keyless remote. You can also add on accessories like racks for holding gear, clothing hangers, electrical outlets, etc.
This camper shell can, in other words, be customized and ordered to your liking, something that I personally find very important.
Leer 180XL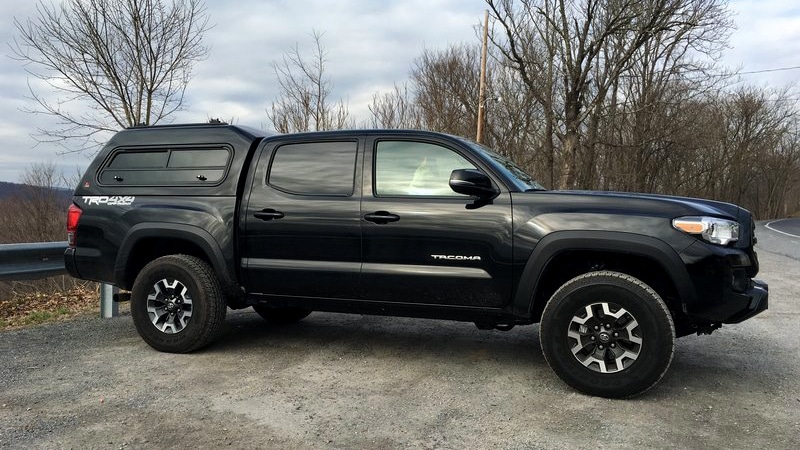 Manufacturer: Leer
Shell Design: Mid-Rise
Compatibility: Varies
Construction: Fiberglass
Warranty: Limited lifetime
Our second option from Leer is the 180XL, a mid-rise model that offers 15% more headroom than the 100XR, which comes out to an extra 4 inches.
That might not sound like a whole lot, but it will make a difference if you plan on spending time in the camper as you will have more room to move, store and hang items, and be less likely to bump your head.
The side windows are styled after an SUV, giving them a smooth, sleek look. Like the 100XR, they can be opened and have screens.
You cannot add on all the extras upfront like the 100XR, however, as this model is considered a custom order from Leer. You have to submit the request for a custom order first and communicate with the manufacturer.
This extra step is going to be well worth it though, if you plan on using the camper shell for actual camping like I do.
SnugTop Rebel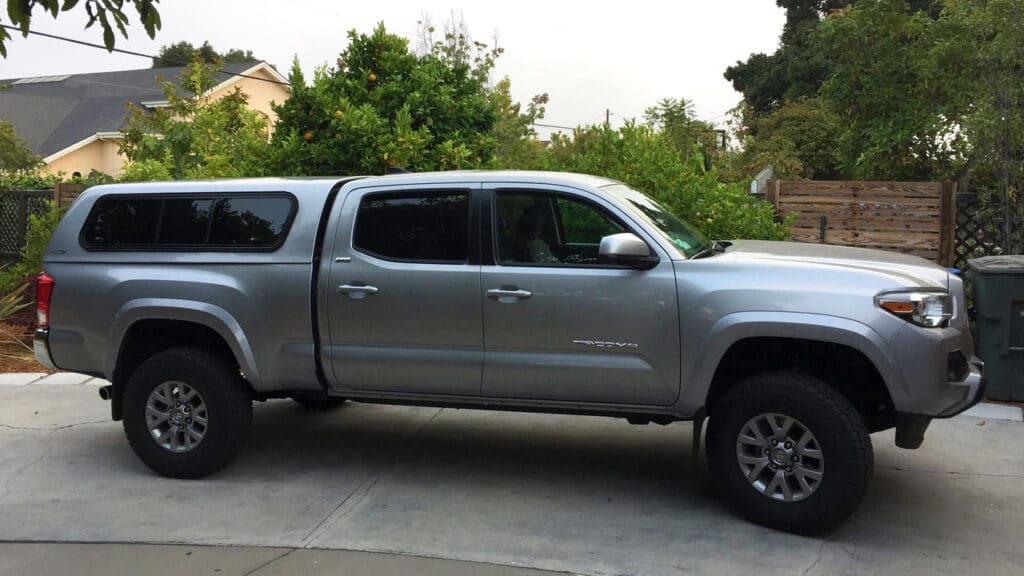 Manufacturer: SnugTop
Shell Design: Cab-high
Compatibility: Gen 3 Extended & Double Cab | Gen 2 Double & Access Cab
Construction: Aluminum
Warranty: Lifetime for paint and structure; 1 year for components
Another leader in the camper shell business is SnugTop, with one of their popular models that fits the Tacoma being the Rebel. This is a cab-high design made of aluminum and has many of the same features the Leer does.
Like the Leer models, the SnugTop rebel comes with tinted sliding windows. The camper shell will be matched to OEM colors and comes with interior lighting as well as a brake light.
While the Rebel is constructed primarily of aluminum, it does feature a fiberglass rail. There are add-ons that can be selected as well, such as pet screens for the windows.
SnugTop Sport Hi-Liner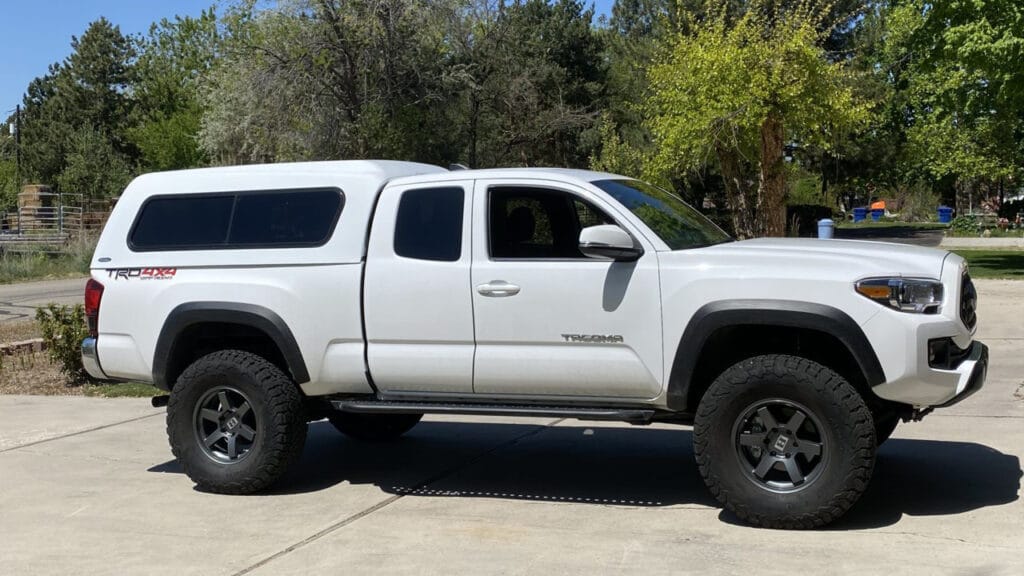 Manufacturer: SnugTop
Shell Design: Mid-Rise
Compatibility: Gen 3 Extended & Double Cab | Gen 2 Double & Access Cab
Construction: Aluminum
Warranty: Lifetime for paint and structure; 1 year for components
The second SnugTop on our list is the Sport Hi-Liner. This is a mid-rise model so you have the benefit of additional height. The glass, once again, is tinted, and the rear is actually completely made of glass.
The Sport Hi-Liner has a honeycomb style reinforcement on the roof for durability. There is also a "SnugRug" headliner, which helps to insulate the camper shell and is a great feature for retaining heat on cool nights.
This camper shell is actually composed of a single piece, which is a nice feature as that means there are fewer parts to break/become problems over time.
BesTop Supertop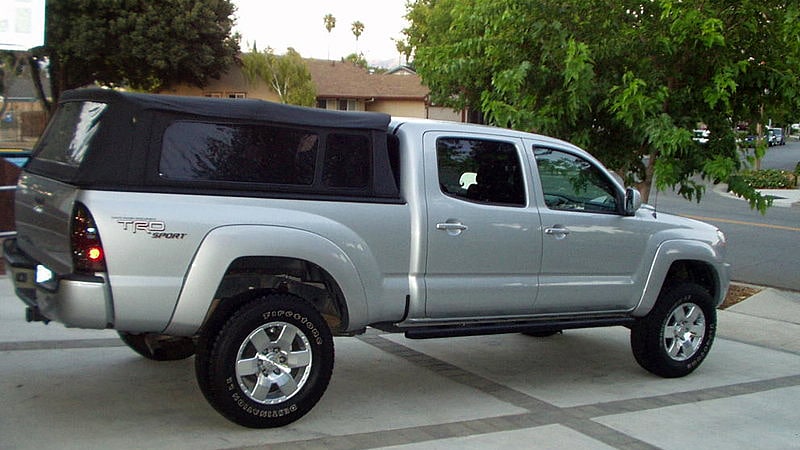 Manufacturer: BesTop
Shell Design: Cab-high
Compatibility: Gen 2 & 3
Construction: Black diamond fabric
Warranty: 5 years
The BesTop Supertop is a cab-high soft camper shell made of heavy-duty fabric. The fabric is assembled in panels that are removable and can be easily stored away when not using them on the Tacoma.
What I love about the SuperTop is it's design that allows one person can operate it with ease. The rear window panel is tinted and removable, and it comes with a brake light kit should you want to install it.
Even though this camper shell is made of fabric, it is mildew resistant, so even if you drive with it in the rain, it will not be ruined. It is also UV-protected so it is not going to fade soon after you take it out on a few sunny days.
The soft top option is good for those who need something that can be installed and uninstalled relatively easily and quickly. It will work well for securely storing items during transport and can be removed afterward.
FourWheel Project M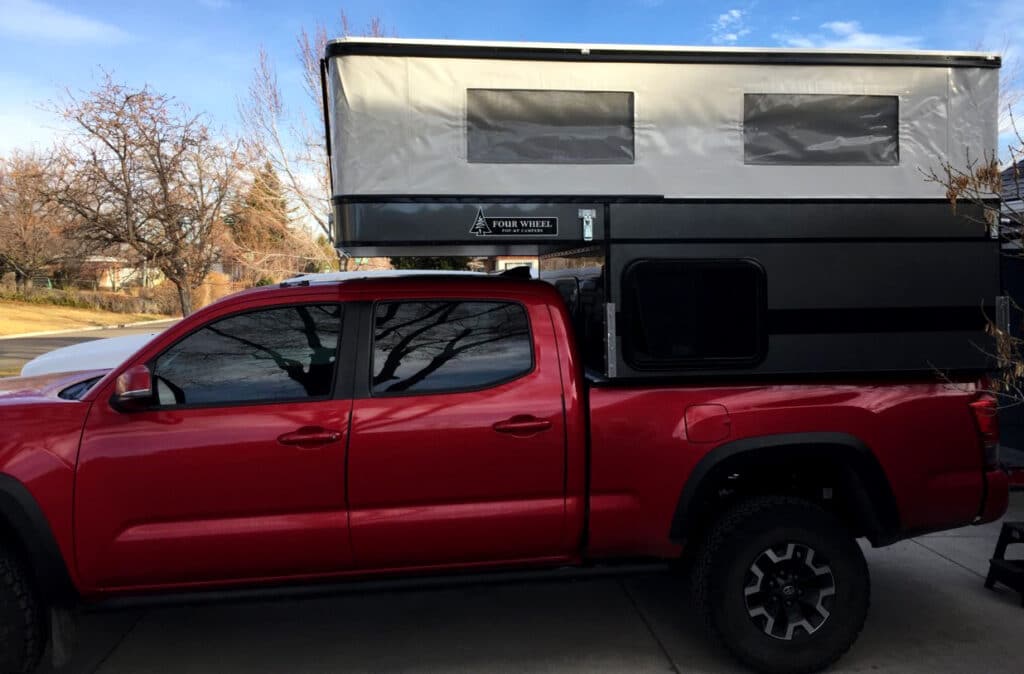 Manufacturer: Four Wheel Campers
Shell Design: Cabover bed
Compatibility: Gen 2 & 3 (all bed sizes)
Construction: Aluminum
Warranty: 5 years on roof, siding, and frame
The FourWheel Project M from Four Wheel Campers is a high-quality choice made for those who plan to spend a lot of time in their camper.
The camper shell includes a pop-up liner made of vinyl, while the camper itself is constructed from aluminum.
The manufacturer offers several color options for the siding. This said, in my experience it' won't's unlikely to match perfectly with your OEM paint. My preference is to pick a color that contrasts well with your truck instead.
The roof and side walls are insulated for maximum heat retention. The camper also comes with a fire extinguisher, smoke detector, and carbon monoxide alarm.
These are appreciated bonuses, imagine how handy a fire extinguisher might be when cooking or a bonfire gets out of hand and you are in the middle of nowhere!
The inside of the camper is designed for those who plan on spending time inside it, with four lights and 13-inch wide shelves on both the left and right sides.
Additionally, Four Wheel Campers offers plenty of add-ons, like a mattress, porta-potty, floodlight system, and even a refrigerator. Roof racks can also be purchased from them and installed on the shell.
Go Fast Campers V2 Platform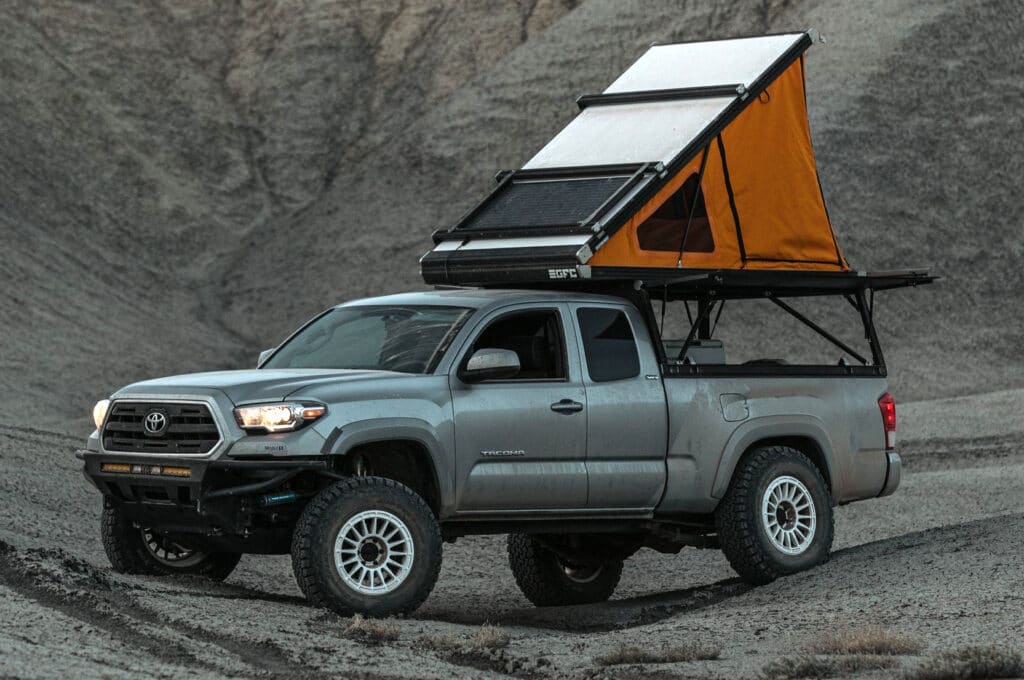 Manufacturer: Go Fast Campers
Shell Design: Platform camper
Compatibility: Gen 1, 2, & 3; 5′ & 6′ Bed | Gen 1 & 2; 6′ Regular Cab
Construction: Aluminum
Warranty: 2 year
The V2 Platform from Go Fast Campers is a truly unique option, having a modular style shell with a pop-up rooftop tent. The shell is made of powder-coated aluminum and the sides open in a cabana style, which is a one-of-a-kind look and experience for a camper.
The aluminum pieces are also removable, meaning you can arrange them as you see fit depending on the situation. For example, if hauling gear, a flat surface is best, but you might want to open it up more if you plan on relaxing with friends.
One of the most interesting features is that you can leave the truck bed and tent open or close them off from one another, which is great when privacy is needed.
This camper shell offers fewer color options standard, with only black or white for the panels. However, you can pick among more colors for an extra fee if you want to go for a fully custom appearance.
Our Top Picks for the Best Toyota Tacoma Camper Shell
As I mentioned earlier the best camper shell for your vehicle really depends on what you plan to use it for. If you are solely hauling items, your needs are totally different from someone who plans to live out of their camper for weeks on end.
With that being said, these are our top picks for the best Toyota Tacoma camper shells for the major different purposes prospective buyers are typically thinking about when shopping for the ideal shell.
Best Toyota Tacoma Camper Shell For Extensive Camping: Fourwheel Project M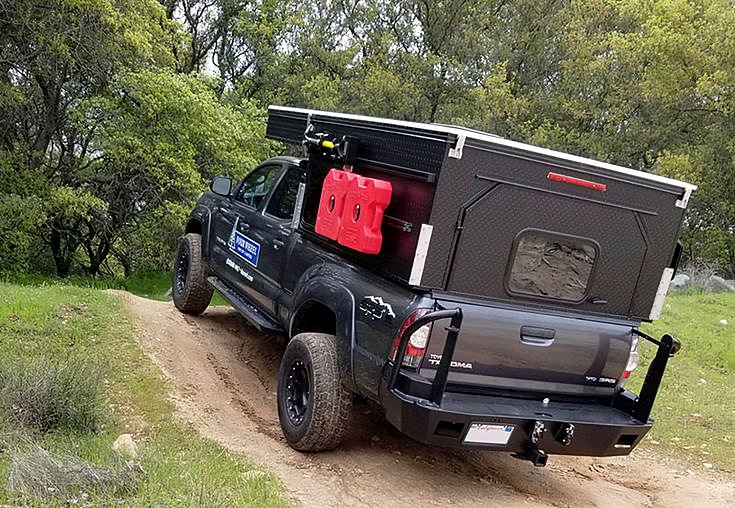 If you plan to use the camper often or for extended periods of time in the outdoors, we recommend the Fourwheel Project M. It is the most premium option on our list with regards to amenities and add-ons for those who will use the camper as a refuge from the weather when camping/traveling.
Standard, this camper shell comes with shelving, insulated walls, and a roof, along with multiple lights inside the shell itself, making it designed with the person's comfort and needs in mind.
You can also add things like a mattress or even a porta-potty system directly from the manufacturer if you want, making it even more practical and comfortable.
Best Toyota Tacoma Camper Shell For Temporary Use: BesTop SuperTop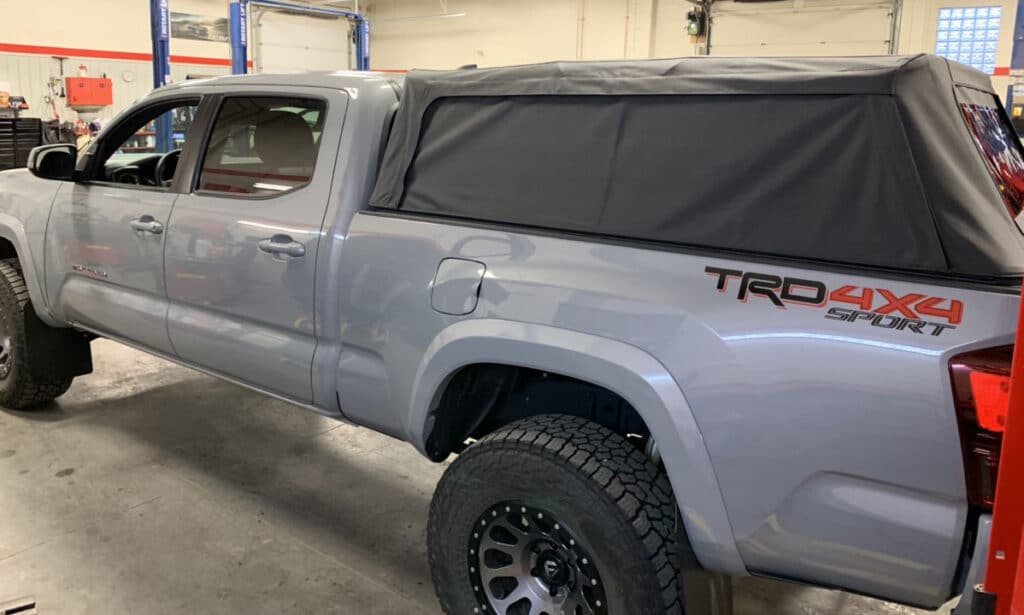 If you plan on using a camper shell for short periods of time when you need to haul expensive or valuable gear and would rather remove it when not in use, the BesTop SuperTop is your best bet. This is a soft-top, fabric construction designed to be operated by a single person. 
Although the fabric is durable and can definitely withstand the elements, it is also going to be much more lightweight and easier to manipulate than the solid fiberglass and/or aluminum camper shells on our list.
This makes it optimal for those who would rather only have the shell installed on their Tacoma when needed and otherwise have it off. 
Best Toyota Tacoma Camper Shell For General Purpose Use: Leer 100XR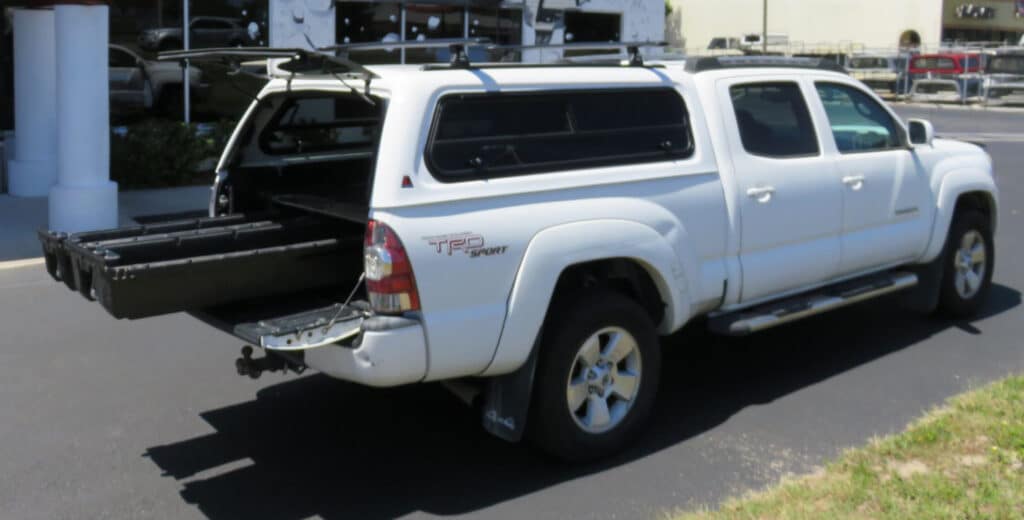 If you want a camper shell for your Tacoma and intend to use it for the added security benefits when hauling gear and the infrequent, short camping trip, we recommend the Leer 100XR. 
The 100XR is only a cab-high model, but if you are only camping for a night or two less than a few times a year, this is not a major downside.
You get tinted sliding windows and OEM-matched paint on a high-quality fiberglass frame. With it being cab-high, you will also get a nice flush fitment with your Tacoma's cab. 
Leer also offers several add-on packages with different features such as a keyless remote, so you can add on things you would like to have and ignore other amenities that do not suit your purposes.
Lastly, it's worth considering that you might incur additional insurance costs for your Tacoma because camper shells are technically considered an aftermarket upgrade. Insurance for modified cars works differently and it is best not to keep this information from your insurance provider.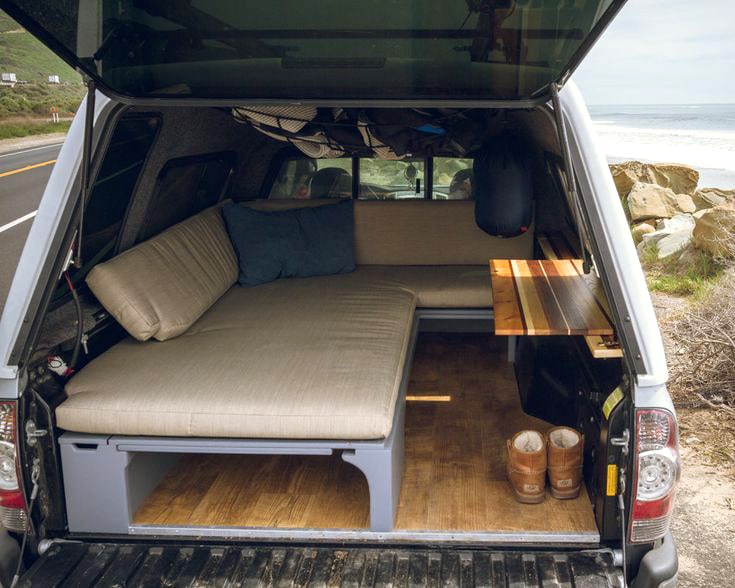 What's your take on this list of Tacoma toppers? Do you have a personal favorite? Let us know in the comments below!