The Honda S2000 may be an absolute delight to drive on the track, but there's always room for improvement as far as safety is concerned.
Without a fixed roof, the S2000 is not only less rigid than other sports cars but it won't provide you much protection in case you rollover.
There are certain modifications you can make to your S2000 to make it even safer for the track — like hardening its chassis by using roll bars for instance.
Sure, having a roll bar on your S2000 might not necessarily look aesthetically pleasing, but it's going to keep you safe on the track and that's really all that matters.
In this guide, we explore some of the most popular roll bars for your Honda S2000 and list the best.
What Is a Roll Bar and Why Is It Important?
A roll bar looks like a cage but it is actually a metal frame that runs across the sides and the top of your vehicle to protect passengers from injury if your car overturns.
But they are often used in motorsports to create a stiffer chassis, helping to reduce flex and body roll when cornering fast, or when there are road irregularities.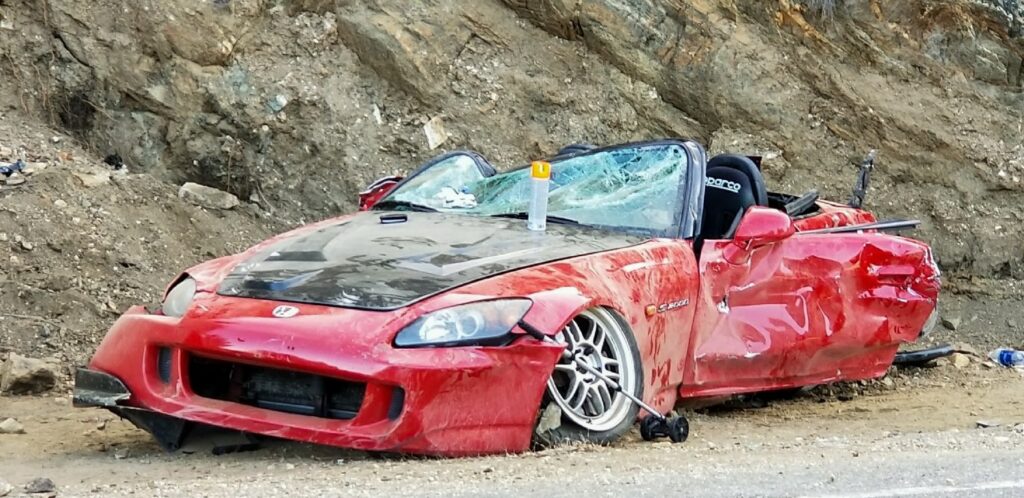 Installing a roll bar is a time-consuming project regardless of whether it's your first time or you've got help. You'll have to remove your seats and rear deck trim, then drill holes, and cut plastic trim panels.
While some S2000 roll bars are easier to install than others, it's best to get the professionals on board before you start drilling away.
Choosing a Roll Bar For Your S2000
Picking out a random roll bar might improve your S2000, but it's always better if you get the exact fit –– one that has specifically been designed for your Honda. Before you dive right in, there are a few things you should consider.
Not all bars are the same: The shiny, hoop-looking ones might be cheaper than their flat, black scaffolding counterparts, but they won't prevent the weight of an upside-down car from smashing your skull.
You're still exposed to risk: Being hit from the rear could throw your head backward, which could result in contact with the car. Installing aftermarket racing seats in your S2000 will reduce that risk.
Having a roll bar doesn't mean you're track-ready: Roll bars are a precautionary measure but make sure that you have a proper kit and other safety parts in place for optimal safety.
Additionally, if your Honda S2000 is your daily driver, getting a roll bar may not be such a great idea unless it's heavily padded. And even then, there is some risk involved of bumping your head against it and getting seriously hurt.
Best Cages and Roll Bars for Your Honda S2000
There are several factors that you need to keep in mind when purchasing a roll bar. Choosing the cheapest ones might be easy on the wallet, but it could be the difference between life and death.
So while there are several universal roll bars on the market, not all of them will match your needs perfectly. We've listed the best roll bars crafted solely for your speed-loving roadster below.
You will notice that some of these are cages instead of roll bars. While the best cage is a custom "for your needs" weld-in cage, off-the-shelf bolt-in cages are also worth considering as they will tighten up your S2000 and remove a heap of flex from the chassis.
Cusco Roll Cage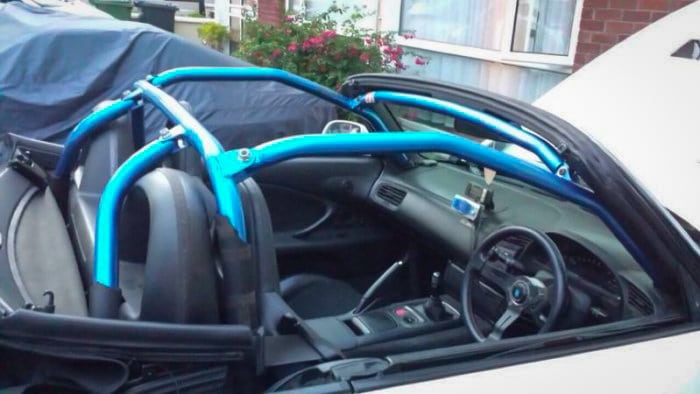 Manufacturer: Cusco
Part Number: 381261CM
Compatibility: AP1 and AP2 (till 2005)
Buy on: Amazon
While Cusco's offering is sort of a combined roll bar and cage, it's commonly seen in S2000s used for autocross and occasional track days. It's in the iconic Cusco blue and is suitable for an AP1 but does not easily fit models 2006 and above. You'll have to make some modifications to those models to get it fitting correctly.
This roll cage comes with four points and a harness bar, and uses lightweight 40mm Chromoly tubing. Cusco used lightweight joints on this roll cage to increase safety without the additional weight.
Buying a Cusco roll cage for your S2000 is by no means cheap, but it definitely makes up in its solid build quality. You'll be at ease knowing that it'll protect you and last a long time.
Hard Dog M3 Sport Roll Bar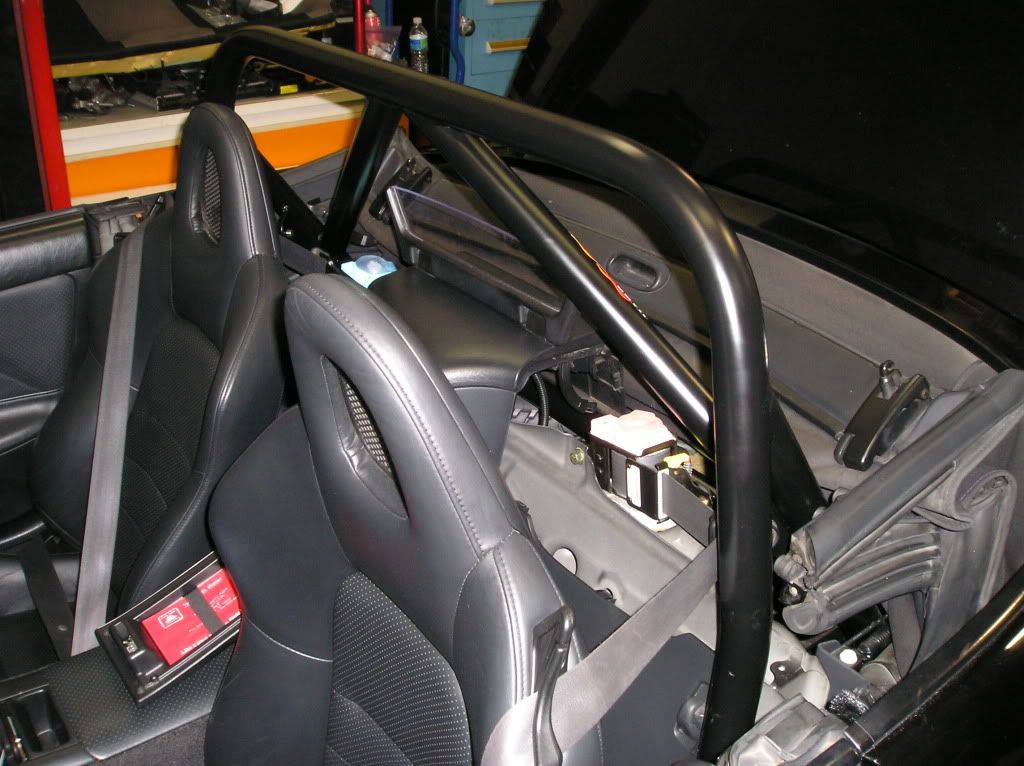 Manufacturer: Hard Dog
Part Number: N/A
Compatibility: AP1 and AP2
For serious race car drivers that need something more heavy-duty, it doesn't get any better than the M3 Sport roll bar from Hard Dog.
What's great about this one is that you can buy the standard option for a good price, then decide if you want to add a diagonal bar, harness bar, and factory-seat options.
The Hard Dog roll bar will fit both the AP1 and AP2 and meets the 'broomstick' test, which ensures that a helmet doesn't draw from the window cowl to the roll bar. If you choose the harness bar, you'll have to remove the factory roll hoops so that you get safe shoulder harness alignment.
It's compatible with factory soft tops, aftermarket hardtops, and roll hoops. For their roll bar, Hard Dog used a 1.75" x 0.120" wall 1026 alloy drawn over mandrel tubing.
Ballade Sports Roll Bar
Manufacturer: Ballade Sports
Part Number: BS-S2K-RB2-BLK
Compatibility: AP1 and AP2
Since discontinuing the popular Version 2.0 roll bar, Ballade Sports have released Version 2.5 with gussets and thicker base plates. This roll bar retains a full soft top functionality, and is compatible with any hardtop.
The roll bar consists of a welded single diagonal bar, a harness bar situated at the proper height for the recommended harness attachment angle, and an X brace that ties together the back legs of the roll bar.
They've also included an integrated bulkhead bar and seat belt shoulder tabs so that you can use OEM 3-point seat belts without needing to make an additional purchase.
AGI 4-Point Half Cage
Manufacturer: AGI Precision
Part Number: N/A
Compatibility: AP1 and AP2
Designed in Australia, AGI's 4-point, bolt-in roll cage consists of a main hoop diagonal brace, harness bar, and backstays. It's painted in satin black and comes with lower plates and high tensile fasteners.
They used 350 MPA CDS mild steel tubing. Unlike many others on the market, this roll cage is pre-drilled.
It comes with gussets fitted to the junction of all double diagonal members and there's a double-diagonal brace through the double door bars and main hoop. A pretty sturdy setup for race car drivers if you ask us.
Spoon 4-Point Roll Bar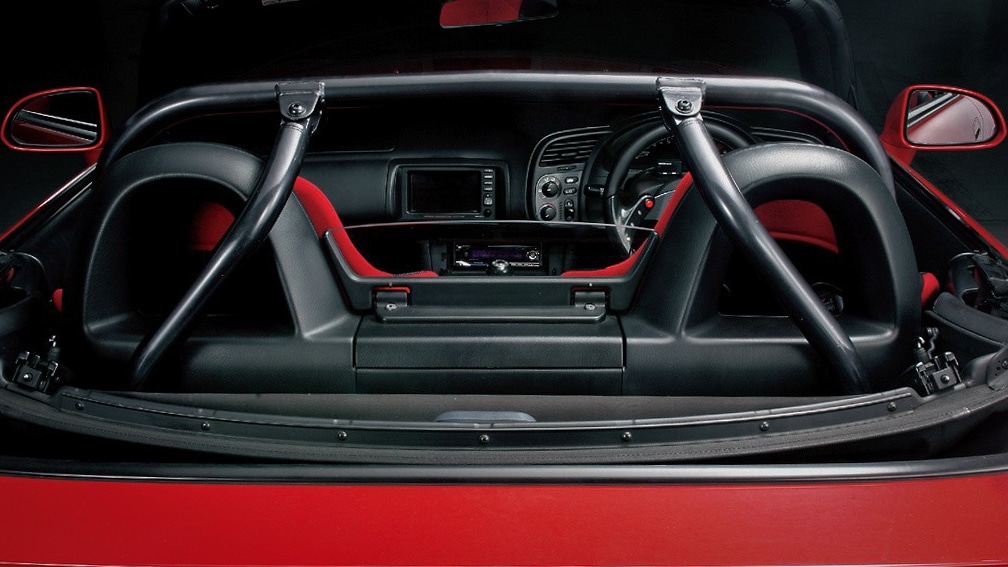 Manufacturer: Spoon Sports
Part Number: 70020-AP1-010
Compatibility: AP1 and AP2 (till 2005)
Designed by Spoon Sports, this 4-point roll bar is painted satin black and compatible with both the AP1 and AP2 models from 2000 to 2005. It's not going to fit AP2 models 2006 and above without modifications.
The price is pretty much on par with Cusco, and you can use it on soft tops and hardtop S2000s. Spoon designed it to give you the best protection without sacrificing comfort. Keep in mind that the support bars will slightly reduce seat travel.
If you aren't ready to splurge on a roll bar that costs several hundred dollars, the good news is that you can pay this one off in monthly installments.
Auto Dynasty 4-Point Roll Bar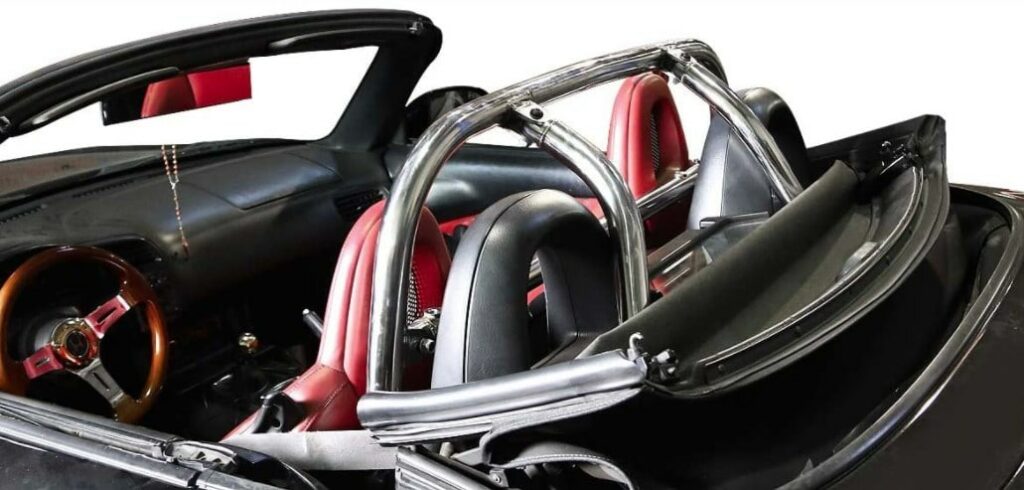 Manufacturer: Auto Dynasty
Part Number: AD-RB-S2000-S
Compatibility: AP1 and AP2
Buy on: Amazon
Auto Dynasty's roll bar is a silver 4-point safety cage crafted from a 40mm molybdenum pipe. It may be a lighter material than most roll bars, but it's got the same hardness as a steel roll bar.
The good news is that it fits all Honda S2000 models and comes with a removable harness bar so that you can attach a racing harness.
You'll find that this roll bar really stiffens your car's chassis and improves the handling, braking, and driving experience. Installing it isn't the easiest thing to do so it's best to have the experts on board.
EVS Tuning Roll Bar
Manufacturer: Evasive Motorsports
Part Number: EVS-AP-RB
Compatibility: AP1 and AP2
EVS Tuning has a fully TIG welded one-piece roll bar for your S2000. Constructed from steel tubes, it comes with an X bar that's connected diagonally with the rear bars and main hoop.
You can keep your OEM seat belts because this roll bar comes with CNC machined seat belt mounting plates. It's got a 1.75" DOM steel and .095" wall thickness which works fine with soft tops and hardtops.
Our Favorite S2000 Roll Bars
All the Honda S2000 roll bars featured in this guide will work wonders for your car to ensure you're safe on the track. While their prices may vary, a lot of this has to do with their construction and added features.
To make your search easier, we've listed our top picks below.
For Competition and Heavy Track Use: Hard Dog
The Hard Dog roll bar is a favorite amongst track drivers for the simple fact that it's one of the highest-quality roll bars out there. To make things better, it lets you add more components to the standard bar should your needs change in the future.
For Occasional Track Use: Cusco
Shedding as much weight as possible on the track is necessary without compromising safety. Cusco's lightweight roll cage does exactly that and keeps the additional weight to a bare minimum.
Best Value for Money: Auto Dynasty
Although this roll bar's material is lighter than most on the market, it's got the same hardness as a steel roll bar and gets the job done just as effectively.
Do you need a roll bar for your S2000? Leave a comment to let us know your favorites and if we missed anything!