We're sure that your S2000 feels right at home on the race track — but its factory seats just don't do justice to its race-ready appeal.
Luckily, the S2000's aftermarket scene has a lot in store for enthusiasts like you.
We're talking bucket seats, recliners, seats that finally offer you the legroom you deserve, and lots more; get ready to be spoiled for choice. However, with a list that long you might feel overwhelmed with all the options.
That's where this guide steps in to guide you. Read on as we'll take you through the best Honda S2000 seats, whatever your needs are.
Types of Aftermarket Seats
Now since the S2000 is a lightweight roadster, your seats will want to follow suit. Cheaper seats are usually heavier, while lighter seats are made from carbon fiber, making them ultra-light and durable.
You also want to focus on where you'll be driving your S2000 and for what purpose. Doing this will help you make the right choice when looking for S2000 seats for sale.
Racing/Bucket Seats
Designed for competition and racing, these seats are lightweight, sturdy, and place the safety of the driver above all else.
They're heavily bolstered and have multipoint harness slots — something you're going to need when chucking your car through corners at triple-digit speeds.
Bucket seats are named after their resemblance to a bucket and have higher sides that cradle the driver. You'll find them both in carbon fiber and reinforced plastic to keep things nice and light.
They certainly aren't the most comfortable choice but where they lack in comfort, they make up in safety and performance.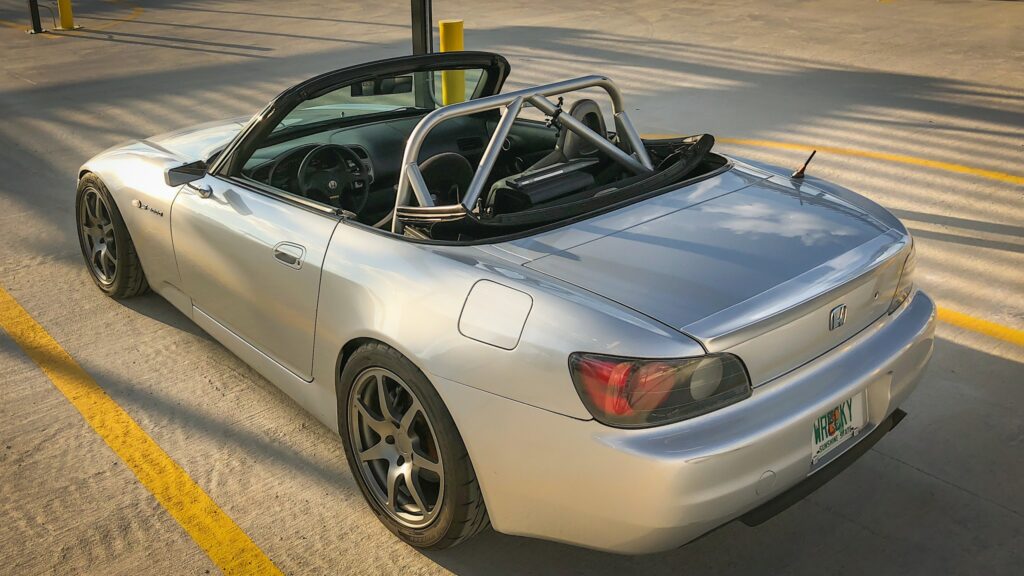 Seats for Daily-Driving
When you're spending that much time behind the wheel, you want to be comfortable. Keeping this comfort in mind, daily driving seats are usually reclinable and made with a soft and durable fabric to hold off the usual wear and tear.
That said, there are a number of people who prefer racing seats and even bucket seats for daily driving. Not only do they look cool, but they also make track days a lot less exhausting.
Picking the Right Seat Size
Before we dive right into the good stuff, let's take a look at how seat sizing plays a big role in finding the perfect fit.
The most common complaint we hear from S2000 owners is the lack of legroom or how tight the seats hold around the waist. And while you do want to be firmly planted in place, you don't want to be uncomfortable while beating your lap times.
You'll find a number of seats designed for larger drivers. Most seats will fit around a 36-inch waist but if you're a big guy, you'll want a racing seat with a wider waist. Some of these come in larger sizes up to 44-inches. As for the seat type, reclining seats are a lot more comfortable if you're struggling for space.
Cheap S2000 Seats
If splurging on aftermarket seats doesn't sit well with you, don't lose hope. You can get your hands on some reliable and great quality seats without breaking the bank.
These seats are by no means the best one on the block, but they'll get the job done better than you'd expect.
NRG FRP-300
Manufacturer: NRG Innovations
Frame Type: Carbon Fiber
Seat Type: Fixed Back
Weight: 24 lbs
Buy on: Amazon | Enjuku Racing
The NRG FRP-300 is a fixed back bucket seat that also doubles up as a sensible choice for daily driving because of its comfort.
The seat is compatible with a 5-point racing harness and the bolsters are high enough to keep you anchored.
There's plenty of lumbar and shoulder too but these seats do fit a bit more snug than you'd expect so it's best to go in a slightly bigger size than you normally would.
Corbeau Forza
Manufacturer: Corbeau
Frame Type: Steel
Seat Type: Fixed Back
Weight: 19 lbs
Buy on: Corbeau | Enjuku Racing
Corbeau is well known for its affordable aftermarket seats which brings us to the Forza– an entry-level racing seat that fits your budget.
It features a tubular steel frame, integrated full-body support, and an option to opt-in for additional lumbar support.
When it comes to sizing, the Corbeau Forza can comfortably seat drivers with up to 38-inch waist size. Larger drivers may want to consider the Corbeau Forza wide version, which goes up to 44 inches in waist size.
Sparco R100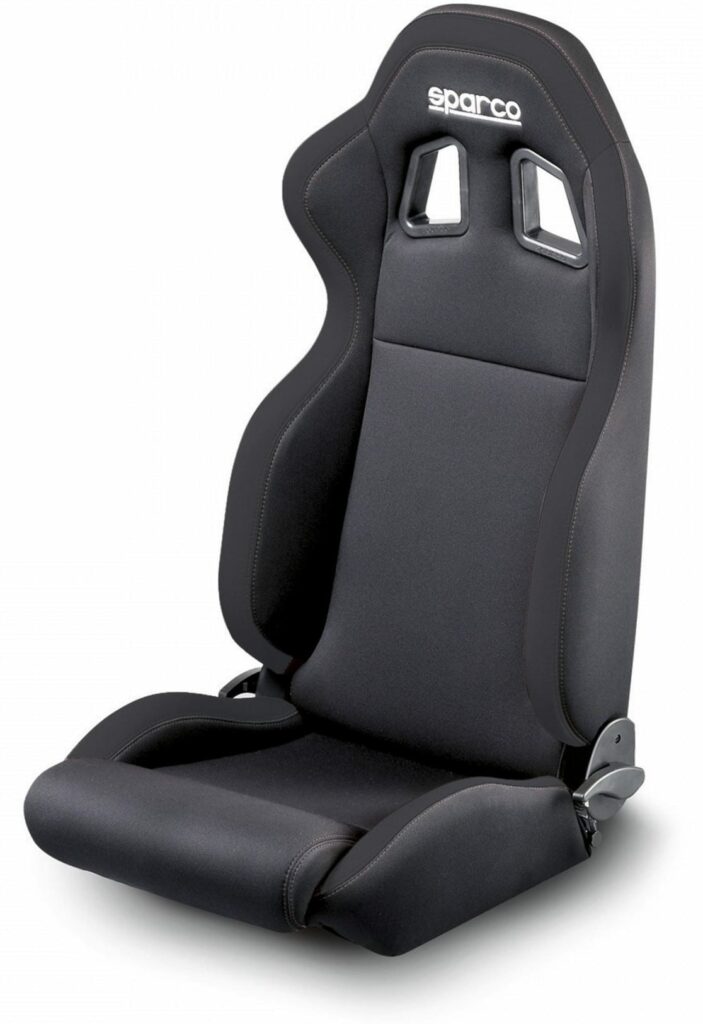 Manufacturer: Sparco
Frame Type: Steel
Seat Type: Reclinable
Weight: 26.9 lbs
Buy on: Amazon
Sparco has a long-standing reputation when it comes to dishing out some awesome aftermarket seats and the R100 sure does live up to the hype.
For the price, these seats really pack a punch and they're surprisingly great quality. They're a very comfortable budget upgrade for many enthusiasts looking to swap out their stock seats.
Installing the R100s is easy and they work just fine with a 3 or 4 point harness. These seats can also be reclined using an adjuster lever and the tubular steel frame is extremely sturdy.
For Competitive Track Use
Tracking your S2000 is fun. Being flung around in your seat because of the lack of side support is not.
To really unleash your S2000s performance on the track, you'll need a seat that has your back and keeps you planted while you throw your car around.
Here are some of our top picks to transform your track days.
Seibon Carbon Kevlar Type-FC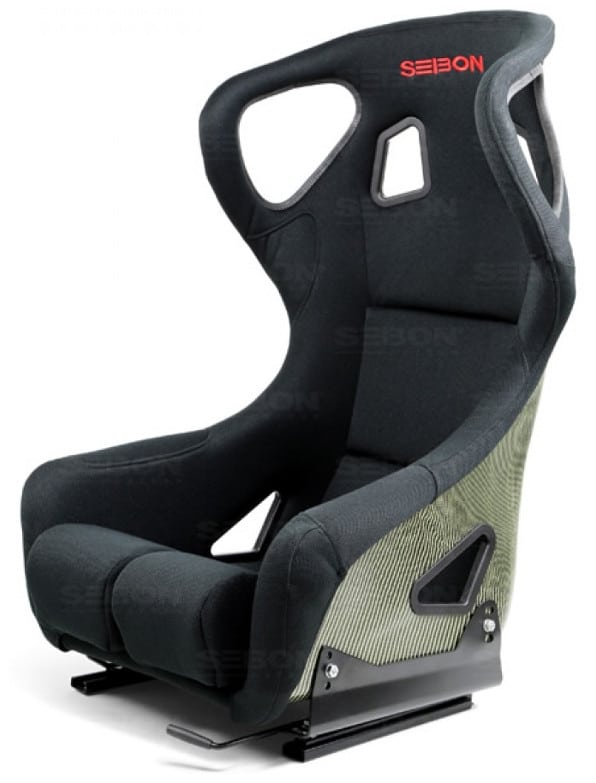 Manufacturer: Seibon
Frame Type: Carbon Fiber Kevlar
Seat Type: Fixed Back
Weight: 25 lbs
Buy On: Amazon
One look at the Type-FC seats and you can tell that Seibon designed them keeping the serious racers in mind.
These carbon kevlar seats are lightweight, durable, and look just as good as you'd imagine. The perfect recipe for racing seats if you ask us.
The side bolsters are great for keeping you planted and to elevate this, you also have slots for a multi-point harness.
The only drawback of Seibon's Type-FC carbon kevlar seats is the fact that they do not come with an FIA certification. If your local events require this certification, give these seats a pass.
Bride Zeta IV
Manufacturer: Bride
Frame Type: Fiberglass Reinforced Polymer (FRP)
Seat Type: Fixed Back
Weight: 16 lbs
Buy On: Enjuku Racing
Our list of best S2000 racing seats would be incomplete without the mention of Bride and rightly so. They're well known for crafting some of the best JDM seats you can find, leaving you spoiled for choice.
The Zeta IV is a fixed bucket seat available in either a super aramid black shell or a silver FRP which is what makes them so lightweight.
These S2000 Bride are also HANS compatible and offer lumbar and shoulder support in addition to the comfortable padding and bolsters.
Sparco Evo L QRT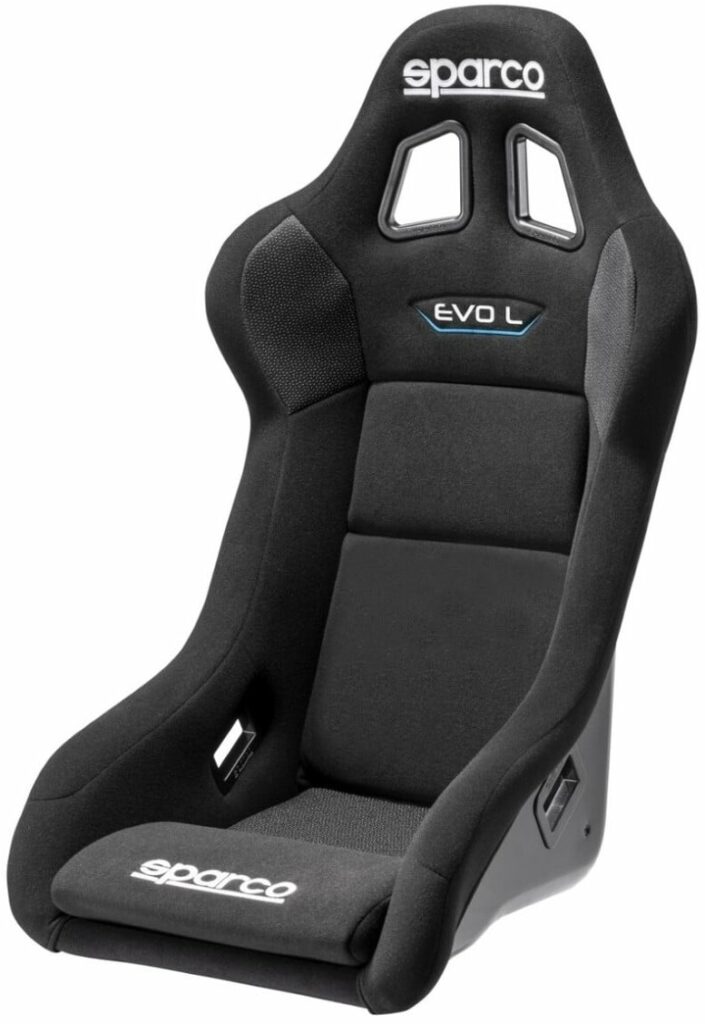 Manufacturer: Sparco
Frame Type: Fiberglass Composite
Seat Type: Fixed Back
Weight: 17.2 lbs
Buy on: Enjuku Racing
These "big boy" seats by Sparco are the perfect choice for larger drivers who crave some extra room, but that doesn't make them any less protective.
Made with a fiberglass composite shell and fire retardant fabric, the Evo L QRT is non-slip and cradle the driver very well. They're FIA approved and compatible with a HANS device.
Occasional Track Use
These seats are the perfect upgrade for an S2000 that sees both road and track time.
They offer a sporty look without cutting back on comfort or ergonomics that many racing seats offer.
Not all of these seats are FIA approved since they aren't designed for serious competition use.
Recaro Pole Position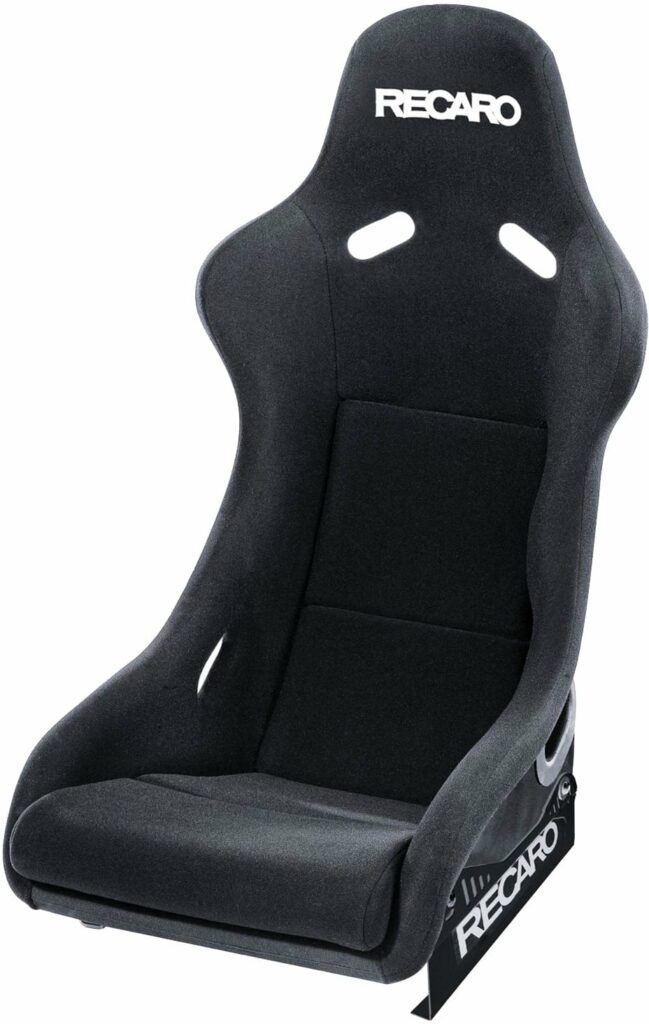 Manufacturer: Recaro
Frame Type: Glass Fiber-Reinforced Polymer (GFRP)
Seat Type: Fixed Back
Weight: 15 lbs
The Recaro Pole Position is easily our favorite S2000 seat, be it for daily driving or a day out on the track.
Praised by many S2000 owners for its all-round performance, these top-notch seats are possibly the most comfortable ones you'll encounter. Especially if you're going to drive your S2000 to the racing track and you don't want to be uncomfortable.
The Pole Position seats are designed for larger and taller drivers with the back cushion providing improved spine support. They're FIA crash-tested and approved and support up to 6 harness slots.
Buddy Club Racing Bucket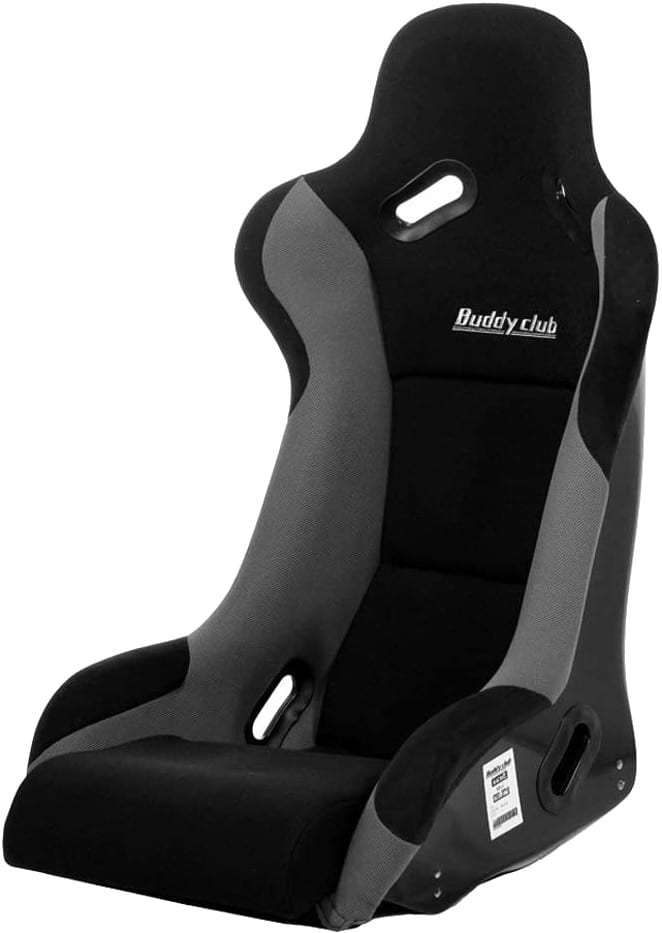 Manufacturer: Buddy Club
Frame Type: Fiberglass Reinforced Polymer (FRP)
Seat Type: Fixed Back
Weight: 11 lbs
Buy On: Amazon | Enjuku Racing
Designed by Buddy Club, these S2000 bucket seats are well suited for both road and track use given their ergonomics and support.
Weighing in at only 11 lbs, these ultralight seats offer lateral support and tightly hold the driver especially while cornering. The seat fabric is durable enough for daily driving and made from a firm yet comfortable twill fabric.
Unfortunately, these seats aren't FIA approved but that doesn't mean you can't take them out for a casual day out on the track.
Corbeau FX1 Pro
Manufacturer: Corbeau
Frame Type: Fiberglass Composite
Seat Type: Fixed Back
Weight: 19 lbs
Buy On: Enjuku Racing
The Corbeau FX1 Pro has a special place in the hearts of many S2000 owners because of its comfort and high-performance on both track and non-track days.
It is a fixed back race-style seat which is easy to install, typical of the many bolt-and-go seats on this list. The end result however is a slightly lower seating position than the stock S2000 seats.
The FX1 Pro has slots for a 5-point harness and even comes with three removable insert cushions for the back, the base, and thighs. The seats can be a bit of a pain to get in and out of but once you're in, they hold you very well.
S2000 Seats: Your Best Choice
A good aftermarket seat elevates the performance of your S2000, making you feel more connected to it. Safety and comfort are obviously equally important and things you should keep an eye out for.
Take a look at the ones that made it to the top of our list.
Best Value Aftermarket Seat: Sparco R100
The Sparco R100 is hands down the most comfortable yet affordable racing seat that you can get your hands on. If you're looking to level up from your OEM seats, this is the one for you.
Best for Occasional Track Use: Recaro Pole Position
These S2000 Recaro seats really tap into the true spirit of the car which is why it's loved by many owners to date. The Pole Position is quite comfortable as far as a racing seat goes and works just as well on long journeys or a visit to your favorite track.
Ideal For Competitive Track Use: Bride Zeta IV
The Seibon Carbon Kevlar seats would have been a clear winner if Bride hadn't launched the Zeta IV which is the latest model in their Zeta series. These seats have everything you need to keep you planted and stable during hard cornering.
Looking to swap out your old stock seats for a new pair? Tell us all your favorites in the comments below!
Feature image: Honda S2000 by Jonathan Leung, adapted by Low Offset, CC-BY 2.0