Two legends from the age of digital cameras, CRT television sets and MySpace, the Honda S2000 and Nissan 350z. These are two of the most popular and timeless JDM cars around.
Both are adequately-powered, analog cars that can be pushed to their limits while retaining control thanks to the superbly engineered platforms.
Drivers can safely floor the gas pedal and rev up to the red to experience peak performance without having a brown pants moment; a feeling few supercars can offer.
Known for their tremendous tuning potential and naturally aspirated engines, the 350z and the S2000 offer excellent handling thanks to their sturdy and balanced chassis.
A 350z vs S2000 comparison might seem unfair. Both make solid contenders for a project car, track weapon, or daily driver. But are they worth the price?
How do they perform against each other? Which is the better car to live with? In this guide, we answer all these questions and more. With further ado, let's jump right in.
Honda S2000 Engine Specs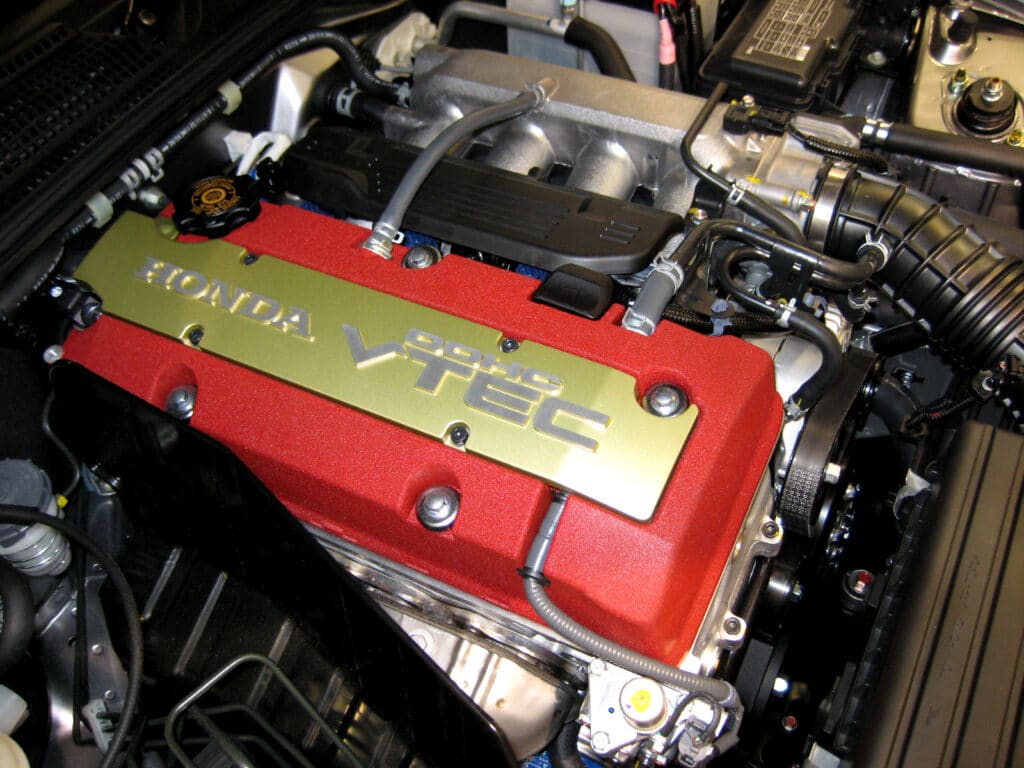 Honda S2000 is the successor to the Honda S500 and S600; the first mass-produced four-wheel vehicle by Honda. Its precision and control captivated everyone to an extent that it received numerous awards and accolades for its superb driving dynamics.
The AP1 was the first S2000 to come to the United States with a high revving F20C 2.0-liter VTEC engine.
As an update, Honda introduced the AP2 in 2004 with a new U.S.-specific F22C 2.2-liter VTEC engine.
Finally, the S2000 CR was a bit of a last hurrah with only 699 track-focused units produced, a gesture to bid the S2000 a final adieu.
These engines are strong. S2000 superchargers are common, and even high powered turbo builds, since they can handle a lot of additional power.
AP1 F20C
Engine Code: F20C
Layout: Inline-4
Power: 240 hp
Torque: 153 lb-ft @ 7500 rpm
Displacement: 1998 cc
Cylinder Bore: 87 mm
Piston Stroke: 84 mm
Compression Ratio: 11.0:1
The first Honda S2000 to arrive in the U.S. was the AP1 which had the high revving F20C engine. Honda introduced this 2.0-liter four-cylinder engine specifically for the S2000 in 1999.
The engine was developed from scratch and used a new aluminum block to wIth various modifications to the piston, crankshaft, and other internals.
The redesigned F20C head led to an improved head flow. A new variable valve timing system (VTEC) controlled the intake and exhaust camshafts.
The cylinder head received larger valves, stiffer valve springs, improved intake and exhaust ports, and aggressive camshafts to unleash its optimum potential.
This naturally aspirated 2.0-liter engine helped the Honda S2000 AP1 produce 240 horsepower. Exceptional engineering by Honda engineers enabled the F20C to redline at 8,900 rpm.
Honda achieved 125 horsepower per liter in the JDM version of the F20C, a record that lasted until 2009 when the Ferrari 458 Italia surpassed it.
AP2 F22C1
Engine Code: F22C1
Layout: Inline-4
Horsepower : 240 hp
Torque: 162 lb-ft @ 7,000 rpm
Displacement: 2157 cc
Cylinder Bore: 87 mm
Piston Stroke: 90.7 mm
Compression Ratio: 11.1:1
Honda finally had a perfect little roadster, but some owners in the U.S complained about how it felt like a Civic under 5000 rpm.
To answer all critics, in 2004, Honda completely updated the S2000 to the AP2 style with a new 2.2-liter engine called the F22C1. It wasn't developed from the bottom up but instead developed over the existing F20C engine.
In the F22C1 cylinder block, Honda engineers installed a new piston stroke crankshaft, connecting rods, and slightly different pistons compared to the kind used in the F20C.
All of these changes increased the displacement from 2.0-liters to 2.2-liters. The new engine could accelerate faster because of the higher torque but resulted in a lower redline maxing out at 8,200 rpm.
They added a 16-valve DOHC head with the VTEC technology on top of the block. Except for updated camshafts, the F22C head shares a lot of similarities with the F20C head.
A heavier flywheel that weighed 9.5 kg was installed instead of the one used in the F20C. These are the key differences between the F22C and F20C engines; the rest of their specifications are identical.
Nissan 350z Engine Specs
The Nissan 350z succeeded the famous 240Z, which established the Nissan sports car pedigree. In contrast to the S2000, a nimble go-kart-like sports car that handles exceptionally well, the 350z is a behemoth with an overengineered 3.5-liter V6 engine.
With a mesmerizing teardrop silhouette and a revolutionary design, the Nissan 350z became the talk of the town. The exotic design drew enthusiasts to the 350z.
It housed enough power to compete with the likes of the American Muscle Cars in a straight line and Euro performers in the corners. Plus, it had Japanese reliability. What more could you possibly want?
At its heart, the 350z has a great engine that sounds amazing and delivers excellent performance.
During its production run, two different V6 engines, VQ35DE and VQ35HR, were used in the 350z. The 350z came with two body styles—Coupe and Roadster (convertible), except for 2009, when it was available only as a roadster.
When compared to the Honda S2000, the 350z has massive dimensions and engine capacity.
Over its seven-year life, the 350z received a mid-cycle refresh where the major upgrade was a new high revving engine that fixed major issues owners had with the first-gen 350z. It also featured some minor cosmetic changes in the form of a facelift.
2003-2006 VQ35DE
Engine Code: VQ35DE
Layout: V6
Horsepower: 287 hp, 300 hp
Torque: 274 lb-ft @ 4800 rpm, 260 lb-ft @ 4800 rpm
Displacement: 3498 cc
Cylinder Bore: 95.5mm
Piston Stroke: 81.4mm
Compression Ratio: 10.:1, 10.3:1
The widely acclaimed VQ35DE V6 engine was installed under the hood, enabling the 350z to churn a healthy 287 hp and 287 lb-ft of torque.
These were impressive numbers, nonetheless coming from a brand like Nissan. Owing to their outstanding performance and reliability, the VQ engines won the title of the best engine of the year on several occasions.
The VQ35DE engine came installed with a light aluminum block with two aluminum heads, two camshafts, four valves per cylinder, and a fully balanced crankshaft.
It featured the CVTC system on the intake valves for efficiency and performance, multi-point fuel injection, and Nissan's direct ignition system with individual coils on each cylinder.
2007-2009 VQ35HR
Engine Code: VQ35HR
Layout: V6
Horsepower: 306 hp
Torque: 268 lb-ft @ 4800 rpm
Displacement: 3498 cc
Cylinder Bore: 95.5mm
Piston Stroke: 81.4mm
Compression Ratio: 10.6:1
The VQ35DE engine had its fair share of flaws. Nissan heeded the consumer complaints by relaunching the 350z in 2004 with a slightly changed design and a new engine called VQ35HR. This engine delivered everything that was missing in the "DE" variant.
Nissan wanted to perfect the 350z and create an engine with lower friction and vibration for a smoother experience at high speeds.
To achieve this, the engineers added a more powerful block amplifier to hold the crankshaft resulting in a rigid structure that reduced vibrations. The crankshaft was also modified with enlarged root necks and inserts.
With all the newly formulated changes, the VQ35HR became a potent engine that revved all the way up to 7600 rpm. The power delivery was quicker, better, and more responsive.
Owing to its low Nitrogen-Oxide and Hydrocarbon emissions, the VQ35HR was classified as a SULEV or a super ultra-low emission vehicle according to the U.S passenger vehicle emission standards.
Key Differences Between the Honda S2000 and Nissan 350z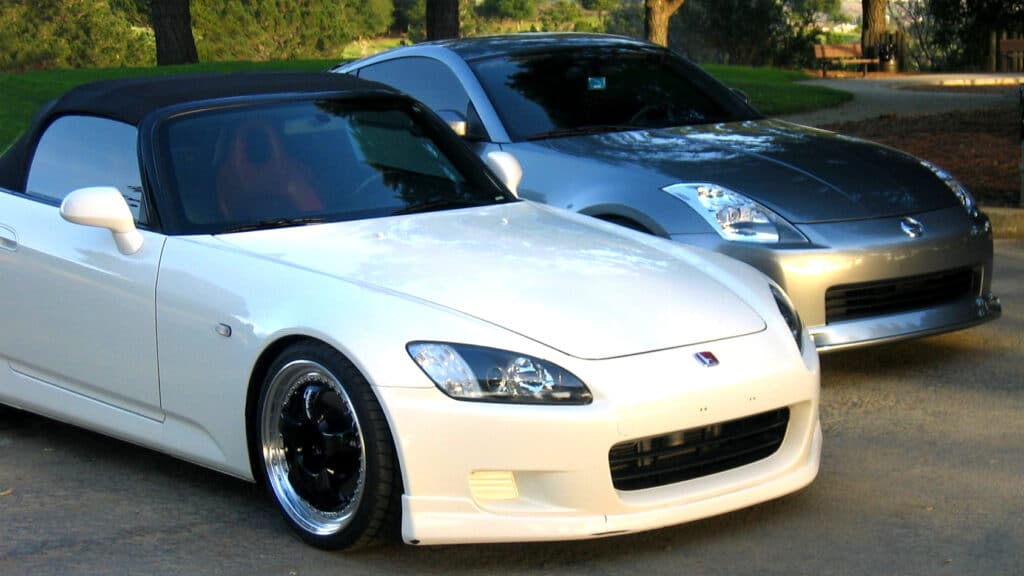 Although the 350z and the S2000 are significantly different from one another, both share a very similar history.
It was the late 1960s when the roots of both these poster cars were established. Honda's S-series and Nissan's Z-series established the trend of a small two-seater sports car which was eventually appreciated and became mainstream.
Pitting the two against each other is like comparing apples and oranges. Both cars have a vastly different place in the tuner community and offer very different driving characteristics.
But there's no denying that both are likely to be on your hit list when deciding on the best tuner car under $20k. Here are some of the key differences you should know about when considering these pocket-sized roadsters.
0-60 Times
The Honda S2000 is slightly underpowered, but it's also very light because which makes it more fun to throw around in corners.
Comparatively, the 350z does not exude much confidence when attacking corners at high speeds like the S2000 can. But, the 350z definitely accelerates faster.
According to official dossiers, the Honda S2000 accelerates from 0 to 60 mph in 6.2 seconds. Yet, testers like Motortrend rated the S2000 0-60 mph sprint at just 5.8 seconds, and Autoweek quoted the 0-60 mph time at just 5.75 seconds.
Fun fact: Just over a decade ago, a naturally aspirated four-banger accelerating from 0-60 mph in under 6 seconds was unimaginable.
The Fairlady-Z isn't slow by any means, but it definitely won't pin you to your seat. Nissan claims that the 350z Enthusiast could accelerate from 0-60 in just 5.2 seconds. But that's not the quickest it can go.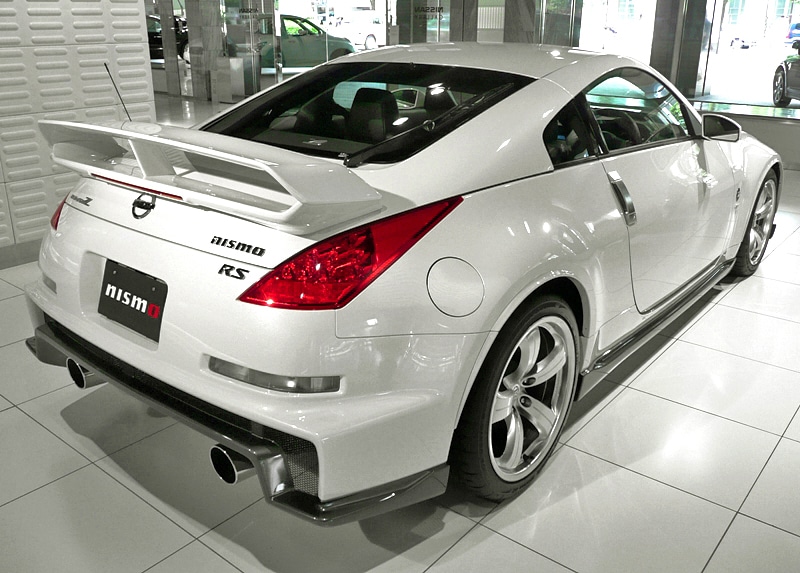 It is only fair to compare a roadster with a roadster, and the results are shocking. The Honda S2000 and the Nissan 350z roadster accelerate from 0 to 60 mph at a shared time of 5.8 seconds.
You read that right, a seemingly puny inline-four effortlessly rivals the overengineered V6. Well, the Honda S2000 wasn't crowned the number 1 by Top Gear for 2003, 2005, and 2006 for nothing now, was it?
Track Performance
Sports cars are meant to be raced and the S2000 and the 350z serve as excellent candidates for the job. Even in their stock form, they are quick, agile, and equally exciting in a straight as they are when going sideways.
The S2000 posted a time of 8 minutes 39 seconds, whereas the 350z posted a time of 8 minutes 26 seconds to complete a lap of the Nurburgring. To put things into perspective, the Ford Mustang GT that boasts a massive 5.0-liter V8 did a lap around the Nurburgring in 8 minutes and 9 seconds.
A true racer at heart, the Honda S2000 was used in numerous forms of motorsports. Be it the Nurburgring 24 Hours, SCCA National Championships, or Formula D (Drift), the S2000 has secured multiple podium finishes in each of these series.
The Z33 has also accumulated impressive accolades in the world of motorsports. The 350z is still a very prominent figure in Formula D. Not just that, it has appeared in various other forms of motorsport like Grand-Am, SCCA Championships, British GT.
At a club level, you're more likely to see 350z used in drifting events, as they are considered to be one of the best cheap drift cars. As a result, drift-specific products like 350z bash bars are much easier to come by.
S2000's are more commonly seen in autocross or circuit use, as they are much lighter, more precise and better suited to those wanting to improve their times.
Maintenance and Reliability
The Japanese Domestic Market has single-handedly proven to the world that spending more money is not the only way to make manufacture better products.
Cheaper Japanese cars can deliver just as much, if not more, than their German rivals. Not just that, they are more reliable, affordable, and easier to maintain. Both the S2000 and 350z are very reliable vehicles. After all, they are authentic Japanese machines to the core.
Maintain either of these cars well and they'll reward you with over a hundred thousand miles of driving fun without burning a hole in your wallet.
No doubt, being at least a decade old, there can be some underlying problems, but they can easily be detected with a thorough inspection. If you can't inspect the car yourself, hiring a professional is always a safe bet.
Considering the massive aftermarket community surrounding these cars, it's going to be difficult to find a stock, unabused example. Modified cars are generally not as well maintained — especially if someone else has modified them.
You never know what's been done to the car. Unless you know and trust the previous owner(s) of the car, we'd say steer clear from buying used, modified 350zs, or S2000s. That said, buying a used S2000 is much safer than buying a used 350z.
We are in no way biased. However, most Honda S2000's are easier to maintain and have received J.D Power's Most Reliable Sports Car award for multiple years.
The 350z has the title of the most dangerous car due to the number of accidents caused by untrained drivers. So yeah, it is easier to maintain an S2000 compared to a 350z, which isn't very expensive to keep.
Insurance Costs
Buying a car is not just about choosing the one with the fewest miles and the shiniest paint job. There are a lot of other things that come into action during the purchase process.
One of the most significant factors is the cost of insurance. As the car gets older, the insurance premiums drop, but there are a lot of other aspects that play a role in deciding the insurance of a vehicle.
The two cars that we have cherry-picked today are old enough to buy themselves a pint of beer. Insurance for the Honda S2000 varies according to the condition of the vehicle, and modifications to the car, among other things, but the average annual insurance premium is $1,165 for adults, $1,933 for teens, and $966 for older drivers.
Similar prices apply when insuring a Nissan 350z, though location is a major factor on policy rates for this car. Some states bring much higher premiums than others.
Which is More Powerful?
Detailed below is a simple comparison of the 350z vs S2000 power figures and engine specs of both these cars. The 350z feels more eager to break the rear end loose and has more torque. On the other hand, the S2000 feels much smoother and has a linear power curve.
S2000 AP1
S2000 AP2
350z
03-05
350z
06-09
Compression Ratio
11.0:1
11.1:1
10:1, 10.3:1
10.6:1
Torque
153 lb-ft @7500 rpm
162 lb-ft @7000 rpm
274 lb-ft @4800 rpm, 260 lb-ft @4800 rpm
268 lb-ft @4800 rpm
Displacement
1998 cc
2157 cc
3498 cc
3498 cc
Horsepower
240 hp
240 hp
287 hp, 300 hp
306 hp
Piston Stroke
84 mm
90.7 mm
81.4 mm
81.4 mm
Cylinder Bore
87 mm
87 mm
95.5 mm
95.5 mm
Engine Code
F20C
F22C
VQ35DE
VQ35HR
Layout
Inline-4
Inline-4
V6
V6
There is no way to compare a four-cylinder with a V6 because of the clear difference in engine capacity. But, the two engines produce a distinctly exhilarating soundtrack.
The 350z sounds throaty with lots of pops and gurgles, while the S2000 is subtle but begins to sound frantic as it approaches the redline.
350z vs S2000 — Which Is Better For You?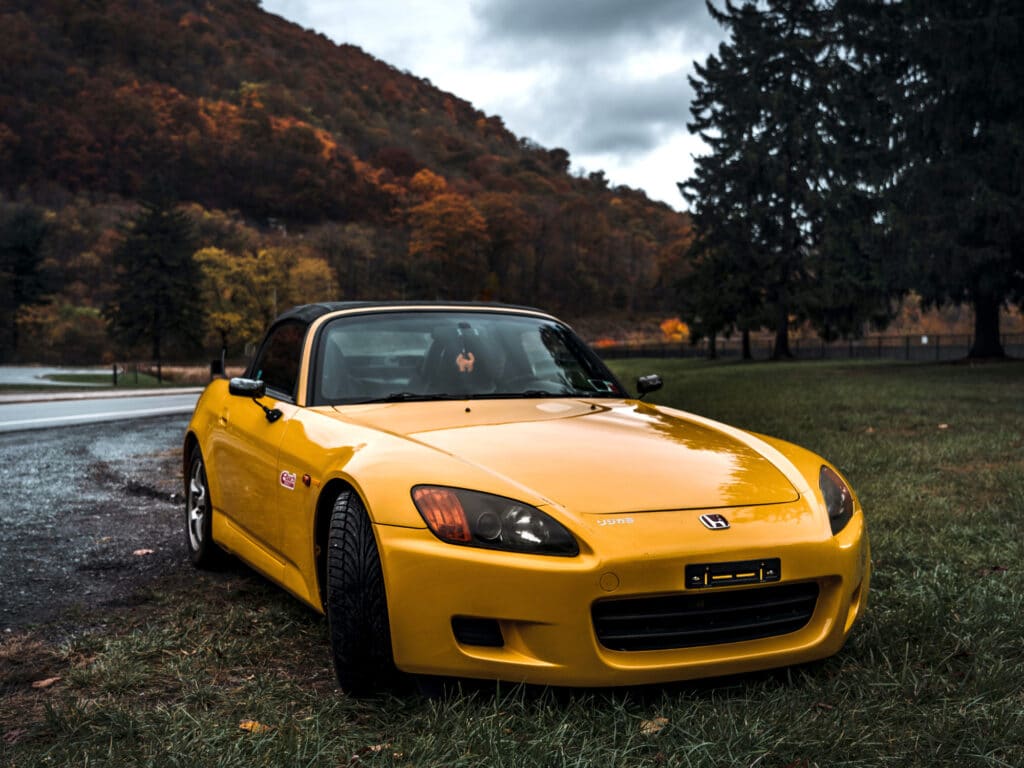 Some questions don't have an answer, and choosing between the Honda S2000 and the Nissan 350z is among them. Both our sports car candidates have their strengths and quirks as they do flaws and weaknesses.
The S2000 is an elegant go-kart-like car that enthusiasts who love precision, control, and panache will simply adore. Whereas the Nissan 350z is more of a hoon that loves to go sideways, fast.
Both of these cars are a lot of fun to be in, and driving them is an experience in itself.
We leave this decision to you, do let us know in the comments which one you prefer and why!