The Honda S2000 comes with a pretty great suspension setup that doesn't really need much tinkering around. However, you can pump new life into your current setup by installing a set of lowering springs.
Instead of upgrading your S2000 to coilovers, lowering springs give you the option to bring your car a little closer to the ground without compromising on ride comfort, or emptying your bank account.
In this guide, we show you through some of the best Honda S2000 lowering springs that you can lay your hands on along will all the benefits that lowering springs have to offer.
Why Choose Lowering Springs?
Honda had a great recipe for handling in the OEM S2000 set up. So if you really love your suspension and just want a minor bit of tweaking then lowering springs will do the job just fine.
Lowering springs are a great way to give your car the slammed look you've been after, without breaking the bank. The drop in ride height will also improve your S2000's handling because of the lower center of gravity.
Aside from the sporty aesthetics, lowering springs are easy on the pocket. You'll find a good set of Honda S2000 springs anywhere between $100 to $500.
How Low Can You Go?
There's no denying how good a lowered S2000 looks but is there a limit to how much you should lower it? Yes, and here's why.
There's a good chance that the wheels of your S2000 will rub against the fender once you lower the ride height. A good way around this is getting your car aligned after you lower it, and dialing in some extra negative camber.
If it comes to it though, you might need to roll your fenders using a fender rolling tool.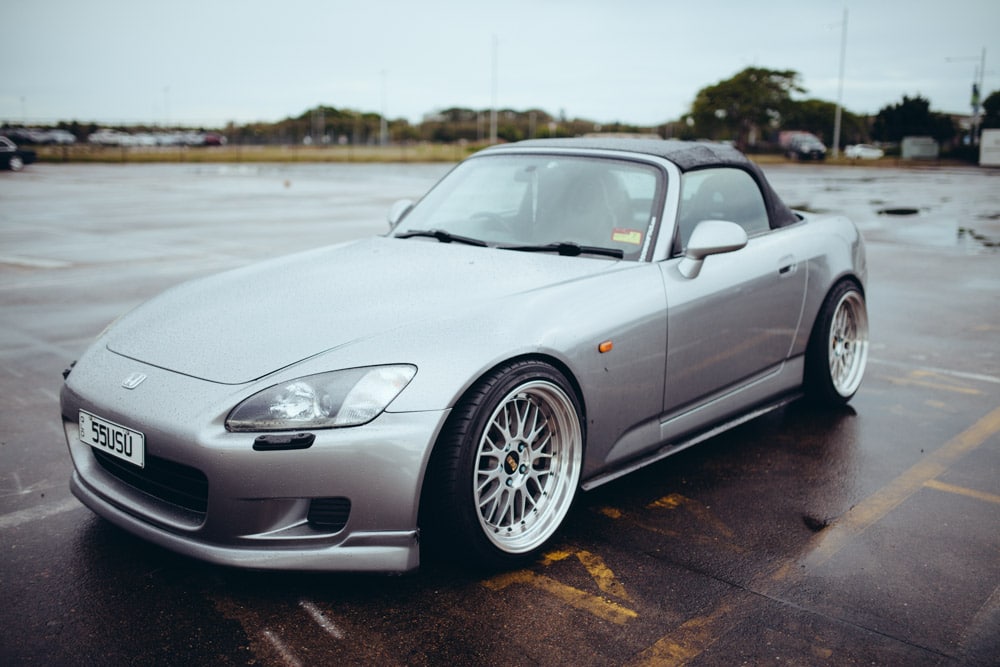 With this in mind, if you don't want the hassle, we recommend a 1-inch drop which really lets the sporty spirit of your Honda S2000 shine through without any hassles.
That said, there are a number of lowering springs out there that allow a 2.5-inch ride drop.
The Best Lowering Springs for Your Honda S2000
From budget springs to high-performance ones, you'll find a lot to choose from for your Honda S2000.
Depending on whether you'll be seeing a lot of track or street time, here's a list of our favorites to make things easier.
Espelir Active Super Down
Manufacturer: Espelir
Front height drop (in.): 1.2
Rear height drop (in.): 1.6
Front spring rate (lb/in): 313
Rear spring rate (lb/in): 392
Warranty: 1 year
With a near-perfect drop and OEM-like ride comfort, the Espelirs almost make you forget that you have a set of lowering springs installed.
Along with lowering your S2000 to a nice and sporty stance, they offer great handling and are pretty responsive. You won't face any fender rubbing issues either.
Espelir introduces their "low form" technology with these springs which promise a stable ride without compromising on comfort. It's good to know your car will still have around 3.5 inches of ground clearance after installing them.
Swift Spec R
Manufacturer: Swift Springs
Front height drop (in.): 1.25
Rear height drop (in.): 1.25
Front spring rate (lb/in): 419
Rear spring rate (lb/in): 391
Warranty: 3 Year Limited
Buy on: Amazon
Offering a crisp 1.25-inch drop all around, the Swift Spec R is a favorite amongst many S2K owners.
You'll instantly notice how compliant and stable your S2000 feels. The springs easily absorb bumps much better than stock and make cornering a piece of cake.
Overall you get an S2000 that looks nice and sporty, is still comfortable as a daily driver and almost feels like a coilover when pushed a little. Bye-bye body roll!
Eibach Pro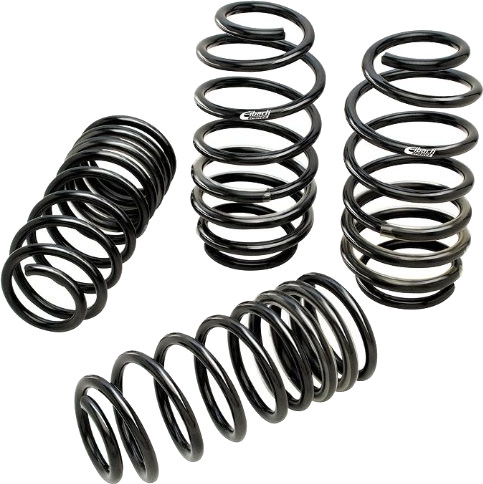 Manufacturer: Eibach
Front height drop (in.): 1
Rear height drop (in.): 1
Front spring rate (lb/in): 262
Rear spring rate (lb/in): 342
Warranty: Million mile
Buy from: Amazon
Another popular kit amongst many owners, the Eibach Pro kit focuses more on handling and stability–which we absolutely love.
You get a decent 1-inch drop along with reduced nose-dive and body roll. It feels similar to stock only slightly stiffer.
They're designed to work well with OEM shocks and with the mild drop in height your shocks won't wear quickly. Bonus points for the million-mile warranty which is tough to beat.
Tein S Tech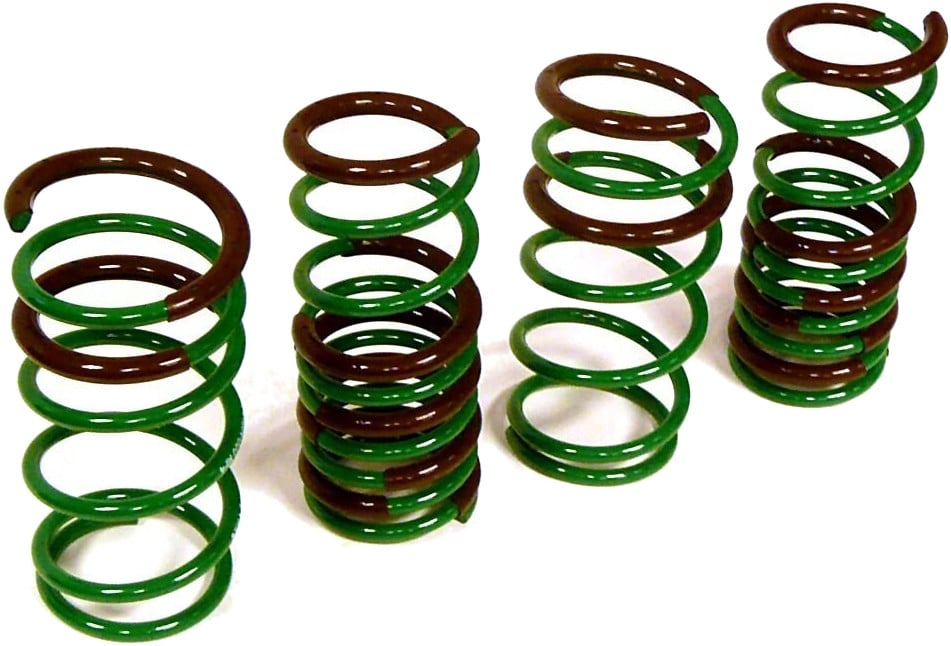 Manufacturer: Tein
Front height drop (in.): 1.5
Rear height drop (in.): 1.5
Front spring rate (lb/in): 297
Rear spring rate (lb/in): 364
Warranty: 1 year limited
Buy on: Amazon | Enjuku: AP1 | AP2
A sporty ride with stellar handling that won't burn a hole in your pocket? Sounds like a set of Tein S Tech springs.
These progressive springs work great with OEM shocks and promise a much better road holding capacity.
If you're on a budget, you'll enjoy all that these springs have to offer from a great ride drop to optimum cruising comfort.
Spoon Progressive
Manufacturer: Spoon Sports
Front height drop (in.): 0.9
Rear height drop (in.): 0.9
Front spring rate (lb/in): 263
Rear spring rate (lb/in): 386
Warranty: NA
With a nice and even ride height all around, Spoon Sports offers a top-quality set of progressive springs to transform your prized S2000.
Comfort is key when it comes to high-performance lowering springs and Spoon cuts no corners to give you just that. You can use them just fine with your stock OEM shocks or upgrade to the Spoon damper kit.
H&R Sport
Manufacturer: H&R
Front height drop (in.): 0.75
Rear height drop (in.): 0.6
Front spring rate (lb/in): 292
Rear spring rate (lb/in): 326
Warranty: 1 year
Buy on: Amazon
These H&R springs are great if you're looking for a fun driving experience that's not incredibly low in ride height.
Living up to the name, the sport springs are great if you want to autocross your S2000. Pair them up with a set of Koni Yellow shocks and take your suspension game to a whole new level.
We love the ride comfort they offer, especially the ease they bring to cornering on tight mountain roads.
Godspeed Traction S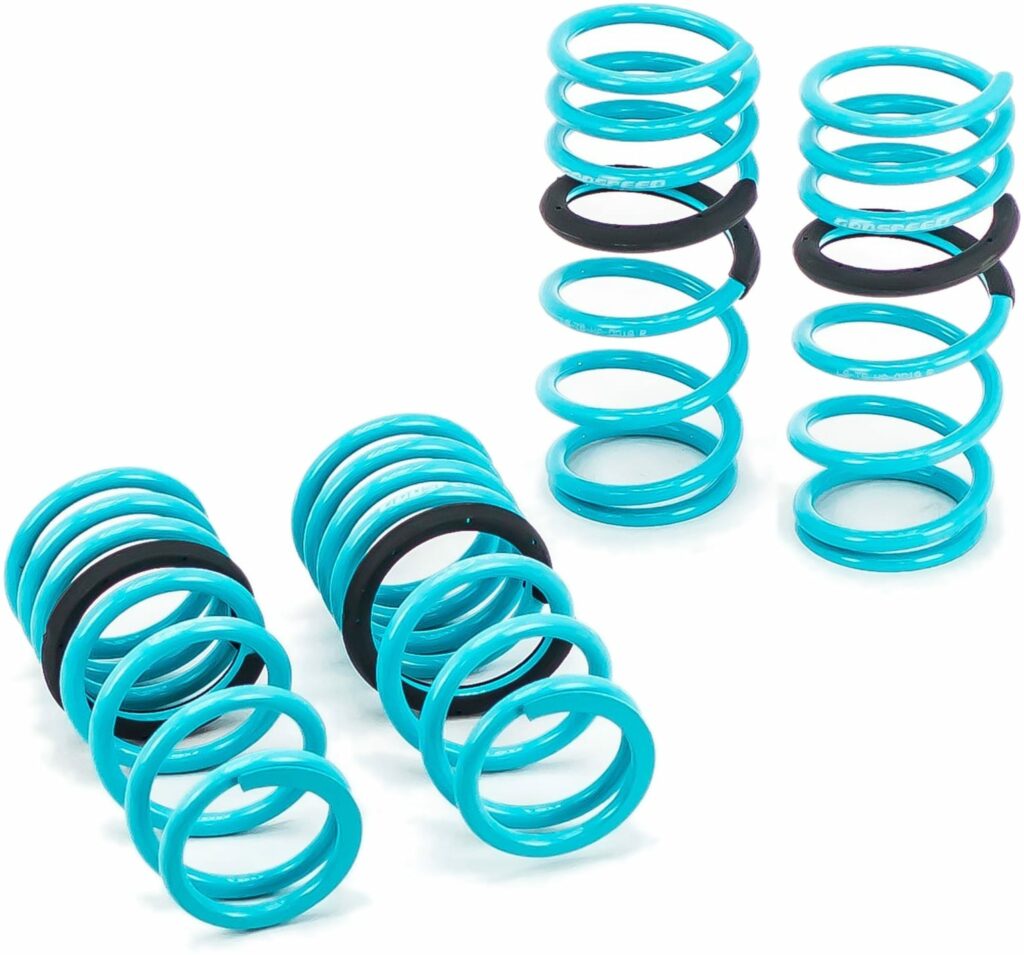 Manufacturer: Godspeed
Front height drop (in.): 1.0
Rear height drop (in.): 1.0
Front spring rate (lb/in): 368
Rear spring rate (lb/in): 266
Warranty: Limited lifetime
Buy on: Amazon
The Godspeed Traction-S springs are a durable set of lowering springs thanks to the multi heat-treated wire which keeps them from sagging over time.
You may not get a really low drop but you won't be disappointed with the handling and overall ride performance once you get your hands on these.
They feel slightly stiffer than stock but your car will definitely be more planted with reduced body roll and almost-perfect cornering.
Skunk2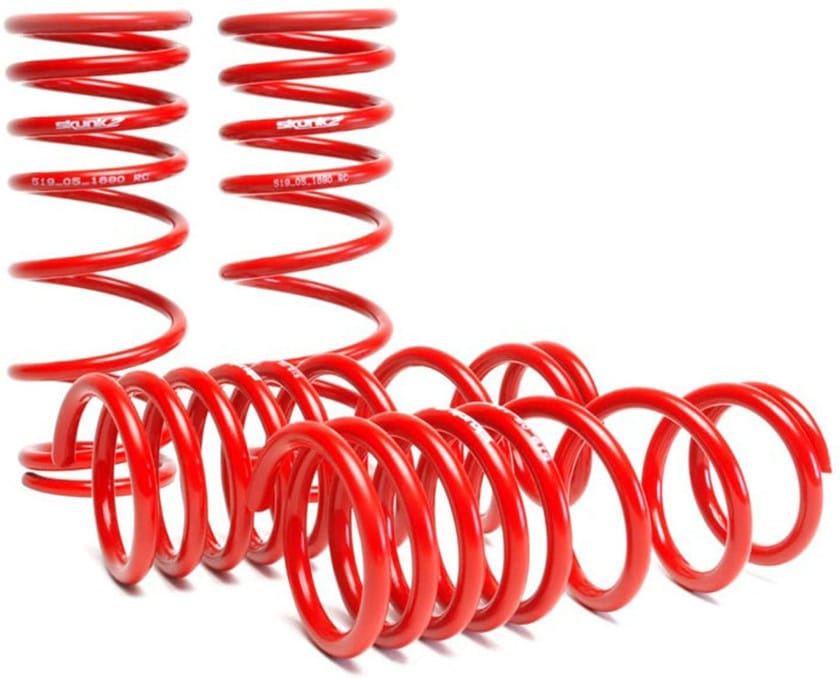 Manufacturer: Skunk2 Racing
Front height drop (in.): 2.25
Rear height drop (in.): 2
Front spring rate (lb/in): 380
Rear spring rate (lb/in): 243
Warranty: 1 Year
Buy on: Amazon
If a 1-inch drop just doesn't cut it for you then you'll love this set of springs by Skunk2 Racing which drops up to 2.25 inches.
Many S2000 owners claim that the Skunk2 setup works a lot better if the front springs are fitted on rear wheels and vice versa. This could either be a labeling issue or a design flaw. Either way, as long as you swap them during installation, they'll work just fine.
While they work fine with OEM shocks, don't forget it's still a noticeable change in ride height for your S2000. You can opt for a new set of shocks or pair them with Skunk2 sport shocks and camber correction components—a combination that will definitely last longer than a set of these springs paired to your OEM shocks.
The springs come with a 1-year warranty and a powder coat finish that protects against corrosion.
Our Favorite Honda S2000 Lowering Springs
Apart from the drop in ride height, lowering springs will enhance your S2000's handling. You'll find loads of S2000 lowering springs that work well with your OEM shocks and struts or you can choose to upgrade to a new set of shocks.
Our top picks for the Honda S2000 are:
For Daily Driving: Eibach Pro Kit
Designed to work well with OEM shocks, the Eibach Pro kit fits in perfectly with all the other components of your Honda S2000.
You get a modest 1-inch drop in ride height but a lot more when it comes to ride performance. Your Honda S2000 will sit well and handles bumps, cornering and body roll better than before to give you a smooth drive.
For a Super Low Drop: Skunk2
Skunk2 offers the lowest springs in the market with a ride drop of 2 to 2.25inches. Your S2000 will sit nice and low but it's recommended to swap the front and rear springs for an even drop.
Do keep in mind that if you go with the Skunk2 springs, we recommend getting a pair of new shocks that are matched to these springs to avoid excessive wear.
For All Round Performance: Swift Spec R
It's hard not to love just about everything about these lowering springs. You get a nice and even 1.25-inch drop along with superior handling.
If you daily your S2000, the ride itself feels nearly identical to stock but with added comfort. They're suited for both street and track use and come with a limited 3-year warranty.
Remember that installing lowering springs at home can be dangerous if you don't have the right tools. Grab yourself a low profile floor jack, a set of jack stands and a pair of coil spring compressor tools before getting started. They will make the install easier, and keep you safe while you're doing it.
Got a favorite from our list of lowering springs? Tell us which ones in the comments below!
Feature Image: S2000 x NT03+M by Rick Flores, CC BY 2.0