So you've got a beast of a car sitting in your garage and now it's time to grace it with new coilovers. Don't know where to start? Here's a simple guide that'll make things as smooth as your ride.
The Honda S2000 is a roadster that's built to be driven and driven hard. With a rev-happy engine, roaring inline 4 cylinder and stunning looks, it makes for the perfect ride. But you already know that.
What you didn't know is that though the car is track-ready from the factory, installing a set of S2000 coilovers makes things even better.
In this Honda S2000 coilover guide, we take you through the top coilovers for daily driving, as well as track-focused and competition setups.
Why Coilovers?
The engineers at Honda designed the S2K in a way that it sits nice and low. This combined with 50:50 weight distribution makes it handle exceptionally well. So we see why some enthusiasts would want to stick with the stock S2000 suspension setup.
However, if you want to fine-tune the way your S2K handles, we highly recommend getting a set of coilovers.
Making the most out of your F20C or F22C1's high RPM range and legendary VTEC is something else when you've got coilovers onboard. Upgraded handling for your S2000 means better stability, and smoother cornering for sure.
And more importantly how are they about to make your S2K even faster through the turns?
Simply put, coilovers consist of a spring and a damper. The spring spirals around the damper sending it all the impact it absorbs. Be it from bumpy roads, swaying, cornering or brake dives. The trusty damper then decompresses the 'shock' from the spring giving you a smooth ride.
Oh but there's more. Coilovers give you total control when it comes to adjustability.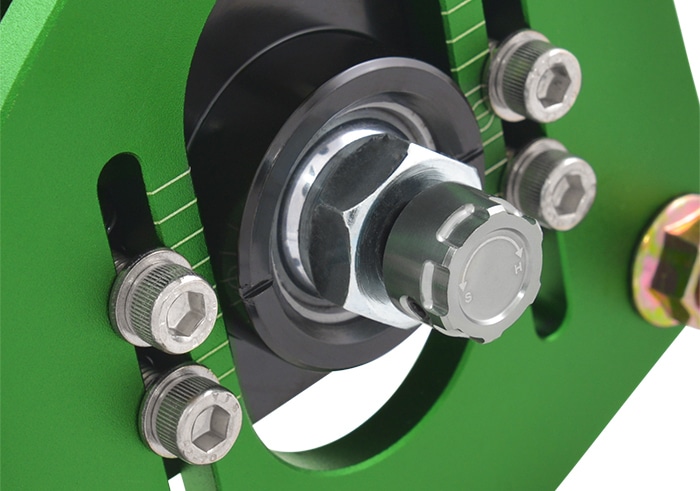 Depending on the coilover in question, you get to choose the ride height, damping and sometimes even the compression adjustment (seen in some of the high-end units).
They're also a great way to fine-tune your Honda S2000's stance, if that's your thing.
These are just some of the reasons why many seasoned drivers prefer coilovers to lowering springs. And while they may be more expensive, they're worth every buck. At least, the right ones are.
Picking the Right Coilovers for Your Honda S2000
For a car as celebrated as the Honda S2000, there's no shortage of remarkable coilovers to go with. But before you add one to your cart, here are a few things you must consider.
After the raving success of Honda's AP1 version in 1999, the new and improved AP2 closely followed suit in 2004. However, when it came to coilovers, not all of them fit both AP1 and AP2 generation S2000's. So you want to make sure you've got the right ones.
The AP1 is much stiffer and lighter than the AP2 given its status as a motorsport beast. While the AP2, on the other hand, is more of a comfortable cruiser.
As for the compatibility, most AP1 and AP2 coilovers are interchangeable while some aren't. That said, we recommend that you double-check the fitment before ordering your set.
Usage
Another thing to consider is where you'll be using your new set of coilovers. Are you looking to daily your S2000 with the occasional track visit? Or perhaps you're prepping to beat your old lap time.
Road and track conditions are drastically different. Roads have speed bumps and uneven surfaces while race tracks have sharp, high-speed corners. Both these scenarios are equally challenging and demand different things from your suspension setup.
Though most coilovers offer a do-it-all experience, some are geared more towards daily driving and some have a track-focused design.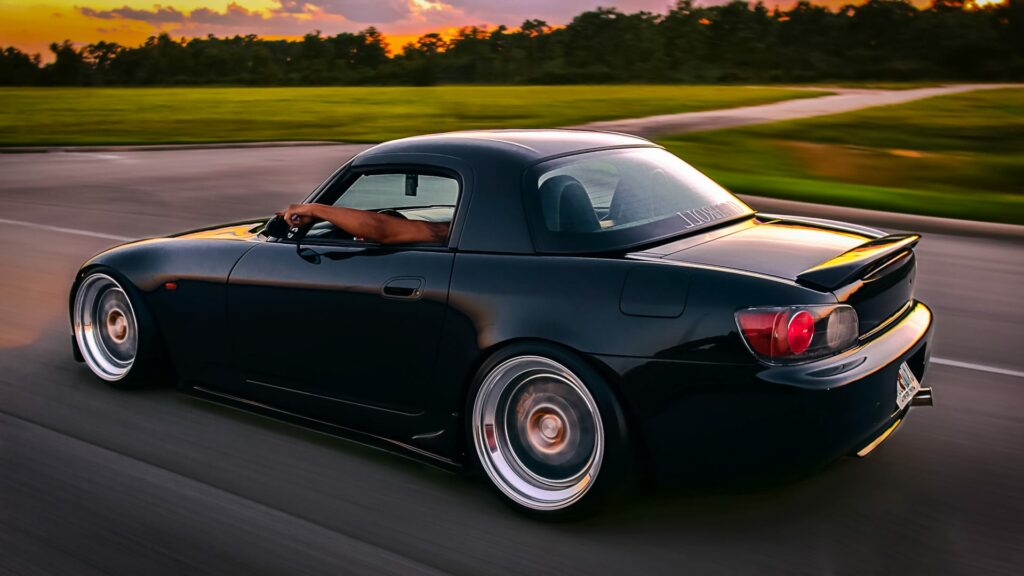 Coilovers designed for street use have fewer levels of adjustability but they're geared for a more comfortable driving experience. On the other hand, track-oriented coilovers are much stiffer and more responsive.
There's no good or bad here. It really all depends on your preference and where you'll be making the most of your Honda S2000.
Last but not least, don't forget to check the spring rate.
Spring Rates
Spring rates decide how soft or stiff your ride will be. Daily drivers will prefer a softer setting on their coilovers because of the comfort they provide. On the other hand, track-focused coilovers demand a stiffer spring rate for all-round control.
When a coilover has a spring rate of 10k, this means 10kg of force would be needed for 1mm of compression.
A higher spring rate will give you stiffer rides, better handling and less body roll over cornering. A lower spring rate swallows bumps for a smooth ride but isn't so forgiving when it comes to cornering.
Again, this choice comes down to where you'll be using your car the most.
Best Value Coilovers for Daily Driven S2Ks
We could go on for hours about how perfect the Honda S2000 handles the streets. But instead, we'll leave you with a list of coilovers that are ideal for daily driving.
You'll definitely be able to tell the difference from stock suspension once you get these installed.
For the most part, these coilovers provide a more compliant ride, better grip and the low ride height you were looking for. But apart from the sick aesthetics, improved handling is where the real fun lies.
Tein Flex Z
Manufacturer: Tein
Part Number: VSH64-C1SS3
Construction Type: Twin-Tube
Damper Adjustment: 16 Levels
Upper Mounts: Included
Suits: AP1 | AP2
Warranty: 1 Year
Buy On: Amazon | Enjuku Racing
A well-put together kit by Tein, these coilovers have a stellar build quality given the price point. The installation is fairly simple since they come with top-hats.
With 16 levels of damping adjustment, you get a good blend of track and street use. You can have a soft setting when you daily it. And if you decide to take them to the track, the stiff setting works fine. The travel is good, with the car staying up off the bump stops in typical cornering.
They've got two different sets for both AP1 and AP2 so double check to make sure you're buying the right fitment.
These coilovers may not be rebuildable, but for entry-level coilovers that are packed with so many great features, they'll do the job well.
BC Racing BR Series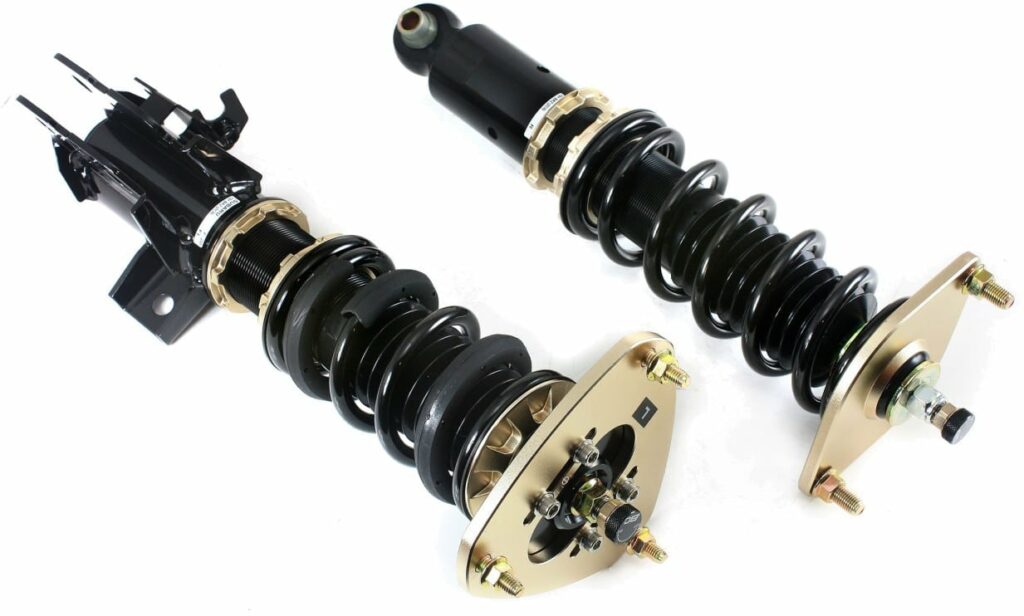 Manufacturer: BC Racing
Part Number: A-09-BR
Construction Type: Mono Tube
Damper Adjustment: 30 Levels
Upper Mounts: Included
Suits: AP1 & AP2
Warranty: 1 Year
Buy On: Amazon | Enjuku Racing
The BR Series just goes to show that you don't have to burn a hole in your pocket to own great coilovers. They're a great suspension setup if you daily your S2000. BC BRs offer 30 levels of damping adjustment and a minimum 2" drop.
You'll instantly notice the difference in the handling once you install them. Daily driving becomes so much smoother and they handle bumps very well. Bonus points for them being a "set it and forget it" type of coilover.
BC Racing also offers choices between pillow ball mounts and rubber mounts for comfort level control.
They're perfect for the street, a pure pleasure to drive on mountain roads and great on the track.
Megan Racing Track Series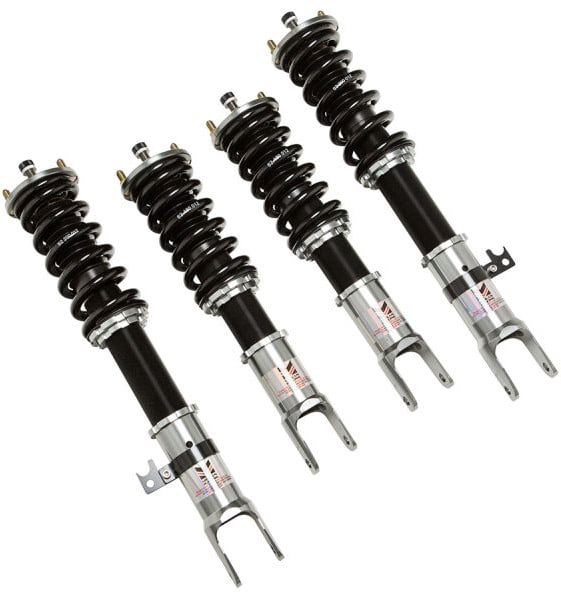 Manufacturer: Megan Racing
Part Number: MR-CDK-S2KTS
Construction Type: Mono Tube
Damper Adjustment: 32 Levels
Upper Mounts: Included
Suits: AP1 & AP2
Warranty: 1 Year
Buy On: Amazon 
The name may say track, but these coilovers make just as great a set for daily driving. Especially if you're looking for a stiffer ride than your stock set up. 
One look at them and you know these coilovers mean business. They've got a nice gunmetal finish and coated springs for added durability. As you may have guessed, due to a higher spring rate, these coilovers aren't incredibly high on comfort. But they sure do make up in performance.
Tuning is rather easy with these kits. They come with fully adjustable pillow-ball upper mount camber plates. So you can effectively tune your car for any ride height as well as adjust your camber for better handling.
There are also 32 levels of damper adjustment. Adjusting the compression and rebound is easy too, thanks to the single damper adjustment knob with easy access.
Fortune Auto 500 Series
Manufacturer: Fortune Auto
Part Number: FA-500-AP1
Construction Type: Mono Tube
Damper Adjustment: 24 Levels
Upper Mounts: Included
Suits: AP1 & AP2
Warranty: 5 Year
Buy On: Amazon | Enjuku Racing
We had to include the Fortune Auto 500 Series given the fact that they're one of the best single adjustable systems you can get your hands on. These coilovers ride better than most other brands in this price range and here's why.
For starters, the damper is much more responsive and efficient. All thanks to 80% lighter pistons than their previous designs. Fortune Auto's patented Digressive Flow Piston Technology helps the damper to adjust itself based on the intensity of the impact.
In the real world, this means that you won't experience a jarring effect over most bumps and irregularities, regardless of your speed. You also get a 5-year warranty which makes the whole package a total steal.
Best Coilovers for Road and Track
Cruising down the streets one day, and racing around the track the next. Wherever it goes, the Honda S2000 is a versatile vehicle. And with its beast mode kicking in at 6500 RPM, it's no wonder you feel exactly at home on the race track.
You'll find a number of great coilovers to satisfy your inner track enthusiast without compromising on daily driving. What you're looking for is easy adjustability to switch between the two.
Take a look at this list of Honda S2000 coilovers that serve both track days and street driving effortlessly.
KW Variant 3
Manufacturer: KW
Part Number: 35250005
Construction Type: Mono Tube
Damper Adjustment: 14 Levels
Upper Mounts: Not included
Suits: AP1 & AP2
Warranty: Limited Lifetime
Buy On: Amazon | Enjuku Racing
We can't have a list of the best coilovers to buy without mentioning KW. And when it comes to the Variant 3, let's just say they ride as good as they look.
These coilovers ensure you get the most of your car both on the street and track. For the ultimate road comfort, you can adjust both compression and rebound damping thanks to its dual level valves.
While they don't come with upper mounts, you can use them just as comfortably with stock top mounts. This makes them especially comfortable for street use, and easier when it comes time for passing vehicle inspections.
They may be more expensive than the others on the list, but you can't put a price on the incredible handling these coilovers offer. They're extremely popular with S2000 owners for good reason.
Stance XR1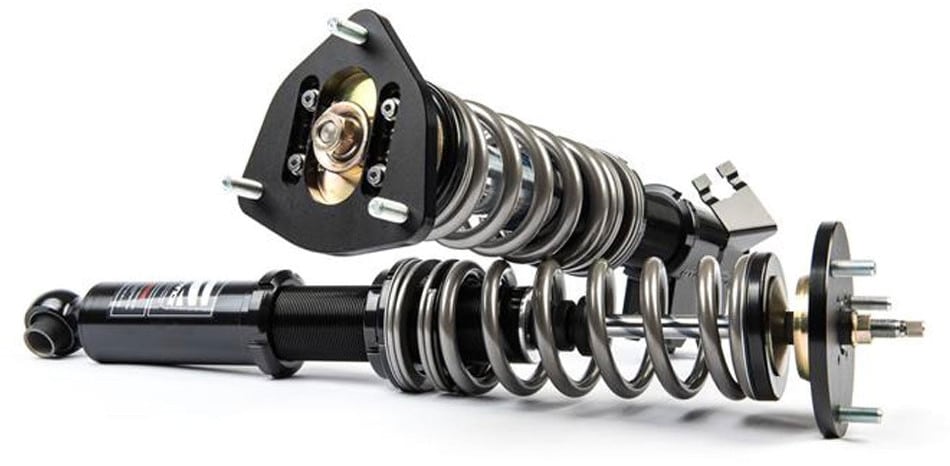 Manufacturer: Stance
Part Number: ST-AP1-XR1
Construction Type: Inverted Mono Tube
Damper Adjustment: 16 Levels
Upper Mounts: Included
Suits: AP1 & AP2
Warranty: 2 Years
Buy On: Amazon | Enjuku Racing
Stance has been churning out a number of spectacular coilovers, and the XR1 is one of them. They pack a number of mean features that you'll often see in high-end coilovers. But luckily these won't cost you an arm and a leg.
The Stance XR1 coilovers are a single adjustable coilover system. They feature an inverted mono tube design for remarkable ride comfort both on track and street, without cutting back on performance.
You get 16 levels of damping that can easily be set by a simple twist of their knobs through clicks. Stance also offers camber plates for the fronts, which allow up to 4 degrees of adjustment.
You'll notice that these coilovers come with an optional upgrade of Swift springs. Is it worth the $300? Definitely. Anyone that has owned Swift springs can tell you that they do not "droop" over time like standard springs.
Even at the same spring rate, they feel softer and way more comfortable.
We highly recommend Swift springs if you want to take your coilover game up by a notch, especially if your local roads are rough.
ARK DT-P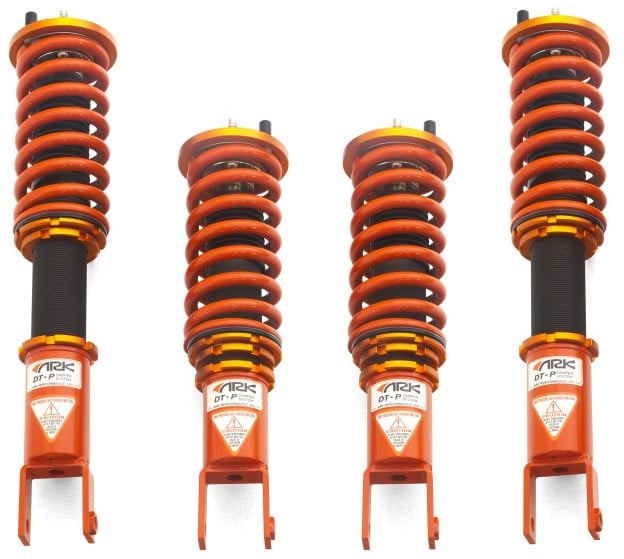 Manufacturer: ARK Performance
Part Number: CD0600-0600
Construction Type: Mono Tube
Damper Adjustment: 16 Levels
Upper Mounts: Included
Suits: AP1 & AP2
Warranty: 15 Month
Buy On: Enjuku Racing
When street comfort meets track performance you get a set of ARK DT-P coilovers. These bright orange coilovers are fully adjustable with 16 levels of damping. To make tuning simple, you can fine-tune both compression and rebound simultaneously.
They go head-to-head with the Stance XR1 when it comes to comfort and ride handling. Again installation is simple, thanks to the pre-installed pillow ball mounts.
Most of the components in this coilover setup are constructed using AL6061 billet aluminum, which makes them lighter and more durable. All in all, a quiet and nimble coilover system that is worth the money spent.
Buddy Club Sport Spec
Manufacturer: Buddy Club
Part Number: BC02-SSHAP12
Construction Type: Mono Tube
Damper Adjustment: 21 Levels
Upper Mounts: Included
Suits: AP1 & AP2
Warranty: 1 Year
Buy On: Amazon
A new and improved hybrid from Buddy Club, these Sport Spec coilover kits serve the road and track equally well. Great looks aside, they're a top-notch single-adjustable coilover kit with 21 levels of damping and rebound adjustability.
Compliant or stiff, it all comes down to how you set them up. On a soft setting, you'll find them much smoother than stock, making them the ideal bet for dailying. Bonus points for the easy damping adjustment thanks to the knob on the damper.
The real fun, however, is when you take them to the track. They're stiff and solid, especially at higher speeds. Better handling, better lap times and sick aesthetics. We recommend these any day.
Coilovers for Track and Competition Use
Your Honda S2000 is born for the track, and rightly so. You'll find that you don't need to do much to your S2000 to have fun in it. A set of track-focused coilovers is usually the first place most owners will start.
Once your tires are warm and you're cornering hard, you'll see exactly why the added tuning goes a long way. For quicker lap times, better grip and a whole lot of fun on the racetrack, take a look at our top picks.
Ohlins Road & Track DFV
Manufacturer: Ohlins
Part Number: HOS MI21
Construction Type: Mono Tube
Damper Adjustment: 30 Levels
Upper Mounts: Included
Suits: AP1 & AP2
Warranty: 2 Years
Buy On: Amazon 
With a rich history in the world of motorsport, Ohlins is a name you can blindly trust. And their road and track variant is no exception to this.
Dubbed as Swedish gold and for good measure, you can enjoy all the handling benefits of a track-focused coilover without any hassle. The DFV or dual flow valve technology helps iron out bumps even at high speeds.
They instantly feel more connected to the track and let you push hard without feeling uncomfortable. The stiffness is something you'll soon get used to, especially with the amazing handling it offers.
All in all, definitely a set of coilovers that we recommend.
KW Clubsport 2-Way
Manufacturer: KW
Part Number: 35250805
Construction Type: Twin Tube
Damper Adjustment: 28 Levels
Upper Mounts: Included
Suits: AP1 & AP2
Warranty: 1 Year
Buy On: Amazon 
We cannot think of a better aftermarket coilover kit for a S2000 track build than KW's Clubsport. Competition drivers swear by them. It's no surprise that they are one of the most widely used coilover kits in the racing community.
KW took tunability to a whole new level when they crafted the Clubsports. These coilovers are a true 2-way adjustable unit. What this means is you can tune them exactly to your liking by adjusting both the compression and rebound individually.
They meet all the needs of an ideal competition set up and feel infinitely better than the average track S2000 coilover setup.
You really get to control every aspect with the adjustment available in these coilovers. Combined with a higher spring rate, your S2000 will corner and hold the road like never before.
HKS Hipermax IV SP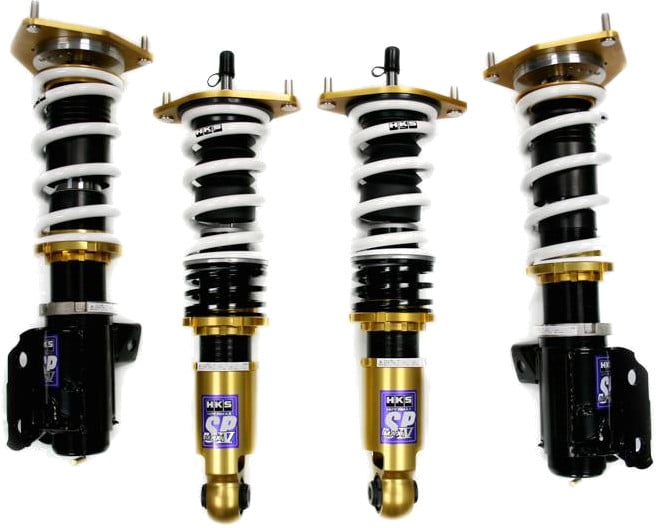 Manufacturer: HKS Racing
Part Number: 80250-AH001
Construction Type: Mono Tube
Damper Adjustment: 30 Levels
Upper Mounts: Included
Suits: AP1 & AP2
Warranty: 1 Year
Buy On: Amazon 
HKS Racing's Hipermax IV SP is the perfect match for S2000 owners looking to pump new life into their machine. They feel incredibly at home on the track and the stiff spring rates make for a responsive ride.
With 30 levels of damping adjustment, you can always switch things up to find your sweet spot.
What we loved about the Max IV SP is that you instantly notice the superior handling from the get-go. Whether you're beating your personal best or attacking curbs, these coilovers won't disappoint.
The Best Honda S2000 Coilovers
With its "perfect simplicity" and well-deserved cult status, the Honda S2K carries with it a lot of sentiment and charm. And with the right set of coilovers, you can enhance its raw character even more.
Out of all the awesome S2000 coilovers out there, some have come to be our go-to favorites. These include:
For Daily Driving: Fortune Auto 500
It's a tough call between these and the BC Racing BR Series. But with a damper this good and a 5-year warranty, this one's a no brainer.
Daily driving with these coilovers becomes even more enjoyable than your stock setup and they're a must-have for those who prize comfort beyond anything else.
For Road and Track: KW Variant V3 
Superior handling on both the road and track? It's got to be KW V3.
They're extremely well engineered and versatile enough to suit the needs of road and track enthusiasts alike. That's what puts these coilovers at the top of our list.
For Competition Use: KW Clubsport
The Ohlins DFV come pretty close and if we could choose two then you'd definitely see them here. But we'd be lying if we say this coilover kit doesn't get us all kinds of excited.
You get great tunability, stellar handling as a result and everything else you need in a quality track-focused coilover.
Of course, if coilovers aren't the right fit for your car, maybe you're better off with a set of lowering springs on your Honda S2000? They can be a more affordable alternative, and are often more acceptable with the police and your insurer. Combined with an aftermarket S2000 sway bar kit, your car will feel completely different.
Did we miss a set of coilovers that you'd like to see on this list? Let us know by leaving a comment below!
Feature image: adapted by Low Offset, original by LowPokes, CC BY 2.0