If you've ever had your struts or springs changed, or if you've upgraded your struts to coilovers, chances are that a coil spring compressor was used.
This might be something you are unaware of if you got the job done by a professional mechanic, but if you want to do it yourself, it's time to learn.
Regardless of whether you want to install lowering springs or coilovers, coil spring compressors are an essential tool for the job.
These tools are designed to separate the coil spring and damper by allowing for the spring to be compressed just enough to release the pressure on the top hat. This way the top hat can be removed.
Needless to say, buying the right one is extremely important, considering how unsafe these tools actually are. They're jokingly called "widow-makers" for a reason — one mistake and your (or someone else's) safety can be seriously compromised.
There are plenty of options out there but won't worry. We've made the selection process a little easier for you.
In this guide, we've explained the important considerations you must account for before purchasing a coil spring compressor, and we've listed the best options on the market.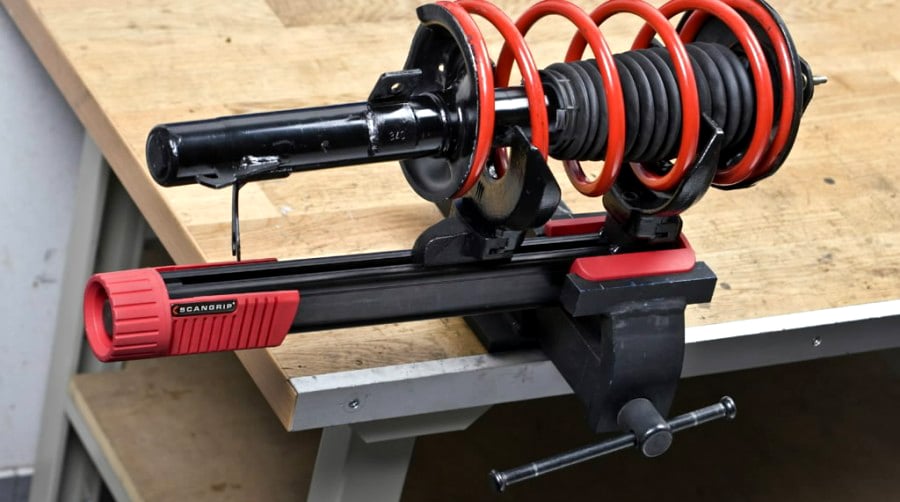 Factors to Consider When Purchasing a Coil Spring Compressor
Spring compressors are the kind of tools where you really shouldn't skimp out on quality. You can get away with lower-quality tools in other less-dangerous applications, but not when it comes to compressing your springs.
Part of the trick is to make sure you get the right tool for the job. Because there are so many different types of spring compressors out there, and so many different types of springs that they can be used with, it's vital that you choose the right one.
To do that, you need to keep the following parameters in mind.
Spring Compressor Type
Depending on your skill level, budget, and how much of a risk you're willing to take, you can choose a particular type of compressor to suit your needs.
There are five primary types that you can buy today: external, internal, wall-mounted, stand-up, and clamshell. Let's take a quick look at each one.
External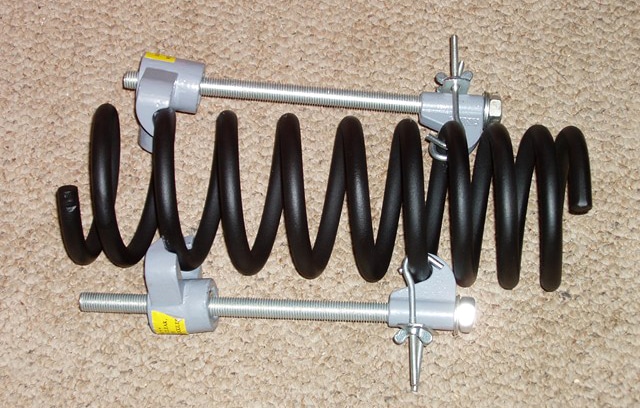 External spring compressors involve two opposing single-toothed jaws that attach to the outside of the spring on opposite ends.
The jaws are held together by a long bolt. These are most commonly used with MacPherson strut-type suspension systems.
Internal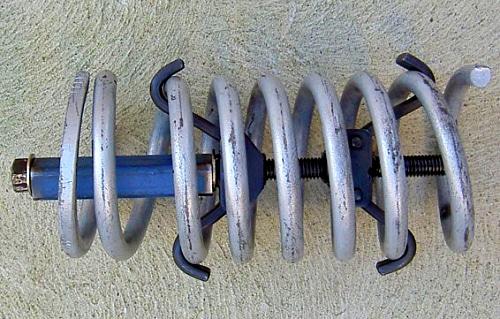 Internal spring compressors have a long bolt and hinged j-shaped fingers that fit the inside of the coil assembly.
These are supposed to be used with divorced-spring-type suspension systems. That is when the coil spring and the damper are separate units.
Clamshell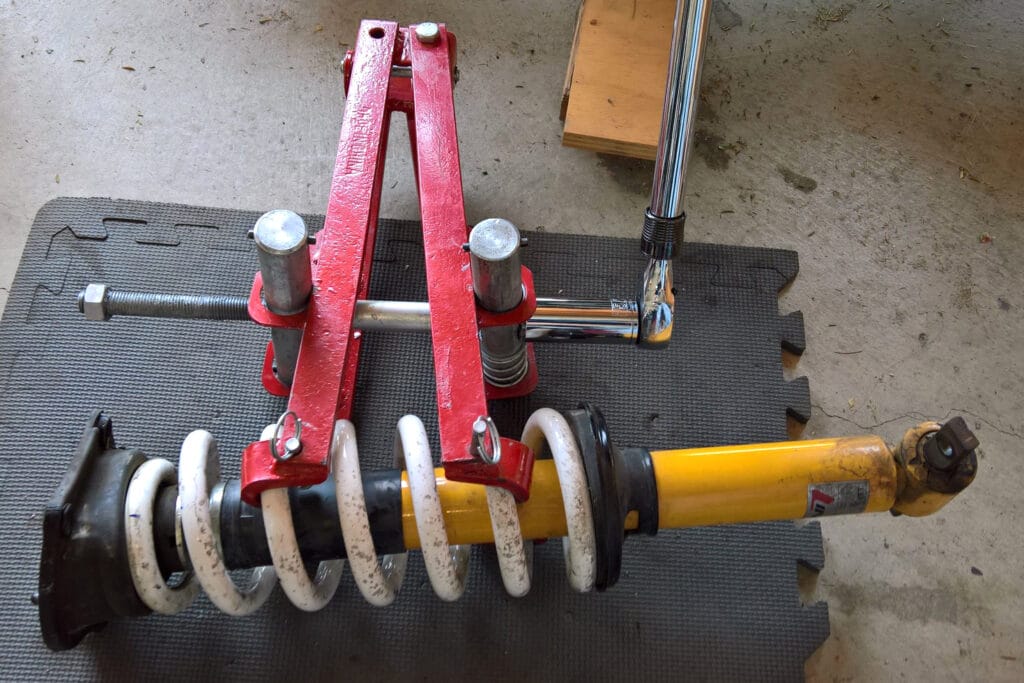 Clamshell-type compressors lie somewhere between external and stand-up compressors. Although, they do require you to fully know and understand the risks associated with working with loaded springs.
These have a single-sided clamping mechanism and the jaws are typically adjustable to fit tapered springs. No special adaptor shoes are needed to use this type of compressor, and these usually feature locking springs for added safety.
Wall Mounted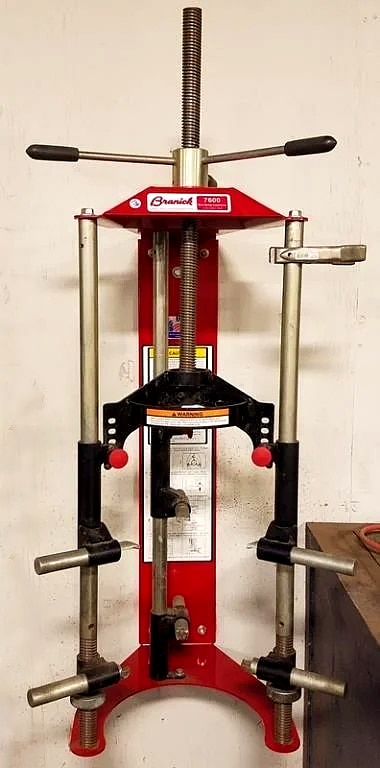 Literally, the gold standard when it comes to safety and efficiency — wall-mounted spring compressors outperform every other type of compressor out there. These are unmistakably industrial and ideal for repair shops.
However, if you don't mind spending extra or doing enough suspension work to justify springing for one of these, by all means, go ahead.
You won't regret a wall-mounted spring compressor in your workshop. These are incredibly well built and offer complete value for money.
Floor Mounted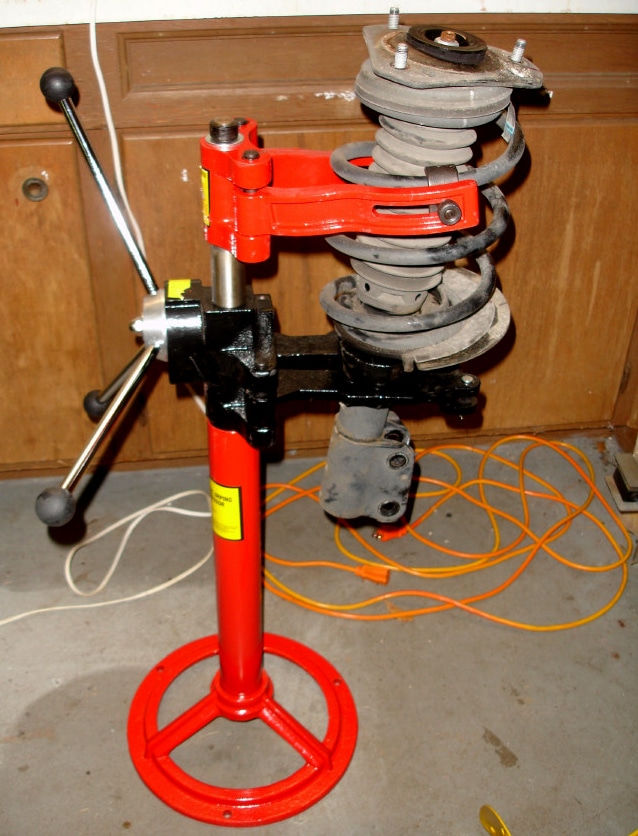 Just like wall-mounted compressors, floor-mounted compressors are meant to be used with struts that have been uninstalled from your car. These are ideal for repair shops and just about anyone who does a lot of suspension work in their garage.
You can bolt them right onto the floor, or simply leave them unbolted if required. That way you can move them around.
These compressors can be considered semi-industrial as they aren't out of reach for the at-home enthusiast. Even though these are almost as safe as wall-mounted compressors, you still need to respect them and take precautionary measures.
Material
The mark of a good coil spring compressor is that it should be constructed using durable materials such as stainless steel. Ideally, the steel should be heat-treated and coated with anti-corrosives.
You want to buy the highest quality in terms of construction in order to compress springs safely and effectively. A flimsy spring compressor, for instance, could snap and lead to a major accident that could seriously harm you and/or those around you.
Maximum Safe Opening
If you're working with internal and external type compressors, you're going to have to check the manufacturer's specified maximum safe opening metric, also called jaw capacity.
This way you'll know if the compressor will fit your coil springs or not. It's advisable to measure your coil spring beforehand.
You can of course buy a compressor that exceeds the width you need, but do not purchase one that does not at least reach the needed width as it will be unusable.
Safety First: Loaded Springs are No Joke
Working on your own car has inevitable risks. Some tasks are more dangerous than others, and one of those dangerous tasks includes working with spring compressors.
We've heard of several instances where people have been seriously hurt as a result of not following safety protocol when working with loaded springs.
It is not worth the risk to use anything other than a coil spring compressor for the job. Trying to save a few dollars by using household items like zip ties and ratchet straps is always a bad idea; unless you're using them as a second failsafe alongside a spring compressor.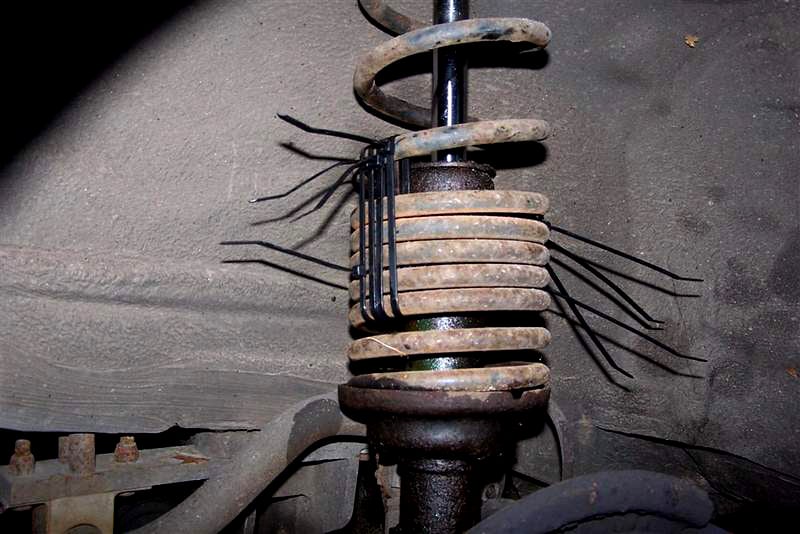 If you do not want to purchase a new tool for the job but need the work done, many auto shops will allow you to rent one for a small deposit fee that you'll get back when you return the tool.
It is always a good idea to be prepared for a job and know what you need to do, but the stakes are fairly high when working with coil spring compressors, so be sure you are familiar with the tool and how to use it before you mount it on your vehicle.
How to Use a Strut Spring Compressor
The right way of using these tools depends on the type of tool you have on hand.
Wall-mounted and stand-up compressors are easier to use as they're quite straightforward and typically include well-written instructions in the box.
With internal and external spring compressors, careful positioning and patience are key to using them as safely and effectively as possible.
Make sure to heavily lube the threads. Lay the strut on the ground, with the spring facing away from you, so that if it discharges as a result of compressor failure or user error, it won't yeet itself straight into your face.
Ensure that you don't have any valuables, pets, or humans in the spring's trajectory should it come loose. Position the compressors as close to opposite sides of the spring as possible, and place the jaws at the same height as one another.
Using a spanner or a ratchet wrench, tighten each lead screw a little at a time to ensure they compress the springs evenly from both sides.
What you don't want to see is the spring bending on either side due to uneven compression; that's where there's a risk of it slipping out and causing damage.
Avoid using an impact wrench for this job at all costs. Compress the spring just enough to free the pressure on the strut hat which can then be removed easily. Positioning a new spring in the strut requires you to follow the same process
Compress the spring just enough so that the top hat can be fitted back on. Then gently undo the lead screws until the compressor can be removed safely.
Quick Struts vs Naked Struts: Why Bother With Compressors at All?

If you don't mind spending a little extra and don't want to deal with having to use a spring compressor, you can either get it done by a professional or change your entire strut assembly.
Installing quick struts is a cheap, quick, and easy way to go about this. They're sold as a complete unit that clubs the strut assembly, coil spring, and top hat.
Alternatively, you could also upgrade to coilovers. Check out our article on coilovers vs struts for more clarity on how they differ.
Just be mindful that quick struts won't match or surpass your OEM strut quality, depending on which manufacturer you choose to buy them from.
This option is more expensive than salvaging the spring from your naked struts and re-using it on your new struts.
Best Coil Spring Compressors
Now that you know the basics of coil spring compressors, let's dive into the list you're here for. We've cherry-picked some of the best options on the market.
These products are well constructed and highly regarded for both their safety and performance. Let's take a closer look.
Lisle External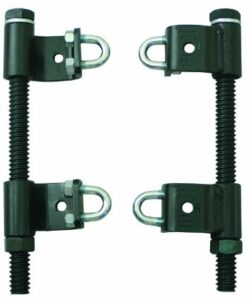 Manufacturer: Lislecorp
Type: External
Weight: 5.7 lbs
Material: Stainless steel
Buy on: Amazon
Lisle needs no introduction, especially if you've done your fair share of automotive tool-shopping over the years. They make some of the most useful workshop tools you can buy.
What makes their spring compressor unique is the inclusion of U-bolts that clamp the spring in place when the tool is in use, as opposed to the jaw-type hooks that most other spring compressors use.
This minimizes the risk of the spring slipping out and can potentially save you from a potentially unsafe incident.
Even though the instruction manual mentions the use of an impact wrench, our advice is to stick with a regular socket wrench for maximum safety.
Powerbuilt Internal
Manufacturer: Powerbuilt
Type: Internal
Weight: 4.5 lbs
Material: Chrome-vanadium steel
Buy on: Amazon
If your car has a divorced-spring type strut setup, then the Powerbuilt 648628 is the spring compressor you need because it is designed for compressing springs that don't have a strut running through them.

This tool can take springs that are up to ¾" in diameter. What's more, is that it is built to meet ANSI safety standards, so you can rest assured that it's not of inferior quality.
Shankly Universal
Manufacturer: Shankly
Type: External
Weight: 5.55 lbs
Material: Drop forged enamel
Buy on: Amazon
The coil spring compressor from Shankly is constructed using drop-forged enamel and is ideal for light-duty vehicles. It opens up to a maximum of 9.5".
This tool also features four attachable security hooks so you can attach them to the spring to make sure it is held in place while you work on it without the worry of something snapping and flying off.
Branick Wall Mounted
Manufacturer: Branick
Type: Wall Mounted
Weight: 98.7 lbs
Material: Stainless steel
Buy on: Amazon
The Branick 7600 is a wall-mounted coil spring compressor and we can safely conclude that it is quite literally the safest tool on this list. Know that you can only use it for struts that have been taken off the vehicle.
This spring compressor is a heavy-duty model, great for compressing SUVs and larger truck springs. However, this can also be a great choice for lighter-duty vehicles if you frequently need to compress springs.
It works quickly and efficiently, making it ideal for shops or those who do a lot of suspension work in their garage.
OTC Clamshell
Manufacturer: OTC
Type: Clamshell
Weight: 18.3 lbs
Material: Carbon steel
Buy on: Amazon
The OTC Clamshell compressor tool is designed exclusively for MacPherson Struts. It is relatively lightweight despite its larger size and comes in under 20 pounds. It is constructed from carbon steel and works well for both light and heavier duty vehicles.
Because of its versatility, it is a good choice when working with warped springs as it has a wider maximum jaw capacity compared to other compressors on this list.
The OTC Clamshell user guide clearly outlines the operating instructions. Although, just like Lisle 62300 manual, it calls for the use of an impact wrench, which we do not recommend.
Shankly Heavy Duty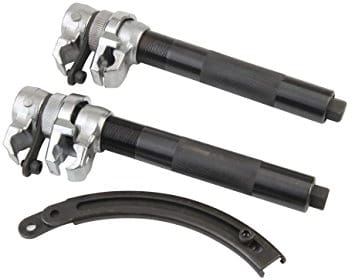 Manufacturer: Shankly
Type: External
Weight: 10.23 lbs
Material: Stainless steel
Buy on: Amazon
The second option from Shankly is a rugged spring compressor tool with a weight capacity of 2,600 lbs, making it ideal for most applications.
The tool has a maximum opening capacity of 11", making it particularly versatile when dealing with larger vehicles or damaged suspension components.
This spring compressor tool also has adjustable safety bars and lower security jaws to ensure that the coil remains in place when in use. The only downside is that the tool ships in a low-quality storage case.
8MileLake Compressor Kit
Manufacturer: 8Milelake
Type: External
Weight: 19.8 lbs
Material: Forged high carbon steel
Buy on: Amazon
The 8MileLake spring compressor is an entire kit that can be used with a variety of struts. The individual components are made from forged high carbon steel that is also heat-treated for durability and longevity.
Equipped with three sets of jaws, each rated for a different spring size, this kit is a great option for those who plan on working with multiple types of vehicles. The largest jaw opens to a little over 8", while the smallest opens up to just under 5".
Be sure to only use hand tools for this spring compressor as it is not designed to be used with an impact wrench and air compressor. Ensure that the threaded portion is always lubricated.
Performance Tool External
Manufacturer: Performance Tool
Type: External
Weight: 6.45 lbs
Material: Drop forged steel
Buy on: Amazon
The Performance Tool coil spring compressor is made of drop forged steel complete with locking pins for added security when working on your vehicle.
A key benefit of this unit is that replacement parts are readily available, so you know that if something gets broken or worn down over time, you can replace it rather than having to buy an entirely new tool.
One important consideration is that the jaws are smaller than other coil spring compressor hooks on the market, so you want to be sure the dimensions will work with your vehicle prior to purchase.
Orion Compressor Tool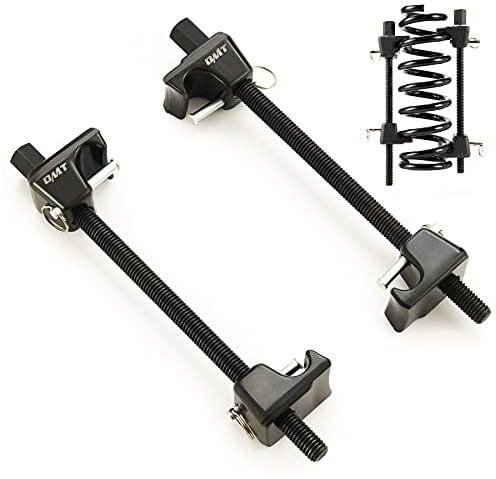 Manufacturer: Orion Motor Tech
Type: External
Weight: 7.05 lbs
Material: Heat-treated carbon steel
Buy on: Amazon
The Orion coil spring compressor tool is made of a corrosion-resistant and heat-treated carbon steel material. It is a good choice for both lighter and heavier-duty vehicles given its wide opening range up to 10.6".
It has a ½" square drive as well as a spot for a 13/16" socket. Keep the threads lubricated and the tool will hold up well.
The tool features locking pins to hold the springs snugly and safely in place, and it has a maximum range of 10⅗".
JackTech SK-3000
Manufacturer: JackTech
Type: Floor Mounted
Weight: 56.1 lbs
Material: Carbon steel
Buy on: Amazon
The JackTech SK-3000 is a floor-mounted coil spring compressor and it's the second safest option on this list. It weighs almost half of what the Branick model does, making it ideal for mobility.
The spring compressor utilizes a patented rack and pinion gear mechanism, making it quick and efficient to operate. You can easily compress springs in under 10 seconds. It can also go up to 20.5" wide, making it ideal for nearly any strut imaginable.
The SK-3000 also has a double-clutch system in place to maintain stability and ensure the utmost safety when using the tool.
Our Top Picks
Choosing the right coil spring compressor for you depends on things like how often you will use it and whether you plan to use it on a single vehicle or several, and the type(s) of vehicles you plan to use it on.
These are our top picks for some of the more common scenarios you might find yourself in when shopping for a coil spring compressor.
Our preferred external compressor: Lisle 62300
External spring compressors aren't the safest, but they can be if you use them correctly. The Lisle 62300 caught our attention the most as it is the safest external compressor you can buy.
The U-bolts add an extra layer of protection and the overall machining quality is par excellence. We definitely recommend this product, especially if you want something with a small form factor.
Best stand up coil spring compressor: JackTech SK-3000
If you run a shop or do a lot of suspension work in your own garage, you need a tool that is compatible with a variety of different struts. For this, we recommend the JackTech SK-3000.
The JackTech SK-3000 can be bolted to the ground for maximum stability, or you can move it around as needed. Doing this is made easier as it weighs under 60 lbs, making it fairly portable.
This coil spring compressor is also ideal for those who do a lot of suspension work simply because it is fast. It can compress springs in under 10 seconds which comes in handy when you have other repair work to tend to at the same time.
Safest spring compressor: Branick 7600
Wall-mounted spring compressors are the holy grail when it comes to safety, and the Branick 7600 does not disappoint.
Compressing coil springs with this tool is literally a one-person job. The extra-long handles provide adequate leverage and makes it easy to operate with just one hand.
Do you regularly work with loaded springs? Do you know of any tips and tricks that might help our readers out? Let us know by leaving a comment below!