One of the first modifications that come to mind when you get your hands on a tuner car is lowering the ride height. This is usually done with either either coilovers or lowering springs, thought some people go all the way and choose air bag suspension too.
This is typically followed by installing aftermarket rims, and then finally, dialing in the fitment to make the wheels sit flush with the fenders.
Depending on how aggressive your fitment is, you're going to want dial in a healthy dose of negative camber, and roll your fenders to prevent your tires from chewing into them and rubbing along each time your steering wheel is turned lock to lock.
Pulling and lipping your fenders is something that needs to be done using the right tools. Sure, you can get away with using just a heat gun and a baseball bat but in most cases, the result will look shoddy. What you need is a high-quality fender roller.
It's a tool that's designed to get the fender lip out of the way to ensure a clean fitment as well as prevent the tires and/or rims from being damaged. It's the kind of tool that you'll use very rarely, but when you do, you'll be glad you had one as a part of your workshop tool kit.
In this article, we've listed some of the best fender rollers you can buy, along with information on what to look for when choosing the right one for your needs.
Choosing the Right Fender Roller
Most fender rollers on the market share a very similar design. Each of them provides a very similar range of adjustment and bolt pattern compatibility. To be more specific, they all fit most 4 and 5 lug patterns with a pitch circle diameter ranging from 95.3 mm to 120.7 mm.
So there isn't really much to consider when choosing a fender roller. Unless your car has an obscure bolt pattern with 6, 7, or 8 lugs, then you might need to modify your fender roller or find one that fits your bolt pattern.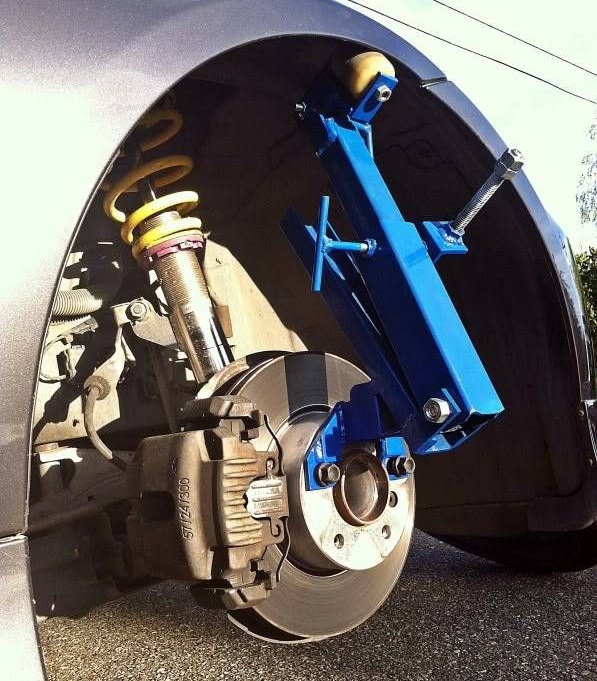 Brake caliper clearance is also worth considering, although most fender rollers come with lug nut spacers that you can use to avoid this issue.
You want a high-quality fender roller with clean welds, made of stainless steel, ideally manufactured by a reputed brand like Eastwood or Max (PBM). The latter is perfect for extremely lowered cars — it's the shortest fender roller on the market.
There are lesser-known brands that make really good fender rollers too; you'll find them listed up ahead in this article.
An important factor to account for is forming arm adjustability, that is, the adjustable length of the forming arm. This will dictate how much or how little reshaping it can allow for. You can lengthen or shorten it as required.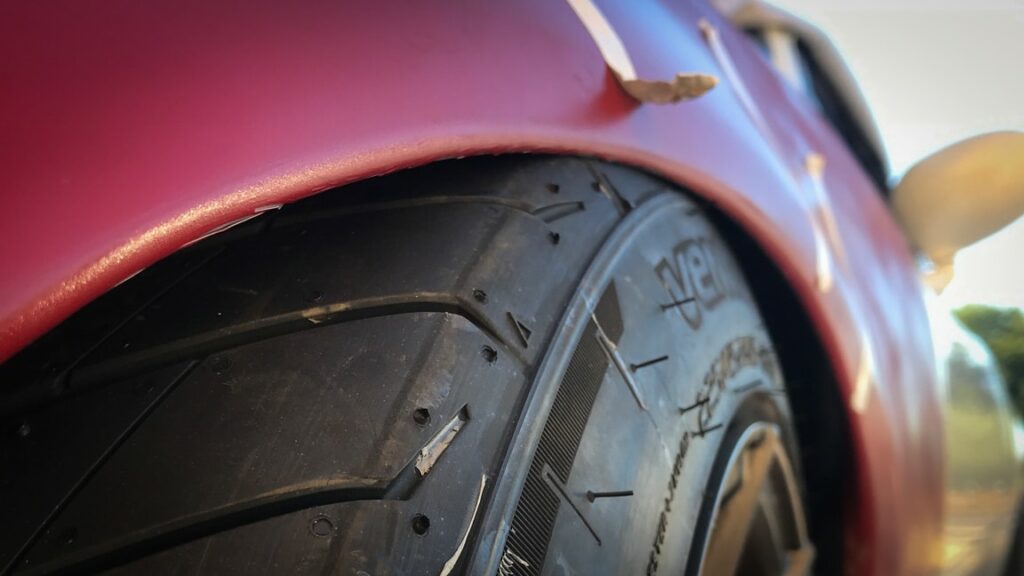 You need to select an adjustment range that will work well with your car's dimensions. For instance, If you want extremely wide fender flares and fit large wheels, then you need to consider that when choosing the adjustment range.
Note that you will also require a heat gun, and most importantly, you need to follow the right technique. For more clarity on the subject, read our guide that explains how to roll fenders properly at home.
The Best Fender Lip Rolling Tools
When you're shopping for fender rollers, unfortunately, you won't feel spoilt for choice. The selection is really narrow, and as we mentioned earlier, there isn't really much that differentiates fender rollers from one another.
However, to help you narrow down your options, we've reviewed some of the most popular and sought-after fender rollers that you can buy. Here's the list.
Eastwood Fender Roller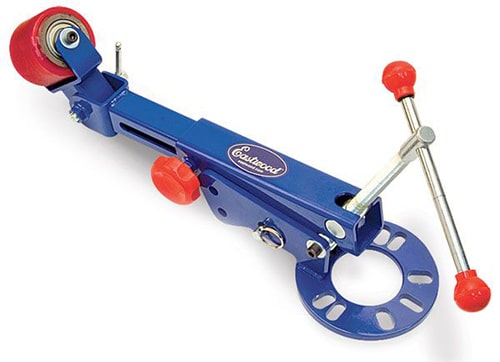 Manufacturer: Eastwood
Item Weight: 15.44 lbs
Forming Arm Length: 14" to 22.75"
Buy on: Amazon
When it comes to fender rollers, Eastwood is the industry standard. The tool is constructed from powder-coated steel and has been around for nearly a decade — it was around $800 when it first came out!
Since then, the Eastwood fender roller remains mostly unchanged. It is compatible with both 4 and 5 lug wheels that have a pitch circle diameter ranging from 95.3 mm to 120.7 mm.
The tool has an adjustable range of 14″ to 22.75″, which means that it will work on most project cars, excluding especially large vehicles like trucks (note: light trucks should be fine; this refers primarily to very large vehicles with much larger hub flanges).
That said, we've heard of instances where the Eastwood fender roller didn't fit some lowered cars (especially STis) as a result of being "too tall". So if you drive a slammed show car and need to roll your fenders, the next roller on this list might interest you.
Max Fender Roller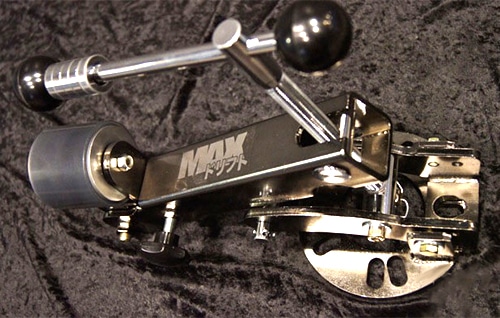 Manufacturer: Parts Shop MAX
Item Weight: 15.44 lbs
Forming Arm Length: 14" to 22.75"
The Max fender roller is an enthusiast favorite because it is the only roller on the market designed specifically for lowered vehicles. If you are working on rolling fenders for an already lowered car and do not want to either raise the suspension or deal with difficult fitment by using tools that are too large for the job, this is the one to get.
It features a tough urethane roller which is angled specifically to get the fender lip as flat as possible for an aesthetically pleasing Tsuda-Ichi (paper-thin) look that's really popular with JDM cars.
Even though it's the best option for lowered cars, we do have our gripes with it. For starters, it doesn't come with an instructions manual, which translates to a lot of guesswork. The trouble with guesswork in this situation is that you can easily destroy this tool if you don't use it correctly.
Ensure that you use all lug nuts and that the roller mounting surface sits flush with your hub flange. Otherwise, you might lose the threading on your wheel studs and cause the roller arm to bend.
If this does happen, you can always use a wheel stud installation tool to give yourself some more thread, but the process isn't the easiest.
GoPlus Fender Roller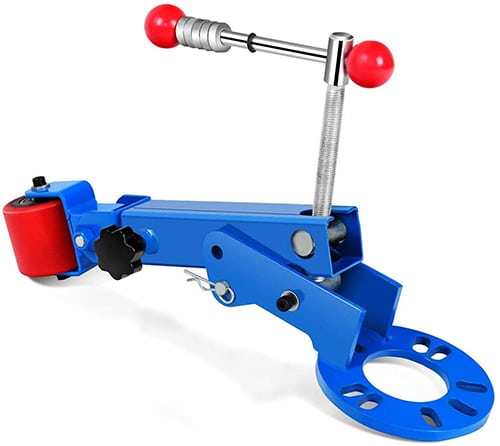 Manufacturer: SuperBuy
Item Weight: 15.05 lbs
Forming Arm Length: 21" to 25.5"
Buy on: Amazon
The GoPlus fender roller is constructed using treated steel and fits all common 4 and 5 lug wheels seen on cars and light trucks.
Its forming arm can be adjusted in the range of 21" to 25.5" which is notably lower than the Eastwood roller, so it is important to keep in mind how wide or tight of a space you will be working with prior to selecting the right tool for you.
The rolling wheel is made of nylon and it is able to swivel 180 degrees, allowing for flatter fender folds for the ultimate hella flush look.
F2C Fender Roller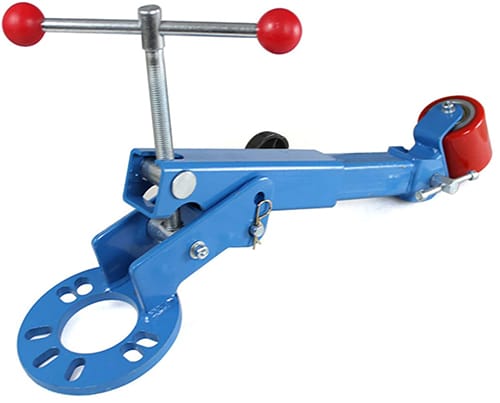 Manufacturer: F2C
Item Weight: 6.84 lbs
Forming Arm Length: 14" to 23.75"
Buy on: Amazon
The F2C fender roller is the lightest on our list, weighing in at less than 7 lbs. It fits all common 4 and 5 lug bolt patterns and has an adjustment range of 14" to 23.75", although some enthusiasts find that it is a bit too tall for lowered cars.
It can extend up to 23.75" which is a bit longer in comparison to the Eastwood roller which only extends up to 22″. Keep this in mind with regard to the car(s) you plan to use it on and whether the taller design works for you or not.
8MileLake Fender Roller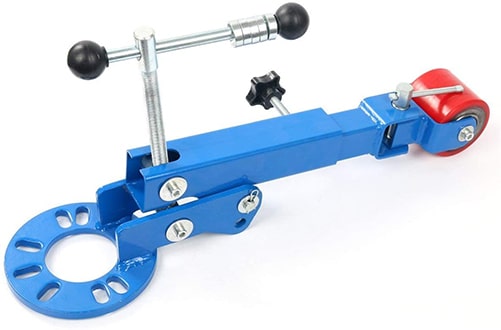 Manufacturer: Freebirdtrading
Item Weight: 13.97 lbs
Forming Arm Length: 21" to 25.5"
Buy on: Amazon
The 8MileLake fender roller is constructed from steel and features a relatively narrow adjustable range of 21" to 25.5".
Like other rollers on this list, it works with popular 4 and 5 lug bolt patterns. However, it won't fit 14 mm x 1.5 studs, which is odd, considering that it is supposed to be an inexpensive Eastwood knockoff.
The roller arm length ranges from 15.2" to 20.1" 8MileLake specifically recommends that the roller arm should be adjusted slowly for optimal results.
SmartxChoices Fender Roller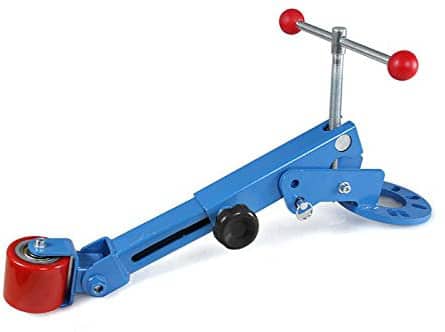 Manufacturer: SmartxChoices
Item Weight: 15.95 lbs
Forming Arm Length: 14" to 22.75"
Buy on: Amazon
We know what you're thinking. Enough with the Eastwood knockoffs! But hear us out. This one is actually quite good.
It works exactly like the Eastwood roller, if not better, and it's less expensive in comparison. It comes with 1/2″ wide oblong holes that can fit several different bolt patterns.
However, some drilling and fabrication might be required to fit on obscure different stud sizes.
Brake caliper clearance might be a problem on some cars, particularly Miatas. We recommend using spacers to clear the brakes.
JTC Fender Roller
Manufacturer: JTC
Item Weight: 16.06 lbs
Forming Arm Length: 14" to 22.75"
Buy on: Amazon
The JTC fender roller is the heaviest item on our list at just a hair over 16 lbs. Though it's a great product overall and works really well under the right conditions (lubing all moving parts before use), it's worth mentioning that the nut which holds the Delrin roller wheel can easily unscrew when under pressure.
A good solution is to install a larger nut to hold it in place or re-tighten it with an impact wrench to make sure it does not come undone. This is definitely a downside, but for a more budget model, it can be worth having to perform an extra step to make sure it performs well.
The Best Fender Rollers: Our Top Choices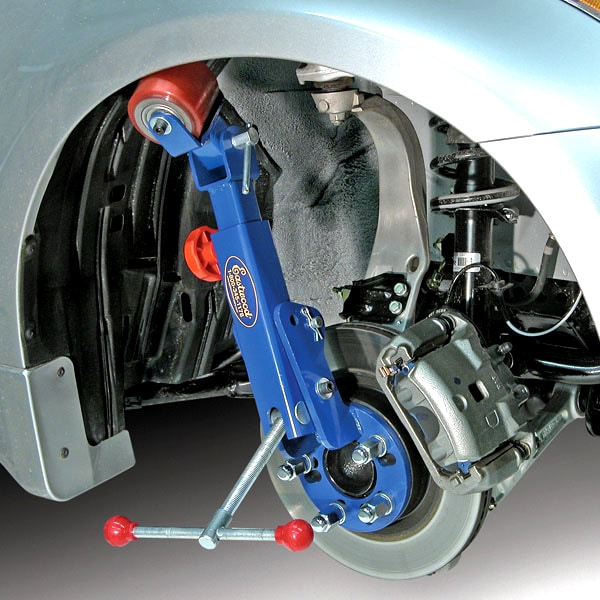 You could blindly select any of the rollers mentioned on this list, but if you want nothing but the best, take a look at our top recommendations below.
Our top pick: Eastwood Fender Roller
Our overall choice for the best fender roller goes to Eastwood. It is made of high-quality, powder-coated stainless steel; by a well-known brand with many happy customers.
It offers an adequate amount of adjustability and is compatible with most tuner cars and even light trucks.
Of all the options on our list, this fender roller comes with the best features out of the box, not requiring any fine-tuning or issues to remember outside of the normal precautions you must take when rolling fenders.
For lowered cars: Max Fender Roller
If you are running aftermarket suspension and riding lower than factory ride height, we recommend going with the Max Fender Roller. It provides a much-required wide range of adjustability which is necessary to work around the tight spaces of lowered vehicles.
Additionally, with the Max Fender Roller, you do not have to fight with larger tools with less adjustable angles, making the fender rolling job take much longer and can of course impact the quality of your result if you cannot get the best angle to roll the fenders evenly.
For the budget-conscious: SmartxChoices
If you need to buy something more affordable than the other two choices, we recommend going with the SmartxChoices fender roller. It has very similar features in terms of weight, materials, and adjustability as the Eastwood does, making it an excellent choice.
If the range is not as important, also consider the models with shorter adjustable ranges, as well.
Do you know of something better than the Eastwood fender roller? Let us know by leaving a comment below!