There's no better time to replace your wheel studs than when you're installing a new set of wheels or installing spacers behind your current wheels. If you want to ensure that your wheel spacers are secured safely, it's important that there are sufficient threads on your wheel studs so that your lug nuts can lock on properly.
But even if you're not making modifications, it's recommended that you check your wheel studs as a part of routine maintenance to make sure they're always in perfect condition.
This is one area where it's necessary that no corners are cut. These small studs have an important job to do and are the difference between your wheels staying safely bolted to your car, or going their own way into oncoming traffic. They're cheap too, so there's really no excuse for not paying attention to this basic maintenance.
Studs can be a pain to install correctly without the right tools. Using a wheel stud installer will definitely make your life a lot easier. We cannot stress enough how helpful these are and the time that they will save you.
In this guide, we'll discuss what wheel stud installer tools are, why you should use them, and what you should know before you buy a kit for yourself. We'll also list all the equipment you're going to need to replace your studs.
Who Should Buy a Stud Installation Tool
Just about anyone who works on their own car — if you dabble in any kind of automotive mechanical work and are handy with tools, you should definitely own one of these.
Professional mechanics, DIY-ers, 4×4 drivers, stance guys, and beginner mechanics can all benefit from owning a stud installation kit.
Reasons to Use a Stud Press
There are many ways to remove and replace your wheel studs without a proper tool. Here are two examples:
However, if you:
Are serious about protecting your studs.
Cringe when you witness cross-threading in action.
Are the type of person who likes to be sure everything is torqued perfectly.
Like following the right bolt tightening sequence at all times.
Then you should definitely consider buying a proper wheel stud replacement tool. If you can't relate with any of the 4 points mentioned above, we recommend looking into that type of stuff — it will make you a better mechanic.
Not convinced? Here are 3 reasons why you should use a stud press.
No More Damaged Lug Nuts
Why risk damage to your perfectly good lug nuts and get them all scratched up just to install new studs? A better option is to use old, sacrificial studs or better yet, use a press tool.
Using brand new lug nuts to install studs is a bad idea because you could end up over-stretching the threads. This can be dangerous considering how important their job is.
Easy Removal, Installation & Replacement
Whether you're using a manual or an electric wrench, using a press tool will make it much easier to get those studs seated nice and flush, without the risk of damaging any threads.
An added bonus as well is that most of these kits will help with stud removal too as they can be used as a puller, as well as a pusher. You might see these sold as a "bolt extractor" in some cases too.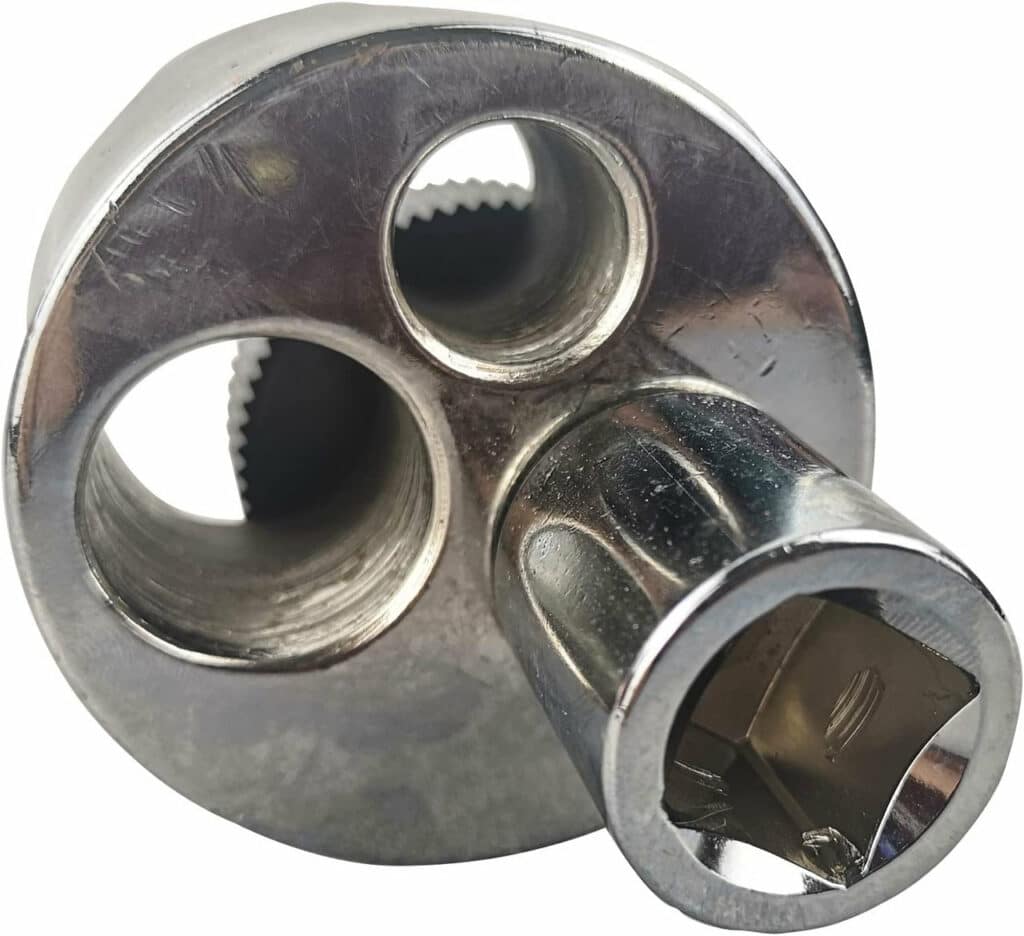 Quick tips for the uninitiated DIYers:
Never start turning a nut with an electric ratchet wrench. Always ensure the first two turns are done by hand to avoid cross threading.
Always thoroughly clean up the stud cavities with steel wool and anti-corrosive cleaning fluid before installing new studs.
Cheap DIY Fix
Would you rather spend over $150 (each wheel) at a repair shop or would you rather replace your studs yourself?
If you're mechanically inclined and understand how these things work, there's nothing stopping you from saving a good chunk of your money and completing this task yourself.
The money saved will pay for a proper tool, and used correctly it will last you a lifetime.
Things to Know Before Buying a Stud Installation Tool
Before you storm your way to Amazon and add a press tool to your cart, there are some things you should know.
Even though wheel stud press tools are pretty much universal, it helps to know the exact size of your studs.
In case you want to order new studs or lug nuts, having the right measurements from the get-go will help you there as well.
Here are some of the things to be mindful of before purchasing a stud installer kit and/or installing new studs.
Wheel Stud Sizing and Torque Specs
Studs are primarily designed to clamp all four wheels securely to the mounting flange. They can only provide an adequate amount of clamping force if they're torqued correctly.
And in order to torque your studs correctly, it helps to know the required stud diameter and thread pitch. These measurements determine the required clamping force and torque as a result.
The force should be strong enough to stretch the stud, but not strong enough to break it. If you don't stretch it enough, the lug nut might work loose as it's not under constant clamping load — the end result when something like that happens isn't usually pretty.
Ideally, you want to stretch the stud slightly so that it acts like a spring and holds the tension regardless of fluctuations in temperature, impact from road undulations, or wheel speed.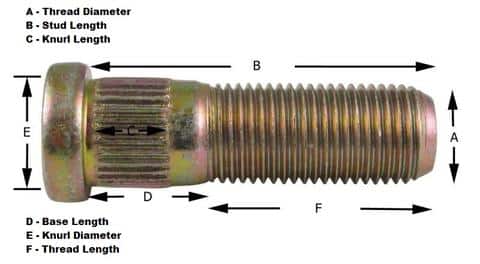 Stud sizes are typically expressed as:
Imperial Fasteners: (Stud Diameter) x (Thread Count)

For example, a stud of ½" x 15 is half an inch in diameter and has 15 threads per inch.

Metric Fasteners: (Stud Diameter) x (Thread Pitch)

For example a stud of 15 mm x 1.25 mm is 12 mm in diameter and has a space of 1.5 mm between threads.
Note:
Thread Count = Number of threads per inch
Thread Pitch = The distance between threads
90% of the studs are right-handed. Left-hand studs are usually marked with an "L" right on top, so be sure to keep an eye out for that before you decide which way to turn.
Equipment You'll Need
Now that you know the essentials of wheel stud replacement, let's discuss the equipment you're going to need.
The best part is that most of these parts are extremely affordable, easy to source and use. These aren't specialized, proprietary tools that are super-rare and expensive.
Measurement
First things first, you're going to want to measure your current studs correctly if you intend to order new ones.
There are some inexpensive measuring tools that you can use to determine the exact stud diameter and thread pitch. Some great gauge kits are built by:
Press Tools
These are the tools we've been raving on about. You can buy just the Lisle 22800 tool as it gets the job done for most people.
However, if you want something more extensive with multiple sizes, options and extra tools, check out the kits from:
Other Required Tools
Lastly, you're going to need some other tools for installing wheel studs. You probably have these automotive tools in your workshop's collection already, however, in case you don't, we'll list them here to make things easier.
When you're taking your wheels off, remember to mount your jack stands in the right place, in the proper position. But if you have a car lift in your garage, there's nothing like it.
Otherwise you'll also want to have the following:
Final Thoughts
Remember that this information also applies to other components that use studs. Having a basic understanding of how fasteners work goes a very long way when it comes to automotive repair.
What's your preferred method for installing wheel studs? Do you already own a press tool? Tell us about your experience in the comments below!