Mechanical work is challenging as it is, and the last thing you need is bad lighting to make it more difficult. You need proper illumination when you're working on your car — there are no two ways about it.
Finding the best automotive work light can be tough, considering the plethora of options out there. What you need is something that's high quality and appropriately priced.
In this guide, we've listed some of the best cordless and corded LED work lights for mechanics along with important features that you should keep an eye out for.
What Should You Look for in a Work Light?
Even though most LED workshop lights do the same thing, the absence or addition of some key features and minor design changes can significantly affect the user experience.
Below we've highlighted some of the most important features that you should check off your list while shortlisting work lights.
Light Intensity
The whole point of buying a good work light is so you can actually see the car parts you're working on. With that in mind, you want a work light that's bright enough.
Light intensity, especially when it comes to work lights and flashlights, is usually measured in "lumens" — it is the total quantity of visible light emitted by a source per unit of time.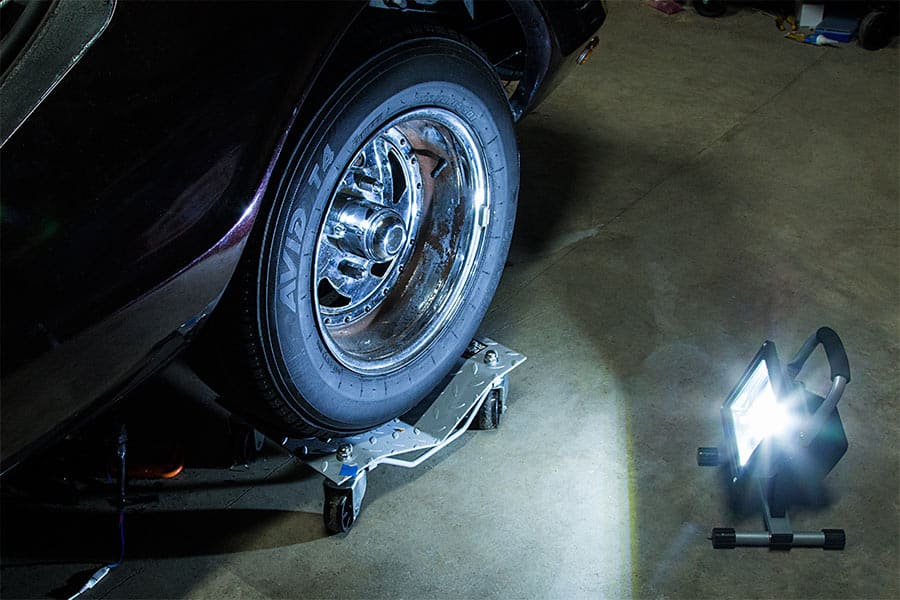 The problem with lumen ratings nowadays is that they're often misleading and inaccurate. We've come across flashlight manufacturers that claim absurdly high lumen ratings (upwards of 50,000 lumens). This cannot be true, physics simply won't allow it.
So take all lumen ratings with a grain of salt. For example, two lights, one rated at 700 lumens and another rated at 200 lumens might give you the same light intensity — this is because the 200 lumen light is probably actually 200 lumens and the 700-lumen figure is inaccurate.
Don't shy away from low lumen ratings. Every work light mentioned in this list will get the job done, it just comes down to personal preference.
Size and Form Factor
The size and form factor of your work light really comes down to what type of work you need to do on your car, and whether you care for portability or not.
For the occasional oil change and engine bay inspection, you could get away with something simple. But for jobs that require you to spend time under the car, installing a cat-back exhaust, for instance, you're going to need something more flexible and versatile — maybe even multiple lights.
If you're working from a single location, opting for a bigger light is justified since portability won't be an issue. But if you're someone who's frequently on the road, a smaller light will be more appropriate because it's easier to carry around.
Corded vs Cordless
It makes sense that all work lights should be cordless. After all, why would you want the hassle of working with a cord?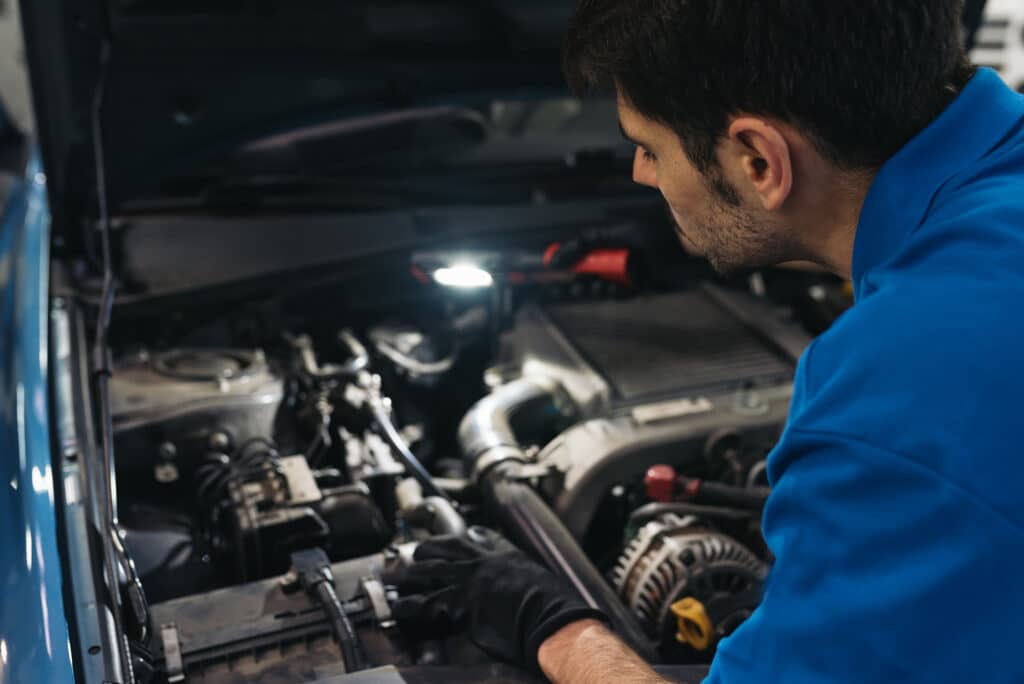 Cordless lights are lighter and more convenient to handle than corded ones. But since they work on batteries, you'll either need to recharge or replace the battery when it runs out of power.
However, with corded lights, you won't have to worry about your lights giving up on you. Again it all comes down to the nature of your repair job and accessibility. If you need to tend to a breakdown on the road you can't use a corded light, so a cordless one is a no-brainer.
Similarly, if you're planning to use your light for prolonged periods and have access to a power supply, using a corded light is a better idea.
Mounting Hooks or Magnets
A work light is supposed to make your job easier, but it can't do that if you constantly need to hold it in place. That's why it's crucial to be able to have good lighting while being able to use both your hands.
This is where having a magnetic base or hook really helps. Work lights with a solid magnetic base can easily attach to a metal surface freeing up your hands in the process.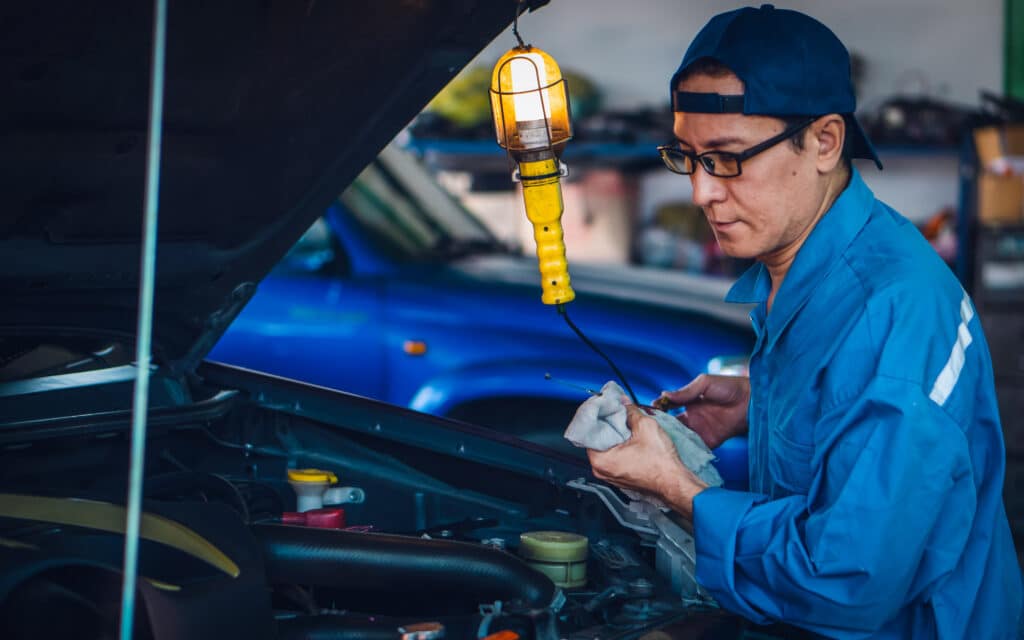 A hook does the exact same thing. The other benefit of having a hook on your light is that you can store it easily.
The Best LED Work Lights for Mechanics
Now that you know exactly what to look for when buying an LED work light, choosing the right one for your needs will be a lot easier.
Below we've listed some of the best corded and cordless LED shop lights you can buy right now. We've also reordered this list keeping the prices in mind.
Cordless Work Lights
Most people prefer avoiding the hassle of having a corded work light for good reason. If battery-operated work lights are what you need, look no further.
We've included some of the most portable mechanical lights that have great features and are priced affordably.
Clore Automotive Mantis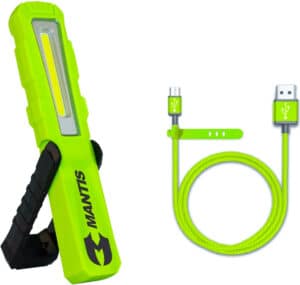 Manufacturer: Clore Automotive
Part Number: LNCMINI
Intensity: 120 lumens
Warranty: 1-year
Weight: 0.3 pounds
Buy on: Amazon
The Clore Automotive work light is designed to be lightweight and durable. It's rated at 120 lumens, weighs only 0.3 pounds, and is 6.5 inches long making it ultra-portable.
You need a lithium-polymer battery to power this light. You do get one of these batteries in the box but finding a replacement is tricky. The light provides up to 4 hours of run-time on high settings.
It comes with a magnet mount that has a 180-degree pivot, making it very user-friendly. This light is perfect if you want to illuminate hard-to-see spots.
The focused beam outputs 60 lumens for targeted spots which helps if you're trying to monitor fluid levels of any sort.
To top it off, this light comes with a 1-year warranty. In the package, you get a black plug-in charger, a green micro-USB cable, and a battery.
Eclawen COB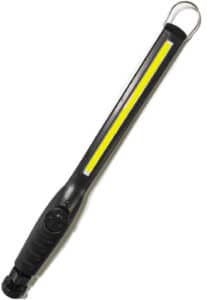 Manufacturer: Eclawen
Part Number: XKWXZ72
Intensity: 700 lumens
Warranty: 1-year
Weight: 0.4 pounds
Buy on: Amazon
If you're looking for a portable work light with great features and a low price tag, your first option may very well be the Eclawen light. Once you've fully charged it, expect to run for 10 hours on the medium setting.
This cordless work light outputs 700 lumens and contains an intuitive dial switch that lets you adjust the brightness. It comes with a magnetic base that has a maximum pull force of 20 pounds.
You can attach it to any metallic surface and use the 360-degree rotation feature to get better lighting angles. It also comes with a collapsible hook to make things even easier.
It takes about 4 hours to charge the battery to its full capacity which will provide from 3.5 to 20 hours of run time.
Warsun LED
Manufacturer: Warsun
Part Number: HOMEKB07DCL81W3
Intensity: 1500 lumens
Warranty: 1-year
Weight: 0.2 Pounds
Buy on: Amazon
Warsun's LED rechargeable work light is rated at 1500 lumens. It outputs 40W of power and has three lighting modes. Better yet, you can still use the emergency light even when the power is off.
It's got a metal hanging hook, weighs only 0.2 pounds, and is 4 inches in length, which makes it super-portable.
Warsun thoughtfully fitted a TPR anti-fall rubber to ensure that it's protected. It is also water-resistant, which adds to its ruggedness.
Stanley SAT3S
Manufacturer: Stanley
Part Number: SAT3S
Intensity: 600 lumens
Warranty: 1-year
Weight: 0.8 Pounds
Buy on: Amazon
If you're looking for a versatile work light, Stanley's SAT3S should be at the top of your list. Not only does it deliver 600 lumens with 18 ultra-bright LEDs, but you can also choose from five modes of lighting.
Designed using three light panels that fold and pivot, this unique work light also doubles up as a flashlight once you fold it down.
Charging this light is super simple — you can use an AC charging adapter with a USB port, a two-way USB port, or a 12-volt DC charging adapter.
Once you've charged the lithium-ion battery, it will provide 6 hours of run time. It's possible for it to remain charged for an entire year without needing a recharge.
The SAT3S has a magnetic base that mounts to metallic surfaces along with a stow-away hook, which relieves you of holding it.
Maxxeon WorkStar Cyclops
Manufacturer: Maxxeon
Part Number: MXN00800
Intensity: 420 lumens
Warranty: 1-year
Weight: 0.5 pounds
Buy on: Amazon
Maxxeon designed this work light to be ultra-durable which becomes evident once you take a look at its tough ABS exterior, nylon handle, and polycarbonate lens. Bonus points for water resistance.
This work light has only two light settings — high (420 lumens) and low (160 lumens). It comes with a magnetic base that allows you to mount the light onto metal surfaces.
When you use the high setting, expect about 2 hours of run time. The low setting will run the light for about 5 hours. Not only are these lights a cheaper alternative to snap-on lights, but they also work better.
Milwaukee M12
Manufacturer: Milwaukee
Part Number: 49-24-0146
Intensity: 160 lumens
Warranty: Limited lifetime
Weight: 1.08 pounds
Buy on: Amazon
The Milwaukee M12 is light as a feather and super portable at the same time. But don't be fooled by its form — this thing is heavy-duty and durable.
It is cordless and emits an intense beam that can illuminate hard-to-reach parts in your engine bay or under your car. It outputs 160 lumens, and the magnetic backplate really comes in handy.
Additionally, its sealed aluminum head makes it both impact and weather-resistant. What's more, is that you can use the 90-degree rotating head to modulate the focus and brightness of the beam according to your preference.
You'll find that this work light provides much better lighting than incandescent bulbs and can run for longer. This product comes with a limited lifetime warranty.
Schumacher SL360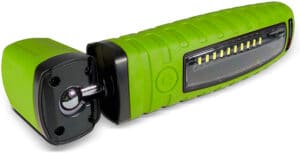 Manufacturer: Schumacher
Part Number: SL360GU
Intensity: 400 lumens
Warranty: 1-year
Weight: 1.35 pounds
Buy on: Amazon
The Schumacher SL360 is a rechargeable, cordless LED light that emits a high-powered, 3W multi-directional beam with its 10 bright SMD LEDs.
You'll be able to illuminate just about any part of your engine bay thanks to its ball-socket joint that lets you tilt and swivel the light 360-degree. It's got two swivel hooks and three covered magnets.
It also features a multifunction switch that allows you to choose from high to low brightness, The Schumacher work light comes with a lithium-ion battery that is rechargeable. You also get an AC wall adapter and a micro USB cable in the box.
Dewalt 20V Max LED
Manufacturer: Dewalt
Part Number: DCL050
Intensity: 500 lumens
Warranty: 3-year
Weight: 1 pound
Buy on: Amazon
The Dewalt work light is the second most expensive product on this list. But it also contains several outstanding features. It comes with 3 ultra-bright LEDs to provide an optimal throw.
You can use this light on two settings, either at 500 lumens or at 250 lumens. Running this light at 500 lumens will result in the best light intensity, but it will also eat into the runtime.
The pivoting head allows you to adjust it 140 degrees, and the rotating hook is 360-degree adjustable. The only downside with this work light is that you'll have to buy the battery separately. And the biggest advantage is that you get a 3-year limited warranty.
IlluminMax RNO-107
Manufacturer: IlluminMax
Part Number: RNO107
Intensity: 360 lumens
Warranty: 90 days
Weight: 0.4 pounds
Buy on: Amazon
The IlluminMax RNO-107 is perfect if you want a small work light that you can carry around everywhere. It fits in the palm of your hand and only weighs 0.4 pounds making it easy to store in your glove compartment or to keep as an emergency flashlight. It features an output of 360 lumens and needs two hours to charge fully.
You can recharge this battery powered led light up to 500 times before you need to buy a new battery, and you can also switch to higher-capacity batteries if required. The light comes with a magnetic base, hooks, as well as a 90-day warranty.
The back-lit LCD shows you the percentage of the battery life, even in the dark which is quite handy.
Corded Work Lights
The best part about corded work lights is that you never have to worry about the batteries running out when you need them the most.
Sometimes, plug-and-play is all you need — simple, straightforward, and effective. The following list consists of our favorite corded work lights.
Glorious-Lite 50W
Manufacturer: Glorious-Lite
Part no: BBB-FL-WL50W-BK
Intensity: 5000 lumens
Warranty: 1.5-year
Weight: 3.28 pounds
Buy on: Amazon
Considering that the Glorious-Lite weighs 3.28 pounds and has a 16-feet cord, you're more likely to use it in a workshop than carry it around.
This die-cast aluminum work light produces 5000 lumens. It comes with a reflective film that lets you angle the beam up to 120-degrees.
With corded lights, there's always a concern about power consumption, but rest assured that this light is very energy efficient. Because this is essentially a high-powered LED flood light, it does generate a small amount of heat which gets taken care of thanks to the heatsink.
You can count on it to stick with you for the long haul thanks to its tempered glass frame cover, and its waterproof build.
Bayco SL-864
Manufacturer: Bayco
Part Number: SL-864
Intensity: 300 lumens
Warranty: 1-year
Weight: 1 pound
Buy on: Amazon
The Bayco SL-864 is the most expensive work light on this list, primarily because it is made in the USA. It features a 50-foot cord and a heavy-duty retractable metal reel which gives you the best of both worlds — you can do away with batteries and still be able to carry your light around in your garage.
This impact-resistant light comes with high-quality LEDs that have a staggering 35,000-hour life. Using this light is easy thanks to its magnetic base and hook. Bayco also included mounting brackets so that you can attach the reel to the wall.
You can expect this work light to last you a really long time, surely surpassing its 1-year limited warranty.
GearIT COB LED 1200LM
Manufacturer: GearIT
Part Number: GI-COB-1200LM-CORD-15FT-YL
Intensity: 2000 lumens
Warranty: Limited lifetime
Weight: 2.4 pounds
Buy on: Amazon
If you're looking for a reliable work light to use both indoors and outdoors, the GearIT LED is the right one for the job. It comes with a 15-feet extension cable, 1200 lumens of light intensity, and a 10W COB LED. Needless to say, this light is really bright.
The GearIT light comes fitted with a 4-rubber anti-slip handle. It also has a 360-degree hook and comes with a retractable hanger. This work light allows you to power an additional device because it's got an outlet located on the bottom of the device.
These lights come with a 30-day money-back guarantee. It also has a limited lifetime replacement warranty.
ATD Interior & Underhood
Manufacturer: ATD Tools
Part Number: ATD-80357
Intensity: 2000 lumens
Warranty: 1-year
Weight: 2 pounds
Buy on: Amazon
Designed by ATD to give you the best of both worlds, this work light comes with a 25-feet removable cord. Once you remove the cord, you'll get about 1.6-hours on high and 3-hours on low lighting.
The ATD light comes equipped with 250 SMD LEDs that output up to 2000 lumens. One of its great features is that the hook extends from 55 inches to 83 inches. The hooks have a large padded cover to get maximum stability.
You can adjust the brightness from 2000 lumens to 1000 lumens which is a great feature considering this price point. To top it off, the cord you get with this light is grease-resistant and flexible even in cold weather.
Our Favourite Options
While each and every work light on this list is top-notch, we'd be lying if we said we didn't have our favorites.
Based on their additional features, light output, and ease of use, we've listed some of our top choices below.
Best Corded Light: Bayco SL-864
There's a lot to love about this work light, right from its whopping 35,000-hour life lighting to its heavy-duty retractable metal reel.
Apart from all its great features, it's also durable thanks to its moisture and chemical resistance properties.
Our Favorite Cordless Work Light: Milwaukee M12
A well-priced product doesn't necessarily mean that it's the cheapest, but it's more affordable than products with the same features without compromising quality.
That's exactly why Milwaukee takes the top spot. It offers so much for the low price asked. The 90-degree rotating head lets you find the beam's sweet spot, and its portability allows you to use it just about anywhere.
We'd love to know which underhood LED light caught your attention the most, and why. Let us know in the comments below!