The S2000 is timeless. It has been two decades since it launched, and even today it looks like a modern car. To say that it has aged well is an understatement. However, there's always room for more visual upgrades, and for most of us, wheels are the best place to start.
There's no doubt that the stock S2000 wheels look pretty darn good, but there are plenty of aftermarket options that look much better. And besides, form isn't the only reason why people upgrade their wheels; function is important too.
Before you set out on your wheel hunt, it's important that you know exactly what you want out of a new set of shoes. We've observed that there are 3 types of people who buy new wheels:
Track guys looking to dial in their car with performance and handling in mind. They might want lighter wheels for lower rotational inertia, and a lower offset to widen wheel track for better stability through corners.
Stance guys who are after a particular style of fitment — think tucked, flush, fender to lip, Onikyan style demon camber, etc.
Enthusiasts who just want a different look than the OEM wheels.
Regardless of which category you fall into, this guide will help you to choose the best rims for your Honda S2000. Let's dive in…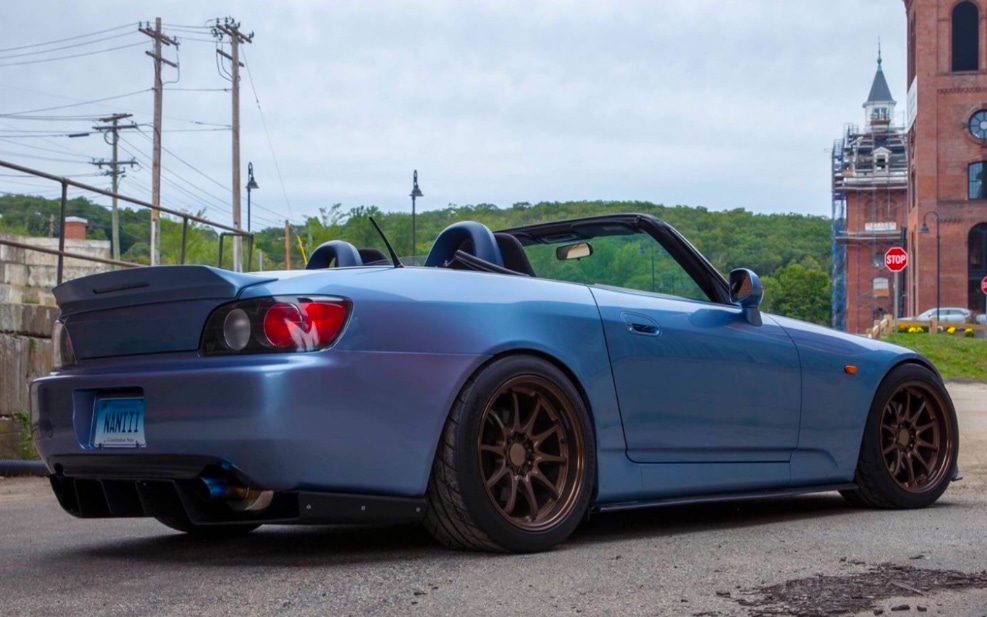 Honda S2000 — Recommended Wheel Sizes
Don't ever purchase wheels blindly. We've seen many instances of fitment gone wrong and it's an expensive mistake to make. The last thing you want to do is buy a set of wheels only to discover that they:
This isn't necessarily a bad thing if you know what you're doing. If you're looking for aggressive fitment, some hacking and chopping is typically required to get your wheels to fit. However, this situation should arise only on purpose.
When you buy a set of wheels, you should know whether or not it's going to cause rubbing or clearance issues. These issues can always be fixed by pulling or rolling your fenders.
Safe Fitment
If you're looking for hassle-free fitment on your Honda S2000 and aren't keen on cutting or rolling your fenders, we recommend sticking to the following size range.
Diameter: 17" to 20"
Width: 7" to 9"
Offset: +35mm to +55mm
Note that your car has a bolt pattern of 5×114.3. This is very common for mid-2000s tuner cars.
As long as you find wheels that fit in this recommended range and your car isn't excessively low, you shouldn't have to worry about any other modifications.
Purpose-Driven Fitment (Requires Modifications)
If this is your first time dabbling with purpose-oriented fitment styles, we recommend that you familiarize yourself with concepts such as wheel offset, camber, and other car suspension geometry.
Here are some more popular fitment styles and their corresponding sizing specifications that are popular among many S2000 owners.
Staggered
18"×8" +30mm (Front)
18"×9" +15mm (Rear)
Flush
18"×9.5" +40mm
17"×8.5" +45mm
17"×9" +45mm (most popular)
Stanced
18"×10"+15mm
18"×11"+20mm
18"×10.5"+22mm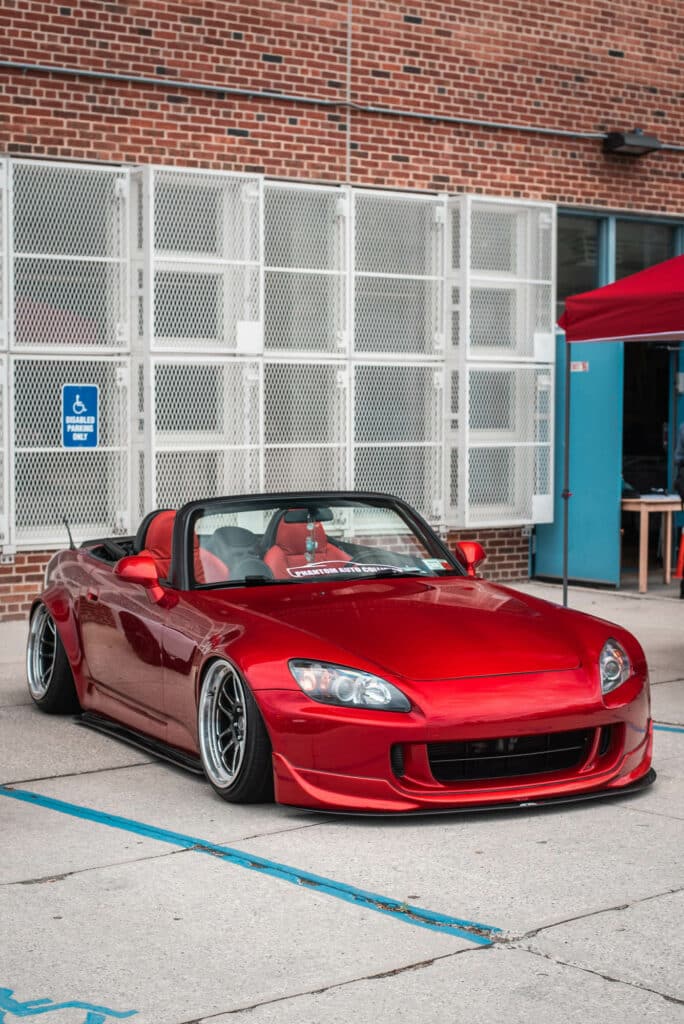 Note that these sizes will require fender and suspension modifications. Those in the Stanced category will take some genuine effort to fit well.
There are hundreds of size combinations you can choose from. And in general, a few millimeters here and there won't make much difference. Talk to fellow enthusiasts, take to online car forums, read articles like this one and do your homework before putting your money down.
Best Rims for Your S2000
Whether you're using your S2000 to beat your best time on the track or to drum up some extra attention at your local Cars & Coffee meet, we've listed a set of rims for multiple use cases.
Our list of S2000 wheels caters to various budgets and styles — take your pick.
Daily Driving
If your S2K spends more time on the street than it does on the track, it makes sense to go for something less aggressive, something that favors comfort and visual appeal.
For daily driving, you need wheels that are strong enough to handle real-world conditions such as potholes, gravel, and depending on where you live, moisture and road salt. Here are your best options.
Volk CE28N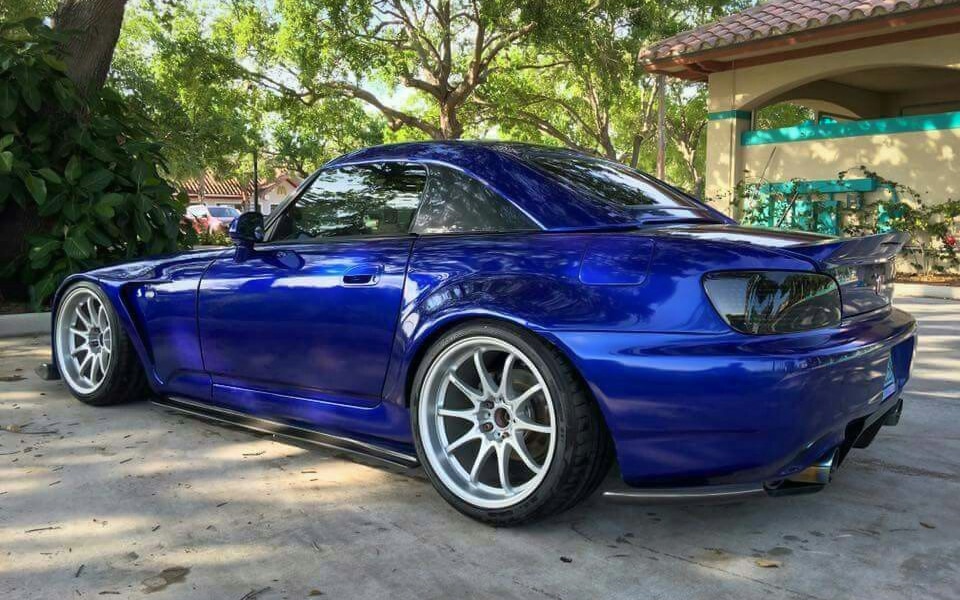 Manufacturer: RAYS Engineering
Rim Diameter (In.): 16", 17" and 18"
Finish: Bronze, Gunmetal, Formula Silver, Hyper Gold, Mercury Silver, Titanium Silver
Warranty: 1 Year
Volk is a subsidiary of RAYS Engineering — one of the leading wheel manufacturers from Japan. They pride themselves on introducing forged wheels to the masses. That explains why they own the largest, most powerful forging machine in Japan.
The CE28N is a one-piece forged wheel that features exposed lugs and a 10-spoke design. You can find smaller sizes and 8-spoke versions of this wheel too, but be sure to check the bolt pattern.
114.3 P.C.D CE28Ns are available in the 10-spoke design and sizing options include 16", 17", and 18". Depending on the size you choose, these can weigh anywhere from 9 lbs to 16.4 lbs for the 17" version.
The stock S2000 wheels weigh 17.6 lbs at the front and 20.5lbs at the back. In the world of unsprung mass, a 7 lbs to 10 lbs weight reduction is a lot — even more so if the weight reduction is done in the wheels because of rotational inertia.
Expect to feel a noticeable difference in braking, acceleration, and overall handling. Steering at low to no speed will feel noticeably lighter too.
BBS RG-R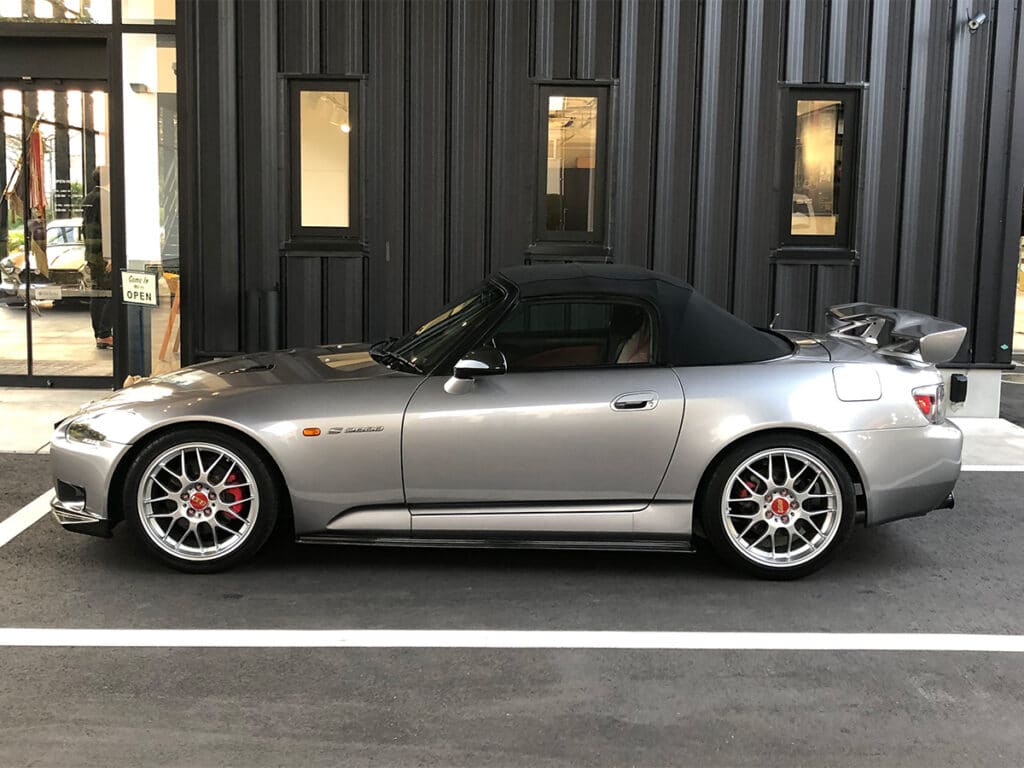 Manufacturer: BBS
Rim Diameter (In.): 17", 18", 19"
Finish: Diamond Black, Diamond Silver
Warranty: 10 Years
Buy on: Amazon
You just can't go wrong with the classic BBS design — it complements the S2000 like no other. Form aside, their wheels are incredibly functional.
Each BBS wheel goes through rotational testing, radial fatigue testing, biaxial load testing, impact testing, and also meets the following safety standards:
Their RG-R set of wheels are especially popular among S2000 owners. Depending on the size you choose, you might run into clearance issues if you plan on installing a big brake kit.
However, if your S2K is mostly a daily driver and you don't intend on installing a massive set of brakes, RG-R wheels are the perfect option for you. They're lighter and stronger than OEM and the Diamond Black finish looks extremely slick.
The forged aluminum, 1-piece RG-R wheel is 8.3 kg light, has an offset of +53mm, and is 8.5″ wide. To top it off, you also get a 10-year warranty and the much-coveted holographic BBS center cap!
BBS SR
Manufacturer: BBS
Rim Diameter (In.): 17", 18", 19"
Finish: Satin Grey, Volcano Grey Diamond-Cut Face
Warranty: 10 Years
Buy on: Amazon
BBS is possibly one of the most popular wheel manufacturers in the world. Their motorsport lineage dates back to the 70s making them one of the oldest names in the aftermarket scene.
The company is heavily invested in racing and many forms of motorsport. They even have ties with multiple automakers around the globe as they also make OEM wheels.
Wondering why this information is important? Well, that's because it's proof that the stakes are too high for BBS. With so many OEMs and racing teams relying on their products, they can't afford to make mistakes with their manufacturing processes.
That's the reason why they have insanely strict quality control standards and are able to provide track technology for the streets with products like the SR kit.
Even though the SR kit deviates from the standard BBS design, it's refreshingly modern and looks perfect for a daily driver.
Enkei EDR9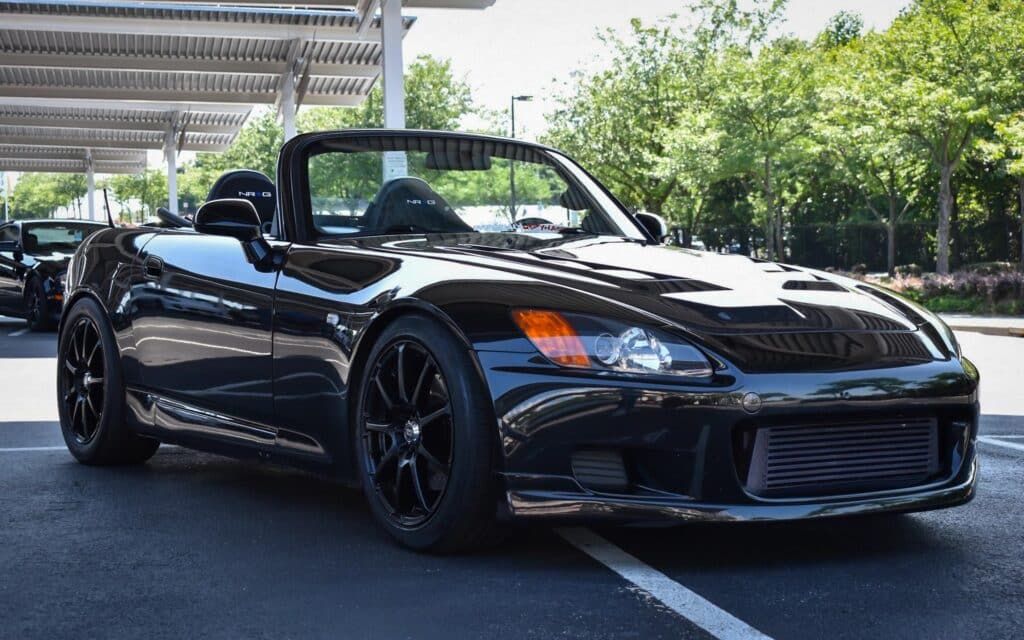 Manufacturer: Enkei
Rim Diameter (In.): 17", 18"
Finish: Matte Black, Silver
Warranty: Lifetime
Buy on: Amazon
If 5-spoke rims aren't your thing, check out the EDR9 series by Enkei — these 9-spoke beauties are constructed from aluminum alloy and they fully comply with the rigorous Spec-E standard.
They're available in matte black and matte silver, making them a perfect match for your S2000, no matter what color it is.
Just like all other wheels from this brand, you get a lifetime warranty against manufacturing defects and construction-related issues.
Enkei EKM3
Manufacturer: Enkei
Rim Diameter (In.): 17", 18"
Finish: Gunmetal, Hyper Silver
Warranty: Lifetime
Buy on: Amazon
Yet another set of spectacular wheels from Enkei, these 17" rims are crafted from alloy steel and finished with a gunmetal black color. They are 7" wide and have a 45mm wheel offset.
They're the perfect rims for your track car given their lightweight nature coupled with their durability to handle extreme racing conditions. Not only will these rims make your S2000 look sportier, but they're also reasonably priced.
Best S2000 Wheels for Track Use
There's a night and day difference between street and track conditions. If you frequent the track with your S2K, it makes more sense to favor function over form and go for a set of wheels that are built for high-performance applications.
Here are some of the best performance-focused rims that you can buy for your Honda S2000.
Volk TE37 TTA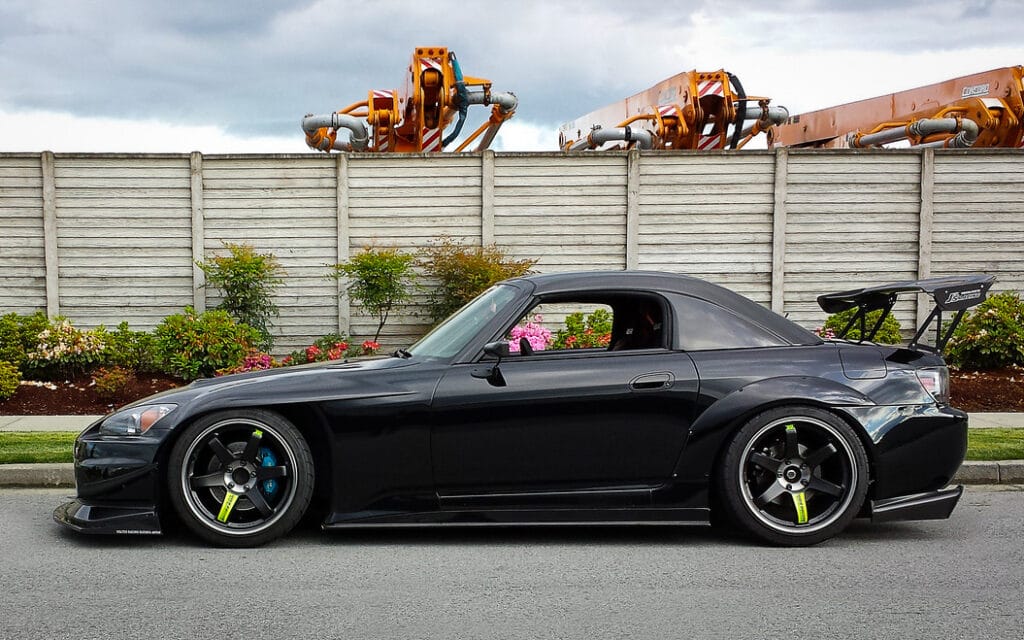 Manufacturer: RAYS Engineering
Rim Diameter (In.): 19"
Finish: Pressed Double Black, Pressed Graphite
Warranty: 1 Year
Buy on: Enjuku Racing
Another iconic set of wheels from Volk — the TE37s are a massive hit among S2000 owners, most JDM car enthusiasts, and tuner car drivers in general.
What gives the TE37 its legendary status is that it was one of the first wheels that set the standard for what performance rims should be. This was RAYS' first one-piece forged wheel constructed using a proprietary 100% aluminum blend.
It has been over 2 decades since these wheels were launched, and even today remain the gold standard of performance wheels.
For your S2000, especially one that sees track use, we love the TE37 TTA Progressive variant because they are more readily available in sizes that fit. Finding the OG TE37 with a 5×114.3 bolt pattern is becoming a challenge these days.
Also, if you're someone who likes keeping their wheels clean and sticker-free, you'd be happy to know that these wheels don't come with any printed or etched branding — at least not in a way that's super visible. You get the sticker separately, which means you choose whether you want it on or off.
Enkei RPF1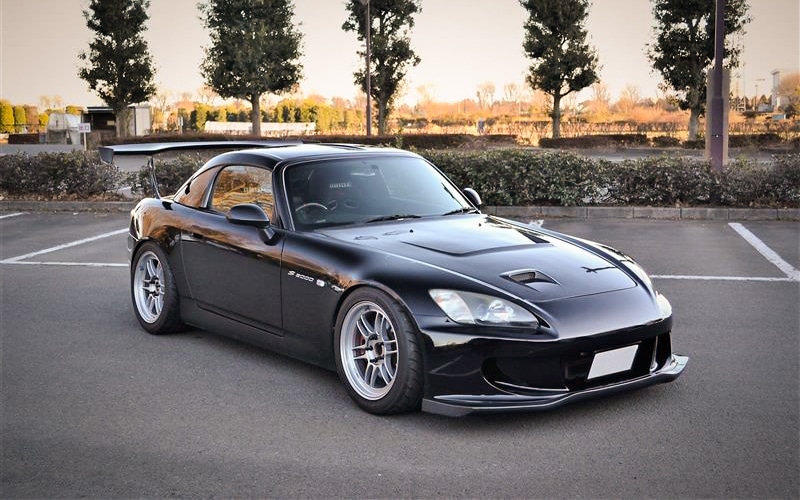 Manufacturer: Enkei
Rim Diameter (In.): 17", 18"
Finish: Black, Silver
Warranty: Lifetime
Buy on: Amazon
The Enkei RPF1 wheels need no introduction. These are some of the oldest, most iconic wheels that you can buy right now — even after 2 decades of being launched.
These wheels were designed in conjunction with the McLaren Honda Formula One Team. The dual-six spoke layout not only looks great but also serves a purpose; allowing for better stress and heat dispersion when going through hard cornering or braking.
Enkei uses something called MAT technology which involves aligning the grain structure of the metal to improve strength while maintaining a low profile. The structural integrity of these wheels is unquestionable.
Gram Lights 57C6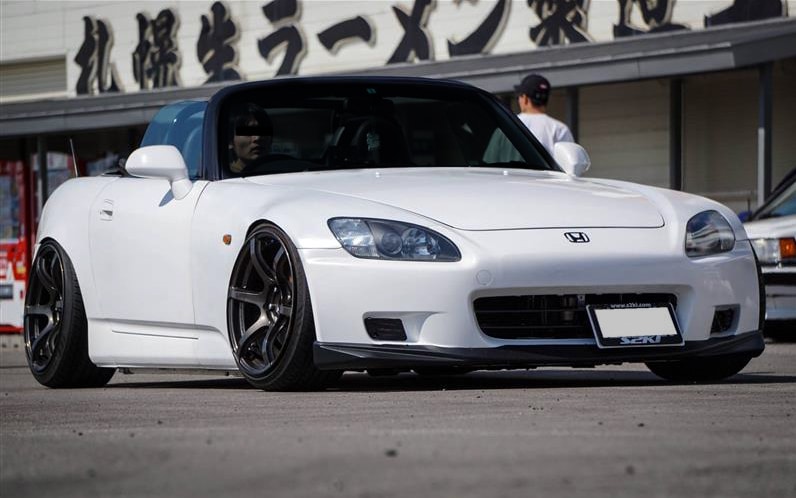 Manufacturer: RAYS Engineering
Rim Diameter (In.): 17", 18"
Finish: Matte Graphite, Semi Gloss Black, Velvet Blue, Velvet Red
Warranty: 1 Year
Buy on: Enjuku Racing
RAYS Engineering is a bigger deal than what many people know about. Renowned companies such as Volk Racing, Gram Lights, Versus, Team Daytona, Hfullcross, Waltz Forged, A-Lap, Homura, and VMF partner up with them and share manufacturing processes for a reason.
The Gram Lights 57C6 is their popular mold-formed, side-cut machined wheel that features an aggressive concave face.
You can count on these wheels to withstand tremendous pressure on the track as they're constructed in a 10,000-ton forging press. This also means they're light enough to reduce a good amount of rotational inertia.
The 57C6 wheel goes through a rigorous testing process that includes rigidity testing, rotary bending testing, and fatigue testing. This explains why they aren't exactly cheap.
SSR Type-C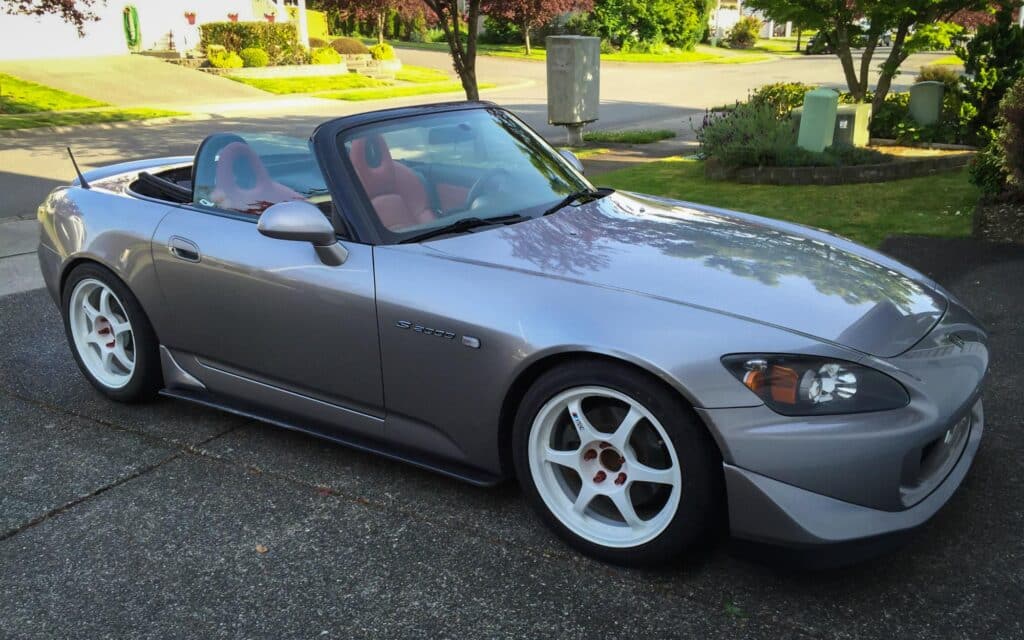 Manufacturer: Speed Star Racing
Rim Diameter (In.): 17"
Finish: Bronze, Gunmetal, White
Warranty: None (discontinued)
SSR is a 47-year-old company — one of the first-ever aftermarket wheel brands that rolled out of Japan.
Their Type-C Gun Metallic rims are the most expensive ones on our list but for good reasons; SSR is known for using technologies such as Semi-Solid Forging (SSF), and Heat Treatment Manufacturing (HTM).
Semi-solid forging is a process that involves the high-pressure injection of heated billet aluminum into wheel molds at high speed. It is then heat-treated and shot-blasted.
Heat Treatment Manufacturing involves the wheels being heat-treated for the second time. This step burns off the impurities from the metal and changes the mechanical properties of the finished product.
All of this makes allows the company to make extremely light and strong wheels that can be designed in a million different ways.
It's no wonder why these 6-spoke Type-C wheels weigh only 15.7 pounds. The only minor gripe with these wheels is that they are discontinued, so if you want a pair you'll need to find some used.
TSW Nurburgring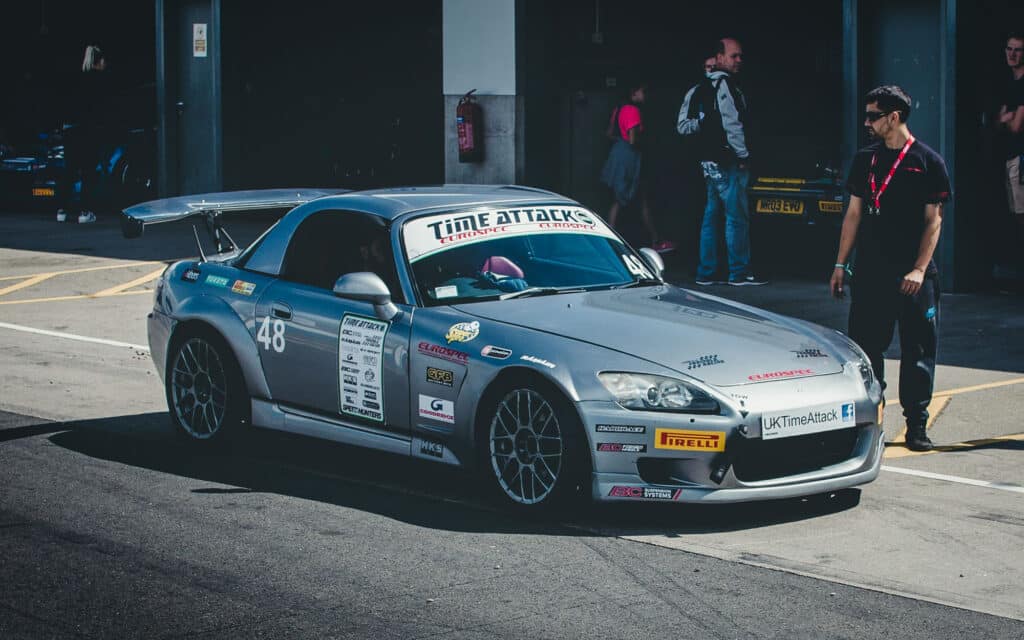 Manufacturer: TSW
Rim Diameter (In.): 17", 18", 19", 20"
Finish: Matte Bronze
Warranty: 5 Years
Buy on: Amazon
Nurburgring. Sounds familiar, doesn't it? TSW named this wheel after one of the most dangerous circuits in the world for a reason. It can take whatever you throw at it. When it comes to withstanding abuse and not cracking under pressure, TSW's Nurburgring wheels are among the best you'll find.
These rotary forged wheels are 17" in diameter and 10" in width — the perfect size for a track car. You do get other options though.
Each wheel has a specified load rating. They're compatible with all original equipment TPMS sensors, are lightweight and have low rotational inertia.
You'll certainly pay a premium price for these wheels but what you get in return are unparalleled quality and a 5-year warranty.
Our Favorite S2000 Rims
To be perfectly honest, all wheels mentioned in this list will end up being a great purchase. It just comes down to how much you want to spend, how (and where) you drive, and what your preferred style is.
Here are our top recommendations.
Best Overall: Enkei RPF1
You can't go wrong with the RPF1. Period. Whether you want to trash your S2000 at the track, carve canyons every Sunday, or drive down to Walmart with your mum, the RPF1 can do it all.
Best for Track-Use: GramLights 57C6
The 57C6 offers some serious tech and will feel right at home at the track. They are the perfect combination of lightweight and strength.
Best-Looking: TSW Nurburgring
Apart from being extremely sturdy and having a few extras to ensure durability, the TSW Nurburgring wheels look simply stunning, no matter what color you choose.
And that concludes our list of the best S2000 wheels. What's your current setup? Is there a set of rims that should've been on here but aren't? Let us know in the comments below!