Honda knew exactly what they were doing when they made the first Civic back in 1972. They wanted to make a car that was within reach for every common citizen.
They haven't deviated from that philosophy to this day, even after selling a million of these. Little did they know that the Civic would become a tuner icon.
It's a beater, a grocery-getter, a track missile, and a good first car. It can do anything and everything you throw at it.
It's one of the few cars out there that can do just about anything well.
Whether you drive an EG hatch, an EK9 Type-R, a 9th Gen Si, or even the latest 2022 Si or Type R, chances are that your first modification is going to be a set of coilovers.
These cars look stunning and handle like they're on rails when fitted with the right coilovers. And that's exactly what we're going to help you with today.
In this guide, we've covered everything you need to look out for when buying a set of coilovers for your Civic, along with a list of our top recommendations. Let's dive right in.
Choosing the Right Coilovers for Your Civic
If you're new to suspension upgrades like coilovers and lowering springs, we suggest getting a basic understanding of how coilovers work. This will allow you to take an educated decision by assessing various aspects of coilover selection such as:
Selecting the right spring rates,
Weighing your options in terms of preload and damping adjustments,
Understanding which construction type is right for you: monotube or twin-tube?
Choosing between fully threaded and partially threaded coilovers,
Knowing whether you should choose Swift springs or regular springs, and
Assessing ride height adjustment to gauge how it might affect your suspension geometry.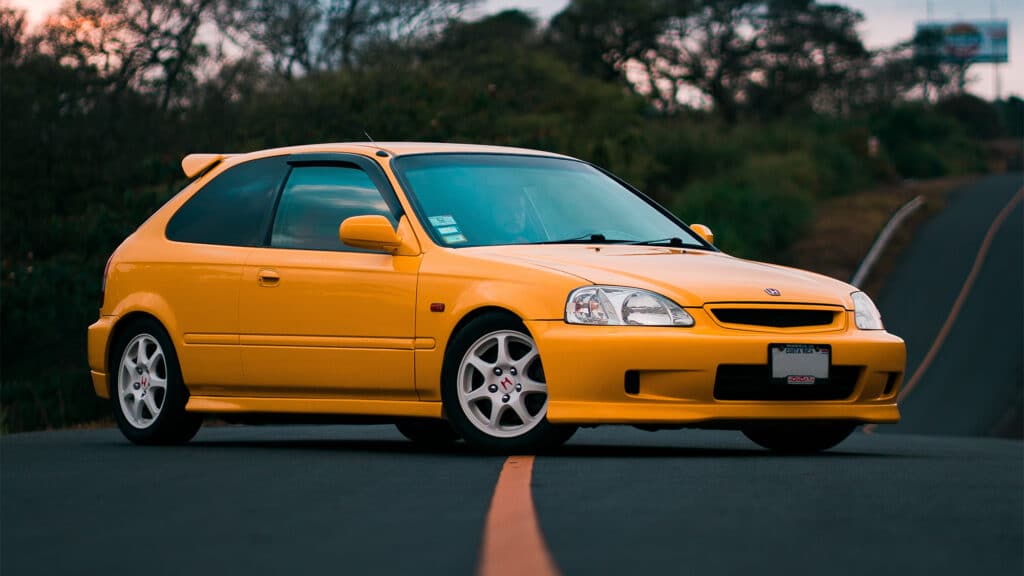 Once you have the basics down, the next step is to ensure the coilovers you purchase actually fit your Honda Civic. Manufacturers typically include compatibility information in their product descriptions which is usually accurate, but in many instances, it won't give you the whole picture.
Especially when you consider the possibility that a lot of the suspension components are interchangeable between multiple Civic and Integra/RSX model years.
Known brands like Tein, BC Racing, MaXpeedingRods, Raceland, KW, and Buddy Club (among others) make coilovers for a variety of Civic model years. Structurally, they're all quite similar, but they do vary in terms of features and build quality considering the vastly different price points.
The key differences lie in the top hats, lower mounting points, and spring rates. This is because the suspension layout and the curb weight vary among different variants and trim levels of the Civic.
For example, coilovers designed to fit a 2017 Type-R, won't necessarily fit an 8th gen Si. This information will help you if, for whatever reason, you need to install coilovers designed for a different Civic model year. Or if you happen to have your chassis codes mixed up — happens to the best of us.
This is especially common with Gen 5 or Gen 6 USDM Civic owners, here's a good resource that might help clear the confusion should there be any.
Suspension Cross-Compatibility
The most amount of interchangeability we've observed is between EF, EG, EK Honda Civics, and Acura Integras from the same generation.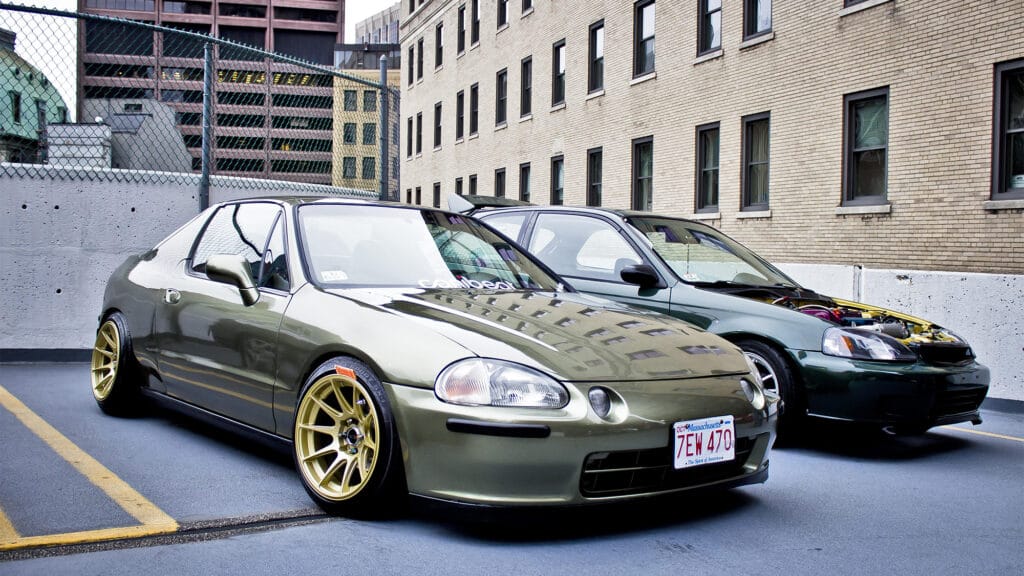 The attachments for front shocks are the same between the Integra, EK, and EG Civic, and the EG2 and EH6 CR-X. However, the rear suspension compatibility between these cars is dicy as they have differently designed lower control arms (LCAs).
EK Civic rear shocks do not mount correctly on EG rear LCAs, and EG rear shocks do not mount correctly on EK LCAs. They require minor fabrication to work. Note that the EK and EG Civics have different front lower control arms, front upper control arms, and rear lower control arms.
To fit the EK rear suspension (or coilovers designed for the EK) onto the EG's rear LCA, you will have to trim the bushings where the strut bolts to the LCA. This is because the shock bushing on the EG rear LCA is wider than the one on the EK. And to fit the EG rear suspension onto EK LCAs you'll need to use shims, spacers, or washers.
There's quite a bit of interchangeability among Gen 7 (01-05) ES1s, EM2s, EP3s, and DC5s too. Here's a resource for more clarity.
The Best Coilovers for Your Honda Civic
The right choice of coilovers for you will depend on how and where you intend on driving your civic, whether you favor comfort over performance, how much adjustability you really need, and how much money you want to spend.
Keeping all these factors in mind, we've listed some of the best Honda Civic coilovers on the market below.
Some of these can be bought directly from the purchase link, while others will require you to look for them as it can be difficult to find them online or off the counter. You might need to dig into forums and buy some of these used.
Skunk2 Racing Pro-S II
Manufacturer: Skunk2
Construction Type: Monotube
Damper Adjustment: Non-adjustable
Spring: Linear CNC wound race springs
Compatibility Table:
Skunk2 has been in the aftermarket car parts business for several years, and they have over a decade of racing and suspension tuning experience. Their Pro-C coilovers for the Honda Civic saw a massive upgrade and now we have the Pro-S II series.
What we love about these is the short shock body and stroke. This, combined with oversized pistons and shafts makes the overall design extremely efficient.
Another feature is ride height can be adjusted independently of the spring preload. The valving is vehicle-specific and perfectly dialed to offer a balance between daily driving and track performance.
All Pro-S II series coilovers by Skunk2 feature hard-anodized, CNC-machined, forged 6061-T6 aluminum spring perches and CNC-wound racing springs manufactured from silicon-chromium steel. That's some really good material selection considering the low sticker price on these coilovers.
H&R Street Performance
Manufacturer: H&R
Construction Type: Monotube
Damper Adjustment: Non-adjustable
Spring: Progressive, high tensile steel
Compatibility Table:
In terms of quality, think of H&R Street Performance coilovers as KW V3s minus the adjustability. These coilovers are custom valved to work in conjunction with progressive rate springs.
Barring ride height adjustments, these don't offer compression and damping adjustability which might sound like a deal-breaker at first. But the way they're set up from the factory is more than adequate for most driving styles and applications.
The fully threaded shock body allows for a 0.8″ to 3″ front and 0.8″ to 2.5″ rear drop. All H&R coilovers are precision-engineered in Germany and come with a 2-year warranty.
APEXi N1 Type EXV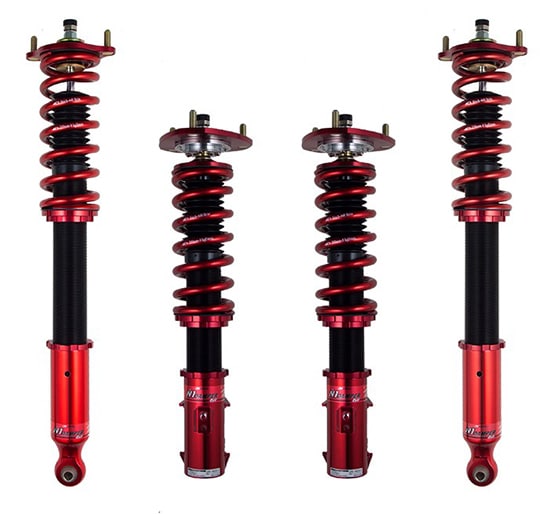 Manufacturer: APEXi
Construction Type: Monotube
Damper Adjustment: 32 levels
Spring: Varies
Compatibility Table:
APEXi's N1 Expert Type-V coilovers are no stranger to most car enthusiasts. The S1 damper paired with carefully selected spring rates, oil type, and internal valving ensures peak performance on the street and the track.
The N1 EXV coilovers feature 32-way adjustable damping, and a monotube construction with 45 mm pistons, which translates to pretty good value for money considering that they're made in Japan.
Ride height adjustment duties are carried out with the help of a threaded base in a way that does not eat into your spring or shock travel. Applicable vehicles also get camber adjustment plates.
Buddy Club Sport Spec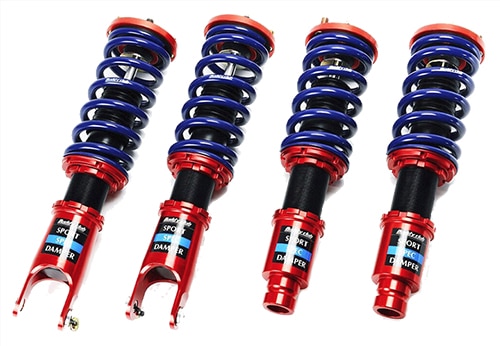 Manufacturer: Buddy Club
Construction Type: Monotube
Damper Adjustment: 19 levels
Spring: Linear high tensile steel
Compatibility Table:
Buddy Club's Sport Spec coilovers are highly sought after in the Honda community thanks to their precision-machined, oversized pistons. This is made possible because of the inverted damper design which allows for more fluid movement as compared to conventional dampers that are adapted to replace MacPherson struts.
These are among the few coilovers that come with Teflon-coated springs; these help to reduce noise from spring movement which is something that many other coilovers are notorious for.
The top hats in these coilovers feature a rubber bushing design as opposed to the pillowball setup in favor of reduced NVH. Buddy Club takes their quality control seriously, so expect to receive these coilovers in top-notch shape.
Ksport Kontrol Pro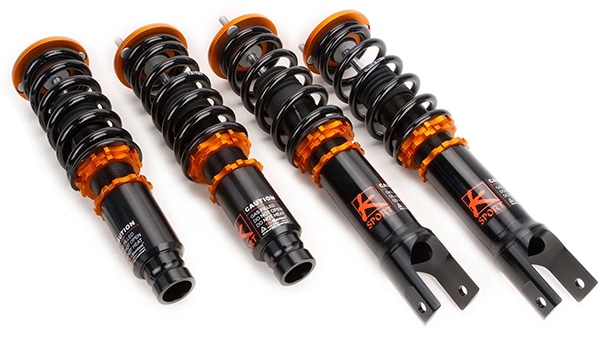 Manufacturer: Ksport
Construction Type: Monotube
Damper Adjustment: 36 levels
Spring: Linear high tensile steel
Compatibility Table:
Ksport Kontrol Pro is a great entry-level coilover especially if you're on a budget. They're quite popular among EG Civic owners. However, we recommend these only for street use.
36-way adjustable damping is a great addition, but it is a bit overkill for street-driven EGs. You need to adjust the damping just right to get the maximum benefit out of these coilovers.
Note that the damping adjustment knob alters both compression and rebound simultaneously to make things easier. These coilovers come with pillowball top mounts in the front and rear. Ksport also makes these for other Civic models as well.
The construction is solid thanks to the use of 6061 billet aluminum mounts. All components are lightweight, durable, and corrosion-resistant. The shock bodies are galvanized (zinc plated) steel for more protection from the elements.
MaXpeedingRods T7 Racing
Manufacturer: MaXpeedingRods
Construction Type: Twin tube
Damper Adjustment: 24 levels
Spring Material: Linear high tensile spring
Compatibility Table:
Coilovers take a lot of abuse in both daily driving and competitive driving conditions. To withstand that, they need to be constructed from high-quality materials like 6061 aluminum alloy and T6 stainless steel, that's exactly what you get with MaXpeedingRods's new T7 Racing coilovers.
With 24-way adjustable damping and adjustable ride height, these coilovers will let you easily fine-tune the way your Honda Civic handles. To be precise, the ride height can be lowered between 1" and 3".
The manufacturer recommends 16 clicks for the ideal damper setting for spirited driving and 24 clicks for occasional track days. These are the only twin-tube coilovers on our list. Twin-tube dampers allow for lower gas pressure thanks to a base valve which creates a more comfortable ride.
D2 Racing RS Series
Manufacturer: D2 Racing
Construction Type: Monotube
Damper Adjustment: 36 levels
Spring: Linear silicon-chromium spring steel
Compatibility Table:
| Year | Chassis Code + Purchase Link |
| --- | --- |
| 1988-1991 | ED2 ED3 ED4 ED6 ED7 |
| 1992-1995 | EG1 EG2 EG3 EG4 EG5 EG6 |
| 1996-2000 | EK9 EJ6 EJ7 EJ8 EJ9 EM1 |
| 2001-2005 | EM1 EM2 ES1 ES2 |
| 2006-2011 | FG1 FG2 FA1 FA3 |
| 2012-2015 | FK2 FK3 FB6 FG4 |
| 2016-2021 | FC1 FC2 FC3 FC4 |
The RS Series coilovers by D2 racing are directly comparable with Ksport Kontrol Pros. They're just as entry-level, feature 36 levels of damping adjustments, and use 6061 billet aluminum for sensitive components and SAE9254 (silicon-chromium plated steel) for everything else.
Ride height can be dropped from 2.3" to 3.9" from the factory ride height. These come with pillowball mounts and even camber plates (for applicable Civic models). The threads on the shock body are Teflon coated, making ride height adjustments smooth and easy.
D2 Racing offers a wide range of custom spring rates to choose from at an additional cost.
Tein Street Advance Z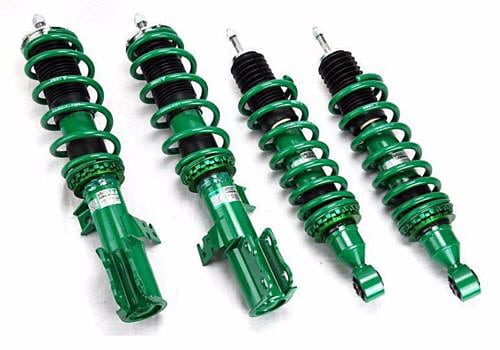 Manufacturer: Tein
Construction Type: Monotube
Damper Adjustment: 16 levels
Spring: Linear high tensile steel
Compatibility Table:
If you're looking for the best bang for your buck without compromising on quality, Tein's Street Advance Z coilovers are the right choice for you.
The short shell case provides optimum damper stroke at lower ride height which you can adjust via the ZT coated threaded sleeve and spring seats. These coilovers utilize what Tein calls Advance Needle technology which gives you the ability to fine-tune damping force change.
The Street Advance Z coilovers provide a drop of up to 1.9 inches which is adequate for most applications. Note that these coilovers require the reuse of OEM top mounts and they do not allow for camber adjustment on applicable models. Check out Tein's Street Advance Z fitment info for more details.
Revel Touring Sport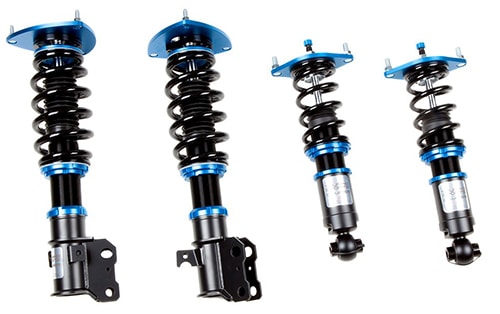 Manufacturer: Revel
Construction Type: Monotube
Damper Adjustment: 32 levels
Spring: Linear high tensile steel
Compatibility Table:
Revel Touring Sport coilovers are exceptionally well built and ideal for daily driving, especially if you prioritize comfort. These come with pillowball upper mounts that provide greater driving feedback when compared to OEM rubber upper mounts.
If your Civic has MacPherson-type struts, your Revel Touring Sport coilovers will come with radial bearings. These help to isolate spring movement from the coilover assembly for reduced noise, volume, and harshness.
Revel includes Neoprene coilover covers that protect the springs, shock shaft, and seals. This is a nice touch, we'd love to see more manufacturers offering these.
BC Racing BR Series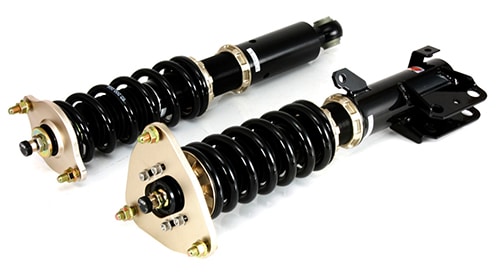 Manufacturer: BC Racing
Construction Type: Monotube
Damper Adjustment: 30 levels
Spring: Linear high tensile steel 
Compatibility Table:
| Year | Chassis Code + Purchase Link |
| --- | --- |
| 1978-1979 | EB (Not CVCC) | SG (CVCC) |
| 1980-1983 | SL SS SR ST VC WD |
| 1984-1987 | AG AH AJ AK AT AU |
| 1988-1991 | ED2 ED3 ED4 ED6 ED7 EC8 EE9 EC9 |
| 1992-1995 | EG1 EG2 EG3 EG4 EG5 | EG6 EH1 |
| 1996-2000 | EK9 EM1 |
| 2001-2005 | EM1 EM2 ES1 ES2 | EP3 |
| 2006-2011 | FG1 FG2 FA1 FA3 FD1 | FD2 Type R | FN2 Type R |
| 2012-2015 | FB2 FB6 FG4 |
| 2016-2021 | FC1 FC2 FC3 FC4 | FK4 FK5 FK6 FK7 | FK2 Type R | FK8 Type R |
You can't go wrong with BC racing. Their BR Series coilovers are extremely popular and are commonly installed not only on Civics but even on other tuner cars like the Mazda Miata, Nissan 350z, Honda S2000, and many more.
These are ideal for street driving and occasional track use. Adjusting compression and rebound is a breeze and separately adjustable ride height makes things even simpler. BR Series coilovers easily outperform some of the higher-priced options with ease.
You get 30 levels of damping force adjustment, a 1-year warranty, pillowball mounts, and adjustable camber plates for Honda Civics with MacPherson-type struts.
KW Variant 3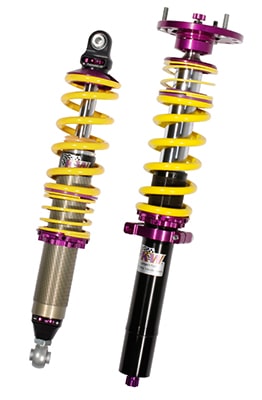 Manufacturer: KW Suspension
Construction Type: Monotube
Damper Adjustment: 14 levels
Spring: Linear corrosion-resistant stainless steel
Compatibility Table:
We saved the best for last — the KW V3 is a tried and true coilover kit that's used by hundreds, if not thousands of tuner and JDM car owners. There's a reason why KW calls it race technology for the road.
The V3 front coilovers get helper springs to keep the main springs seated, for a more dynamic damper arrangement. KW patented dual-level valves let you adjust rebound and compression separately.
Other than exceptional durability and build quality, you can also expect excellent customer service from KW. They're known to be very reliable and proactive with regard to solving problems should you have any.
If you want top-shelf coilovers for your civic without breaking the bank, these are the ones to go for.
Our Top Recommendations
Coilovers are arguably the most exciting handling upgrade you can install on your Civic. Depending on how you set things up, you can expect a significant reduction in body roll, flatter cornering, and extremely responsive steering.
We strongly recommend getting an alignment done by a reputed technician right after you install your coilovers. Doing this will make a world of difference because only after an alignment will the coilovers function the way you want them to.
Civic owners are spoilt for choice when it comes to aftermarket mods, but there's no denying that some products are much better than others. Here are our top picks from this list.
Editors choice
Ksport makes their Control Pro coilovers for nearly every Honda Civic model out there. They're hands-down the best value coilovers on this list, making them our top recommendation.
They deliver exceptional performance considering the sticker price and are a great fit for daily driven Civics.
Best coilovers for EG and EK Civic
Even though BC Racing's BR Series coilovers fit a wide variety of Honda Civic trims, these work particularly well for EG and EK Civic owners.
You just can't go wrong with BC Racing's BR Series. They're not exactly cheap, but they outperform even some of the pricier rivals with ease.
Ideal for track use
Track guys always need more; something that is designed to take a beating, can easily be rebuilt, and will consistently deliver predictable performance.
These are all qualities you'll find in the German-made KW Variant 3 coilovers.
Which one of these would you pick for your Honda Civic? Or would you rather choose lowering springs instead of coilovers? Let us know by leaving a comment below!