Most of us can agree that coilovers are a pretty expensive suspension upgrade, but they don't have to be. Depending on who makes them and where you buy from, they can range from a couple of hundred dollars to 5 digits.
As a result, people who want coilovers but are on a tighter budget have to resort to some deeper ends of the market by delving into off-brand or lesser-known products.
D2 Racing is one such brand that's gaining traction in the aftermarket, and we'd like to see why that is.
In this article, we'll take a closer look at D2 Racing's coilover lineup and determine if they're worth spending money on.
D2 Racing Coilovers: An Overview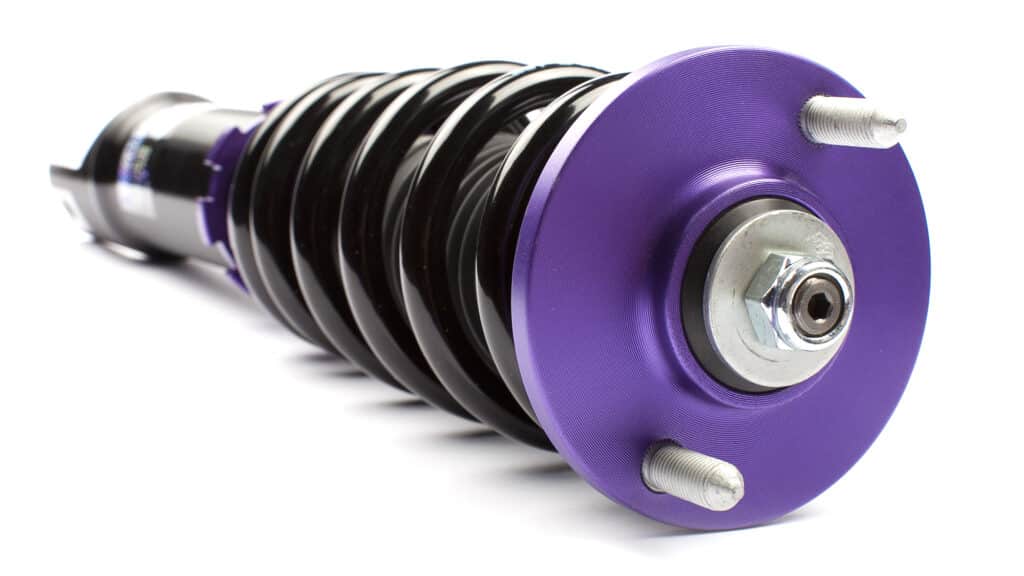 D2 Racing is what you might call a second-rate manufacturer of suspension components and big brake kits, so there's not a lot of information about them.
One thing we do know is that they're manufactured in Taiwan alongside other entry-level coilover favorites like BC Racing and Ksport.
That's not to say that all entry-level coilovers are made in Taiwan; Tein coilovers, for instance, are manufactured in Japan and China.
Other than coilovers, which is their main focus, D2 Racing also makes big brake kits, air suspension, control arms, camber kits, and simple lowering springs.
They make coilovers for a variety of different JDM cars and tuner cars. Their forte is Hondas and Acuras, but some of their models are available for other vehicles, and they also manufacture coilovers to order.
The D2 Racing Lineup
One benefit of D2 Racing's coilovers is variety. They offer a total of 12 different coilover types, of which 9 are sold under the D2 Racing brand, whereas the other three are sold under the Truhart brand.
As D2 Racing simply sells Truhart coilovers, we'll be focusing on the 9 different models that they manufacture.
RS Series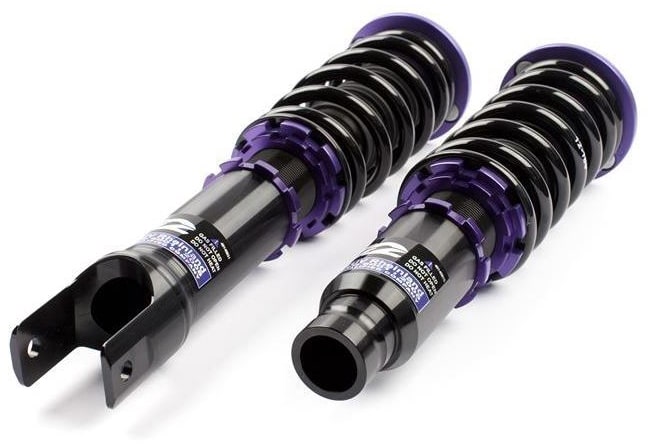 First up is the RS line, which features 36 levels of damping, rebound and preload adjustment, and a monotube shock design.
The RS is a relatively basic coilover that promises to keep the car comfortable, while also lowering the ride height anywhere from 60 mm to 100 mm.
MacPherson strut applications of the RS series come with camber plates, which is nice for what you're paying.
Other than that, you get a 6061 aluminum alloy construction, pillow ball mounts for select applications, and a wide range of custom spring rates to choose from.
SL Series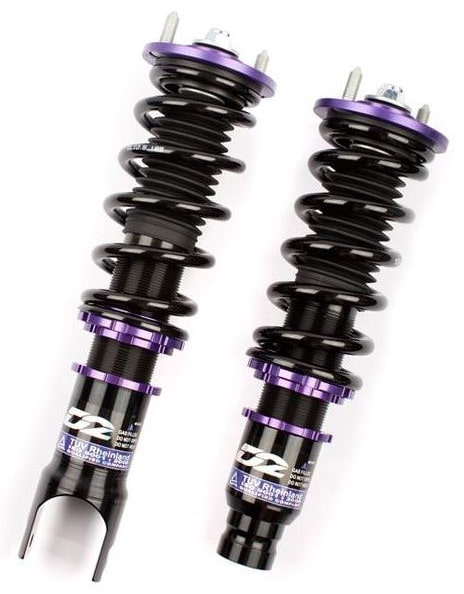 Next is the SL family. They're slightly more expensive than the base RS, and they, too, offer 36 ways of damping adjustment and a monotube shock design.
Unlike the RS series, these coilovers feature short-stroke bodies and even camber plates on select applications. The shorter body means you can drop your car 2 inches lower than what the RS Series will let you.
However, if you intend on slamming your car that low, consider roll center correction and fixing any other unintended changes in your suspension geometry.
The main concern with cheap coilovers, other than build quality, is poorly matched spring and damper rates.
D2 Racing claims to have perfectly matched spring and damper rates, but there's no way to find out if that's true without using sophisticated machinery.
Circuit Series
D2 Racing's Circuit series is pretty self-explanatory. While they do have the same basic design as the SL series, they're geared primarily towards track use.
They're also among the few coilovers that are available for cars beyond the Honda and Acura umbrella.
These coilovers feature aggressively valved dampers for minimal weight transfer, larger 52 mm shock bodies for better heat dissipation, and aluminum upper mounts for cars with double wishbone suspension systems.
Drag Series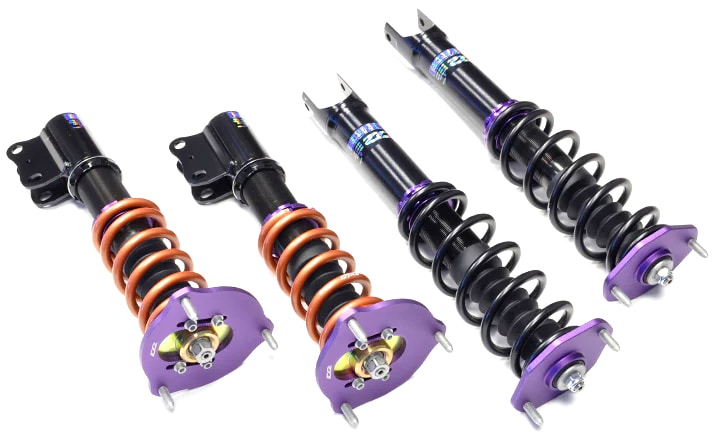 After that is the Drag series, once again pretty self-explanatory. They're primarily designed for drag racing use, specifically to reduce squatting under hard acceleration.
Take that with a grain of salt because front and rear suspension tuning for drag cars is no less than a dark art.
Drag racing is all about getting the power down. Tuners employ all complex rear anti-squat geometry and front shock sag settings to fine-tune the suspension dynamics.
No matter how great your suspension is, it's always going to come down to the tuning.
Rally Asphalt and Rally Gravel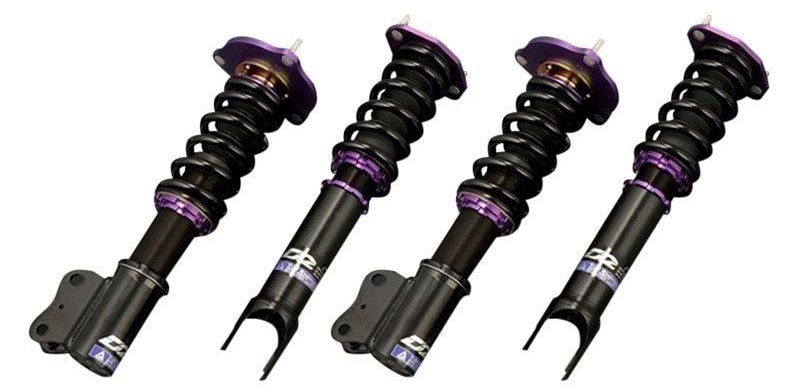 The next two D2 Racing coilover families, the Rally Asphalt and Rally Gravel, as the names imply, are all about rally driving, suited to different terrain.
Along with stiffer spring rates for better driving on bumpy rally stages, the Rally series also comes with larger pistons that can hold more oil to make them more durable for rally applications.
Drift Series
The Drift series, once again, is exactly what it sounds like. You get 36-way adjustability, helper springs, drift-spec spring rates, and an inverted monotube design.
You can even adjust the camber and caster with the help of an optional pillowball top mount.
GT and R-Spec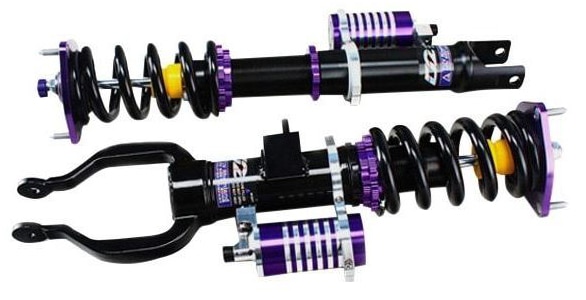 Finally, there are the GT and the R-SPEC. The GTs have tougher spring rates and they claim to handle mild track use, while the R-SPEC is for proper, regular use on the track. Their most striking feature is remote reservoirs and competition-grade valving.
As you can see, D2 Racing doesn't skimp when it comes to choice and application, but are they any good?
Should You Buy D2 Racing Coilovers?
That covers the lineup, but are D2 Racing coilovers any good? It's always a question we ponder when looking at a product that's cheaper than the established items already on the market.
You're probably also debating whether or not you should pick up a set of D2 Racing coilovers for your car, whether it's a Honda or something else entirely.
As much as we love to give lower-price products a chance, we'd say that D2 Racing isn't exactly worth the money.
In a way, it's odd, because some properly good coilovers have come out of that same factory in Taiwan, and they continue to do so to this day.
At the end of the day, it all depends on your use case. If you're on a particularly tight budget, your driving style is more lax, and you just want the car to look nicer and sit lower to the ground, then D2 Racing might get the job done.
However, inconsistent spring rates and a lack of quality during more spirited driving or track use means that they're likely best avoided if you plan to do serious track driving or touge racing.
They won't necessarily fall apart, but they're not designed to do such things. For that, you're much better off with the likes of HKS or KW.
To add insult to injury, D2 Racing coilovers are not rebuildable, and they don't mention anything about a manufacturer warranty, so you're likely on your own when it comes to repairs and so on.
If your budget doesn't allow any more and you want your daily to look a tad bit nicer, then you might get some use out of a set of D2 Racing coilovers, but for anything more than that, you'll want to look elsewhere.
Concluding Summary
Coilovers are one of those components that can make or break your driving experience. They might be expensive, but they'll not only improve the car's stance and ride height, but they'll also improve the handling.
Despite their seemingly endless choice and tempting low price, however, D2 Racing coilovers aren't worth your money besides the most basic use, and you're better off investing in a quality set of coilover shocks for your build.
Have you ever used D2 Racing coilovers in the past or know someone who has? Let us know your experience by leaving a comment below!