RWD cars are a ton of fun, especially if you like going sideways a lot. But for all-out traction and off-the-line grip, AWD JDM cars are the bee's knees.
You don't need a hefty budget to get your hands on one of these powerhouses! From incredible finds under $10k to impressive options under $20k and beyond, we've curated a list of the best AWD JDM cars that cater to all budgets.
So buckle up and join us as we explore these affordable marvels that'll fuel your JDM ambitions without emptying your wallet.
The Best AWD JDM Cars
Out of all the AWD JDM cars that you can get your hands on, both new and used, we've cherry-picked some of our favorites.
Most of these cars are out of production but you can still find them going relatively cheap. Here are some of the best AWD JDM cars you can buy.
2nd-Gen Mitsubishi Eclipse GSX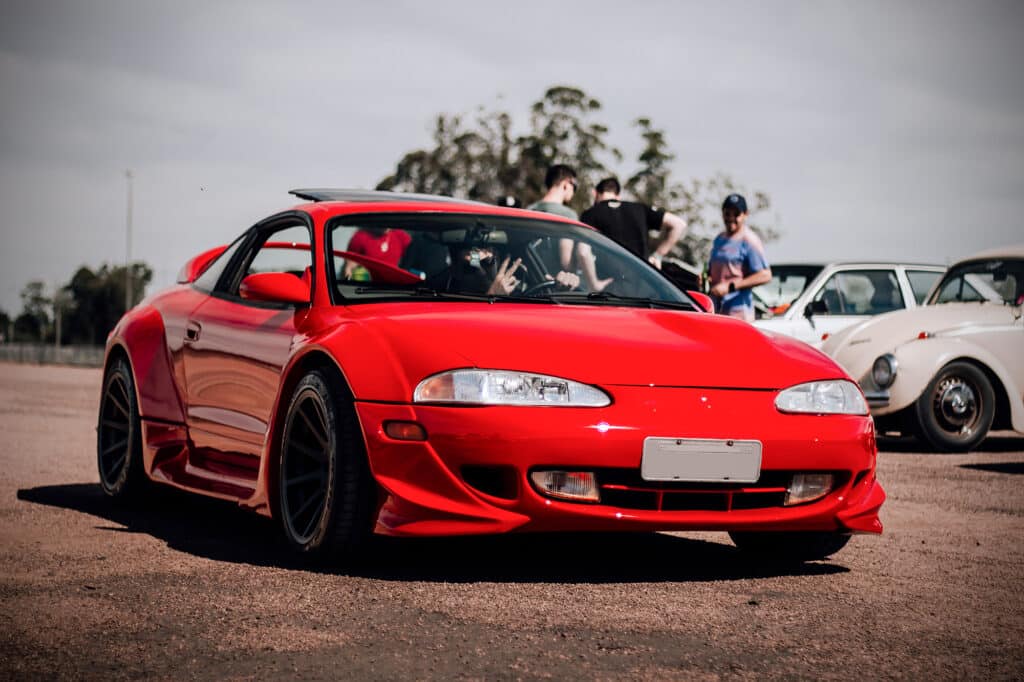 Price range: $5k – $20k
Power output: 210 hp
Engine: 2.0L turbocharged I4
Torque specs: 214 lb-ft
Curb weight: 3,130 lbs
The 2nd-generation Mitsubishi Eclipse GSX was a game-changer when it hit the JDM market in the mid-90s. With its sleek, aggressive design and powerful engine, it quickly became a favorite among car enthusiasts.
The GSX drew inspiration from Mitsubishi's successful rally racing history. It inherited technologies from the legendary Lancer Evolution, such as the AWD system and turbocharged engine, giving it a sporty edge.
The Eclipse GSX was no slouch when it came to speed. It could sprint from 0 to 60 mph in around 6 seconds and could reach a top speed of about 140 mph, making it one of the fastest cars in its segment.
Its all-wheel-drive system delivered exceptional grip and handling, making it a capable performer in all weather conditions. The interior boasted a modern, driver-focused design with comfortable seating and intuitive controls.
While the Eclipse GSX may not be as well-known as its predecessors, it remains a sought-after vehicle for car enthusiasts looking for performance and style.
Notably, it gained fame as Paul Walker's iconic ride in the first installment of the popular "Fast and Furious" racing movies, adding to its allure as a superb JDM option.
Toyota Celica GT-Four ST205
Price range: $7k – $25k
Power output: 252 hp
Engine: 2.0L turbocharged I4
Torque specs: 223 lb-ft
Curb weight: 3,064 lbs
With a rich rally heritage in the form of one full WRC series and 2 overall wins in the W2L series under its belt, the 6th-gen Toyota Celica GT-Four is exceptional, to say the least.
Despite not being as successful as its previous generations, the ST205 is just as impressive as it was the most powerful Celica to date.
It featured an all-aluminum hood, an improved CT20B twin entry turbocharger, 4-channel ABS, and Toyota's unique Super Strut suspension.
The SS suspension system is a more sophisticated and improved version of the go-to McPherson system which boasts enhanced grip and steering precision, as well as decreased torque steer.
Lastly, Celica's are known for their tuner-friendly engines, so you won't have trouble customizing them to your liking.
Nissan R34 Skyline GT-R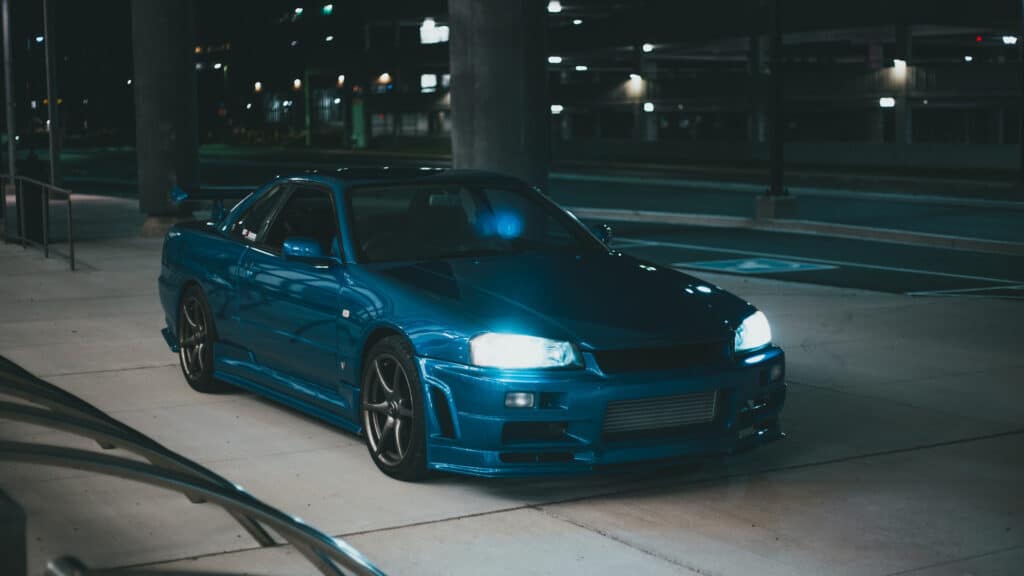 Price range: $25k – $600k
Power output: 280 hp
Engine: 2.6L twin-turbocharged I6
Torque specs: 293 lb-ft
Curb weight: 3,439 lbs
When it comes to all-wheel drive (AWD) models of the Nissan Skyline, the R32, R33, and R34 generations are the ones that offer this drivetrain configuration.
Among them, the Nissan Skyline R34 GT-R stands out as a legendary option for JDM enthusiasts due to its tunability and rich history.
One of the most fascinating aspects of the Skyline R34 GT-R is its tunability. With its robust RB26DETT engine and advanced AWD system, it has become a favorite among enthusiasts who enjoy modifying cars the right way.
The aftermarket support for the R34 GT-R is extensive, allowing owners to enhance the car's performance, handling, and aesthetics according to their preferences.
From engine upgrades such as turbos or superchargers and suspension modifications like coilovers, control arms, and sway bars, the R34 GT-R offers endless possibilities for personalization.
Apart from its tunability, the Skyline R34 GT-R boasts a rich history that adds to its allure. It gained worldwide fame thanks to its appearances in popular media, such as the Fast and Furious franchise.
Furthermore, it has an impressive motorsport heritage, dominating the endurance racing scene during its prime. The R34 GT-R's reputation as a formidable track machine has solidified its position as an automotive icon.
The R34 GT-R includes its advanced ATTESA E-TS Pro AWD system, which continuously monitors driving conditions and distributes power between all four wheels for optimal performance and traction.
Additionally, it features an innovative system called Super HICAS (High-Capacity Actively Controlled Suspension), which enhances stability and agility by actively controlling the rear-wheel steering.
Whether it's for spirited track driving, showcase-worthy modifications, or simply for owning a piece of automotive history, the R34 GT-R offers an unforgettable experience for JDM enthusiasts.
It's worth mentioning that even though the R34 Skyline was banned in the United States for the longest time, it's now legal to import.
1st-Gen Subaru Impreza WRX STI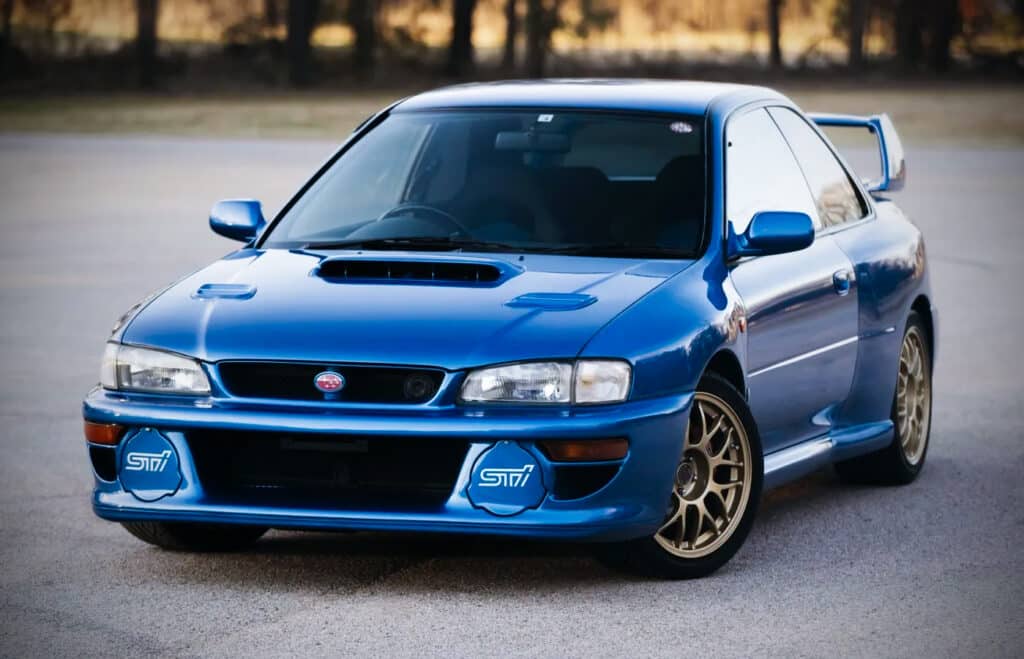 Price range: $6k – $30k
Power output: 276 hp
Engine: 2.0L turbocharged flat-4
Torque specs: 249 lb-ft
Curb weight: 2,689 lbs
This high-performance variant of the Impreza is renowned for its rally-inspired design and the Subaru EJ25 engine. At first glance, the STI 1st gen stands out with its aggressive and muscular appearance.
The large hood scoop, flared fenders, and rear wing not only enhance its aerodynamics but also give it a distinctive and unmistakable look. The rally heritage is evident in every aspect of its design.
Inside the cabin, the STI stays true to its sporty nature. Recaro seats and a three-spoke leather-wrapped steering wheel provide excellent support and control, making every drive an exhilarating experience.
While the interior may be slightly more focused on performance than luxury, it still offers modern amenities such as air conditioning and power accessories.
The STI 1st-gen is also notable for its success on the racing circuit. It dominated the World Rally Championship, thanks to its exceptional performance and reliability.
This motorsport pedigree further enhances its appeal for enthusiasts seeking a car that can deliver both on the road and the track.
Overall, the Subaru Impreza WRX STI 1st gen is a legendary sports car that continues to captivate enthusiasts with its rally-inspired design, performance capabilities, and success in motorsport.
It is a car that embodies the essence of Subaru's engineering excellence and has become a symbol of performance and excitement for many.
Mitsubishi Lancer Evolution VIII 
Price range: $15k – $80k
Power output: 276 hp
Engine: 2.0L turbocharged I4
Torque specs: 295 lb-ft
Curb weight: 2,888 lbs
The Mitsubishi Lancer Evolution VIII, launched in 2003, rapidly gained popularity in the United States as a direct rival to the Subaru Impreza WRX STI.
Its bold design and impressive 4G63 engine captivated JDM enthusiasts worldwide. The Evo VIII offered a diverse range of trims, from the standard GSR to the top-tier MR edition.
The MR boasted enhancements like a revised front limited-slip differential, 17″ BBS wheels, and an aluminum roof.
Advanced features like Bilstein shocks, electronic four-wheel drive, and traction control made the Evo VIII a formidable force in terms of handling and performance.
Its legendary rivalry with the WRX STI ignited the passion of car enthusiasts, as both cars showcased rally-inspired capabilities and exhilarating power.
For JDM enthusiasts, the Evo VIII is the pinnacle of Japanese performance engineering, delivering an unforgettable driving experience that embodies the true spirit of the JDM culture.
Infiniti G37X
Price range: $5k – $25k
Power output: 328 hp
Engine: 3.7L V6
Torque specs: 269 lb-ft
Curb weight: 3,847 lbs
Born from Nissan's luxury division, Infiniti, the G37x embodies the perfect blend of style, performance, and comfort. Its sleek design, refined interior, and VQ37VHR engine make it a perfect candidate for your next JDM project.
Moreover, the G37x boasts a strong aftermarket support network, making it easier for enthusiasts to personalize and modify their vehicles.
Another reason why the G37x is a popular choice for JDM fans is the fact that the G37x shares its chassis and drivetrain with the legendary Nissan Skyline, adding to its allure.
With its captivating design, luxurious features, and a nod to JDM heritage, the Infiniti G37x remains a standout choice for enthusiasts seeking a distinctive and engaging driving experience.
Our Top Picks
Each one of these is a legendary JDM car in its own right, and no matter which one you go for, you won't regret your decision.
However, choosing one out of this list may be difficult, so here are our top picks based on price.
Under 10k: Subaru Impreza WRX STI 1st Gen
The choice between the WRX STI and the G37x is a very difficult one as both pack plenty of power and have dedicated communities.
Ultimately, this choice comes down to personal preference, WRX's rally heritage and looks, or the G37x's luxury and Skyline chassis.
Under 20k: Mitsubishi Lancer Evolution VIII
The Lancer Evo is everything a JDM needs to be and more, from rich rally history to breathtaking performance, stunning looks to a strong and passionate community, you really can't go wrong with an Evo.
Over 20k: Nissan Skyline GT-R 5th-Gen (R34)
There is no discussion here, is there? When you think of the word JDM, this is the car that comes to mind. So let's make this simple, if you're looking for a JDM and can afford a Skyline, buy one.
Which other JDM cars would you add to this list? Please let us know in the comment section below!
If you enjoyed reading this post, we encourage you to share it with your friends on Facebook, Reddit, or your favorite car forums! Thank you for your support.