It's no news that emissions laws have long been robbing performance from all kinds of cars; everything from daily runabouts to expensive sports coupes. These days, catalytic converters and Otto particulate filters take precedence over the cars themselves.
Obviously, not everyone is on board with aggressively muffled exhausts and low horsepower figures. This is why most of us resort to aftermarket upgrades.
Some might even take it a bit further by installing test pipes. Even though it might seem like the perfect way to circumvent the issue, it won't fly with the authorities.
But what if we tell you that you can free up some ponies and let your exhaust sing without sacrificing emissions? That's where high flow catalytic converters come in.
These are particularly useful in places where emissions laws are pretty strict, like the sunny state, for instance.
If you want to abide by the law but don't want to compromise on performance, consider installing a high flow catalytic converter. In this article, we've compiled a list of the best high-flow cats that you can buy.
Are High Flow Catalytic Converters Good?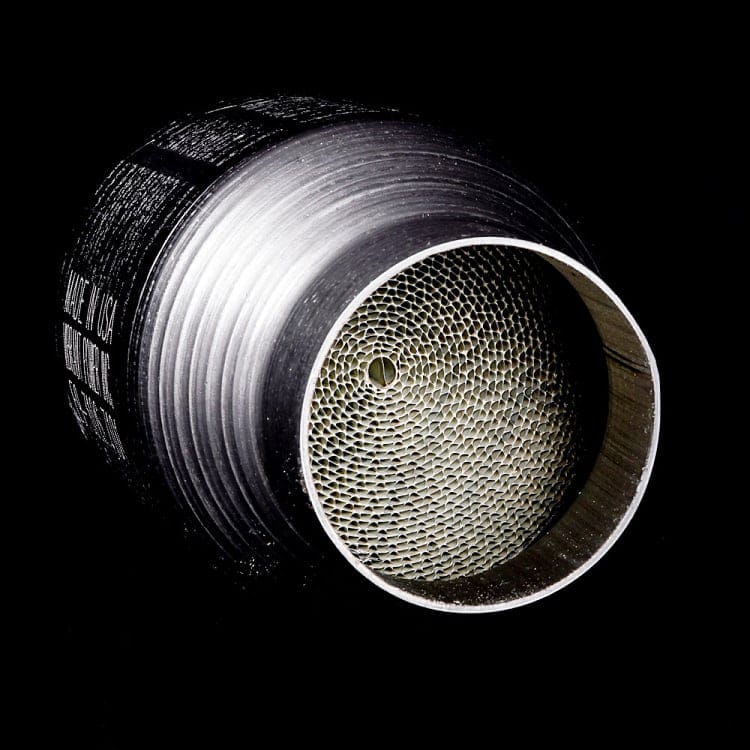 As you may be aware, catalytic converters alter the chemicals produced in the exhaust fumes to be safely released into the atmosphere. The exhaust gases flow through a honeycomb structure coated with rare metals.
Normal OEM catalytic converters aren't designed with performance in mind; they restrict the exhaust flow quite dramatically. That's why catalytic converter delete is a thing.
A high-flow cat, on the other hand, has a larger cross-section inside its honeycomb structure, allowing for fewer restrictions and better exhaust flow, leading to enhanced exhaust scavenging and reduced back pressure.
Additionally, high-flow cats also benefit from a higher concentration of rare metals in contrast to OE units and therefore are more efficient at catalyzing exhaust fumes.
We recommend pairing your high-flow cat with complementary exhaust mods because OEM exhaust components tend to be more restrictive — they dampen your HFC's performance.
That includes staples such as a catback or axle back exhaust and aftermarket exhaust manifold, better known as headers.
Here are the pros and cons of high flow cats.
Pros
Better exhaust flow
Better fuel economy
Improved exhaust sound
Increased performance
Quality and longevity tend to be better than OE units
Cons
Most systems are not legal across all states
Relatively expensive
Some high-flow systems can throw a check engine light
These Are the Best High Flow Catalytic Converters
Now that we have understood what high-flow cats are, let's look at a few of the best ones on the market. The list includes cats that are popular and relatively inexpensive, with some being proper bargains.
With the basics out of the way, let's take a closer look at the best high-flow catalytic converters that you can buy.
Flowmaster 223 Series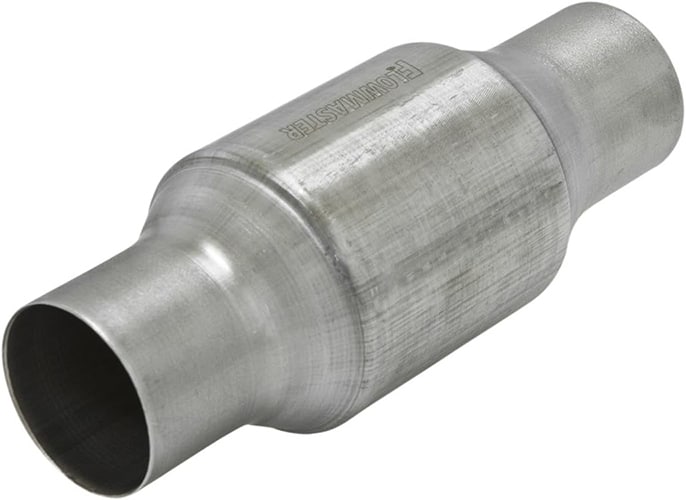 Manufacturer: Flowmaster
Part number: 2230130
Inlet diameter: 3.0″
Construction: Stainless steel
Substrate: Ceramic honeycomb
Cell count: 200
Buy on: Amazon
The Flowmaster 223 series is widely regarded as the best bang-for-buck product when it comes to high-flow cats.
This high-quality catalytic converter is manufactured in the U.S. and it features stainless steel construction for maximum durability.
The 223 series has a 200-cell design that is carefully engineered for maximum efficiency and to avoid MIL (Malfunction Indicator Lamp) codes common to low-quality catalytic converters.
Additionally, it is designed to meet federal EPA emissions requirements on a wide variety of applications. However, the Flowmaster 223 series is not legal for sale in the state of California.
These cats are universal fit and may require the use of welding, cutting, and tube-bending equipment for installation. Some of the highlight features of the Flowmaster 223 series include:
Excellent flow characteristics
Engineered to keep the "CEL" light off
Stainless steel construction
Durable and long-lasting
MagnaFlow Universal
Manufacturer: Magnaflow
Part number: 59956
Inlet diameter: 2.5″
Construction: Stainless steel
Substrate: Metallic
Cell count: 200
Buy on Amazon
Here's another universal catalytic converter that comes from a well-known exhaust system manufacturer.
The MagnaFlow 59956 makes use of a corrosion-resistant stainless steel construction and features a metallic substrate inside.
The metallic core makes it more durable than its ceramic substrate counterparts. Plus, the high-flow cat is lightweight and compact. However, it is on the expensive side.
The highlight of the MagnaFlow 59956 converter is the design itself. It's fabricated from a single CNC-formed and laser-welded tubular section, which is then spun into a round converter body shape.
MagnaFlow universal spun catalytic converters will fit any application and are available with different inlet and outlet diameters.
Unfortunately, the Magnaflow 59956 is not CA/CARB compliant and is not sold in California, Colorado, or New York.
You might want to try the MagnaFlow 337306, as it's the version legal for use in California. Highlight features of the MagnaFlow system include:
Federal emissions-compliant design
Formulated for gas and diesel applications
Made in the U.S.
Seam welded close to the converter body for a strong, tight bond
Autosaver88 ATC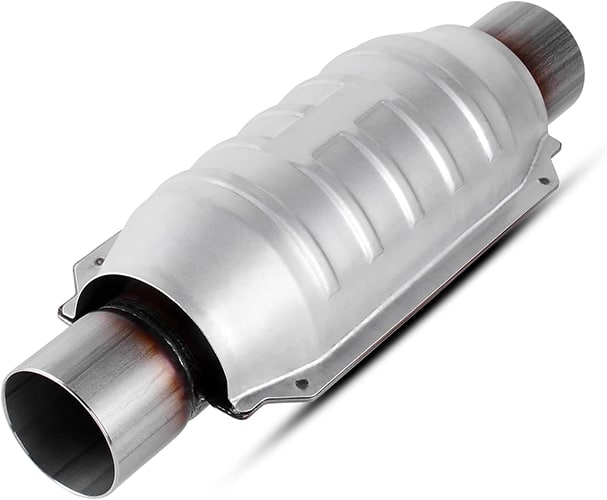 Manufacturer: Autosaver88
Part number: ATCC0017
Inlet diameter: 2.25″
Construction: Stainless steel
Substrate: Ceramic
Cell count: 400
Available on Amazon
Autosaver88 is a fairly common name in the catalytic converter space. Both the ATC0010 and ATC0017, among others, are made of high-quality stainless steel with excellent durability and high-temperature resistance.
It features ceramic honeycomb substrates; these have larger cavities to increase the reaction area. They contain plenty of metal catalysts to fully react while still remaining EPA compliant.
That said, the Autosaver88 ATC, much like the MagnaFlow 59956, is not sold in California, Colorado, or New York.
But on a more reassuring note, the company offers a 5-year or 50,000-mile limited warranty for any manufacturer defect. Notable features of the Autosaver88 converters include:
EPA Compliant
Durable Construction
High Efficiency
Universal Fit
Walker Super Series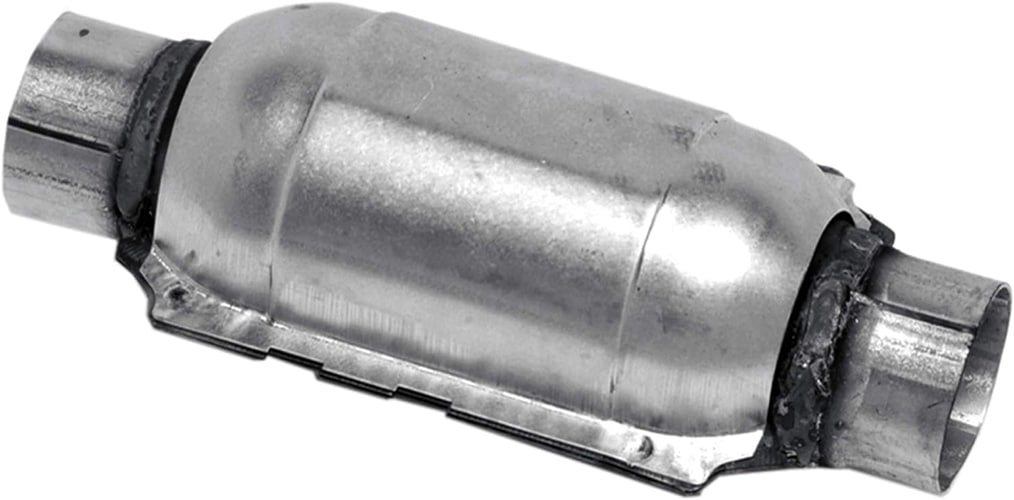 Manufacturer: Walker
Part number: 15051
Inlet diameter: 2″
Construction: Stainless steel
Substrate: Monolithic catalyst
Cell count: 400
Buy on: Amazon
Walker converters feature a stainless steel build while maintaining the OEM look. They're designed for leakproof operation and greater efficiency.
Walker, which also owns an exhaust company called Dynomax, makes the loudest high flow catalytic converters that have 26% more area than OEM units.
Sure, the Super series may not be as high-tech as some of their other offerings, but the converter offers excellent flow characteristics and gets the job done.
What's interesting is that the Super series converters are compatible with pre-OBDII vehicles (1995 and older). Even though they're officially discontinued, you can still buy them online.
The company recommends Standard converters for the aforementioned vehicles, while newer models (1996 and up) are better suited for their Ultra series converters.
It's worth mentioning that these high-flow cats are not legal in any state complying with California regulations. More features include:
Customizable design with expandable bushings for easy fitment
No break-in is required after installation
OEM-plus look
5-year/50,000-mile structural and 25,000-mile emissions warranty
Kooks Universal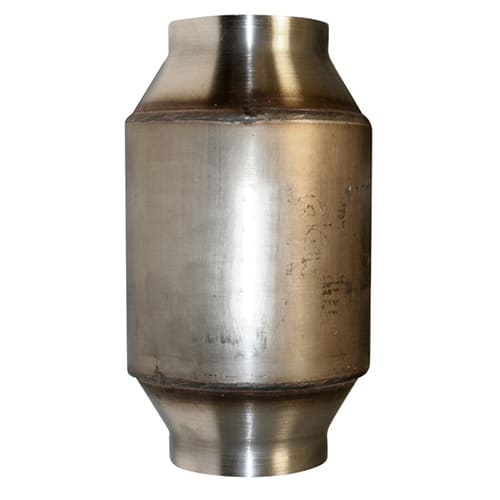 Manufacturer: Kooks
Part number: GE-90147
Inlet diameter: 3″
Construction: T304 stainless steel
Substrate: Metallic
Cell count: 400
Unlike most of the other cats we've mentioned, the Kooks GE-90147 is an ultra-high-performance part for engines rated up to 900 horsepower.
It's worth mentioning that this performance converter is not as affordable as some of the other high-flow cats mentioned in this list.
But they are well-built, with high-quality stainless steel construction and a metallic substrate core. The company claims compatibility with both naturally aspirated and forced induction applications.
These 400-cell cats are not readily available and are sold individually. Wait time for the Kooks 90147 is usually 4-12 weeks.
Although the high-performance cats are EPA-compliant, they aren't CARB-compliant, so installing these may be illegal in some areas of the country.
Here are some of the features offered by the Kooks high-flow catalytic converter:
Dyno and race-tested
Made of T304 aircraft-quality steel
Manufactured in the USA
400 CPSI high-flow substrate
SLP High Flow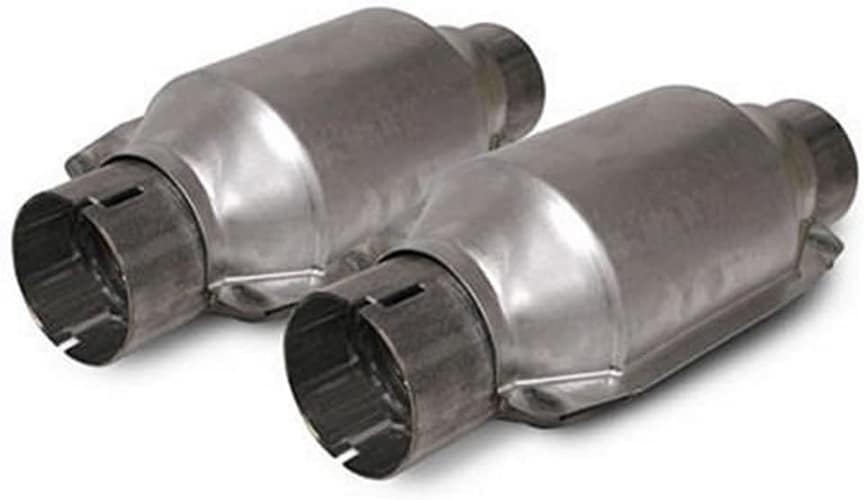 Manufacturer: SLP
Part number: M31040
Inlet diameter: 2.5″
Construction: Stainless steel
Substrate: Ceramic
Cell count: 200
Available on Amazon
The SLP M31040 will suit any car with a 2.5″ exhaust and is designed with low flow restriction and compact size in mind. The unit utilizes a stainless steel construction with a ceramic substrate at its core.
The cat-con is suitable for dual-exhaust applications, especially if you're looking for a multi-configuration system that switches profiles between catted and "wide-open" without throwing the check engine light.
You may find this high-flow cat in a lot of modified 1996-2010 Mustangs with the SLP X-Pipe. It's worth mentioning that the system was originally designed for use with SLP headers but can also be installed as a universal converter.
Although EPA compliant, the cat-con is not CARB-legal. Notable features include:
Ceramic substrate
Fits any 2.5″ exhaust
Sold as a pair for dual exhaust applications
Stainless steel construction
Best Performance Catalytic Converter: Our Pick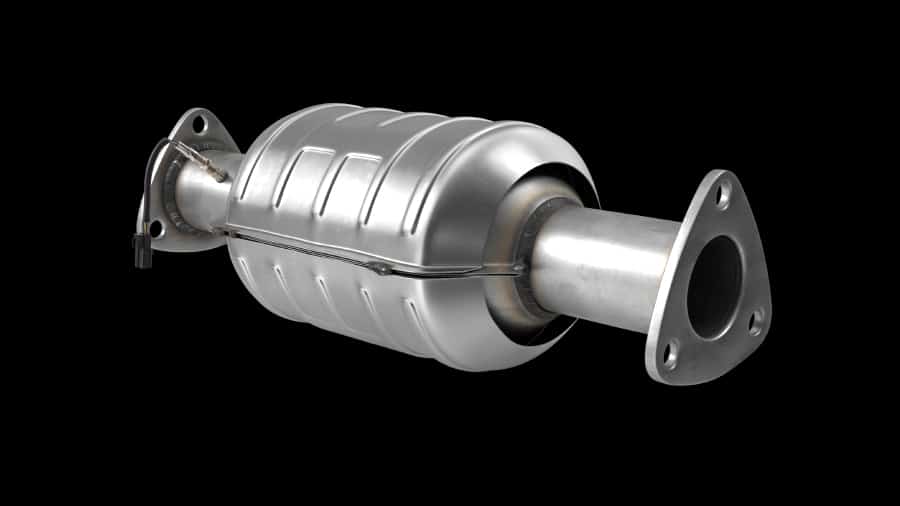 From this list, our top choice is the FlowMaster 223 Series as it features a perfect blend of affordability and performance.
Although these are not super-cheap, the high-flow cats do come well-built with excellent reviews overall.
The 3-way converter is designed to be used on vehicles with engine sizes up to 5.9L and a maximum weight of 5,500 pounds.
What has your experience been like with high flow cats? Do let us know by leaving a comment down below!
If you found this article useful, consider sharing it with a friend! We appreciate your support.