JDM 4-door cars come in various flavors, meaning there's something for everyone.
Whether you prefer extravagant luxury sedans, cheap 4-door JDM cars, basic JDM family cars, sports sedans, or even rally-bred tarmac monsters, there's a Japanese 4-door sedan for you.
In this article, we'll take a look at some of the best 4-door JDM cars money can buy.
We'll cover some older classics as well as some fairly new machines, and in true Low Offset tradition, we've made sure they can be modified to suit your individual taste.
Toyota JZX100 Chaser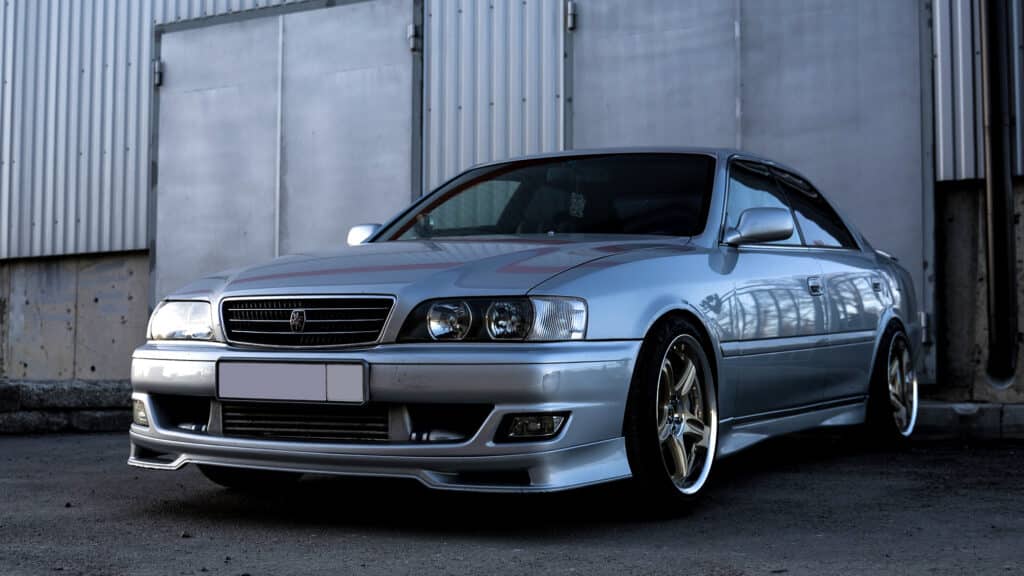 Production years: 1996-2001
Domestic market: JDM
Engine: Single turbo 1JZ-GTE 2.5L I6
Power output: 276 hp
Torque specs: 280 lb-ft
Drivetrain: RWD
Power to weight ratio: 0.086 hp/lb
Curb weight: 3,197 lbs
The 6th-generation of the Toyota Chaser, known as the X100, was introduced in 1996 and remained in production until 2001.
Over the years, the Chaser was powered by multiple engine options, however, the only models that we recommend are those with the 1JZ or 2JZ engines — unless you don't mind getting your hands dirty and swapping it in.
The 1JZ-GTE engine was found under the hood of the top-spec version, but it was a single turbo as opposed to the twin-turbo found in its predecessor.
While it did have a 2JZ option, it wasn't the turbocharged 2JZ-GTE unit, just the naturally aspirated version.
With its traditional front-engine, rear-wheel-drive layout, the Chaser is perfect for those who are more into spirited driving, whether on the streets or the track.
Having competed in the Japanese Touring Car Championship back in the 1990s, and seeing extensive use in drift events, this is a car with some serious racing pedigree.
Because of its legendary engines and motorsport history, there's no shortage of aftermarket parts available.
G50 Toyota Century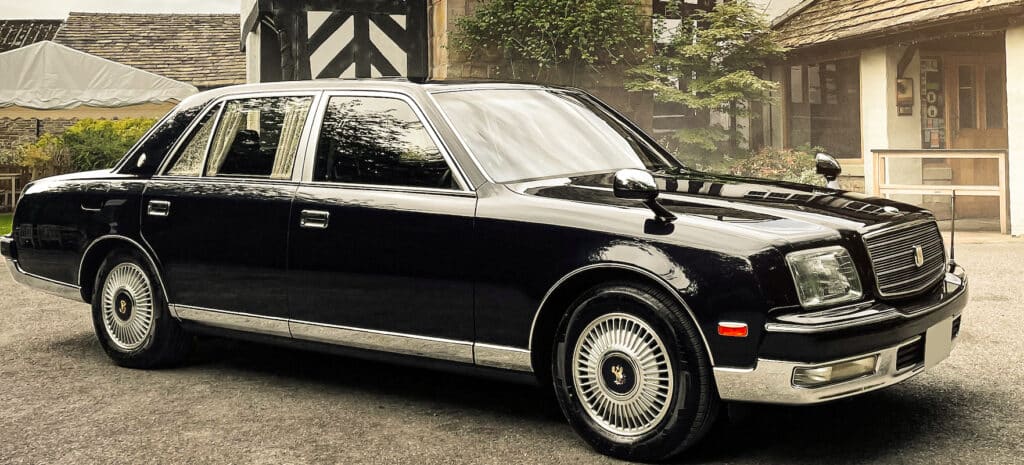 Production years: 1997-2017
Domestic market: JDM
Engine: 5.0L 1GZ V12
Power output: 276 hp to 295 hp
Torque specs: 340 lb-ft
Drivetrain: RWD
Power to weight ratio: 0.061 hp/lb
Curb weight: 4,520 lbs
The Toyota Century is the ultimate flex for JDM VIP car enthusiasts. It's pretty much Japan's answer to the likes of Maybachs and S-Class Mercedes since it's made specifically for the highest-ranking members of Japanese society.
2nd-generation Toyota Century models, also known as G50, are the ones that we'd consider buying.
The Toyota Century was available with two 5.0-liter V12 engines, one for the JDM market and one for export models; the JDM version produces 276 hp, and the export version churns out 295 hp.
Whether you're dropping the kids off at school or cruising with your friends to your local Cars & Coffee event, JDM 4-door cars don't get more stylish than this.
In fact, consider having a friend or family member drive you around so you can enjoy the car to its fullest because the rear seat is where the true Century experience is.
The Toyota Century has a silky-smooth throttle response and pillowy suspension to ensure the passengers don't spill their Macallan 24.
Passengers in the rear also get to enjoy reclining seats with massaging and heating functions, and it's even possible to slide your feet through the front passenger seat for unmatched comfort if you need a nap.
The Toyota Century certainly isn't among the fastest Japanese cars of all time, but it does make an excellent base for a Japanese VIP-style build.
Slam it to the ground, fit a set of nice (and expensive) wheels, and add a subtle body kit to transform it into a proper head-turner.
R34 Nissan Skyline 25GT-X Turbo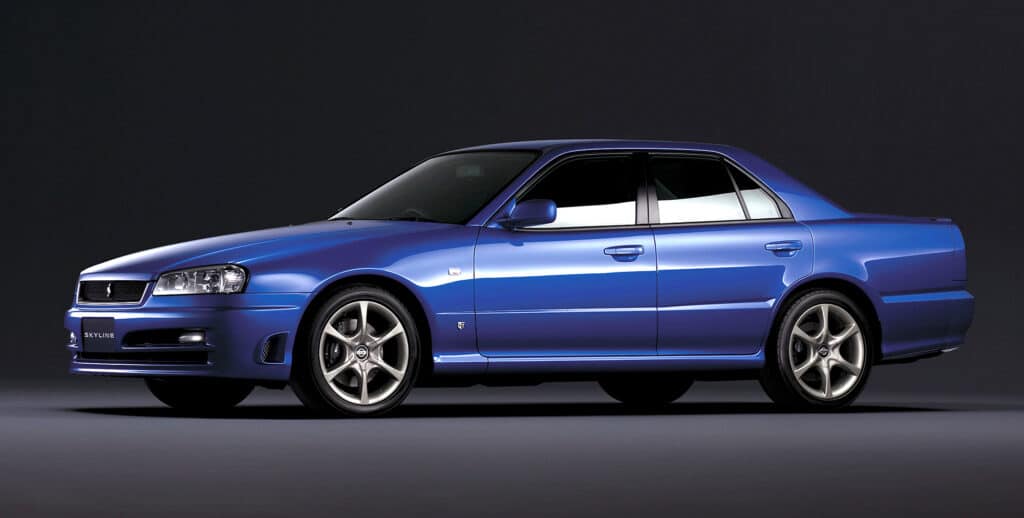 Production years: 1998-2001
Domestic market: JDM
Engine: 2.5L turbocharged RB25DET I6
Power output: 276 hp
Torque specs: 246 lb-ft to 268 lb-ft
Drivetrain: AWD
Power to weight ratio: 0.084 hp/lb
Curb weight: 3,285 lbs
Everyone knows the legendary Skyline GT-R, but prices are downright ridiculous these days. Besides, what if you want something similar but with 4 doors?
Well, there's a solution to that: Enter the 4-door R34 Nissan Skyline 25GT-X Turbo.
The Skyline 25GT-X was only available in 4-door guise, and it featured lots of optional extras compared to the 25GT and 25GT Turbo models it was based upon.
It has tinted rear windows and even a pop-up LCD where you'd usually find a triple instrument cluster on the turbo models.
The Skyline 25GT-X Turbo also had the excellent 2.5-liter RB25DET NEO turbo inline-six engine.
While not as famous as the RB26DETT, this powerplant still produced as much as the Japanese carmakers' gentlemen's agreement allowed.
The official power figure was 276 hp, and it also produced between 246 lb-ft and 268 lb-ft of torque.
These are impressive figures for a stock sedan, but we all know it can handle a lot more power, plus there's no shortage of performance parts.
If you prefer to stay discreet, the 4-door Nissan Skyline GT-X can be turned into the perfect sleeper car. Alternatively, you can create a real head-turner if you want to be the center of attention.
UCF10 Toyota Celsior / Lexus LS 400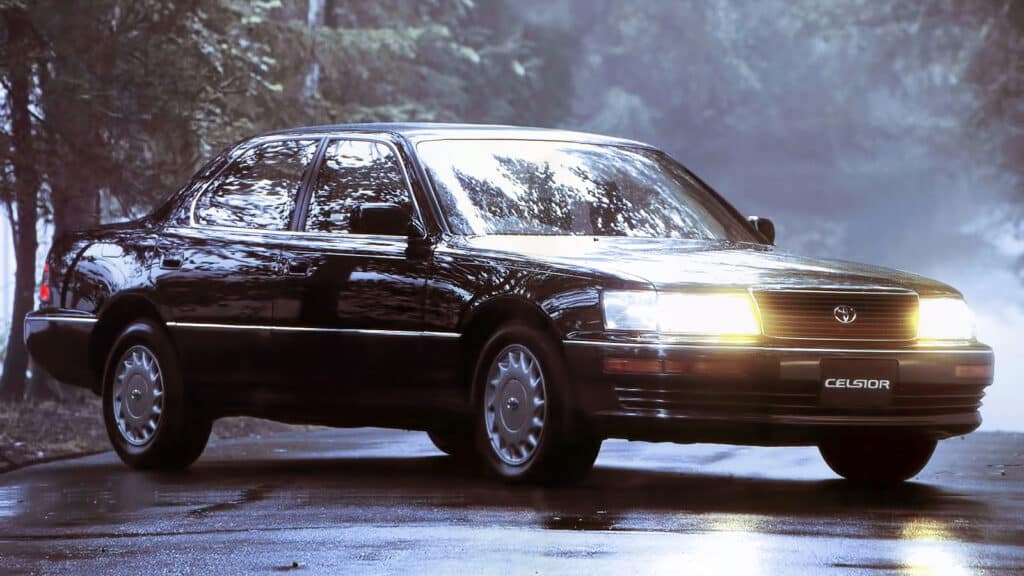 Production years: 1989-1994
Domestic market: JDM, USDM, EDM
Engine: 4.0L 1UZ-FE V8
Power output: 256 hp
Torque specs: 260 lb-ft
Drivetrain: RWD
Power to weight ratio: 0.066 hp/lb
Curb weight: 3,858 lbs
Toyota created the Celsior to replace the Crown as the brand's flagship sedan, which also happens to be surprisingly good.
Outside of Japan, the Celsior would go up against Acura and Infiniti, so Toyota sold it under their luxury brand, Lexus, as the LS400.
Whether you buy a JDM Celsior or a domestic market LS400, the chassis code is the same: UCF10.
Toyota ensured the Celsior/LS400 was sportier than the competition by fitting the 1UZ-FE 4.0-liter, 32-valve, V8 engine that sent all 250 hp to the rear wheels via a 4-speed automatic transmission.
Toyota also wanted it to be more luxurious than anything found in the same price range, so they installed multiple-layered leather seats, and there's wood trim on the dashboard, center console, steering wheel, and door panels.
Get in the back, and you'll find that the rear armrest in the middle also doubles as a cup holder.
Toyota discontinued the Celsior in 2006, but its build quality is legendary, so find an example that's been looked after, and you can enjoy it for a lifetime.
Those who are into modified cars will be happy to know that plenty of aftermarket parts are available, including body kits.
The Celsior/LS400 is a popular car for both drift-style and VIP-style builds, or you can turn it into something completely unique to suit your own taste.
FD2 Honda Civic Type-R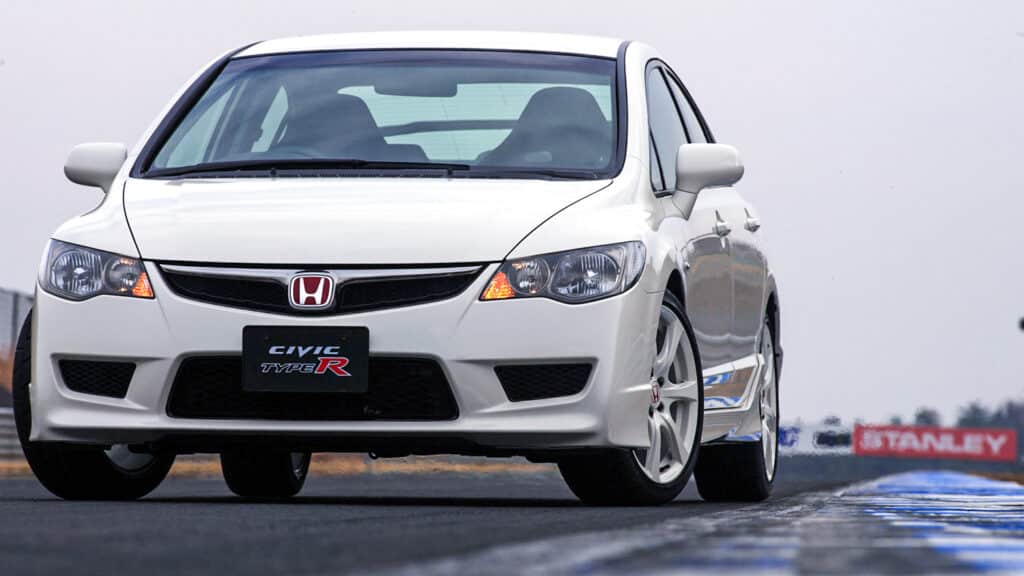 Production years: 2007-2011
Domestic market: JDM
Engine: 2.0L K20A I4
Power output: 222 hp
Torque specs: 159 lb-ft
Drivetrain: FWD
Power to weight ratio: 0.079 hp/lb
Curb weight: 2,800 lbs
The FD2 arrived on the market in 2007, and to be honest, it's not the most sought-after version of the Honda Civic Type-R.
That's probably because the 3-door hatchback had been replaced by a 4-door sedan, which had gained both size and weight compared to its predecessors. However, before you write it off, you should know this is one serious driving machine.
The FD2 is much more stable during high-speed cornering thanks to its increased size and aluminum-bonded chassis, and it's easily one of the best 4-seat JDM cars ever made.
In fact, Honda said the chassis is 15% more rigid than the iconic DC5 Integra Type R, a car widely lauded as one of the best-handling FWD cars of all time.
The FD2 Civic Type R also packs a serious punch, with the K20 engine producing 222 hp and 159 lb-ft of torque that's sent to the front wheels via a close-ratio six-speed manual transmission.
This being a K-series engine, it's also immensely tunable, whether you want to keep it naturally aspirated or go down the turbo route.
Y51 Nissan Cima
Production years: 2012-2022
Domestic market: JDM, USDM
Engine: 3.5L VQ35HR V6 hybrid
Power output: 369 hp
Torque specs: 457 lb-ft
Drivetrain: RWD
Power to weight ratio: 0.085 hp/lb
Curb weight: 4,299 lbs
The Y51 Cima is actually a long-wheelbase version of Nissan's Fuga Hybrid, which they introduced as an alternative to Toyota's limos; the aforementioned Century, and the Crown Majesta.
This version was also sold in the States as the Infiniti Q70L from 2015 to 2022. Even Americans can get their hands on one without waiting for it to turn 25 years old before they can import it.
Being a relatively new car, it should be a reliable option for those who want a luxurious but fun daily driver.
Design-wise, the Y51 Cima features the traditional coke bottle styling, and it has some lines that remind us of the Maserati Quattroporte, so you can bet it'll turn some heads.
Unfortunately, it doesn't come with a V8 engine, instead, it features a hybrid powertrain consisting of the 3.5-liter V6 VQ35HR engine and a high-output lithium-ion battery connected to an HM34 electric motor.
The same HR motor can be found in cars such as the Nissan 350z and Infiniti G35, however, pre-2007 versions of those cars featured the VQ35DE engine.
The gasoline engine alone produces 302 hp and 258 lb-ft, and the electric motor adds 67 hp and 199 lb-ft of torque.
Mitsubishi Lancer Evolution VI
Production years: 1999-2001
Domestic market: JDM, EDM
Engine: Turbocharged 2.0L 4G63 I4
Power output: 276 hp
Torque specs: 275 lb-ft
Drivetrain: AWD
Power to weight ratio: 0.092 hp/lb
Curb weight: 2,998 lbs
The Evo VI is a rally-ready car that you can drop your kids to school in followed by a grocery run.
Some will say the 6th-generation of this rally-bred sports sedan was the best of them all, and we'd add that it's undoubtedly one of the coolest AWD JDM cars that money can buy.
This was the car Tommi Mäkinen drove to secure his fourth WRC driver's title, and Mitsubishi would leave the sport not long after.
The Lancer Evo packs a turbocharged 2.0-liter engine, which, of course, sends its claimed 276 hp (in reality it was around 300 hp) to all four wheels via a 5-speed manual and an Active Yaw Control differential.
As impressive as all this is, it's most likely the Evo VI's styling that has drawn in many of its fans.
No matter which angle you view the car from, it's all straight lines, drama, and masculinity — from its square-jawed front bumper to the oversized rear wing.
S160 Toyota Aristo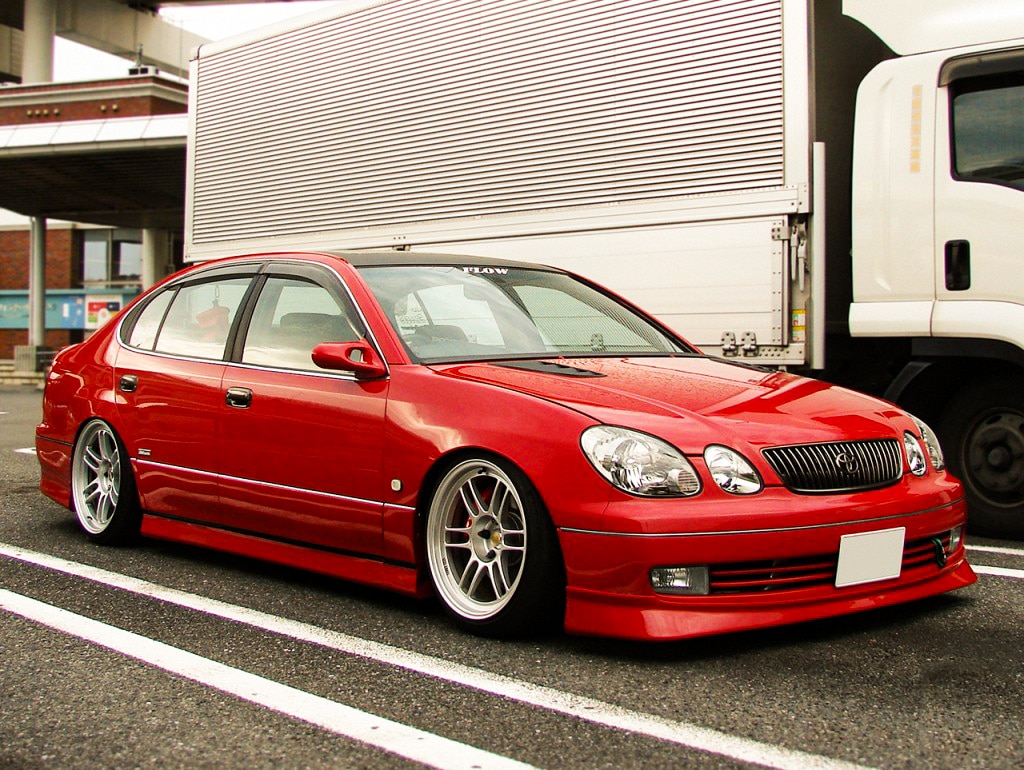 Production years: 1998-2005
Domestic market: JDM
Engine: Turbocharged 3.0L 2JZ-GTE I6
Power output: 276 hp
Torque specs: 333 lb-ft
Drivetrain: RWD
Power to weight ratio: 0.074 hp/lb
Curb weight: 3,704 lbs
Whereas the Toyota Century offers unrivaled JDM luxury, the Toyota Aristo is the VIP's luxury performance sedan of choice.
The S160 Toyota Aristo was also sold as the Lexus GS 300, and by 2005, Lexus would take over production, meaning the Aristo was no more, but its identical sibling was still available.
Toyota used the Crown's chassis and double wishbone suspension and threw in the 2JZ engines from the Supra lineup.
The end result was a Japanese luxury sedan that would leave the competition in its dust both on the straights and in the corners.
4.0-liter and 4.3-liter V8 engines were also available as an option, and while they're not jaw-droppingly powerful when stock, they can handle 500 whp on stock internals.
The interior is nice, but not overly luxurious. It has premium leather or fabric upholstery, but the rear seats don't feature heating and can't recline.
EC5 Mitsubishi Galant VR-4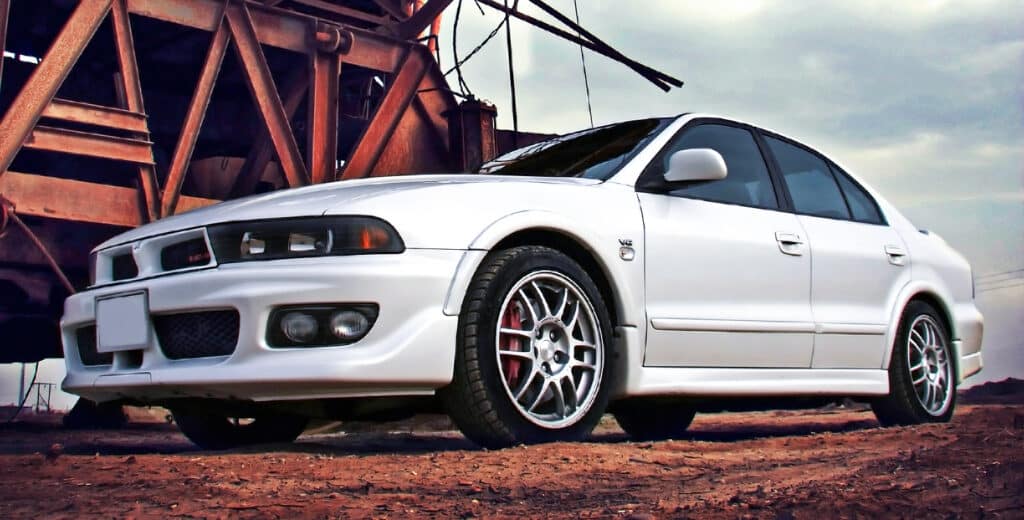 Production years: 1996-2002
Domestic market: JDM
Engine: Twin-turbo 2.5L DOHC 24v V6
Power output: 276 hp
Torque specs: 272 lb-ft
Drivetrain: AWD
Power to weight ratio: 0.079 hp/lb
Curb weight: 3,460 lbs
Mitsubishi originally built the Galant VR-4 to compete in the World Rally Championship, but it was eventually replaced by the highly successful Lancer Evolution.
From there, Mitsubishi decided to use the Galant VR-4 sports sedan to showcase their fancy tech instead, such as the INVECS-II self-learning automatic transmission.
The EC5 was the 8th-generation of the Galant, and it would be the last version of the VR-4, with production ending in 2002.
If the Lancer Evo isn't practical enough for you, the larger and more spacious Galant VR-4 may just fit the bill.
It has a 2.5-liter twin-turbocharged V6 engine that sends 276 hp to all four wheels through either a 5-speed manual or automatic transmission.
That's enough power to push it past 60 mph in just 5.3 seconds and on to the 160 mph mark when not restricted.
The Galant VR-4 is still a good-looking car today, and it's becoming increasingly sought-after all around the world.
Closing Thoughts
Owning an old JDM car is easier said than done; it only makes sense if you already have a reliable daily driver to get you from A to B.
With that in mind, if you're looking for something reliable and modern, we recommend the Y51 Nissan Cima. It's got a tried and true VQ V6 under the hood along with all the modern bells and whistles you could ask for.
Alternatively, if you don't mind the downtime and want something fast that loves going sideways, then the JX100 Chaser is where it's at.
What's your favorite 4-door JDM car? Let us know by leaving a comment below. If you found this post entertaining, share it with a friend! We appreciate your support.