If you drive an older Lexus or Toyota, there's a good chance you're running a 1UZFE engine in your vehicle. From 1989 to 2004, these engines were a staple throughout the brand — and for a good reason too.
Toyota's 1UZFE is extremely reliable, and if you know what you're doing, you'll find it easy to upgrade and tune. For this reason, it's not uncommon to see them swapped into other Toyotas as well.
In this guide, we'll take a closer look at everything that makes the 1UZFE so awesome, right from its specs to its tuning potential.
History of Toyota's Iconic 1UZFE
The 1UZFE made its debut in 1989 but underwent several upgrades throughout the years before transforming into the 2UZFE and 3UZFE engines. While the original range of vehicles was limited, by 1995 it became the standard motor in 10 different models among the Toyota and Lexus range of cars.
Toyota went on to reduce the 1UZFE's weight by adding lighter connecting rods and upped the horsepower by increasing the overall compression ratio.
But that wasn't the last time Toyota upgraded the engine. In 1997 they released an even more significant upgrade by introducing Variable Valve Timing (VVT) which dramatically increased the overall horsepower in the engine.
The last upgrade seemed to do the trick too because in 1998, 1999, and 2000 the engine made Ward's Top 10 Engines list –– a prestigious accomplishment.
1UZFE Specs
Engine Code: 1UZ-FE
Layout: Four-stroke, V8
Displacement: 4.0 L, 3,968 cc (242.1 cu in)
Fuel System: Multi-point fuel injection
Cylinder Bore: 3.44 inches
Piston Stroke: 3.25 inches
Compression Ratio: 10.5:1
Power: 296 hp at 6,000 rpm
Torque: 333 Nm at 4,000 rpm
Firing Order: 1-8-4-3-6-5-7-2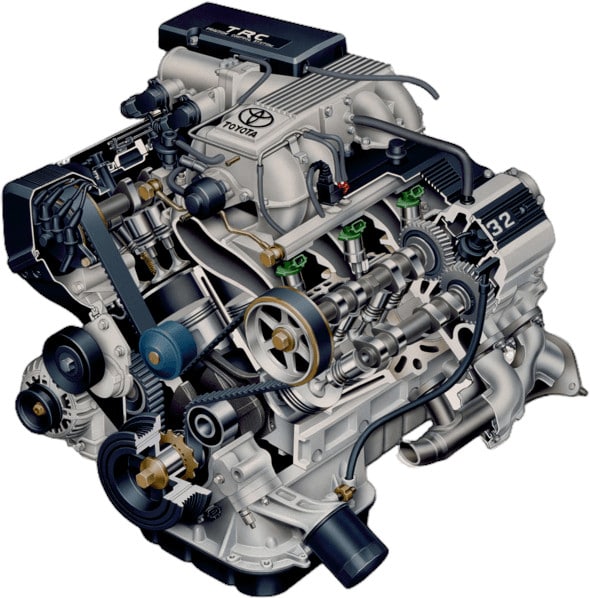 Not only is the 1UZFE one of Toyota's most reliable engines, but it's also got some pretty good numbers. For starters, it's a 4.0L engine that has 242.1 cubic inches of displacement. And while the original 1989 engine puts out 256 horsepower, it didn't take Toyota long to up that number.
With their 1995 makeover, they pushed the number to 261 horsepower, and just a few years later, in 1997, the VVT system increased its overall horsepower to 290 horsepower.
Some unique features of this engine include the fact that the water pump runs off the camshaft instead of the crank, and it features a quad overhead camshaft design. Each camshaft is timing belt-driven — which keeps everything running perfectly.
Cars That Used the 1UZFE
There is a wide range of vehicles that come with a 1UZFE. But while we've included those vehicles in our list below, just because you don't have one doesn't mean that you can't drive a vehicle with this engine.
If you drive a Toyota GT86, Scion FR-S, or Subaru BRZ, adding a 1UZFE is a common swap. All you'll need is a 1UZFE swap kit and a little bit of fabrication, and you'll have a top-notch engine in your vehicle in no time!
Some of the most popular cars that came with a 1UZFE from the factory include:
1989-2000 Lexus LS400/Toyota Celsior
1989–2002 Toyota Crown/Toyota Crown Majesta
1989–2004 Toyota HiAce HiMedic Ambulance (Japan only)
1991–2000 Lexus SC400/Toyota Soarer
1992–2000 Lexus GS400/Toyota Aristo
1995–1997 SARD MC8/MC8-R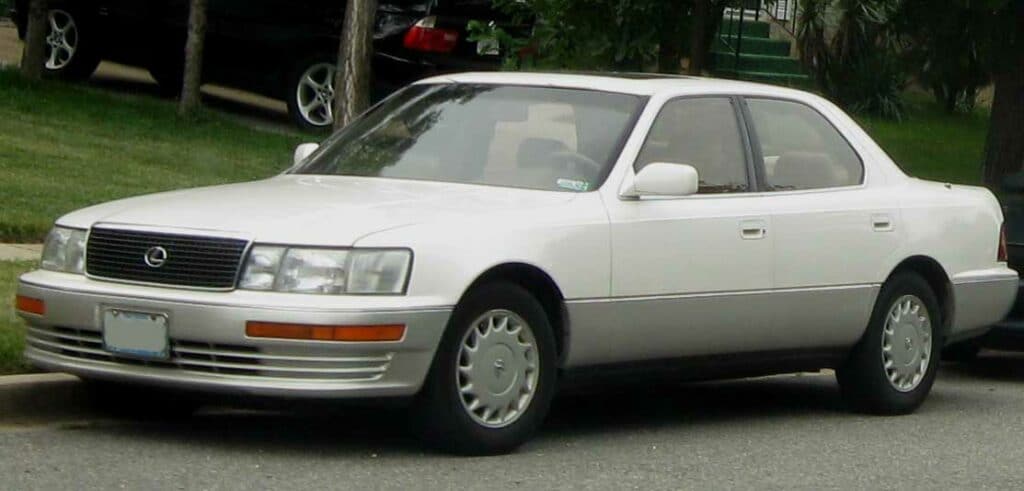 Aftermarket Upgrades and Tuning
One of the best parts of the 1UZFE motor is that it's easy to get more power out of it with some aftermarket car parts and a tune. There are plenty of 1UZFE performance parts on the market, and believe it or not, swapping this engine into some cars is quick and easy.
If you're unsure how you can upgrade your engine, we've highlighted a few different ways to get the job done below.
Getting Started
Some of the easiest upgrades you can make to your 1UZFE don't require a tune or even major modifications. Start by keeping it simple.
Replace the intake manifold, get a high-performance exhaust system, then replace the ECU. Replacing the ECU might seem drastic, but it's necessary because it's pretty much impossible to tune the OEM ECU.
And that's what you're going to need to do if you replace the camshaft, add high-flow injectors, or other fuel pump upgrades. It all starts with an aftermarket engine control module and a tune. Being such strong engines, they can make great stroker motors.
Can you believe that HRE in New Zealand managed to get 510HP out of this engine?
Forced Induction
Once you're ready to go past some minor changes to add horsepower, you're in a good place to consider forced induction. The 1UZFE is a naturally aspirated engine from the factory, which means two things.
First, you can add a lot of power to these engines. The newest 1UZFE engines produce 290 horsepower from the factory, and when you add a turbo or supercharger to one in conjunction with supporting modifications, it's possible to get a very reliable 400 horsepower out of one.
But there's a caveat. You need to be careful when adding making this kind of upgrade to a traditionally naturally aspirated engine. You can't just add a 1UZFE turbo or a 1UZFE supercharger kit and hit the road.
Yes, you need to tune it, but you're also going to need to replace other components so your vehicle can handle all the extra torque and power. Consider replacing the fuel pump, intakes, exhaust valves, and even the spark plugs to help keep everything in one piece.
Turbochargers
Turbochargers are one of the most affordable ways to add a ton of horsepower to your 1UZFE and you get a lot of different options to choose from.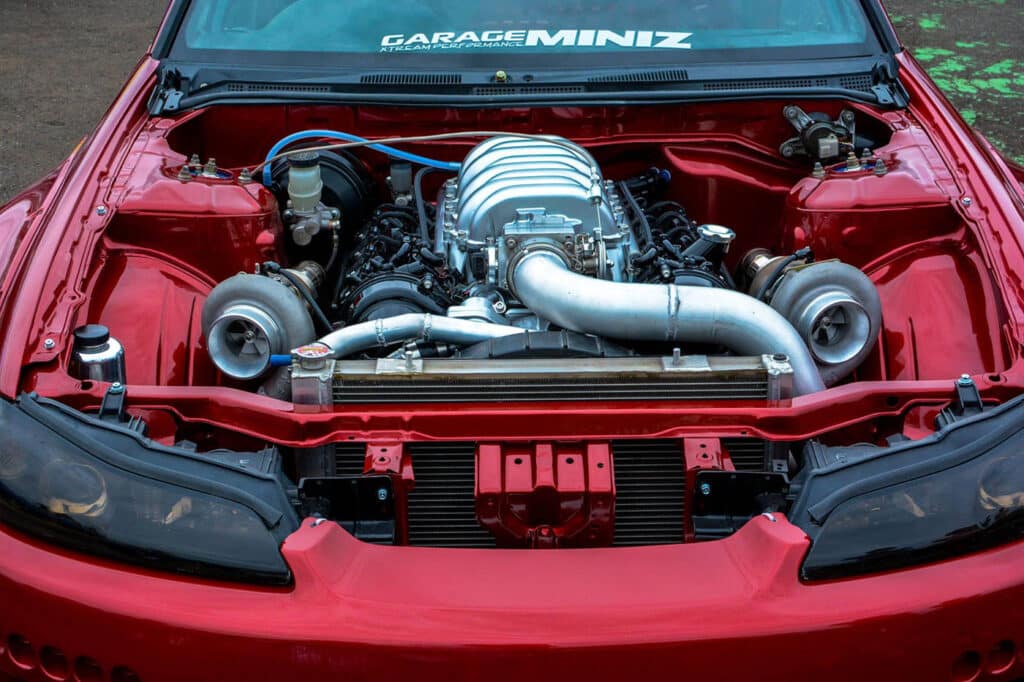 First, if you're a skilled fabricator, you can purchase a 1UZFE turbo kit and install all the components yourself. However, you need to note that the exact kit you're going to need will vary by the type of vehicle you drive.
A kit that works for a 1989 Lexus LS400 likely won't work for a 2002 Toyota Crown. It has to do more with the intake and exhaust piping than with the engine, so make sure that you know what you're getting before making any purchases.
Alternatively, you could drive your car to a performance shop and let them take care of it for you. This is a more expensive option, but it takes a lot of the stress off your shoulders.
Finally, while there are some twin-turbo kits that you can slap on a 1UZFE, you need to be careful with them. Usually, these kits will put out too much horsepower and damage your engine internals in the long run.
Superchargers
If you drive a car with a 1UZFE, you could also opt for a supercharger instead of a turbocharger.
While the 1UZFE supercharger kits are a little more expensive, it's a great way to unleash the engine's true power potential.
If you install a supercharger and all the supporting components, it's not unrealistic to see an increase in horsepower by up to 50 percent! That means a stock third gen 1UZFE can put out close to 435 horsepower.
Comparing the 1UZFE & VH45DE
Another legendary engine that the 1UZFE often gets compared to is the Nissan VH45DE. In short, the Toyota 1UZFE is more reliable, but the VH45DE has slightly better performance specs. But while that's the takeaway, we'll dive into the details below.
For starters, the VH45DE is slightly larger at 4.5L of displacement while producing about 310 horsepower. However, all the VH45DE engines that Nissan produced before 1994 utilized plastic timing chain guides which tend to fail over time.
However, if you're getting a VH45DE engine, you need to check if it has Variable Valve Timing (VTC). Otherwise, you're actually getting a drop in horsepower and also a drop in reliability. The engines without VTC technology still produce an impressive 280 horsepower, so you're not getting a low-powered engine.
Just like the 1UZFE, the VH45DE is a naturally aspirated engine, so if you're willing to put in the work, you can easily pump out more horsepower with a few modifications.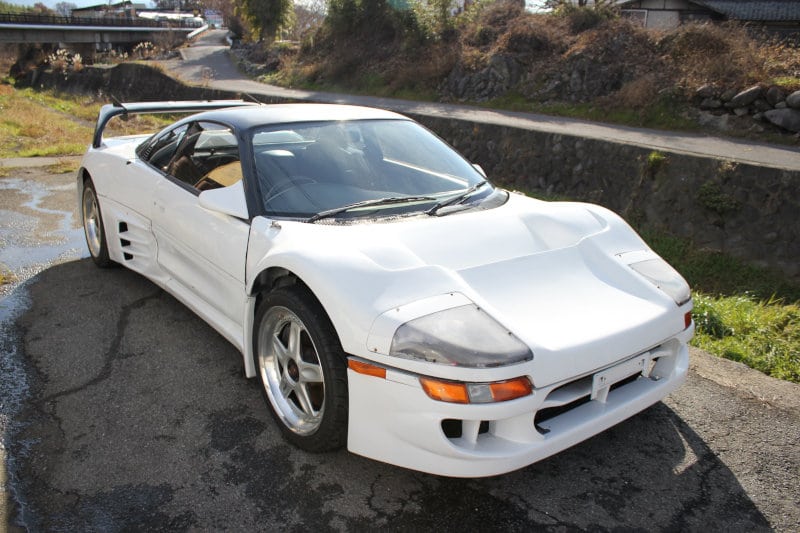 Finally, if you're looking between the two engines, two significant factors are the price and the ability to track down parts.
In both these areas, the 1UZFE excels. There were simply more 1UZFE engines built, which has driven down the price and increased the number of parts in production. Moreover, since there are more of these engines out there, it's easier to find aftermarket kits as well.
While there's no wrong choice between the 1UZFE and VH45DE, you're going to spend a lot less time hunting for parts — which is sure to reduce your total frustration. And you get to save some money in the process.
Final Thoughts
The 1UZFE has proved to be an engine way ahead of its time, so you'll know why performance enthusiasts are so stoked about 1UZFE engine swaps. Give it the right kind of maintenance and the 1UZFE is bound to stick with you in the long run.
While these engines don't offer a ton of power straight from the factory, they're easy to upgrade. It doesn't take much to transform the 1UZFE into a horsepower monster that tears up the track. It's certainly not perfect, but it sure is a fun engine to play with.
Do you still have questions, or do you just want to share details on the car you've swapped one into? We'd love to know your experience with this engine in the comments below!