Most JDM car enthusiasts haven't had the opportunity to visit the Land of the Rising Sun to see the colorful Bosozoku builds in person, but we've all seen them on our favorite YouTube channels.
With their over-the-top, unique styling features, loud paint jobs, and even louder exhausts, they're certainly an acquired taste.
While there's no denying their weirdness, these unique builds also attract all the attention when rolling into Daikoku Futo — even when surrounded by Skyline GT-Rs, RX-7s, Supras, and the occasional highly modified Japanese Lamborghini.
In this article, we'll take a closer look at the history of the Japanese Bosozoku cars, or Kaido racers, if you will, and we'll explore what goes into building one.
Why Are They Called Bosozoku Cars?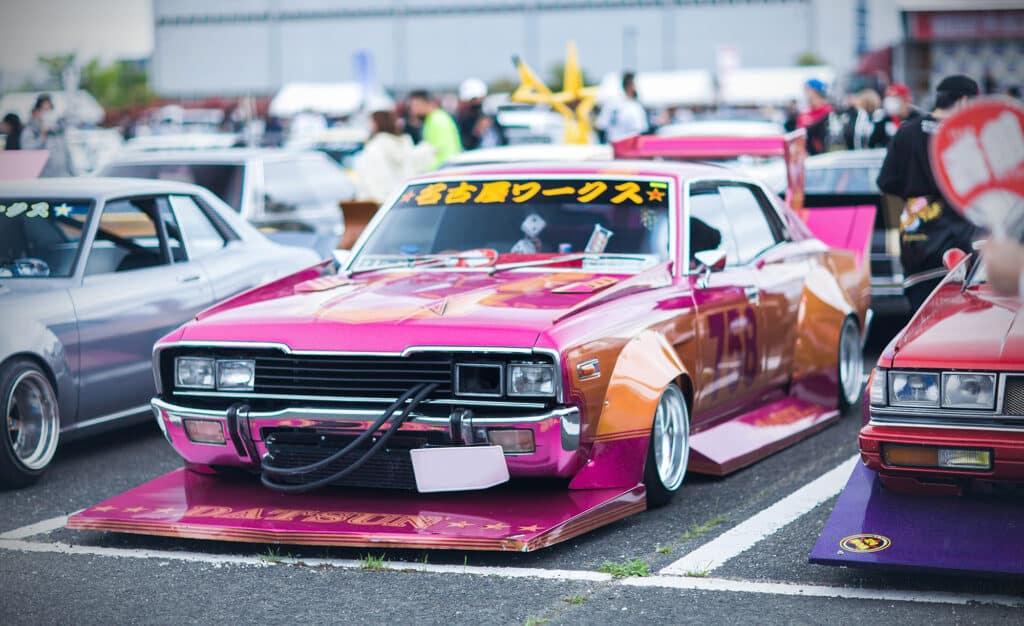 Bosozoku cars is a term commonly used these days for a certain style of modified, classic JDM cars. However, strictly speaking, it's not the correct term.
It's no secret that this is one of the more confusing Japanese car subcultures, so it's important to understand the meaning behind some of the words before we dive deeper.
Bosozoku traditionally refers to Japanese biker gangs but has become something of an umbrella term for highly modified, colorful, and loud builds.
Kaido translates to "road", so Kaido racer is a "road racer". We think it's better to view them as a road-driven tribute to classic cars meant for racing.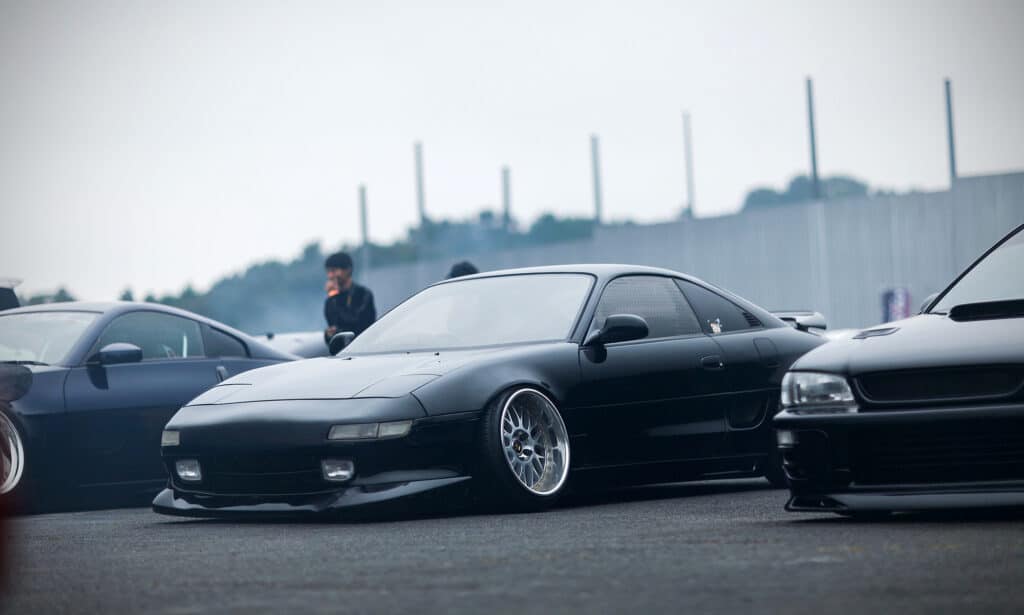 Shakotan means "low car", and generally refers to the ones slammed far enough to scrape the road.
Kyusha is an old car.
Zokusha can be roughly translated to "car tribe", but it's commonly used to refer to those who drive old (Kyusha), modified, lowered cars (Shakotan).
Grachan, which is a subgenre of Kaido racers, is a term used when referring to Kaido racers that are inspired by the super silhouette race cars from the 1980s with their larger-than-life body kits. It takes style cues from the Fuji Grand Championship.
And finally, Yankii refers to cars that have a race car-inspired look.
For simplicity's sake, we'll use the terms Kaido racer and Bosozoku in this article, even though it's not 100% correct, as those are the best-known ones.
History of Bosozoku Cars
Bosozoku cars are a somewhat obscure part of JDM culture these days, but in the not-too-distant past, they were a much more common sight at Japanese car shows.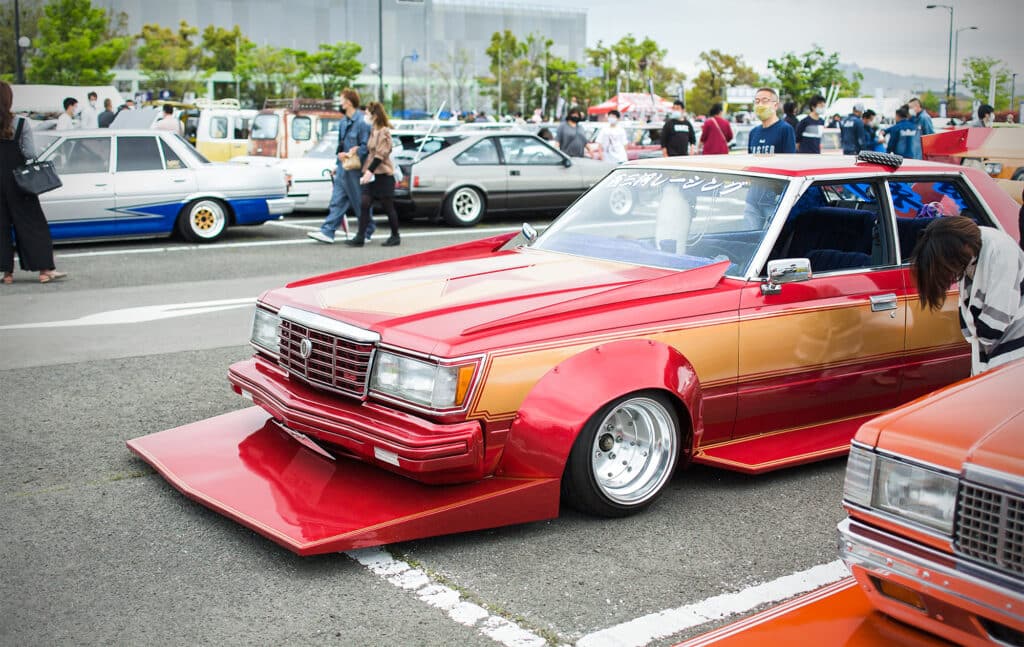 Although they're quite rare today, there are still young people who are attracted to this car style, keeping the subculture alive, and the Kaido racer style has even become quite popular in the U.S. in recent years — at least online.
It all began back in 1971 when Fuji International Speedway started a new racing series called the Fuji Grand Championship, or "Grachan" for short.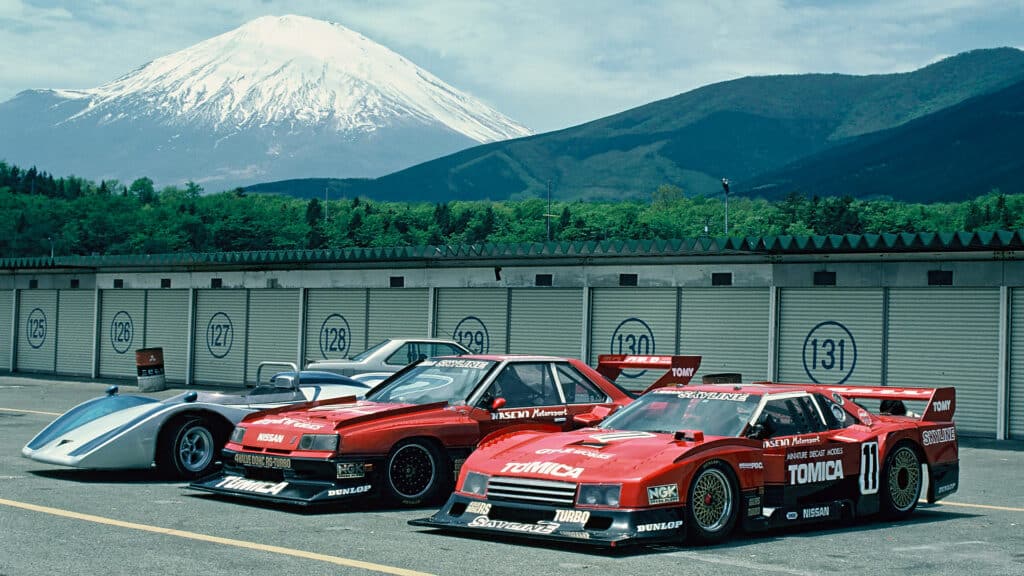 Fans of the racing series soon began modifying their street cars to emulate the race cars they saw on the track.
A few years later, in 1975, Holiday Auto Magazine published photos of these modified cars, with the caption "Oh MY! 街道レーサー" (Kaido racer), and with that, the term Kaido racer was coined.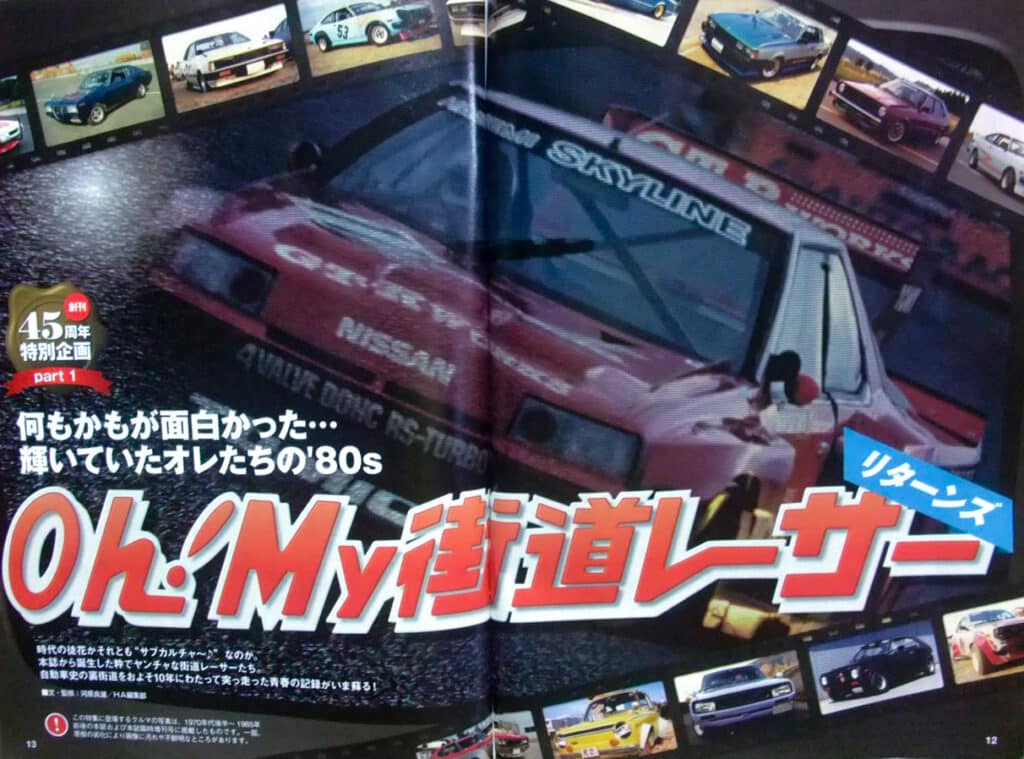 Bosozoku was a term the Japanese police and media used to refer to Japan's loud and unruly motorcycle gangs, and from there, it has kind of snowballed into including cars as well.
While the terms Bosozoku and Kaido racers are often used interchangeably these days, they're actually not related, at least not traditionally.
Bosozoku literally means Violent Running Tribe, and while many of the old Japanese bikers take great pride in it, it's considered a negative term for the Kaido racer subculture and isn't used when talking about cars, or even modern-day bikers.
Bosozoku-Style Aero and Body Mods
While they might look crazy, with many different styles in the Kaido racer scene, there are certain "rules" when building one of these cars, as they're inspired by the race cars of the '70s and '80s.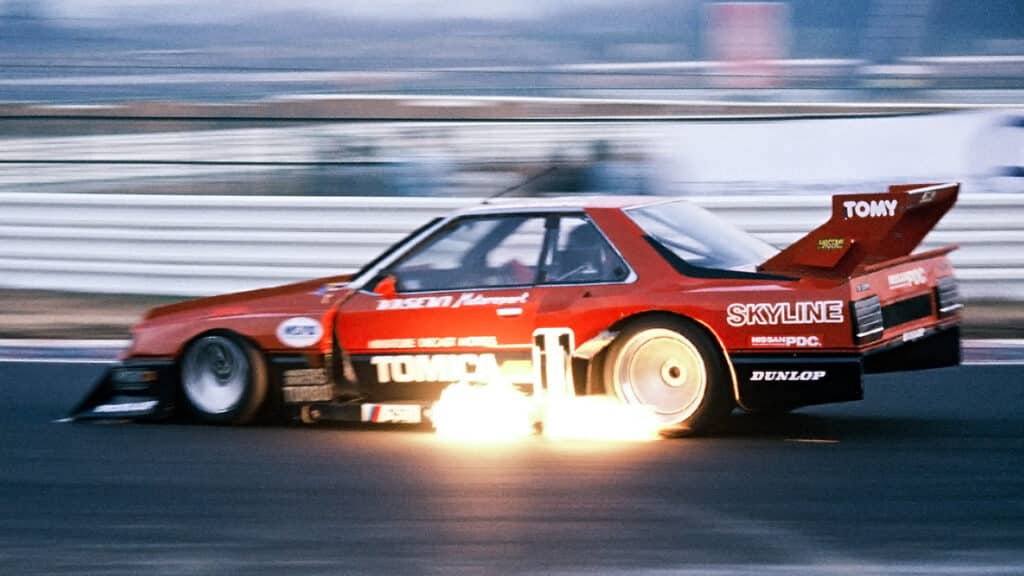 Starting from the front, there needs to be some kind of spoiler. On milder builds, it's usually a small chin spoiler, and on the more aggressive ones, a massive one that can almost double as a helipad.
Moving up slightly from there, you might find an externally mounted oil cooler and perhaps even some air horns.
Some Kaido racer builders extend the car's hood and fenders to create that race car-like shark-nose, often with a pair of slanted headlights to get the right look.
On a mild build, hood vents, fins, and bulges are optional, but on extreme builds, they're pretty much a must-have mod — the more, the merrier.
Another must-have is the overfenders, which can also range from mild to wild, with some builds matching the width you'd expect from a Rauh-Welt or Rocket Bunny build.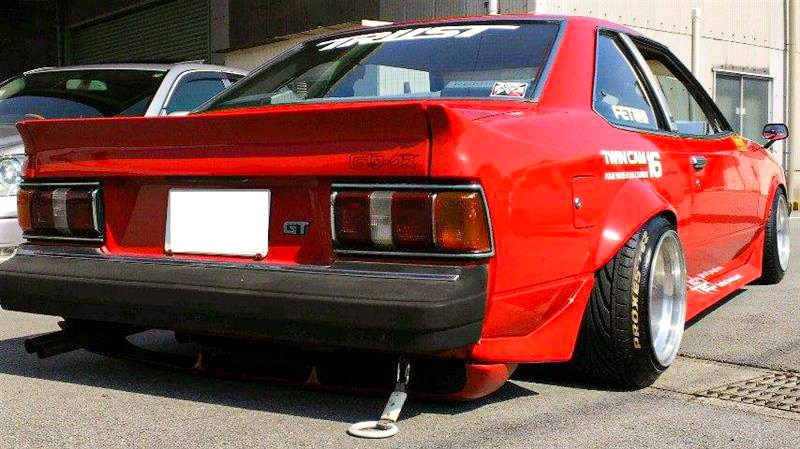 With the car slammed to the ground (Shakotan), the oversized fenders sit flush with the small-diameter wheels and tires.
At the rear, expect to find a trunk spoiler that matches the size of the front one, and then there are, of course, the long, almost vertical Takeyari exhaust pipes that commonly feature lots of bends and angles, as well as bright colors.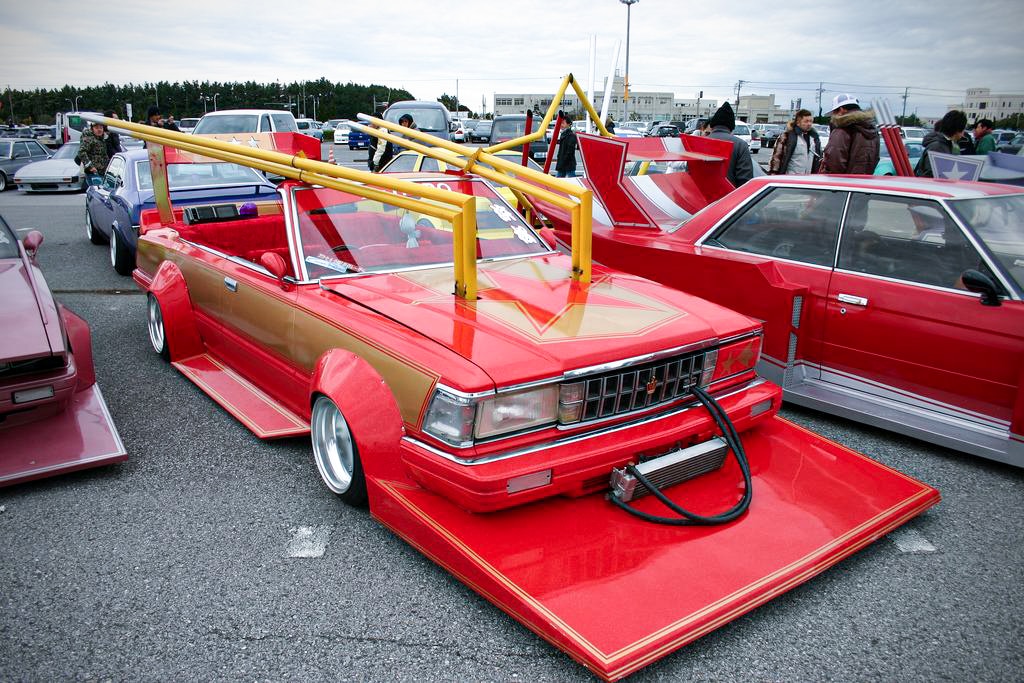 The paint job can sometimes be standard, but the best ones feature race car-inspired liveries and eye-catching colors.
Moving to the interior, there should at least be a wooden aftermarket steering wheel and some type of flashy shift knob.
Beyond that, the interior is sometimes left completely stock, it could have bucket seats, and may be covered in velour, or you might find tassels everywhere for that authentic 1970s look.
The All-Important Bosozoku Wheels
As we already mentioned, the wide arches are home to a set of wide, small-diameter rims in order to stay true to the classic race car look.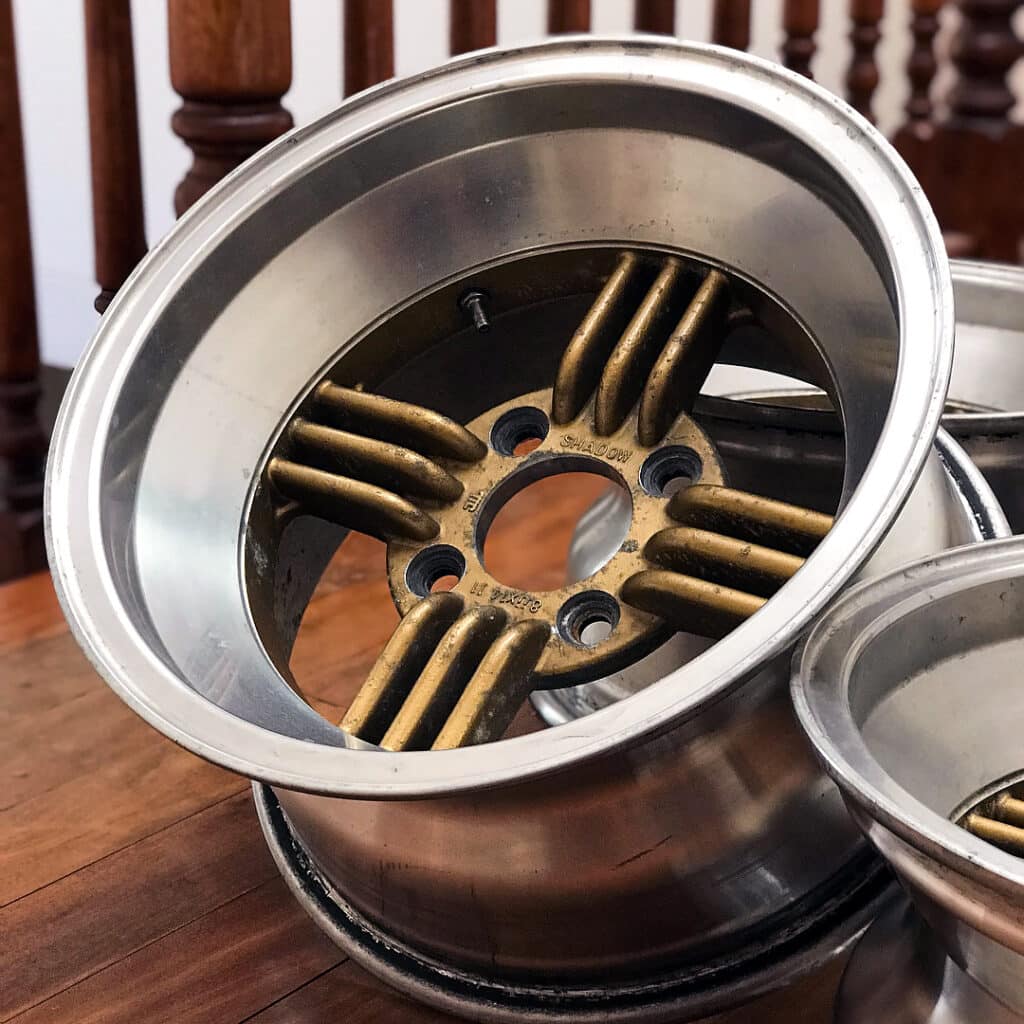 Since these cars are what's known as Kyusha, which translates to "old car", the wheel design should obviously be somewhat period-correct.
There are tons of options available from multiple Japanese wheel brands, and other than the retro design, the wheel lip should be as wide as possible.
Popular designs include widened steel wheels, star-shaped spokes, three and four-spokes, and even solid wheels, as well as other designs that were popular back in the day.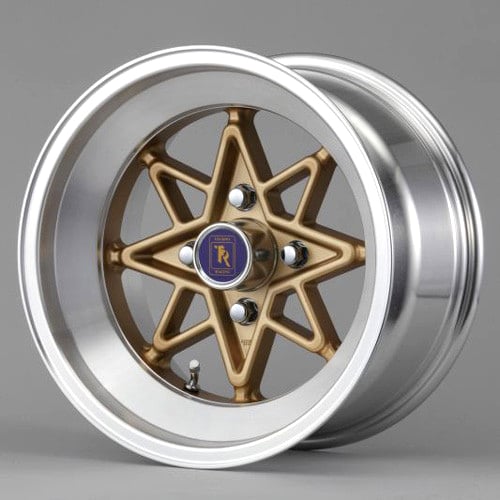 Some of the most suitable wheels for your Kaido racer build include:
SSR Longchamp XR4
SSR MK1
SSR MK2
Devil Japan IF Racing
Devil Japan Shadow Spoke
Takechi Project Racing Hart
Hayashi Racing Techno Project T.R.V.
Hiro V1-R
Those who are on a budget and don't care too much about authenticity can also find cheaper replica wheels from manufacturers such as Rota and Japan Racing that emulate that classic look.
Be warned, though, that some purists may not take kindly to such shenanigans.
Best Cars to Turn Into Kaido Racers
Japan's automotive world is a vast, weird, and wonderful place where even the subcultures have their own subcultures, like how Onikyan, Hippari, Tsuraichi, and Shakotan can all be considered as elements of stance cars.
While there are some car models that are viewed as "more correct" to turn into "Bosozoku cars," you can stumble upon weird creations such as a Bosozoku kei truck, JDM truck, or a Bosozoku van — not to be confused with Dajiban.
In other words, you can technically turn any car, even modern ones, into a Bosozoku-style car if you want to.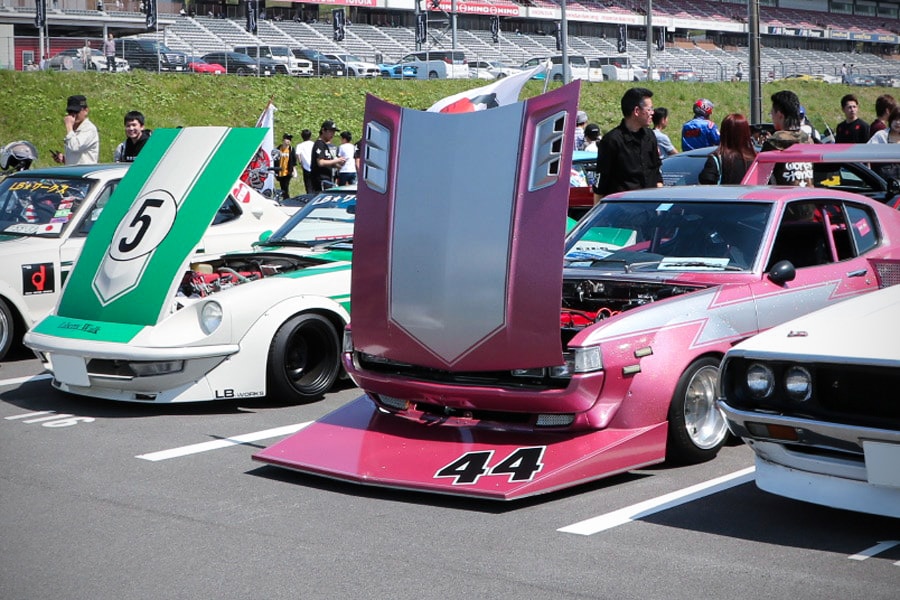 However, those who are into proper Kaido racers stick with JDM classic cars from the late 1970s to the early 1990s.
Any sedan or coupe from that era can be turned into a Kaido racer, with some popular models including:
Toyota Mark II Cresta and Cressida
Mazda Luce and Cosmo
Old Nissan Skylines
Sports cars like RX-7s
Fairladys and Celicas have been used to create some rather unique builds.
Concluding Thoughts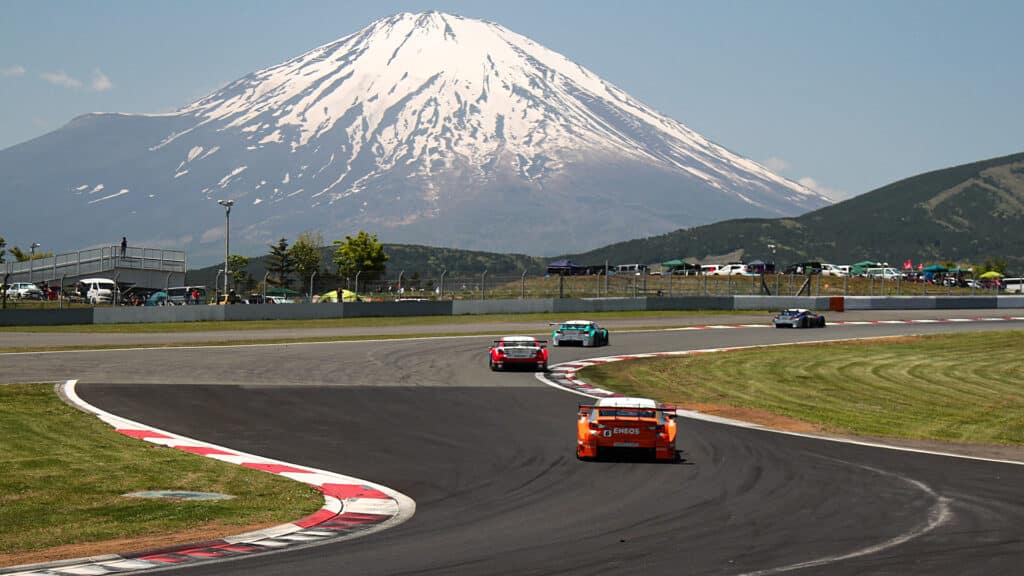 While Bosozoku cars definitely aren't for everyone, they do have a decent following both in Japan and overseas.
It's hard to think of a more Japanese way of modifying cars, as they're sticking to the traditional ways of turning a street car into a race car look-alike while keeping it fun and turning heads.
This style would never be accepted anywhere else, but since it has emerged from Japan, it has managed to gain a worldwide following among JDM fans.
We think anything that keeps car enthusiasm alive in a world of SUVs and EVs should be celebrated, no matter how weird it is.
How do you feel about the Bosozoku aesthetic? Let us know your thoughts by leaving a comment below!
If you found this article entertaining and informative, share it with a friend! We appreciate your support.