Pickup trucks are all the rage right now. It doesn't matter if they're electric, gasoline-powered, or even diesel-powered; they're absolutely flying off dealership lots every day.
The Ford F-150 remains one of the best-selling vehicles to this day. One thing is for sure, every region of the world does pickup trucks a little bit differently, and that includes Japan.
For one, they're way smaller and are mainly designed for work as opposed to lifestyle. Plus, as we all know, JDM cars are almost always just a little bit cooler.
What if you're in the market for a pickup truck, but you're after something JDM? Perhaps something a lot cooler than that used F-150 with a Modular V8? We've got you covered.
In this article, we'll share with you our top picks for the best JDM trucks that you should definitely consider.
Our Favorite Kei Trucks
Kei trucks aren't everyone's cup of tea, but they offer unparalleled practicality with negligible running costs, customizable rear rigs, a comically small cabin, and unmistakably JDM styling.
If you're in the market for a kei truck, you're either in it for the utility or the style. Or both! Regardless of your inclination, here are some of our absolute favorite JDM pickup trucks of all time.
1990 5th Gen Subaru Sambar Truck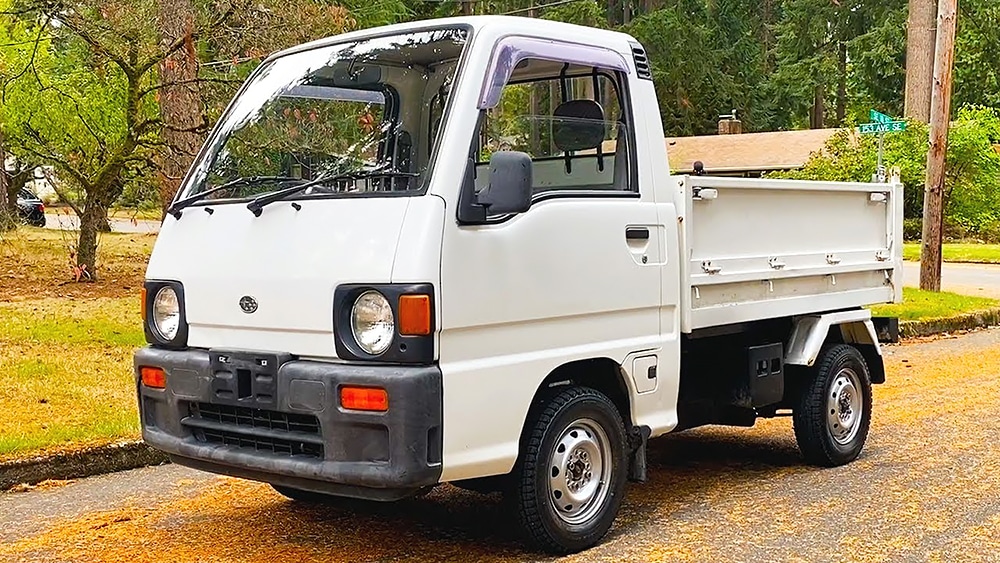 Drivetrain: RWD, 4WD
Power output: 46 hp at 6400 rpm, 55 hp at 6200 rpm
Engines: 658cc EN07 (1990-1999), 658cc EN07Y Supercharged Inline-4 (1990-1999)
Torque: 40.5 lb-ft at 4800 rpm, 51.3 lb-ft at 3800 rpm
Curb weight: 1,962 lbs, 2,182 lbs
While Subaru is making bags of money selling the Crosstrek to American customers, it's easy to forget that they've dabbled into all sorts of segments in their homeland of Japan.
One old-school Subaru model that's currently skyrocketing in popularity is the Sambar. Subaru has been selling the Sambar since 1961, and it's one of the main characters in the kei truck world.
We recommend the 5th-generation Sambar Truck, sold from 1990 to 1999, as it's the newest model that can be legally imported to the United States.
The Sambar's minute kei car dimensions and supercharged engine make for a truck that can haul ass and a good amount of cargo without taking up too much space.
Plus, the 4WD system and its viscous coupling differential make it genuinely capable. For more information on the types of limited slip differentials, check out our article on the topic.
Suzuki Carry DC51T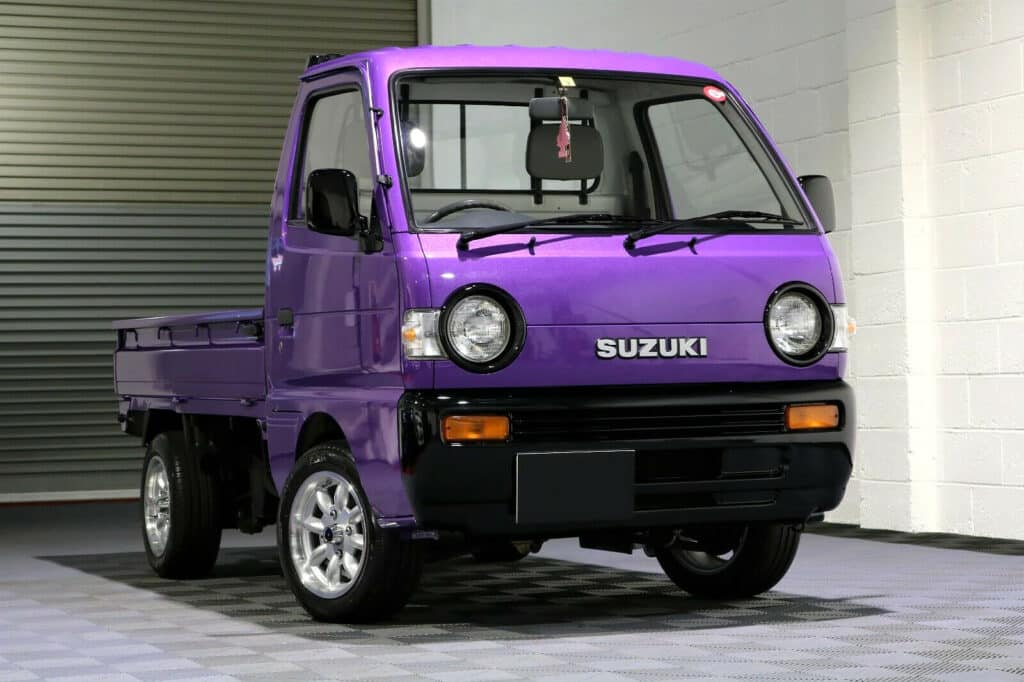 Drivetrain: RWD, 4WD
Power output: 42 hp at 5500 rpm
Engines: 657cc F6A Inline-3
Torque: 40 lb-ft at 4000 rpm
Curb weight: 1,433 lbs to 1,587 lbs
Keeping with the theme of kei trucks, the Suzuki Carry definitely deserves a mention.
One of the main competitors to the Subaru Sambar Truck, the Carry might look like essentially the same vehicle. But despite the visual similarities, the Carry is actually very different.
We recommend the 9th-generation Carry, which Suzuki sold in Japan from 1991 to 1999. Much like the Sambar, this makes it the latest and newest generation that you can legally import.
While the related Carry and Every vans use a mid-engine layout, the Carry truck has a front-mounted engine, and it offers 4WD, although RWD is standard. Arguably, it looks even better than the Sambar, thanks to the cutesy round headlights.
The other major difference is the powertrain situation. The Carry, as with so many other Suzuki models of its day, uses a 3-cylinder engine, and your choice of either a manual or automatic transmission.
1988 2nd Gen Honda Acty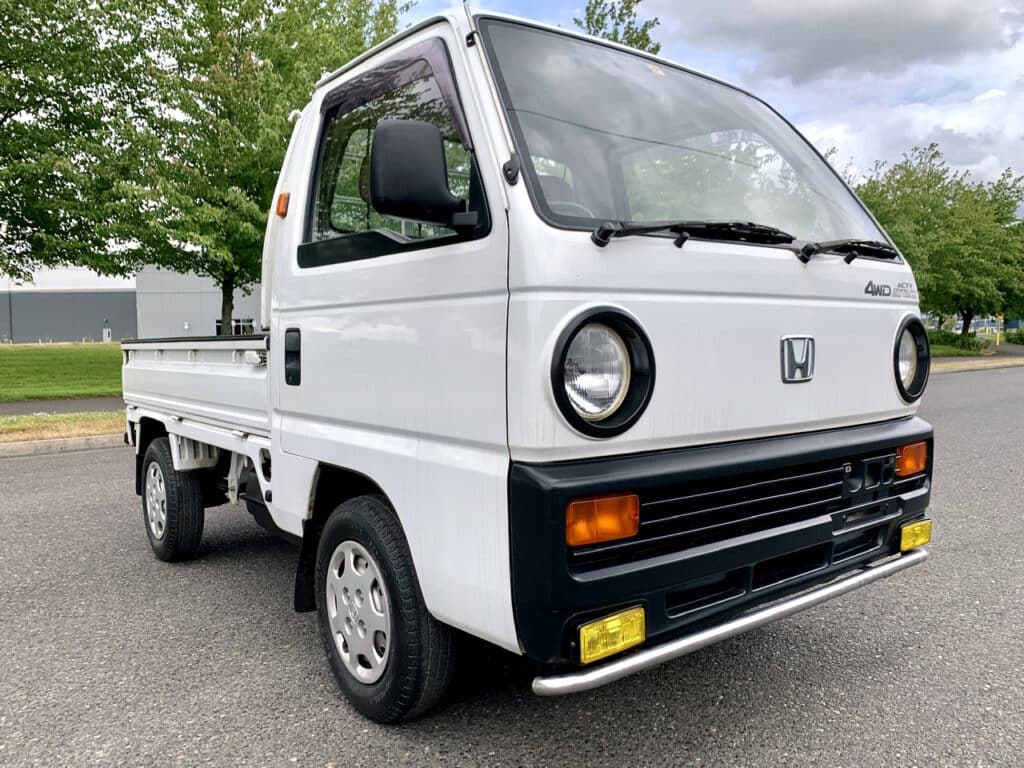 Drivetrain: RWD, 4WD
Power output: 34 hp at 5500 rpm, 38 hp at 5300 rpm
Engines: 547cc E05A (1988-1990), 656cc E07A (1990-1999) 
Torque: 33 lb-ft at 5000 rpm, 40 lb-ft at 4500 rpm
Curb weight: 1,433 lbs to 1,587 lbs
The 3rd major player in the kei truck ring, the Honda Acty first appeared in 1977.
However, unlike the others, it is no longer available to purchase brand new, as Honda ended production back in 2021. Which is a shame, because the Acty was a fantastic little truck.
Our pick is the 2nd-generation Acty, which happens to be the most popular version of the truck, offered from 1988 to 1999. These are also becoming fairly common in North America, meaning you might not need to import one.
Like its contemporaries, the Acty was a textbook small JDM truck. The 2nd-generation upgraded from the previous generation's 2-cylinder engine to a more powerful 3-cylinder powerplant.
The addition of proper 4-wheel drive meant that the Acty also did a decent job on rough terrain.
Later variants of the Acty introduced a larger engine with better performance and capability, but they sadly lost the round headlights. Even then, the Acty is one of the very best Japanese trucks.
1977 2nd Gen Mazda Bongo Truck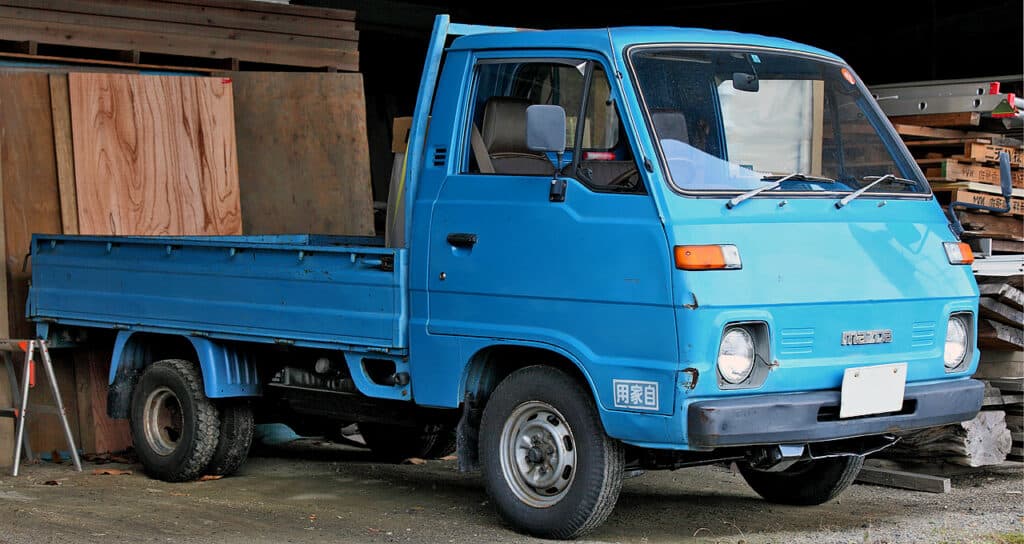 Drivetrain: RWD
Power output: 60 hp to 95 hp
Engines: 1.3L BA2T8, 1.6L BA2N9, 1.8L BA2V8/BA2V9, 1.4L BA2U9 UC, 2.2 L BA2S9
Torque: 94 lb-ft
Curb weight: 1951 lbs to 2006 lbs
The Mazda Bongo was introduced to the market in 1966, but the 2nd gen pickup version only became available in 1977.
One of the most interesting things about the Bongo is how many different names it adopted in foreign markets.
In Australia, it was the Ford Econovan, whereas in Korea it had a Kia badge. Over time, it lost its kei truck charm, but it made up for that with usability.
Once again, the 2nd-generation is one of the newer generations you can import, and it's also the best combination of style and usability out of all the generations.
The Bongo is an exciting alternative to your regular pickup truck, as it can carry just about anything you need, and it still has that classic Japanese allure.
Plus, there's nothing stopping you from tossing on a nice set of wheels and possibly some lowering springs for reduced ground clearance and ride height.
S80-S89 7th Gen Daihatsu Hijet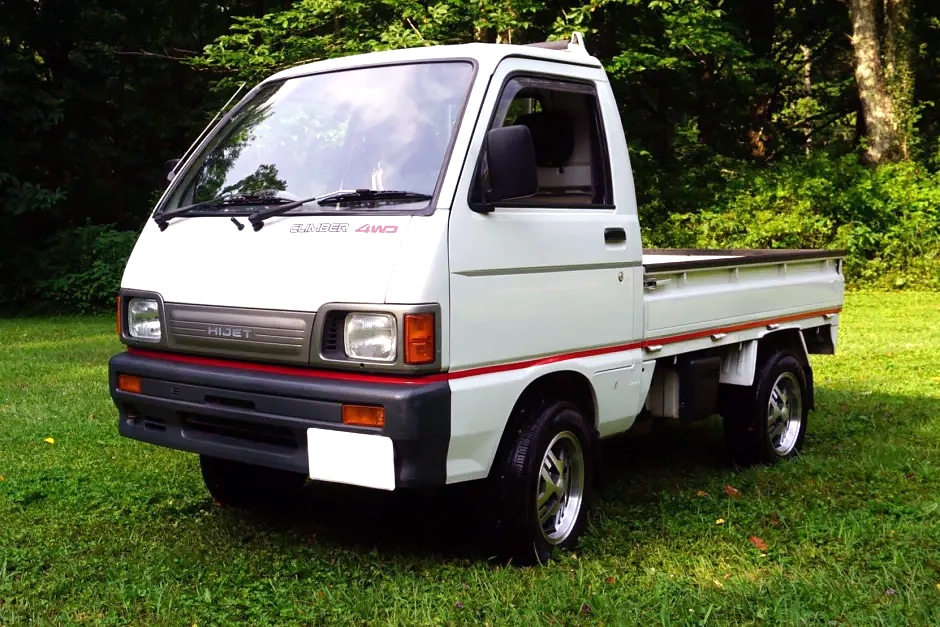 Drivetrain: RWD, 4WD
Power output: 47 hp at 2400 rpm
Engine: 993 cc CB-20/41/42 Inline-3
Torque: 55 lb-ft at 2400 rpm
Curb weight: 2006 lbs
The Daihatsu Hijet was first introduced in 1960 and it has been in production for well over 5 decades now. It's a fantastic option for anyone looking to import a mini-truck.
However, if you want to buy domestically, then we recommend the 7th-gen Hijet as it was the only generation sold in the United States. Look for the S80 or S81 if you specifically want 4WD.
Daihatsu eventually switched to the EB-series powertrain in order to keep up with Japan's changing rules and regulations around Kei trucks. This involved moving to a more modern, higher displacement 3-cylinder layout.
Now higher displacement in this context is relative because they moved from 330 cc to upwards of 500 cc and eventually close to 1.0L. The one sold in the United States features a 993 cc CB engine as did all export versions of the 7th-gen Hijet.
The Best Japanese Pickup Trucks
Kei trucks are all well and fine when it comes to practicality, but if you need more power, a higher payload capacity, and a roomy interior, then you're going to need something bigger.
If that sounds like you, then we recommend the following normal-sized Japanese pickup trucks.
1973 Datsun 620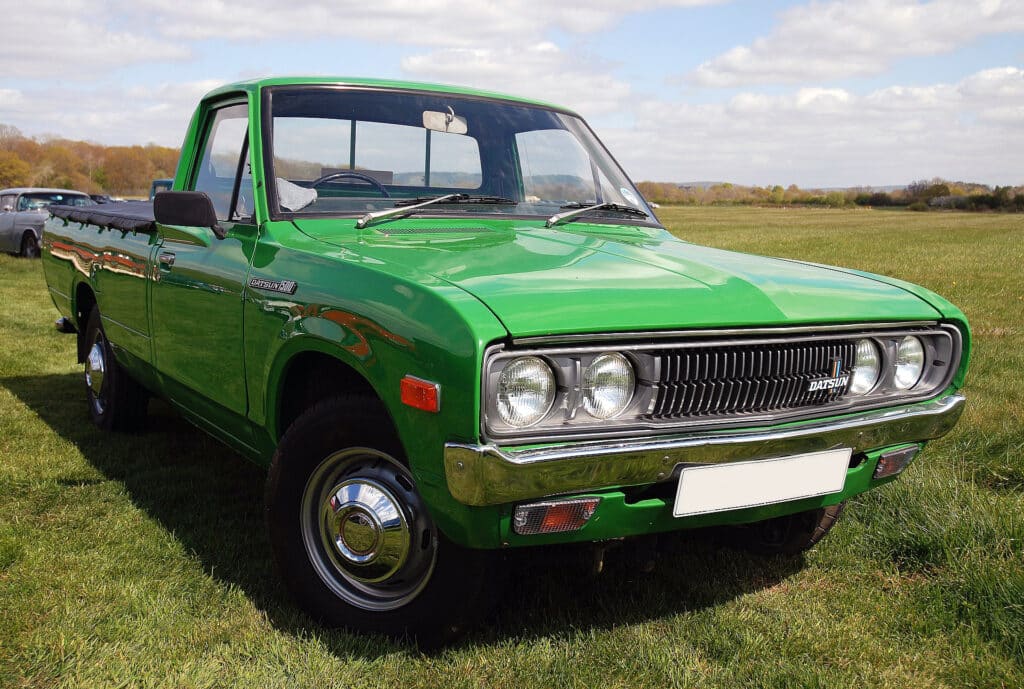 Drivetrain: RWD
Power output: 96 hp to 112 hp @ 5600 rpm
Engines: 1.6L L16 (1972-1973), 1.8L L18 (1974), 2.0L L20 (1975-1979)
Torque: 100 lb-ft at 3,600 rpm, 112 lb-ft at 3,200 rpm
Curb weight: 2,286 lbs
One of the most well-known JDM mini trucks, and one of the best Nissan JDM trucks is undoubtedly the Datsun 620.
This small pickup was a precursor to the Nissan Hardbody, but it was much closer to what the Australians call a ute.
The most well-known iteration of the 620 is the one sold from 1973 to 1979. It is based on the Datsun Bluebird 610 platform and comes in a variety of different body styles.
You can get a 2-door ute variant, but also an extended cab, a long bed, a quad cab, and even a 3-door delivery van. One good thing about the 620 is that it was officially sold in the North American market.
Despite being pretty minute by American pickup standards, and being powered by some pretty small engines, the 620's durability and reliability allowed it to compete with some of the big dogs.
B120 Nissan Sunny Truck
Drivetrain: RWD
Power output: 69 hp at 6000 rpm
Engine: 1.2 L A12 Inline-4 
Torque: 70 lb-ft at 3600 rpm
Curb weight: 1,649 lbs
The Sunny in itself is a compact car that Nissan offered from 1966 to 2004. However, the 2nd generation, also known as the B110, was the only one sold as a pickup variant.
While the regular B110 Sunny was sold from 1970 to 1973, the Sunny Truck lasted a lot longer, from 1971 to 1989. During this production run, it received 2 major revisions, known as the B121 and the B122/GB122.
These were never available in the United States due to the Chicken tax, but they're relatively easy to find and import from Japan.
Mitsubishi Forte L200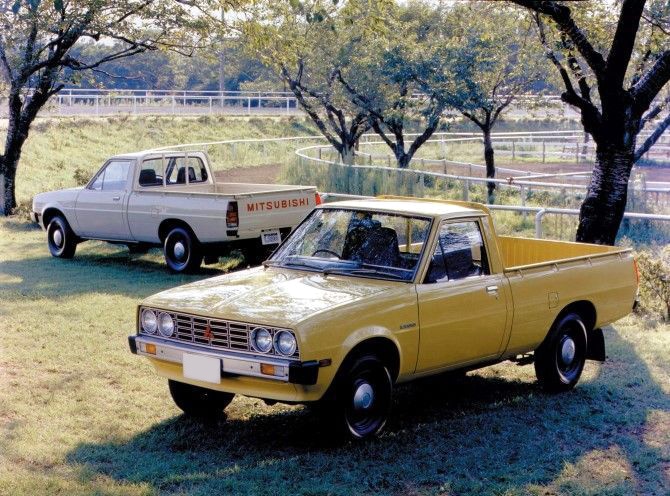 Drivetrain: RWD, 4WD
Power output: 92 hp to 110 hp
Engines: 1.6L 4G32/G32B, 2.0L 4G52, 2.0L G63B, 2.6L 4G54, 2.3L 4D55 Inline-4 turbodiesel, 2.5L 4D56 diesel
Torque: 125 lb-ft to 134 lb-ft
Curb Weight: 2,518 lbs
These days, the L200 is a fairly normal-sized pickup truck. Mitsubishi even introduced a new generation of it recently.
It wasn't always a competitor to the Ford Ranger, though. The original, 1st-generation L200 was a much smaller compact pickup, and it was awesome.
The 1st generation was offered from 1978 to 1986, and although it was primarily for the Japanese market, thanks to the Diamond Star Motors joint venture, the original L200 arrived in North America as well.
The Dodge variant was known as the Ram 50, and there was also a Plymouth version called the Arrow Truck, which was taken off the market when Mitsubishi themselves brought it over as the Mighty Max.
The JDM version was also called the Forte. Engine options include a variety of 4-cylinder motors, and even though the L200 is small, it is still a very capable pickup.
RK45, RK100 Toyota Stout
Drivetrain: RWD
Power output: 60 hp at 4400 rpm, 74 hp at 5000 rpm, 79 hp at 4600 rpm, 106 hp at 5200 rpm
Engines: 1.5L R, 1.5L 2R, 1.9 L 3R-B, 2.0 L 5R
Torque: 80 lb-ft to 105 lb-ft at 2600 rpm, 125 lb-ft at 3000 rpm
Curb weight: 3,131 lbs
Everyone knows the Toyota Hilux. It's one of the most popular pickup trucks not just in Japan, but also all over the world, and it has developed a reputation for its incredible durability and capability.
However, the Hilux was introduced, Toyota offered a slightly different small pickup truck called the Stout.
The Stout was available from 1954 to 2000 in some markets, but the 2nd-generation version, sold from 1960 to 1978 is the one that everyone loves.
It was available in either 2-door or 4-door form. Powered by durable R-series engines, the Stout ticks all the right boxes and provides that old-school JDM look. It's definitely one of the best Toyota JDM trucks.
BUD61 Mazda REPU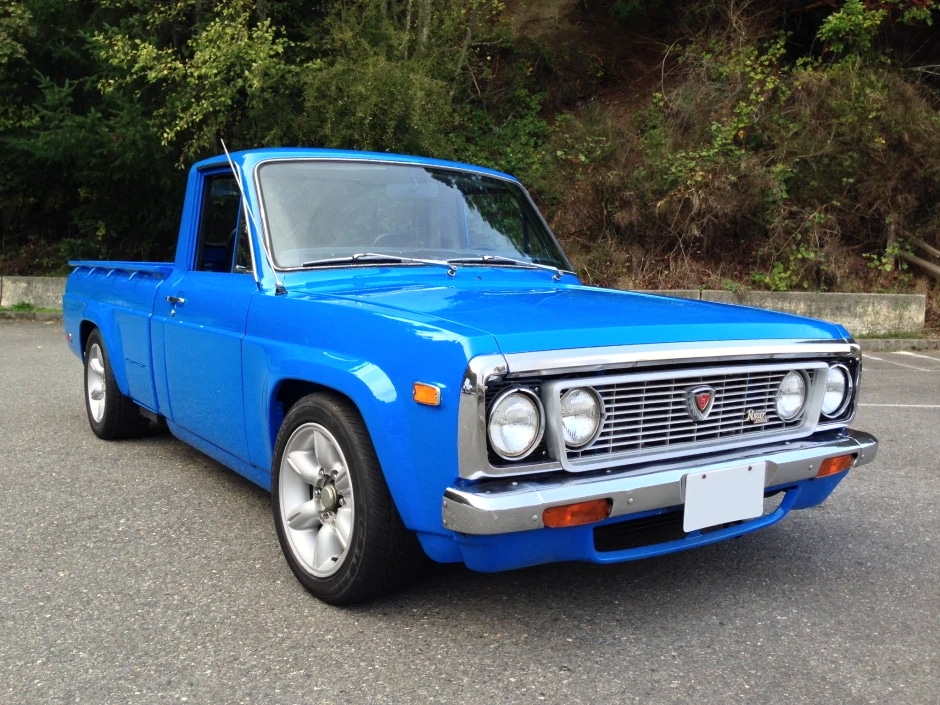 Drivetrain: RWD
Power output: 110 hp at 6000 rpm
Engine: 1.3L 13B-AP Rotary
Torque: 117 lb-ft at 3000 rpm
Curb weight: 2,865 lbs
While the Bongo was more of a 70s workhorse, Mazda later on made a more conventional pickup truck called the B Series.
The B Series started out in 1961 as the B1500. Its 2nd-generation debuted in 1965 and soldiered on until 1977. This is our generation of choice because it offers something that no other pickup truck has offered.
Mazda's 2nd-generation B1500 also spawned a special version called the REPU. REPU is an acronym for Rotary Engine Pick Up, and it's exactly what it says on the tin — it's a pickup truck with a rotary engine.
This is the only time in history that a rotary engine was used to power a pickup truck. While we all know maintenance is a bit of a nightmare with the 13B engine, it's definitely worth it for a rotary pickup truck.
1982 Subaru BRAT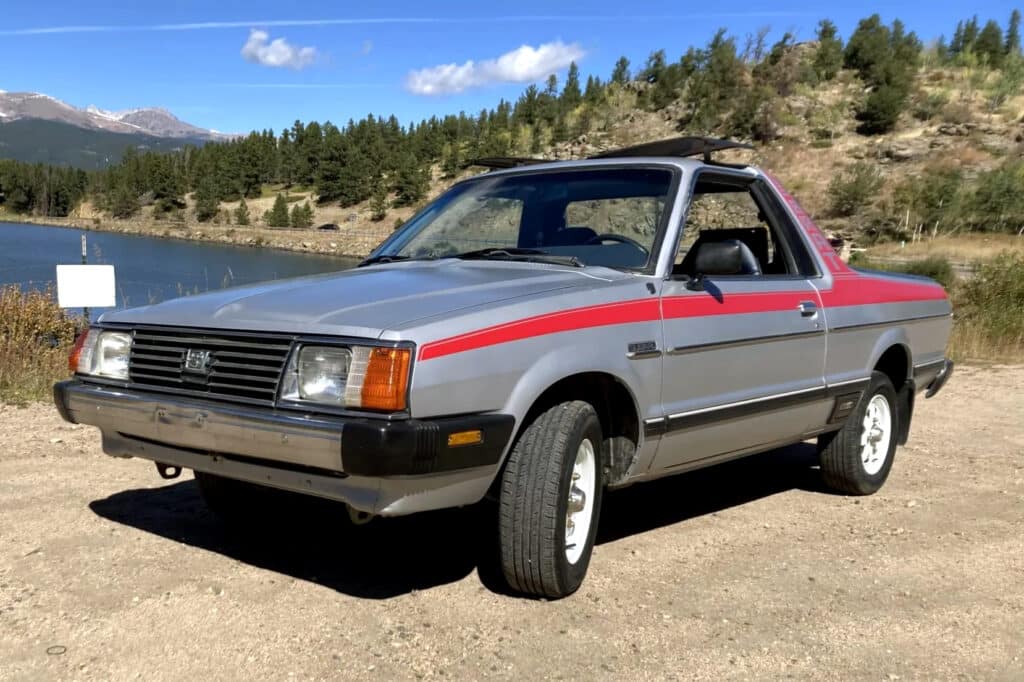 Drivetrain: FWD, 4WD
Power output: 71 hp at 4400 rpm
Engine: 1.8L EA-81 Flat-4, 1.8L Turbocharged EA-81 Flat-4
Torque: 94 lb-ft at 2400 rpm
Curb weight: 1,709 lbs
Now here's a J-spec pickup truck that was developed specifically for North America. The BRAT, which came along in 1977 at the request of Subaru of America, was based on the fairly standard Leone station wagon.
Instead of retaining the wagon body on the BRAT, the designers at Subaru chopped off the roof and rear doors, replacing them with a pickup bed. Bizarrely, one thing that didn't see the chopping block was the rear seats.
The rear seats on the BRAT were mounted in the bed and faced the rear, which made use of a loophole in the Chicken tax. With these rear seats, the BRAT became a passenger car, which helped to significantly reduce import costs.
Of course, no one in their right mind would ever use the seats to carry passengers, but the BRAT was indeed a fairly capable small pickup truck, and it did pretty well in North America.
Should You Buy a JDM Pickup Truck?
Nowadays, there are many options when it comes to both pickup trucks and cool JDM cars. Going for a Japanese pickup truck is an unorthodox choice, but it's definitely not a bad one.
As different as Japanese pickup trucks may be, they are not only a great way to turn some heads, but also to have a great, reliable work vehicle that can respond well to mods. You can even take your minitruck drifting if you're keen.
What's your favorite JDM truck? Let us know by leaving a comment below! If you enjoyed reading this article, consider sharing it with your friends online. We appreciate your support!