Nissan's VQ35DE and HR engines are a great platform for aftermarket upgrades. Your 350z can be tuned and built to do anything you want it to – especially if it is boosted.
Supercharged 350zs are a blast to drive. They're easier to tame when compared to a turbo'd 350z. Holding traction is easier, and the overall driving experience is more forgiving.
While most 350z owners stick to turbocharging, those who want a more street-friendly setup will take the supercharger route.
In this guide, you'll find some of the best superchargers for 350zs along with everything you need to know before boosting your Z.
Benefits of Supercharging Your 350z
Forced induction is a serious 350z upgrade. It's not a cheap modification! Considering that you want to make the right decision here, it is normal to be confused about whether you should go for a supercharger or a turbo.
If you value simplicity and reliability over all-out power, we recommend that you consider supercharging your 350z.
Compared to turbo kits, superchargers are mechanically simpler, cheaper, easier to install, while also requiring less tuning. They're a lot more street-friendly and take less time to get used to thanks to their linear power delivery.
The biggest difference between superchargers and turbochargers is the way they both deliver power.
Turbos rely on your exhaust gas to spin a turbine which draws in air. This process involves waiting for this turbine to spool up completely before it can compress enough air and boost to send power to your wheels.
Superchargers, on the other hand, use a belt that runs directly off your engine's crankshaft. Because of this, you'll experience zero lag and the torque will be evenly spaced out throughout the rev range.
There is no doubt that your 350z can be a lot more fun to drive with a turbocharger than a supercharger. However, turbo kits are complex, require more maintenance and there's a lot more that can go wrong.
Preparing Your VQ35DE or HR for a Supercharger Kit
There's a lot you can do to prepare your 350z for forced induction. If your VQ35DE or VQ35HR engine is about to receive more power than what it is used to, it makes sense to upgrade some of its internal components. These include:
Free-flowing intake
Head gasket spacer
Low compression pistons
Doing this will significantly increase the durability of your 350z supercharger build. Your engine will be less prone to failure and you'll be able to safely push it to its limit.
In addition, 350z mods like an aftermarket clutch, performance spark plugs, and high-performance engine oil will go a long way in terms of reliability.
If you are planning a more conservative sub-400 whp supercharger build, we recommend these supporting mods as a bare minimum requirement:
VQ35DE vs VQ35HR: Which Is Better for Supercharging?
Both the VQ35DE and VQ35HR engines are solid platforms for forced induction. They're among the most widely used naturally aspirated engines for supercharger builds.
Nissan knew that the 350z is going to be a hit among the aftermarket community. That's one of the reasons why these engines are over-engineered to handle more than twice the power they make.
On stock internals, both engines can handle more than 30% of their stock power output without needing upgraded internals.
The VQ35HR was seen on 350zs manufactured after 2007. It revs higher than the DE with its redline at 7600 rpm. One of the best things about this engine is that most of its torque kicks in at 2000 rpm. Unlike the VQ35DE, the HR is equipped with a dual throttle body intake.
With all that considered, it is clear that the HR engine can handle a lot more power than the DE.
While both engines can easily handle any form of forced induction, we feel that the VQ35DE is better off with a supercharger.
350z Superchargers: Our Top Recommendations
The first thing that you'll notice while looking for 350z superchargers online is that your options are very limited. But this isn't a disadvantage at all.
The good thing about these superchargers is that they're all tried, tested and well-reviewed. We can assure you that as long as the installation is done correctly, each one of these will be well worth your money.
Each of the 350z supercharger kits listed in this guide have their own unique advantages. Read on to find the best option for your build.
Vortech V-3 SCi
Manufacturer: Vortech
Engine Compatibility: VQ35DE
Type: Centrifugal
Warranty: 3 Years
Buy On: Enjuku Racing
The Vortech supercharger kit needs no introduction. It's the first name that comes to mind when we talk about superchargers for the VQ35DE engine.
With this Nissan 350z supercharger kit installed, you're going to surprise anyone that pulls up next to you at the lights. From beating muscle cars off the line to managing your daily commute, Vortech's V-3 SCi supercharger kit is versatile enough to handle it all.
When cruising around under 4000 rpm with the 350z Vortech supercharger kit installed, it feels only slightly quicker than stock. Beyond 4000 rpm though, you'll be pinned to your seat.
One thing we love about this supercharger is its flutter sound. It's really loud! Your friends will definitely hear you coming from a block away. The Vortech supercharger makes the 350z feel V8-ish.
Going about your 350z Vortech supercharger kit installation is very straightforward and it takes only 8-12 hours from start to finish. This is definitely one of our top recommendations.
Stillen
Manufacturer: Stillen
Engine Compatibility: VQ35HR
Type: Centrifugal
Warranty: 3 Years
Buy On: Enjuku Racing
In our opinion, Stillen makes the second-best supercharger kit for 350zs with Vortech on number one. However, when we say "best", that takes into consideration everything including price, build quality and engine compatibility.
If your Nissan 350z was manufactured after 2007, you're in for a treat because this supercharger kit is designed exclusively for your VQ35HR engine.
The Stillen kit is best known for its early boost which starts kicking in at only 2500 RPM! That's very impressive for a supercharger.
This is achieved thanks to Stillen's exceptional thermal system design. The equation is simple — less heat = more power. This is the best supercharger kit for 350z owners who live in a city where the summers get really hot.
What makes this kit so great is its intake manifold that works on the principles of air and water cooling. With a cooling system as efficient as this one, your supercharger build will stay reliable for a longer time.
Another interesting thing about the Stillen supercharger is that it uses the same V-3 compressor seen on the Vortech kit.
Looks-wise, this VQ35HR supercharger kit is stunning. Pictures don't do justice, you gotta see it for real. The only drawback (or is it?) with this kit is that it requires a different new hood. You could either get it custom made or buy it directly from Stillen.
HKS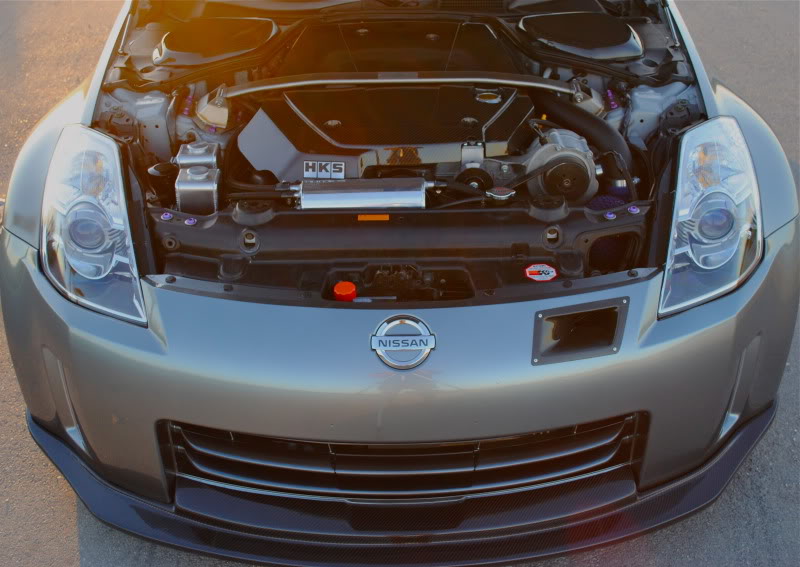 Manufacturer: HKS
Engine Compatibility: VQ35DE
Type: Centrifugal
Warranty: 1 Year
It's not uncommon to overlook a great product just because it's not too popular. The Vortech and Stillen supercharger kits tend to overshadow this kit from HKS.
If this is your first time reading about the HKS supercharger kit, we recommend that you consider it before putting your money down.
What impresses us the most about this 350z supercharger kit is that it doesn't just boast a high peak horsepower number at one point on the dyno. Instead, it makes most of its torque nice and early in the rev range — just like the Stillen kit does.
This supercharger kit also features a self-contained lubrication system — again, very similar to what you'll see on Vortech's V-3 compressor. This feature helps to reduce maintenance. All it needs is air filter servicing and replacement of supercharger oil.
Another quirk we noticed about this supercharger kit is that its very quiet. If you want your Z to sound stock-ish or if your partner doesn't quite enjoy the compressor whine, this feature will definitely be useful.
ATI Procharger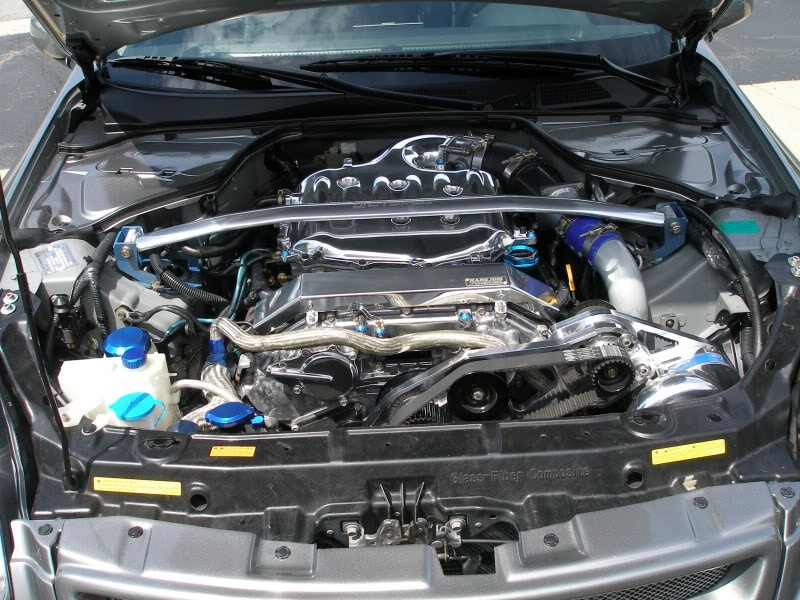 Manufacturer: ATI
Engine Compatibility: VQ35DE
Type: Centrifugal
Warranty: 1 Year
ATI's Procharger kit is well known for its exceptional build quality. The workmanship is very refined and this becomes clear the moment you start unboxing this Nissan 350z supercharger kit.
ATI even came up with the industry-first inter-cooled supercharger for Nissan 350zs. This feature is designed to eliminate power fade caused by high levels of heat — something that non-intercooled boosted Zs are notorious for.
Despite it not being the best 350z supercharger kit out there, many enthusiasts speak highly of it, and we agree with them. The Procharger kit is underrated and shows a lot of promise.
At the end of the day, it's what you do with your supercharger kit that actually matters. Your selection of supporting mods, driving style, where you get the kit fitted and so on…
For a basic build with a goal of 350 to 380 whp, the Procharger kit will work just fine. However, if you want to go beyond 400 whp, we recommend choosing either the Stillen or Vortech supercharger kits.
The Best Supercharger Kit for 350zs
Truth be told, you can buy any of these superchargers blindfolded and you still won't regret the purchase. This doesn't mean that they're all the same — instead, each of them have their own unique characteristics.
Your choice will majorly depend on your driving style and power output goal. Taking price, boost timing and overall build quality into account, here are our top recommendations…
The Best 350z Supercharger Kit for Early Boost: Stillen
If you're someone who loves linear power delivery and don't want to be hit in the face with a ton of boost out of nowhere, this is the best supercharger kit for you.
With torque kicking in as early as 2500 RPM, it is clear that the Stillen supercharger kit is ideal if you're going to daily drive your 350z.
Imagine being pinned to your seat throughout the rev range as you ram through your 6-speed manual, with that VQ tone getting more aggressive by the second. That's what the Stillen supercharger will feel like.
Our Favourite 350z Supercharger Kit for a Powerful Punch: Vortech
When we compare the Vortech kit directly with the Stillen supercharger, the first thing that comes to mind is the fact that Vortech delivers a larger chunk of torque in a shorter RPM range. The Stillen kit does the opposite.
With a power curve like this, you'll be able to drive without boost at cruising speeds. And when you need the extra torque, you can simply floor the throttle and leave everyone behind as if they were standing still.
When it comes to reliable supercharged 350z build, we cannot think of a better product than this Vortech kit. It's simply the best supercharger kit for 350z owners.
What's your reason for choosing a supercharger over a turbocharger? How much power are you planning on squeezing out of your VQ?
Let us know by leaving a comment below!